When the new month starts over the weekend, it makes the following Monday a lot harder. When I asked PromoRepublic's community on Facebook to show their workplace for Monday and there were photos that reflect how busy we all are. There were piles of notes and planners in beds, books and notes on desks and more signs of our collective productivity. By Monday, 3 pm EST you just have no time to push yourself out of bed because of planning, a new social media marketing strategy for new month and other stuff that we marketers hate. In this tutorial you find 20+ ideas for your April campaigns. And don't forget to use PromoRepublic's free weekly digest where every week you see suggested posts made with fresh ideas.
Before we start,  I just want to remind you that every post you will see below is available in PromoRepublic's Post Ideas. You can edit any element of it, write your own caption, and add a logo with a native drag & drop graphics editor. This is a revelation for anyone who hasn't experienced easy content creation for social media.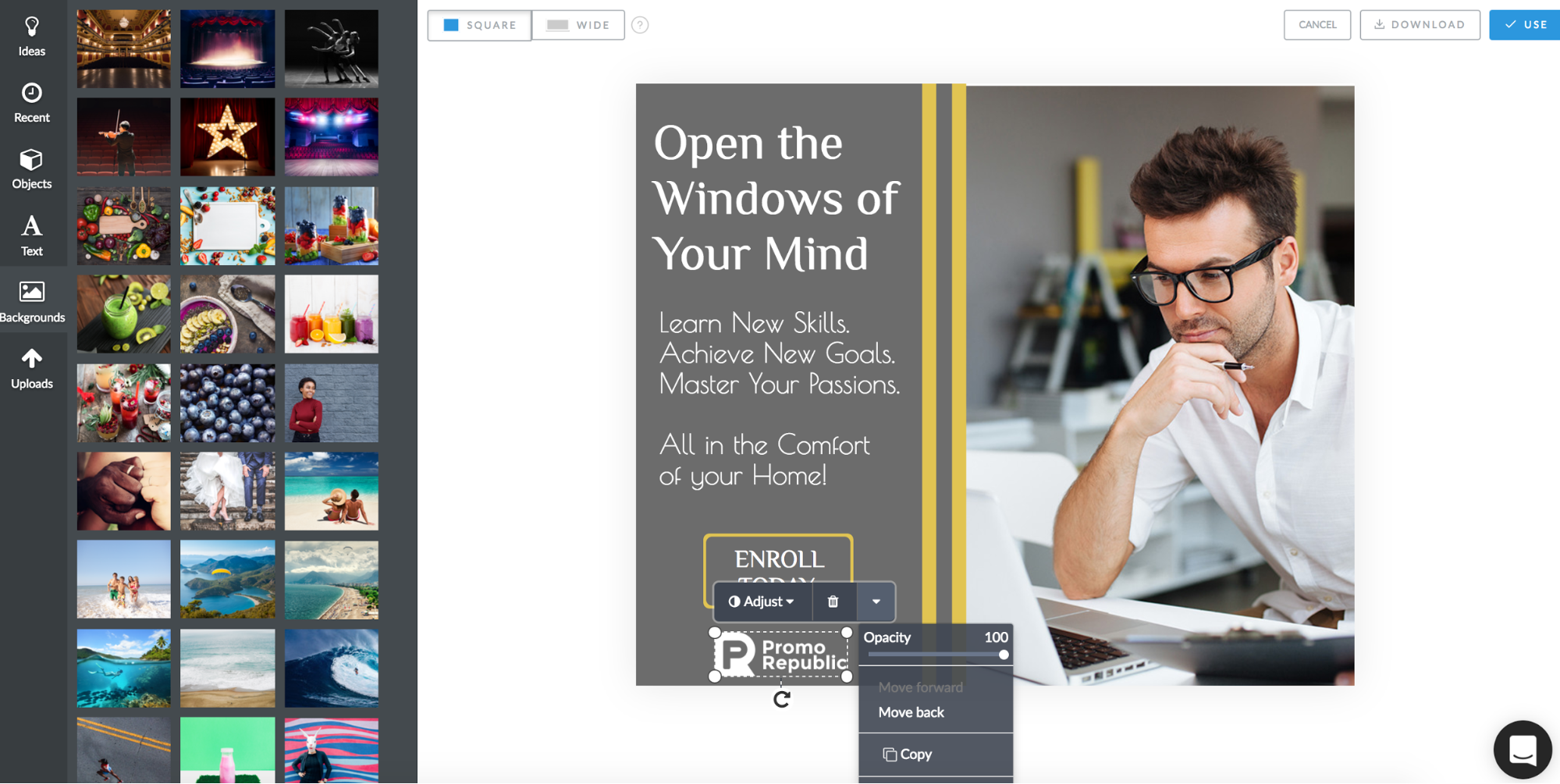 Trendy content
Every day is a holiday. Why not? Turn your social page into a source of inspiration for your followers. It can be difficult to provide social media services for small business clients, but you can get ahead of the game with holiday and other viral posts. Viral topics are those which are timely, and relevant for a short period of time. Surprise them with niche events. You see, if they follow you, it's clear that they are interested in your industry, so they will be happy to share trendy posts which are within their sphere of interest. You don't need to monitor these events on your own, just visit PromoRepublic's Content Calendar once a week and pick some events for your weekly schedule. You can also narrow industries and see only relevant special days and holidays. This is a huge deal, and pretty unique in terms of what's available out there for social media management software. You can find it all with PromoRepublic!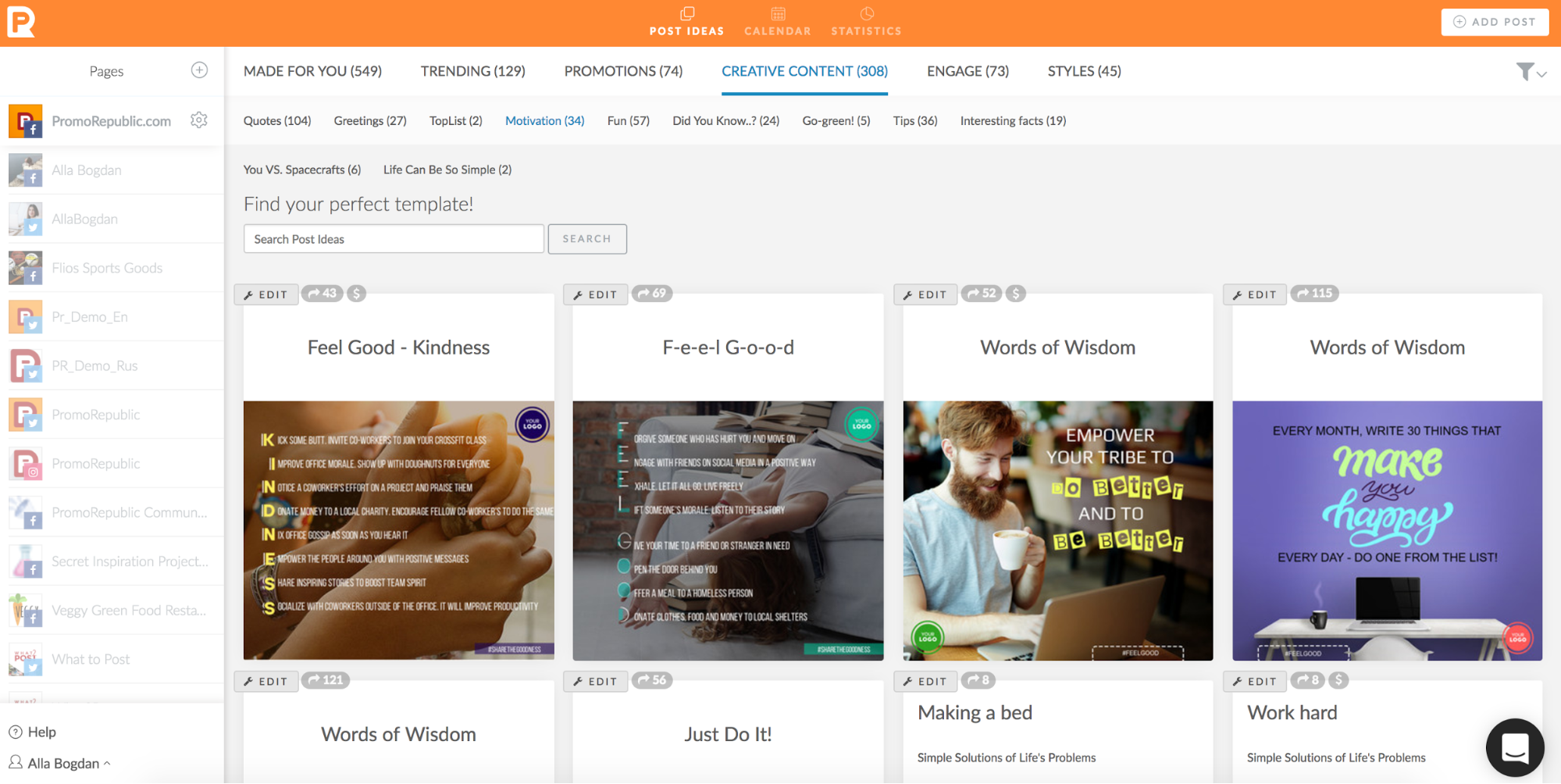 April 5 – National Go For Broke Day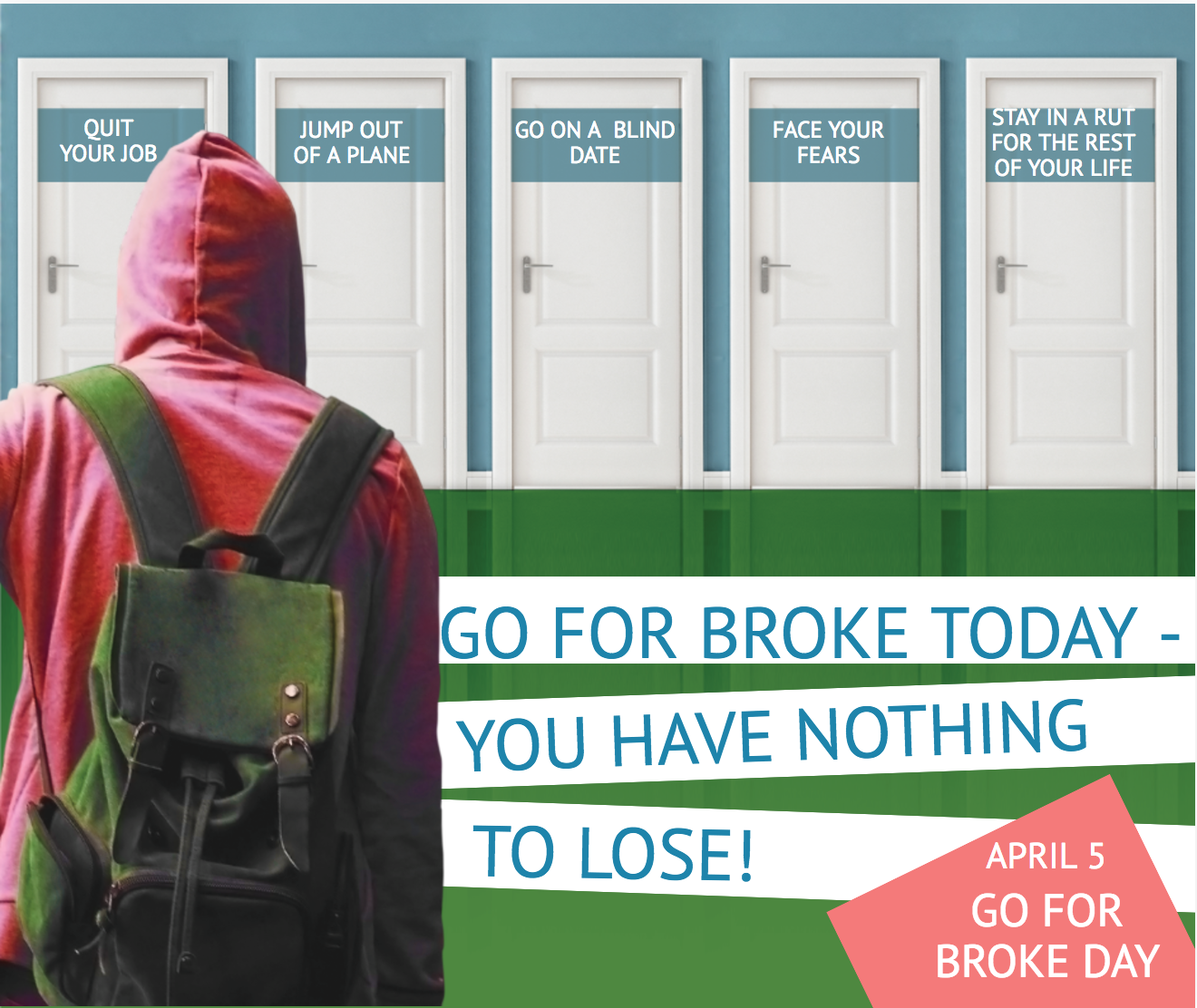 Among content marketing best practices, personal messages tend to be very successful across all social media channels. Encouraging your fans to follow their hearts and "go for broke" may just be the advice they need today. Everyone needs a little push. #GoForBrokeDay
April 6 – New Beer's Eve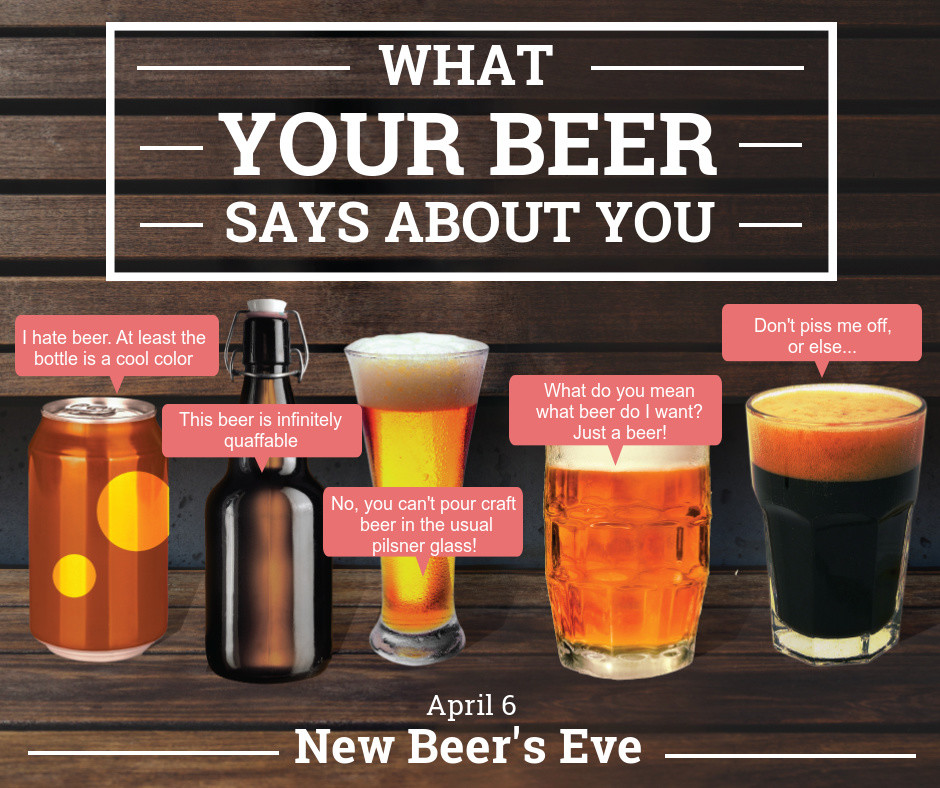 With over 40% of Americans drinking beer, we'd say that this template will go over well with a great number of your followers. Don't forget, however, that not all audiences are receptive to all content. As you plan a social media calendar for a small business client, make sure the demographic will be happy to see a message about beer. If it's a very conservative audience, stick to PG and PG-13 messaging.
April 7 – World Health Day
Isn't it funny that the health day is right the next one after the beer day?:) Any way to get your followers on the right path of health is a plus for you. Inspire change! One of our biggest Facebook marketing tips for 2017 is to post a great visual post with an inspirational message.
April 8 – Buddah's Birthday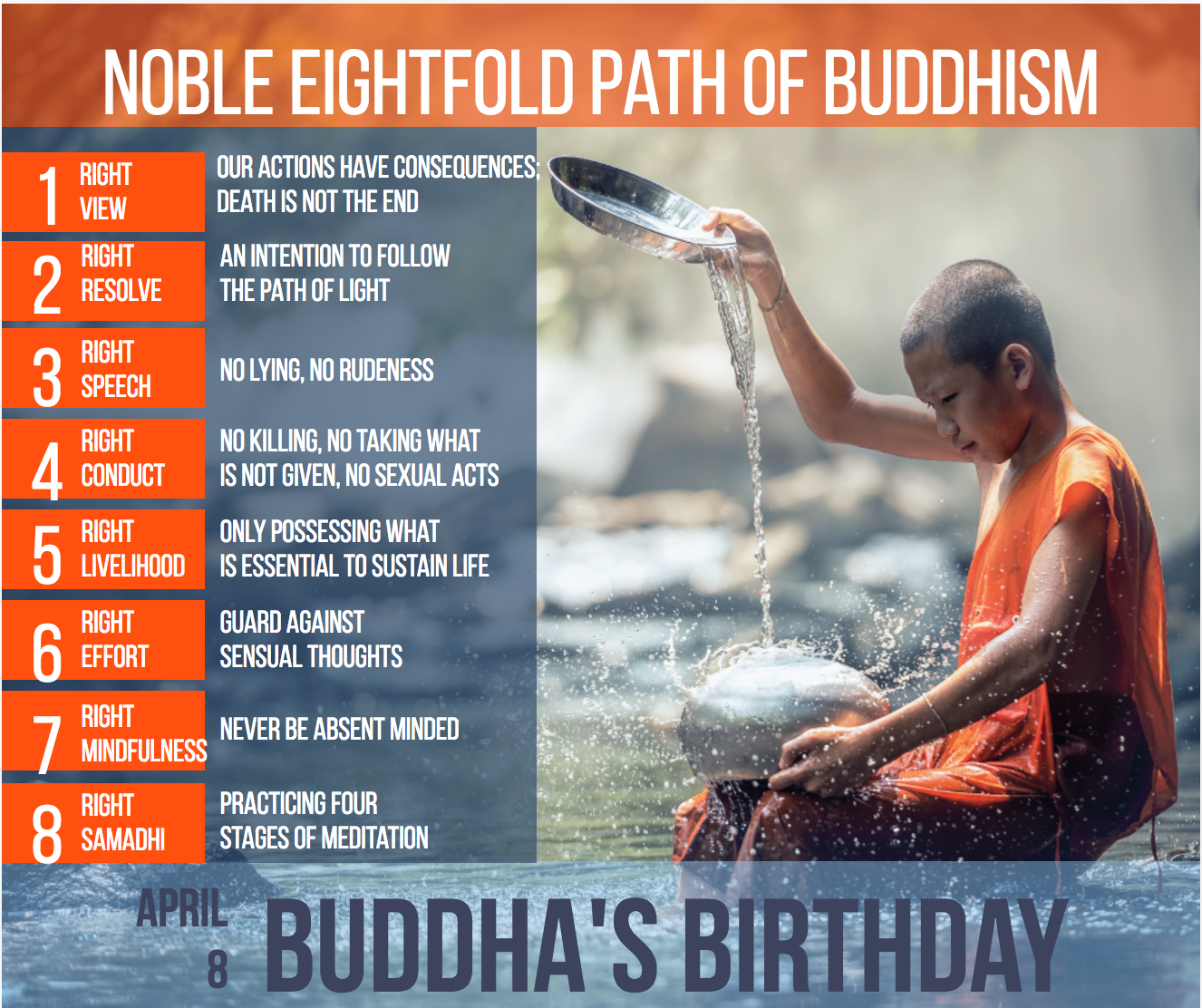 Any follower who is spiritual can appreciate #buddha's birthday. Celebrate his peaceful practice with your fans and followers. PromoRepublic's social media content generator has tons of great ideas like this one.
Spring tips, top lists, hacks and guides
Inspire your followers with exclusive content that won't find on other pages. Robust curated content is not why they follow you. You need unique copy, stunning and share-worthy visuals. Content creation for social media is as much art as it is science. That's why we're giving all these content creation examples to help you get the hang of searching PromoRepubic's social media calendar. We've already done the research for you.
Photography Hacks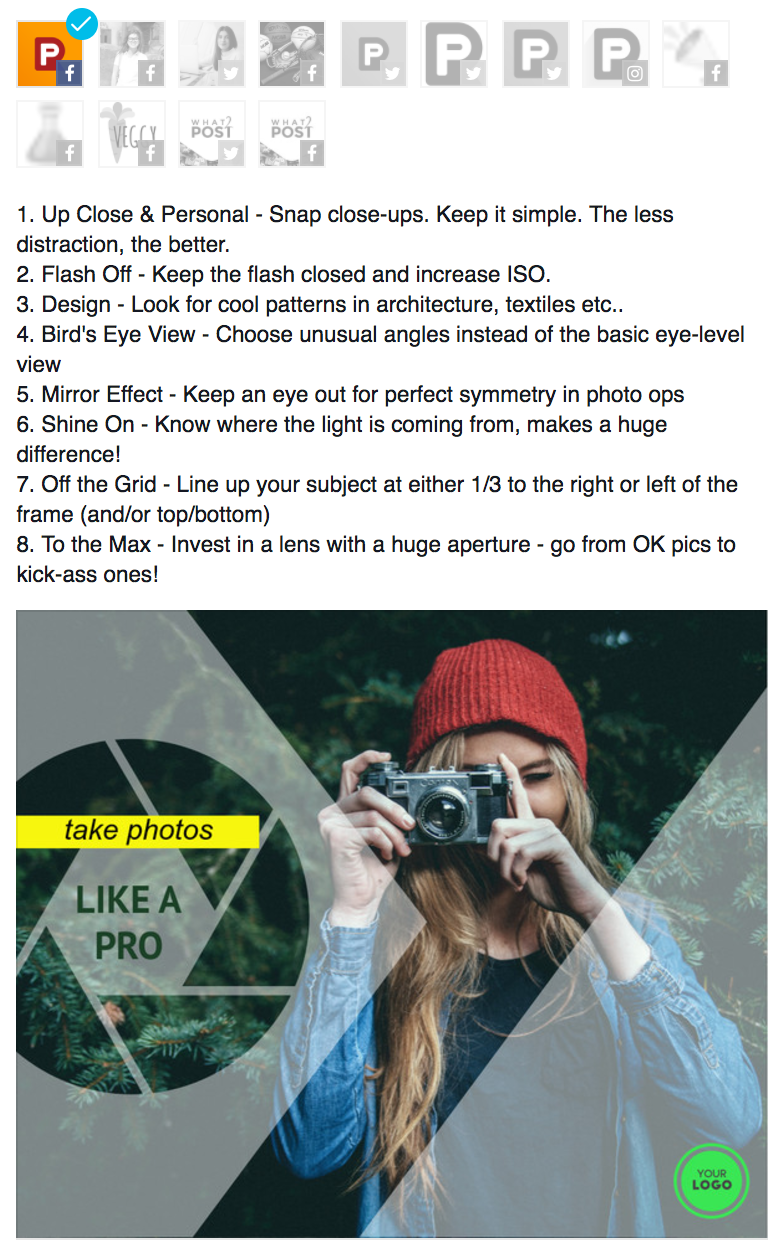 If you run a page where creative people gather, photography tips will be highly appreciated. When people continuously want to try something new, it is a great thing to help them master their skills. People in all sorts of industry are interested in photography, especially now that most of our smart phones have super cameras on them. Adding photography tips to your client's social media calendar is almost always a great idea.
Clothes Trends 2017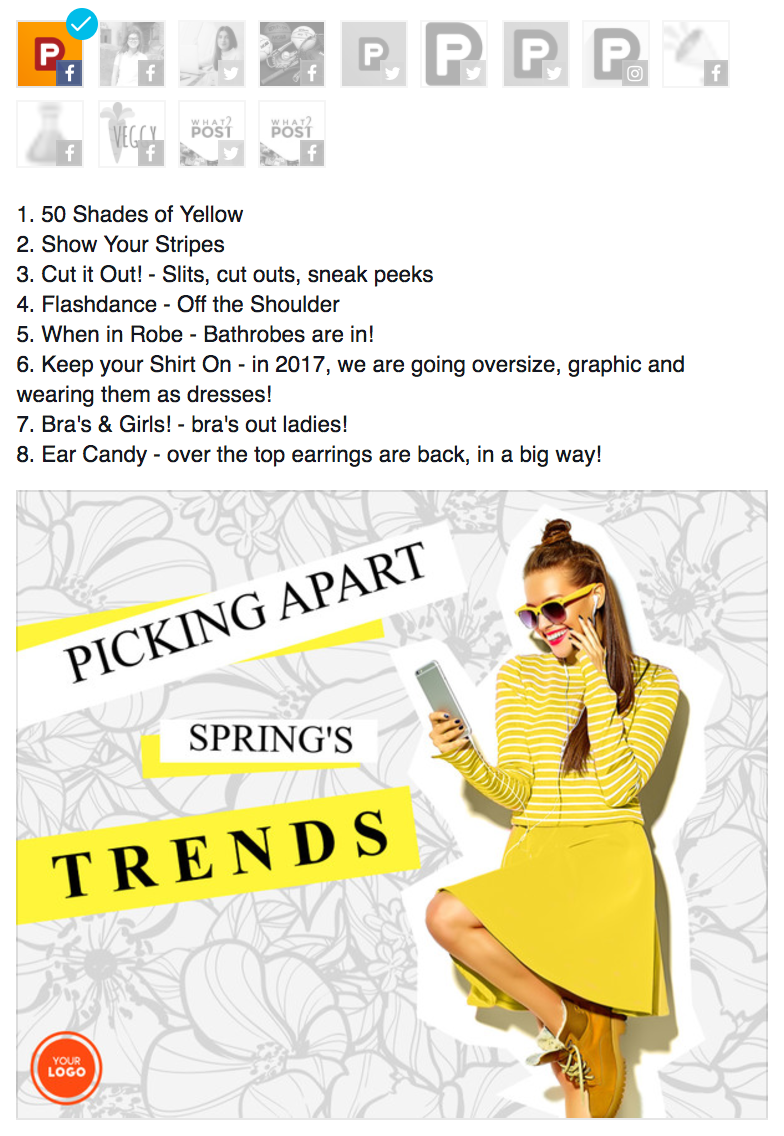 Fashion trends, food trends, car trends etc. When you offer social media marketing services, the sky's the limit. Share trendy information related to your industry, make your predictions and even create polls where ask what will be trendy this month, season or year.
3 Day Weekend Guide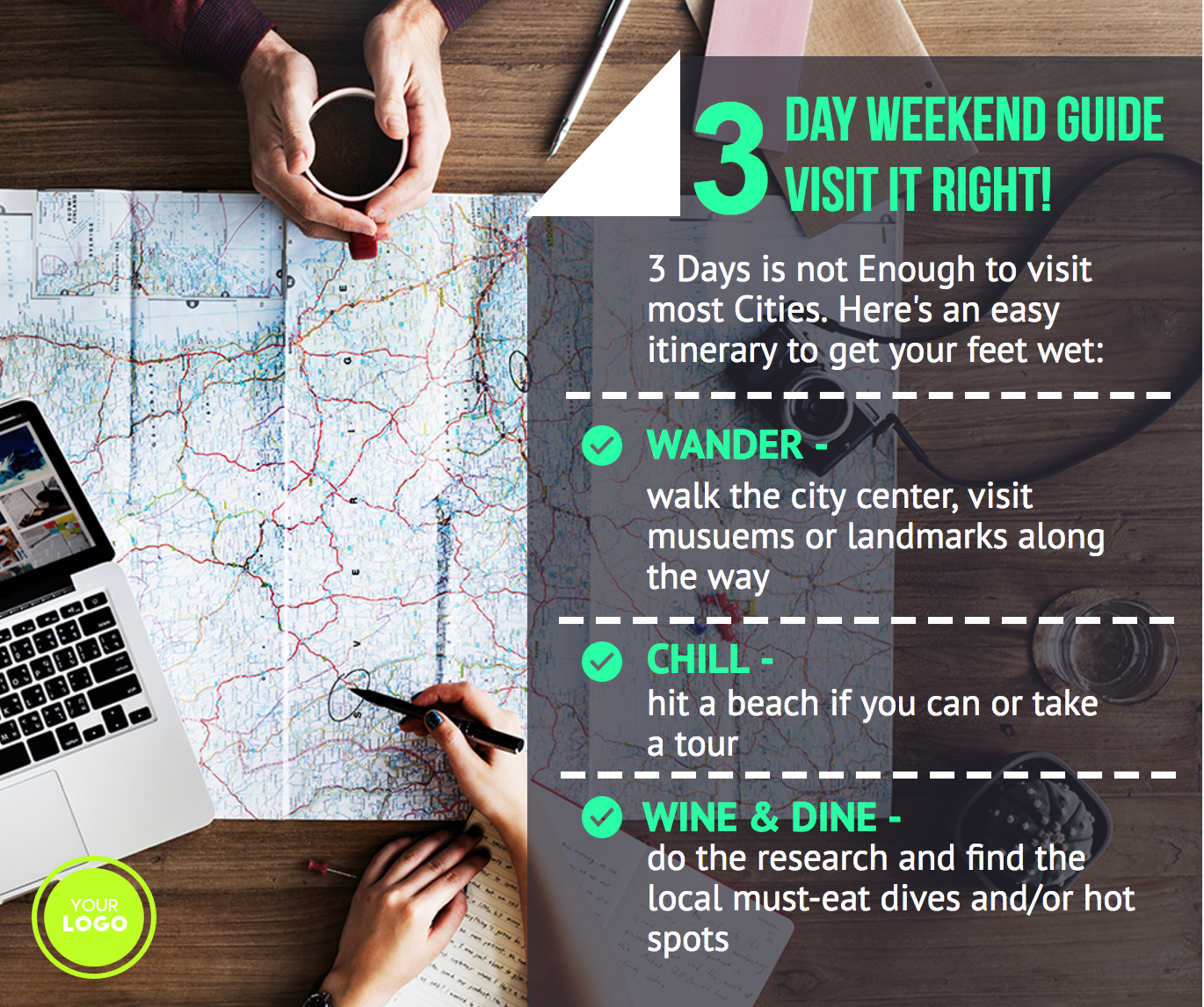 Spring has officially started and travel agencies are tempting would-be travelers with offers. Don't miss an opportunity to engage with your followers on a deeper level and offer them some useful information. They are fed up with salesy posts. Try something new – guides for example. These types of posts will be shared because no one wants to forget where they saw those tips and hacks. Rule number one in a content marketing guide – set yourself apart.
Seasonal Food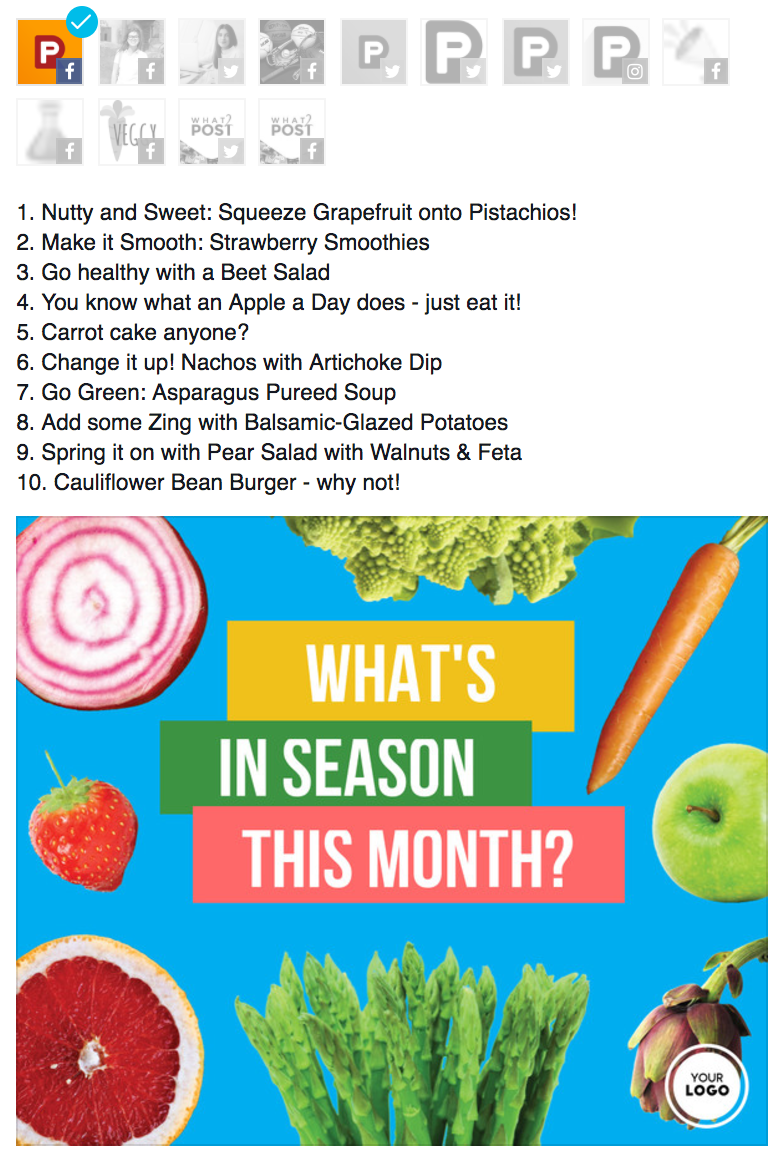 Offer some food tips, because eating and grocery shopping is what unites human beings! We struggled to drill our healthy habits this March and last February, and even in January! April is a definitely good time to reconsider our daily menu. You can use one of our premade templates, or you can create something with many of the visual elements found in our content creation template.
Prepare Your Car for Summer
Such life tips will look good, regardless of your industry. We are getting ready for summer and If you want your posts to go viral – make sure they contains helpful information. You can also ask your followers if you forgot anything to add to your "Get ready" list.
What Consultants Really Do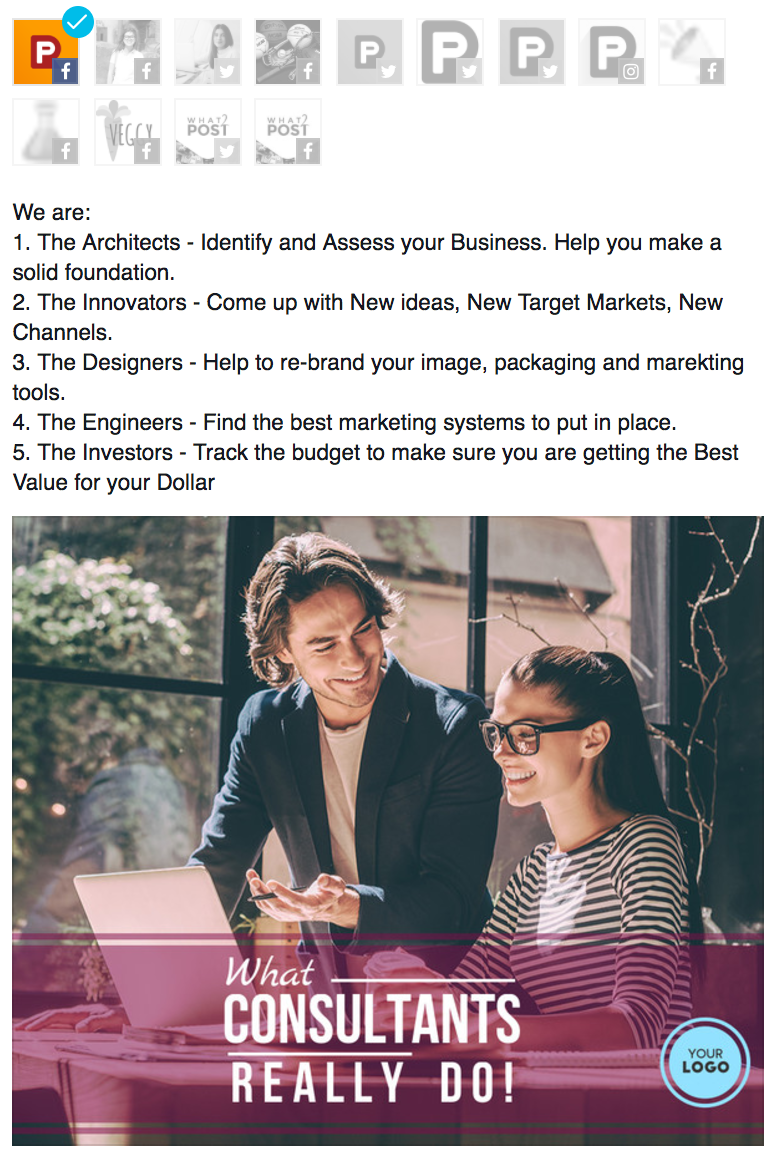 With more and more people striking out on their own as entrepreneurs, social sites are hotspots for consultants who are trying to inform people about their services. There's a lot of pride in being your own boss, and it's never a bad thing to give a nod to the innovators and freelancers out there who are making a difference. Maybe you want to talk about a Facebook marketing guide for 2017, or 2017's Facebook post sizes, to help other SMM's. Of, if you're a CPA or tax consultant, give the top 5 personal filing tips for consultants.
Insurance – New Home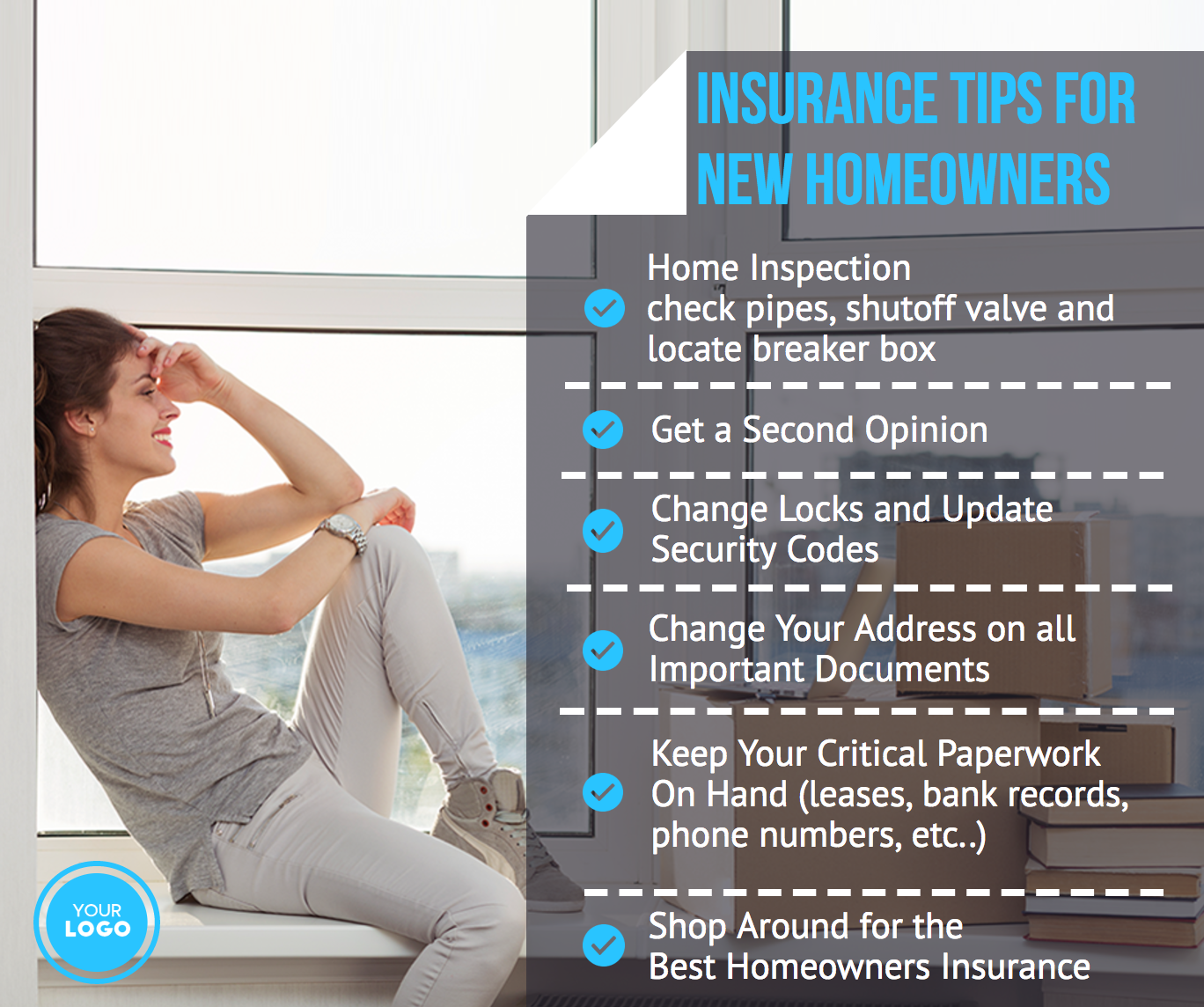 If you are a real estate business, don't fill your feeds up with listings only. If you don't want them to unfollow your page, interact with them on a deeper level. They are not buying houses every day, but you still want them to follow your page. Post information which will be interesting to not only to those who are searching for a home right now, but homeowners, renters and future customers alike.
April motivations and inspirations
Clean Your Desk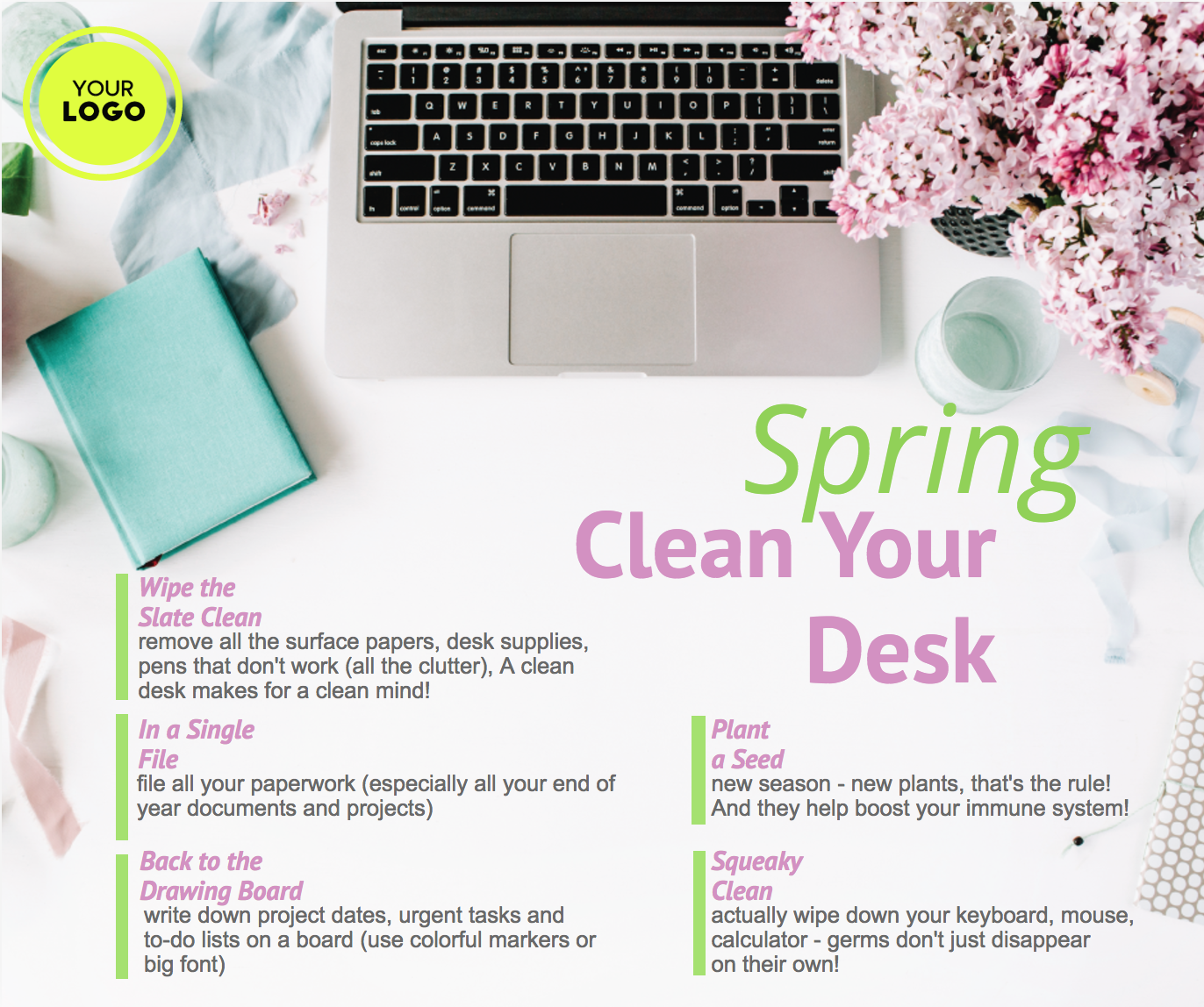 Inspiration is great, and inspirational tips are even better. AND, if they are gathered in stunning visual post – they are priceless. Everyone struggles to clean up their lives when spring comes. Give them a good push and suggest they start in the workplace. Encouragement and inspiration in your social media posting schedule creates goodwill all around.
Spring Clean Your Career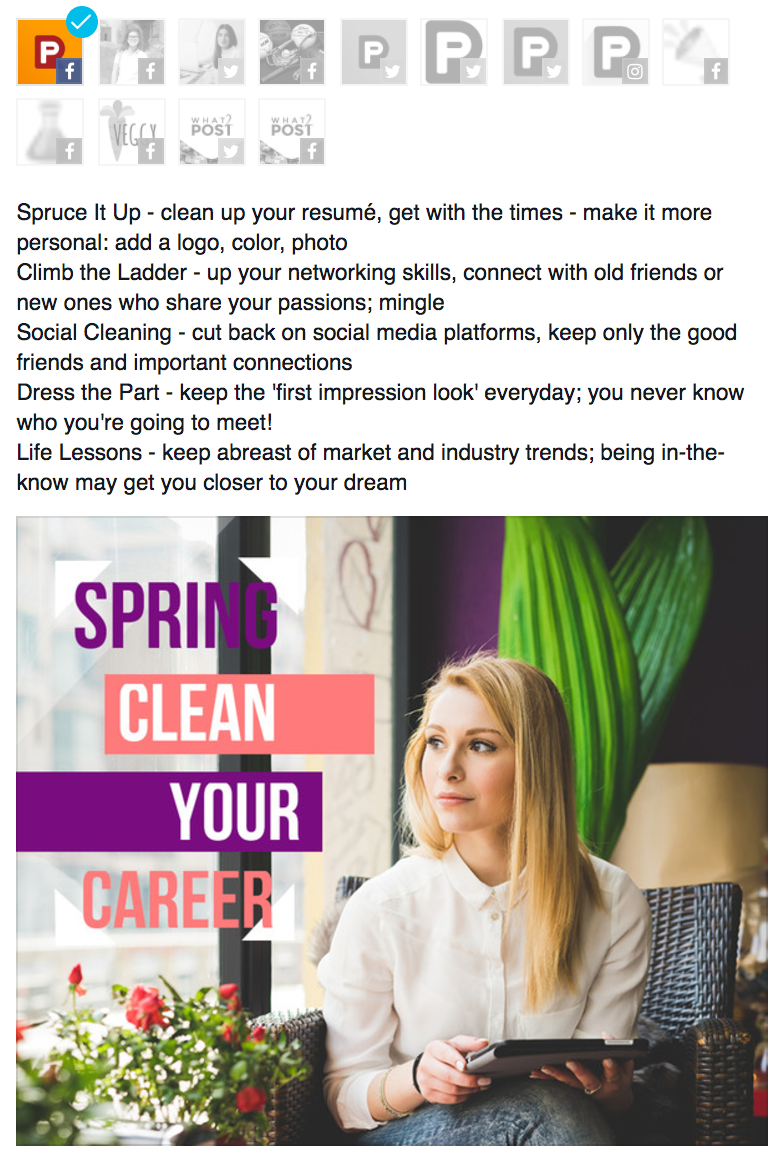 This post won't be neglected. Statistics highlights that almost 60% of americans are not happy with their current jobs. When you're concentrating on learning content marketing, be sure to pay attention to your demographic. If you're posting to a page called "We are Happy Workers," skip this post.
Who is a Leader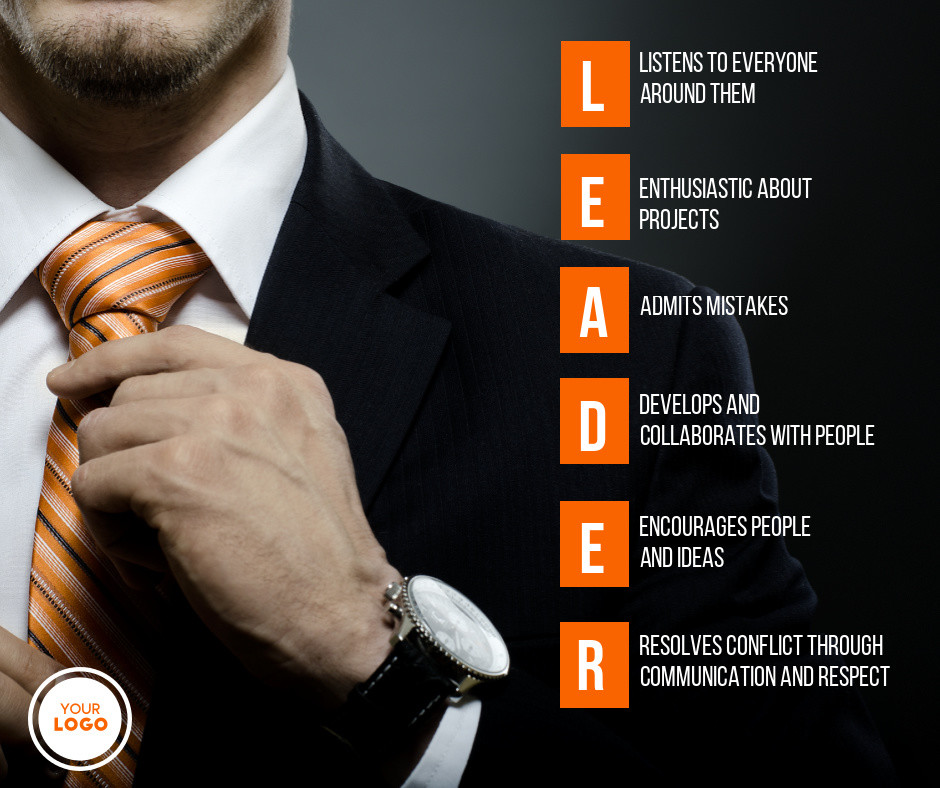 Experiment with short messages as well. You know that people don't read your posts every time they see them in their feed. When people see too much text, they might skip over it because they think reading is time consuming. So, when we see a clear and short image in a visually appealing image, the chances we read the message are really high. This is one of the biggest tips in any social media marketing guide. Let your images carry the heaviest load.
Effective Reading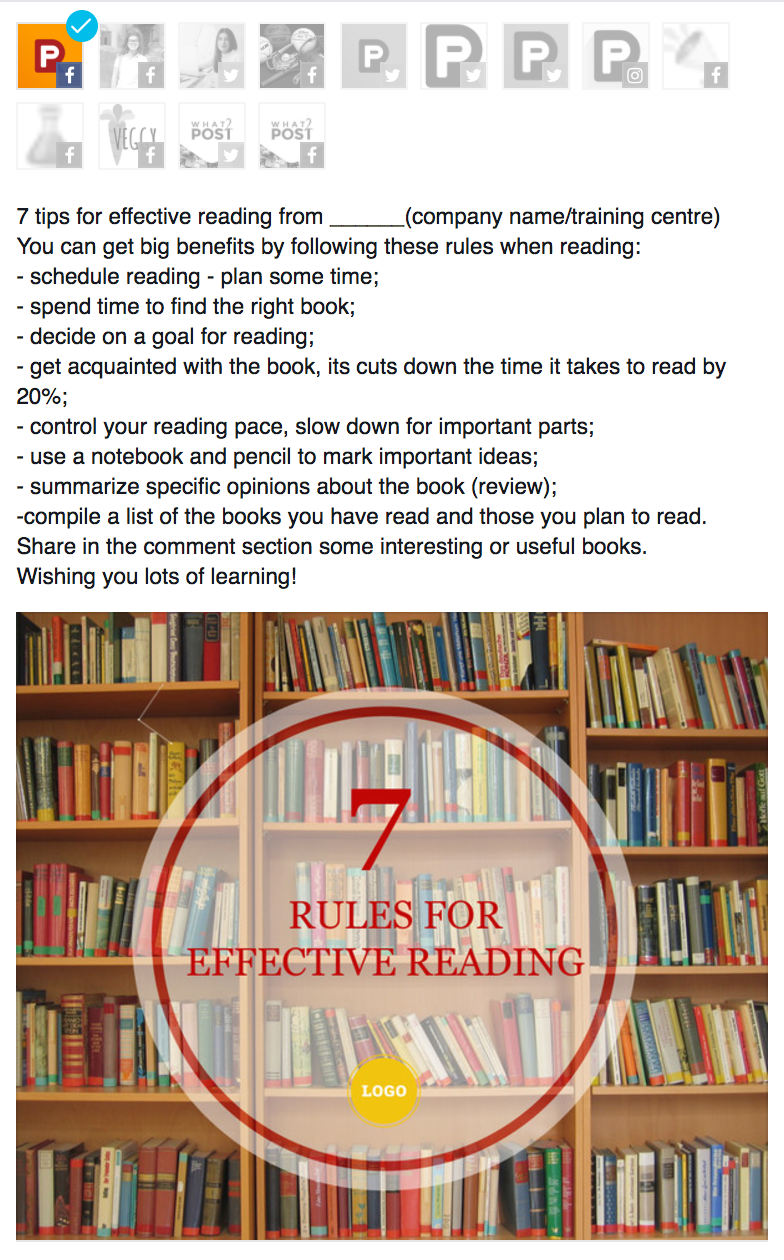 Reading is what we want to do more, but there is no time for this. See the post right above this one. For people who want to read more, offer them these 7 rules for effective reading and ask to share their hacks in the comments.
Business Woman Habits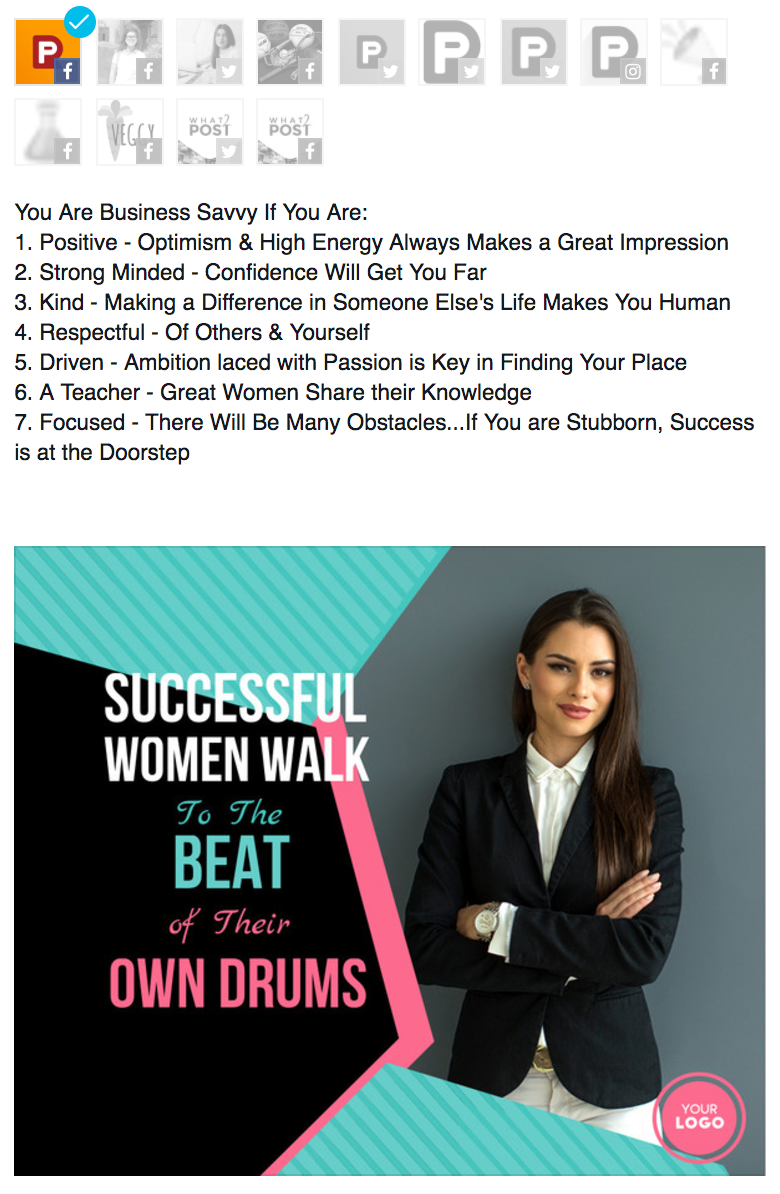 Do you know your audience? Are these women or men predominantly? If your business is followed by ladies – inspire them with motivational posts.
Fishing Benefits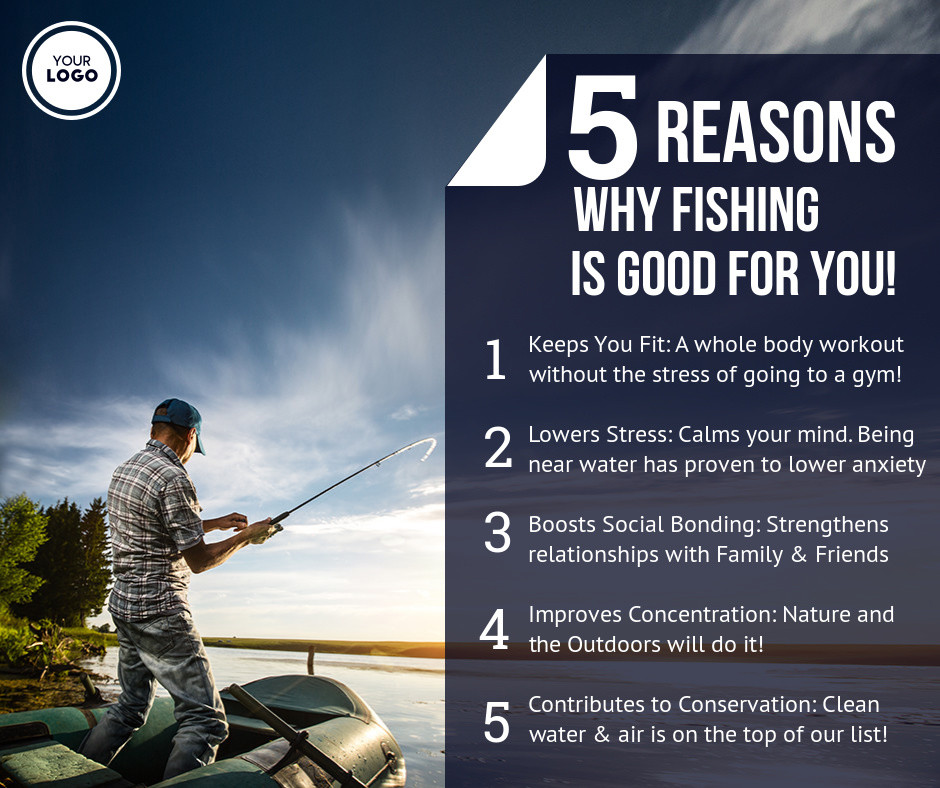 If men build your follower list predominantly, make them stop and enjoy your posts. It's not necessarily to post only dry and business content. Remember, they are people and they want some fun and easy going posts as well.
Clean Your Body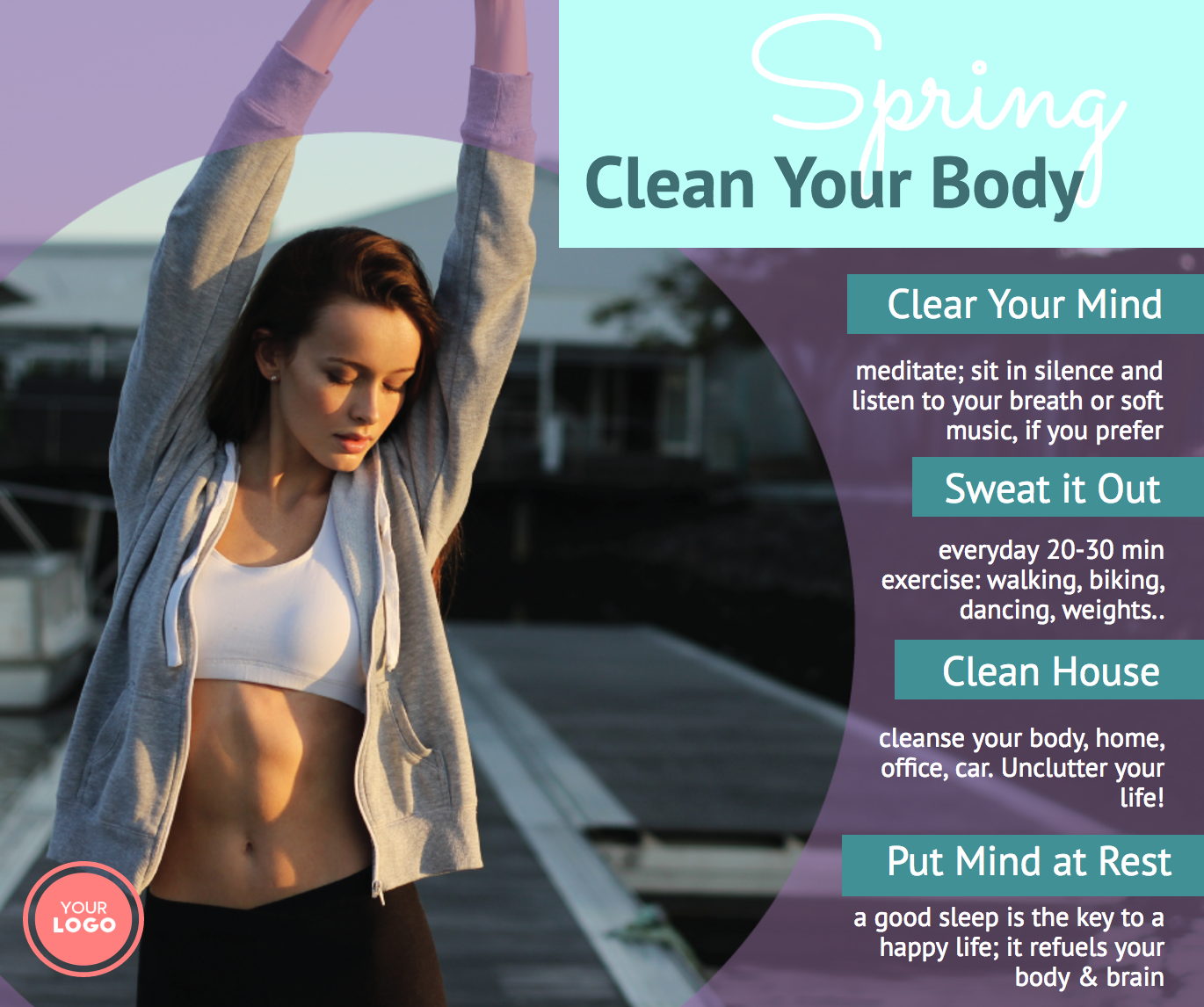 Health and fitness posts are actually universal. But if you are a sports or fitness business, make sure your posts contain stunning visuals as sport people like to be inspired with perfect bodies and clear message in a visual, because there is no time to read long read captions.
Promotions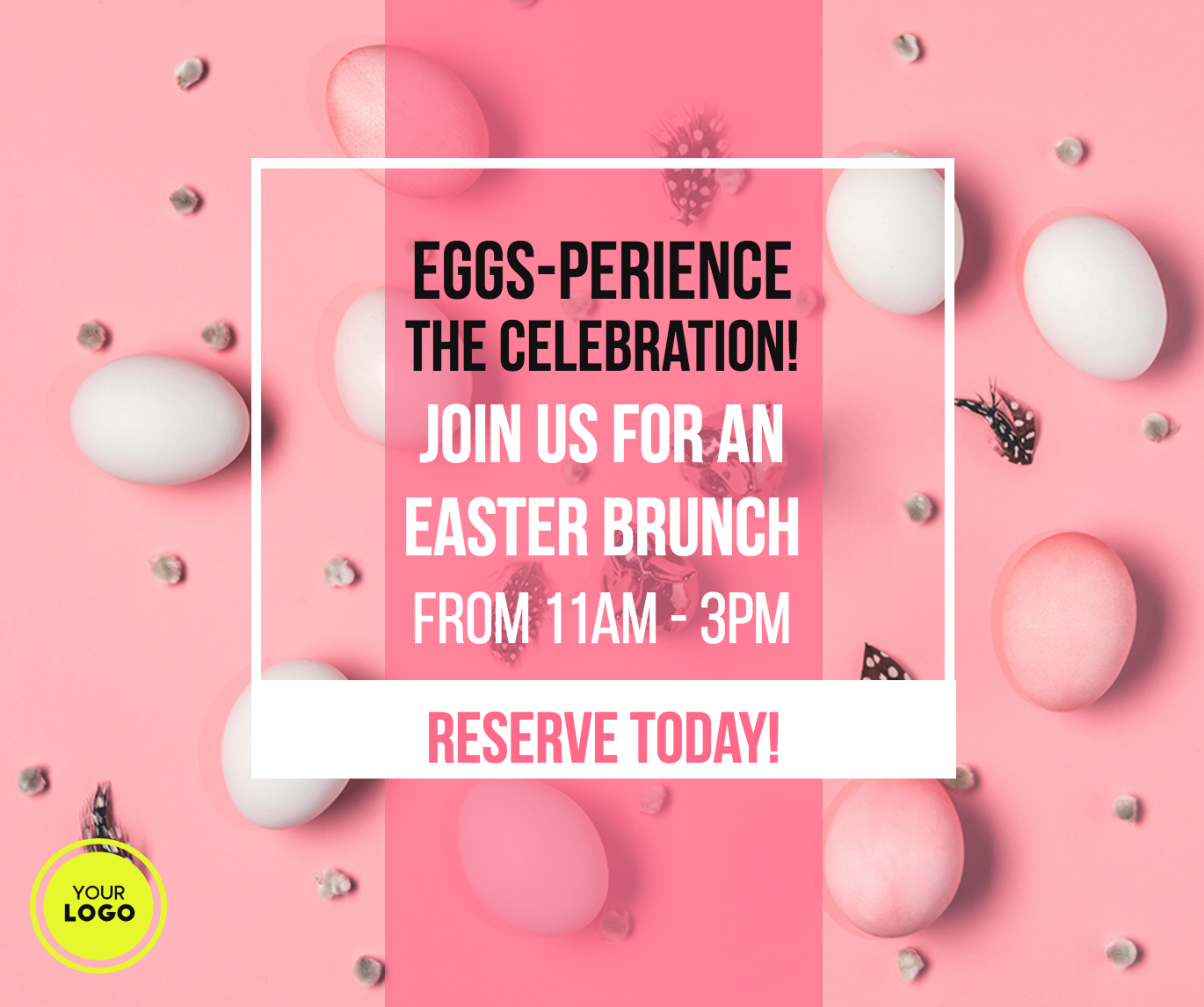 Easter is coming and of course you need to run this "bunny" campaigns. It's up to you to decide whether these will be discounts, special offers or company news, but the topic is clear – Easter. It's not necessarily to be a bakery or grocery store to implement this gorgeous holiday into your campaigns.
Engaging content: quotes, polls, contests
Photo Contest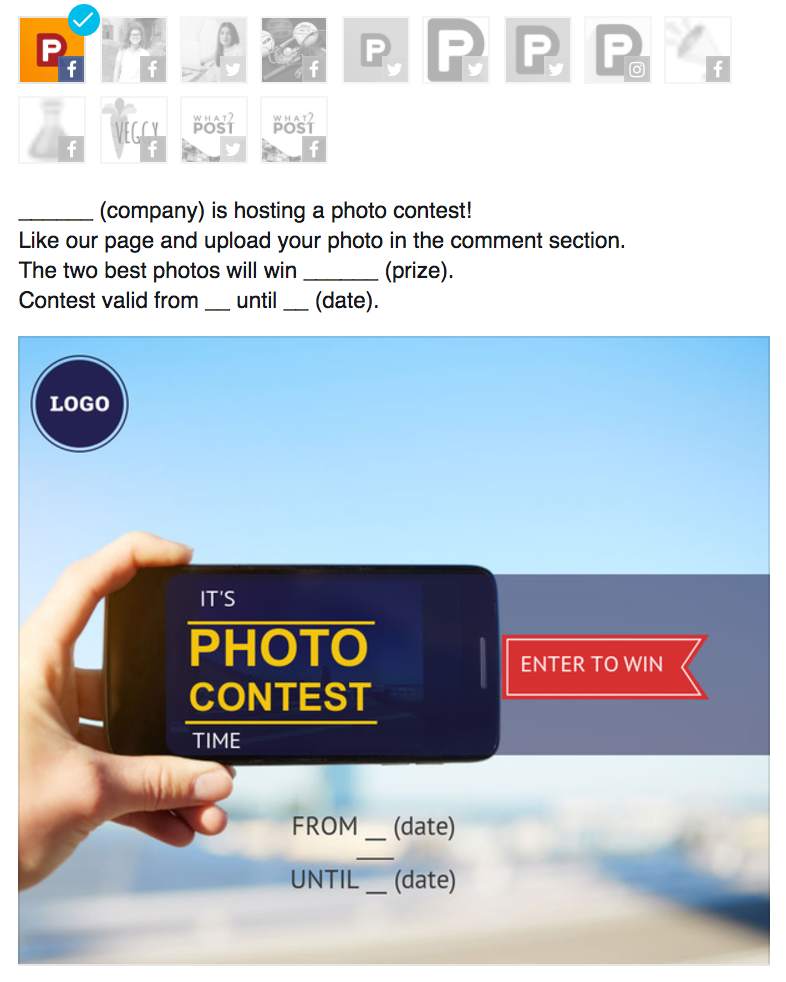 It's getting warm outside and our phone's memory is filling up because of photos from picnics, park barbecues, and our selfies. Try a photo contest this spring and suggest they take one with your product or in your store and post it as a comment to your post.
What do you prefer?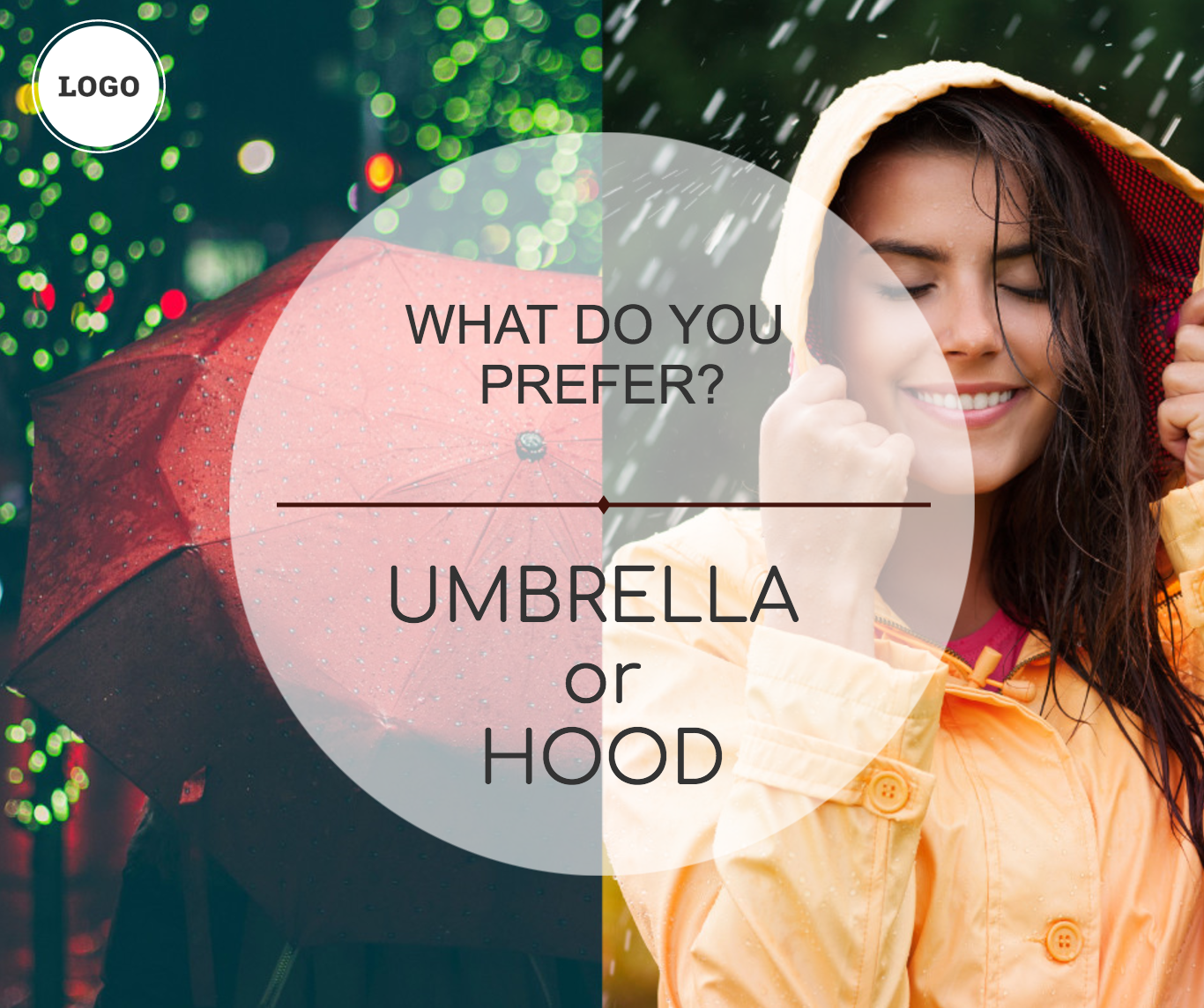 If your followers are not very active and you need your posts get some good engagement, post short answer polls like this one or even ask them to vote with Facebook reactions.
Follow Your Dream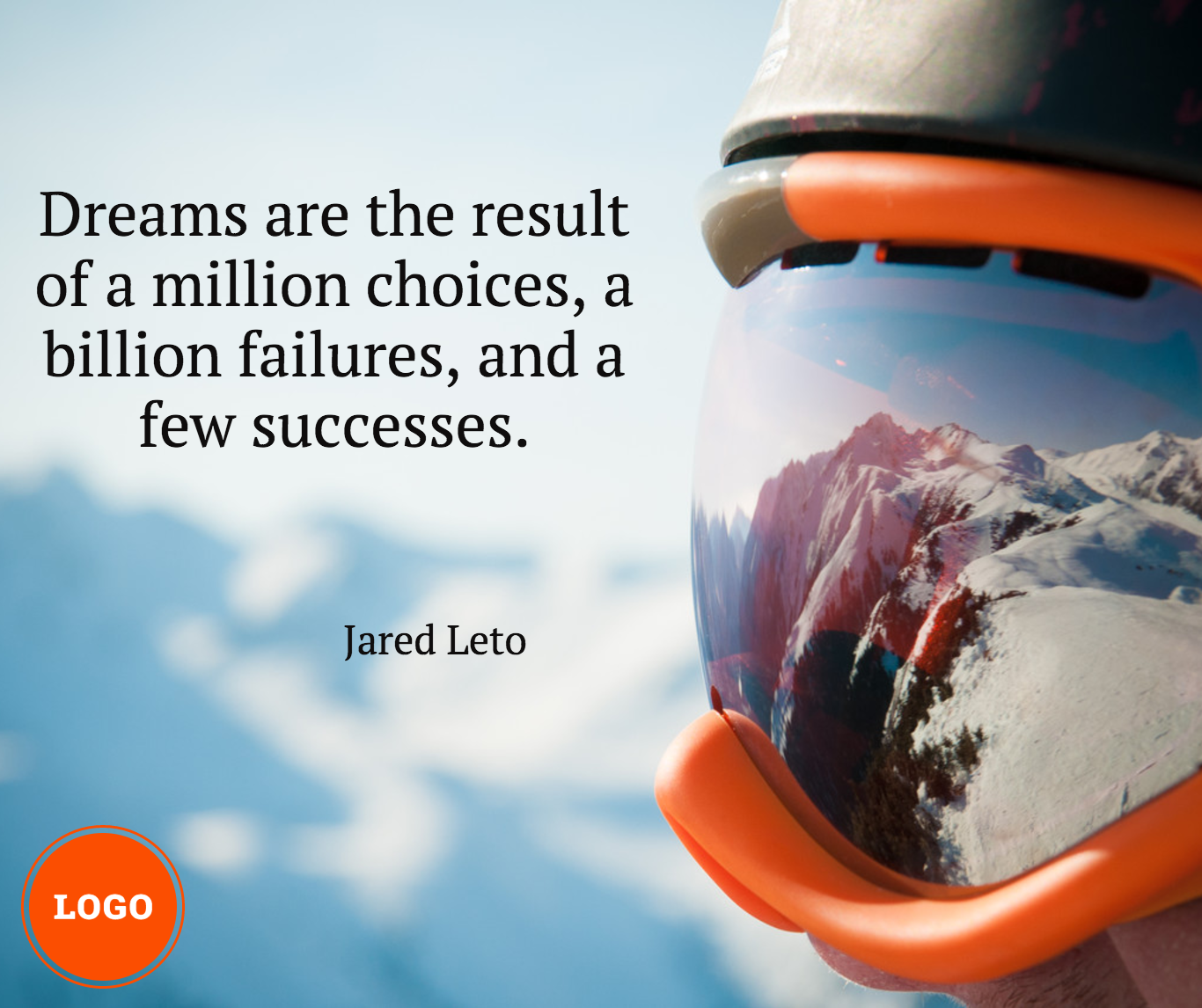 Quotes are easily the most shareable content. Just find some that will match your followers interests and place them in a stunning visual. Don't forget to customize your posts with a logo.
Educational content
No need to run a blog (but that would be great) to fill in this "education content" cell in your editorial calendar. Every post that contains educational content works.
Did you know?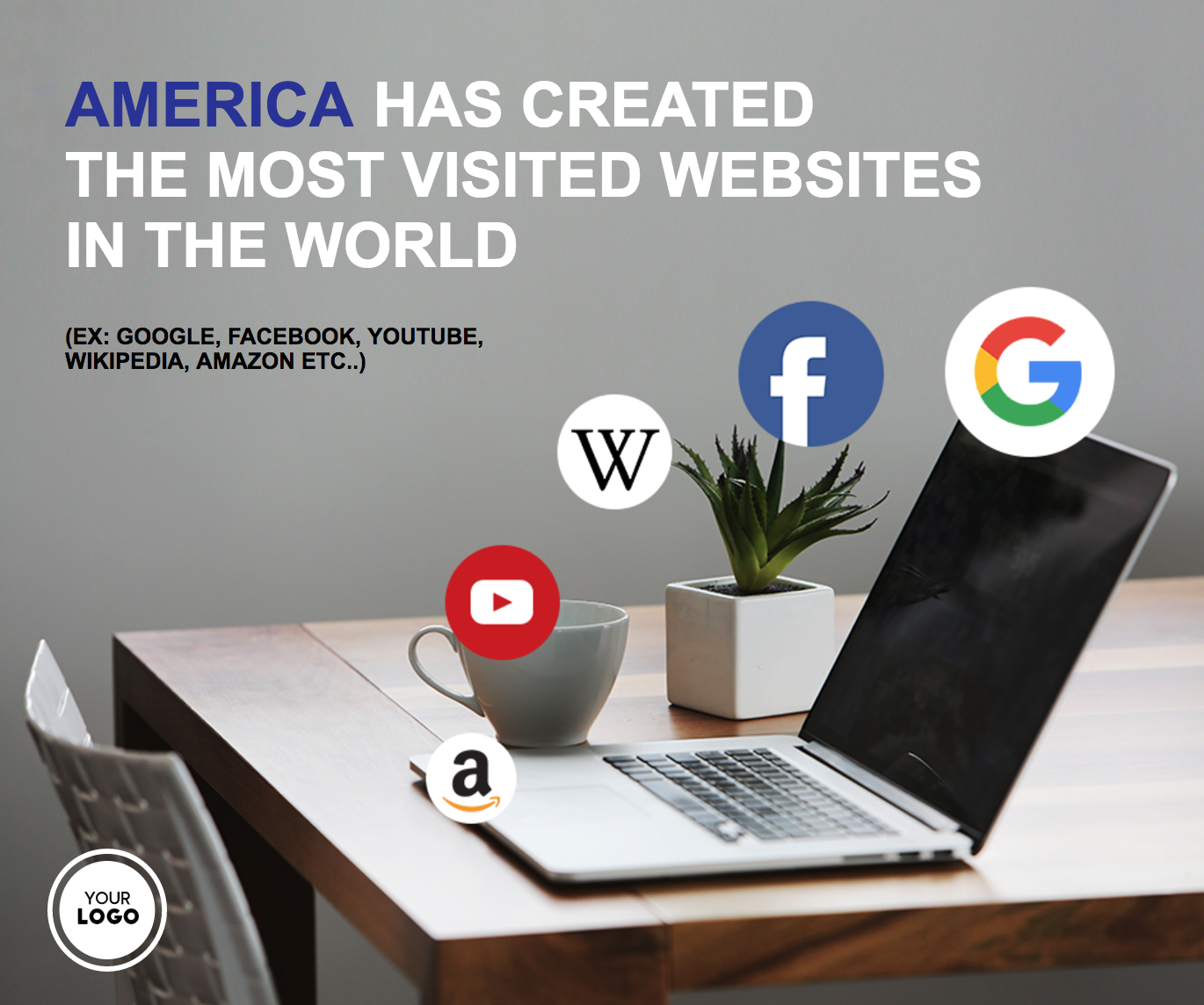 Share information that they didn't know about yet or surprise them with data or statistics. Social media educational content shouldn't be long. Some people want to be educated in an easiest way possible.
Influencer in your niche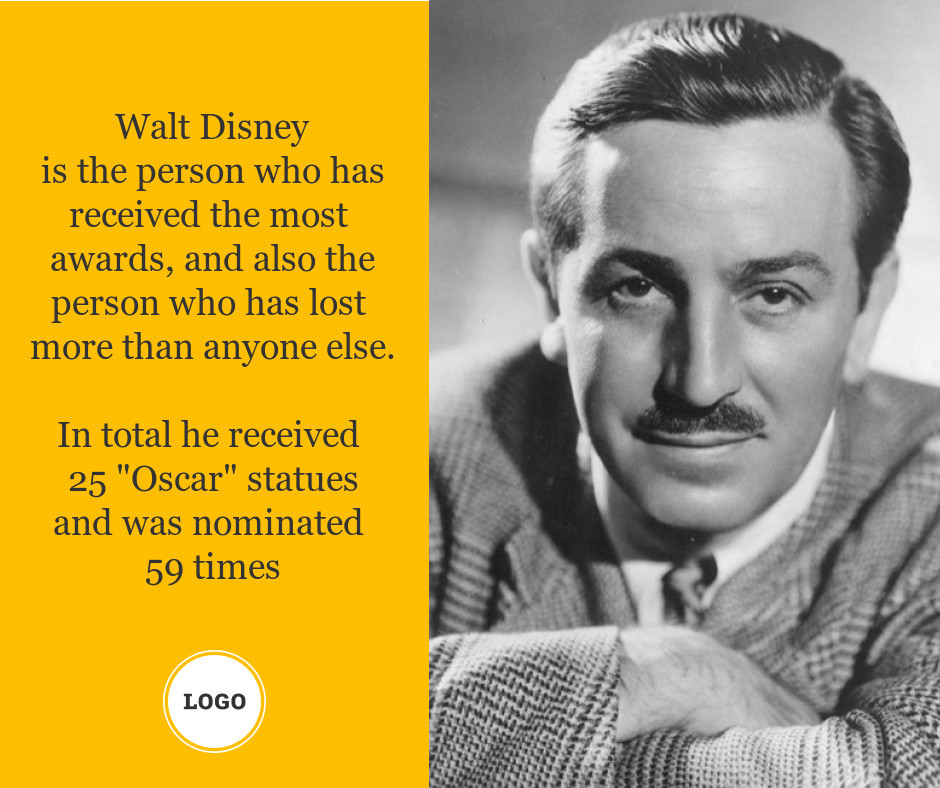 Do you know some influential people in your niche? What about inventions and significant dates? Do some research and share that information on your pages. I'm sure you will be surprised how many big names you didn't know. Explain your business to them and educate in a fun way.
Fun Posts
Fun Dictionary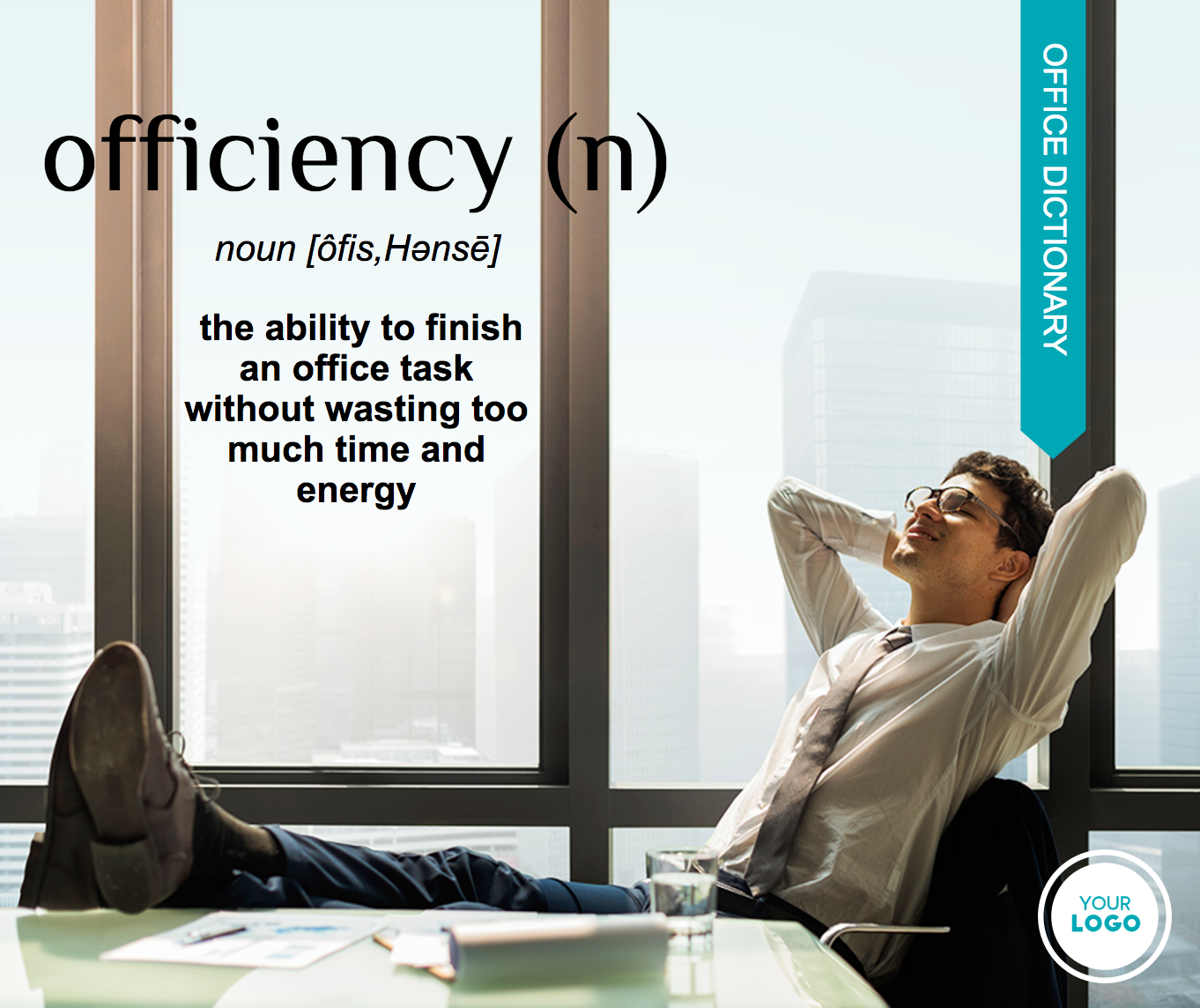 Have you heard about the fun dictionary? PromoRepublic updates this category  daily for many industries which we service. Office dictionary, IT dictionary, Real Estate and many others.
Cocktail Horoscope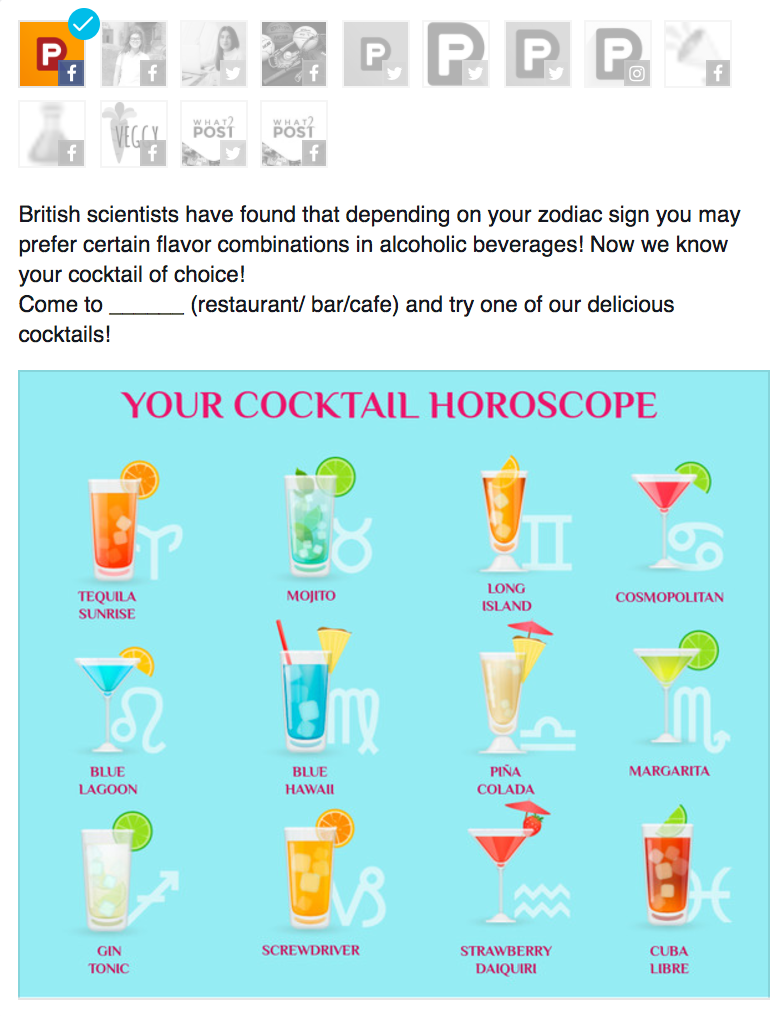 Finally, fun posts are great for Fridays. Ask your fans and followers to comment on their cocktail horoscope.
Don't forget – all these posts and more are available in PromoRepublic's content calendar! Why make your social media marketing automation harder than it has to be?