As a business, you look for ways to humanize your brand and build trust with customers.  With audiences becoming more hyper-focused, brands are seeing success on social by providing user-generated content.
UGC (user generated content) is all about your followers. You create this type of content not just FOR them, but WITH them – that's what makes it so special. Learn how to encourage clients to talk about your business and share their reviews and feedback. The best promotional content is created by them!
Benefits of UGC
Ideas and content generated by your audience speak directly to their interests, challenges, wants, and needs.
Audiences love to see themselves reflected in a brand's content. When someone becomes a part of the process, they feel a sense of ownership.
Inviting your audience to collaborate prompts them to actively interact.
User-generated content has a long shelf life and can also inspire future ideas.
You have more internal resources to spend on big ideas.
Ideas for UGC Posts
Now that we know what user-generated content is and how it helps your brand, it's time to start a strategy. Get inspired with some great UGC posts that received huge engagement.
Hashtag Campaign
Trilogy, Advanced Natural Skincare ran a contest in which they asked users to share #TrilogyLOVE for a chance to win their product. To run # contest for your business, create your own hashtag, think over prize (e.g. certificate, product, service etc) and set conditions (e.g. share a photo with your goodies or at your location). Make sure your contest is in compliance with any local or federal lottery laws.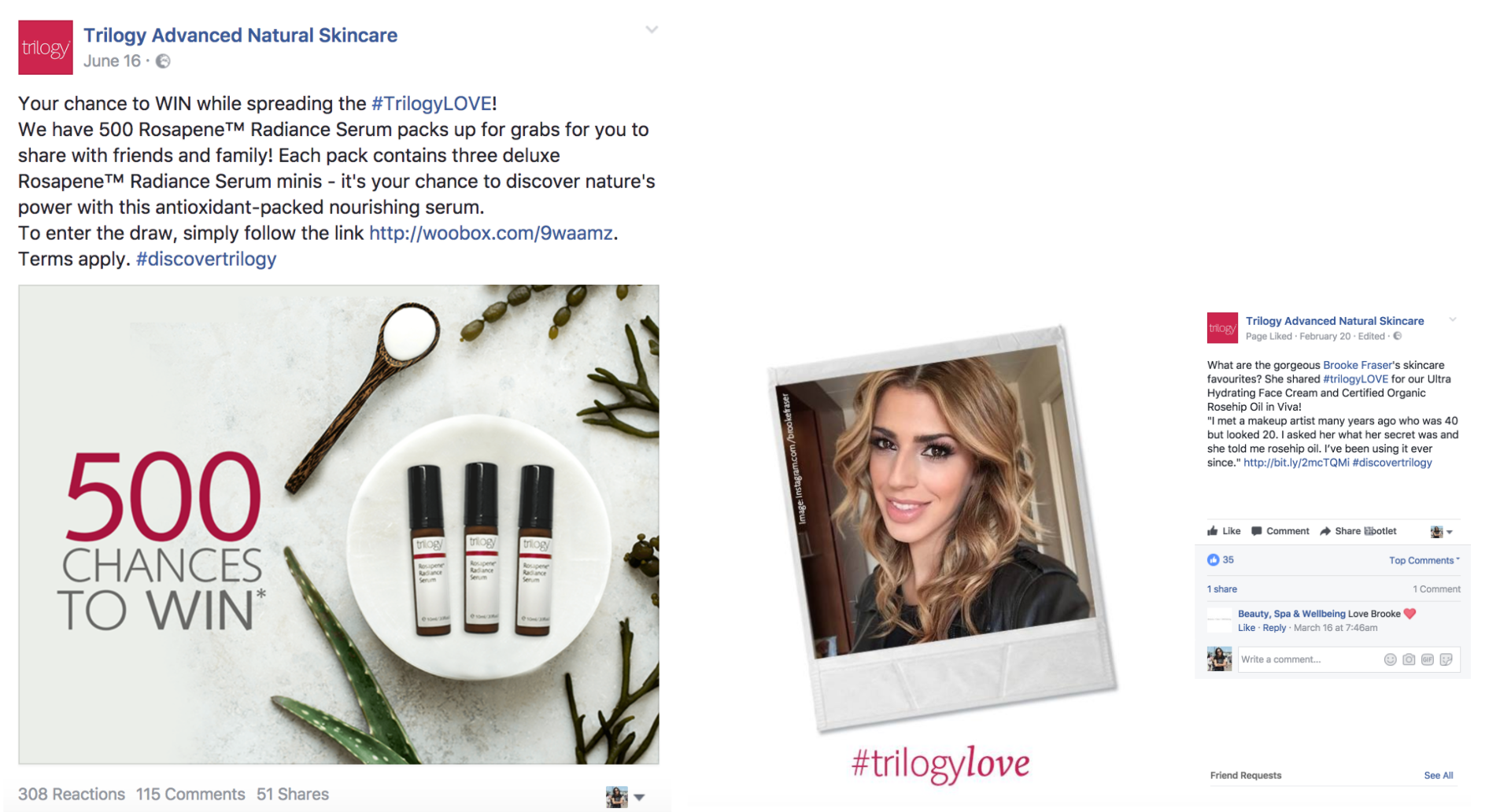 Set A Photo Zone
If your location lets you set up a special photo zone, do it immediately. Restaurants, beauty salons and other businesses with physical address can spread the word with the help of a special place for shots. Capturing photo at a nice location and then posting it will tell more people about your company.
SigmaBeauty has set a photo zone and now benefits from loads of viral branded photos.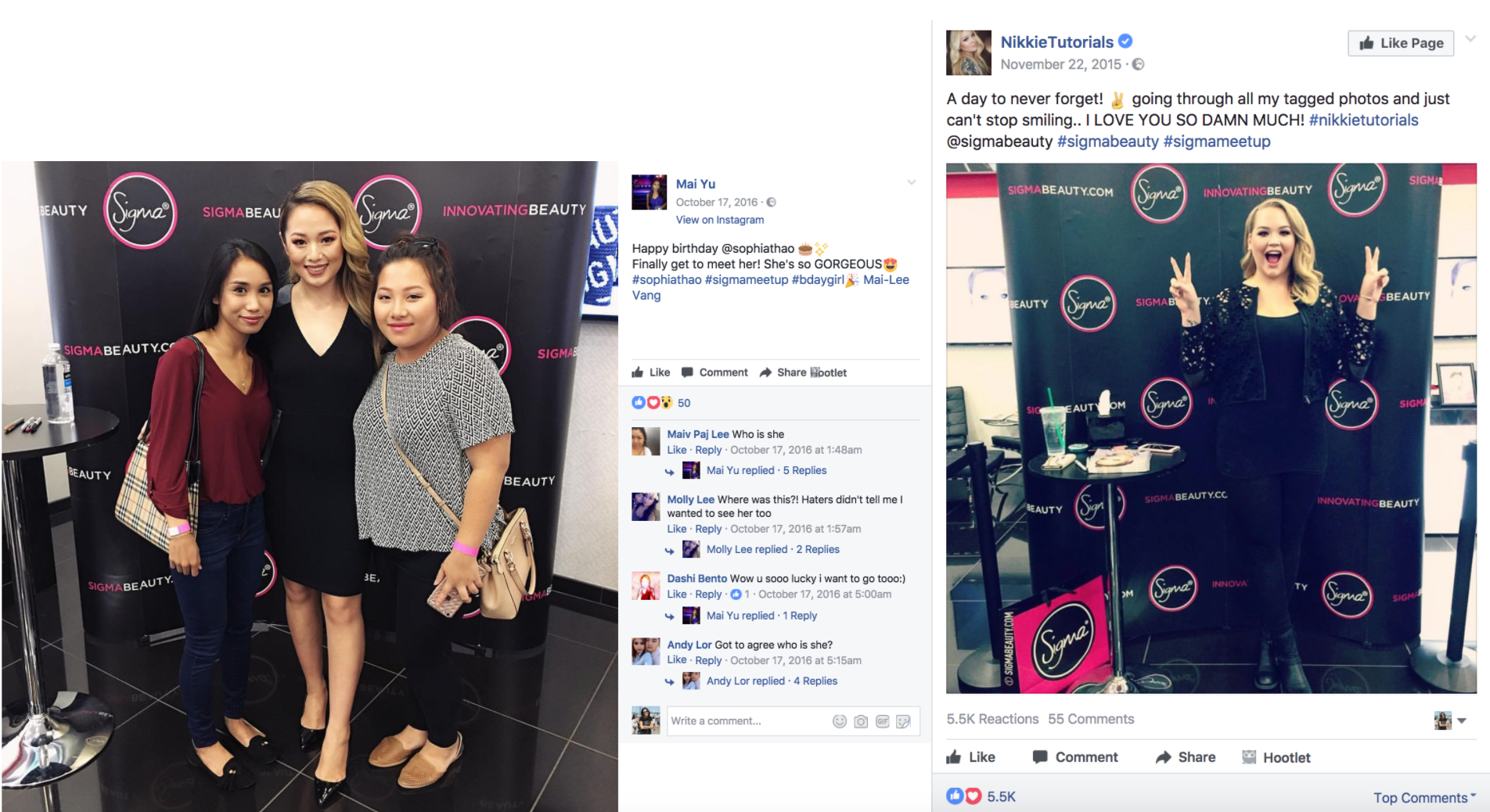 Happy Clients
You can offer a discount or free delivery to those people who share feedback photos with your product or service.
Garden Flower Shop reposts photos of happy clients on their page. Your happy clients are best proof of your service. Don't forget to ask clients to tag your business page.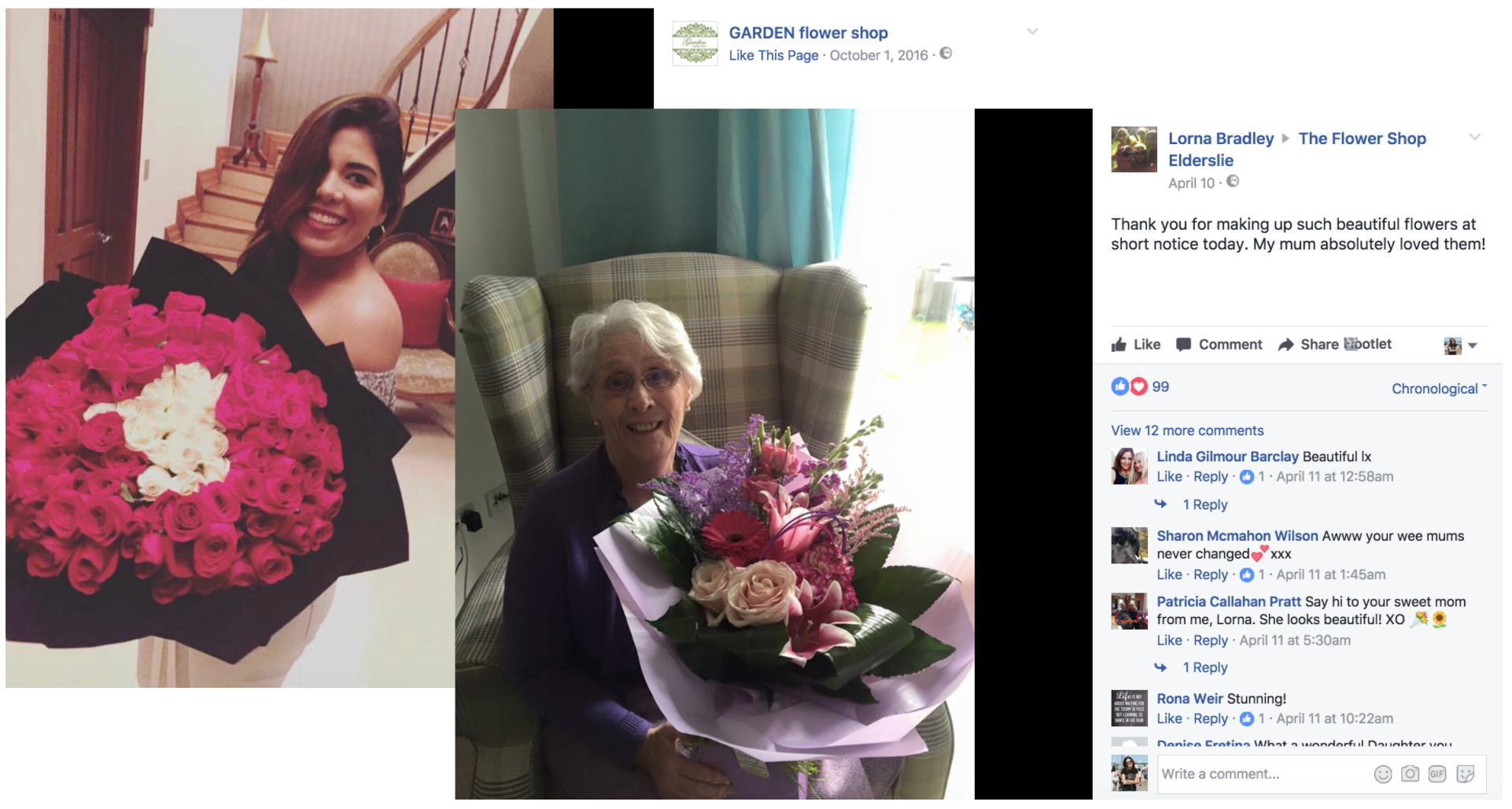 Testimonials and Reviews
After a customer makes a purchase on your site, ask him for a fan feedback on your Facebook page, like The Flower Shop Elderslie does on their Facebook page: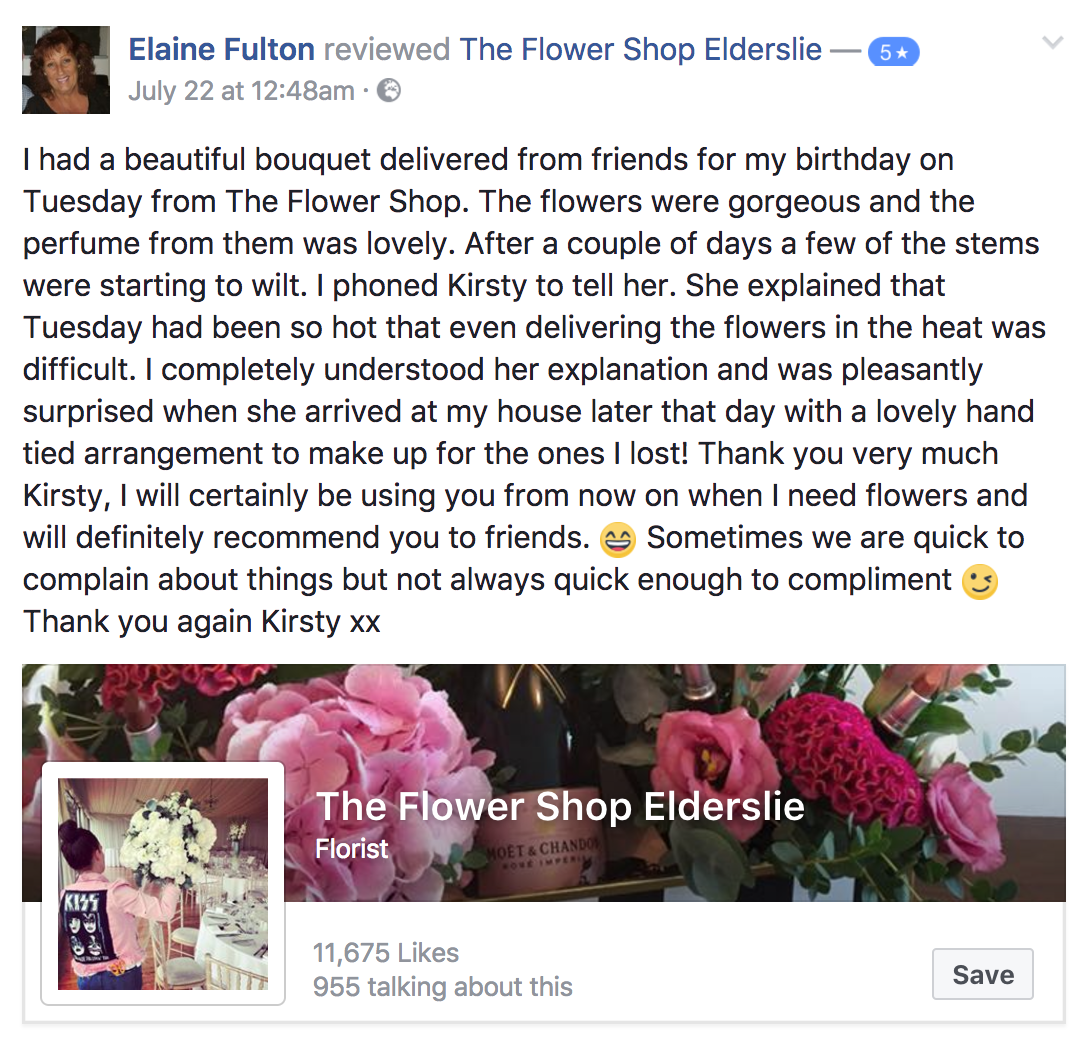 Check out your mentions regularly and see what people say about your business. Don't hesitate to repost testimonials and reviews. Go to Notifications-Activity-Mentions to see your page mentions.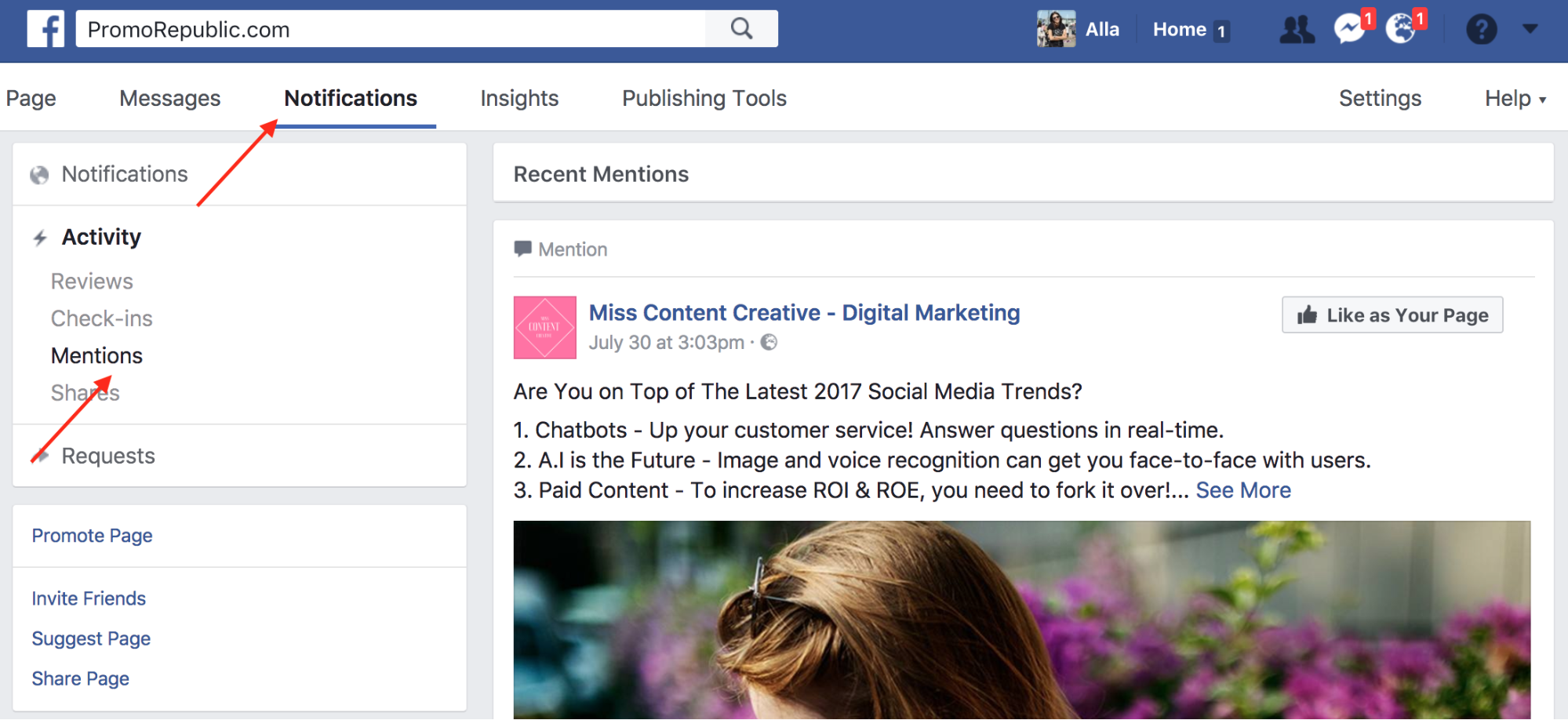 Simply Repost
Now with Mentions you never miss a review or a pic captured at your location. It's a good practice to ask for permission before you repost a photo.
Gold's Gym reshares motivational photos took at their gym. The number of likes says people like these types of posts!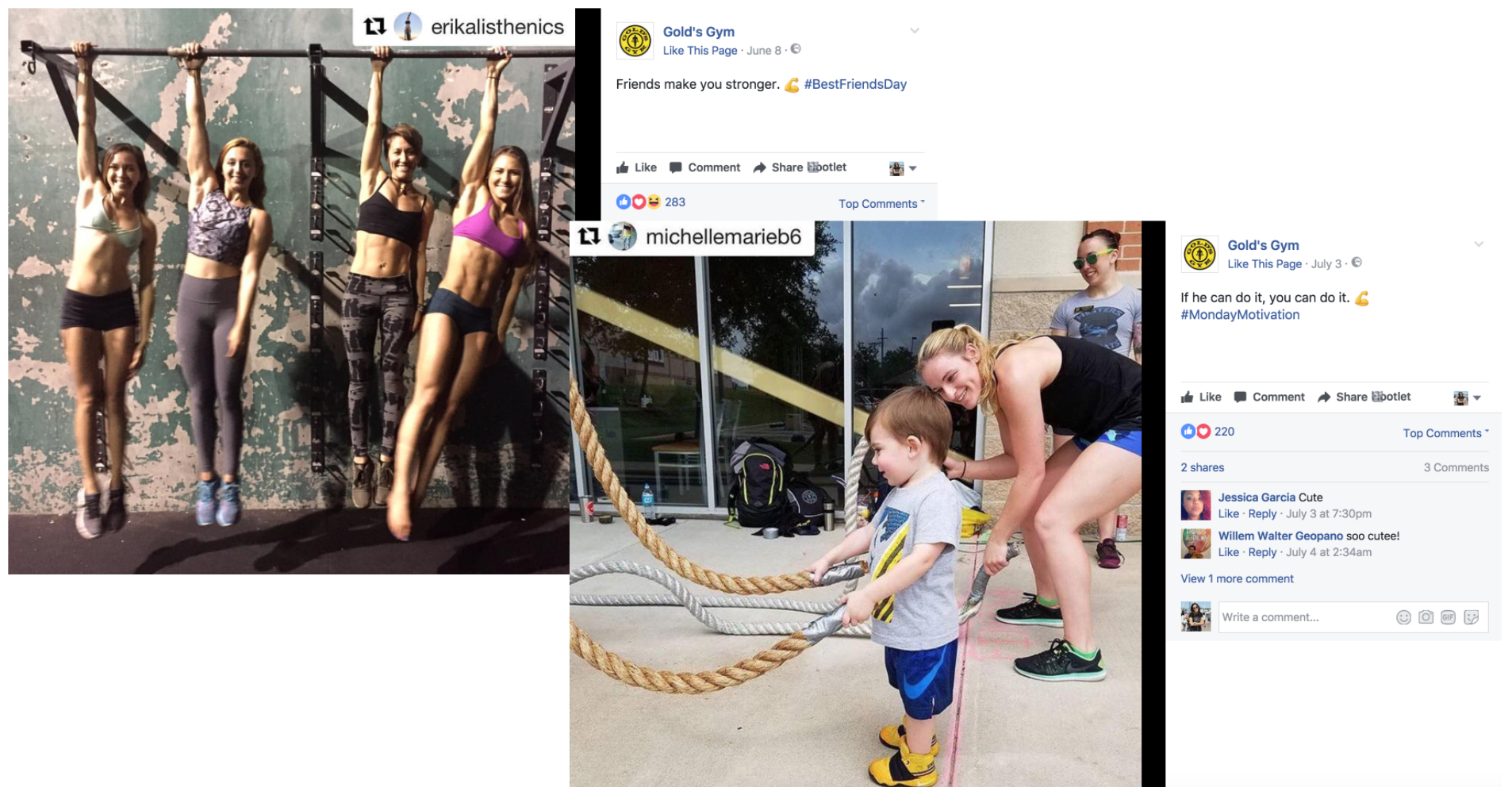 Add your copy to the post that you share – say thank you for choosing your company. You can also comment on the posts on their pages.