Сontent
Introduction

Statistics 2016

Facts That Will Surprise You

Visual Post Architecture

Effective Visuals For 3 Types Of Posts (examples)
It's a well known fact that social media marketing is all about visuals, so marketers need to learn to market without words. We scroll our feeds several times every day searching for information we would like to know more about. The human eye sees the picture first, and may or may not read the accompanying text.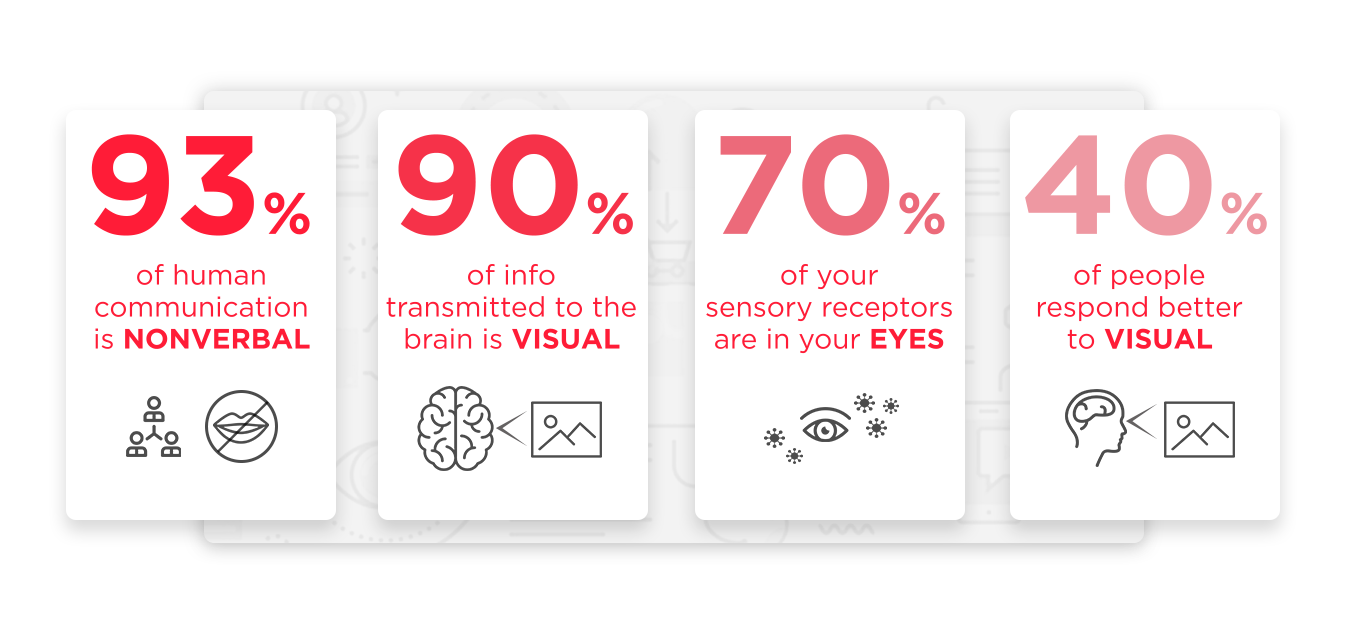 Being a social media marketer, you want better engagement for your social media campaigns. Using visual content to support your messaging makes it easier to grab your audience's attention.
The total number of daily images uploads is 300m. To make users stop and act (like, share, click, and visit), you should offer them an eye catching visual that stands out first. The longer I work in the social media marketing field, the more I believe that no one reads text. If I want the post to get an audience, I need make it visual.
Visual social media marketing is a great strategy, but only if you know how to implement it. Publishing "wrong" images may do harm to your page. In this article I want to dig deeper into human psychology, present some shocking facts about a human's reaction to color, size, and even ratio perception, and prevent you from some mistakes one in three social media marketer makes.
Statistics 2016
Social Media Examiner gives us some interesting data in their Industry Report 2016:
74% of social media marketers use visual assets in their campaigns.
71% of marketers plan to increase their use of visuals in 2017.
51% of B2B marketers prioritized creating visual content assets in 2016.
42% of B2C marketers place more importance on visual content.
Social Media Marketers About Visual Posts
94% more views get articles with visuals. (Jeff Bullas)
55% content marketers plan to prioritize creating visual content. (Joe Pulizzi)
37% of marketers said visual marketing was the most important form of content in 2016. (Michael Stelzner)
Facebook Image Sizes 2017
Just we redesigned our business cover and profile photos, Facebook gave us new sizes. Again. Facebook personal profiles are NOT affected. Just make sure your Facebook business page looks good both on desktop and mobile. Almost 57% of users access Facebook only by mobile. Don't forget to save this cheat sheet (source).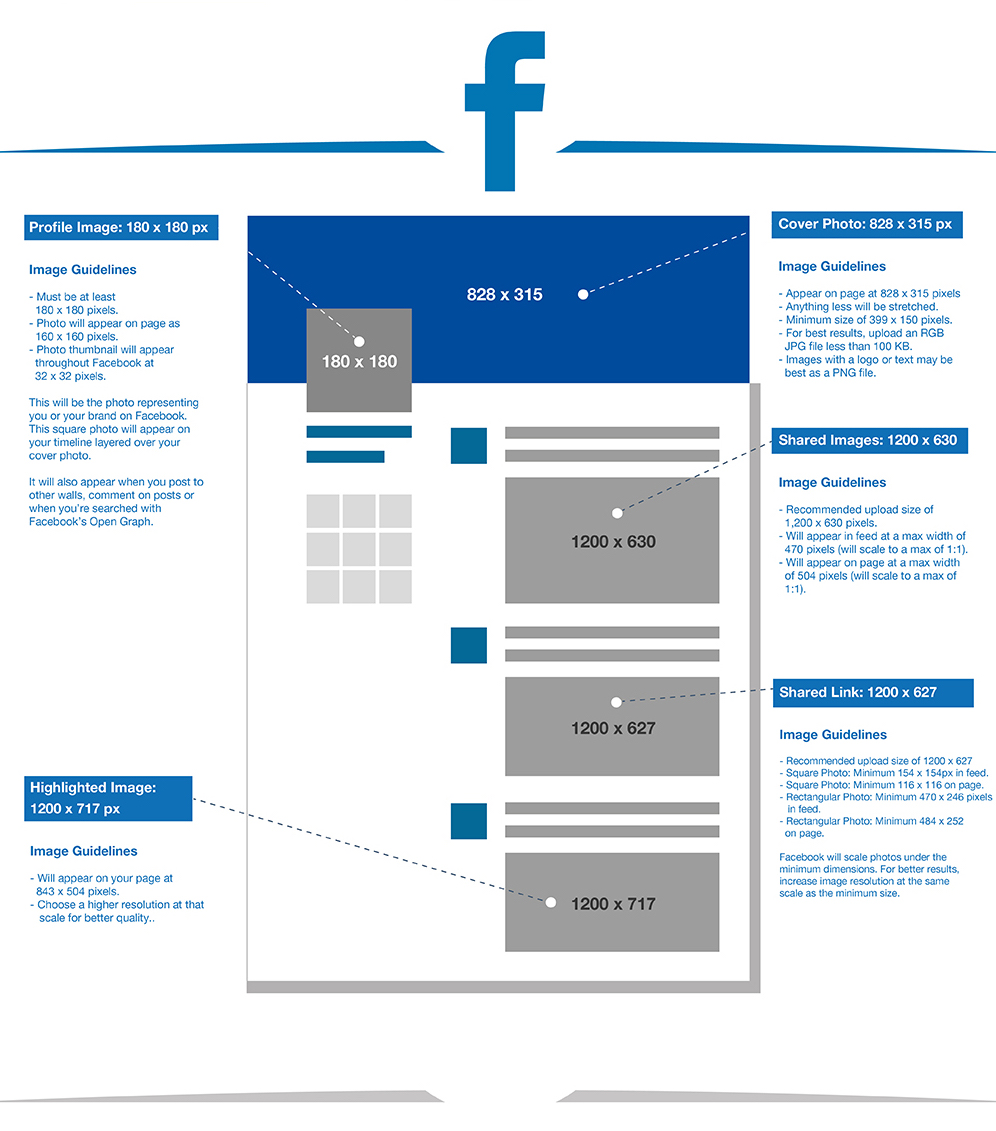 Facts That Will Surprise You
It's important to know what types of images (shape, color, and even arrangement of the objects in it) attract user's attention. Sometimes it's hard to understand why some pictures go viral and some professional and great photos are largely ignored. Look at these interesting facts:
Reddish-orange images get twice as much attention as blue images.

Images with multiple colors attract more attention than images with just one color.

Images that are light receive more likes and shares than dark images

Images with <10% background perform better as visual posts than images with >40% background.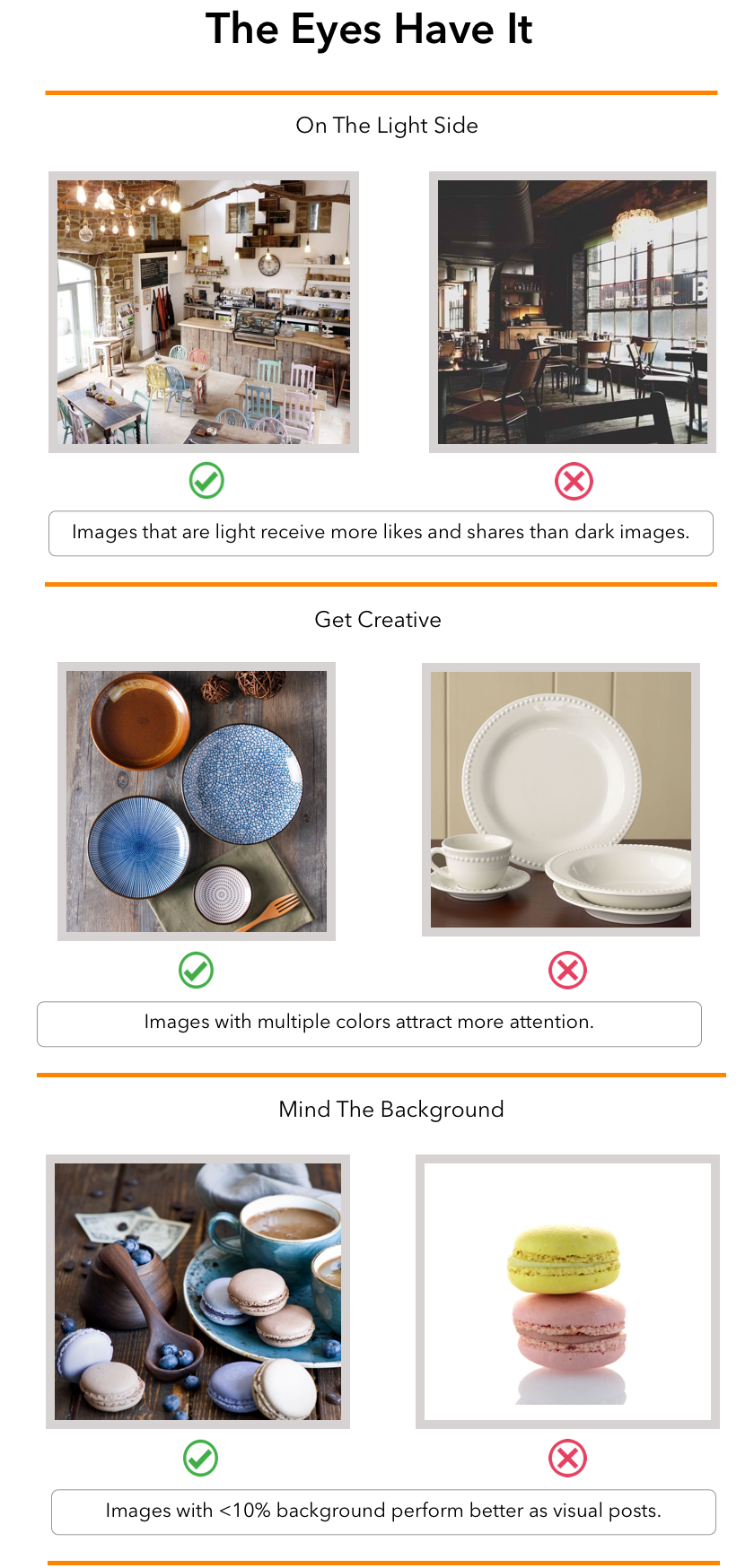 Visual Post Architecture
Support Your Message With Visual Design
Sometimes you need to combine graphic elements with text to get your message across. So how do you achieve simplicity in your social media campaigns, regardless of the message? Think about what message you want to convey and follow a few simple design guidelines:
Use

two or fewer fonts

in your graphics.

Mix only contrasting fonts

; avoid similar styles.

Choose a font that evokes the right feelings for your message.

Center elements

to create a balanced composition.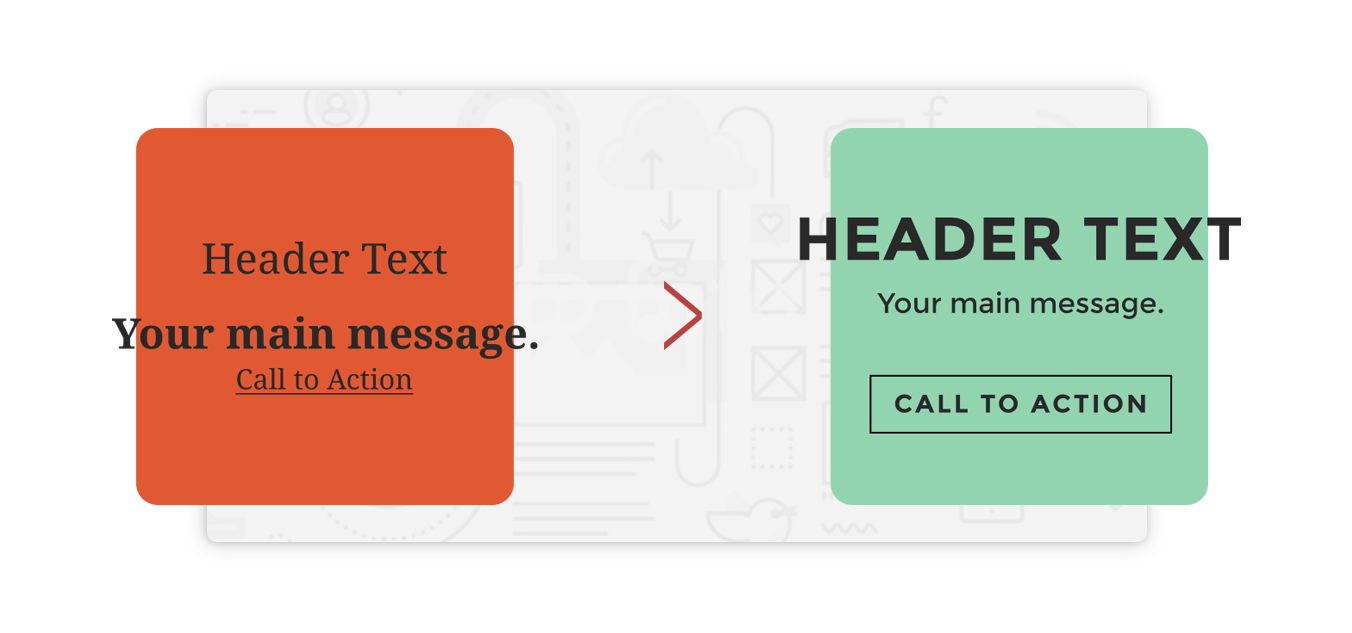 Keep the text in the body smaller than the header text.

Avoid using bright yellow as a text color.

Try not to place text over a subject's face.

Pay attention to color combinations. Here's an illustration of successful color combinations.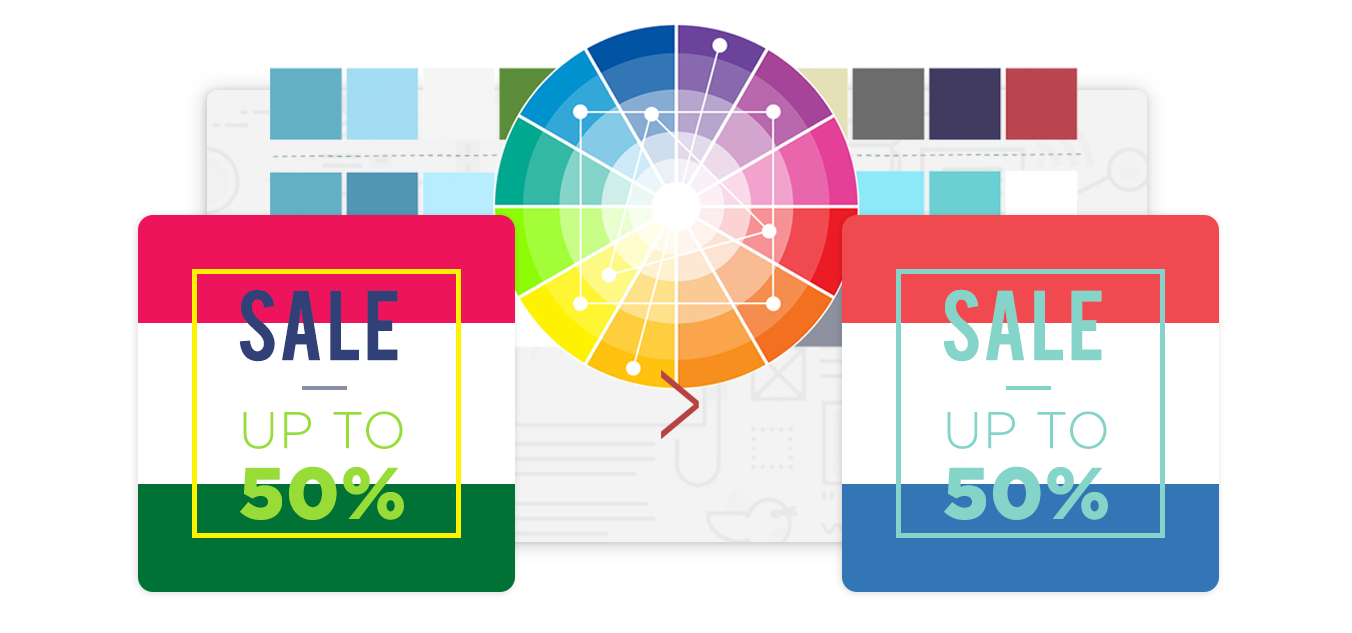 Also consider using the Golden Ratio in your design elements. It's a mathematical ratio that exists in nature and is considered pleasing to the human eye. To find the Golden Ratio, take the length of the short side and multiply it by 1.618 to get the proper length of the long side.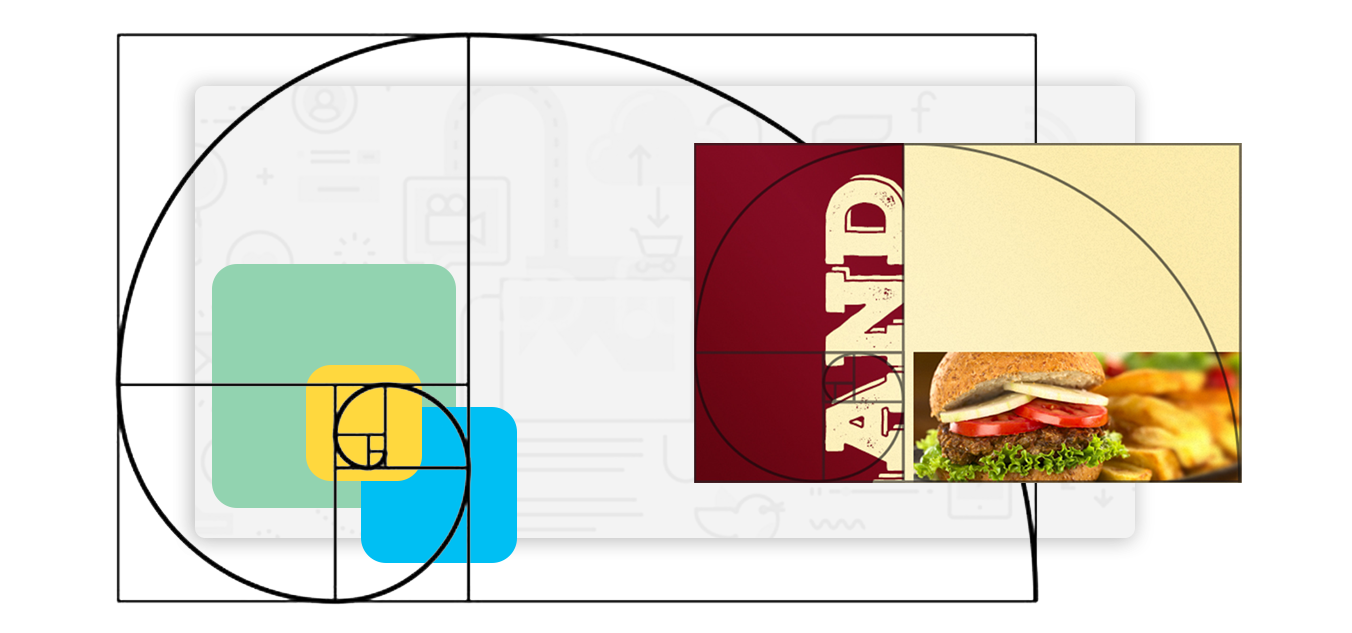 If your images don't convey a clear message or are jumbled or poorly designed, you're setting yourself up to be ignored. Put some thought into the layout and design of your images, and you'll hook readers and compel them to follow your call to action.
Effective Visuals For 3 Types Of Posts (Examples)
Now we will go into details and see what exact types of visuals work best for engaging and lead generation posts, and Facebook Ads.
Engaging Post
The goal of engaging posts are likes, comments, and shares. So, you need to engage and give them the information they need or they don't know yet that they need it, information that will make them wow and want to share with others. And what is the most important – it must be visual.
Ideas For Engaging Visual Posts:
Quotes

Tips

Greetings

TopLists

Motivations

Interesting Facts

Contests

Polls
Quotes
This trend of coupling of quotes with images has found a healthy breeding ground in social media with new memes, cliches and clever quips peppering news feeds every day. These types of images are easy to create, and can be tailored to suit just about any type of business, product or service. Take a look at this post from our client. Positive Voices not only posted New Year greetings, but shared the inspirational quote with their followers. As you can see, this visual post received 4k+ likes and many comments.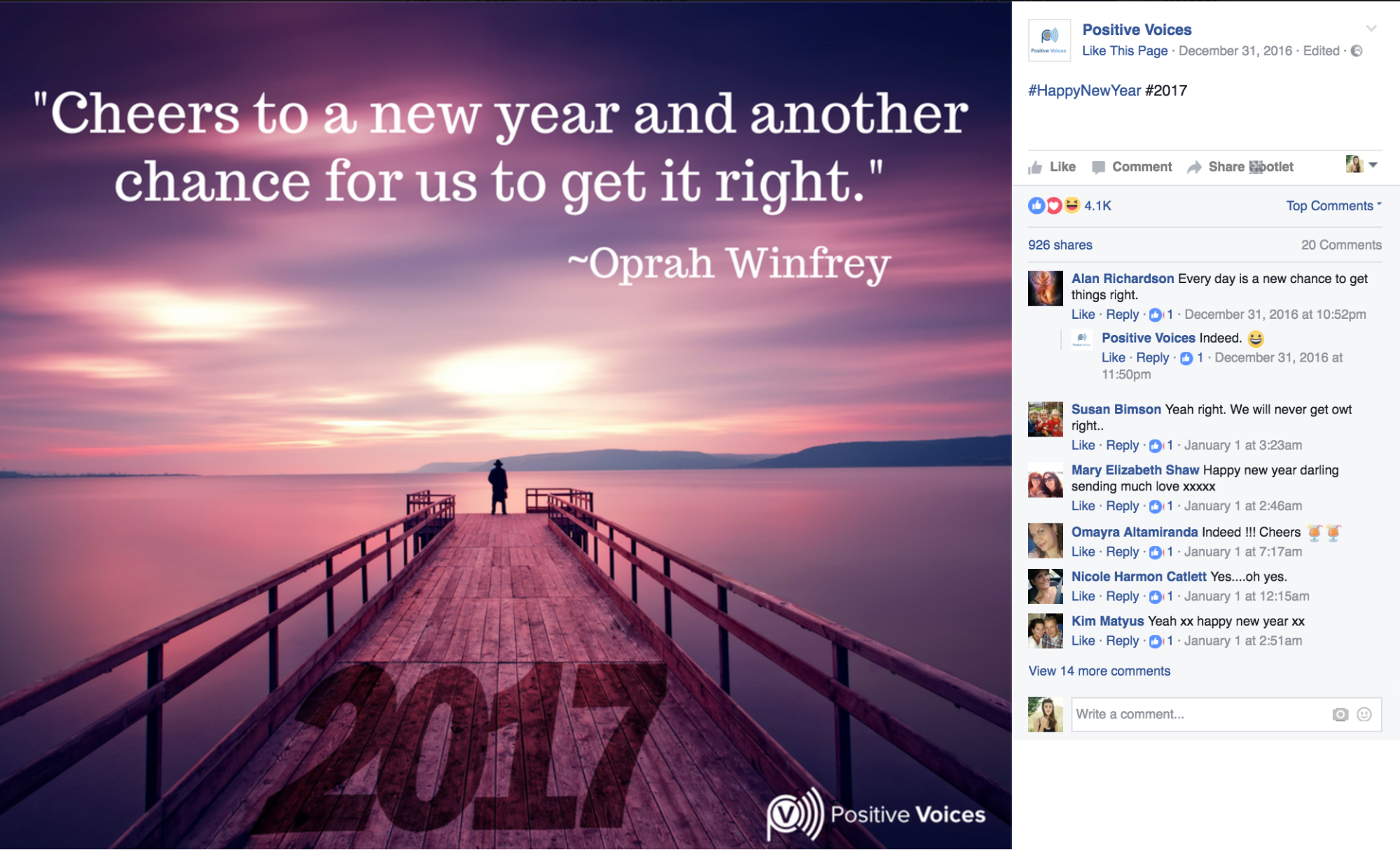 I know that it's time consuming to search for all of these engaging posts ideas. You're also against plagiarism and that is correct. In PromoRepublic's Post Ideas you will find ready made post templates for every type of engaging post I put in the list above. No matter what type of business you service, be sure we have customized templates for it, as we provide 100+ industries with excellent social media services. Yes, you can try it for free:)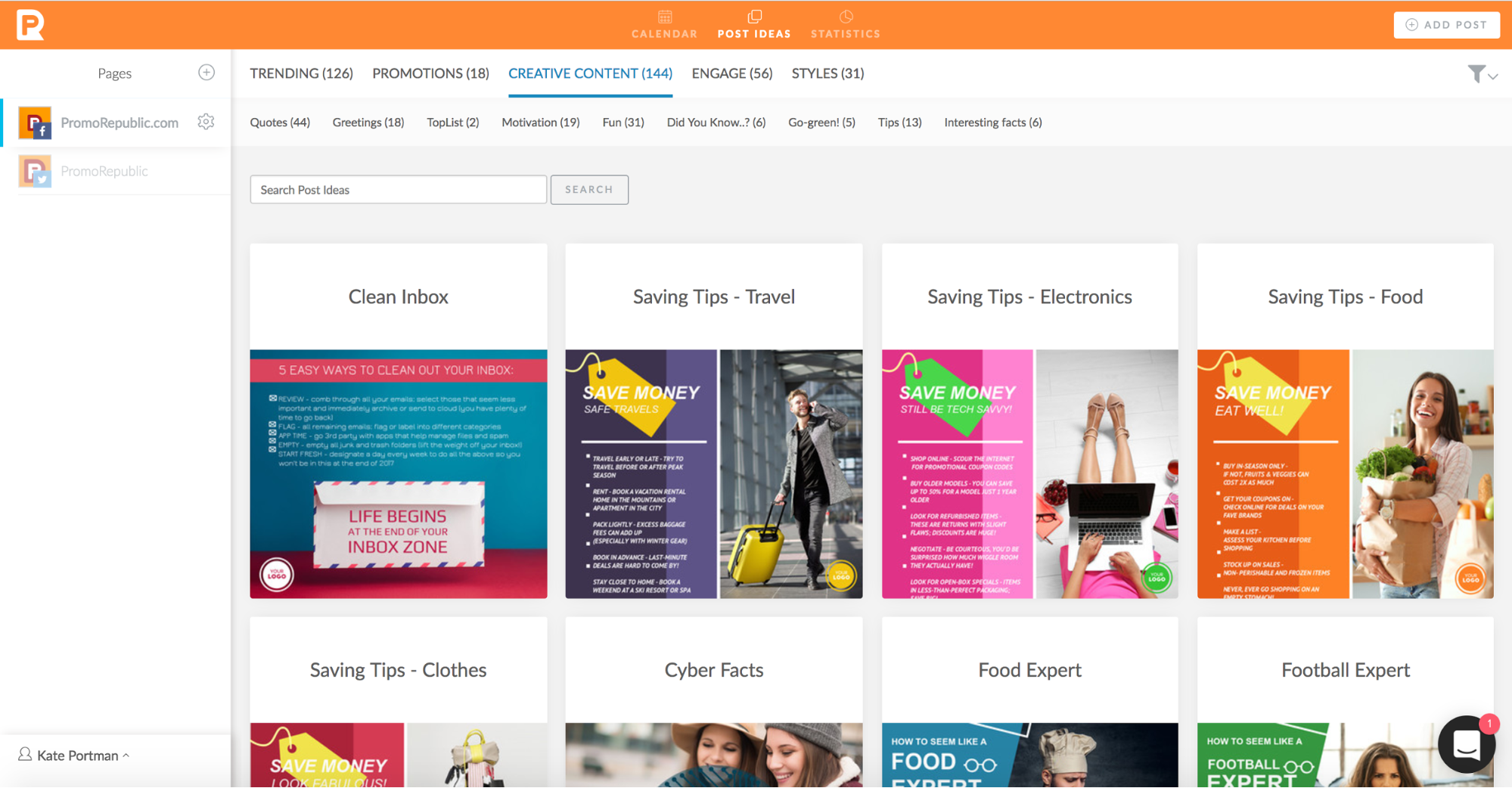 Link Active Post
You're creating a campaign, you're running a discount, thinking a special offer over, or have just written a blog post. What you do next? You publish a post on social, probably even hire a designer for great visual, and yes, you pay Facebook for the Ad and then what? They don't click, they simply don't want to follow your links. Probably your posts don't touch them. Picture and copywriting fail? Probably, but what is almost for sure – they don't see your message, yes, they just don't get what you expect them to do! The key part is a CTA – a call to action. There are 3 fundamentals of this magic:
Clear Message

Link Active Visual

CTA On The Visual

Logo (Customize It)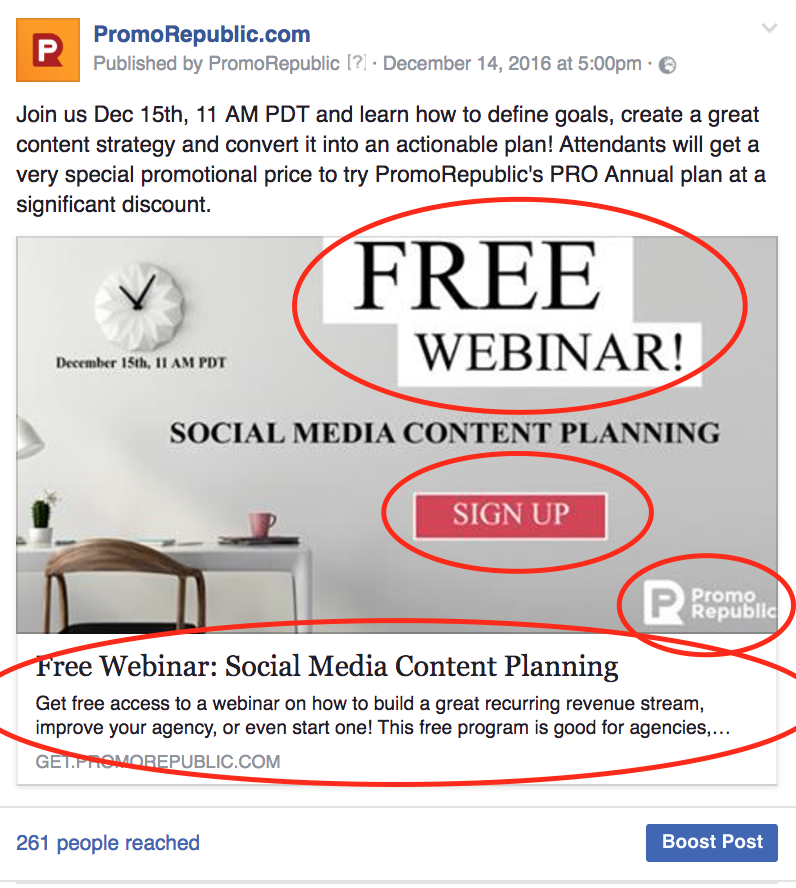 TIP: Watch my 5 minute tutorial and learn How to Create The Link Post They Will Click On.
Every social media marketer may have faced a Facebook obstacle like – right – the post needs the right picture! You just can't choose the image that the link populates in your post. With PromoRepublic you can publish link posts with click worthy images. Watch my step-by-step tutorial How to Create Link Posts With PromoRepublic.
Facebook Ads
The success of your ad depends on the visual you use. Visual content is not only treated more favorably in the Facebook algorithm, but it's also more likely to be shared and remembered than written content. No matter what type of ad you create, your image needs to be visually appealing.
Facebook Table Of Sizes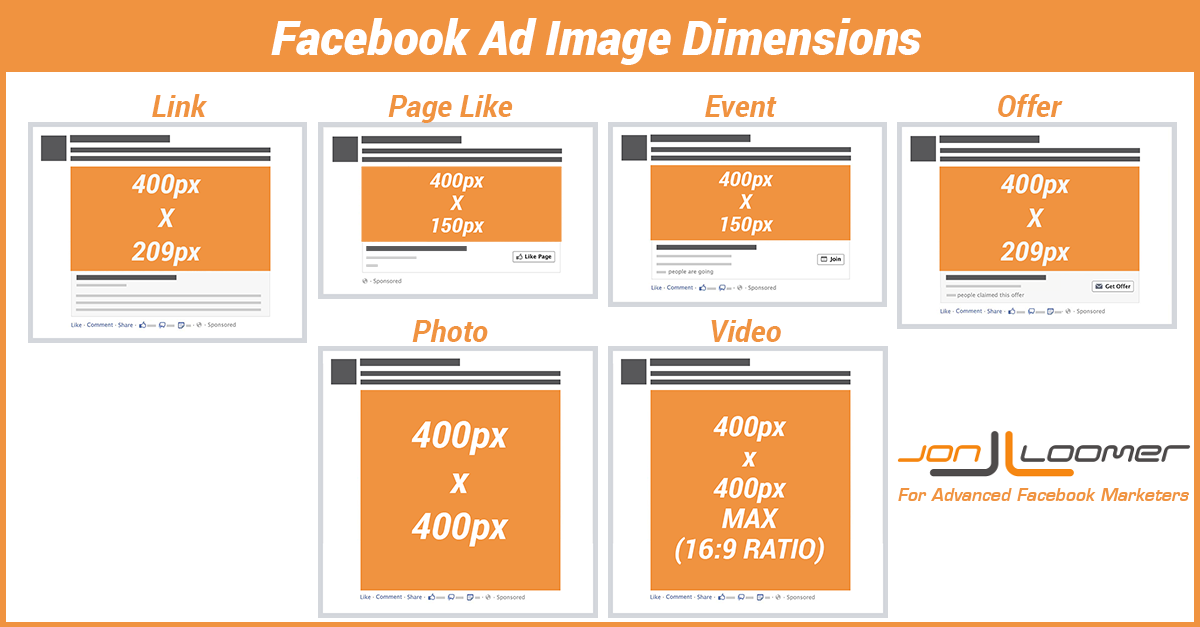 Jon Loomer is the king of facebook ads, so I borrowed his table of sizes for you:
Components Of A Great Visual For Your Ad
If you are promoting products, services or tools, make sure your Facebook audience will associate the visual with your company. Use images with products in them or demonstrate feelings it сauses.
Facebook now allows you to use more than 20% text in your ad, but keep in mind that the more text you use, the less number of people will see your post. That's the rule
If you can't write everything you need in the image, do this in its caption!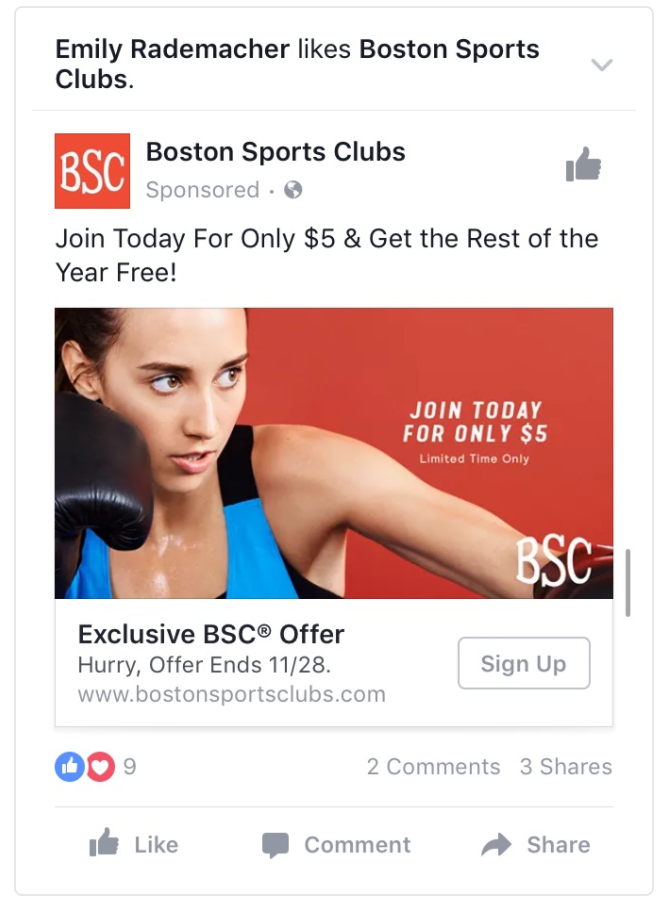 Now, stop reading and start creating!