It can be difficult to know which marketing platforms and strategies can really move the needle for eCommerce professionals. Between learning how to build your brand for greater market penetration, figuring out the best social media channels for your products and increasing sales with your marketing efforts, it's easy to get into information overload. We asked eight top influencers about marketing as an eCommerce professional, and we think their responses will give you what you need to make a splash in your space.
TIP 1: Identify Your Ideal Customer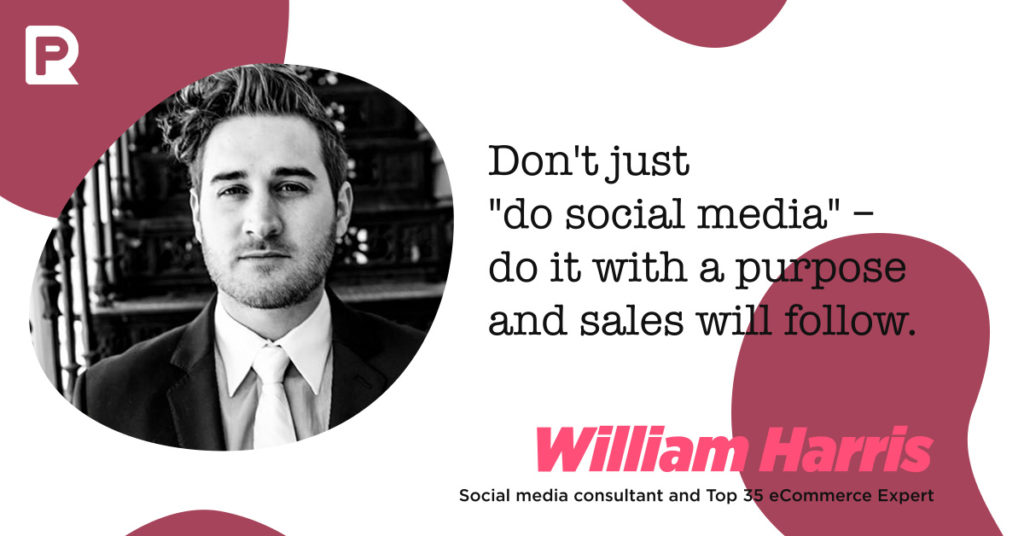 William Harris, a social media consultant, and Top 35 eCommerce Expert.
"Figure out who your ideal customer is first. You need to do that research – then you'll know what they like or dislike, how they talk, which social channels they use and what their pain points are. Don't just "do social media" – do it with a purpose and sales will follow."
This advice comes from William Harris, a social media consultant, and Top 35 eCommerce Expert. He's a national speaker and contributor with pieces in Fast Company, Entrepreneur, and The Next Web.
And he's right. Identifying your ideal customer leads to finding your key audience on social media. If you're an eCommerce professional, you probably have a pretty good idea of what sorts of people buy the products you sell. And, social channels give you the opportunity to segment audiences to reach those people. But first, you have to think hard about who buys now, and who will buy in the future. Scaling your business is possible when you are able to extend your reach. You can do that with demographic research and social listening.
TIP 2: Build Your Brand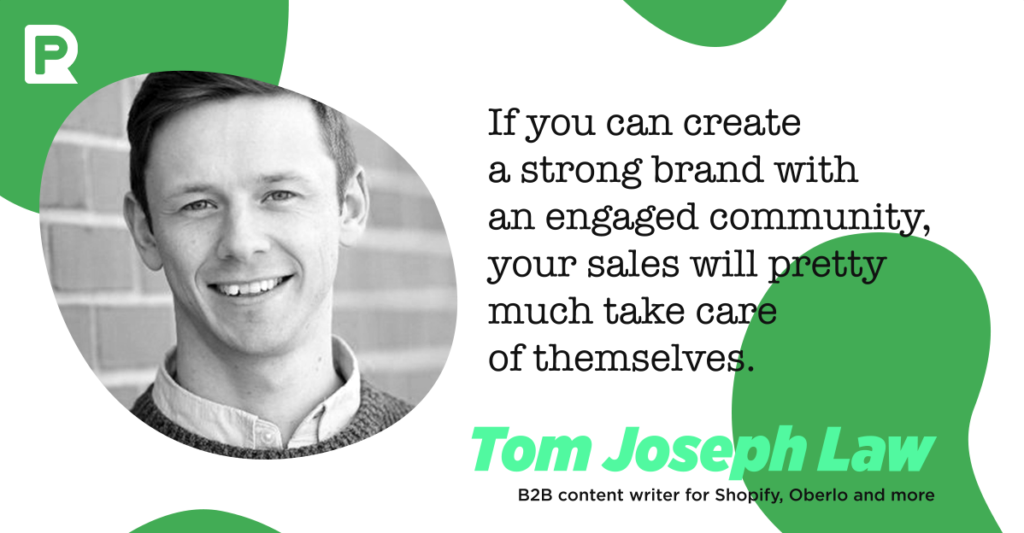 Tom Joseph Law, a B2B content writer for Shopify, Oberlo and more.
"Focus on building your brand — it's your key differentiator. If you can create a strong brand with an engaged community, your sales will pretty much take care of themselves."
Tom Joseph Law, a B2B content writer and marketer with a specialty in eCommerce, produces content for Shopify, Oberlo and more. And, he hits the nail on the head when talking about branding for eCommerce professionals.
Many retailers who got their start on eBay or Amazon didn't think about branding. After all, they were selling on marketplaces that facilitated sales for them, and they didn't have a lot of opportunity for branding. That's not the case anymore – with those platforms, and certainly not with Shopify and other eCommerce platforms. Building a recognizable brand that people can identify with not only helps you rise to the top of other sellers in your industry, but it results in brand loyalty and community engagement.
TIP 3: Think About Your Social Media Strategy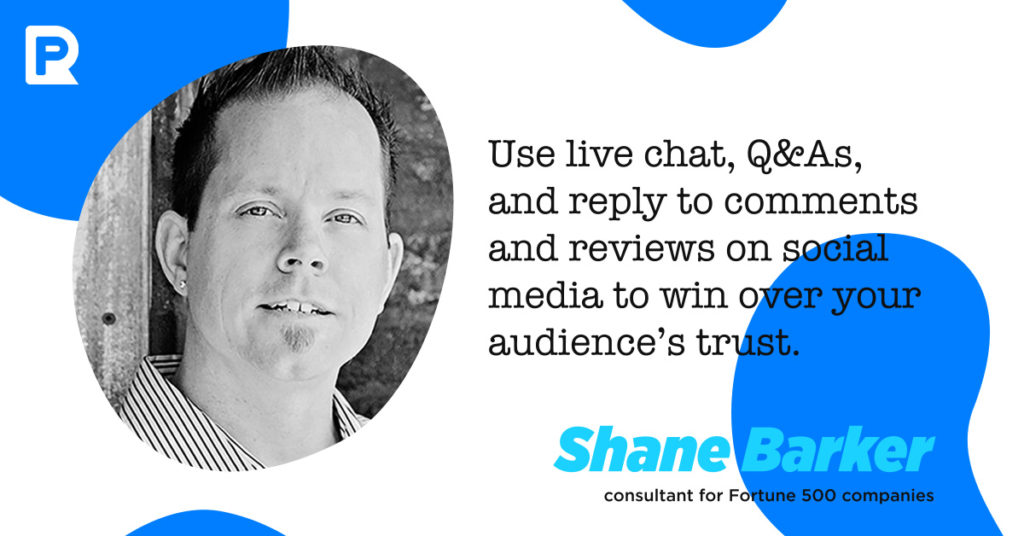 Shane Barker, a consultant for Fortune 500 companies, influencers, and a number of A-list celebrities.
"Social media is all about building and nurturing relationships. If you have an online store, connect with your customers and work on building trust with them rather than trying to immediately sell your products on them. Once you are able to earn consumers' trust, it becomes much easier to get them to convert."  
---
Do You Have A Proven Social Media Strategy That Drives Engagement For Your Brand?
? Automate Your Social Media Presence and Drive More Engagement!
---
Shane Barker has a lot to say about social media, and it's in our best interest to read every word. Shane is a digital marketing expert who specializes in sales funnels, targeted traffic, and website conversions. He consults with Fortune 500 companies, influencers with digital products and quite a number of A-list celebrities. Shane goes on to say,
Most Effective Tactics from Shane:
Optimize your social media posts with relevant keywords to bring more relevant traffic to your eCommerce store.

Use images and hashtags to increase your visibility and get the attention of your target customers.

Use your creativity to make your promotional posts more informative and entertaining, while keeping consumers' likes and preferences in mind.

Secure reviews from your existing loyal customers. They can make a huge difference. I personally read many reviews before buying anything online.

The most important trick is personal interaction with your target audience. Use live chat, Q&As, and reply to comments and reviews on social media to win over your audience's trust."
Creativity in promotional posts is key, and it does increase engagement. Paying attention to trends and making your posts relevant and timely helps let fans and followers know that you're a brand that pays attention.
TIP 4: Use the Power of Retargeting Ads (They Convert Better)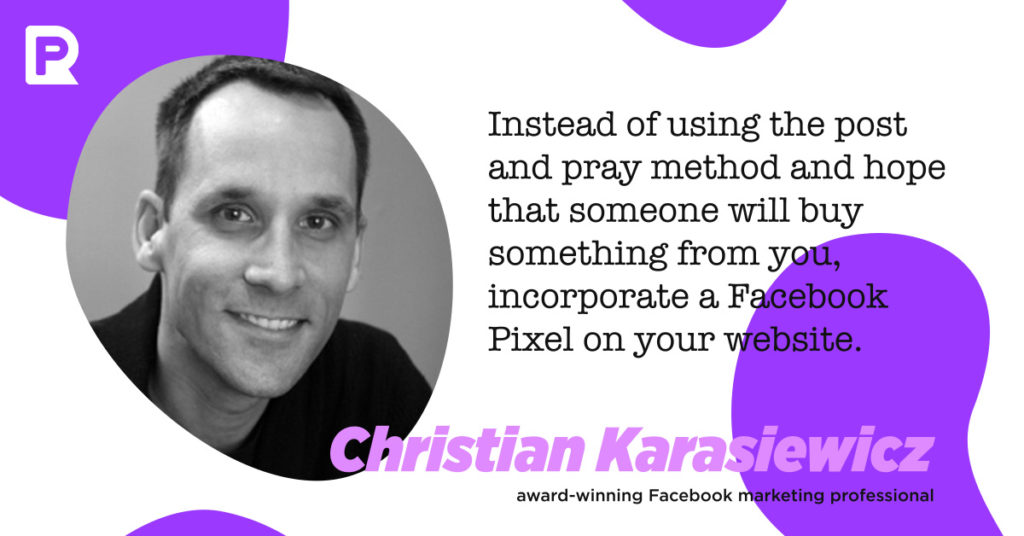 Christian Karasiewicz, an award-winning Facebook marketing professional.
"One of the best ways to increase sales from social media as an eCommerce marketer is to tap into the power of retargeting to show relevant ads to customers based on what they were looking at."
Christian Karasiewicz, an award-winning social media and Facebook marketing professional, is the founder of Social Chefs and has a lot of insight when it comes to unlocking the power of Facebook pixels to collect data that is essential to your success. He goes on to say,
"Instead of using the post and pray method and hope that someone will buy something from you, incorporate a Facebook pixel on your website. You can then utilize the data that is collected to retarget customers based on the content that they viewed.
For example, if someone viewed a t-shirt on your site, but did not check-out, you could then retarget them with additional content about the item they looked at, such as the quality of the t-shirt or even provide them with a discount code to encourage them to make a purchase. You can also use remarketing tactics for customers who made a purchase from you. For example, you could send out a guide that featured ways to use the item that they bought from you or incorporate ways that other customers are using it. By incorporating retargeting and remarketing tactics, you help keep your products top-of-mind with potential customers, while you stay in contact with customers who have already purchased from you."
By digging deeper into the data, you can scale your business more successfully.
TIP 5: Leverage the Power of Facebook Ads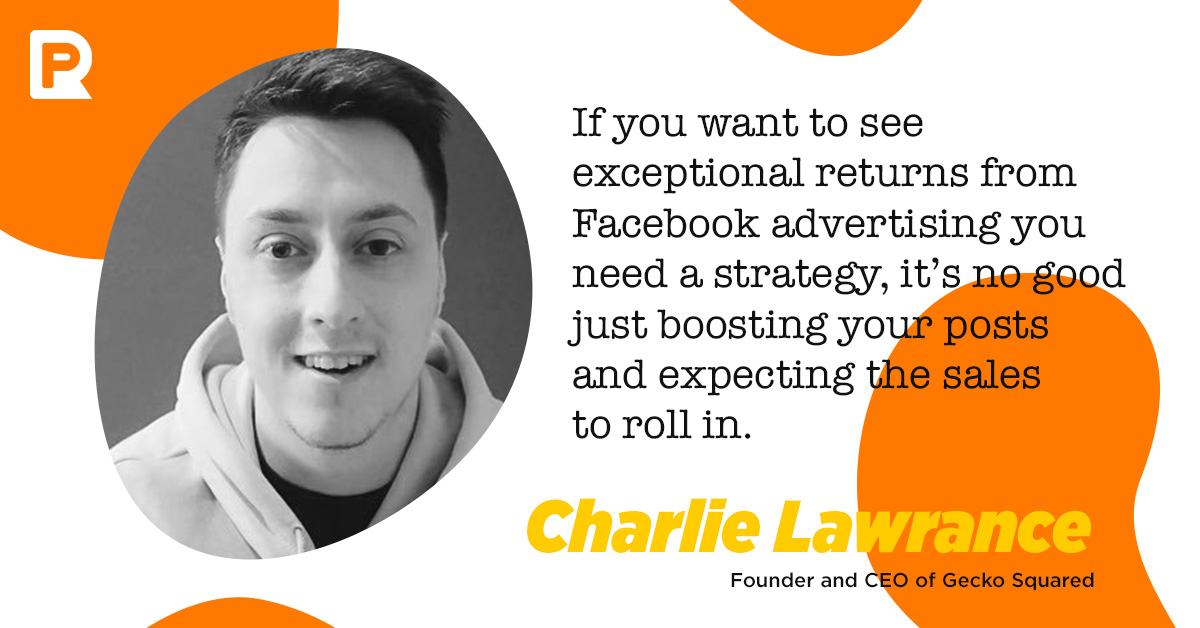 Charlie Lawrance, the Founder, and CEO of Gecko Squared
"The main tactic that can massively increase your sales is structured Facebook advertising. If you want to see exceptional returns from Facebook advertising you need a strategy, it's no good just boosting you posts and expecting the sales to roll in."
Charlie Lawrance, the Founder, and CEO of Gecko Squared, says that Facebook advertising is critically important to success on the platform. His company specializes in Facebook advertising, for clients in the eCommerce industry and other industries. Charlie's advice for Facebook advertising is simple and powerful.
"To see consistent and sustainable results from Facebook advertising you need to implement the ALL Framework. This is a proven strategy that takes someone from a stranger to a paying customer, by showing the right ads, to the right people, at the right time.

---
Are You Fully Satisfied With the Current Sales and Revenue?
? Learn How Facebook Ads Can Drive More Sales!
---
The Three Stages Framework from Charlie:

Awareness

The goal at this level is to deliver value to your target audiences, ideally via video content (as it is the most effective content type right now). Brand story videos work really well at this level.

Once you start to build awareness, recognition in the Newsfeed, credibility, and authority from your video content you can remarket your video viewers via Video Custom Audiences and move onto Level 1 remarketing.

Level 1 Remarketing  

Here you want to position products with some type of incentive to buy. Discount offers work extremely well for eCommerce.

At Level 1 you are building consideration of your products and driving traffic to particular product pages for people to take you up on your offer. A small percentage of people will convert into first-time buyers at this level.

Level 2 Remarketing

At the bottom of the ALL Framework, you have website remarketing. These are some of the highest ROI campaigns you can create on Facebook.

Using Website Custom Audiences, along with your Facebook Pixel and conversion tracking, you can target people that have viewed your products but not completed their purchase.

Using the RTM method (Reminders, Testimonials, and Messenger) you can re-engage these "hot" audiences and get them to come back to your website and convert into new customers.

When implemented correctly, each campaign level automatically feeds target audiences into the next level, depending on the action they take. As a result, you can consistently generate exceptional returns month after month and year after year from your Facebook advertising."
TIP 6: Using Live Video Is a Must in 2018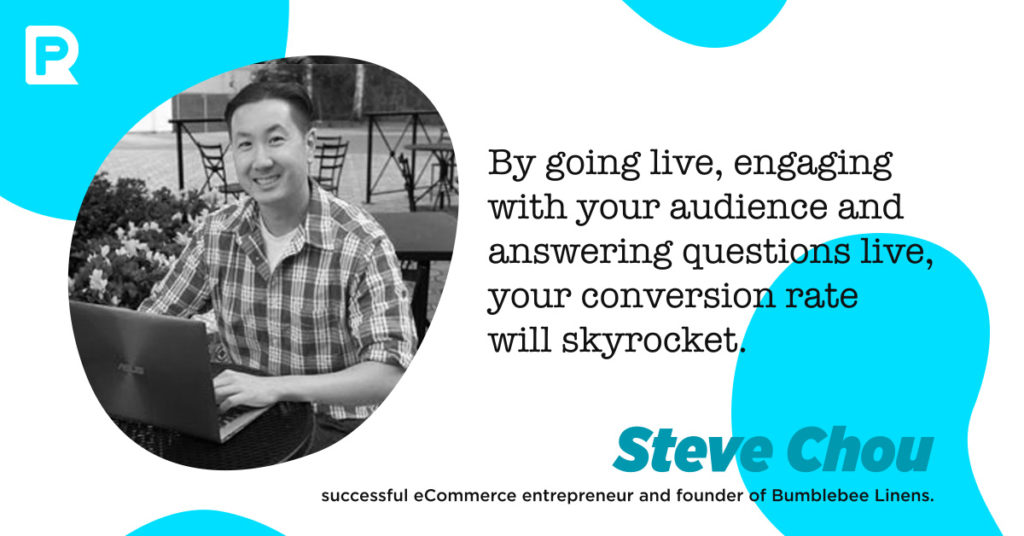 Steve Chou, successful eCommerce entrepreneur and founder of Bumblebee Linens.
"The best way to increase sales from social media is through live video. By going live, engaging with your audience and answering questions live, your conversion rate will skyrocket.  It's the same model that QVC and HSN use to sell their products."
Steve Chou, successful eCommerce entrepreneur and founder of Bumblebee Linens, knows a little something about successful selling. And by a little, we mean a lot. Steve took his own success as a seller and parlayed it into a booming coaching program over at My Wife Quit Her Job. He uses his own experience to help beginning and experienced sellers alike learn how to maximize their profits and build a niche eCommerce store from scratch.
Everyone knows that Facebook Live videos get results. They make users feel like they are a part of something, and they make people feel closer to a brand. You can actually increase your revenue with Facebook Live videos.
TIP 7: Make Sure Your Content is Shoppable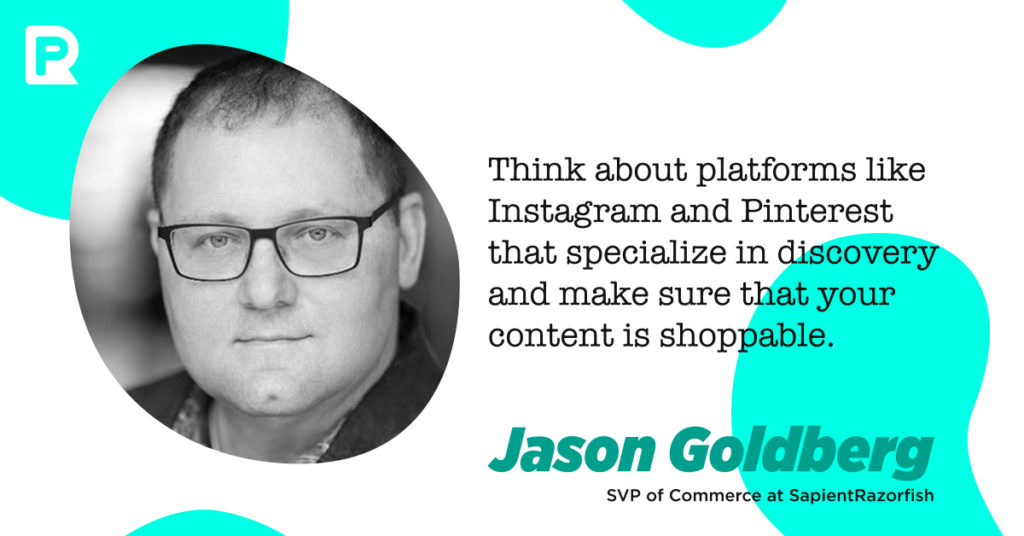 Jason Goldberg, SVP of Commerce at SapientRazorfish.
"Remember that social media is much more effective for product discovery than it is bottom of the funnel, closing the sale. So be thinking about platforms like Instagram and Pinterest that specialize in the discovery and make sure that your content is shoppable. That means shoppable pins on Pinterest and it means creating a shoppable landing page on your own site, with the items you feature on Instagram and link to that page from your Instagram bio (the one link you get on Instagram). Unless you happen to live in China, social commerce simply isn't a high volume traffic generation activity for most e-commerce categories at the moment, so think of all your social media marketing activities as supplemental to your primary traffic generators like search marketing and e-mail."
---
Are You 100% Sure Your Products & Content Looks Shoppable on Social?
? Make Every Post Looks Shoppable and Increase Your Sales with PromoRepublic!
---
Jason Goldberg, SVP of Commerce at SapientRazorfish and ost of Jason & Scot eCommerce Podcast, editor at Retail Geek and knower of all things eCommerce related, has the right idea. Shoppable content is key to eCommerce sellers. The more you realize that the more successful you'll be.
TIP 8: Give People a Reason to Want to Be Part of Your Community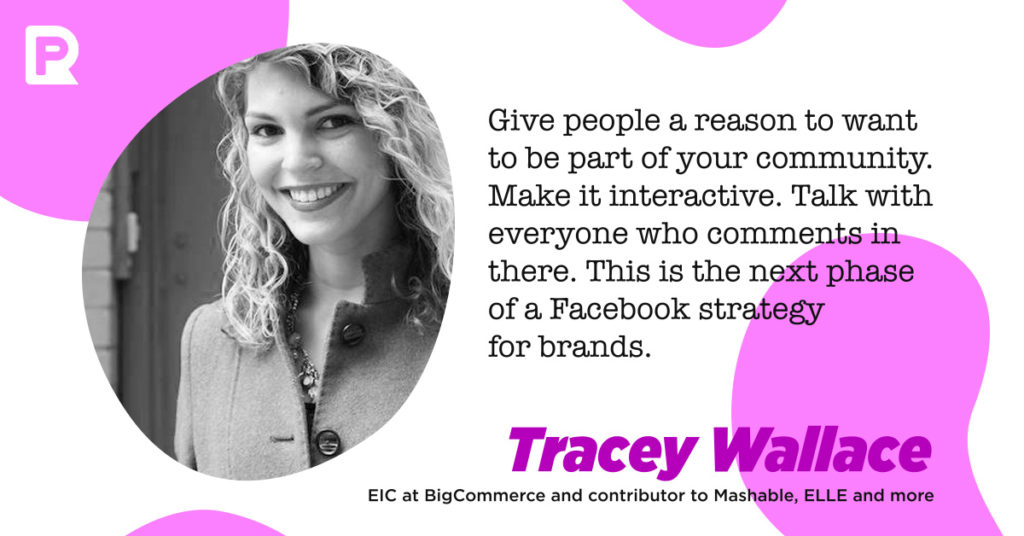 Tracey Wallace, EIC at BigCommerce, Founder of Doris Sleep and previous contributor to Mashable, ELLE Magazine and more.
"Well, first and foremost, e-commerce marketers need to use the tools available to them. Shopping on Instagram is free and allows you better monetize your IG Posts. On Facebook, Facebook Ads work well –– yes, and have made some businesses owners millionaires over the past year or so. But Facebook is re-focusing its algorithm on Communities. Ads will always be powerful on FB. It's how they monetize. But you'll have much more power and influencer without the cost is you start to build up a community on Facebook *right now.* Give people a reason to want to be part of your community. Make it interactive. Talk with everyone who comments in there. This is the next phase of a Facebook strategy for brands."
Tracey Wallace is EIC at BigCommerce and a previous contributor to Mashable, ELLE Magazine and more. BigCommerce knows how to help eCommerce professionals harness the tools available to them to scale and grow their businesses. Tracey goes on to say,
"Either way, brands right now need to be focusing on building community on their own sites and through the channels (like Facebook and Instagram) where it makes sense. Amazon is forcing all brands to use their channel as a complementary sales channel, which then means your products are commoditized. That doesn't have to be a bad thing. Amazon makes brands tons of revenue. But you need to give folks a reason to come buy from you, and not Amazon.

That reason is a community. Conversation. Personalized products. Things Amazon can't do really well. They commoditize. You build community. None of the social media strategies will work without community. So start there. Think through how you can build an experience and a real conversation on your site –– giving folks a reason to come back and to identify with your brand."
Summary
Selling on one eCommerce marketplace and hoping that you can increase brand loyalty just by staying in stock and complaint isn't enough to make it in this fast-growing and fast-changing industry. Follow these experts on Twitter, listen to their advice, and watch your company grow.