Social media is one of the top lead generating franchise marketing channels for 55% of businesses, according to the statistics by The Entrepreneur. Consumers are 87% more likely to visit a brand's website and view products if they follow this brand on social. And 71% of customers are more likely to purchase from a brand after a positive social media experience. It's the second most common medium to address customer service.
Social media presence becomes crucial for businesses in such an era. At the same time, building this presence requires a certain level of digital knowledge and skills. For franchises and multi-location brands, it means expanding the skills and resources across locations. And taking responsibility for brand consistency. Let's take a look at how it works in real life in our franchise marketing guide for social media.
What franchise marketing & franchise management is
The very definition of franchise management presupposes head office has to organize processes at the local level. When it comes to franchise marketing, this definition gains even more specific meaning: the head office has to take control of both global and localized marketing strategy.
The marketing team or the agency head office works with has to come up with an idea or message targeted at potential customers on the Internet, choose the most suitable form to deliver it, create visuals for it and launch the campaign at the right time. The place makes a difference, too. As the paradigm has shifted and people value localized content much more. Everyone should consider this while building a marketing strategy for franchises. It's the way to enhance the brand.
What opportunities a franchise gets from social media marketing
It's hard to overestimate the role of localized social media marketing in franchising. The biggest franchises in the world know that. There are brilliant examples of franchise social media management which led to a boosted engagement.
Multi-location wellness brand CrossFit has 972K followers on Twitter. They built their content strategy around the idea of bonding and motivation, sharing real stories of local community members. Everything they post is not so much about competition, more about mutual encouragement. It brings them 240.6K average engagement daily.
WeWork adjusts its franchise marketing strategies to certain audiences. They get additional clicks because they attach location-oriented images to their Facebook posts and ads.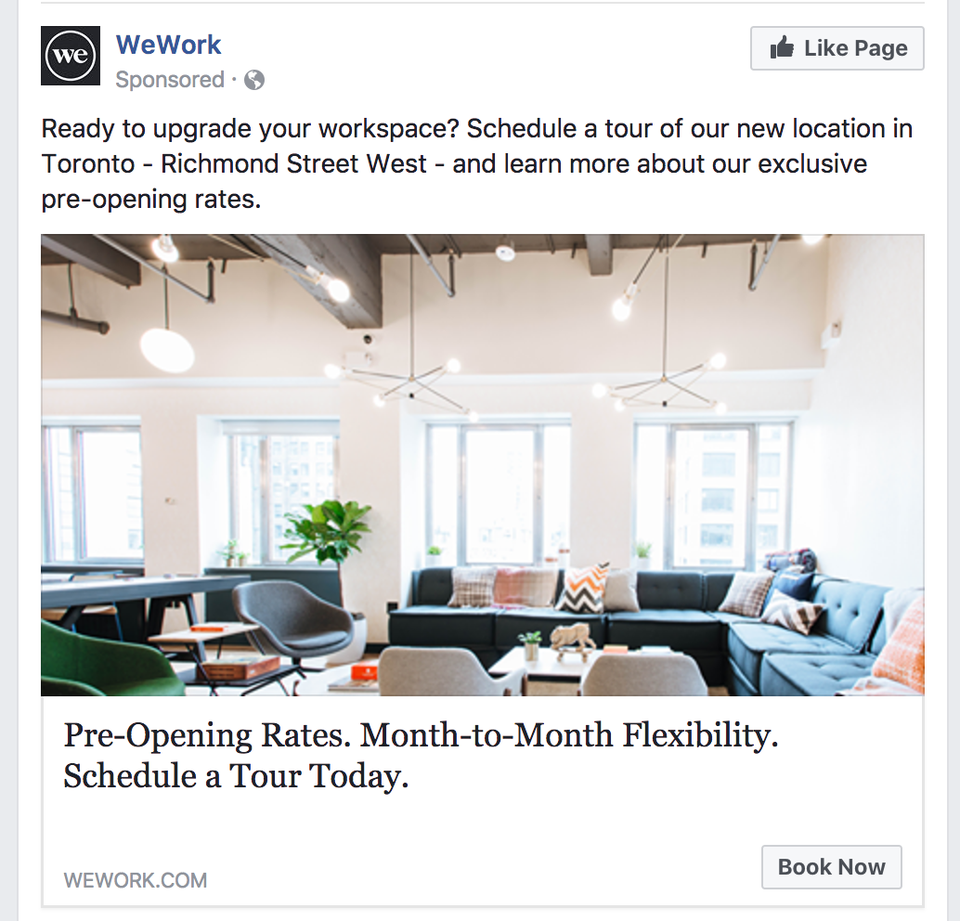 Successful marketing strategies for a certain location increase local brand awareness and give franchisors the opportunity to spread their message and gain new customers.
Now you know the benefits, which is half the battle. Let's analyze the risks of social media marketing for franchises.
What risks social media marketing for franchises conceals
Franchisors know one inappropriate, offensive, or just meaningless post can bring irreversible damage to the brand. Especially in a digital world where sexism, racism, ageism are at gunpoint. And there are many great examples of that. The following stories have happy endings just because they happened to really strong brands. But note: even they can fail on social!
A North American chicken sandwich brand has become pretty famous lately. Even Forbes wrote about them! Thanks to one of their team members who aren't so great at geography. He politely responded to the person asking to open a place in Alaska that the company doesn't have plans of expanding beyond North America. Because of this gotcha the company is currently associated with this funny story, not with its great product. Undoubtedly this isn't the online reputation they would have wanted.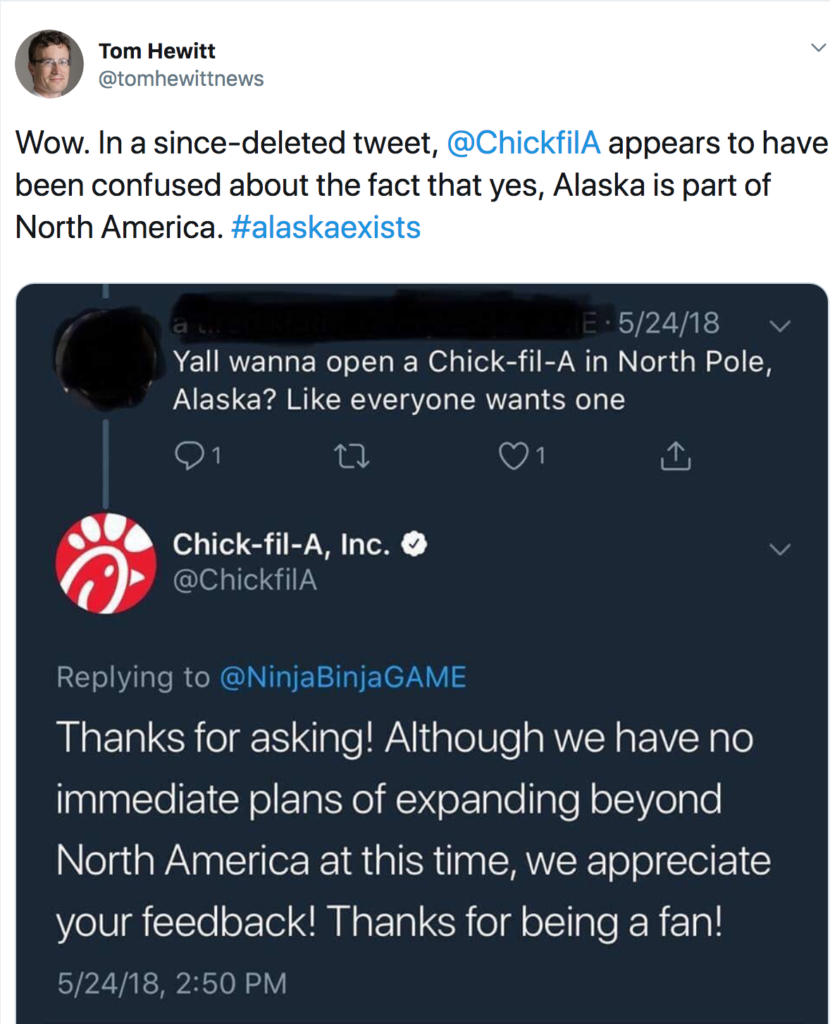 While Starbucks became associated with racism and sexism after their failed campaign on social with a tagline «Blonde breaks rules». They just wanted to share the idea that espresso doesn't always have to be so intense, but the wording was ambiguous. The comments they got were at the best funny. But they obviously didn't influence the brand in a positive way.
Don't let the risks scare you away, though. There's still a way to eliminate them.
How to build a franchise marketing strategy on social media
There are several options of how to implement a franchise marketing strategy on social media for multiple locations. You can use built-in tools, like Facebook Locations, and cascade on-brand content to local pages. Or create a separate page for each location. Both options have their pros and cons, but the basis is the same. Here are the main aspects of being in control of your brand reputation on social.
Give clear instructions
Local teams should know the main concept of your brand. Which wording, colors, style work for it. They need exact benchmarks. It will make work easier for them and at the same time secure your brand from inconsistency,
Control content quality
Franchisors need to make sure the locations have on-brand content that will drive engagement to their pages and help them in promoting the business. Multi-format content, announcements of promotions, discounts, and local events works best.
Employees don't always have enough time to create content. It can prevent them from posting, To neutralize this, the head office can deliver editable templates to them. In this way, locations will always have something to post.
Control the posting schedule
Posting time also matters. And it should be adjusted to local time zone and conditions. For example, if there's a local holiday, there should be topical posts for the date. And some posts can be irrelevant in certain circumstances.
Track the performance of every location
A franchisor needs to stay aware of franchisee's social media success and make sure the efforts bring results and his business is going in the right direction. It can be achieved by analyzing the statistics of the page and checking metrics for each post to find the most engaging and work on a content strategy.
Educate your franchisees
The local team can definitely benefit from proper social media marketing, you just need to show them the way and show how they will earn more. When they see how it works and become motivated, it's time to take the next step.
How the tool can help to implement a localized marketing strategy on social media
The market of social media management tools in franchising is truly immense. Some of them can work for franchisors and give them a golden opportunity to complete content delivery, posting control, and performance analysis in a way that will save them both time and nerves. And PromoRepublic is exactly the tool designed for this. That's why including this software to your franchise social media toolkit is the way to eliminate pain and open new opportunities for your enterprise.
It's truly a universal tool to coordinate your brand and marketing efforts across locations. It helps enhance your brand's social media presence, distribute content and report on performance.
Content distribution tool
Provide locations with on-brand and mandatory content. Give them editable templates to customize. Keep your strategy consistent across locations delivering posts right to their social media pages.
Scheduling tool
Don't give franchisees a chance to miss any important posts. Let them automatically publish ready-to-go content to multiple social networks. Manage posts in a single interface, reuse the most successful by setting a repetitive period.
Content сustomization tool
Built-in Graphics Editor is your opportunity to get absolutely unique content in a few easy steps. Utilize 200+ fonts, shapes, and banners to announce discounts, contests, or promotions. Let franchisees add a dash of local touch to their posts.
Content bundle
If content creation is not really your thing, and hiring people for that doesn't make sense for your business, we can take care of this and provide you with content relevant for your brand. Our team of professional designers and copywriters will create 20+ of multi-format content for your franchise.
Inspiration & Education
Make sure your employees use the tool in a proper way. Help them become successful and grow their social media efficiency with our onboarding program. It includes custom training and webinars by PromoRepublic experts.
Reporting tool
Supervise how locations perform on social. Get all the essential metrics (reach, engagement) and page statistics designed in an understandable PDF report. Work on localized marketing strategy to achieve better results.
To sum up, when you use PromoRepublic, the whole system streamlines social media management and limits risk for the brand so the franchisor can sleep easy at night. It makes the brand stronger and earns more revenue not just for a single location but also for the entire franchise. You have your own social tool, featuring constant innovation.