Social media is becoming the number one tool in the marketing world. No doubt, we get surprised when someone says they don't have business pages set up on social networks. Social media is not just a means of communication, but I will tell you that its first aim is to build relationships with your followers and customers.
Hiring a social media marketing specialist is not enough if you want to monetize your social media efforts.  A specialist builds your presence with the help of funny pictures and company news, relatable information and more, and for that they need a tool. Social media marketing can only be called such if it is really marketing, consisting of strategy, experiments, and investments.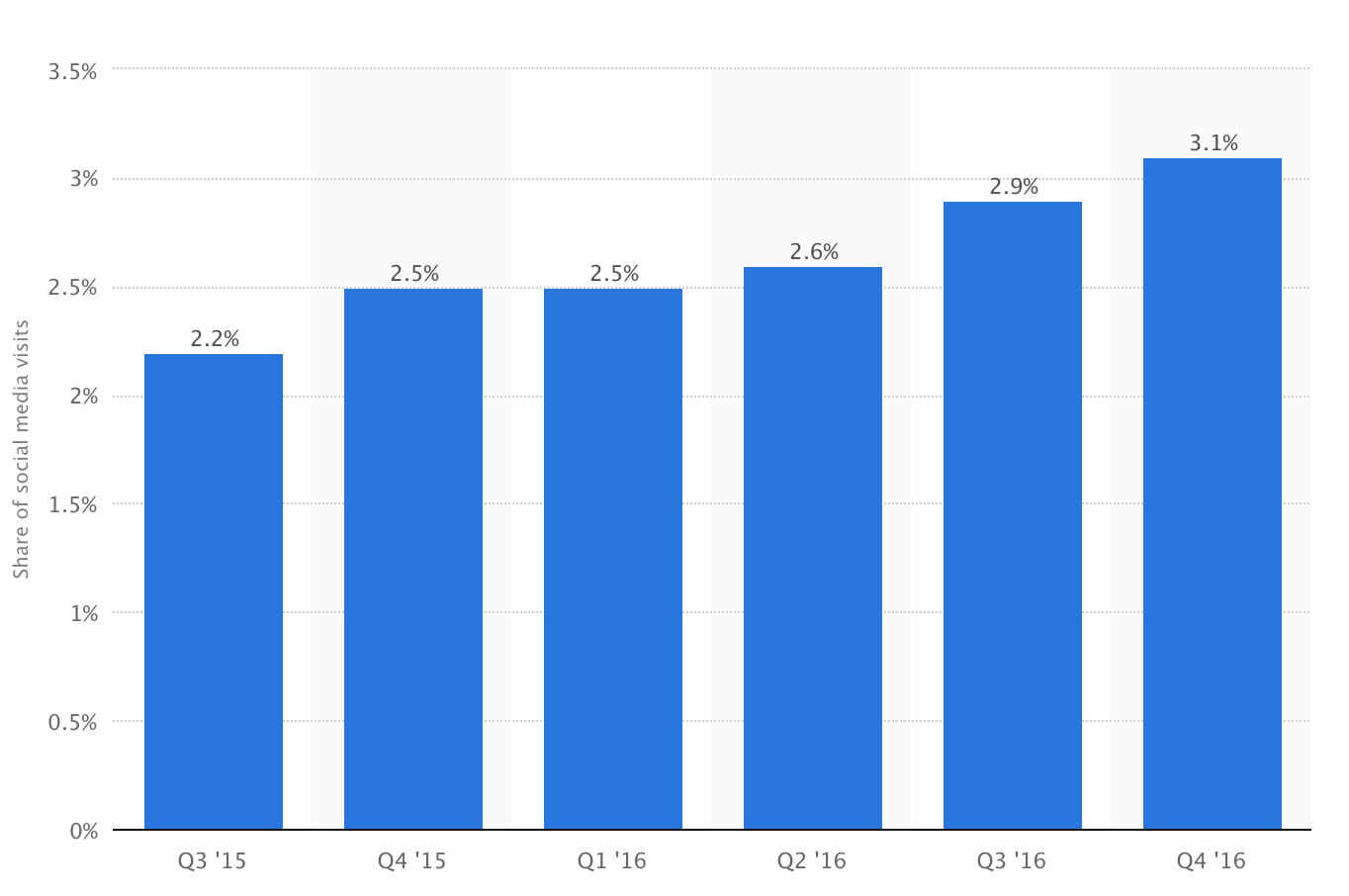 This statistic highlights the traffic share of social media visits in the United States. As of the fourth quarter of 2016, it was found that social media accounted for 3.1 percent of site visits in the United States – more than it's ever been before. How do you get in on that traffic? Where's your social media marketing guide for 2017? Right here! I'm going to show you, from start to finish, how you can generate traffic, leads and sales using only PromoRepublic, a social media marketing automation tool that will help you follow content marketing best practices. Let's get started!
Optimize Your Business Page
Before we start discussing different types of content you need to generate traffic, leads, and sales using only PromoRepublic, make sure your business page looks trustworthy. If they see no contact phone or email address – they won't trust your page or follow you. Content is crucial for your social media pages, but this quality and diversified content should be placed after you cover the essentials, which are your basic information, contact information, photos etc. These are not just Facebook marketing tips for 2017 – they're the basics.
The first thing you need to do is to optimize your business page. Let's use PromoRepublic's Facebook page as an example:
Optimize your profile and cover photos

Provide complete company information

Add a relevant call to action button

Pin important posts to the top of the page
Optimize your Profile and Cover Photos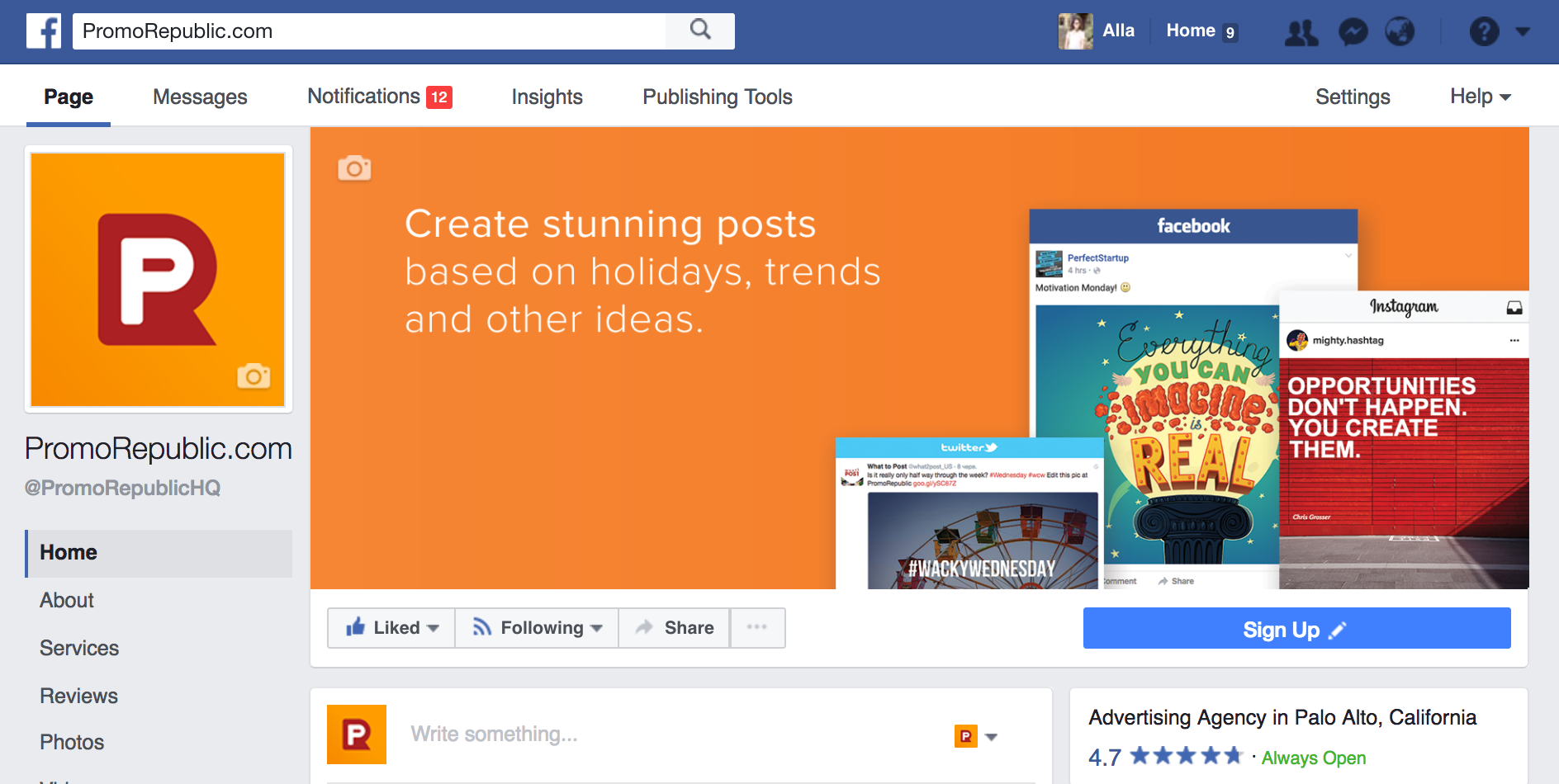 It's important to know the correct 2017 Facebook post size. Facebook changed the sizes for business pages photos. Make sure you use right ones: Cover photos should  be 851 x 315 and profile photos should be 180 x 180.
Your brand must be easily recognizable, so let users think of your business instantly when they see your logo as a profile photo. Make sure your profile photo is both suitable for desktop and mobile.
For your cover photo, choose the picture that will evoke the  emotions you want your clients feel when thinking of your brand. Cover photos have a high level of visibility on Facebook pages. Make sure your cover photo is visually appealing and high-resolution, and aligns with your brand's style. It should also have a clear intent. It's always a good practice to show some context instead of just picturing your products.
Tell About Your Business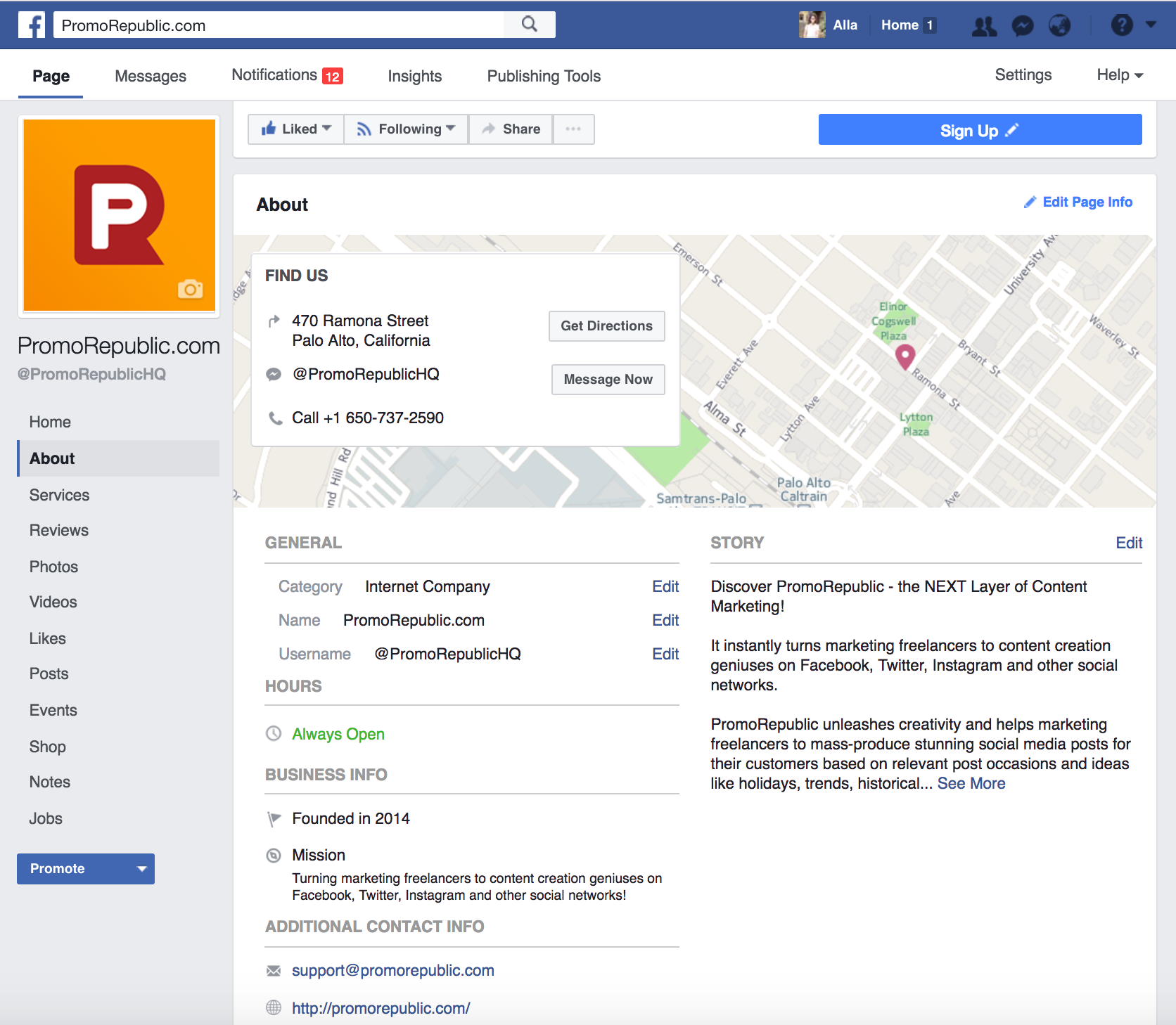 For the company overview, summarize what your company is about. This is also a great place to share related links to other social channels and pages on your website. Add this:This is also a great place to share related links to other social channels and pages on your website. Make sure the location is correct, contact information is clickable and the web address / website URL is working clearly. Below you will find what type of business information is needed.
General information should contain:
Location

Contact Information

Website URL

Comprehensive summary
Additional Business Information:
Select the category that most closely matches your industry or niche

Make sure your username matches your brand name

Think of your business's description

Explain your company's mission

Talk about any awards your business may have won

Share all your products
Add A Relevant Call To Action Button
Facebook offers you many choices for your business page CTA (call to action button). You may choose the most relevant one according to your purpose: Book Services, Get in Touch, Learn More and many others.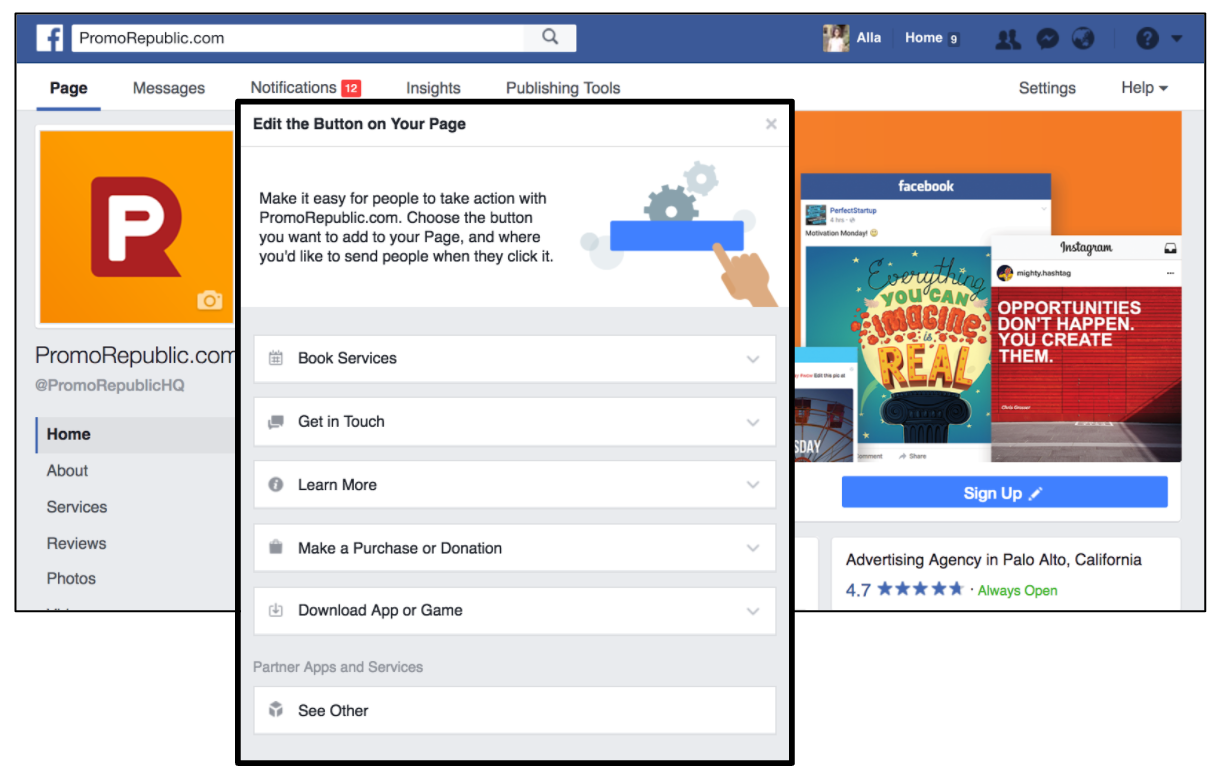 Pin Important Posts To The Top Of The Page
Pin an important post to the top of your Facebook page to let your spotlight that post and boost visibility. Posts should you pin to the top include:
Time sensitive posts (upcoming events or contests with deadlines)

Top content (content that took you a lot of efforts into creation: blog posts, ebooks)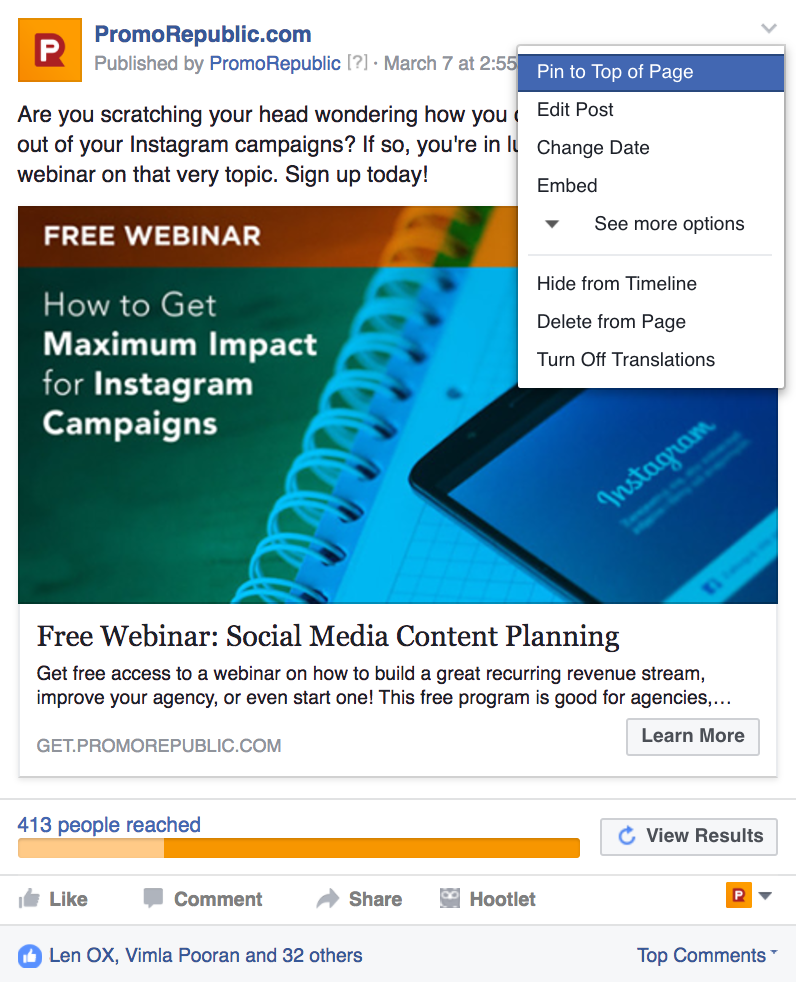 Types of Posts to Generate Traffic, Leads & Sales
Now, when you are done with your business page, let's consider different types of posts and how they should be implemented into your campaigns to drive your more traffic and leads. Hope, you know that likes and shares are important but they are not key ones when we think about your post effectiveness. Take a look at this screenshot. This is an analysis of the PromoRepublic Facebook posts.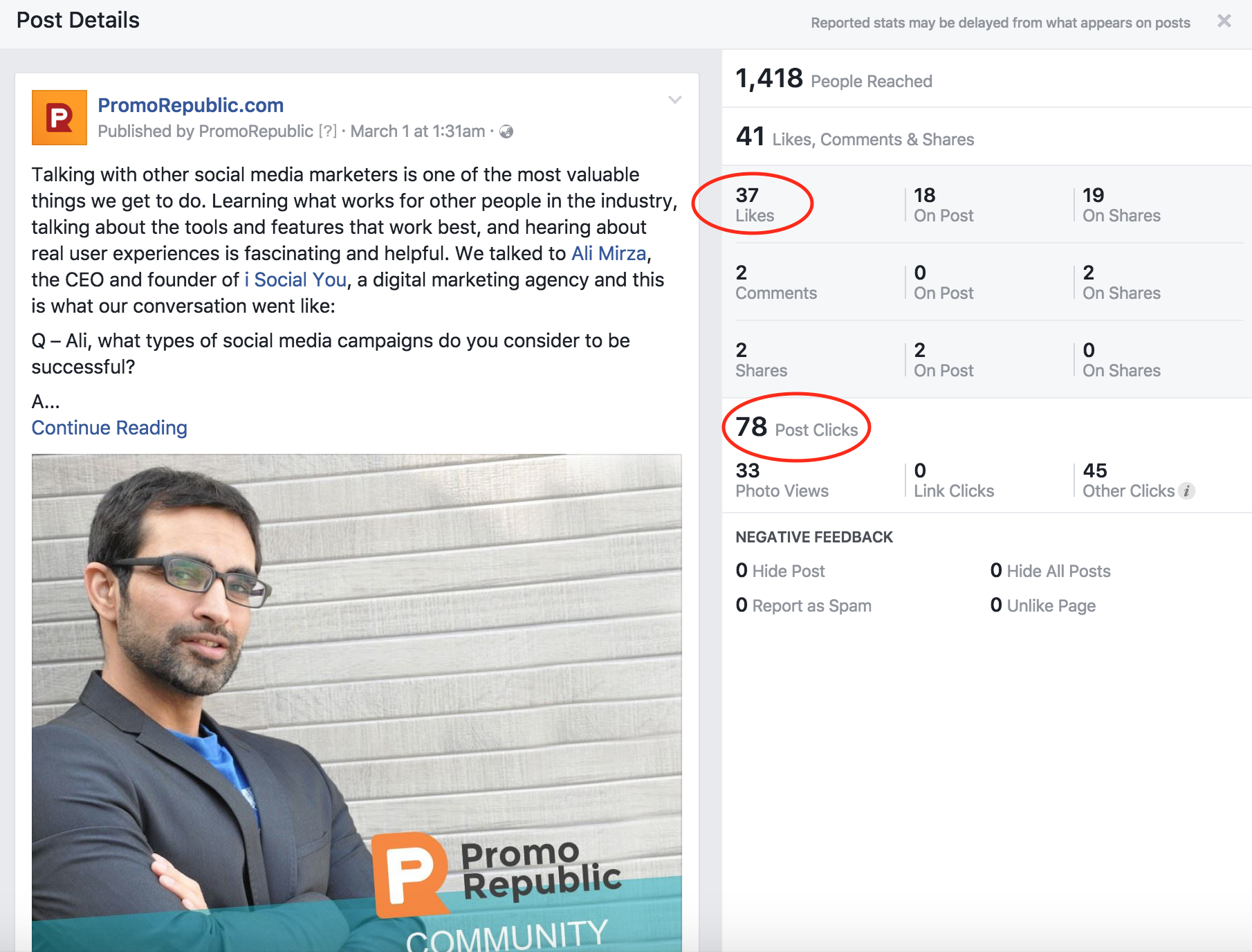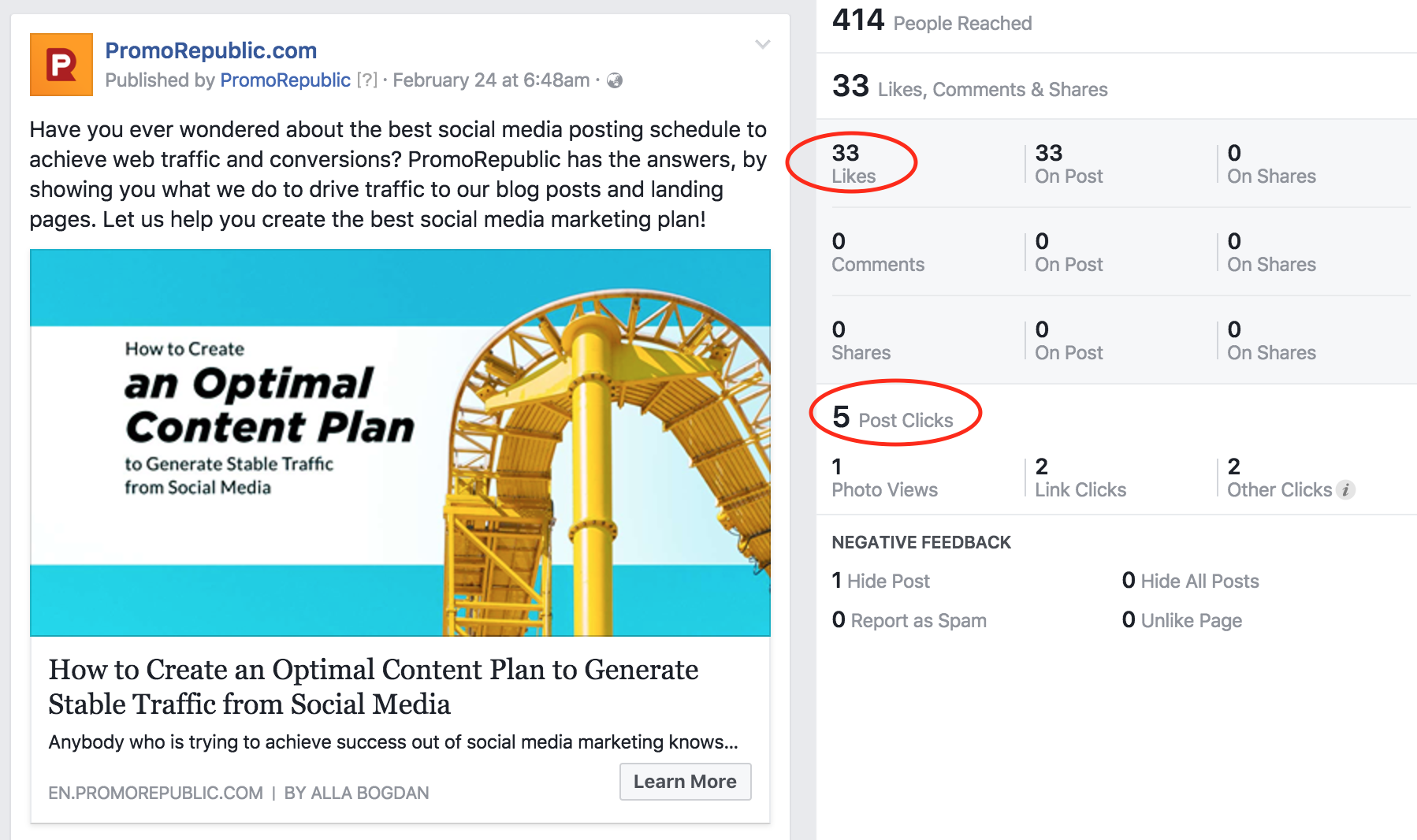 As you can see, the first post received 37 likes and twice as many post clicks. And the second one, which is a blog post got just 5 clicks but 33 likes. To sum it up – do not measure your posts effectiveness in likes and shares, especially if you publish link posts. Facebook provides you with great post details. Go there and learn what types of posts and visuals they react best to and experiment with different types of content to define yours.
Blog Posts
You can learn more about How PromoRepublic Doubles Views and Triples Conversions On Blog Shares here.
Give them a good Intro
Above I showed you two types of blog posts. The difference was a very slight on the first sight – the caption. First successful post with 78 post clicks was a "long read" one. I wrote a long captions, which was a part of the blog post itself and attached the link. You see, once interested, they follow your links to learn more. Bear titles won't catch as good as a well thought teaser.  
Hide links
You know that long links look bad in your captions. For some reasons, people consider long links spammy and avoid tapping on them. I do recommend you not just to shorten them with bit.ly or goo.gl but to hide them altogether. This is possible with PromoRepublic. Once the link is attached to your post you can remove it and publish "clean" post. Use this space to promote and put a good teaser there instead of meaningless symbols generated by a link shortener. Yes, the content marketing guides out there might tell you short links are OK, but no visible URL is best.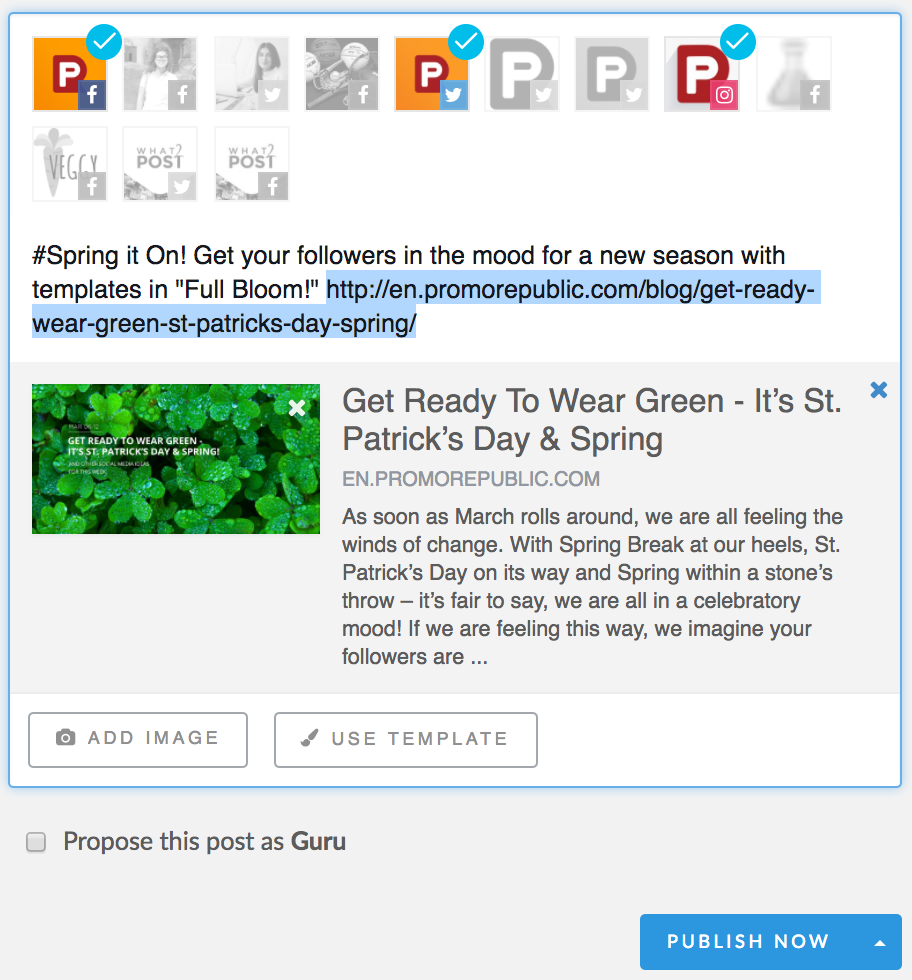 Repost your most successful content
Promote your best posts. Imagine, you have a great post published on Facebook 3 months ago. Post it on Twitter today! Again, it's very easy. PromoRepublic's repost feature allows you to republish any type of content to any social network anytime.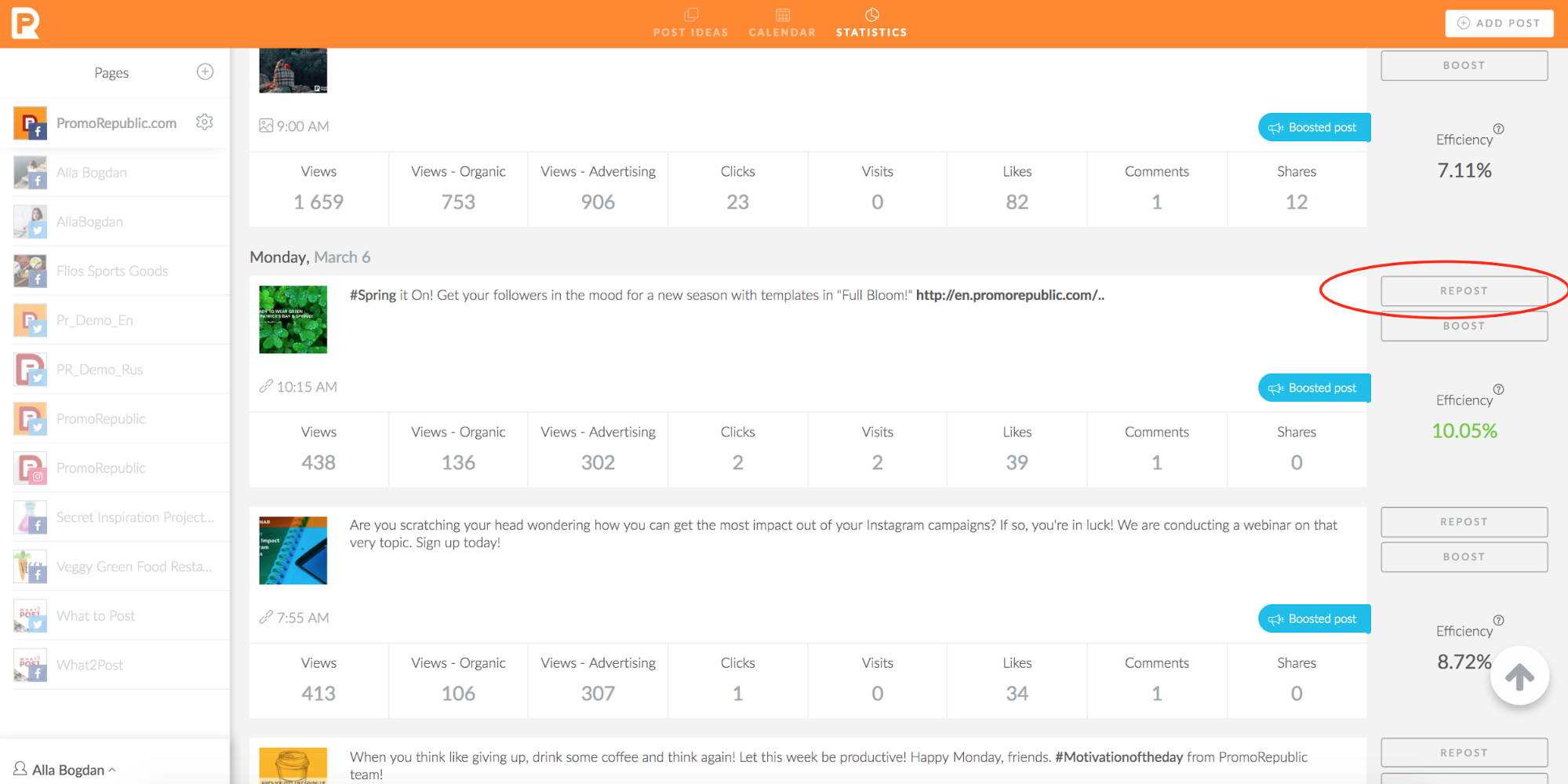 Visual matters
I always tell you that people look at visuals first. Catch their attention not just with a nice picture but with text in it. You don't need to be a designer to manage this work by your own. PromoRepublic's drag & drop Graphics editor is really native, so it won't take you much time to create effective and visually appealing illustration for your blog post. Getting compelling visuals in your social media posting schedule is one of the most critically important things you can do to increase engagement on your social accounts.
Some more tips for you to drive traffic with your blog posts:
Include your blog link in your social media profiles

Share your blog post on every social network you use

Share your brand new posts more than once

Experiment with captions to your blog posts

Seed on Facebook groups

Use hashtags

Build relationships with influencers and ask for re-shares

Learn best times to post
Promotions: Discounts, Special Offers
All this stuff is great, but posting too much of promotional content can make your product or service look spammy. But using our social media content generator, you can always present some gifts to your loyal followers in the form of a stunning visual post. There is no need to give away your goods half price, but even a 15% discount post will make them want to know more about your product and follow the link to your website.
Trends, special events, and holidays, both local and national are a great opportunity to attract more attention to your website.
PromoRepublic offers you both ready made ideas for your promotions: from discounts to special offers and a daily updated calendar with relevant events to your business niche.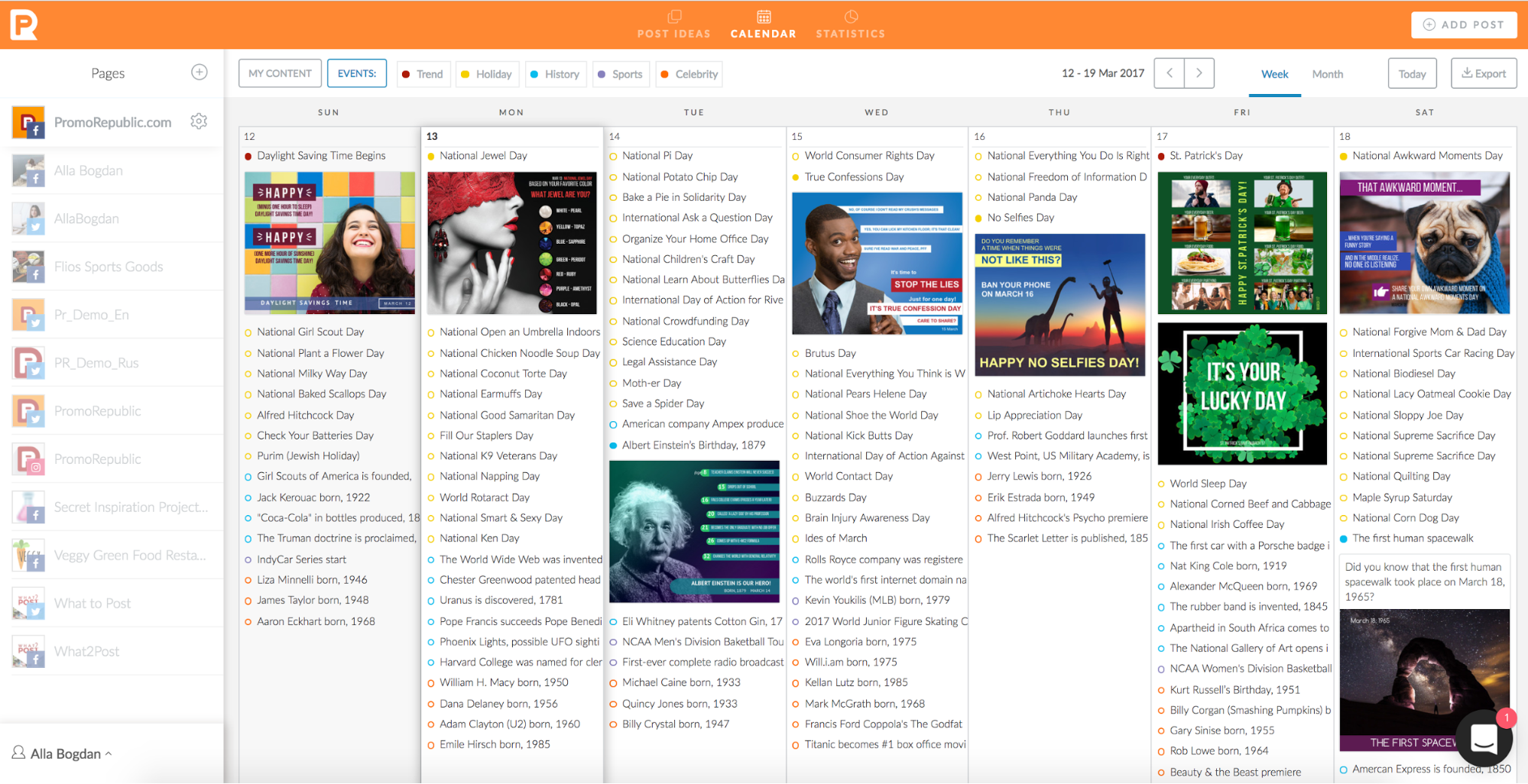 Check out PromoRepublic today to start using the best social media marketing automation tool out there.