Twitter is one of the largest social networks in the world, counting over 330 million active users. It's another good place for small businesses to increase brand awareness and create a buzz around their clients, products, or services. So learning more about the art of tweeting, you have all the chances to get closer to a broad audience of people who could become your customers. A recent go-to business report from Hubspot, for example, revealed that 36% of marketers had gained a customer only by using Twitter in 2018. With this fact in mind, I've prepared the ultimate guide on how to get real Twitter followers, including the first steps, proven hacks, content ideas, and tools.
The First Steps to Gain Followers on Twitter
Growing your presence on Twitter is not just about the numbers. Where else could small businesses communicate with their customers in such a fun, but laconic way? If you decided to try Twitter in your social media management strategy, but you don't know where to start, this is your map to use further in your journey. What you should do in the first place is to take care of your account – create an inviting profile, in other words. If you're looking for new followers, you must be ready to show them yourself in the best way possible. Here's a nice example for inspiration: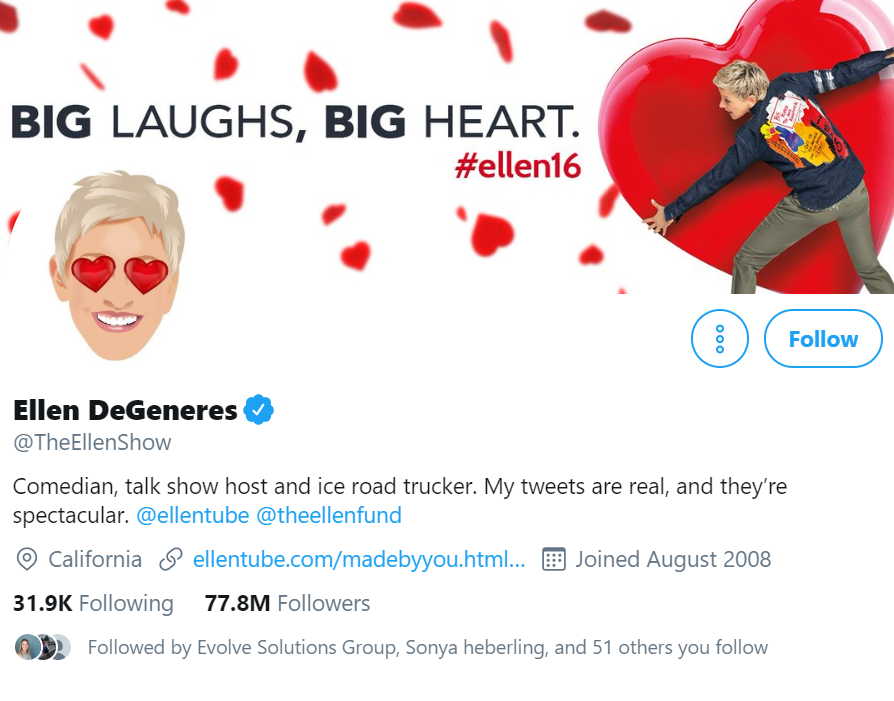 Pick a short Twitter username
It's a given that the shorter the user name you choose, the better. If people use the classic style retweets, more of them will be able to retweet your tweets. Shorter and simpler user names are also more likely to be remembered. CNN Breaking News has shortened its user name to @cnnbrk to make it easy to grasp and mention.
Write a good bio
Much can be said about creating a perfect bio on Twitter. But basically, there are a few things to remember about your bio that can get you more followers on Twitter. First off, you have to keep it under 160 characters. Second, your bio is the first thing on Twitter people will read, coming across your page. Make it as enticing as possible. Third, don't forget to use relevant keywords that best describe you to rank in Twitter search results. Including your city or region name is also a good idea to reach out to local users.
Barack Obama's account on Twitter, second only to Katy Perry's in terms of followers as of May 2019, is a vivid example of a short and altruistic description: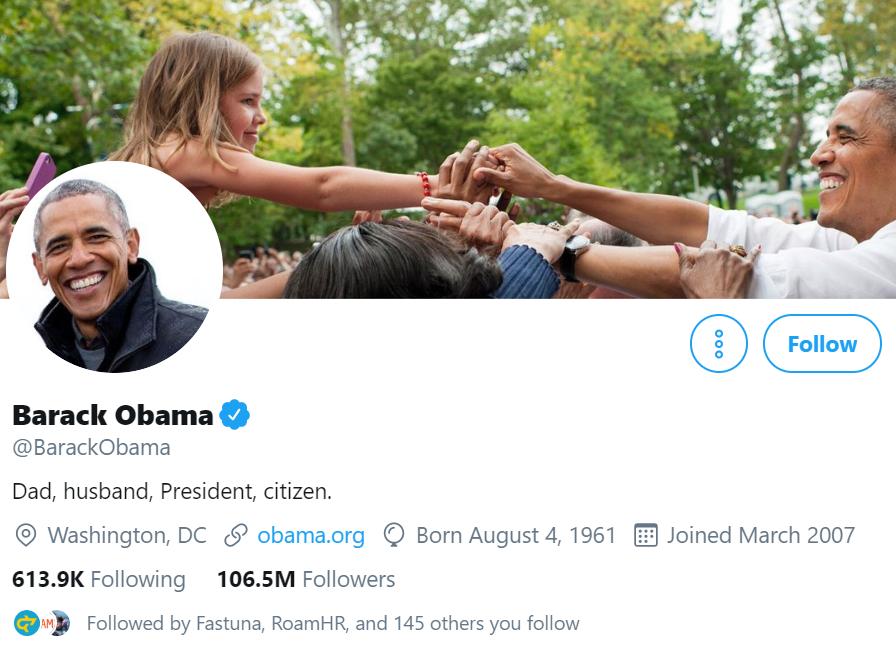 Upload a photo of yourself
A profile picture with your actual face on a clean background, as it is embodied in Ellen DeGeneres' and Barack Obama's profiles, will attract users more than an abstract thing. "People are more likely to trust and connect with you if they see your face so I recommend you use a picture where your face is clearly visible for your profile picture," writes Garin Kilpatrick in Twitter Tools Book.
Create a banner that uncovers your field of activity
A banner on Twitter is larger in size than banners on other social media platforms. So you can say a lot about yourself, using it as a valuable add-on to your logo and bio. Canva allows you to create awesome Twitter headers without graphic design experience and for free. Also, check our recent article on optimal social media image sizes to eliminate confusion out of your Twitter pictures, or take a look at the infographic below.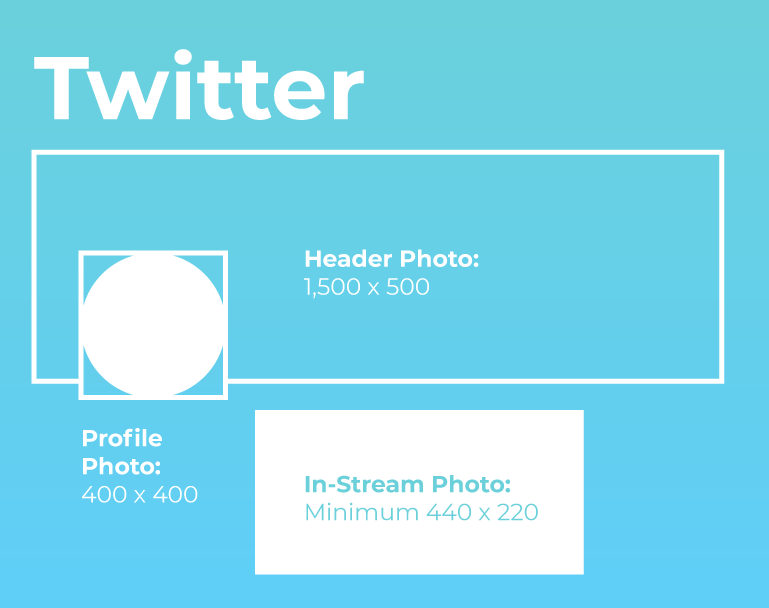 Proven Tactics to Increase Twitter Followers
Once you make sure that everything is perfect: your bio includes all the information about your brand or your persona, the profile photo is in good quality, and all hashtags and keywords are on its places, you can start your first tactical steps. Unfortunately, there is no single best way to get more Twitter followers. However, you can engage in many social media activities that have proven effective. It'll be fun. I promise!
Upload email contacts to Twitter
As your first step to getting followers on Twitter, you may easily find and follow people you know by uploading your email contacts directly to Twitter. Because they know you individually, they will be interested in following back. Twitter also allows you to follow people from your address book.
Follow industry experts and popular accounts
Uploading your email contacts is advisable at the outset, but to continue getting Twitter followers, you need to move beyond them. Following industry experts, you can get noticed on the platform faster. Also, when following a popular account, your profile will be displayed at the top of their follower list and give your profile a little extra exposure. Growing an audience on Twitter this way may be tedious and boring. The sooner you begin generating good content, the sooner your profile will generate followers on autopilot.
Optimize your posting times
Posting at any time on Twitter is far from serious. There are peak times when your audience is online. As a matter of fact, your tweet will have around 18 minutes before it disappears in the feed. Due to this, you should have a clear-cut posting schedule, based on the rises of your followers' activity. With the posting schedule, you will clearly understand when you should post new tweets and when it's better not to post anything. Sprout Social indicates that brands typically see the most engagement during weekdays in the early and late afternoons. In turn, Social Media Today suggests tweeting between 1:00 PM and 3:00 PM when Twitter traffic is at its peak.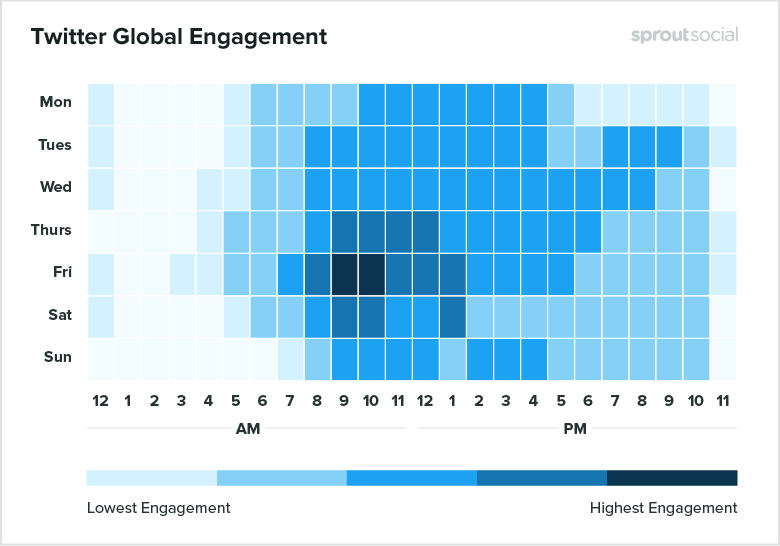 Tweet often
You should understand that people who start following you on Twitter expect regular tweets, and if you will add just one post per day, you will lose all followers during one week or faster. CoSchedule reveals that it's optimal to tweet anywhere between three and seven tweets per day to achieve maximum engagement. However, you have to resist the temptation to tweet in bursts. One Korean research study found too many tweets at a time irritating and causing people to unfollow.
Use links in your tweets
Even though Facebook and LinkedIn have algorithms that underestimate posts with links and portion them fewer impressions,  Tweets with links generally have a tendency to get more retweets than those without.
Use #hashtags
Adding hashtags to your tweets, you can receive 12.6% more engagement, according to the study carried out by Sprout Social. It really makes a noticeable difference! At the same time, using popular community hashtags, you increase the chances to be found by your potential customers. The beauty of hashtags is in opening your tweets to other tweet streams. Additionally, you can engage in such hashtags as #MondayMotivation or #FollowFriday to amp up the distribution of your profile.
Write catchy headlines and descriptions
This is what Twitter is famous for – short compelling headlines. The first rule that you should remember is to optimize the length of your tweets. Tweets with 100 characters are known to get 17% higher engagement rates than longer Tweets. To learn to write killer headlines, explore the ones mentioned in popular magazines, such as HBR, Forbes, The New Yorker, etc. Here is the list of words from Quicksprout you should and should not use:
Join and participate in tweet chats
A tweet chat is a live event on Twitter where people can ask questions focused on a common topic. The reason to become an active member in tweet chats is that with their help you can connect with like-minded individuals, who will likely be eager to follow your page.
Always follow back
To maintain relationships on social and increase twitter followers, you also need to give back. So make sure you follow people back, at least when it makes sense. In fact, if you don't do it, someone can easily unfollow you in the future.
What your followers expect from you the most is your immediate reply to their inquiries. The faster you respond, the livelier your discussion will become. Being quick may be a little hard, but it is worth it in the long run.
Ask your followers to retweet you
No, you won't seem narcissistic if you kindly ask your followers to RT you best content. In fact, asking for retweets in your text can get you 4x more retweets. Just insert the "Please retweet" message into your post. The results won't take long!
Mention users in your tweets
Point out users in your tweets. For example, when replying or writing to other users, you can @mention them. This will ensure that they get a notification immediately after you've posted something. It is also a good idea to mention influential people, like Elon Musk, as you can get a flow of attention from their network and thus build a network of Twitter followers.
Embed tweets on your website
Let your readers know that you have a great profile on Twitter by embedding tweets on your blog. This will entice your website visitors to follow you on Twitter. Here's the guide: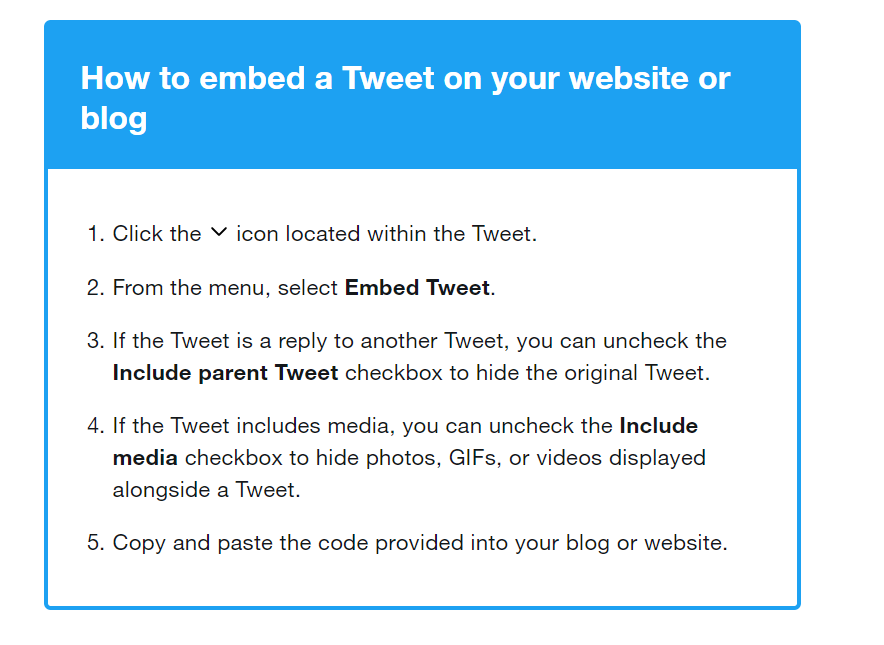 Pin your best tweet to profile
There's so much you can do to gain more followers on Twitter and one of the best hacks is to pin the best tweet that you have to the top of your stream. When people see your profile, their attention will be immediately grabbed by the first post on your timeline. Consider adding a tweet that is eye-catching and has the most likes and shares.
Tweet the same content a few times
It's no secret that the lifespan of a single tweet is around 18 minutes. Since you actually can't tell if many of your followers are active eighteen minutes after you post something, you can double your efforts. To not stay visible, tweet out your links at least two times over the course of a day.
Content Ideas to Gain More Twitter Followers
Needless to say, to keep posting on Twitter constantly, you need thumb-stopping ideas. Apart from the links that lead to a website, you can deliver inspiration. Here's what we learned about the difference between champions and underperformers on Twitter.
Write positive tweets
Being negative, you become the enemy to creativity. Nowadays, all social channels teem with complaints and negative insights, but they do cause people to unfollow you. The best advice would be to keep your posts positive, with a grain of humor in them. Self-irony is more than welcome on Twitter as well. People love to look at three things: fire, water, and people criticizing themselves on Twitter.
Ask questions
There's no better way to stimulate interaction under your post than by asking questions. Think about the field you work in and come up with a list of questions you can use on a regular basis. They may relate to the expertise of your followers or bring other everyday subjects.
Share infographics
Creating an infographic for social media is a clever way to visualize data, attract more people to your post, and grow Twitter following. According to Hubspot, infographics are shared three times more often than any other type of image on Twitter. Here's a nice example:
Each American state's favorite Disney animated classic broken down in new infographic #Disney #DisneyMovie https://t.co/FfVX6HOLSs pic.twitter.com/5G0JmJQuS4

— Inside the Magic (@InsideTheMagic) June 11, 2019
Tweet motivational or inspirational quotes
Quotes are the least self-centered and that's why they resonate with people the most. Tweeting motivational and inspirational phrases can be great for retweets. But how can you generate so many content ideas without leading yourself to burnout? Of course, the technology world doesn't stand still and is always there to help you grow the number of Twitter followers. In fact, you can find tools that almost lead the page for you and suggest the best ideas. Let's take a look at the prime one.
PromoRepublic gives you a myriad of opportunities on social, including Twitter. You can create posts, automate them for publishing, and check analytics – all in one place. The tool has a library of premade industry posts and a graphic design editor to ensure you can make corrections that suit your brand. Once you're done with your posts, you can fill in our smart posting calendar, and voila – the tool will do the publishing part for you. But do come back to check analytics and how well you perform. We realize that Twitter is probably not the only social platform you use. Don't hesitate to apply PromoRepublic to Facebook, LinkedIn, Instagram, and Pinterest altogether. It's your rescue from working against the clock!
What are other ways to boost Twitter followers you know? Share them with us in the comments below.