There are more than 60 million active business pages on Facebook, and this number constantly grows. While it's easy to create a business page, it's much more difficult to grow an audience and achieve heightened activity under your posts in the forms of likes and shares. To boost likes on Facebook for business, you need to be a good tactician, able to cut through the clutter we currently experience on social. But you're not alone. Struggling through the noise and trying to get heard has become a classic tale for every business on social. If you go in the right direction and follow the next steps, you're pretty likely to reach your desired destination. Here's our updated guide to getting likes on Facebook in 2019.
12 ways to increase Facebook page likes
Let's be honest – people come to social media for fun, inspiration, communication, and exceptionally good content. So there are certain things you can do to meet their expectations.
1. Find your target audience
Getting more likes on Facebook posts will be more efficient if you get them from the right people, potentially interested in your product or services. Make sure you identify your target market before you start building your presence on social. First, you should know who you'd like to reach on social. Do they wear black suits to work and drive expensive cars or prefer casual things and cycling? Ask yourself as many questions as you can to get to know your buyer persona. The more answers, the better. This way you'll be able to narrow down your attention, deliver insights to a particular niche, and gain real Facebook likes.
2. Post at the right times
If you've collected a lot of information about your audience, you probably already know its peak times of online activity. Just in case, check out our latest article on the best time to post on Facebook to figure out when your followers can lavish more likes just because their habits and routines allow them to do so. The following infographic points to the peak Facebook posting times for different industries.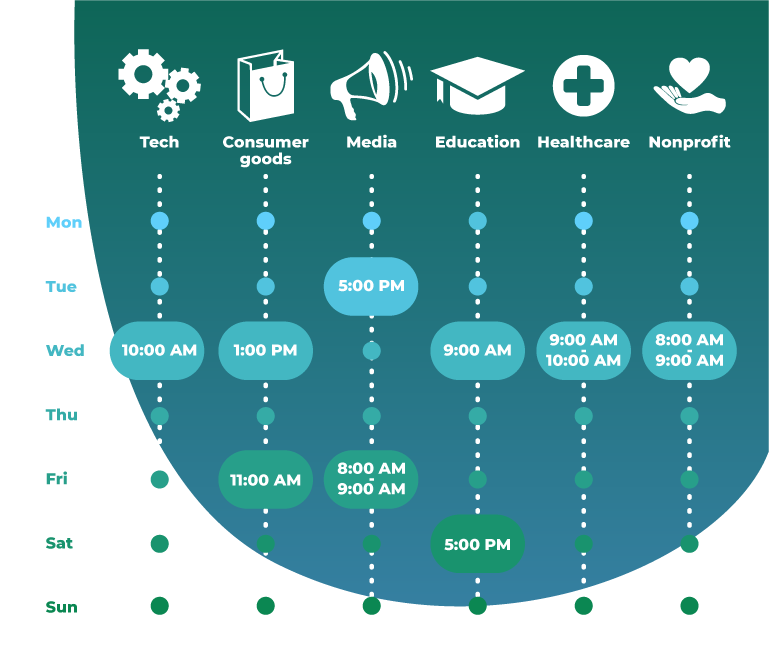 3. Get personal: Show them your true face
By showing who you are, you develop trust in the eyes of your followers. As a big plus, posting your real photos, you easily get more likes on Facebook posts from people who know you individually. We also encourage you to post photos of your team members if you're not an independent freelancer. This way you can engage more followers at the outset and create a nice impression on people who will stop by accidentally or from your campaigns. Your family and friends plus your team members' closest people will rush to like what you have there. Professional activities and victories shouldn't go unnoticed. This strategy works for every social media channel and positively influences the engagement rate on LinkedIn as well.
4. Include a call to action
The egg on Instagram this winter has shown that a call to action can attract the attention of million people. As simple as that, the authors of the egg post have asked the audience to break the record put by Kylie Jenner in terms of likes. People were more than eager to do it. I believe this call to action has brought one of the best results in the history of social media. Even though this story is more about Instagram, a call to action that resonates with the public as in the above case can maximize Facebook likes and engagement too.
A good call to action starts with the desired action, so usually it includes words like buy, shop, subscribe, download, discover, explore, etc. If you think they are too salesy, you can experiment with different phrases and spice these up. Here's a good example from Grammarly used in their post about crafting killer call-to-actions:
Original: Read this book.
Improved: See why thousands of readers are talking about the latest page-turner from this bestselling author.
What distinguishes the original call to action from the improved one is appealing to the sense of belonging to a group of intelligent people, who've already read this book. Such call to actions result in better clickthrough rates.
5. Be relevant: Write about timely topics
You'd be surprised by the engagement raised by the posts about artificial intelligence nowadays. So if you're in the field of technology and have not covered this topic yet, it's high time to write an engaging article about AI in your industry and post it to Facebook. Buzzsumo shows that one article about machine learning and AI was close to getting a million of engagements – that's an impressively winning number.
But there's a post that got more than a million of engagements from Delish, about the pickle pop recipe. To be precise, it received 241,399 shares. To get more shares on Facebook, monitor what sparks interest in your audience and deliver relevant information.
6. Ask questions
One of the best ways to get more page likes on Facebook as in any other social network is to ask questions. The goal you should pursue in this case is to get more people to discuss something. Find a relevant topic popular with your target audience and ask people what they think about it. By asking questions, you'll not only attract more followers or get likes, but you'll also understand the problems of your prospective clients and build relationships and partnerships necessary for business. Grammarly uses this technique often for getting maximum exposure.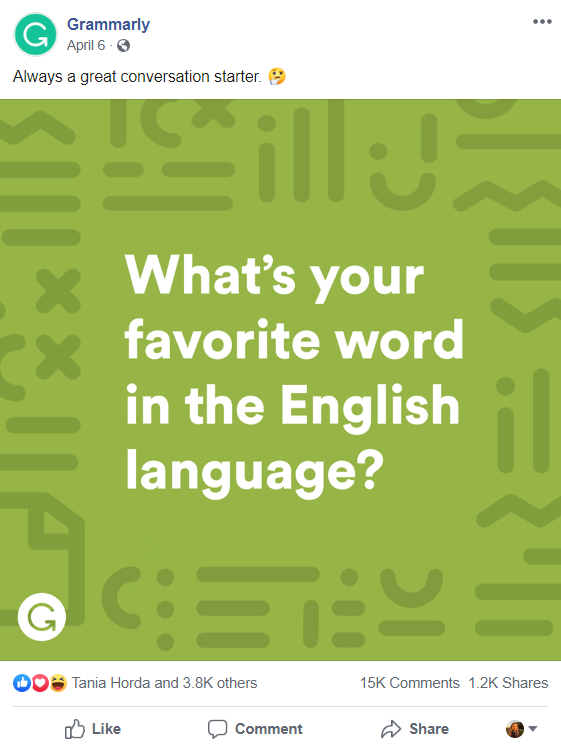 7. Get promotional: Discounts, special offers, giveaways
Another great page that got 4 million Facebook page likes is Chili's Grill & Bar. These guys are real experts in creating promotional posts. You can see a special hashtag #ChilisHacks to promote the products in their menu. They've been doing it for years and generating more and more likes and shares under their posts. Don't you think it's a great idea to create your own hashtags to make people want to act on these special days to come to your shop/ cafe/ store or simply visit your web page to grab a deal of the day?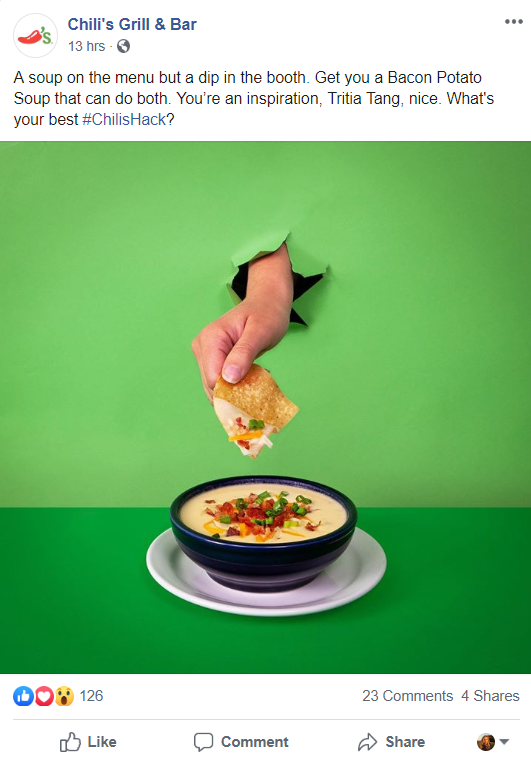 8. Play: Quizzes, polls, puzzles
Playing a game on social media is now trendier than ever. Have some fun and have them solve math or word puzzles. Puzzles keep people entertained and get more shares you could expect. Usually, they spur the activity in the comment section. Creating such posts, don't forget to mention #puzzle and other relevant hashtags to make your post easier to find in Facebook search results. It's important to respond to each comment (if needed) and guide the discussion. TVC Mall received more than 700 comments for an apple-banana puzzle!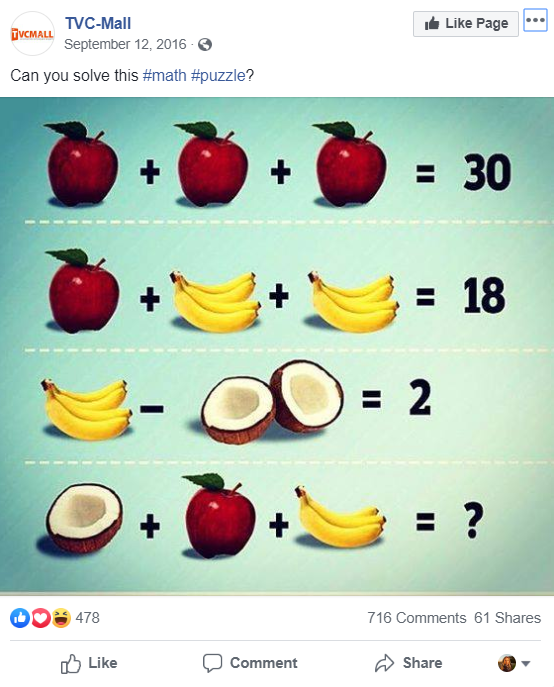 9. Visualize: Quotes, motivations
Alla Bohdan, Digital Trading & Marketing Coordinator at Ogilvy, points out that people don't read text on its own, they see the picture and decide within ⅕ of a second to read or not to read the text it has. Use this information to your advantage and offer them visual posts to motivate and inspire with great sayings and quotes. Why are these types of quotes so popular for getting page likes on Facebook?
We are all fighting with inner questions all day long and when we find something that speaks to us and our situation, our finger instinctively taps the "like" button. All we need is motivation, and when we see the inspirational words said by a celebrity, a great mind or whoever else we want to act now – lose weight, make this Monday productive, start new life, and eat 5 veggies a day! – Alla Bohdan, Digital Trading & Marketing Coordinator at Ogilvy
10. Keep the text short and sweet
Social media descriptions that go along with pictures or your shared links are just as important as visuals. The shorter and wittier they are, the better unless you share a personal story that takes a longer form. Your social media description can ask a question, state a fact, mention a famous quote, but remember that it should appeal to the public's emotions and add logic to the picture you already have. Momondo has a set of posts that encourage us to love the world we live in. Finding a theme you can repeat will reduce the necessity to figure out what to write, but still, it will help you get page likes on Facebook and make readers curious enough to return and share your posts on social.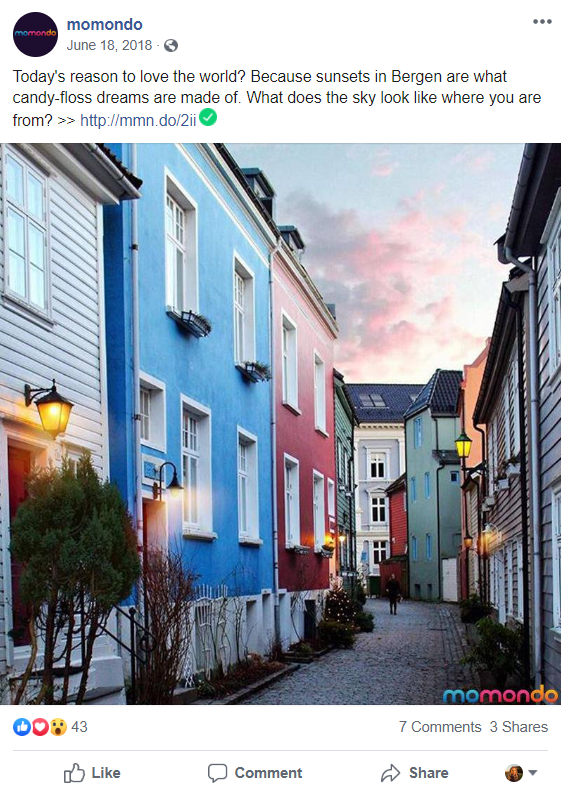 11. Keep the first person to a minimum
While we recommend you to post your photos on social, mentioning your identity too often can create a negative impression on your followers. It's not about you basically, it's about how you can help people solve their problems. That's why you should try to keep your first person to a minimum. To compensate, mention your team members and their contribution to the process.
12. Implement holiday posts
Use special events and holidays in your content plan and grow the number of likes and shares for your Facebook business page. The PromoRepublic team generates post ideas for holidays and months in advance. In our recent blog posts, you can discover 30+ social media content ideas for June. All of them are integrated into our smart posting platform and you can use them once you sign up for one of our (cheap) packages. Remember, unique graphics are extremely helpful in any social media effort.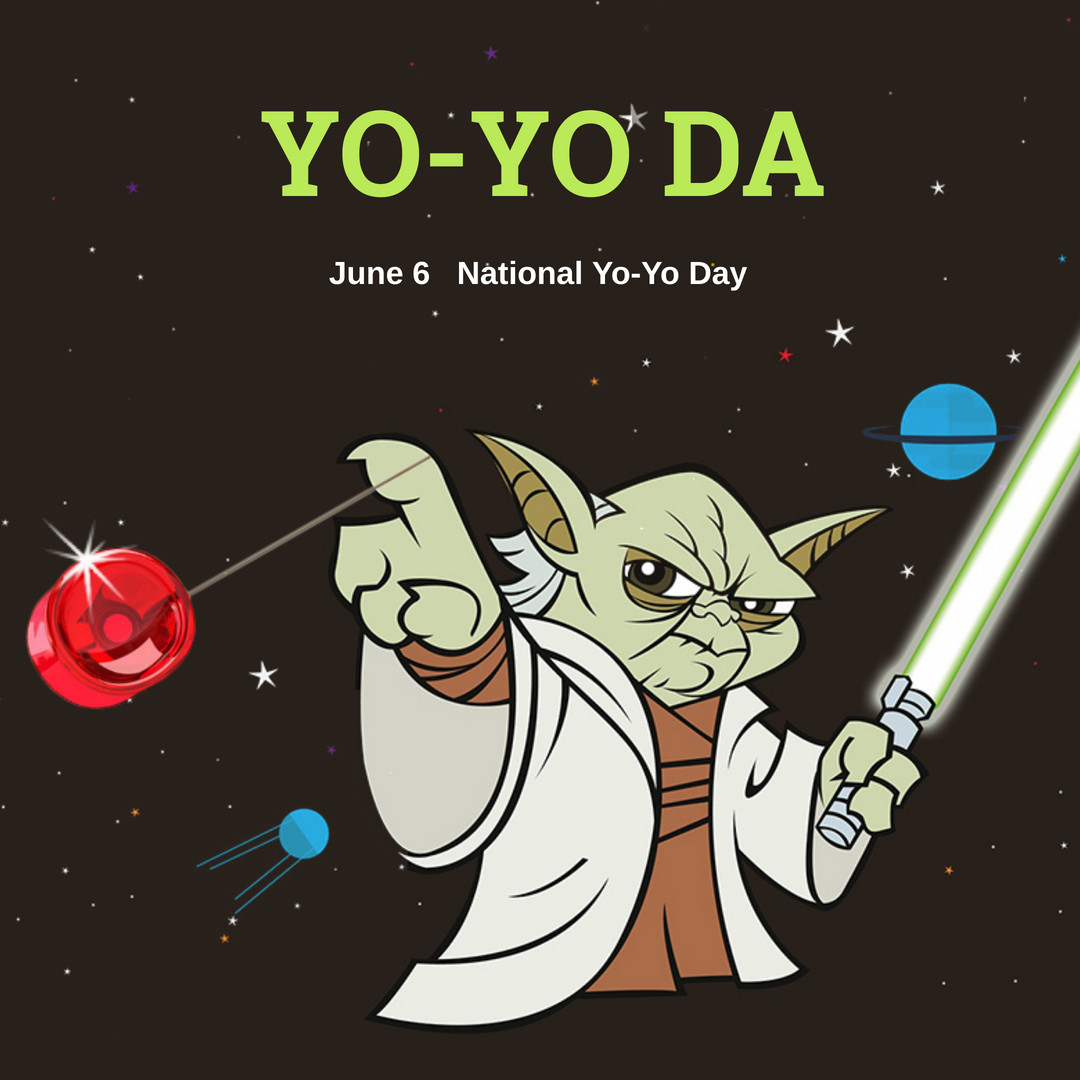 How to get Facebook likes and shares of your business page
In this section, I'll share one trick that helped me promote my Facebook business page without paying. Posting great content is good, but you should also seed it in places where your clients are waiting for it. In our case, Facebook groups. Facebook gives you an opportunity to become a member of the group using your business account. Every time you post content to a group or start and participate in a discussion, you interact as a business. More people will visit your page and notice your great content. It's one of the best free ways to attract more people to your Facebook business page and increase Facebook likes. To become a member of the group, prepare some essential information about you, which you'll be asked to provide in the beginning.
Plan for more Facebook likes
Facebook likes won't come to you naturally if you represent a business. It's getting more and more difficult to surprise the public among so many creative people, even with the greatest ideas. But posting frequently and planning the topics to cover in advance helps in almost every case. To post all your social media content from one place and track analytics, PromoRepublic is the best in a class of its own. As mentioned, the tool has a library of post ideas for specific industries. But it also indicates the right time for different types of content, based on the time zone of your audience. I've been using it to plan my social media activities and manage four business pages for a month now, including Facebook, and guess what? My engagement rate has grown by 50%. You can always sign up for a free trial here.
Let me know how you increase Facebook likes for business and what types of posts work best for you in the comments below.