Instagram, with more than 50 billion images shared and 500 million monthly active users, generates an average of 80 million photos per day. The mobile-based photo and video-sharing social network enables the sharing of images and creation of community among users around the world. You may think of PromoRepublic as a tool for social media marketing automation only – but we're here to help you think hard about the type of content you share with your fans and followers to get the best possible reaction.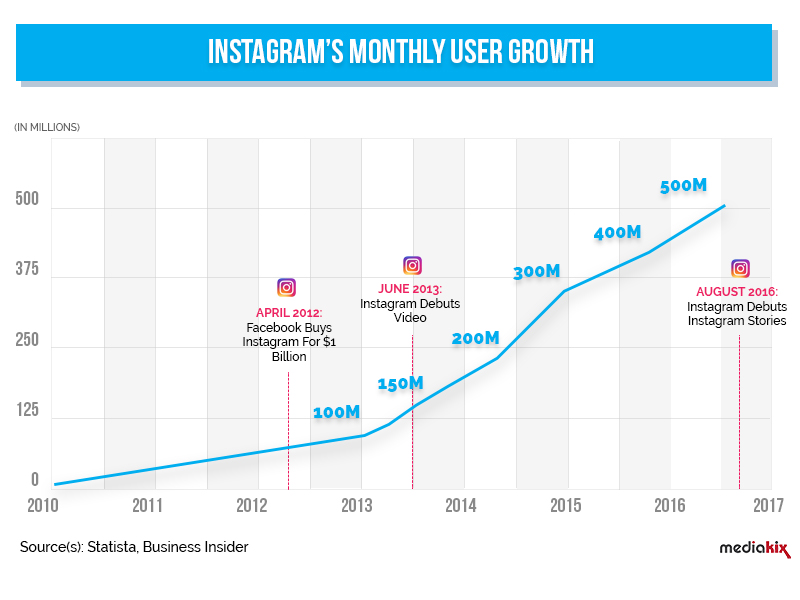 We know that Instagram is a "Visual" network. So, if your business has something to show – you need to run an Instagram account. Take a look at the infographics on where do B2C (business to consumer) industries see engagement?
The graph below displays the engagement ratio – measured as the average number of interactions per post per 1,000 followers – on Facebook, Twitter, Instagram, Pinterest, and Linkedin. In other words, the bigger the bubble, the more engagement a brand in the industry gets on that social network. As you can see, Instagram has some pretty big bubbles, so it's pretty important that you add IG to your social media posting schedule.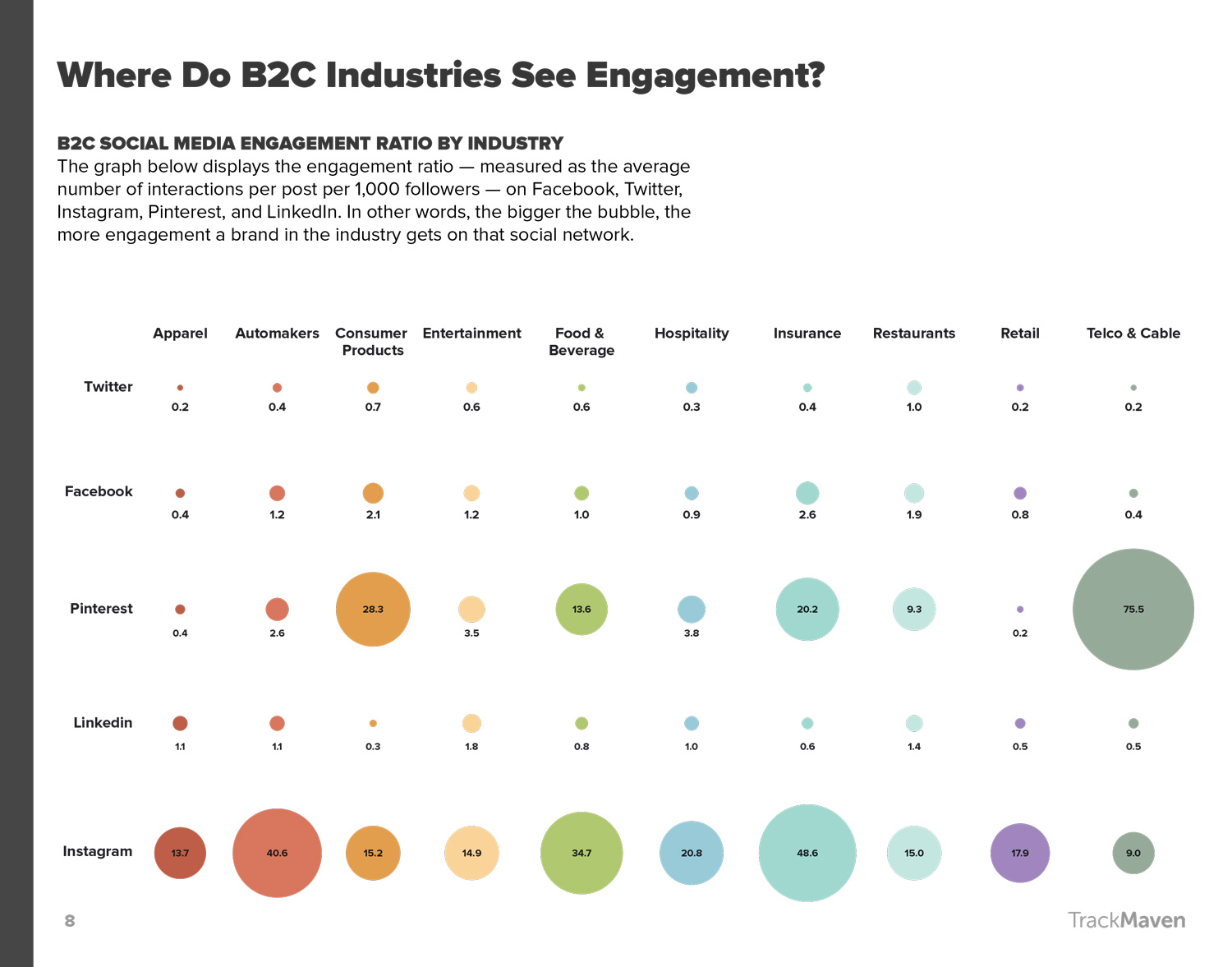 Types of content:
UGC (User Generated Content)
#CastMeMarc campaign by Marc Jacobs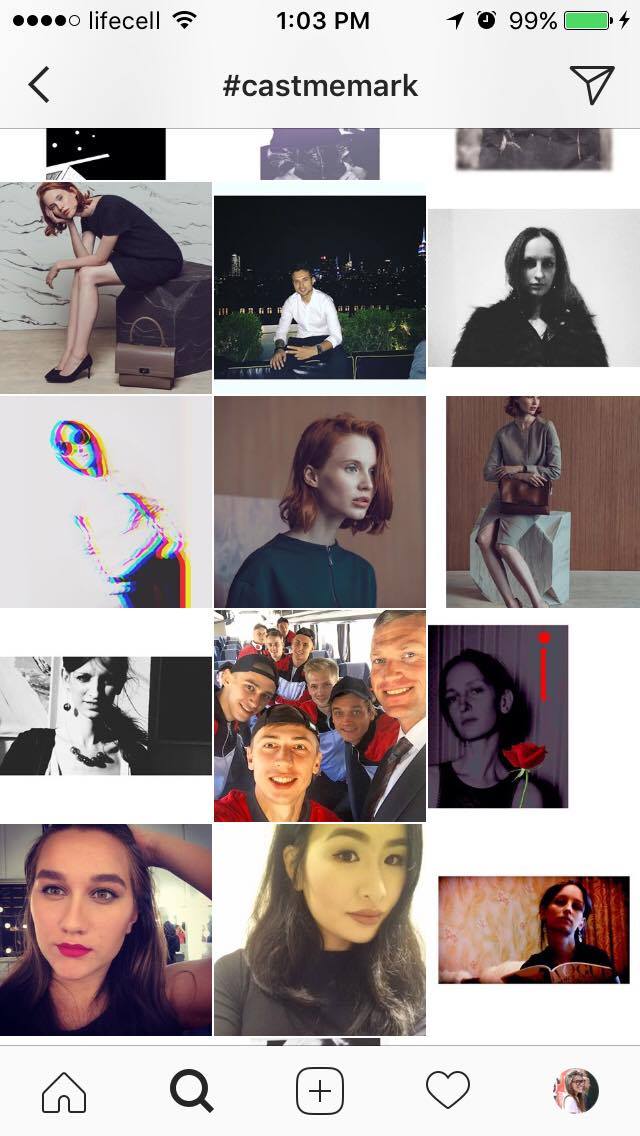 The Marc Jacobs, american fashion house, Instagram account offered its followers to participate in a hashtag competition. They asked their Instagram followers to submit selfies with the hashtag #CastMeMarc in order to participate in a digital casting call. We've talked about UGC on Facebook, and even include it in our Facebook marketing tips for 2017, but it's an extremely powerful type of campaign for Instagram, as well.
How You Can Start Your UGC Campaign:
Add signage in your stores
If you're in the entertainment industry, why not add messaging around your venues or atop the tickets themselves? If you're a retailer, you might display hashtags near the register, outside of dressing rooms, or near a photo-friendly installation.
A great way to scale your user generated content is to host an event. The field for your imagination is almost limitless: from the hashtag your customers use to the products they engage with.
Offer "Hashtagged" Stuff for Free
Again, if you are an offline store, you are really lucky! Offer your clients some gifts: these may be goodie bags, pens, notebooks, cards, cups, sweets or any other stuff that warrants Insta-fame.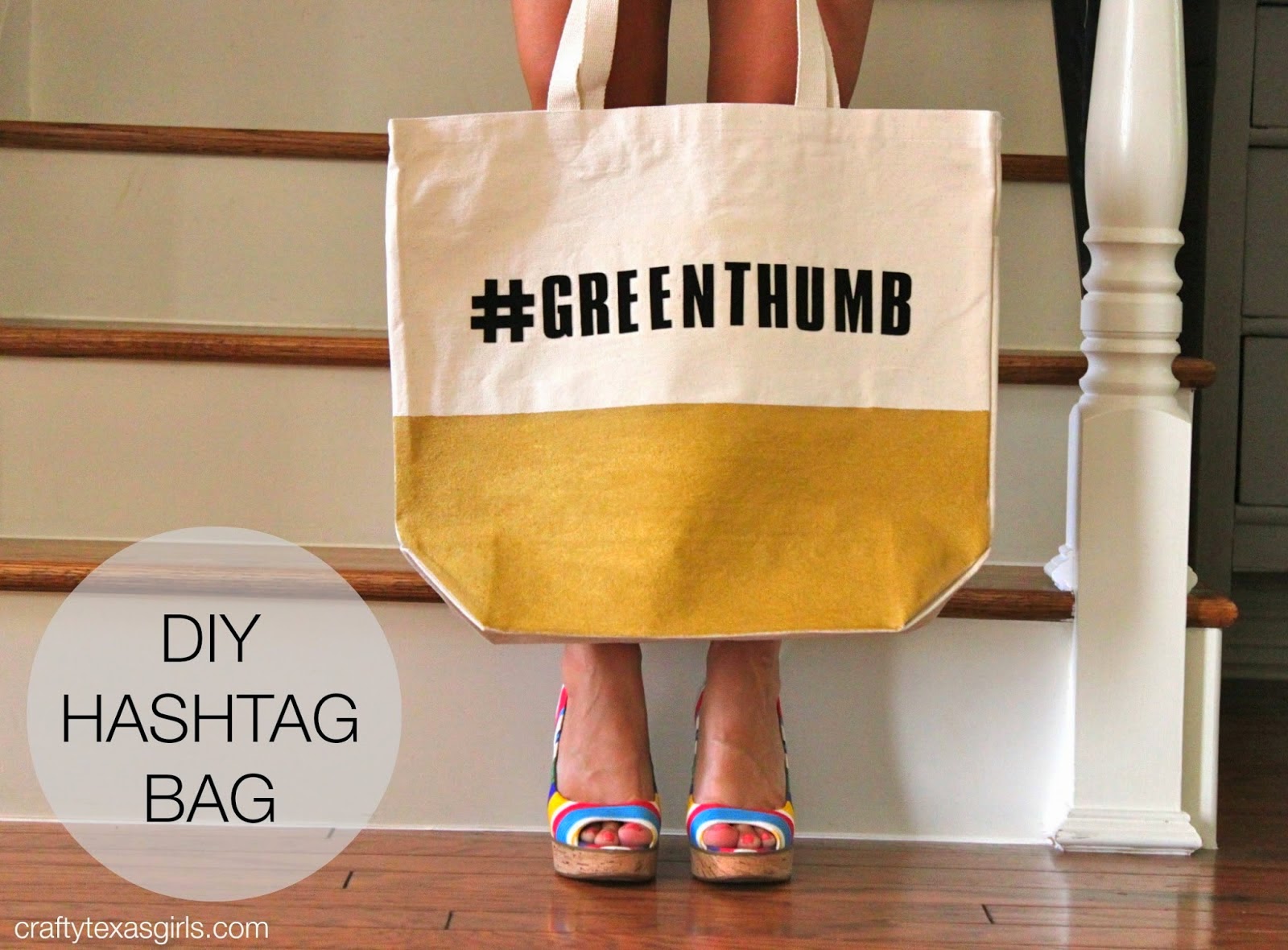 The best way to encourage organic UGC behavior is to analyze the kinds of images that are already surfacing about your brand, and then start a targeted contest.
Instagram is for conversations
Beautiful content is great, but you also need to ensure you have a community management strategy in place to keep the conversation going. Because Instagram users are more likely to comment, use these interactions as a way to get to know your customers. Brands should keep a close eye on their comment section for valuable feedback or even just an opportunity to get to know a customer.
But how does this content look like? How to create the "right' picture that will get you more likes and comments? PromoRepublic Posts Ideas has a special category, which our team of marketers update daily.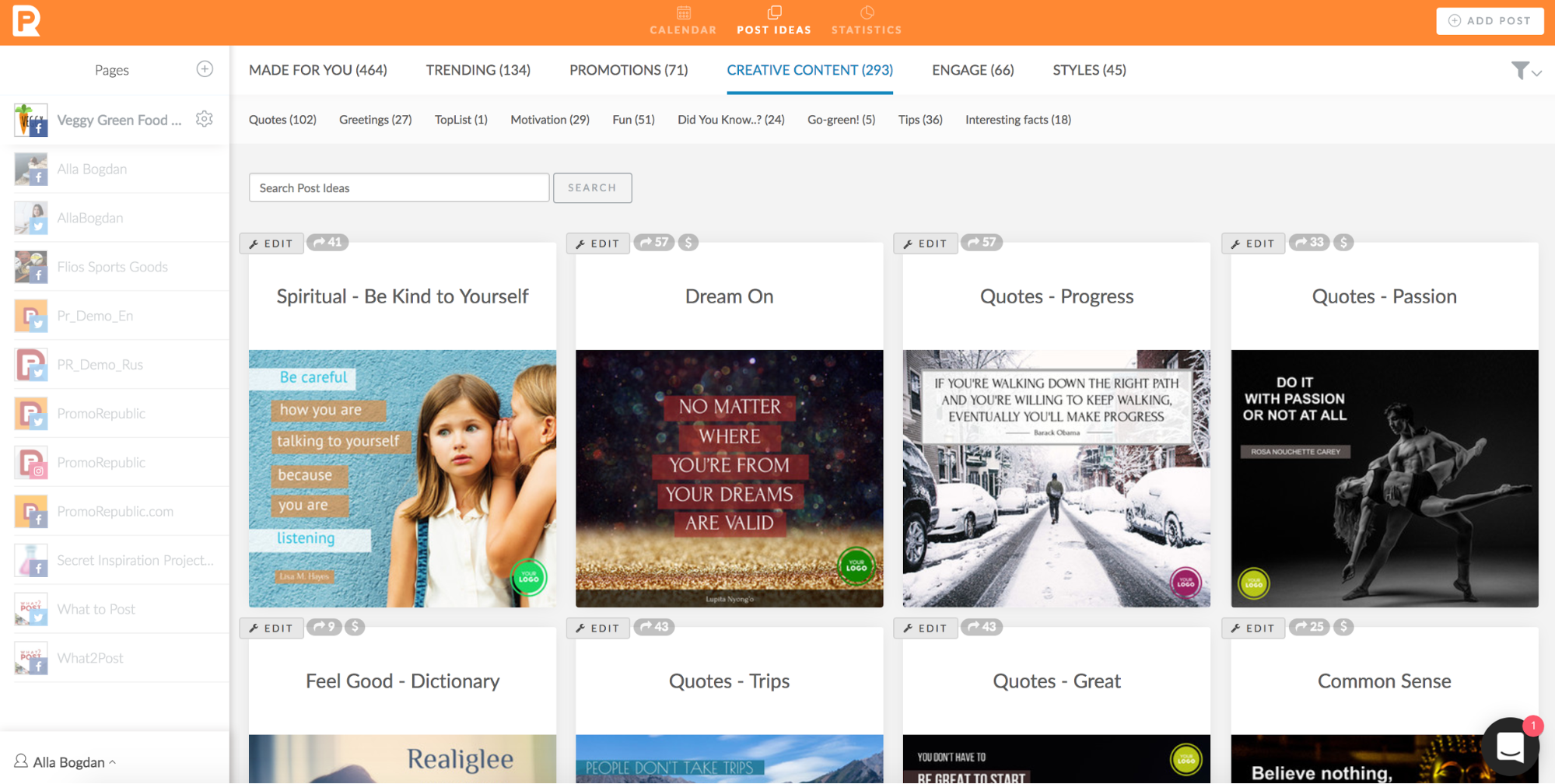 So, the following examples of posts are proven by our customers: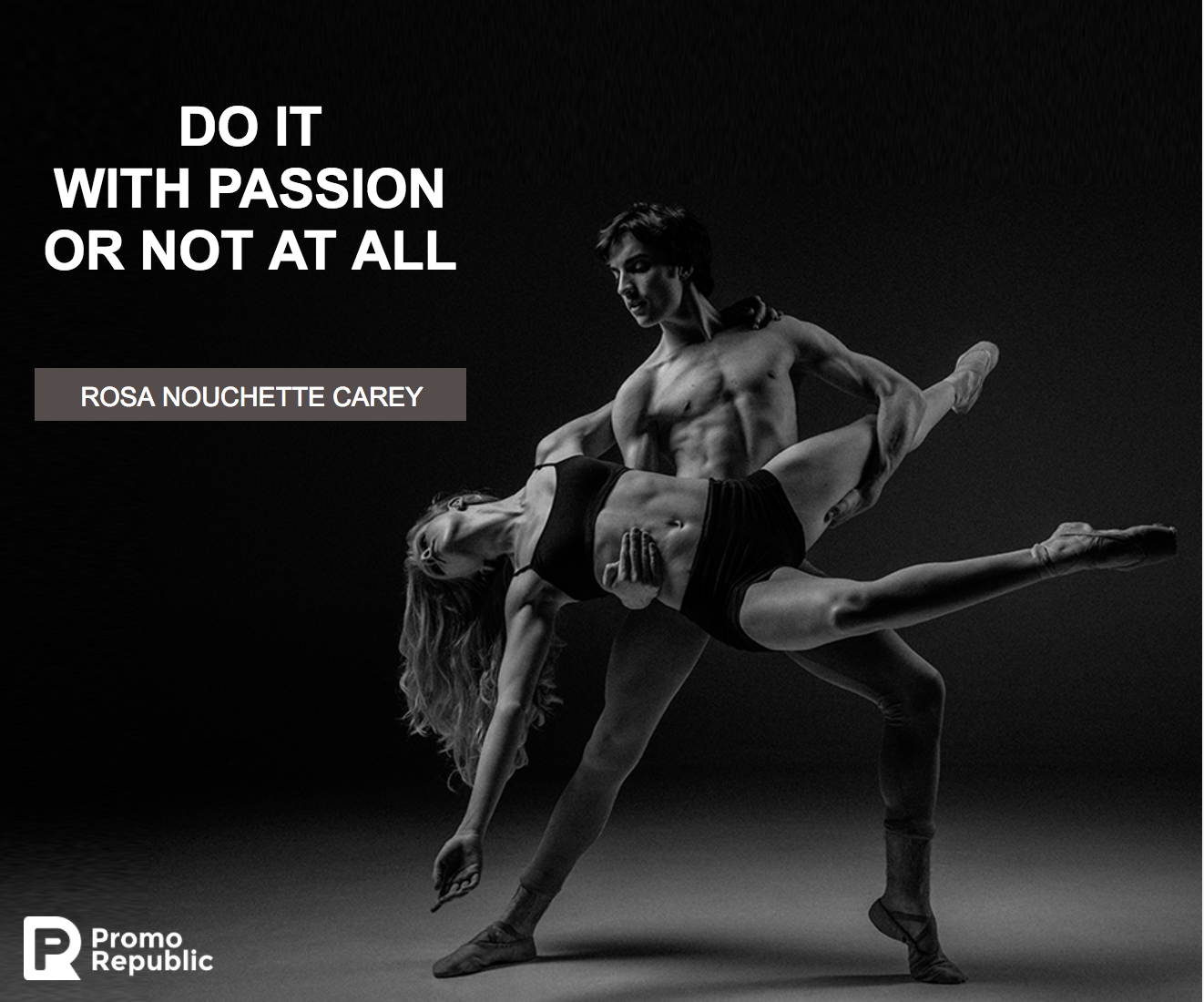 In a caption to your post ask people to share their opinions on a quote. The more controversial your quotes are, the more discussion you will get.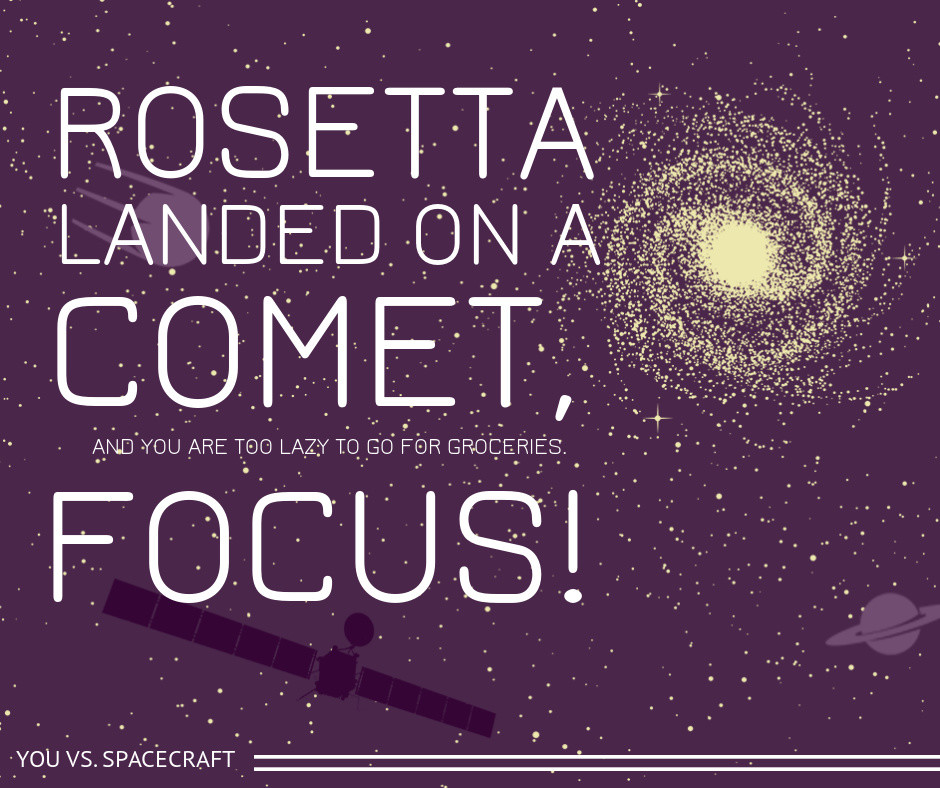 You know that Instagram is used predominantly on mobile devices. And sharing such types of content (pictures, which should be thoroughly examined) on Instagram is more than a good idea. This picture talk for itself and this is a great option if you don't know what to post today.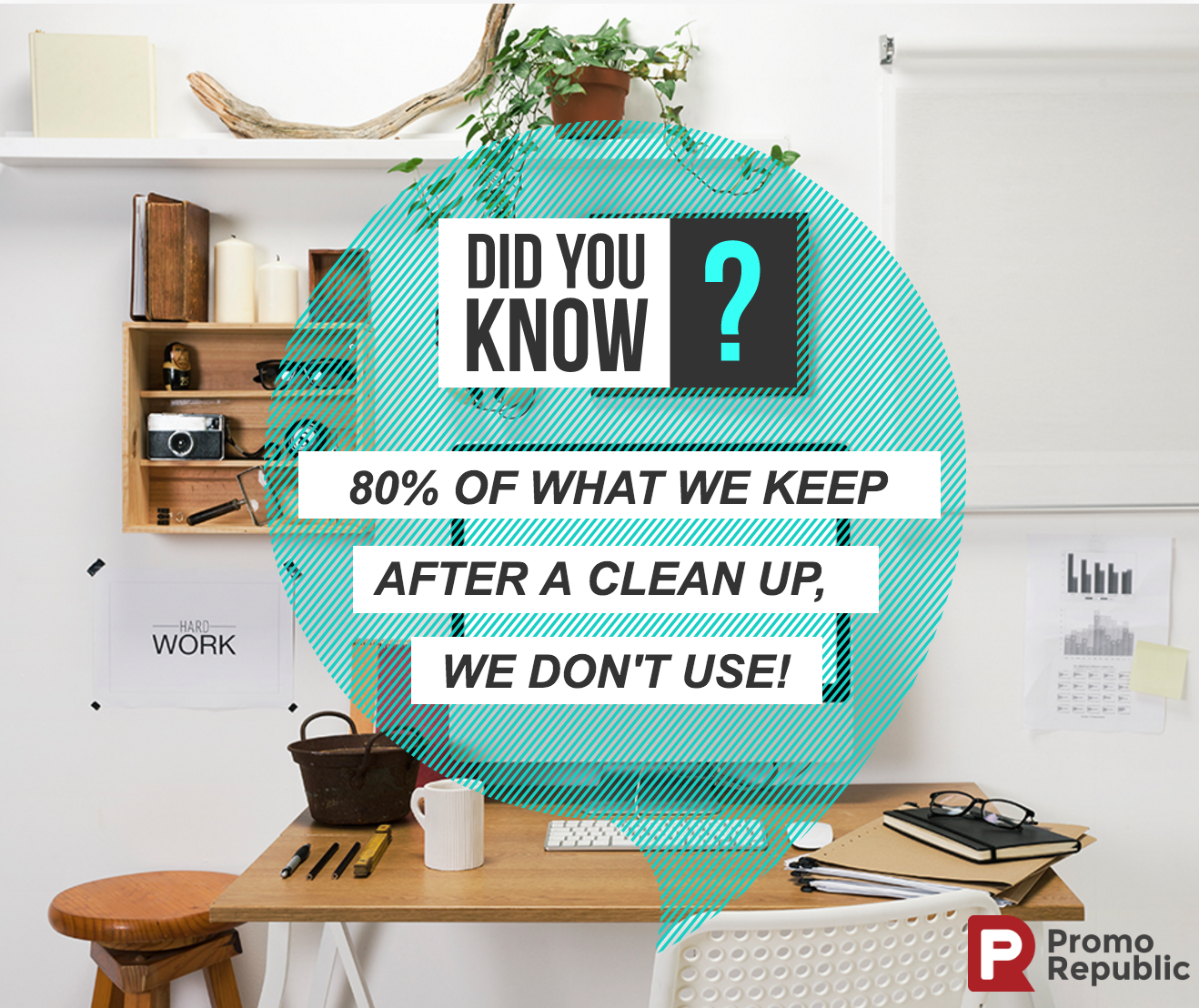 Surprise your audience with interesting facts and rarely known data. If you will become not just an Instagram online store for them, but also a source of inspiration and knowledge – they will never unfollow your page. It's also important to post facts, which will be interested for your business's followers.
We all are people and we all appreciate helpful tips. Again, do a little research and make a list of topics they are interested in. It's not just about buying your goods or services.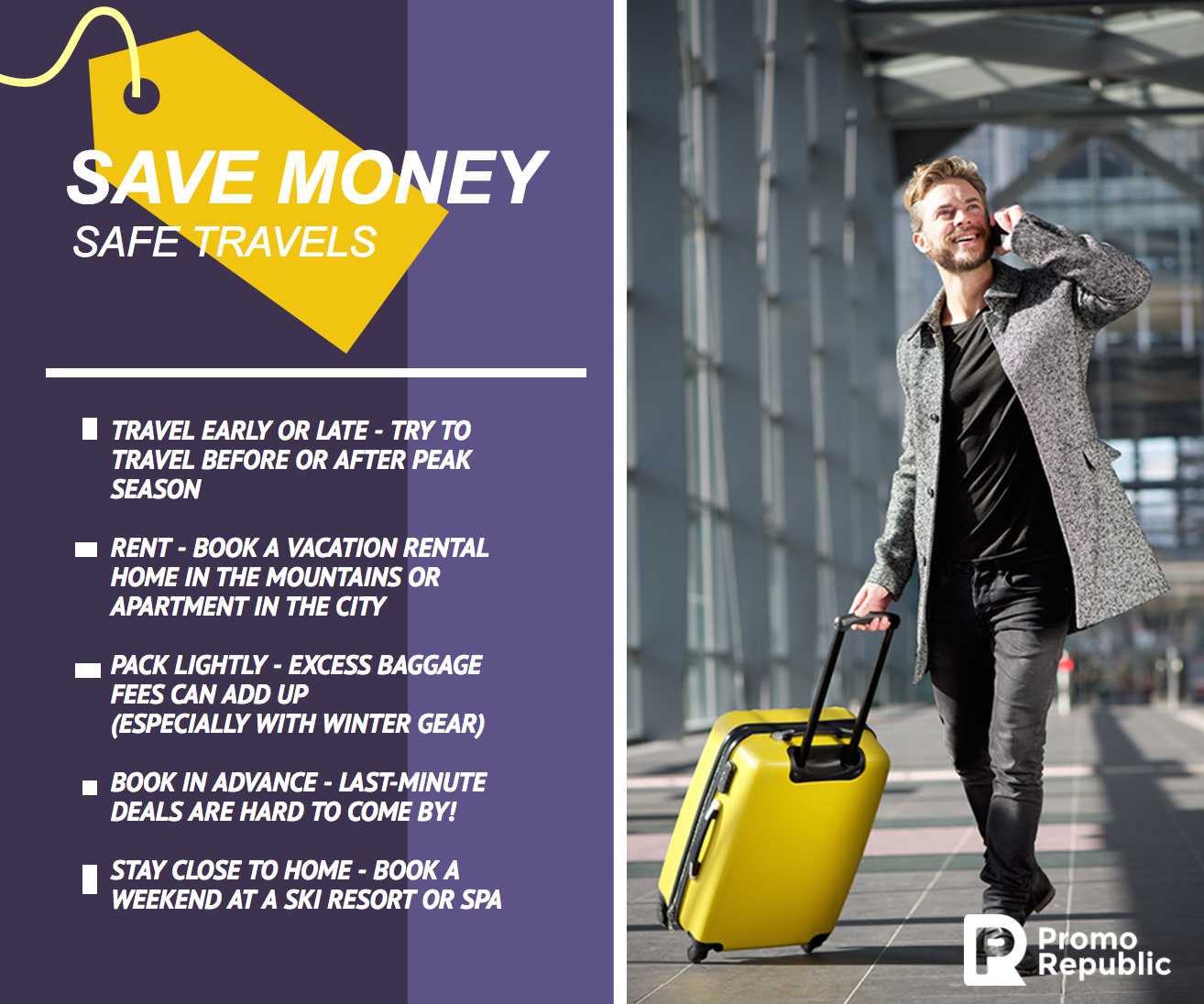 Hashtag it
Content marketing best practices state that we use hashtags in our posts. Instagram content is categorized with hashtags, so it's especially important on this platform. Instagram is a kind of online visual library. If your post has no hashtag on it – it is lost. One of my recent tutorials was devoted to this topic. If you want to succeed on Instagram – I do recommend you to learn how hashtags work on Instagram and how to choose the right ones. We'll also talk with you about hashtags in our 2017 Facebook marketing guide, so stay tuned for that. You'll learn about 2017 guidelines for Facebook post size, hashtags, and more.
#Goodmorningworld, #mymorningcoffee are hashtags your brand should never use. 1. Your potential customers will never search for your goods with such hashtags, 2. Your post will be lost in literally millions of other posts with "morningcoffee" hashtags, 3. Your post will look spammy and desperate, and you don't want this. These are my tips for you when to search for hashtags. Solution? Use holiday related hashtags. Be among the first to tell the world about #Internationalwomansday, #Nationalliteracyday, or #Stpatricksday. It's not be very easy to monitor holidays and trends. No, it's not be easy at all to monitor holidays and trends, which are relevant for your niche! We've done that for you at PromoRepublic. Every single day you get ready-made visual posts templates for you just to customize them with your logo and schedule them for best time. We are ready with scheduling suggestions as well. When you're learning about content marketing, timing is very important.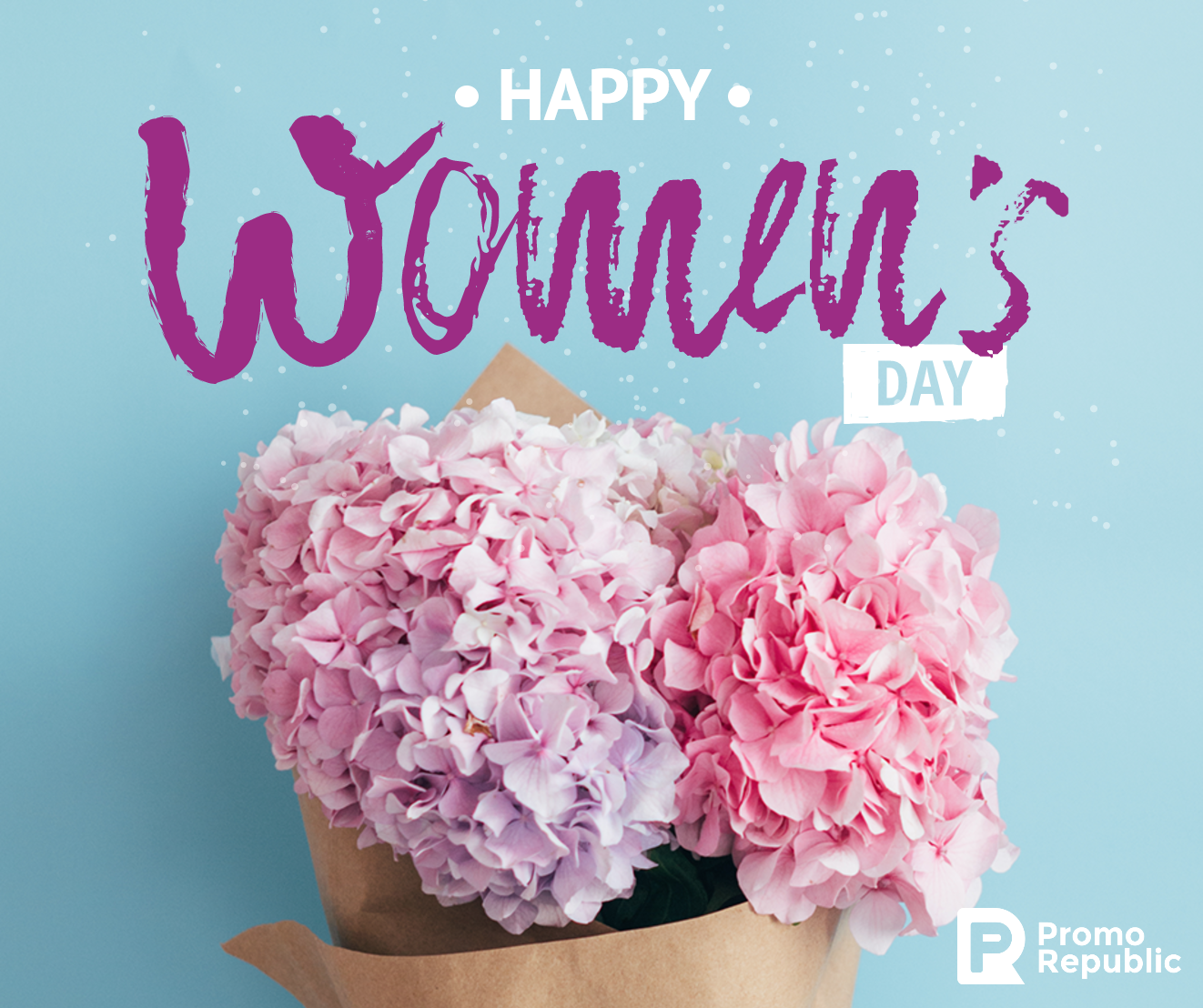 Location Tag is not less important than hashtags are. Take a look at this: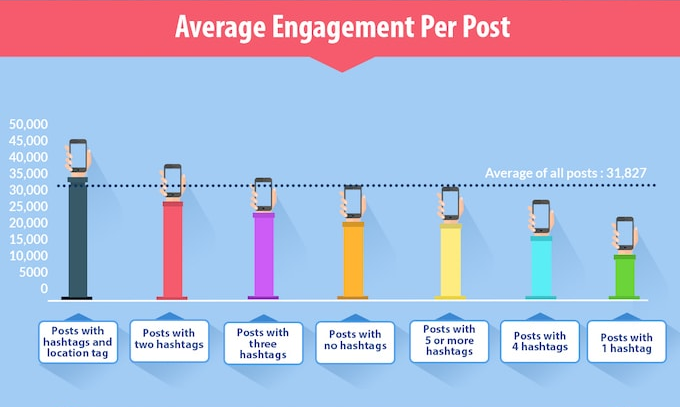 According to this infographic, posts with 2 hashtags and a location tag receive the biggest engagement.
Create a hashtag for your brand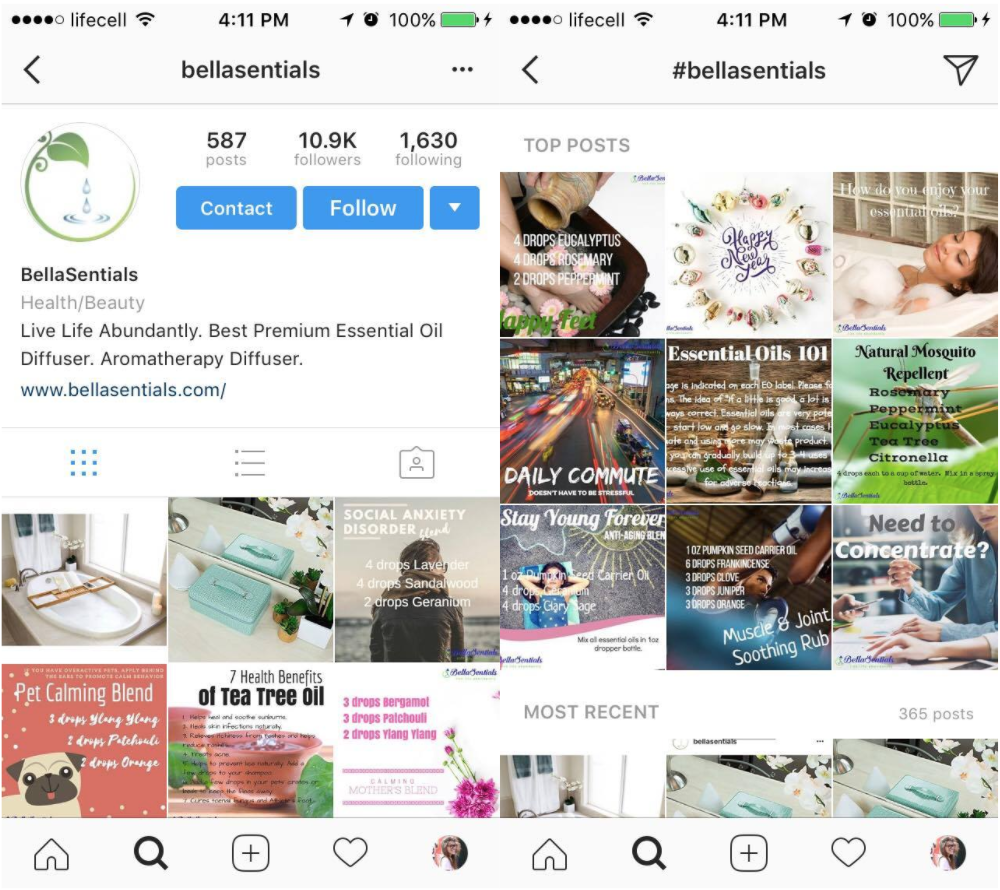 A brand hashtag is unique to your business or campaign. It could be as simple as your company name, tagline, or the name of one of your products. It will also organize all the posts that are tagged with it on a hashtag page.
Take a look at this hashtag page of a PromoRepublic client. This page is a a great example of both correct using our posts templates and wise running social media campaigns! No doubt, their results impress!
Promotions: Discounts, Special Offers, Company News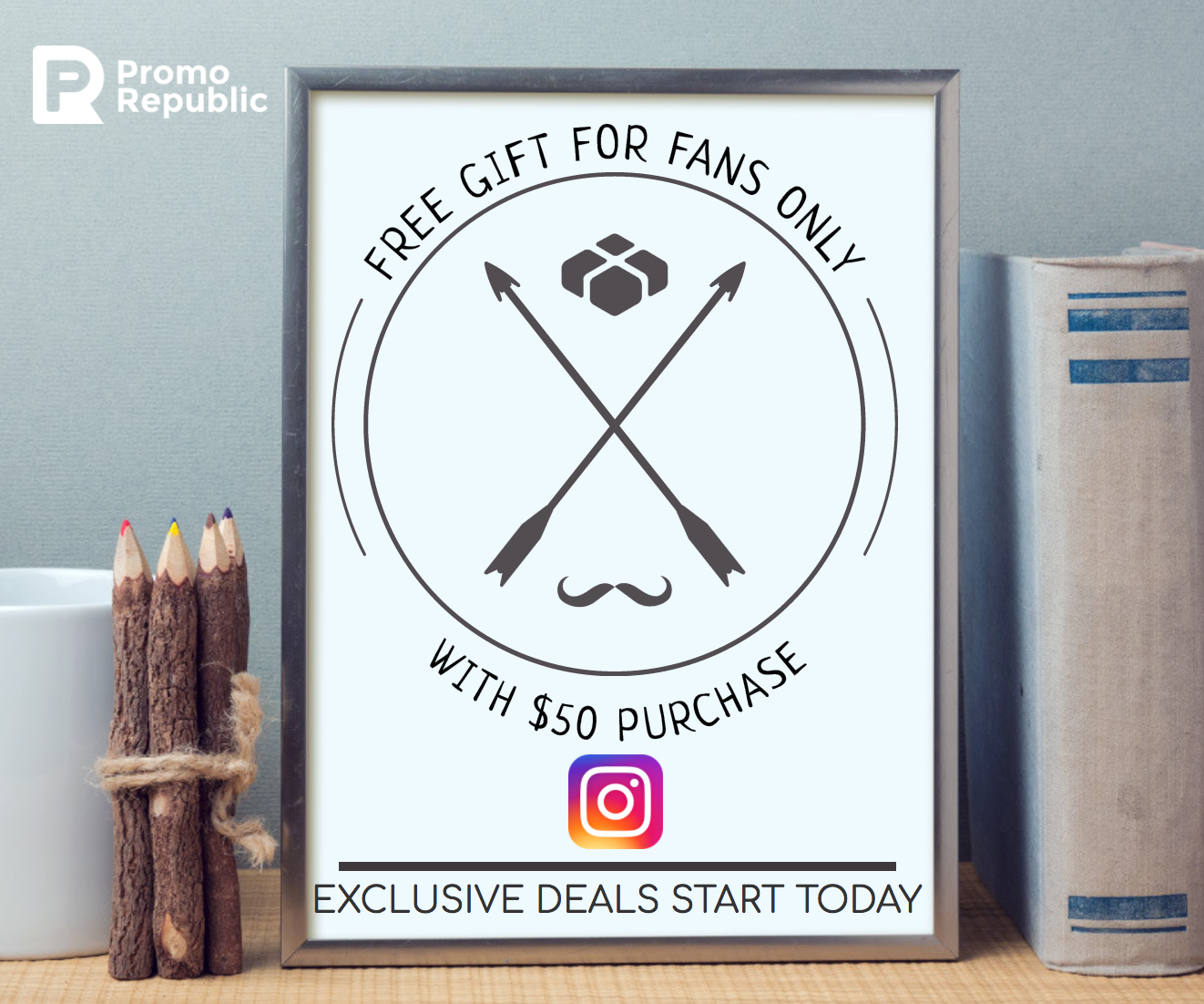 As we said at the beginning – you run Instagram account if you have goods or services, which you can visualize. So, your Instagram page is the most appropriate place to offer discounts and special offers. Your promotional visual must be attractive and clear. I also recommend you to run ads for this type of content. You should invest in your posts if you want more people to see it and engage with it.
How to Run Instagram Ads
With the powerful targeting capabilities of Facebook, and the high engagement perks of Instagram, the new tool marries the best of both platforms with three ad options: images, 30-second videos and carousel ads. Each are clickable posts that include a call-to-action button that allows the advertiser to drive traffic directly to a product or offering, all controlled from your Facebook Power Editor. Here is a step-by-step guide:
Tap promote on a post you want to boost.

Select button text.

Define your audience. You can use the one you've already created or create it from scratch.

Narrow it by location, interests, age, and gender.

Set your budget and duration.
Instagram Best Practices
Photo Carousel – upload up to ten photos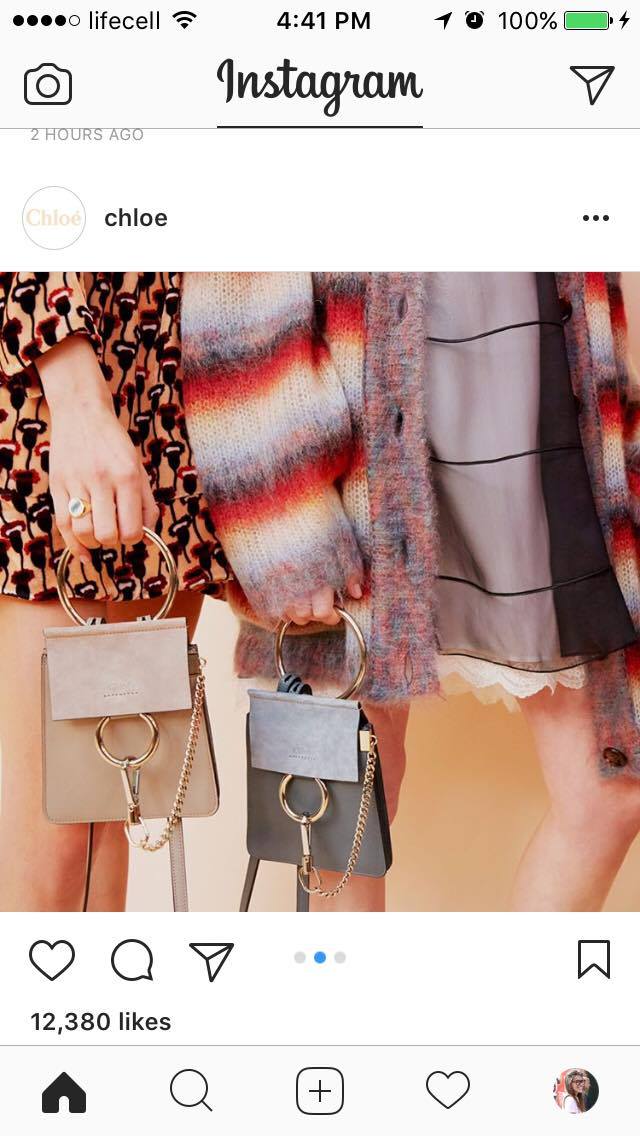 Instagram has recently launched a great feature! This time it is a visual update. Now it is possible to upload up to TEN photos or videos in a single post. If you are involved in e-commerce, it's a great opportunity for you to showcase your products! Your followers can swipe through your post and see all the photos you prepared for them in one place. I wrote about it here. Read the post to learn how you can use Instagram carousels on your page.
Add a link to Instagram story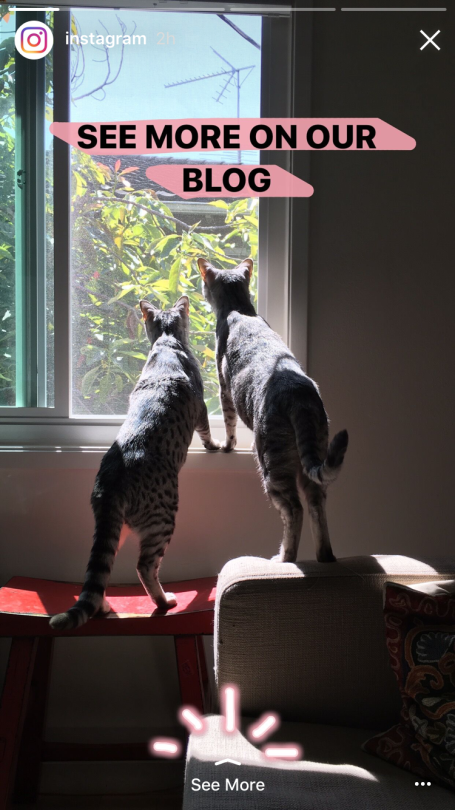 Adding links to your story is a feature that's currently being tested. Right now, only verified accounts are able to add links to their story. When you add a link to your story, people will see See More at the bottom of the screen, and can tap to view the link inside the app. No doubt, this feature will be available for every account, but for now there is one point about it – you need to have those stories!
Auto Posting with PromoRepublic
I know that Instagram is not the only social network you work with. And I think, you provide more than 1 client with social media services. And, probably social media is not the only source of your profit. So, planning, scheduling, and posting are time-consuming. Social media marketing automation is needed. We at PromoRepublic try to make this social media routine as easy as possible. You know that we give you ready made professional post templates for 50+ industries, but since February you can also post to Instagram with PromoRepublic. But first, download our Instarepublic application (iOS only for now). Take a look at the process:
1.Choose your Instagram account and tap Schedule or Publish Now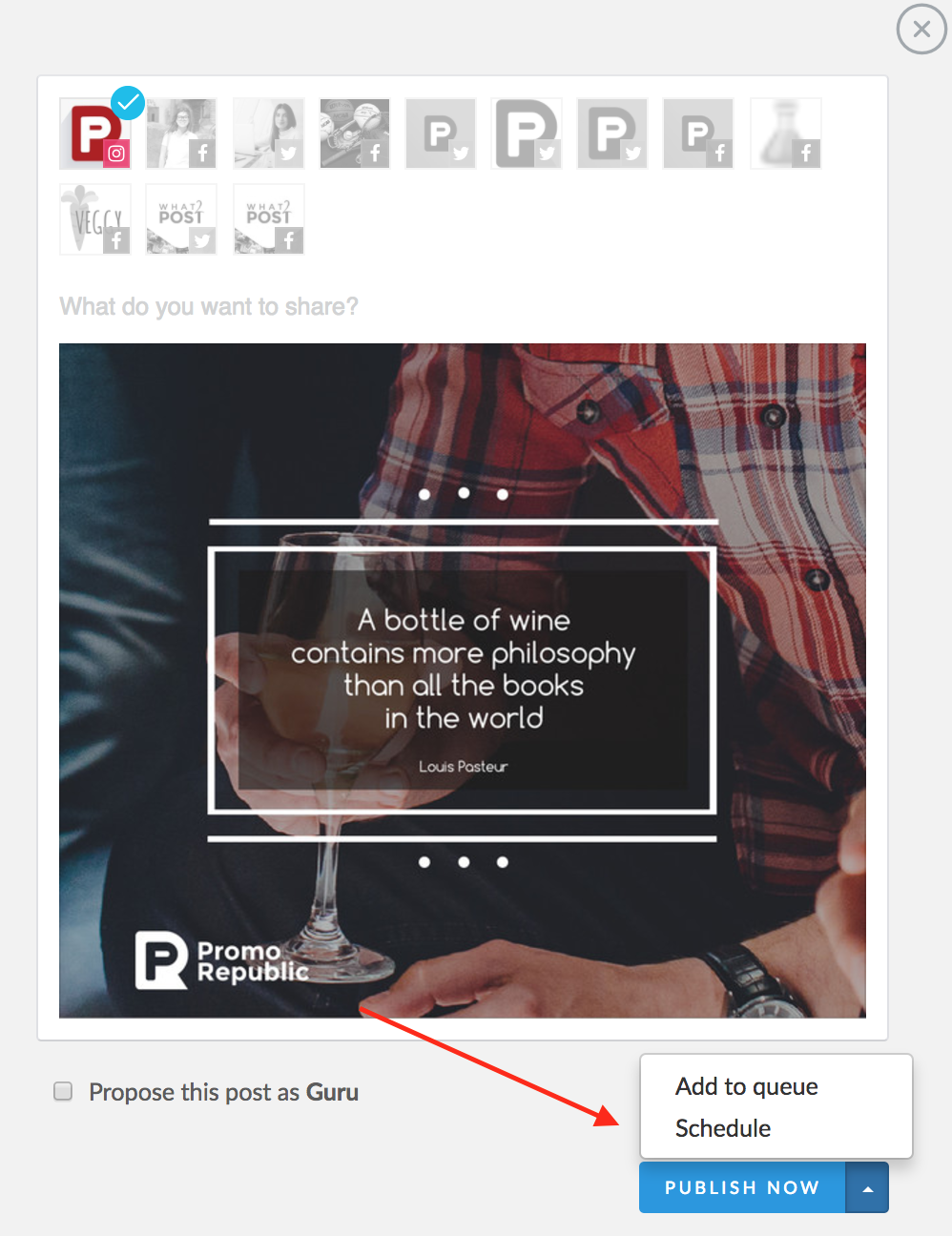 2. You will see that your post is waiting to be published. Tap on it.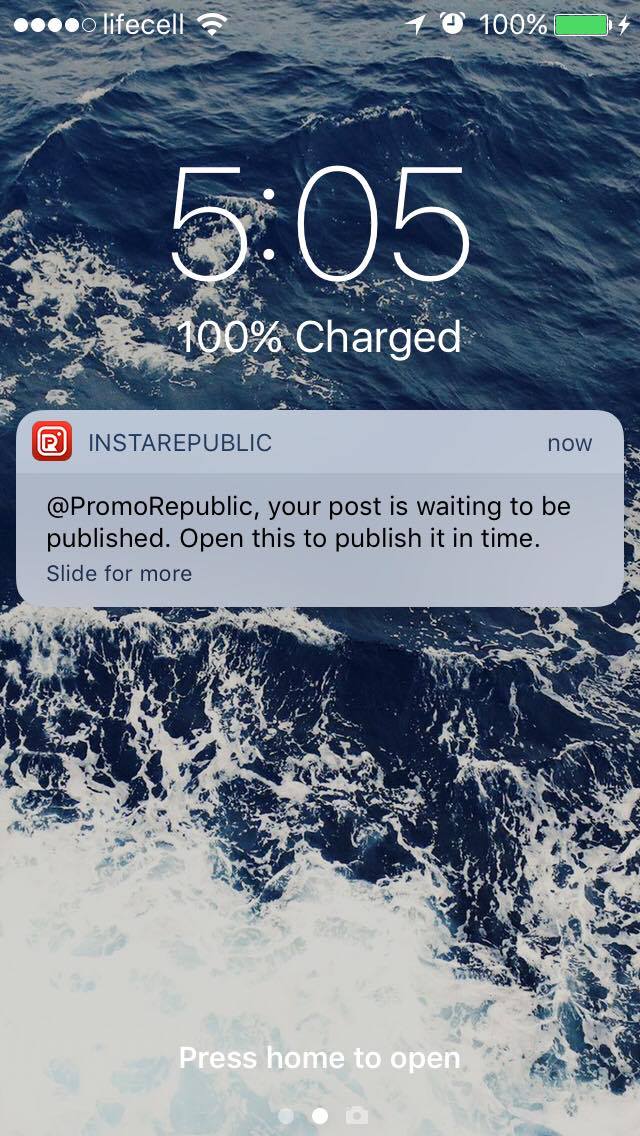 3. PromoRepublic copied your caption to the post. Please, paste it to the field and share the post.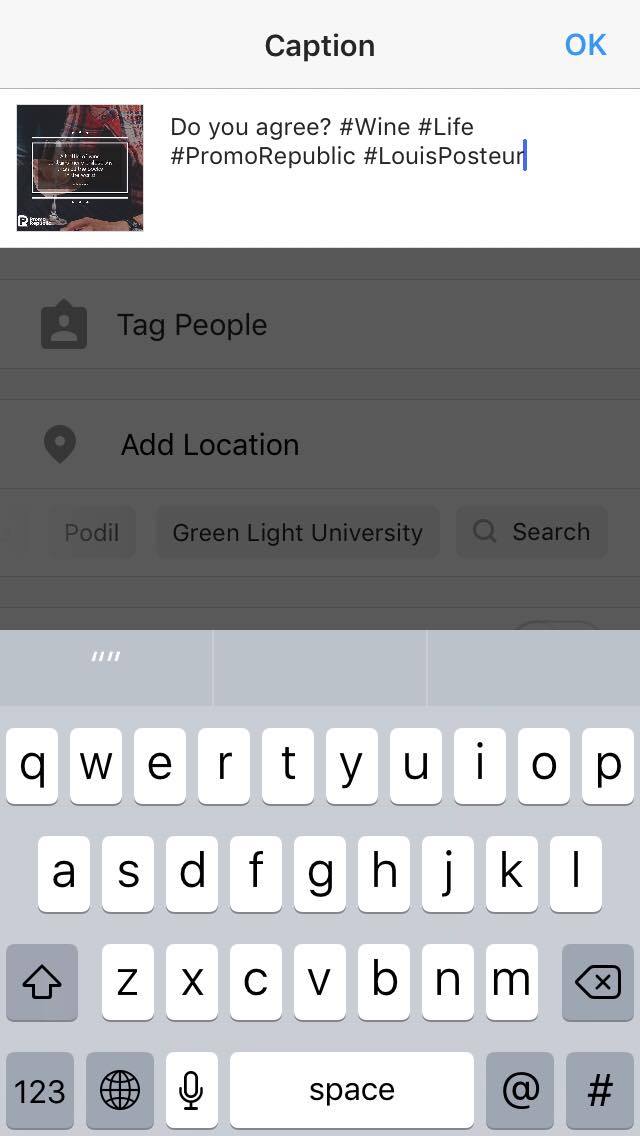 4. Now tap the post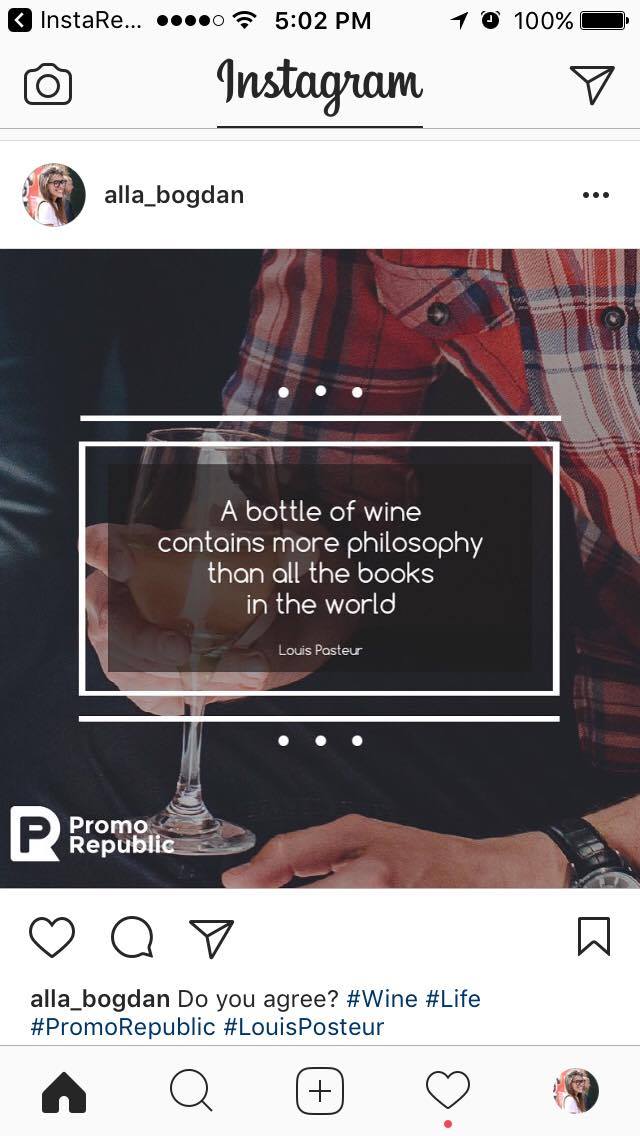 There! Now you have lots more Instagram skills to add to the social media marketing guide we try to continuously provide! Happy hashtagging!