Most businesses tend to invest more in Social Media but Email Marketing is still a powerful tool to acquire and retain your current customers. As you can see, email is still number one in positive ROI (Return On Investment).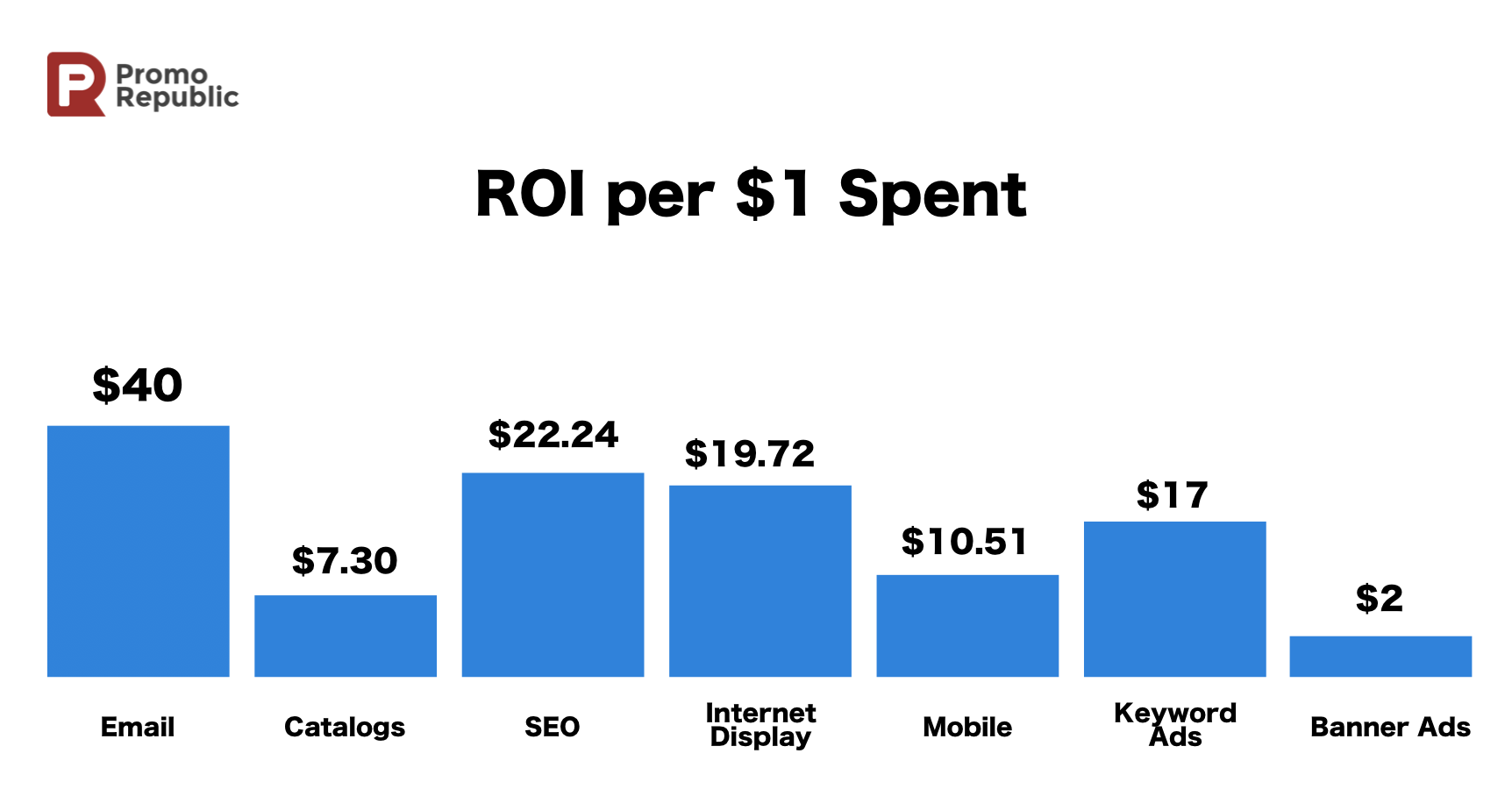 Email Marketing for Customer Retention
As business owners and marketers, we know that one good loyal client is better and cheaper than 2 new ones. Go ahead and see for yourselves – if you check your Google Analytics right now, you will see how much new clients actually bought this month and how constant your steady clients are. To check this data on Google Analytics, go to Audience-Behaviour-New vs Retaining: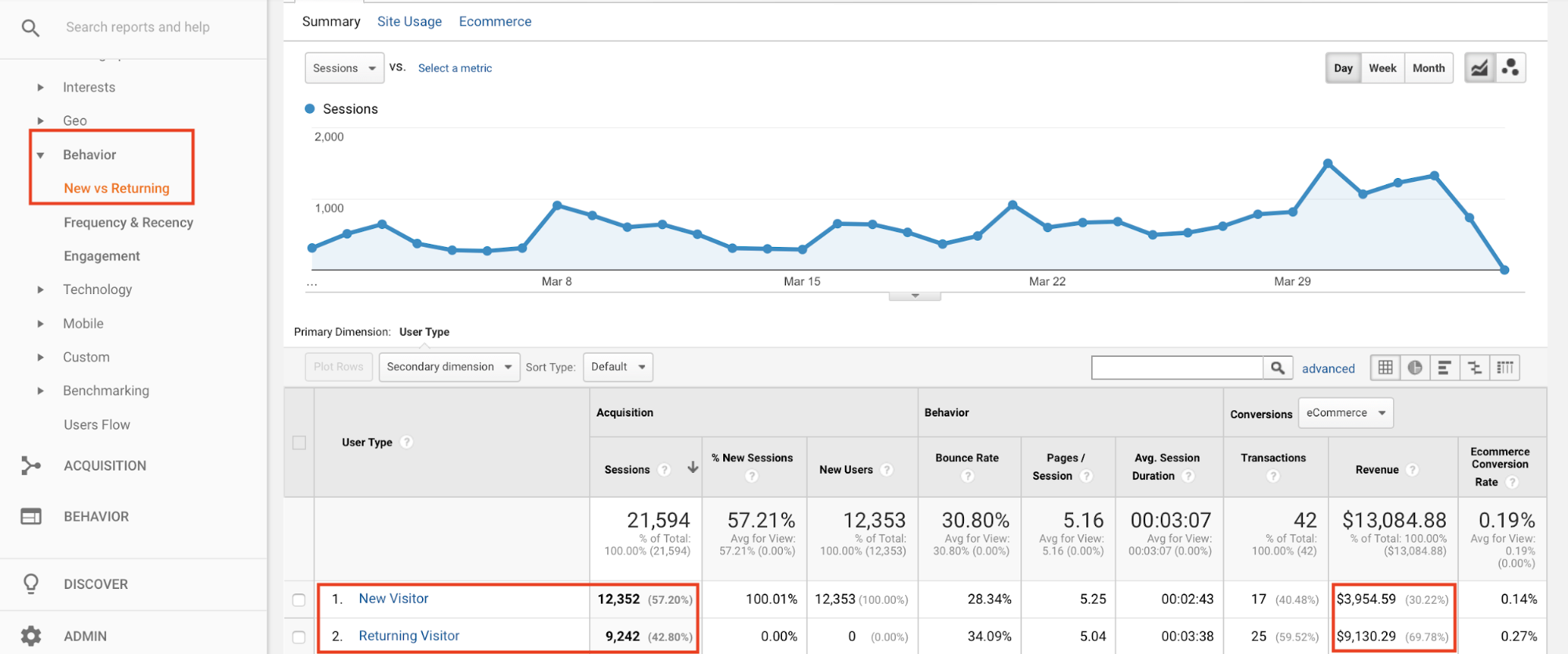 The above graph is a common scenario for many ecommerce shops. Even though you acquired more NEW customers in a given period, the actual increase in sales figures is dependent on your returning visitors, which in this case is 3 times more compared to the new ones.
Growing Your Email List
There are two key elements you need to focus on: form and content. Opt-ins and lead magnets are features that trigger your customers into leaving emails and signing up to your newsletters.
Opt-Ins on Your Website
Opt-in forms are just a fancy word for those email sign-up boxes you see on almost every site. One of the most important elements for driving opt-ins on your website is strategically placed ones.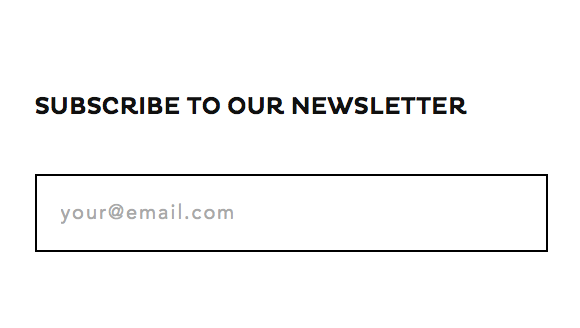 Where to Place Your Opt-In Forms
If you use Shopify or Woocommerce you can choose from dozens of handy opt-in form generators that will provide you with a snippet of code that you can just paste into different spots on your site. Remember most people are on your site for a brief time and are not scouring it from header to footer, so be very clever where you place the opt-ins. If need be, put more than one.
Header or Navigation Bar
Your opt-in form can be as simple as an email field that uses the filler text as a call-to-action.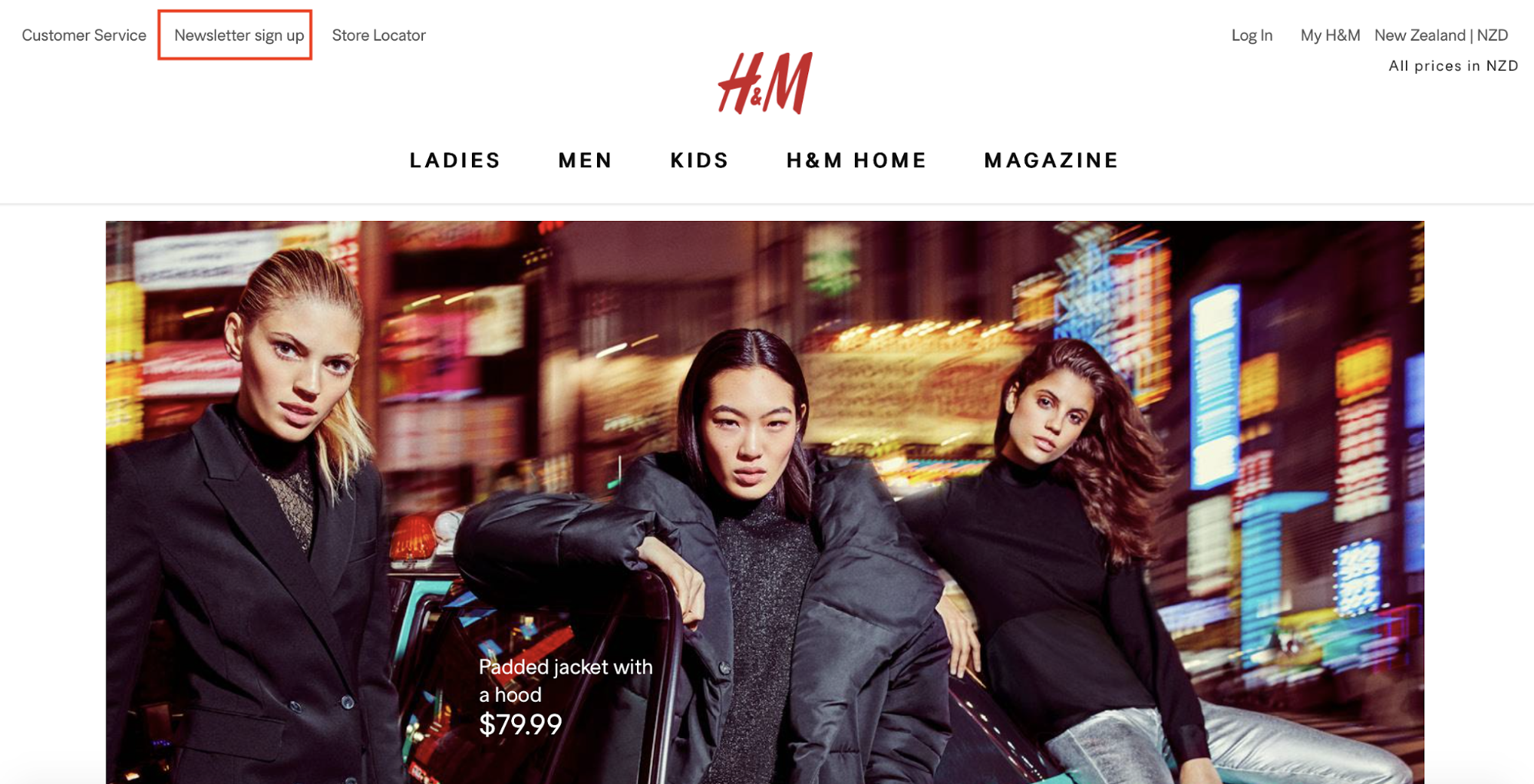 Website Footer
Let's say your visitor bypasses all of the above fields. If they do make it to your website footer, then you know they are still interested. Keep them wanting more by placing a strategic and enticing sign up form. It's a great way to use this often-ignored space on your website.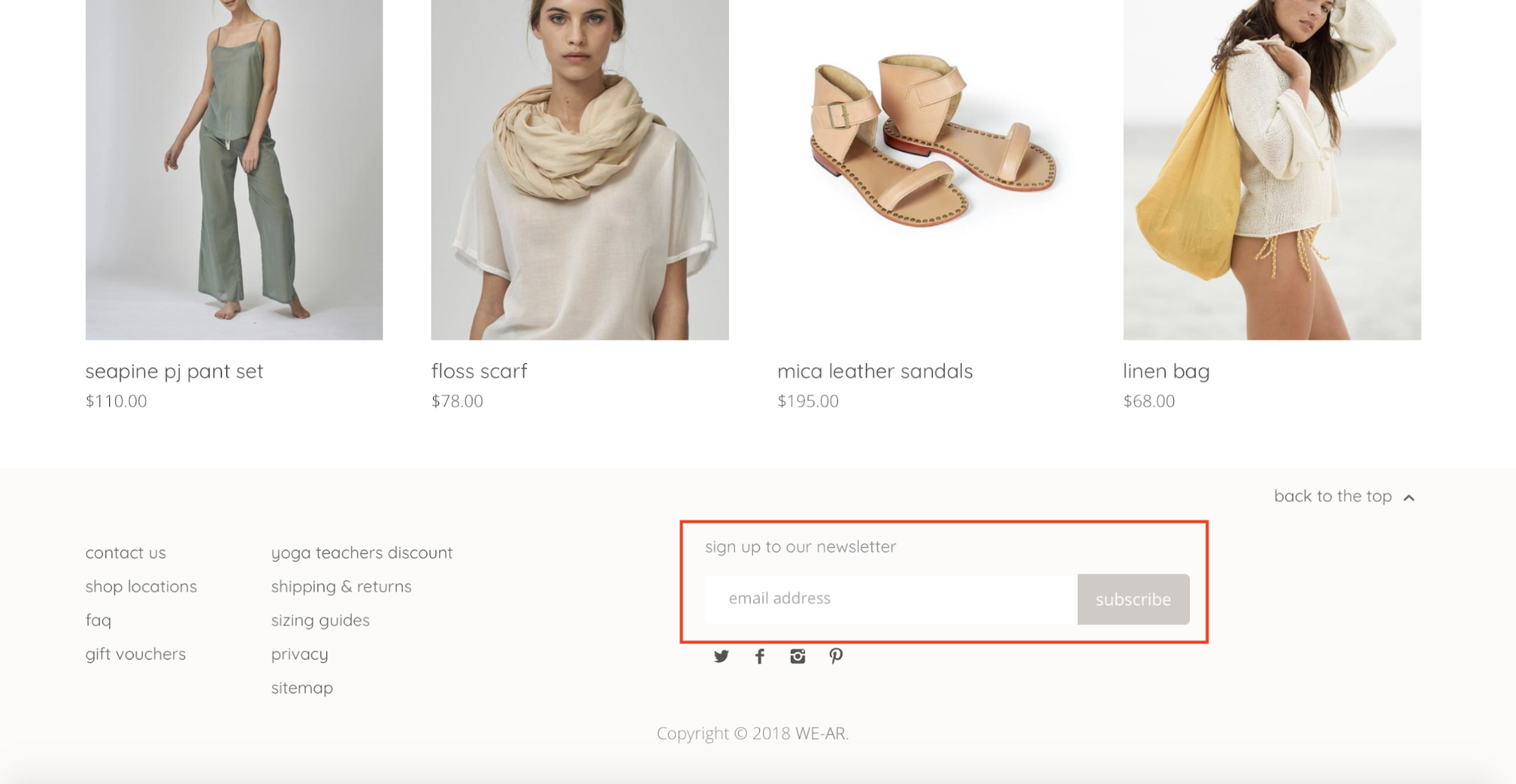 Checkout Page
One of the best ways to build your list is to simply make sales. Most email marketing services can be integrated within your store, either using a built-in integration or through a third party app, that will allow you to add customers to your email list after they make a purchase.

Checkout Incentives
Abandoned Cart rates are extremely high and to ensure your customers don't leave anything behind, try offering them instant discounts, coupons or special offers on their next purchase.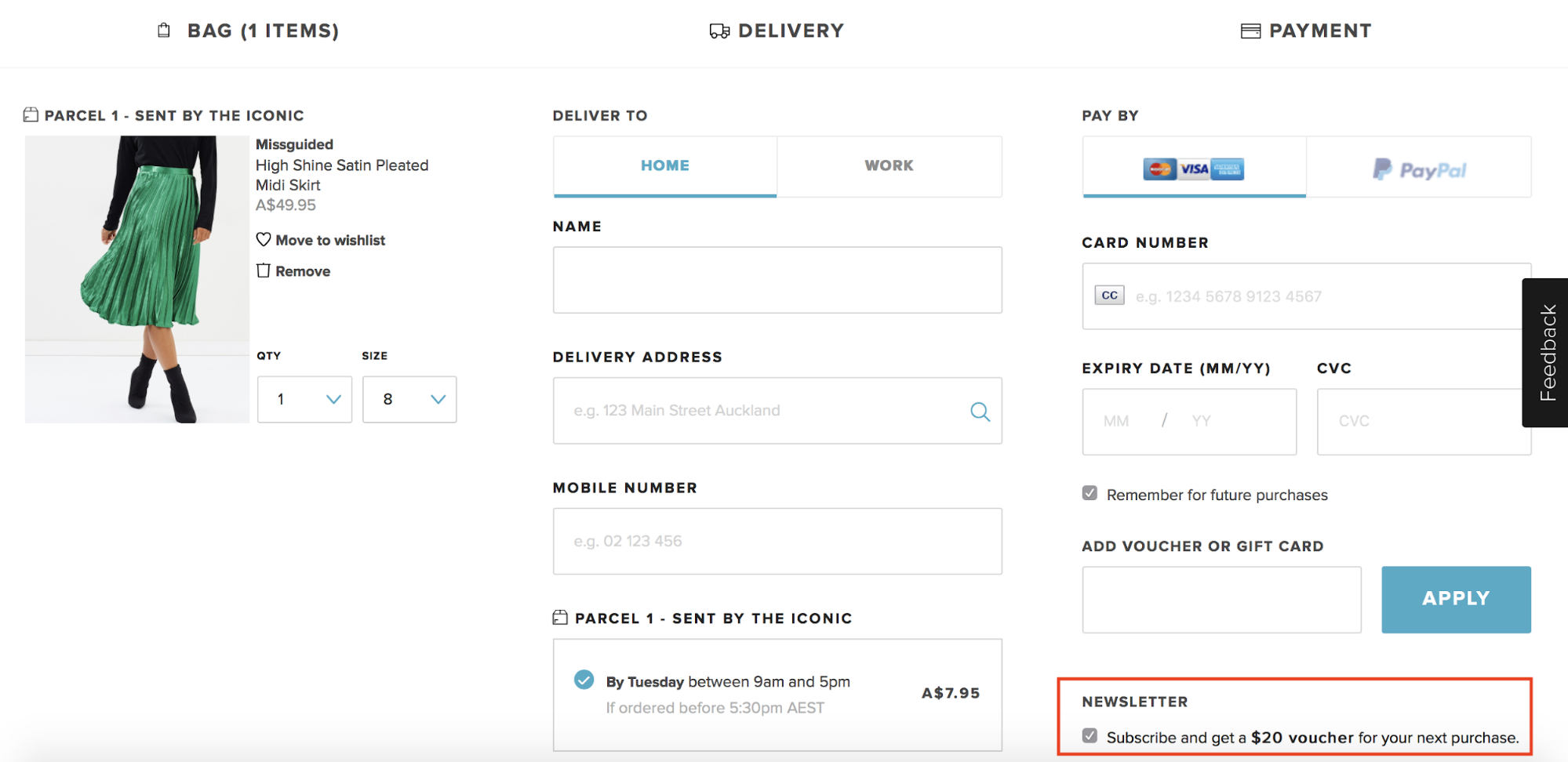 ---
Grow Your Online Store and Get 30% More Sales from Social!
? Return customers who left your store!
---
Pop-up Forms
As controversial as pop-up forms are, when they're done right, they work. The best way to drive opt-ins is to put the opt-in form in front of every visitor. If you have something of value to give away, go ahead and showcase it to every new visitor.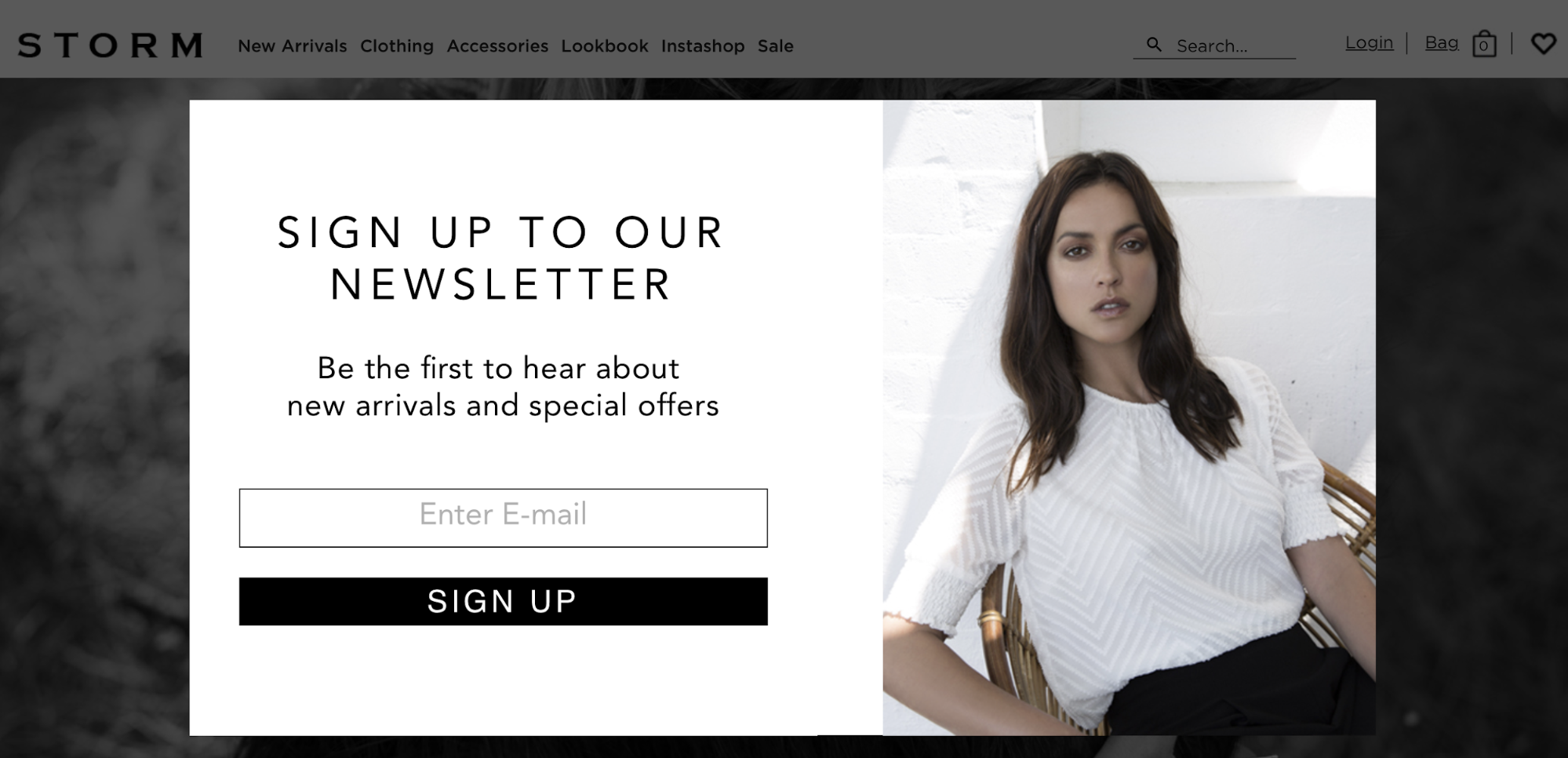 Offline Opt-ins
If you run a brick and mortar store, don't forget about offline opportunities on building your list.  Email service providers provide apps that allow you to capture subscribers in-person. One such app is Chimpadeedoo from MailChimp, which lets subscribers enter their email address on your iPad or Android tablet.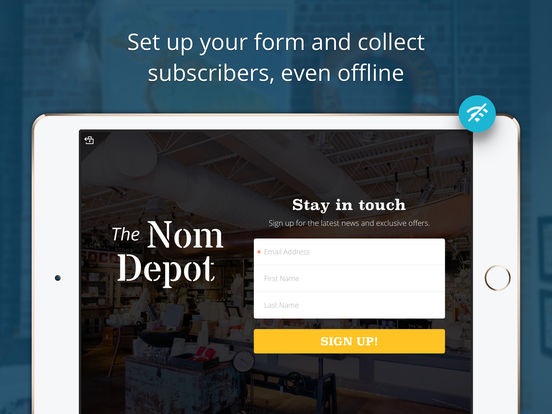 Lead Magnets
For most ecommerce businesses, the best type of lead magnets usually include access to instant discounts or promo codes on next purchases, and also updates about future sales.
---
Get 30% Increase in Sales from Social with our Social Commerce Platform!
? Sell to customers who previously bought your products !
---
Exit Intent Pop-Ups
Take advantage of the client who has made it this far. Do not let them go without leaving them with a message – it can be cheeky or calming, it all depends on your voice. Offer them a unique discount and make sure they leave their email so you can send them reminders about any future offers.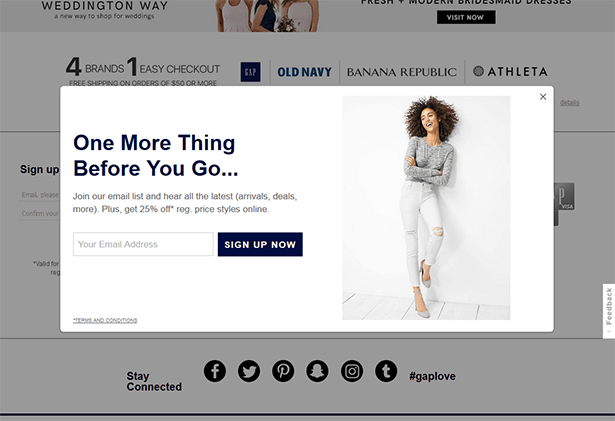 ---
Make their last seconds on your website memorable. People don't like to feel pushed – instead make them want to be a member of your party.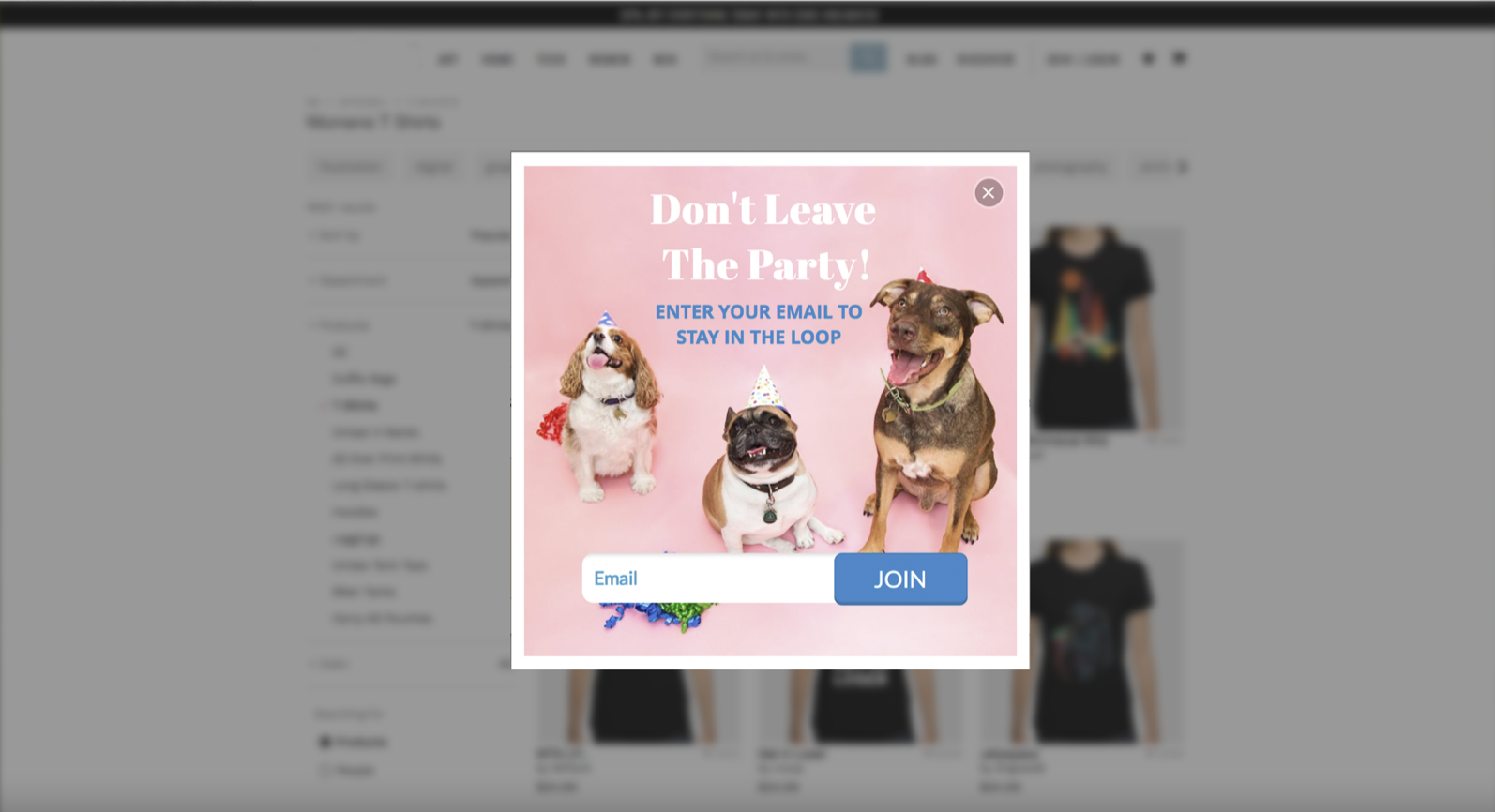 First Order Discounts
While browsing your site, they're not necessarily thinking about buying something from you. Why not give them a gentle nudge by offering a special V.I.P. discount on their first order? You can set it at the footer of your page or even as a pop-up message.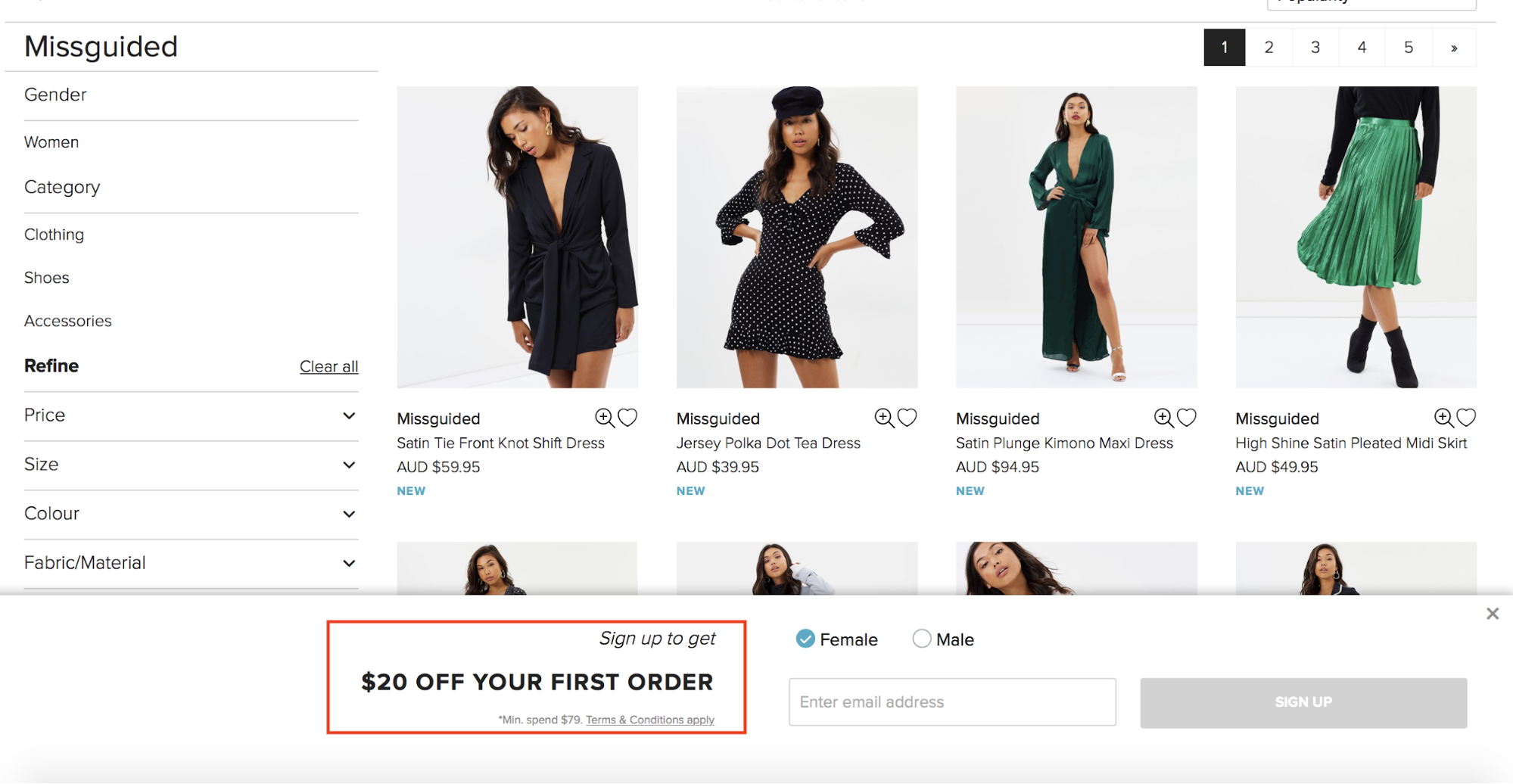 Voucher for Your Next Purchase
Set this pop-up as an automation after the first or second minute of scrolling through your website. They are definitely interested in your products, so why not offer them a special discount to encourage the sale?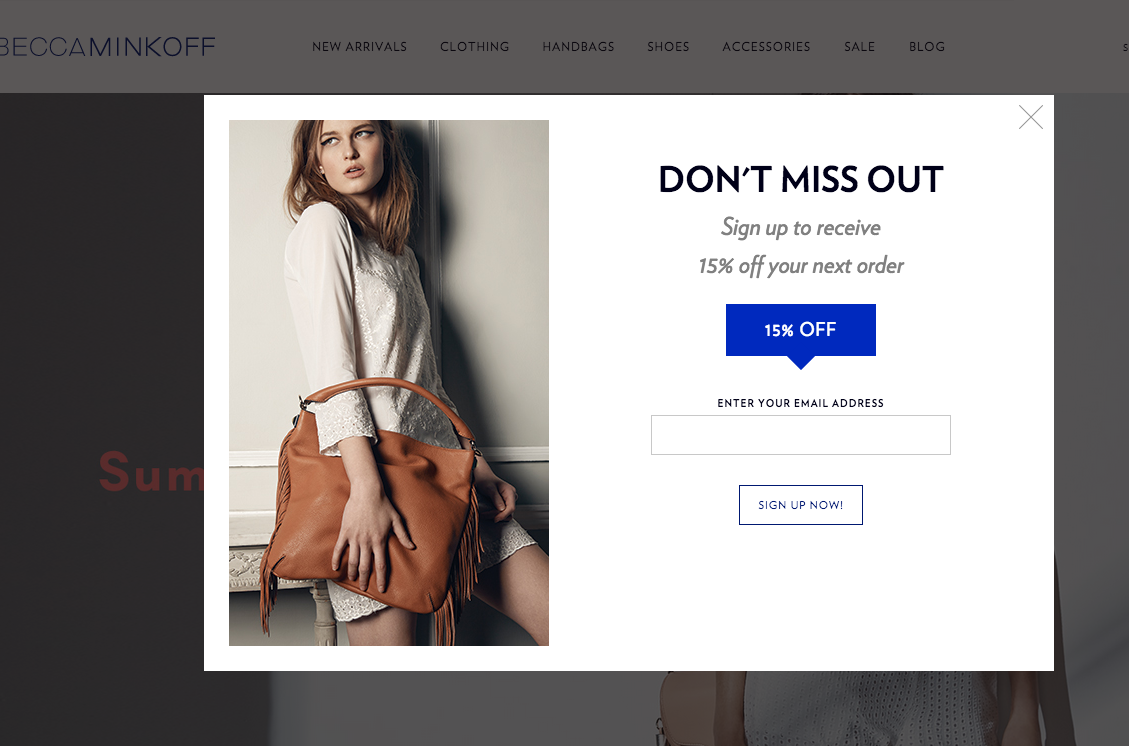 ---
Do you want to know the average time they actually do spend on your website?  Go to Google Analytics-Audience-Behavior-New vs Returning: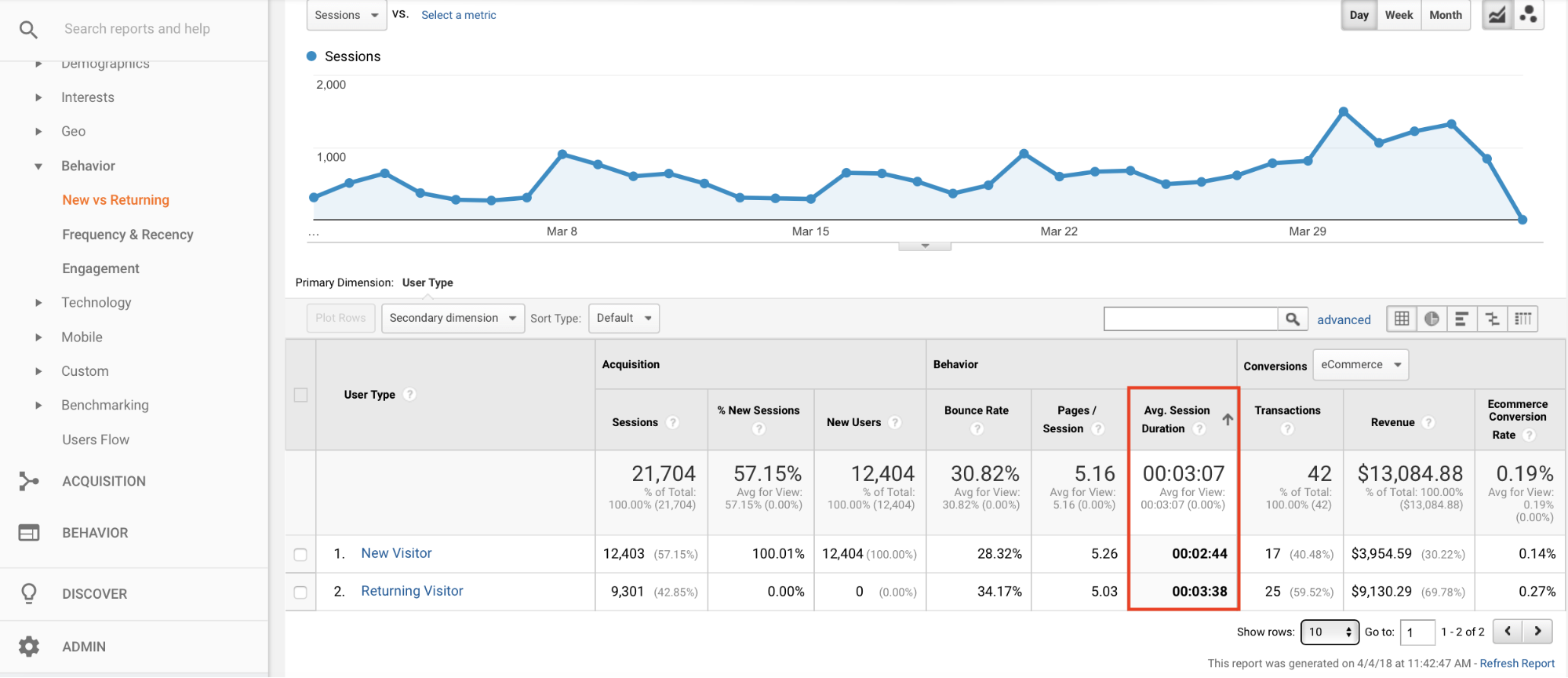 Offer them a discount on their next purchase in a pop-up message after confirmation or in their next email. Give them a reason to be fiercely loyal.
Spin to Win
Spin to Win is a new, highly engaging way to provide discount coupons. All they need to do is spin the wheel for a reward.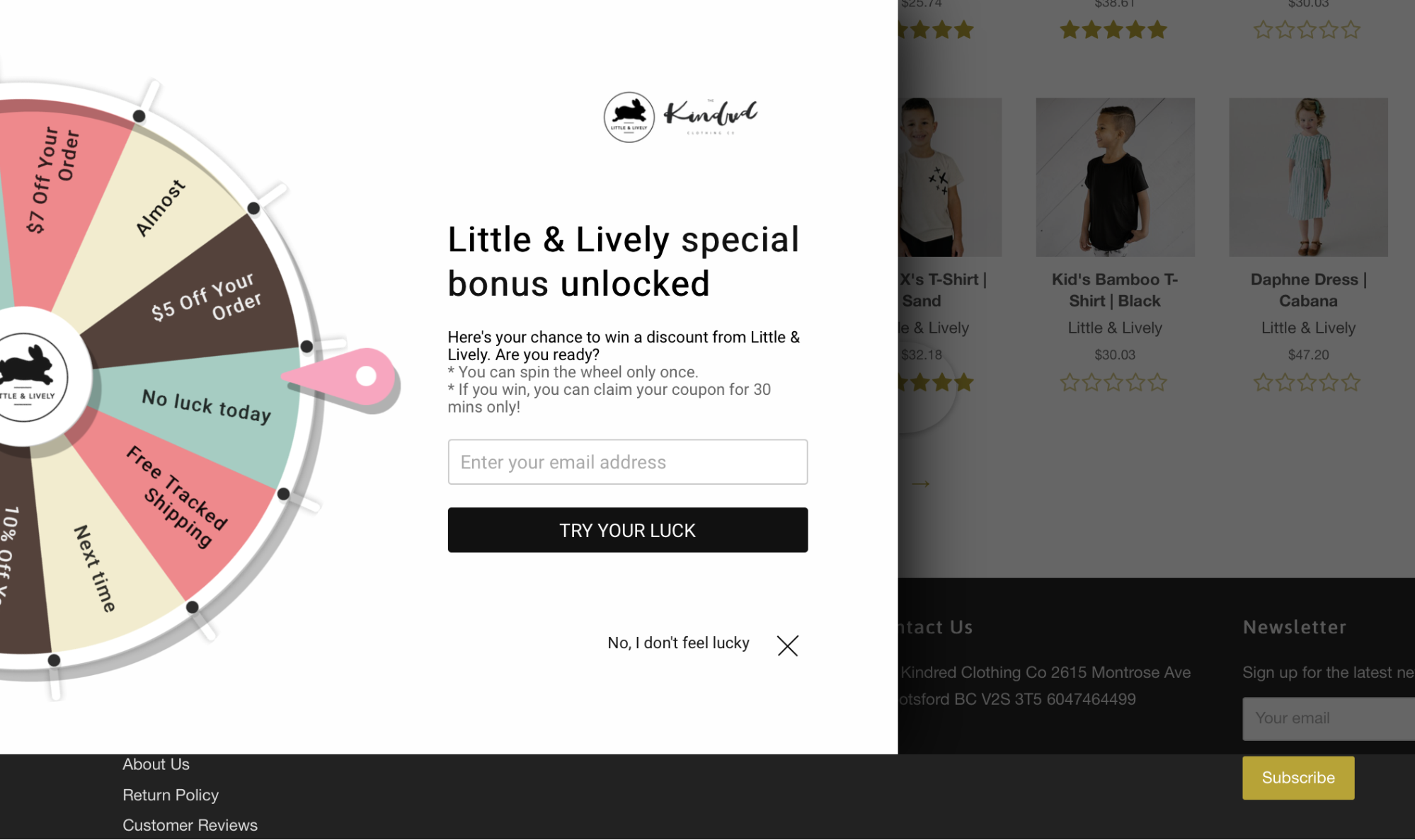 Community Membership
They want to feel special, and not just another line in your CRM sheet. Invite them into your community by filling them in on what to expect to receive upon sign up.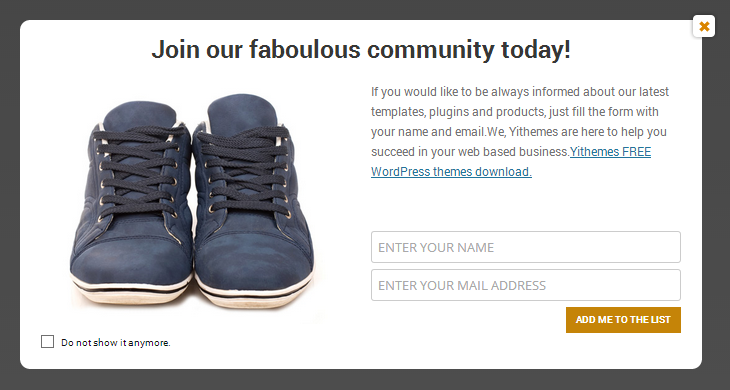 VIP Club
This works especially well with your loyal client base who have already spent a pretty penny in your online shop.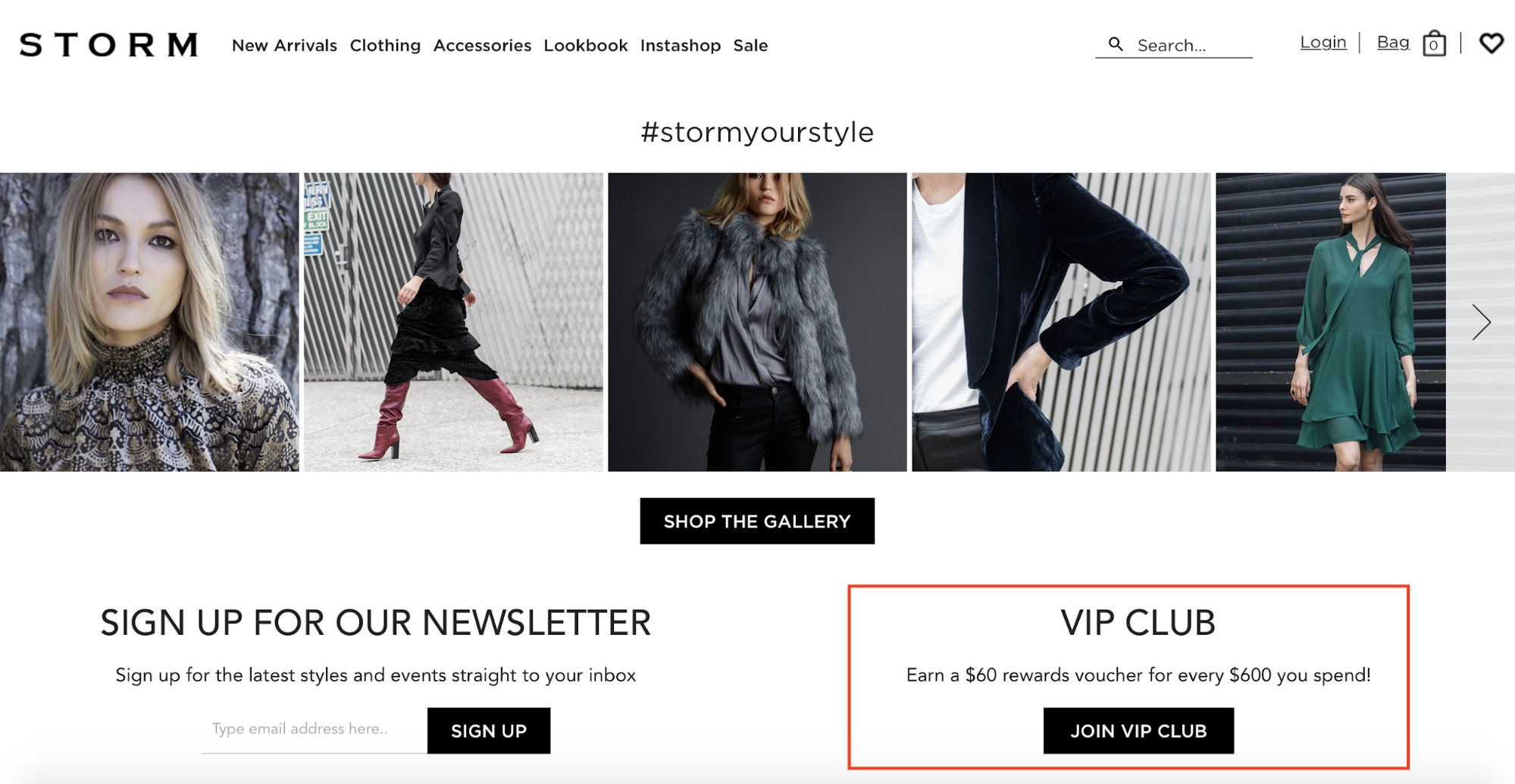 ---
Make sure your VIP club description is clear and visually-appealing.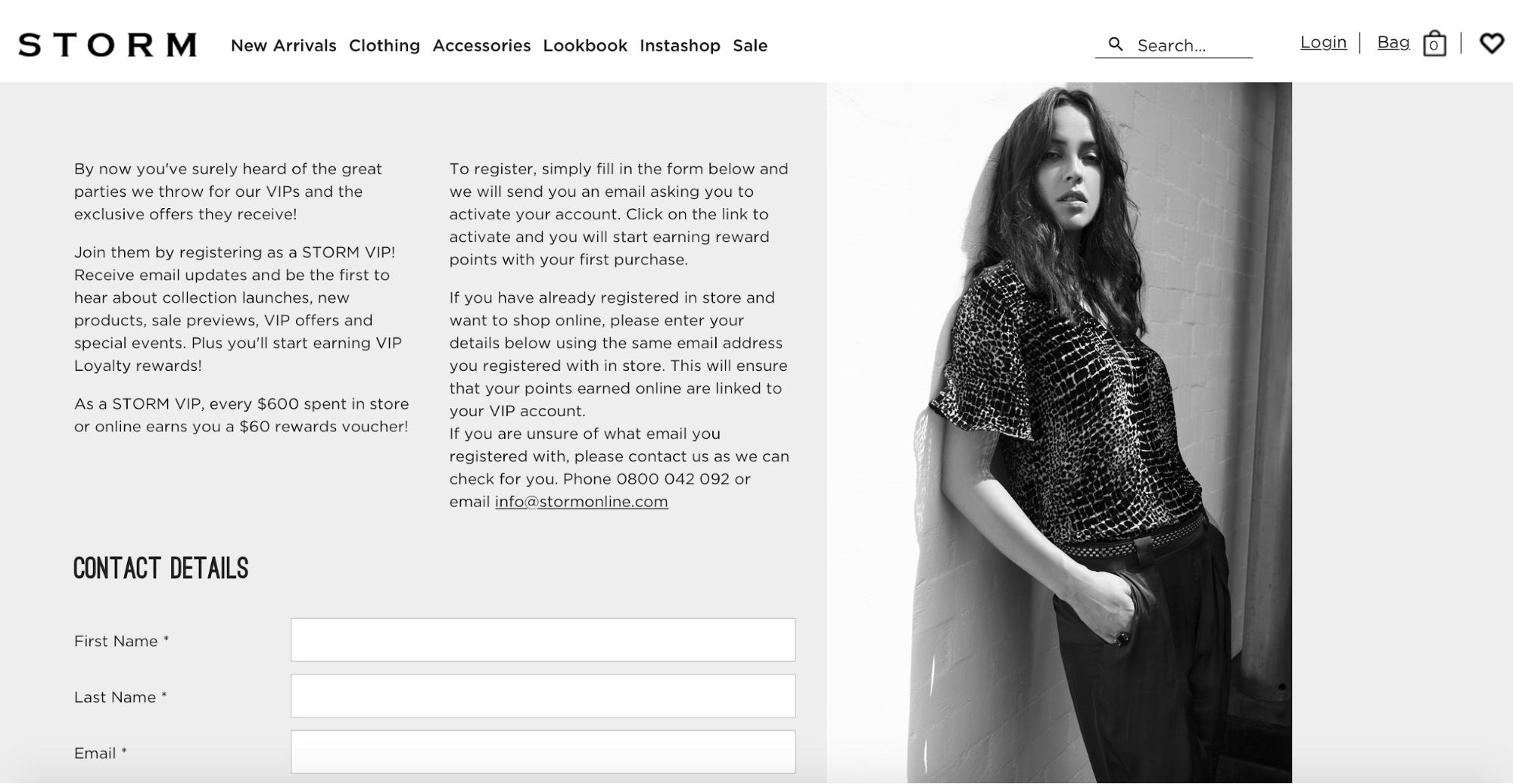 Relevant Bonuses
Come up with bonuses and free services your business can provide to your loyal and new customers. If you sell optical glasses, for example, you can offer a free eye exam with purchase of glasses.

Free Useful Content
Create free content like tips on how to pack or what to wear on your date night. Offer this valuable content via email. It's a win-win for everyone.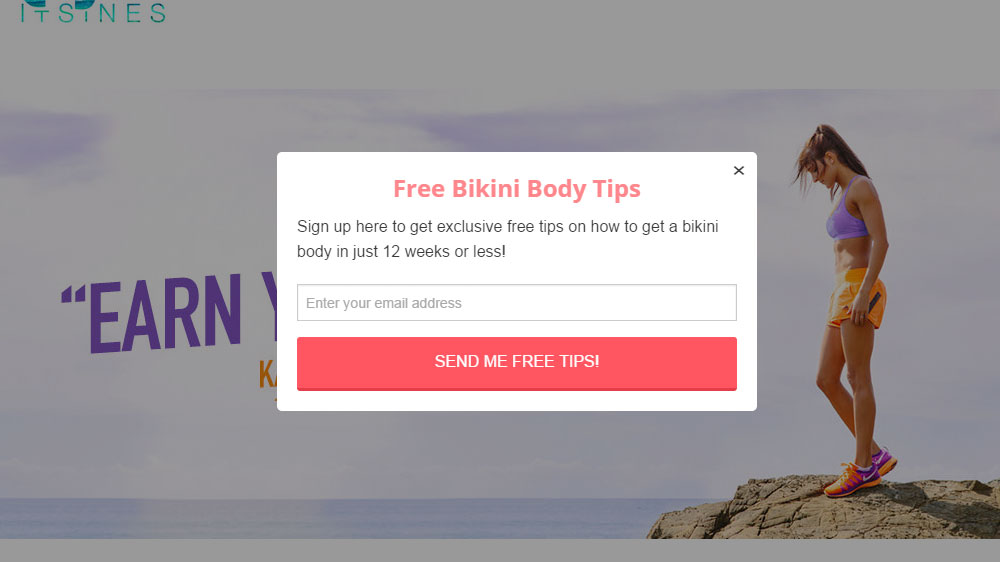 Create guides, pieces of advice, and expert opinions all the while recommending your products as solutions.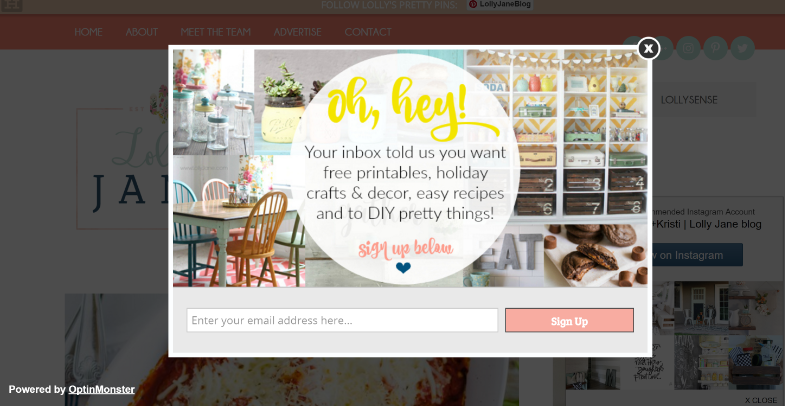 ---
If you don't know your audience yet, and not sure what tips/hacks/blog posts they would be interested in, go to Google Analytics to see who they are and what their core interests are. To see their interests go to Audience-Interests-Overview.


Contests and Giveaways
Try not to give away too many freebies. It only ends up undervaluing your merchandise. Once a month, try creating a contest and then synchronize it with your social media campaigns.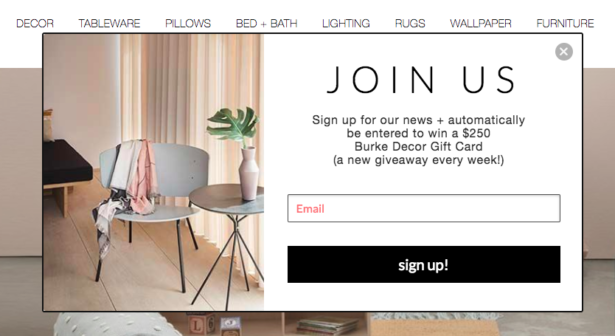 Summary
As you can see, there are many, many ways to grow your email list. By creating engaging and clever email campaigns, you can grow brand loyalty and increase sales with the list you gather, and your Ecommerce business will grow more than ever.