Why Your Business Needs a Blog

How to Find Topics Your Audience Will Like

How to Create Catchy Titles

How to Promote Your Blog on Social Media

How to Create Stunning Cover Images  

Tips and Best Practices by Mike Allton: personal experience, SMH promotion (why they need to sign up for the blog) etc
You must have heard a lot about the importance of running a blog. It's one of the biggest sections of any list of content marketing best practices. You have to have content if you're going to market your brand, and a brand cannot live on social posts alone. Despite what the content marketing guides tell you, however, you have probably come up with a thousand or more reasons why you can't start a blog. Three big ones are:
You are not a writer

You have no extra budget for outsourcing a writer

You don't believe the blog can convert
And many other excuses but the one and the most important one – you just don't know what to start with. This tutorial will be your guide to launching your first blog or refreshing your existing, likely neglected, blog.
This "Starting a Blog" tutorial is written with Mike Allton, a social media blog guru. Mike has grown his The Social Media Hat from scratch and he agreed to share his experience and practice tips with us.
Why Does Your Business Need A Blog?
Companies who blog receive

97%

more links to their website.

B2B marketers that use blogs get

67%

more leads than those that do not

47%

of buyers viewed 3-5 pieces of content before purchase
According to the research done by Content Marketing Institute, blogs take the third place right after social media marketing and case studies in B2B content strategy.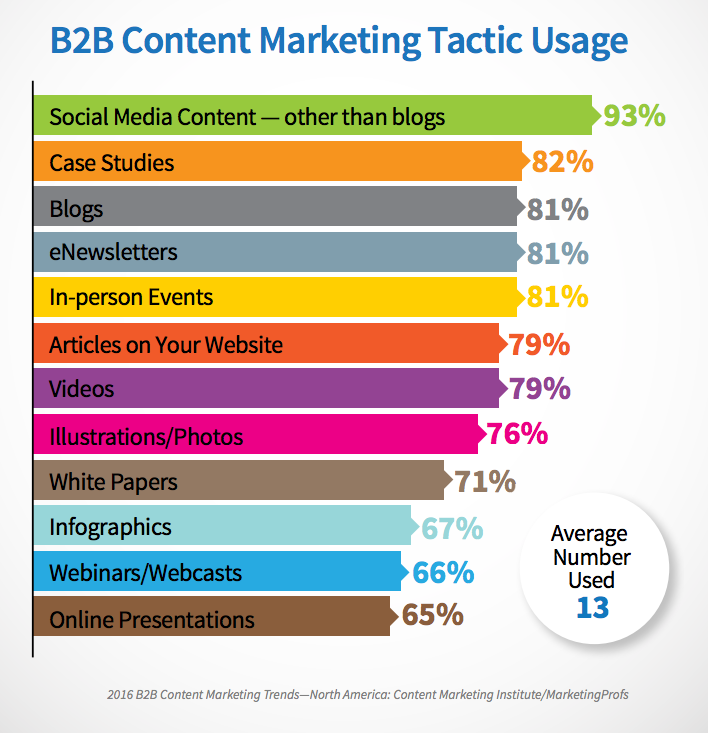 There are some obvious business benefits to blogging:
You establish your authority as an industry leader

You humanize your brand

You get more traffic

You generate more leads

You engage with your customers on a deeper level

You build links back to your website

You improve your website SEO
A: Mike, according to your experience, how the blog can improve the overall marketing picture? Can you share some examples with us with real numbers?
M: Absolutely.
You mentioned Traffic & Leads, and I think those are definitely benefits – critical benefits in fact. A study by HubSpot found that companies that had created over 50 pieces of content began to enjoy exponential increases to both leads and sales.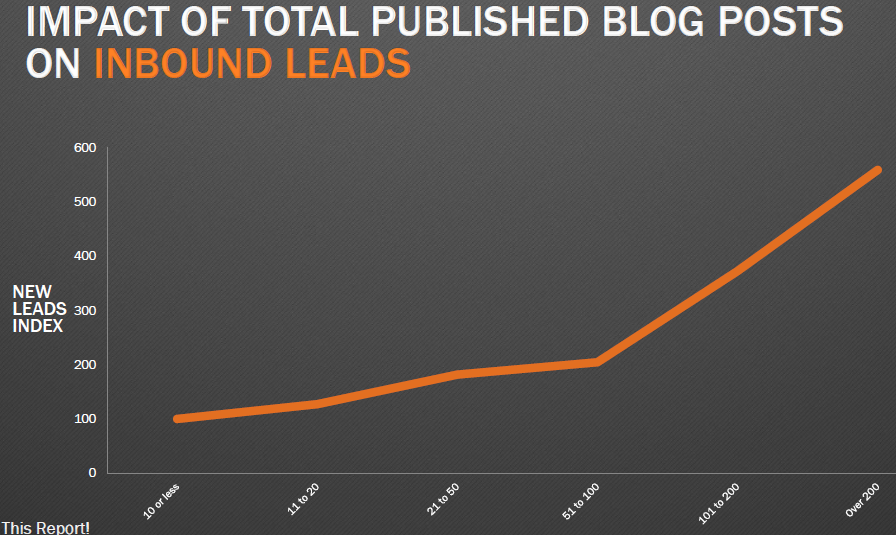 This is because, when targeted, each new piece of content helps to build on the authority and success of the site overall, eventually resulting in a site that Google and other organizations recognize as a true authority, worthy of far more interested traffic than others.
So that's the benefit to the bottom line.
But what else can blogging do for your business? And I should point out that while we may say "blog", what we really mean is "create content." Blog posts are the most common type of content that businesses create, but it's not the only kind.
Pages

FAQs

Testimonials

Case Studies

White Papers

Reports & Studies

Videos

Podcasts

Infographics

Presentations

Articles & Stories
These are all perfectly valid types of content, whether they live on a "blog" or elsewhere. In fact, many businesses find that having a nice mix and variety of different kinds of content helps them to communicate similar ideas to different audiences that consume and learn in different ways.
But whether you're creating blog posts or videos, the other major benefit to creating content is that it helps to fuel your social media activity.
Each new piece of content is something that you can not only share to social networks to drive traffic, but also use to spark engagement and new ideas from your audience. A blog post can be used to ask questions and get your audience thinking about a particular topic.
That's where the share of the content becomes very integral and audience driven, but first, you need to think about what you're going to actually write about.
How Do You Find Topics Your Audience Will Like?
Once you decide to run a blog, you need to start to generate ideas. There are no valuable ready-made blog posts. It takes a lot of effort to create a worthy content. To write a piece that will catch their attention, you must be sure that this topic brings value, is informative or solves problems. It's OK to write a 2-3 page article even for a week. Even if you are a writer, don't forget that first you develop a topic, create a structure and start gathering information for your future blog post. There are three easy steps to help you start with the topic:
Think of your audience's interests

Follow top blogs related to your industry

Monitor your competitors
Think of Your Audience's Interests
There are several ways to discover the subjects your audience will like, as well as the style of post they prefer.
Conduct a Q&A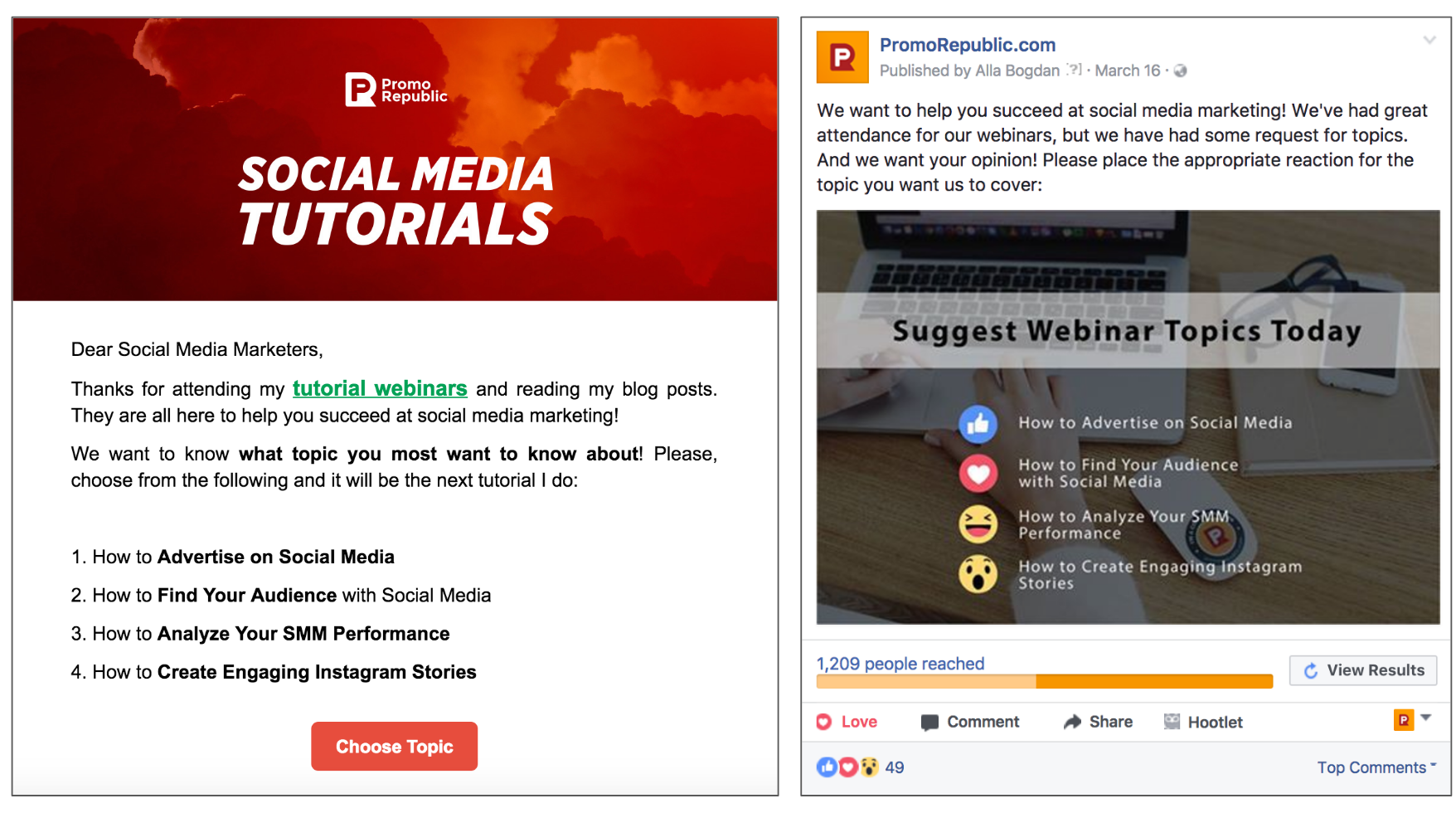 It's important for you to understand who you are writing for. What are their interests and pain points? If you aren't sure yet – simply ask them what topic they are interested in the most. Share your plans with them. Say you want to bring even more value and now you are writing a blog post on one of several topics. The best way to do this is via your email list and social networks.
Use Hashtagify to Pick Up Topics
There are also tools that let you find audience interests related to your business. Hashtagify is free and really useful for your Instagram marketing. But let's use it in the purpose to discover the broad range of interests that comprise your audience. Just take a look. Let's pretend I'm an online book store and know that my customer personas are keen on books: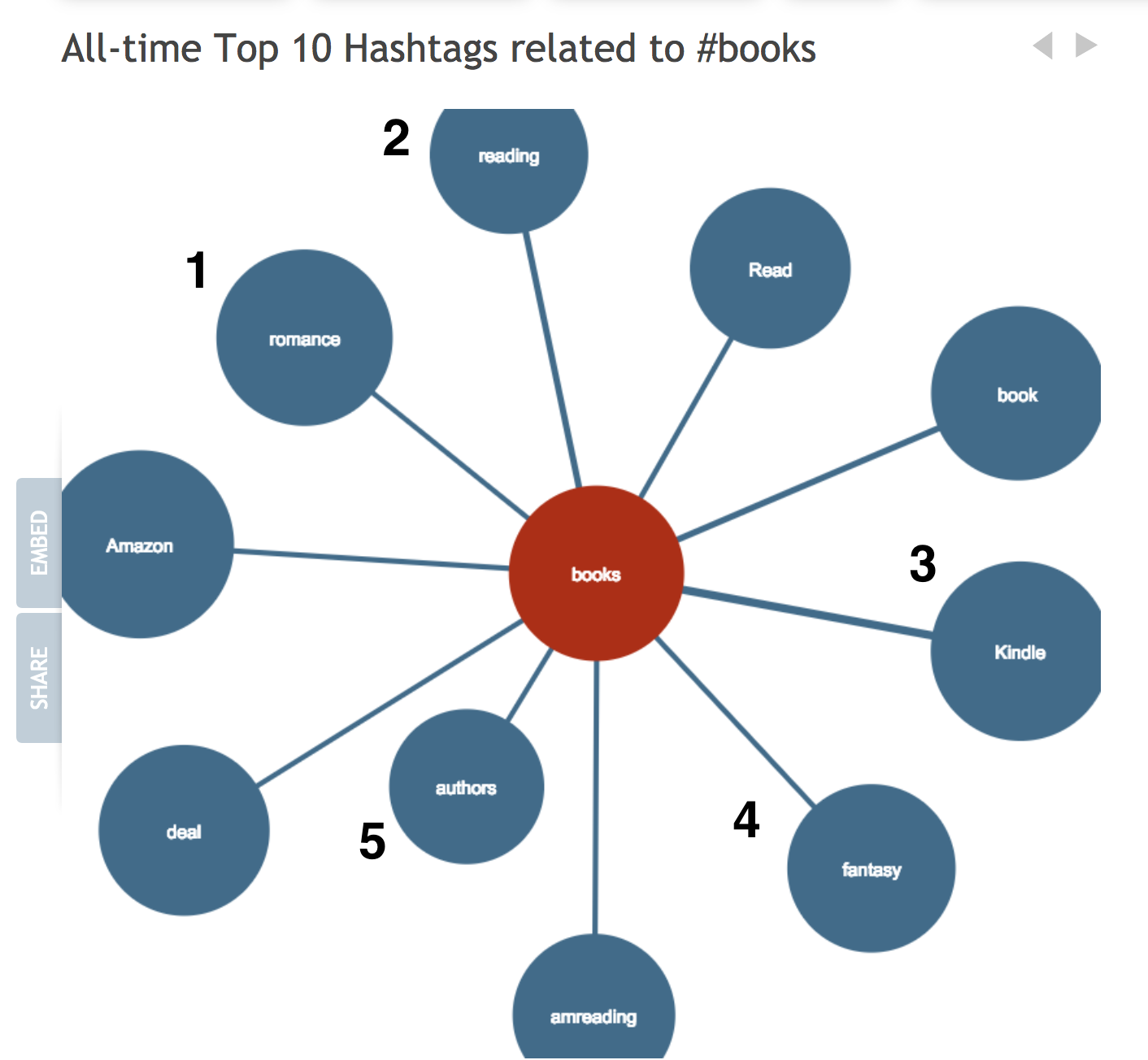 From the hashtags I see, I can come up with several blog post titles, or ideas.
7 Romance Novels That Should Be On Your List

Different Reading Techniques And How To Use Them

How to Choose an eBook Reader: 5 Steps

What Your Favorite Book Genre Says About You

Top Book Authors 2017
You see, it took me several minutes to generate 5 topics for this industry. You don't need to reinvent the wheel – search the Internet and read 2-5 related articles. After formulating your point of view on a definite topic you will be ready to present a fresh point of view for your readers.
Follow Top Blogs
If you want to be an influencer in your niche, you need to follow top blogs and monitor trends in your industry.
Use Feedly for Top Content
Use Feedly for free and find best-in-class blogs with content that may be of interest to your audience.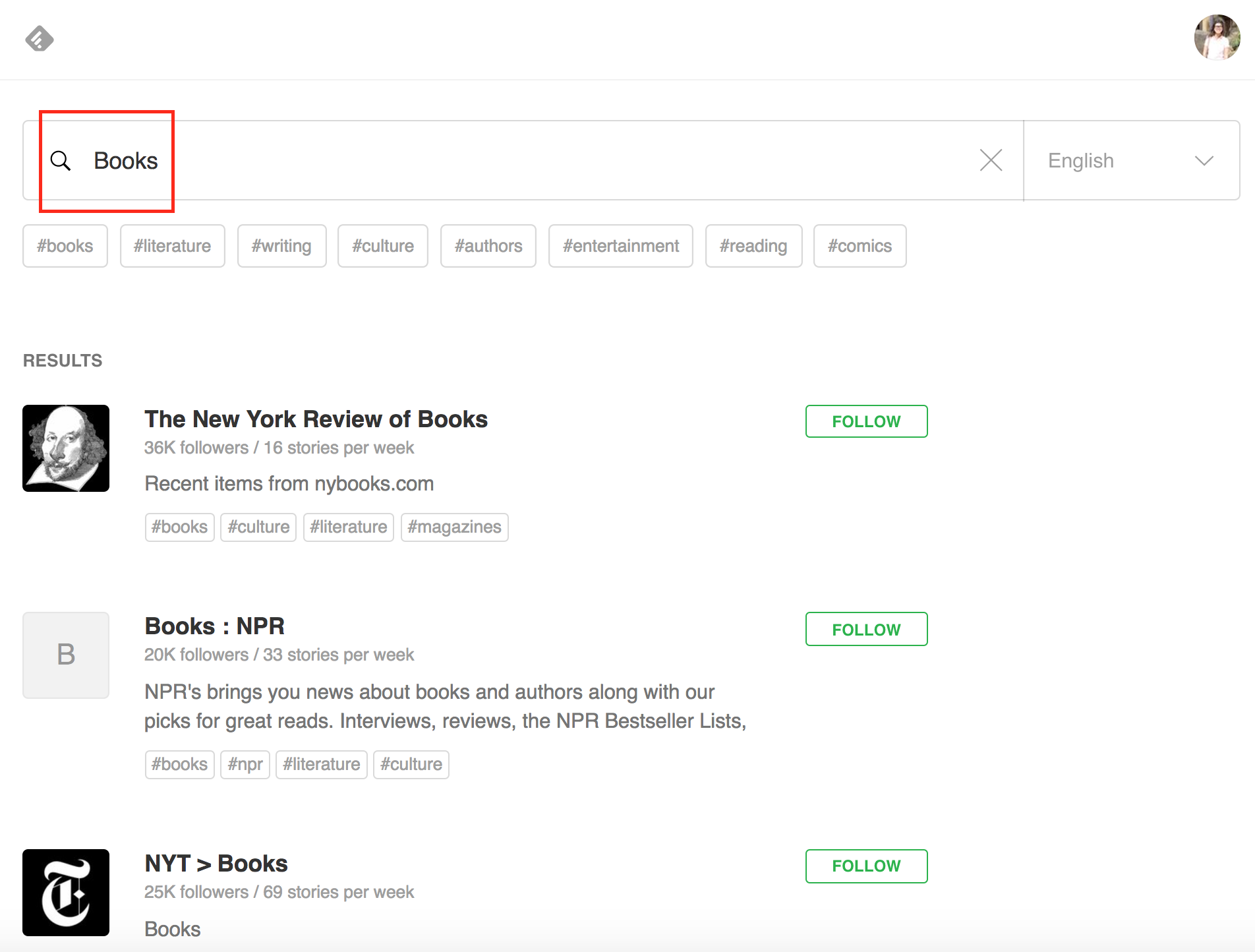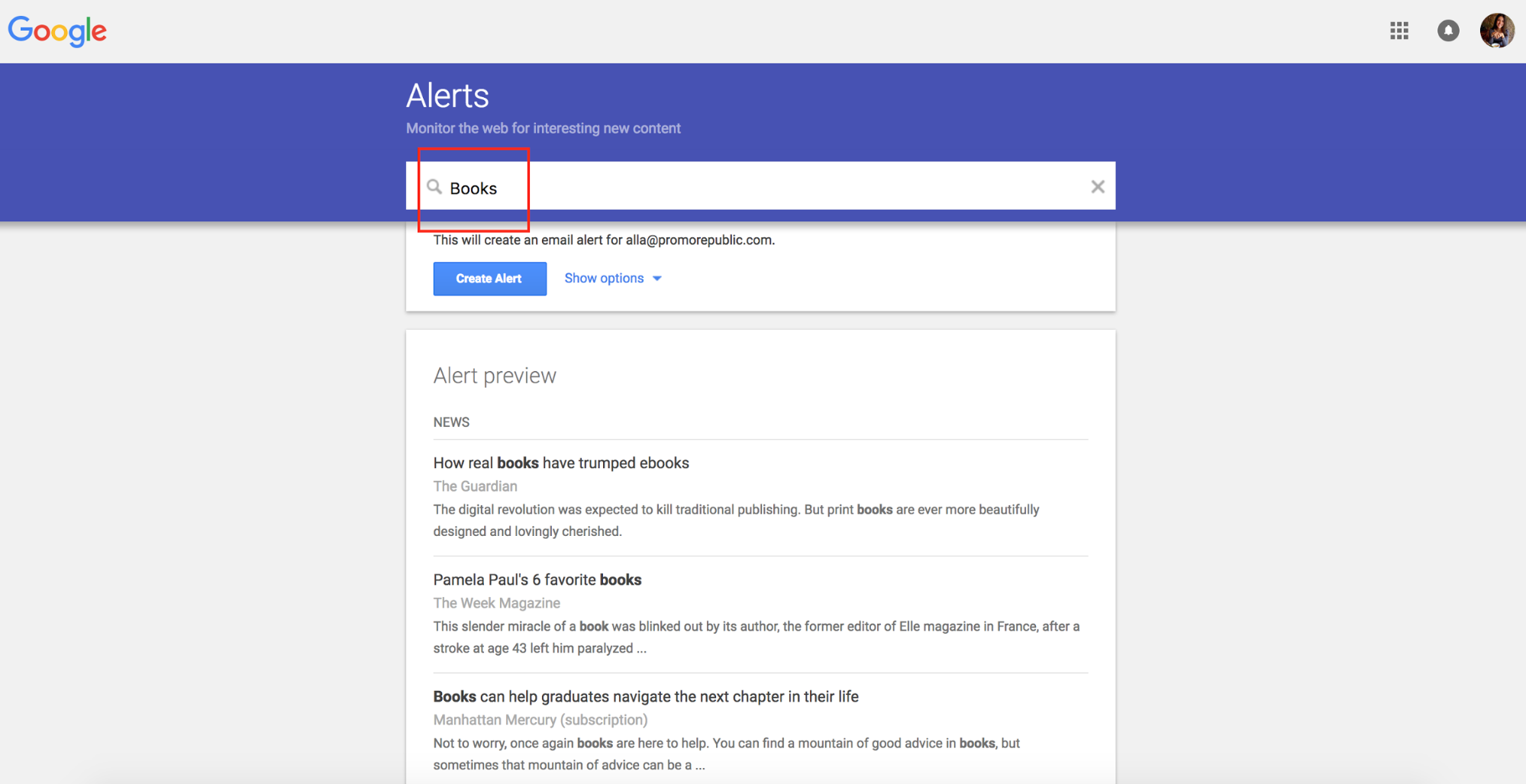 Create an alert and enter a topic you want to follow. Every day at a set time, Google will send you articles that match your topic.
Monitor Competitors
Ask Facebook
Put your keyword in Facebook's search bar and choose "Posts". Facebook will offer you suggested posts with this word. You can manage search by who it was posted by, where and when.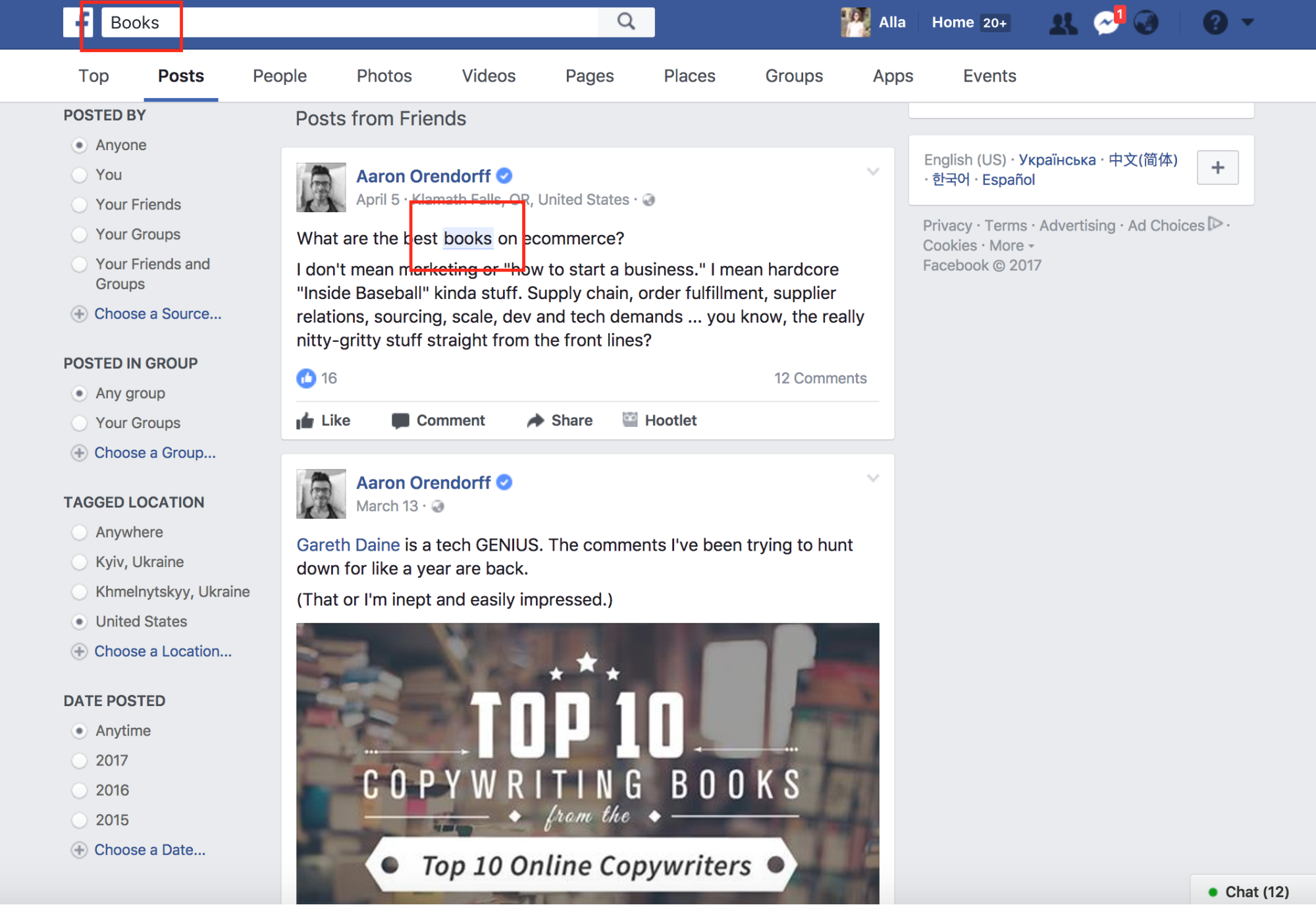 BuzzSumo for Advanced Search
Search for terms or phrases and quickly identify content that's performing well in your niche. Funnel your search by date and social network for more detailed information.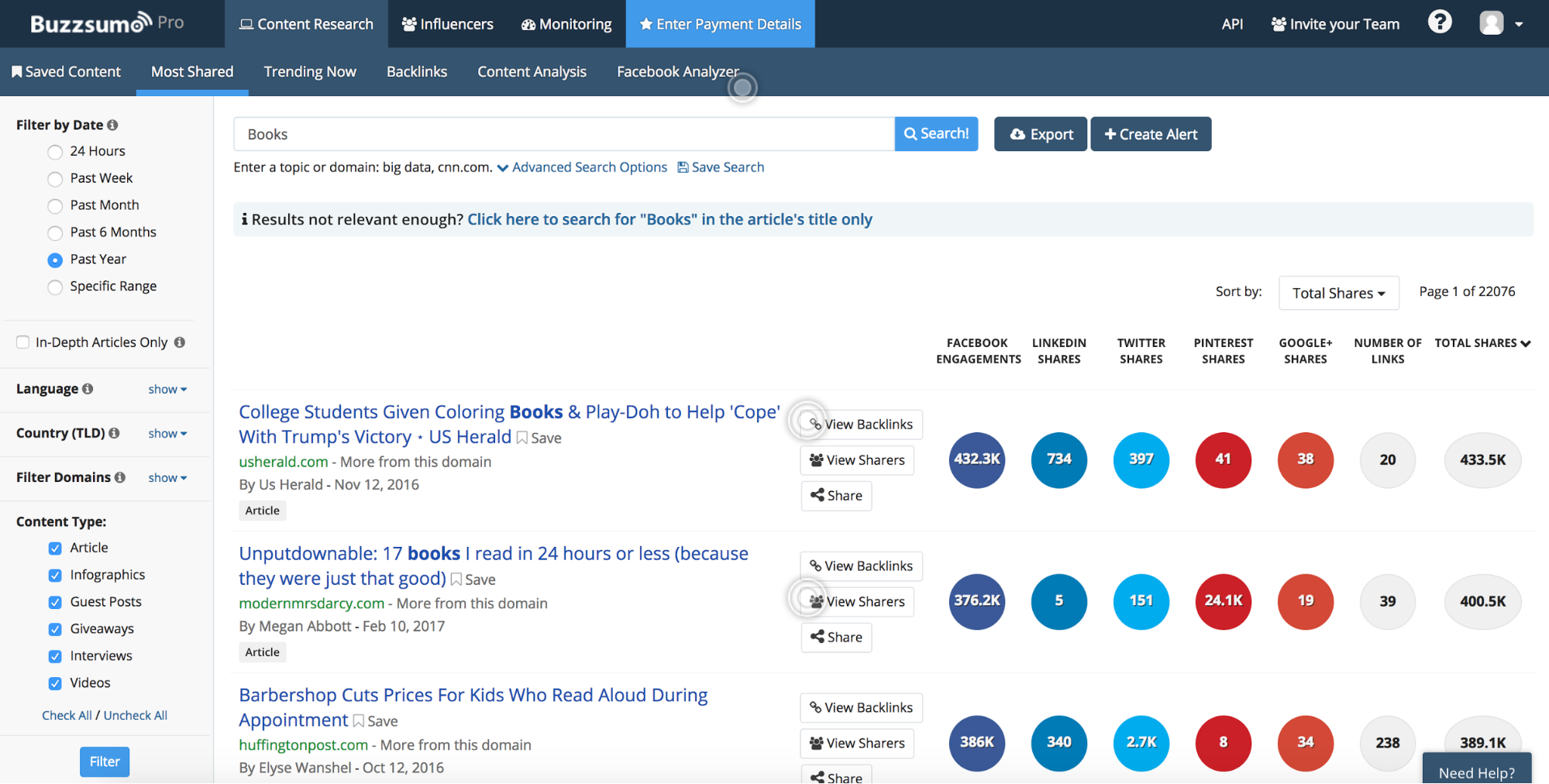 A: Mike, how do you define topics for your blog posts? Do you have some kind of formula?
M: Sure. My approach is more of a mindset than a formula. I call it "The Blogger's Mindset." And it works like this.
First, I have tool called Evernote that lives in the cloud and is accessible through all of my devices. I have a Blogging notebook and within that notebook I begin to create individual notes for every blog post idea that comes to me.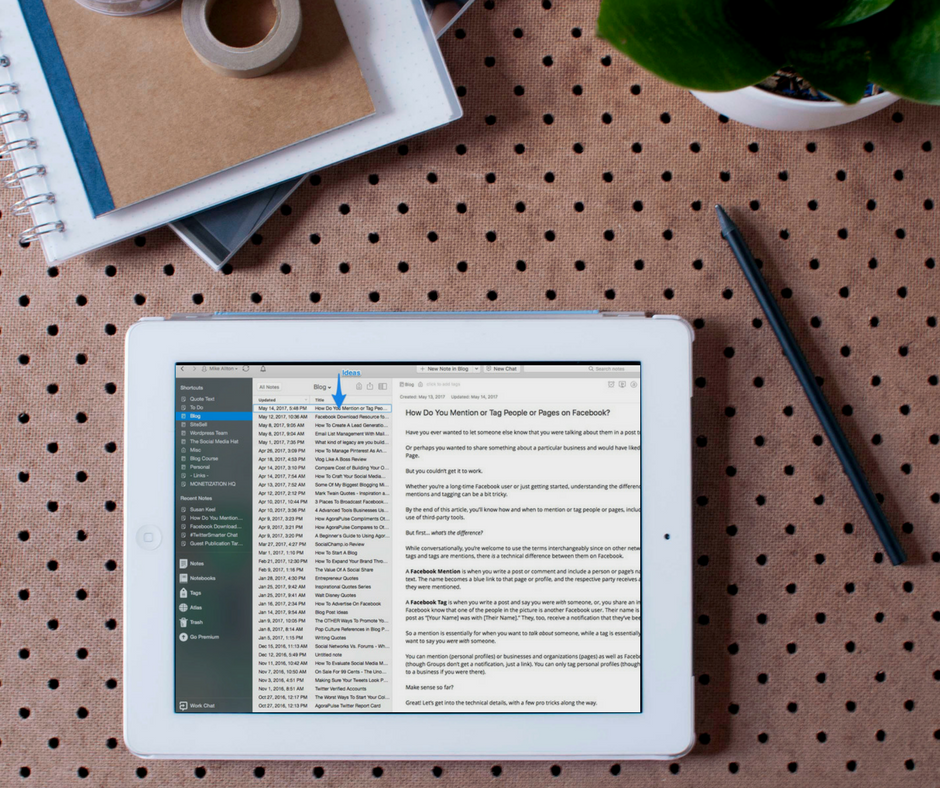 When you're just starting out, it's a good idea to spend time brainstorming ideas and get them all down "on paper" so to speak so that you have a record of them.
But what I love best about Evernote is that, since I can access from my iPhone, which I always have with me, it takes just moments to capture an idea for blog post topic no matter when and where it occurs to me.
The more often I do this, the more trained my mind becomes to look at the world and experiences around me as potential blogging topics. A song. A commercial. A conversation. As more and more ideas bubble up, I capture them all.
Each time, the new note might just be a title or an idea, or it may be more than that, depending on the idea and how much thought and time I have to put into it.
Then, later, when I'm ready to spend some time actually creating content, I have a huge notebook filled with topics and ideas to choose from. I never sit, staring at a blank page, waiting for an idea to come to me. I just pick whatever fancies me at that moment.
This does require a solid sense for what your audience is interested in, which is developed over time. If you aren't there yet, use some of the tools Alla just mentioned to vette those ideas, along with your own past post analytics.
Once you've picked a topic and worked on it, it's time to focus on the most important part: The Title.
How Do You Create Catchy Titles?
How are you going to get anyone to read your blog if they don't want to click on it? We're not saying you need to write clickbait titles, but the title and blog featured image are the two factors that go into a social user's decision to click….or not to click. Since you know you're going to be promoting your blog content on social media, it's in your best interest to go ahead and create the catchy title at the start.
BuzzSumo says there are 5 common elements of viral headlines:

You see, it's a formula that should work like this: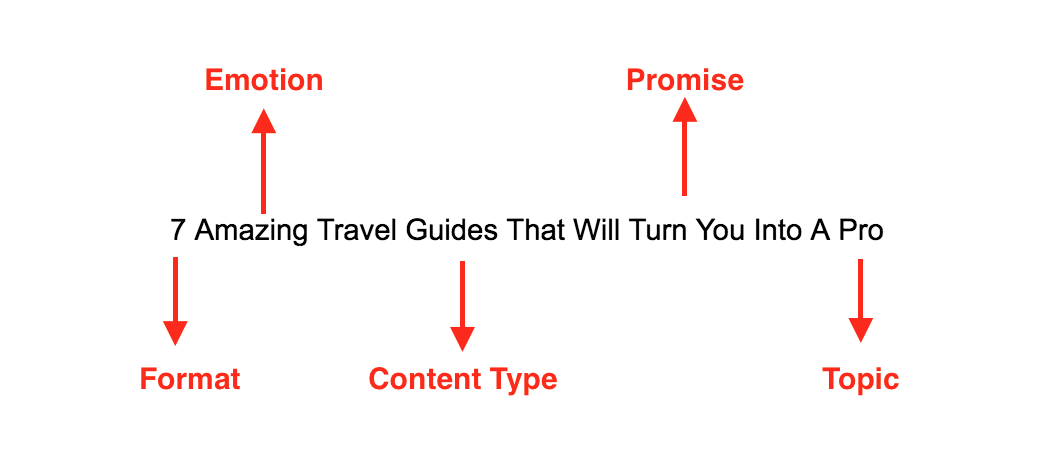 A: Mike, do you have some secrets about headlines for The Social Media Hat? Which ones were the most successful and why?
M: Hah! Sorry, no, no secrets. I don't really use formulas for this either. Instead, just as with topics, I've had to learn over time what my audience tends to prefer. And that's How To content.
Typically, the most successful content on my site is highly tactical in nature. How To Link To A Blog Post. How To Perfect Your LinkedIn Profile. And so on.
Whenever I've tried to use more formulaic title construction, they've seemed to underperform.
But it could just as easily have been the content itself.
If you're not sure either, you'll want to test your titles.
Now, most of us can't afford expensive software packages that will allow us to literally run A/B split tests on our blog post titles, so here's a poor man's way of doing it.
Publish your blog post with the best title you can think of then share that post, with the original title, to Twitter.
Within a few hours, share the post to Twitter again but this time use an alternate title.
Repeat for however many variations you want to test, each time noting in a spreadsheet how each tweet performed. You can easily see tweet reach, favorites, replies and retweets from within Twitter. If you want measure traffic, use a unique UTM parameter or bit.ly link for each tweet that will show you clicks.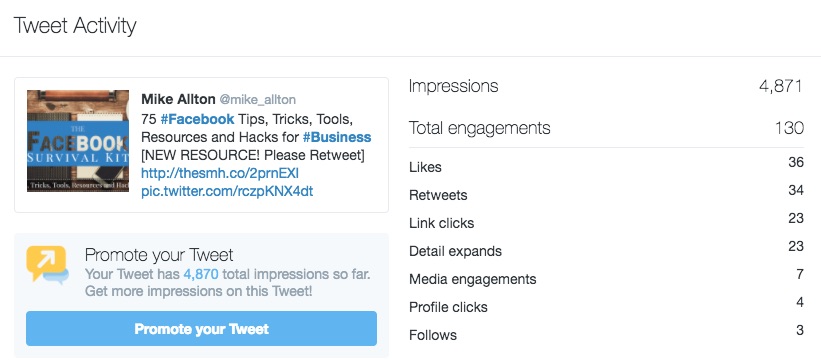 Which one performed the best?
Run the same test for at least 4 different blog posts and see if you're able to spot a trend in performance.
Over time, you'll be able to see which tweets performed the best and begin to use those as your actual blog titles and see if that makes a difference in overall social performance and traffic.
From there, that leads us into how else you can promote your content on social networks!
How Do You Promote Your Blog on Social?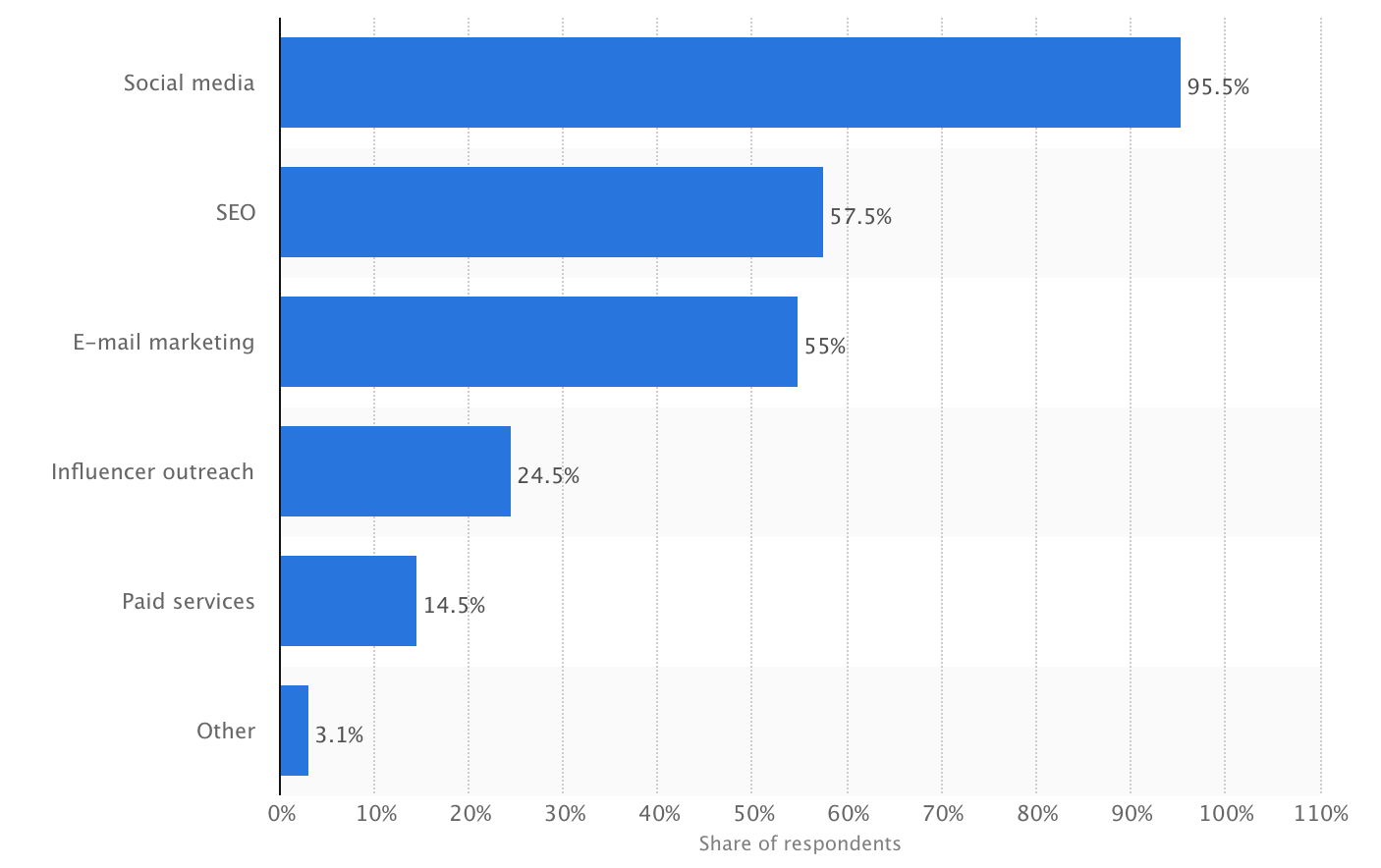 This statistic shows information on the ways in which bloggers promote blog posts as of 2016. According to the survey, 95.5 percent of respondents promoted their blog posts via social media.
Follow these 5 steps to make sure you do everything possible for your audience to find and read your blog post.
Include Your Blog Link In Your Social Profiles
While you can link out on Facebook, Twitter and LinkedIn, you can't on Instagram, so it's vitally important that you include your link in your Instagram bio. But there's also a compelling case for including your blog link in ALL your social profiles. While people are learning about your business, they can also see that you run a blog, and they may be compelled to check it out.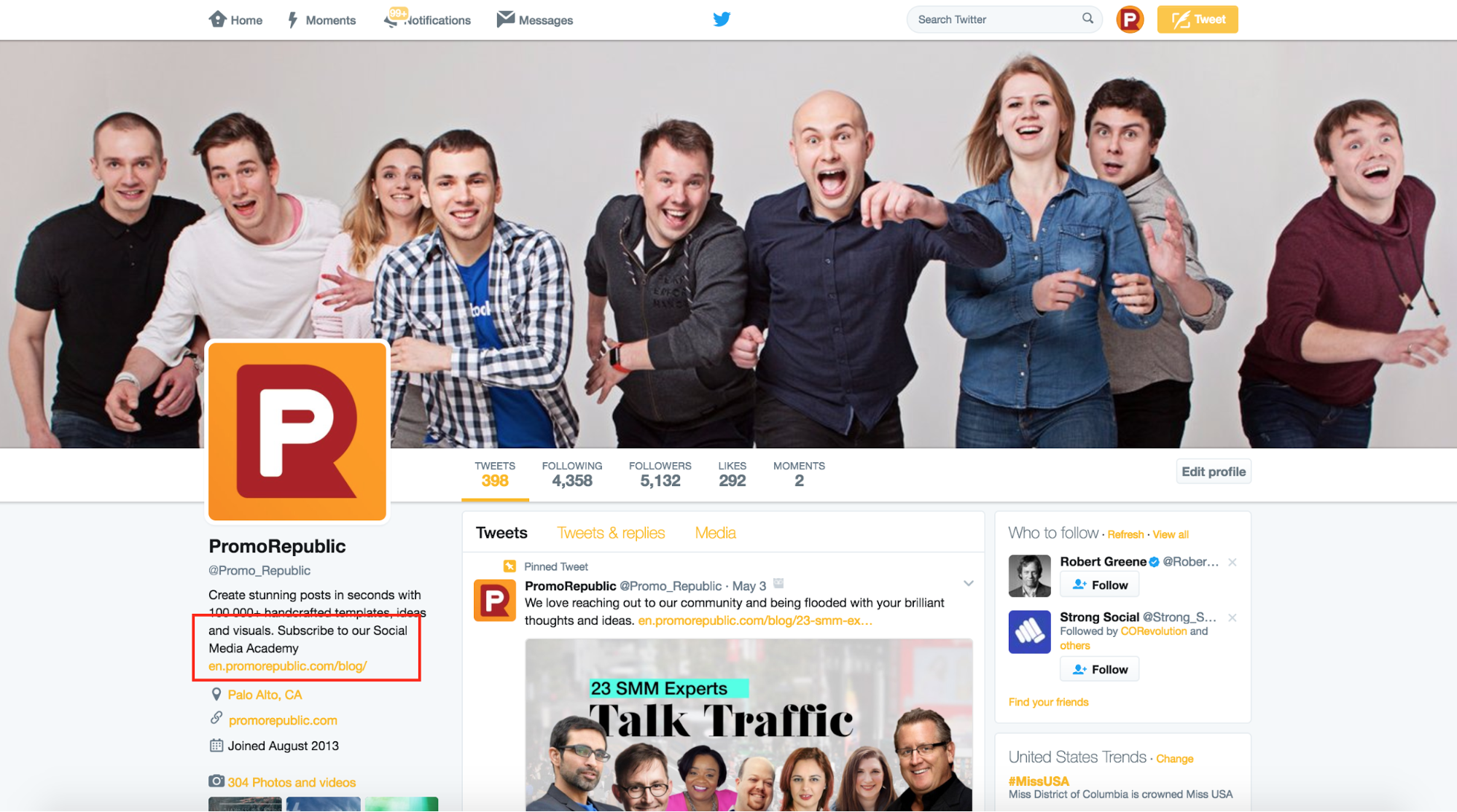 Share Blog Posts on Every Network You Use
Spread the news that you have a new blog post up! If you're using Facebook, Twitter, LinkedIn and Instagram, tell all your audiences about your new blog post. But, tailor your social posts to the network and audience you're addressing. Keep in mind social media marketing guide instructions for each network so you can make sure your social post is compelling and encourages people to click the link.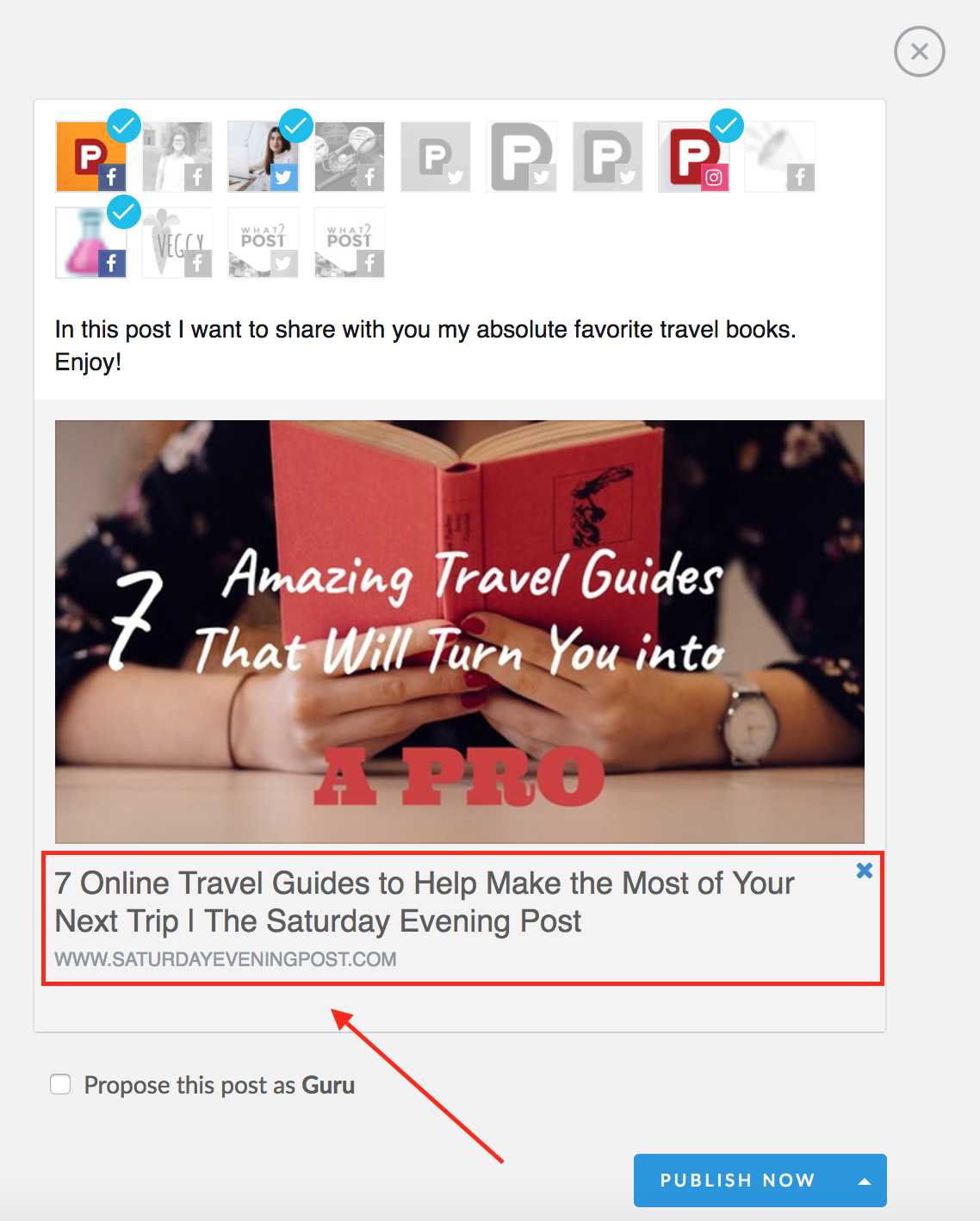 Share Your New and Successful Posts More Than Once
Even if you are an expert social marketer, you know that not every single member of your social audience sees every post you make. There's no way to ensure 100% visibility. So, if you want to build a readership, you have to share your blog posts more than once. Don't share too much — spamming is never OK — but share a few times in a few weeks, preferably at different times to get the most saturation.
Re-Promote Your Content
Try writing a different post and using different hashtags, or scheduling the same post a few weeks in the future.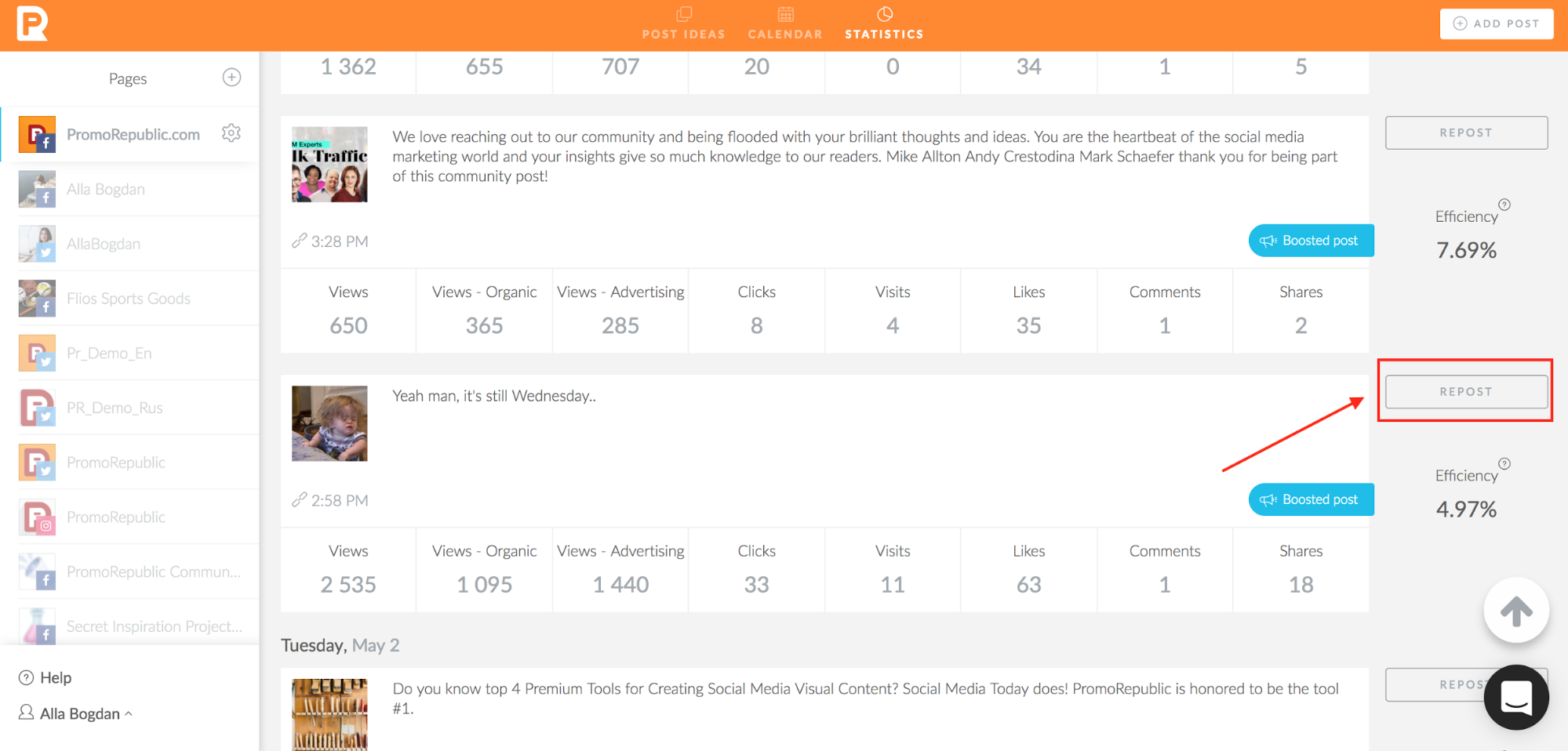 Boost Your Blog Posts
It's worth it to spend a little money on promoting social posts that contain blog links. It works differently for each social channel, but it's well worth your time, also, to figure out how to boost posts on Facebook, promote on Twitter and Instagram, and maybe even do a PPC campaign.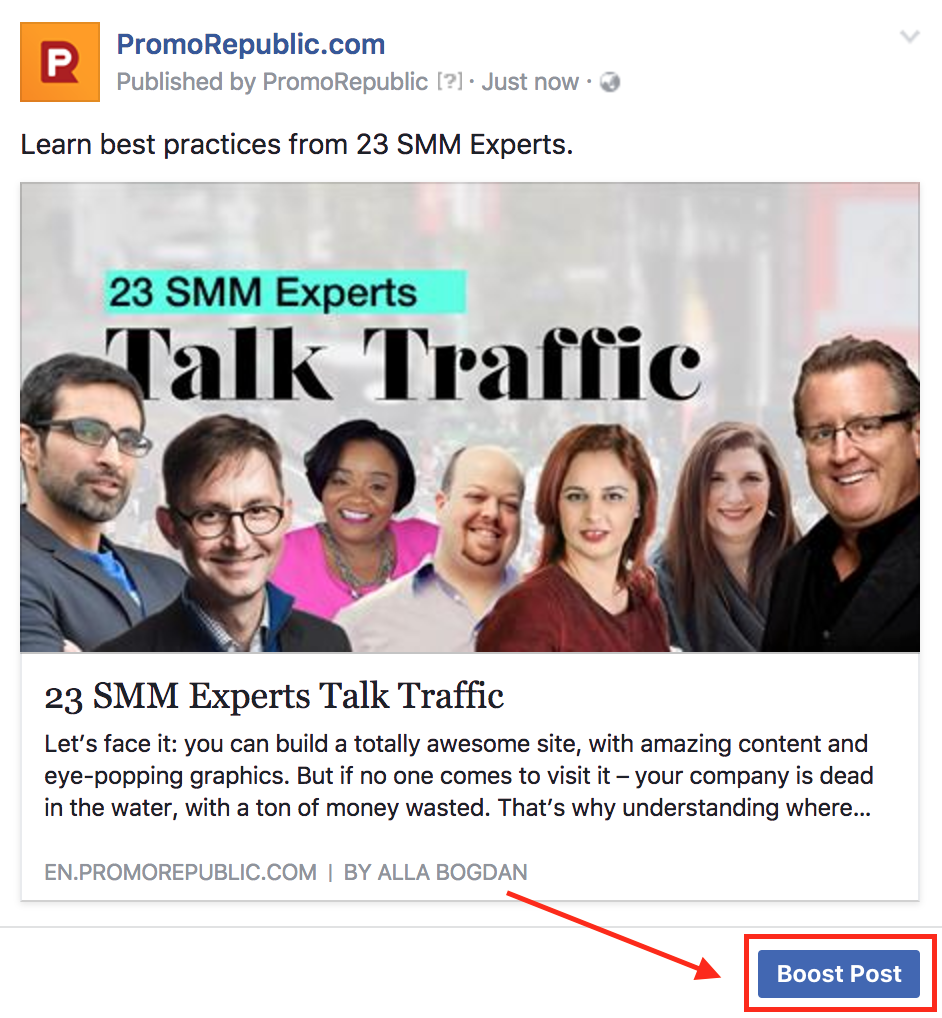 A: Mike, how do you promote your blog posts on social? Please, share with us some strategy.
M: Well, that's a great question. I've actually written a virtual book on the topic!
First and foremost, it bears repeating that it's important for every author to take the time to promote their content! That might seem obvious, but I've seen countless blogs and businesses that go completely unpromoted and unshared to social media.
And if you won't share your content, who will?
It's imperative that businesses get the ball rolling with their content and start sharing right away. It raises awareness of the new content which brings in more readers who may potentially share it, as well as starts to accrue social proof which encourages additional shares.
So, what do those shares look like?
I'll tweet the post right away, usually just the title or version of the title, with a couple relevant hashtags. Later on, I'll queue up additional tweets for throughout the rest of the day and into the coming week.
Next, I'll pin the post to Pinterest to whichever board is the best fit.
After that, I'll compose a share to Facebook that introduces the article and usually attempts to spark some discussion around the topic.
I'll then move on to Google+ and LinkedIn, each time sharing the post with that first intro I wrote or some similar version, using that network's best practices.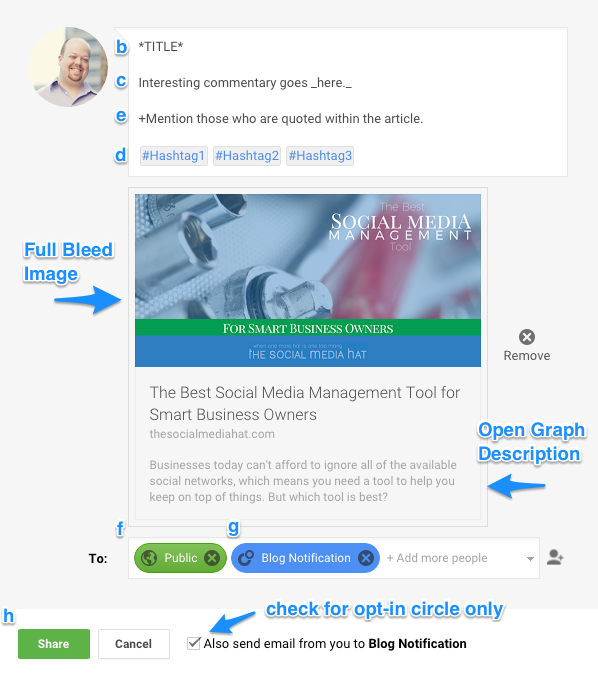 Note that I'm never just blindly blasting links to those networks! You have to provide context for your audience and present opportunities for them to engage with your post and dig into the content for more information.
Share your content everywhere, and do so using the best possible sharing techniques. Part of that includes making sure that you have great images to go along with those social shares.
How Do You Create Stunning Visuals for Your Blog Posts?
When we are done with content, let's talk about images, which are covers for your blog posts.
Blog articles with images get

94%

more views

71%

of marketers report using visual assets as part of their content marketing strategy
So, how should your perfect visual look like to grab attention of your reader?
Topic Related Background

Catching Headline in The Cover
It's nothing difficult, but you are not a designer, you also don't want to pay extra for professional photos for your covers, and you have no time to learn photoshop. With PromoRepublic's photo library and native graphics editor you can create covers on your own within minutes.
First, choose the background that is relevant to your topic. Use a search bar for your keyword.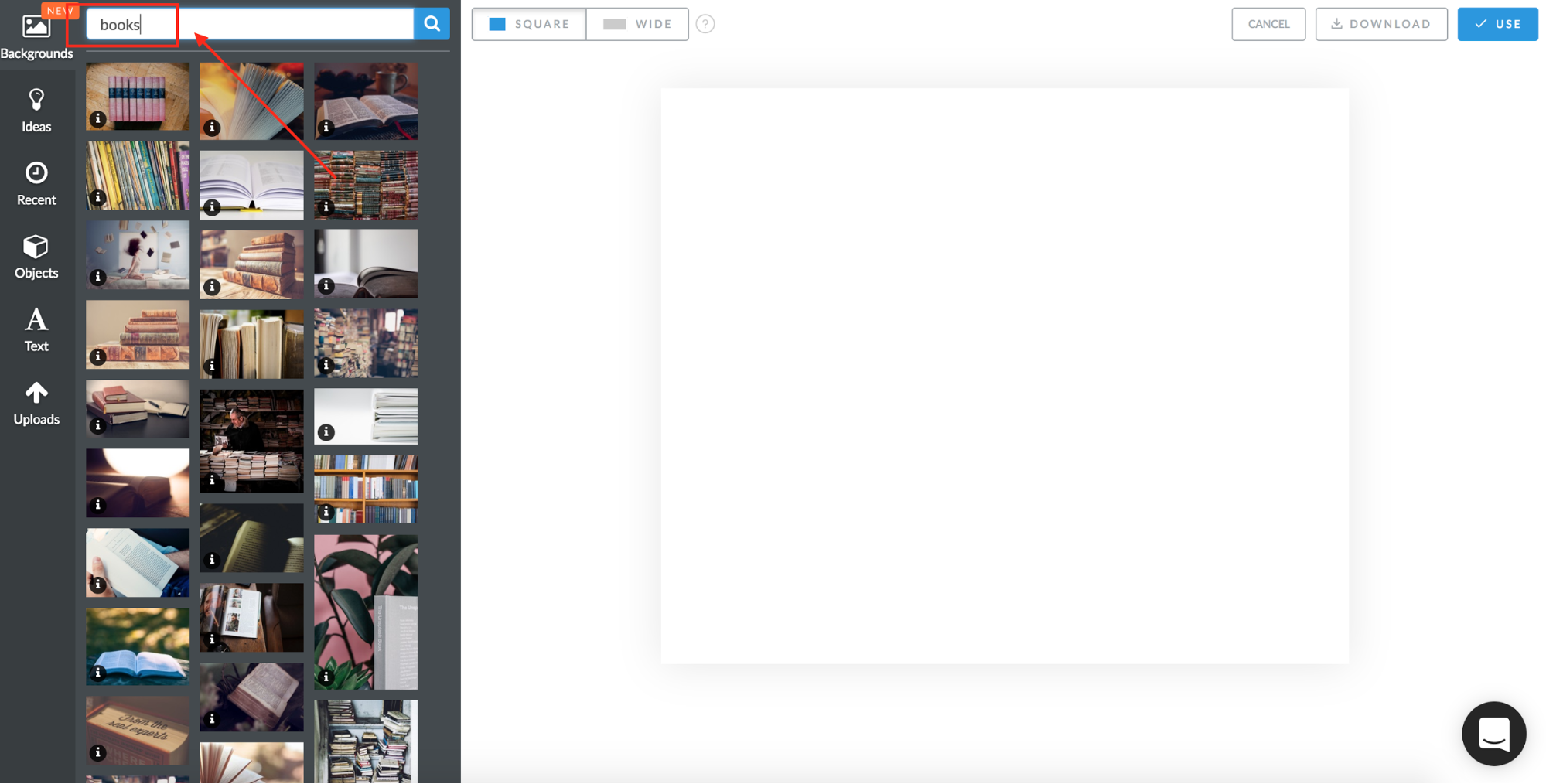 Then, write your headline with different fonts to catch attention.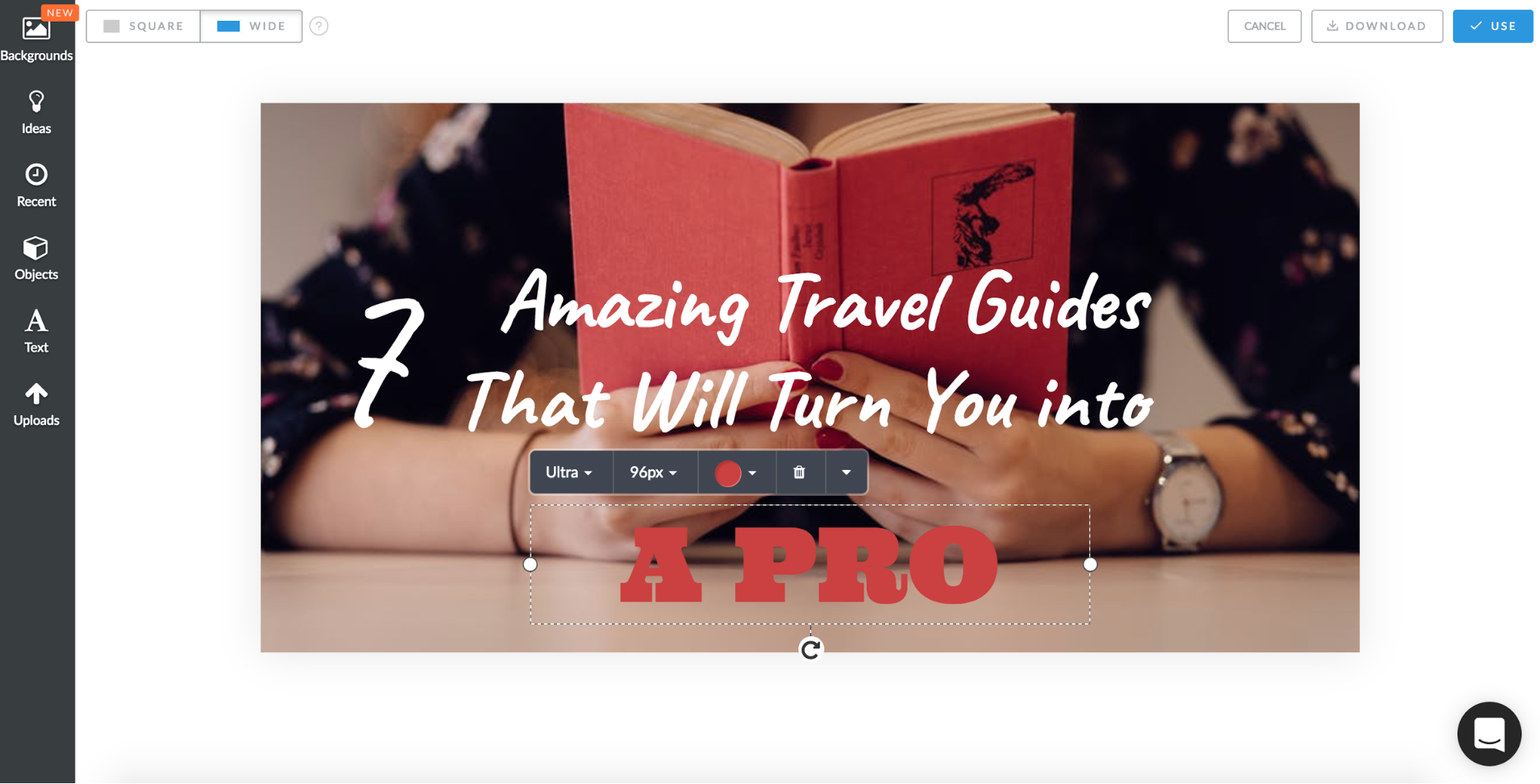 Tap download to use the cover for your blog post, email blasts, Facebook Ads etc.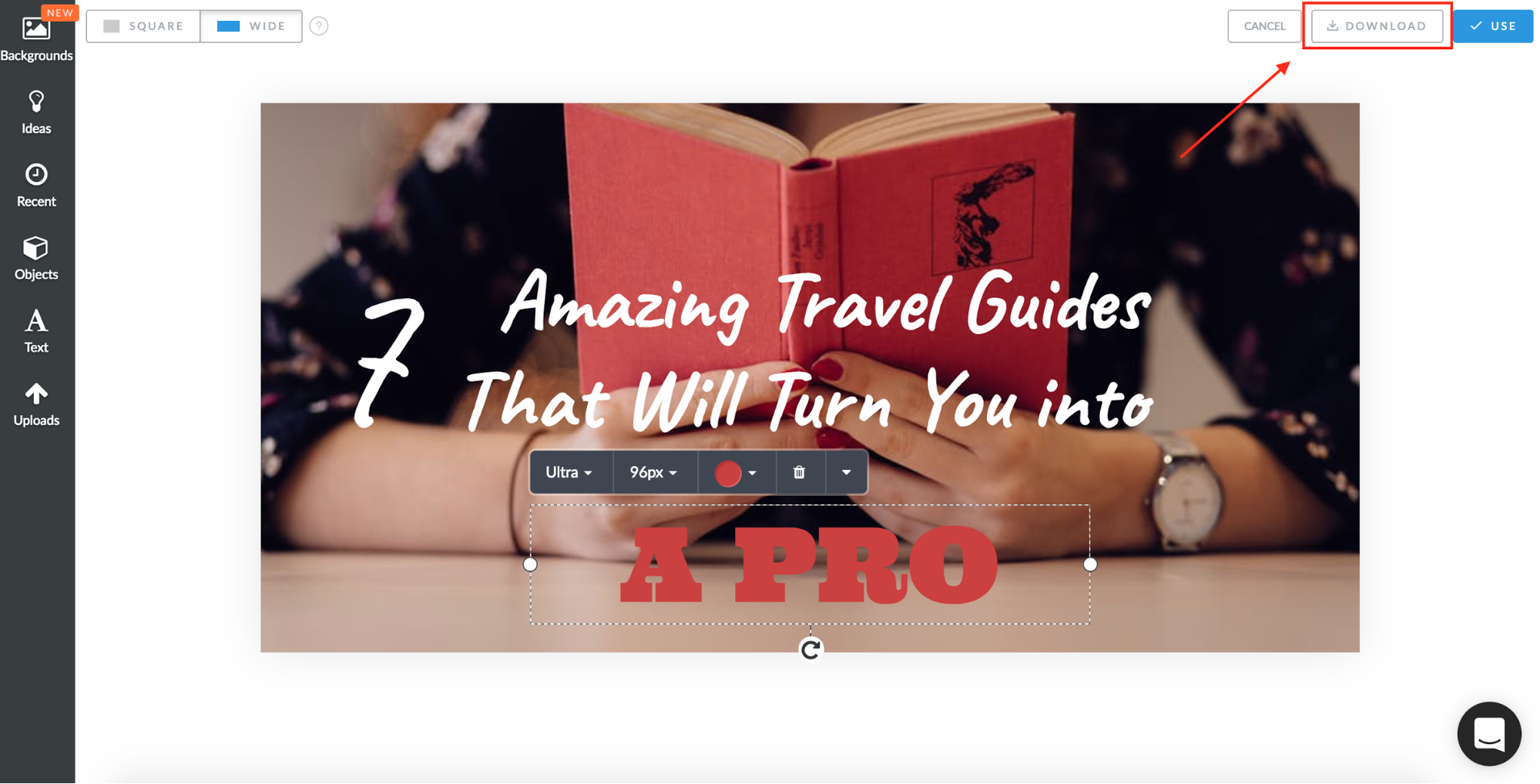 Then click on Use and write your caption to the post. Attach your link to the blog post and then delete to keep the caption short and clear. Now your post is link active (when tap on it, they will be redirected to your blog).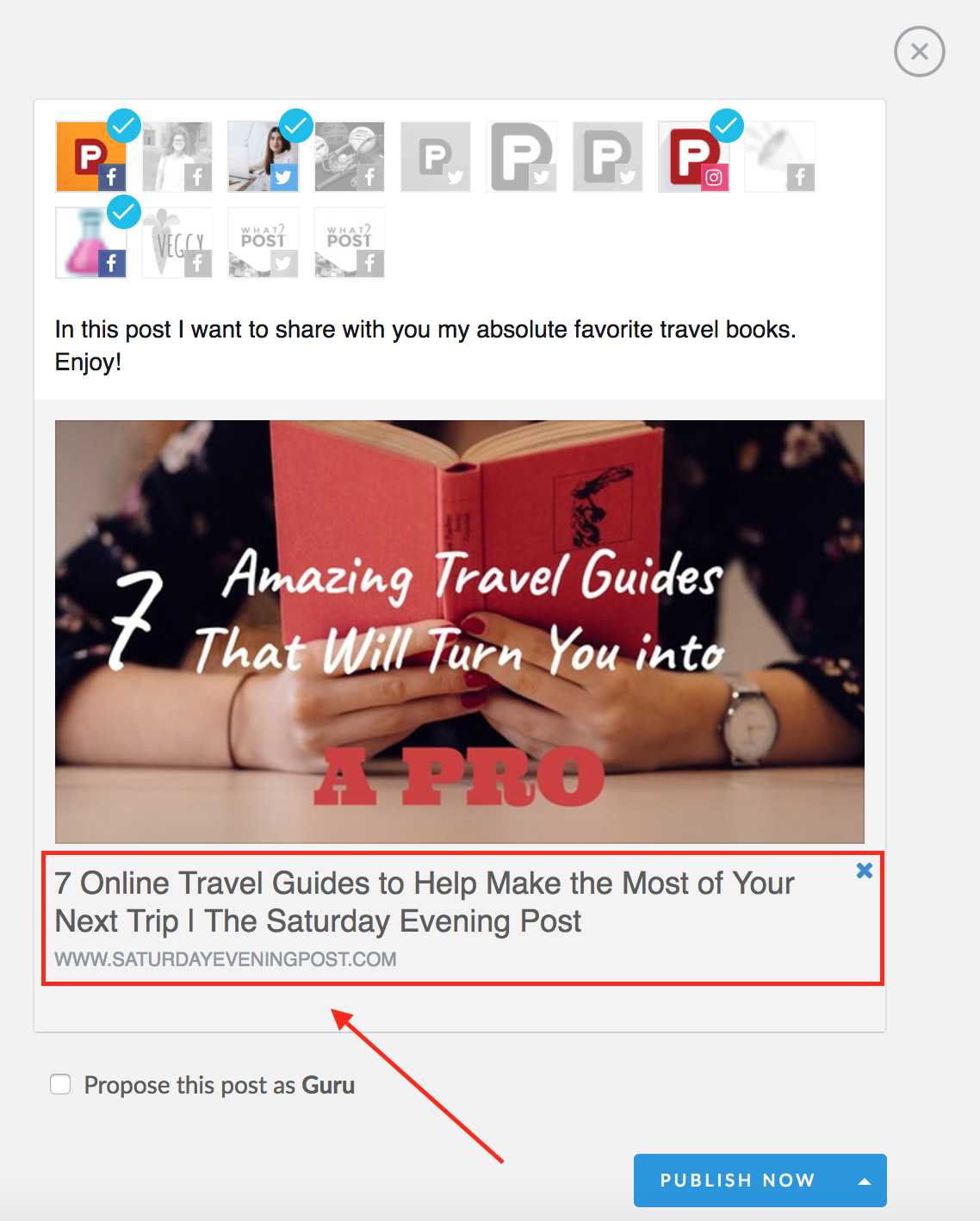 A: Mike, do you have some special tricks that you use for your images? I know that they all are of one style. I always recognize them when see on social!
M: Thanks Alla! That's absolutely right. Above and beyond the tool that you use to create or edit images, one of the keys that I learned from Rebekah Radice and Peg Fitzpatrick is to have a consistent style and branding for your images.
In my case, in addition to always having my logo or tagline, I usually use the same font combinations and always incorporate the same color schemes. Whether there are borders or lines or other graphical elements that help make up the image, they're going to use my blue, tan or green to reflect my brand.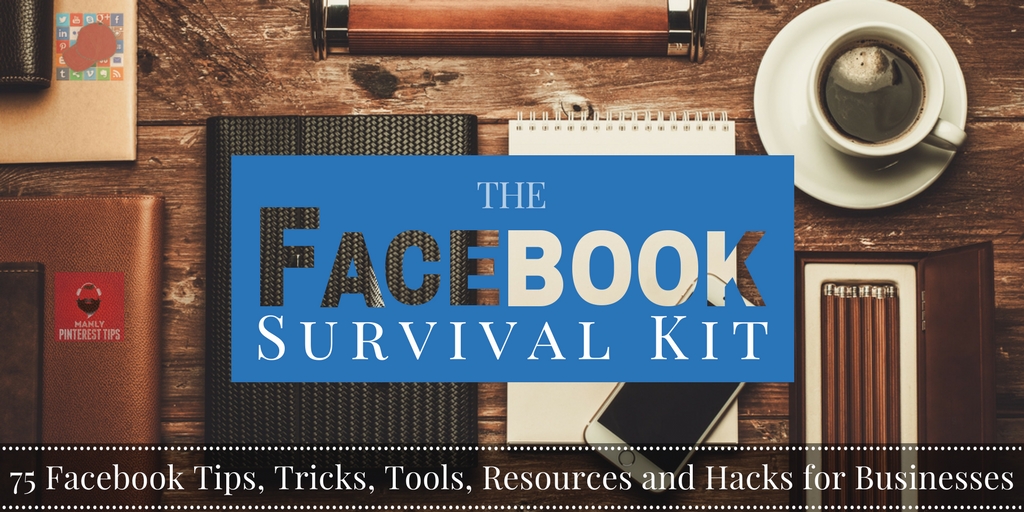 That's what makes the images memorable and uniquely you.
And I'll give you a bonus tip right now… taking the time now to determine what your style and image and branding is going to look like will save you time as you go about creating blog images in the future!
Tips and Best Practices by Mike Allton
That leads us into the lightning round of tips and best practices!
Have a set FOCUS for all of your content.

Blog about what you know.

Set aside time every day for

writing

.

Don't worry about how short or long your content is – just make it as long as it needs to be!

Blog as often as you can / need to, with the understanding you need 50+ pieces of content to see exponential success.

Focus on bottom of funnel content.

Use Facebook Advertising to expose your blog content to new interest-based audiences, and promote core content and lead/sale generating pages to your growing Website Visitors audience.