Do you struggle to make your campaigns viral?
Are you sure your strategy is the right one?
How many likes and shares your post receives in a day?
Creating a viral campaign is not that easy. This is not just about a good boost or paid ad, but those are important as well. This is about getting in a rhythm with your followers. Do you know what type of campaign they will react better to, or what type of content they will appreciate most?
Being a social media marketer, I've found some key points that impact my campaigns. So, let's see what you should never neglect if your goal is to make your posts viral:
Think over the idea of your campaign

Mind your presentation

Post on strategic times

Promote your campaign
Think over the idea of your campaign
This type of thinking goes beyond content marketing best practices. In fact, learning content marketing means learning the people you're marketing to. You prepare your campaign for people, so it's like making a pair of shoes for them. If you want to sell them, please, find out their size, the type of leather they like, color and the best height of heels. It is quite the same with your social media campaigns – make sure you know the triggers that affect your audience:
What is it they want from you?

Are they hoping for some super secret information?

Are they looking to be entertained?

Are they wanting to appear informed and clever?
Mind your presentation: Visual+Message
Make sure your images are viral worthy. Think about memes, GIFs. Things are better with this content because you do not bother with the presentation – they talk for themselves. You just need to add a good message in a caption to a post and wait for it to go viral. But there is a point – they will tap Like and probably even a Share button just because they like that image – not necessarily your written content. So, your post will definitely get some engagement, but your message is under the risk of being unread. One of my biggest Facebook marketing tips for 2017 and each year after is to make sure your images are on point.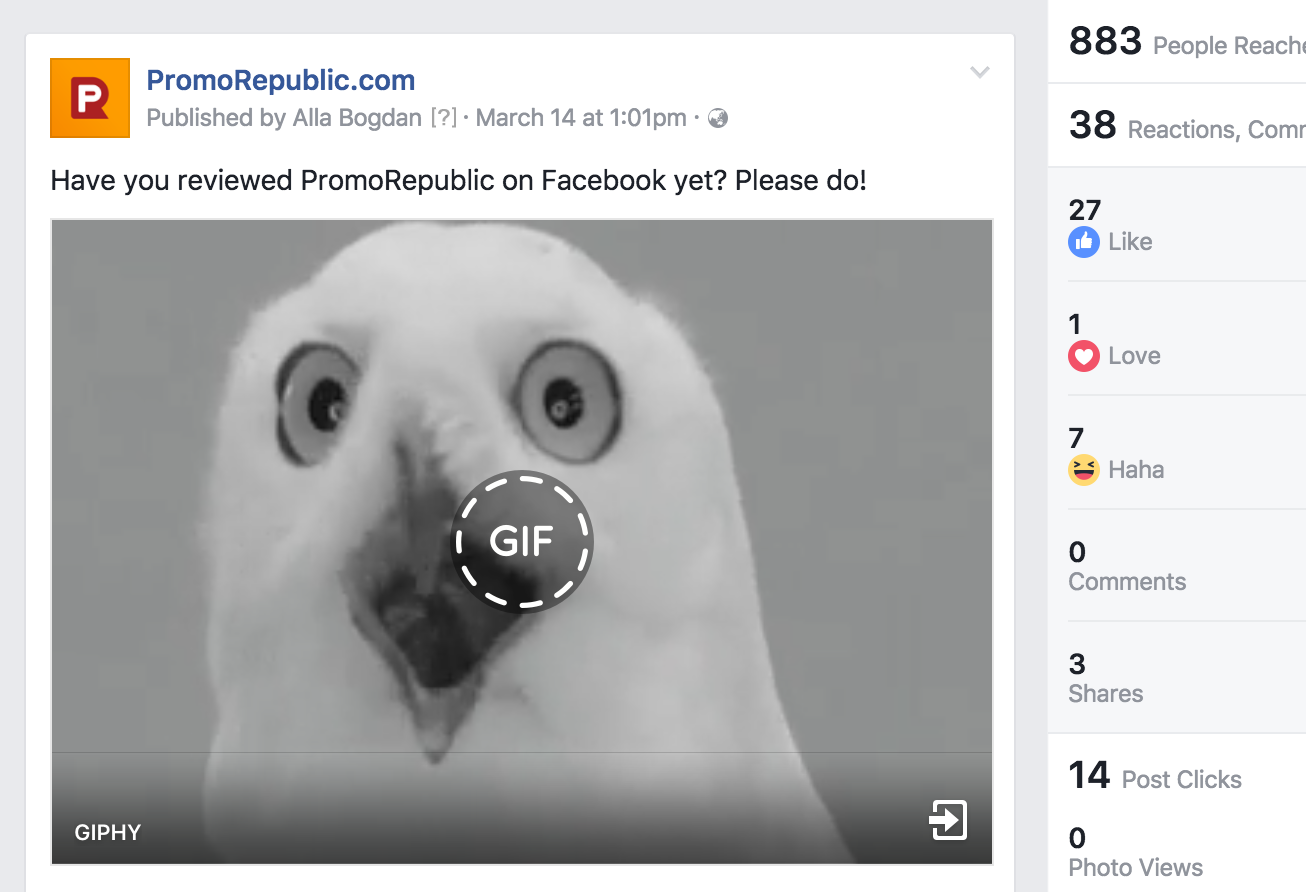 I recommend you create your own customized visuals with your message in it. So, there are three key points:
Get a licensed image
You know that you are only allowed to use licensed visual content for your social media campaigns. You can't spend all your time worrying about whether or not your Facebook post size is correct – you have to make sure you have permission to use the image – no matter what the size. Well-performing stock photos will cost you at least $1 each. Is there any other way to get licenced professional shoots for free? Hint: yes.
Customize visuals with your logo
By customization I mean an image that will fit your brand identity. Even if you are a young business, believe me, you need to invest in your "visualization" at the very beginning. If you want your brand to be attractive and people trust your social page – build your identity by creating a unique logo, colors and fonts. So, does it mean that you need to hire a designer? Hint- no.
Add a message in your visual
If you are thinking of some advanced tools like photoshop now, you are among 80% of digital marketers who use it to create images for their digital campaigns. Social Media Marketing stopped being just a network for communication since people started to earn money with it. And they do it pretty well. To outsource a social media marketer in 2017 can cost you anywhere from $1,000 per month to $20,000 per month. Now, think that this marketer runs at least 2 business pages and SMM is not the only source of profit of him. With the appearance of different automatization tools, you save yourself hours not just on scheduling but also on content creation. Social media marketing automation is a reality right now, but just because you automate, it doesn't mean your post will go viral.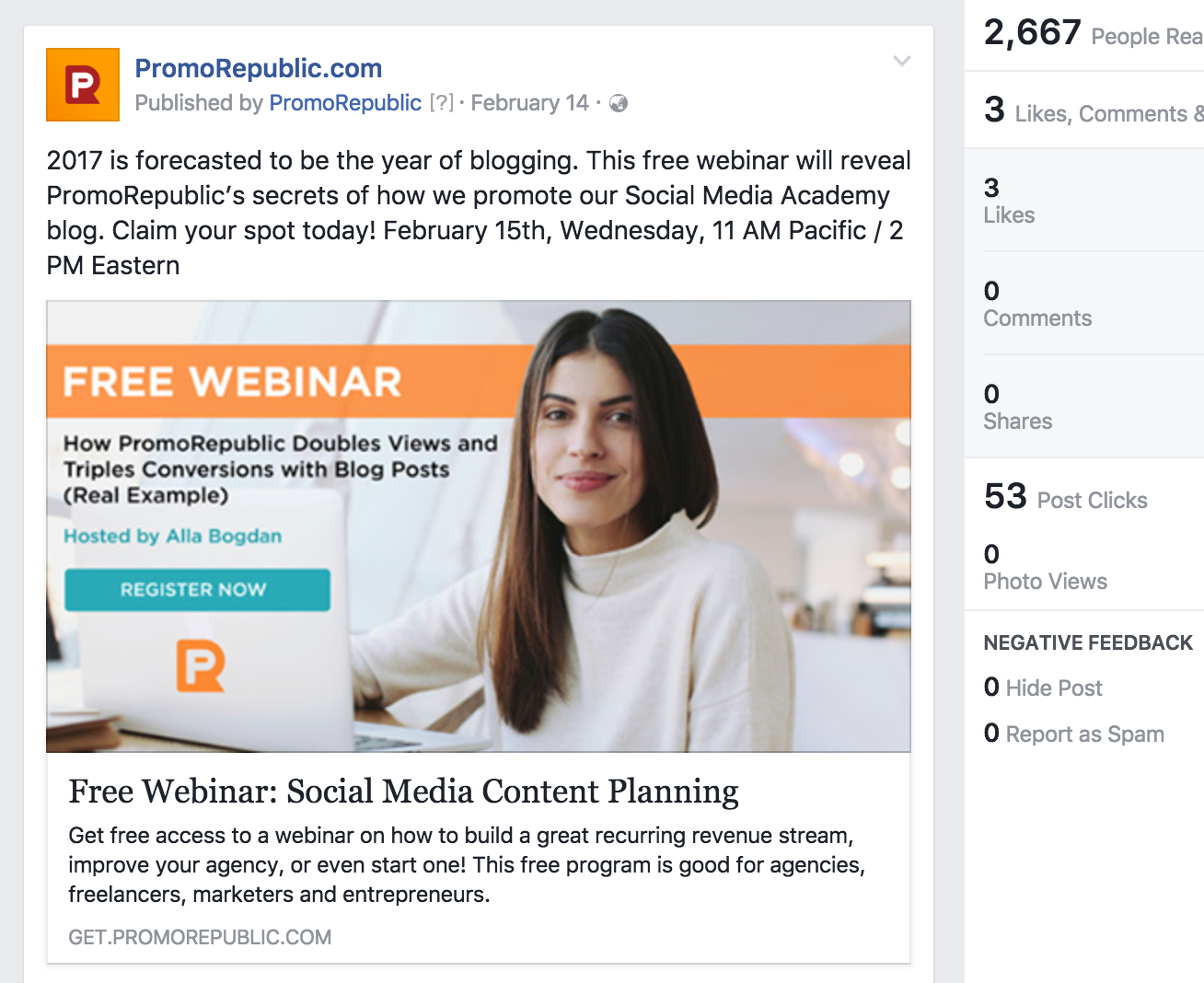 With this post we received 50 registrations to the webinar out of 53 post clicks. Message in your visual should contain not only the idea of your post but also a call to action for your followers. The best way to make it work is to write it in a call to action button.
Now there is a solution for all the 3 issues that we discussed above. Consider this your one-stop content marketing guide. I give you the only tool that is PromoRepublic. This content builder provides you with an access to its daily updated photo library, where all the images are licensed and you have no limit to use them. You can also upload as many logos as you need and customize your post with them. Add your text in a visual  with a native drag and drop calendar.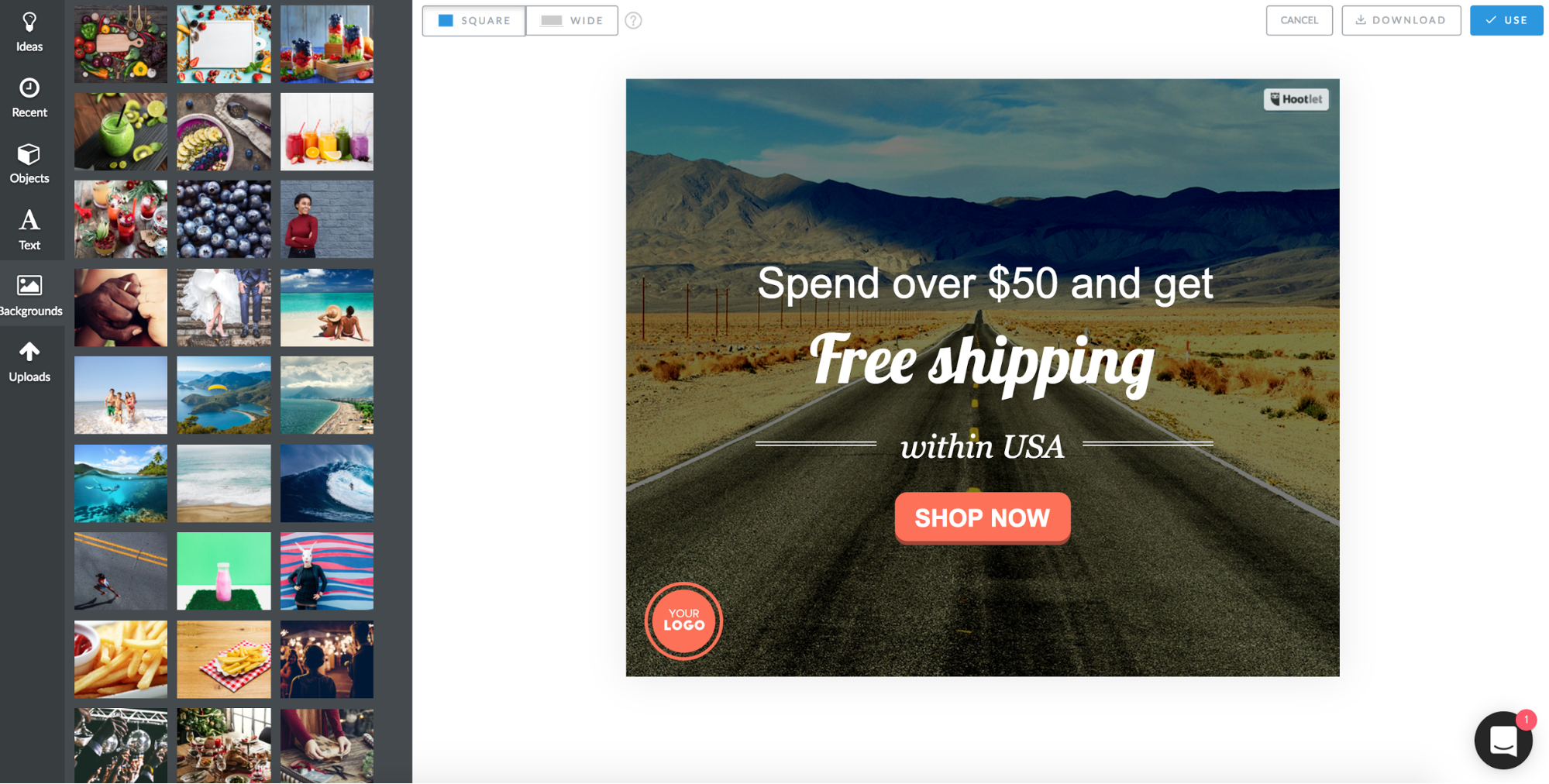 Message
It's important to let your audience know what you expect from them: like, share or comment on your post. Don't hesitate and ask to save your post for the future if it contains some tips or useful material, ask to like it if they agree with a quote or motivation in it, and leave a comment to share their opinion. Take a look at this question that we published to find out what webinar topics you want to learn most.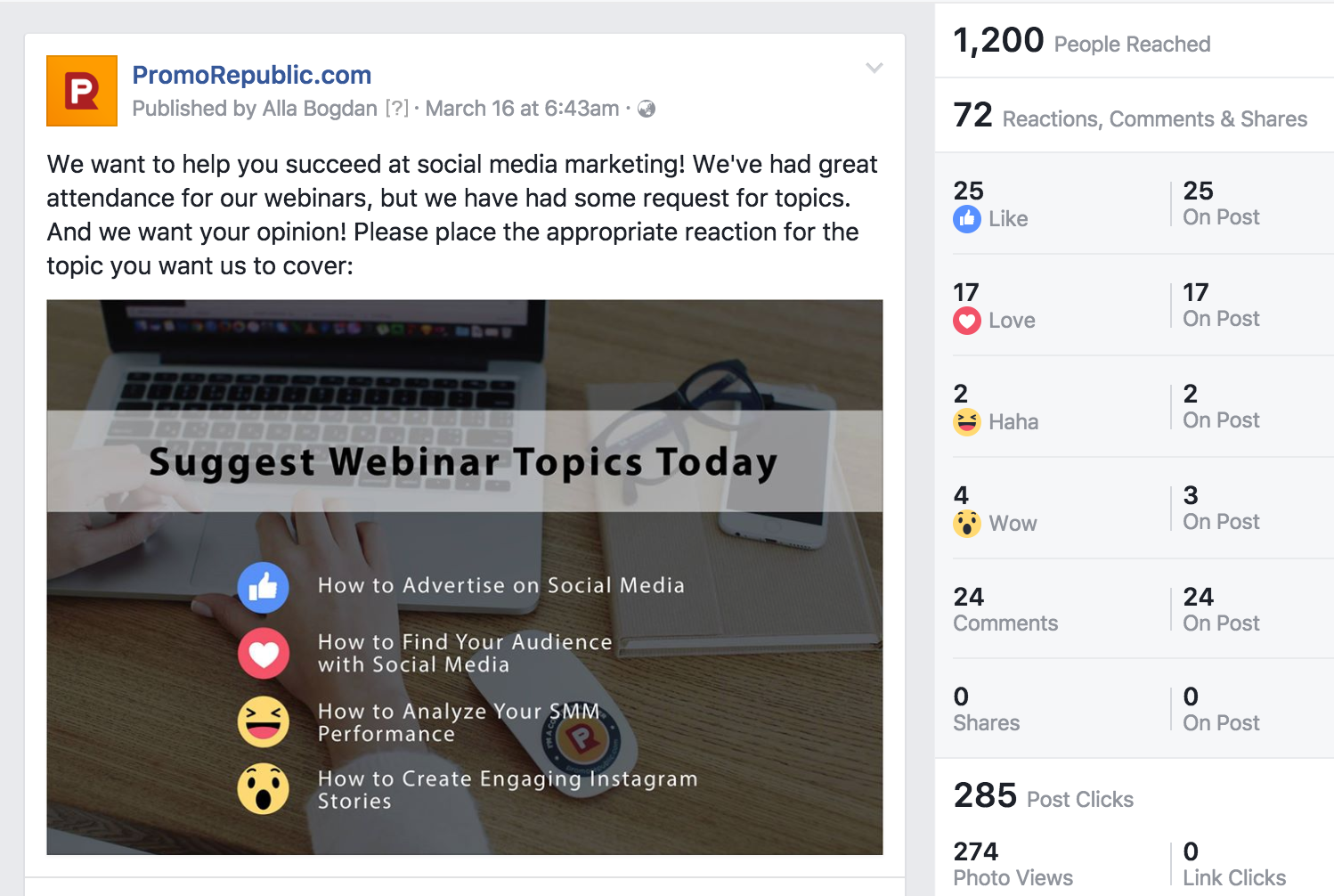 A piece of advice: open answers are only good if you have very active followers. Mostly, people are shy or lazy, or both:) so you need to give them options to choose from. And don't expect them to comment on with essays. You need to make this routine for them clear and easy to perform. Reactions are great if you want to have engagement. Most of all, they are fun to use!
Make your post emotional
Viral campaigns are the ones that tug on people's emotions. As you plan the campaign, make sure there is an emotional catch. You need to grab the person with something emotional. Play on their fears, hopes, dreams or sense of humor, and your campaign will be far more likely to go viral. This is the most important point I can give you as I try to give you a comprehensive social media marketing guide.
Post on strategic time
No, I won't be telling you about best times to post on different social networks. There are plenty of articles about social media posting schedules and when people are online the most. By strategic time I mean times of year. When people spend most time scrolling their feeds? Yes, at work, but nevertheless:) When people search for gifts? Or when people are open for special offers and discounts?
Special events and trends remain the best time for your campaigns. They will share your "pay for one get two pizzas" posts on #nationalpizzaday etc. You are free to ask them to share your holiday related post this special day to remind their friends about it, ask them to comment on your posts with their best memories connected with this holiday.
Don't narrow your posts with just events that Google reminds you about. Really, how about days from history, celebrity Birthdays or sporting events? For example, if you are a restaurant, think of great chefs and their birthdays, the day a burger was invented or the event when the biggest fruit pie was cooked and eaten by the whole village in 1887. Think it's too difficult to monitor all these days which are related to your business?
PromoRepublic is not just a great daily updated content calendar with 5 different categories of special trends and events (both local and national) but also a social media content generator! You see, the tool doesn't just suggest you ideas for your posts but offer you ready made visual post templates with great visuals and professional messages created by a team of social media marketers!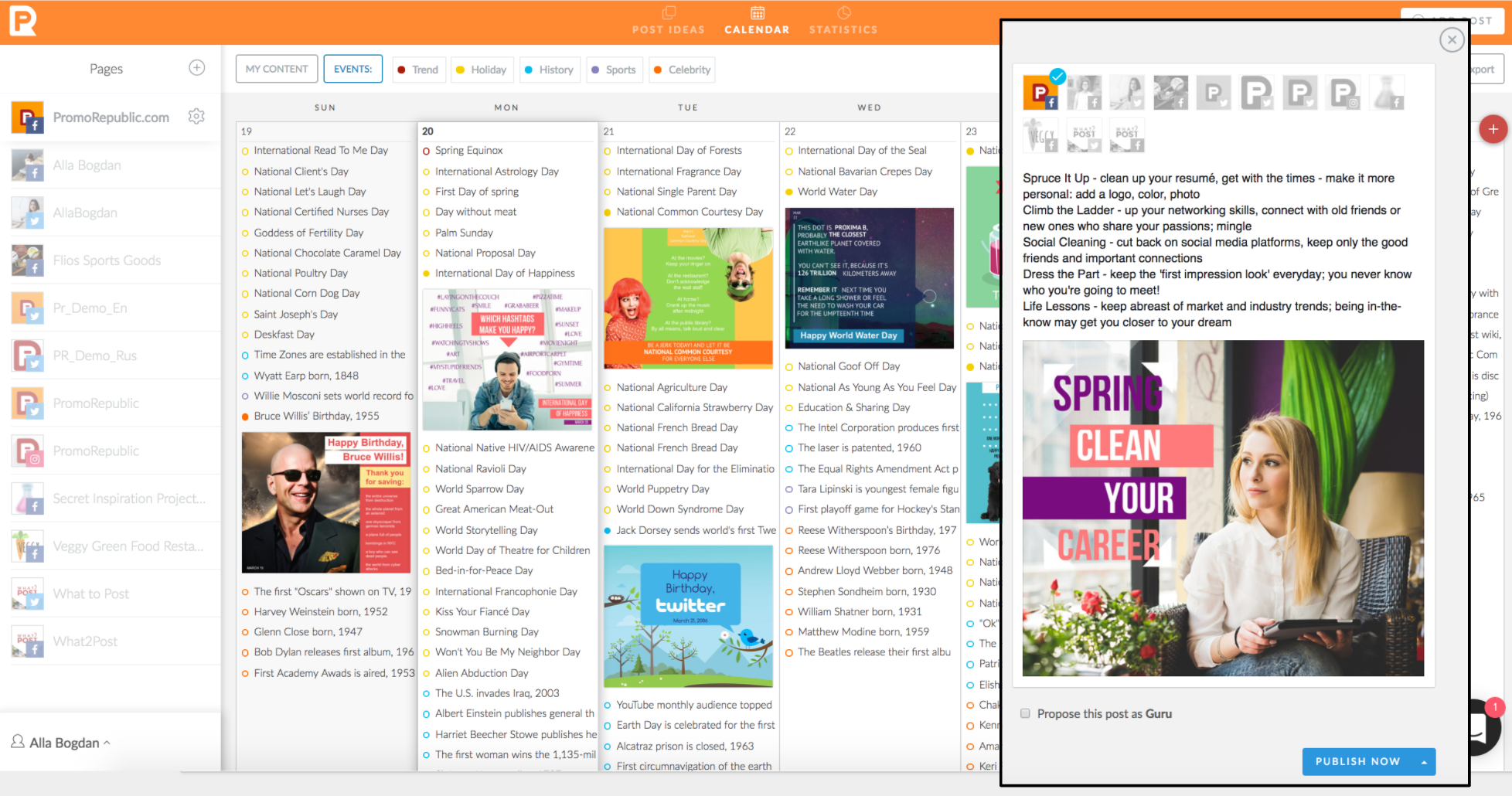 Promote your campaign
You've learnt your audience behaviour, you know what exact content they accept better, you've created a great visual and a catching message with PromoRepublic, your post is trendy – all this is good, but you need to invest into your posts. I've told you how to minimize your efforts on creation of viral posts but now is your turn – think of boosting your posts. I told you in details how to promote your posts on Facebook in this blog post or watch a webinar record on this topic. It is easy – start with $20 campaign for 2 days. You'll see results immediately. Take a look at these two posts. I invested $20 in the first one on the left and relied on organic reach for the second one on the right.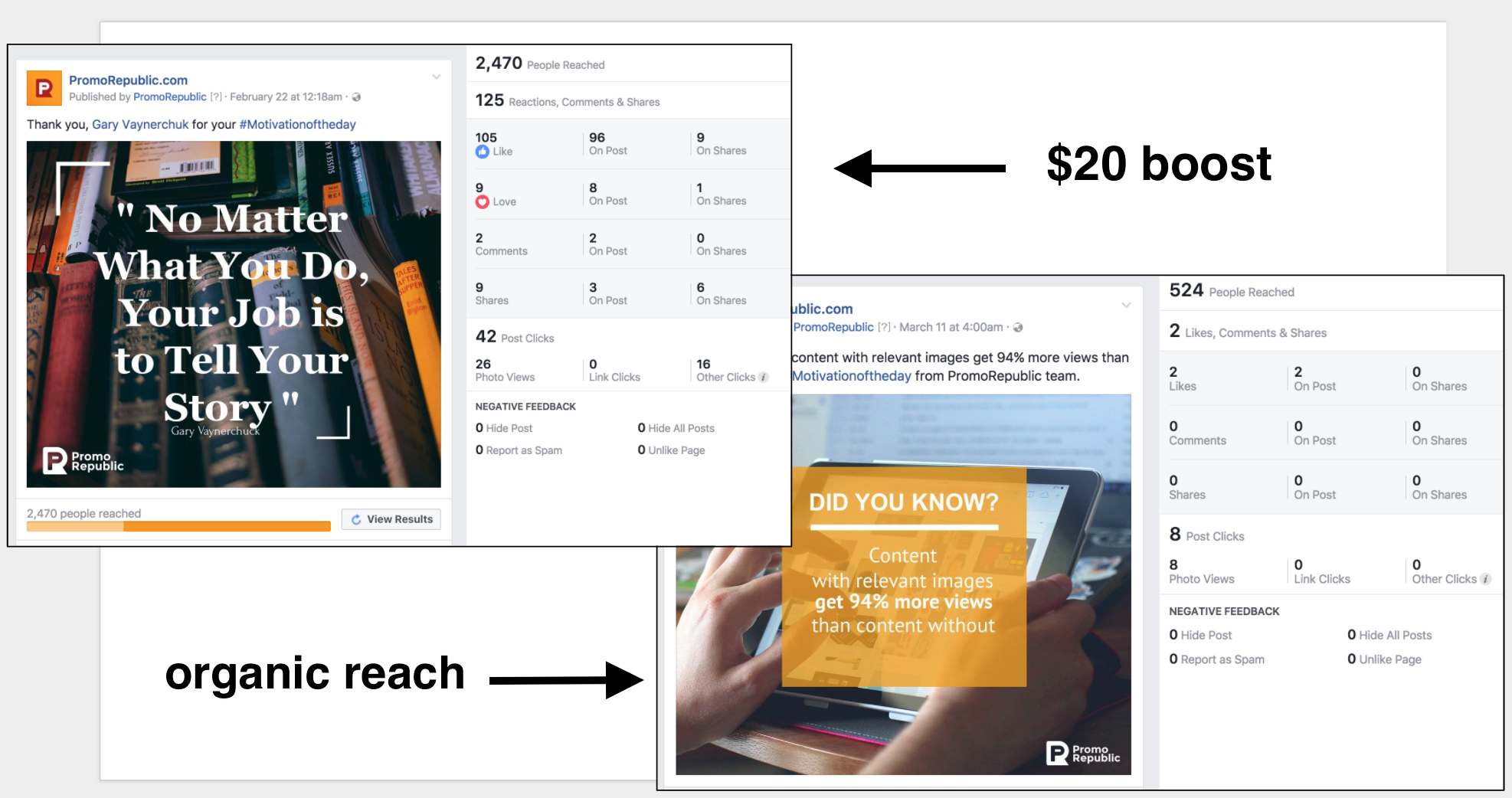 The same type of content – engaging visual, they both have great visuals and interesting fact in it. The difference is only the first one was seen by almost 2,500 people, who were offered not just to like your post but follow your page as well! I received 50+ new likes for PromoRepublic out of 125 likes on this post.