Now that the ball dropped, the toasts have been given and the festivities are winding down; are you ready to make a new beginning? January seems to come with a heavy load but it doesn't have to be. We are going to guide you along with simple and inspiring templates to ease your followers into 2017. Are you just as excited as we are for this fresh, new start?!
WHAT'S ON TREND
ANNUAL FORECAST: BRIGHT DAYS AHEAD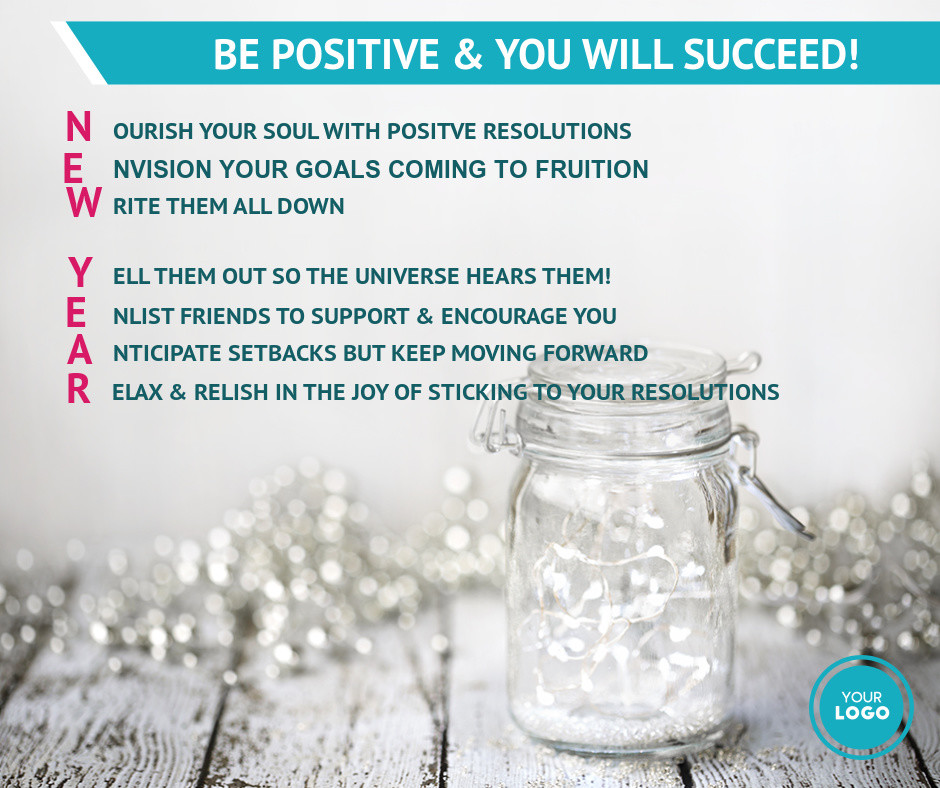 Get your followers revved up for the new year with encouraging words and engaging graphics. Motivational tips and words are always a good start. #NewYear #Resolutions
YOU CAN QUOTE ME, IF YOU WANT!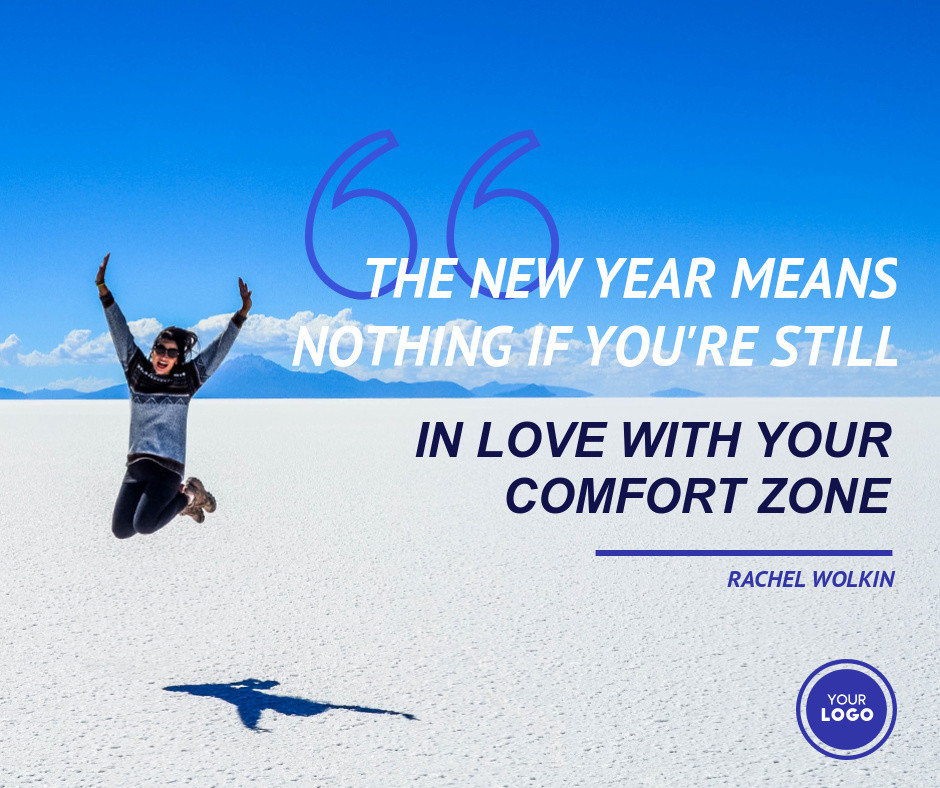 It seems like our newsfeeds are overflowing with quotes but you know what, they are still the most shared templates online. IMHO, we all need a little pick me up especially when we are "all systems go" for the new year. #2017Quotes #QuoteoftheDay
I WANT TO GO BACK TO WORK (SAID NO ONE EVER)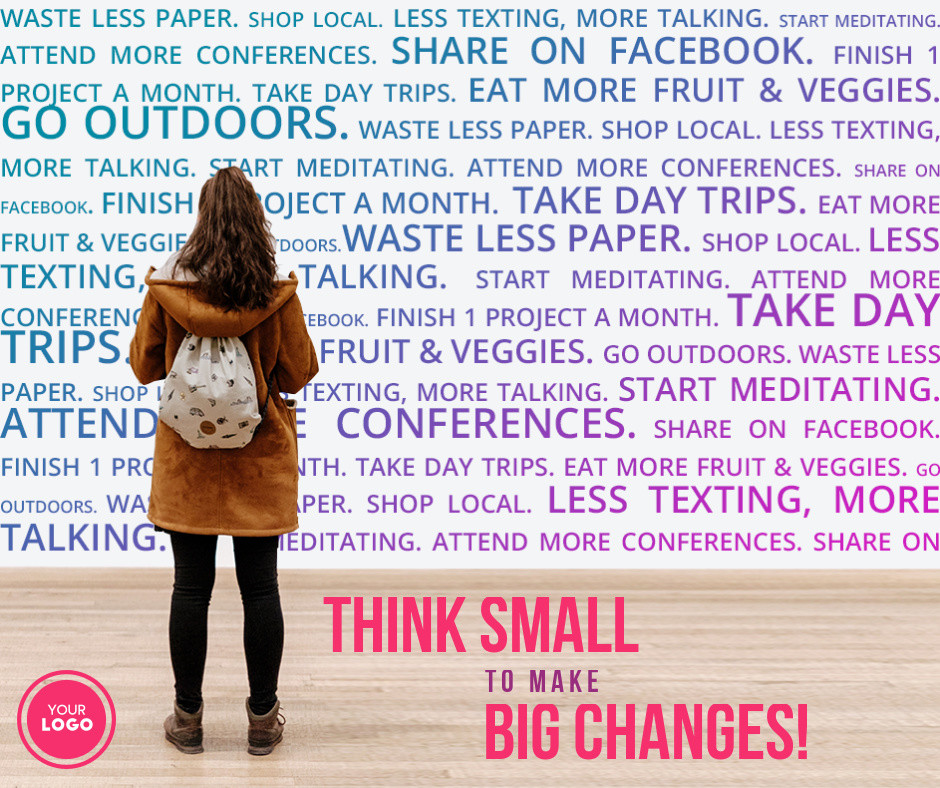 It's our job to ignite that drive again. Get your followers and "employees" fired up for the new year with projects or incentives. #BackToWork #WorkLife
FOR GOOD HEALTH'S SAKE – EAT WELL & EXERCISE!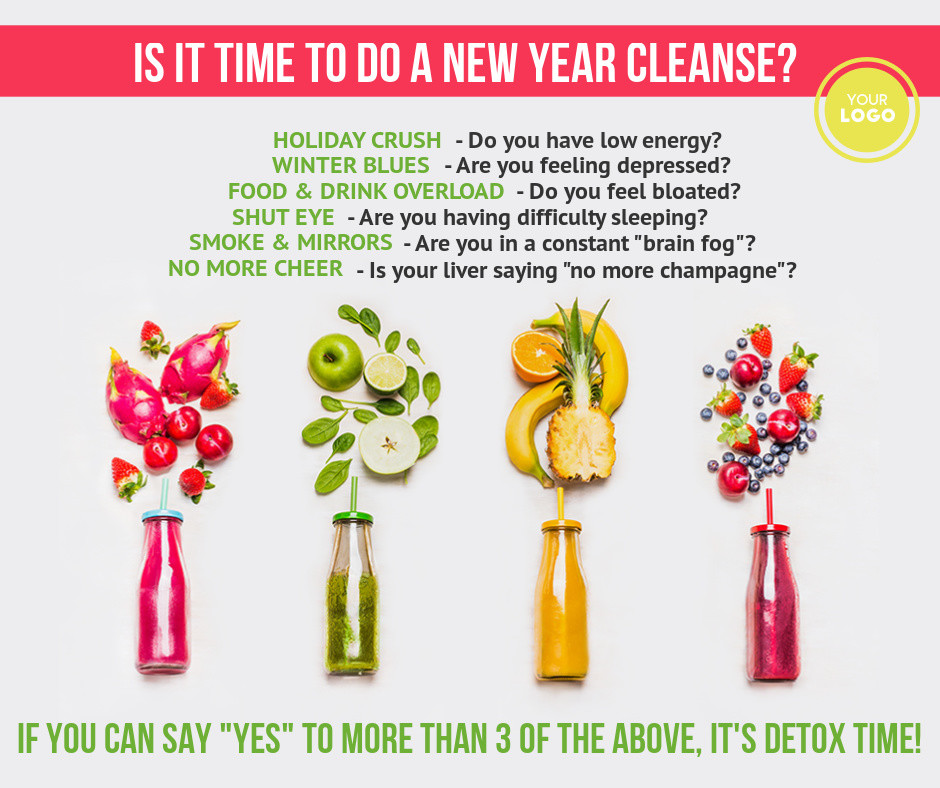 We know! We know! So predictable. The new year always means going back to the gym. Always the same story. Unfortunately, it's reality! We tend to overeat during the holidays and getting back to our fit-selves is a priority. After all, we want healthy shoppers! #HealthyNewYear #NewYearNewBody
OUT WITH THE OLD, IN WITH THE NEW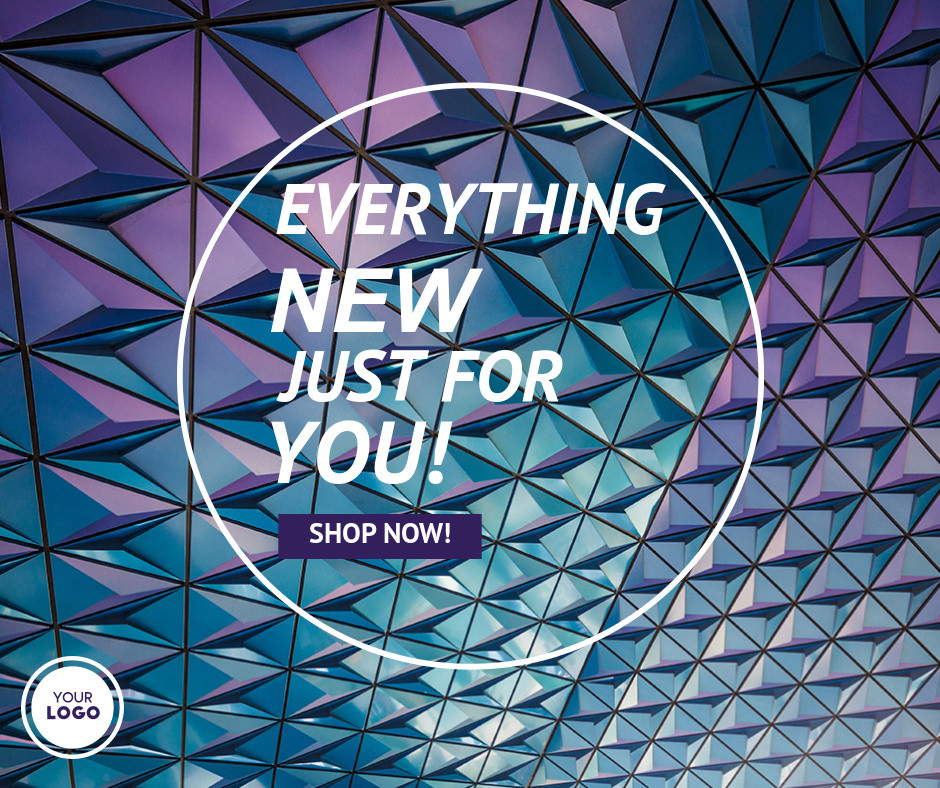 Everyone has exhausted themselves with sales, sales and more sales! And many will avoid the malls or online shops; this is your chance to rekindle their love for shopping by showcasing your new products or services! Reel them in with sweet persuasion! #New Arrivals #NewCollection
WORTH ITS WEIGHT IN GOLD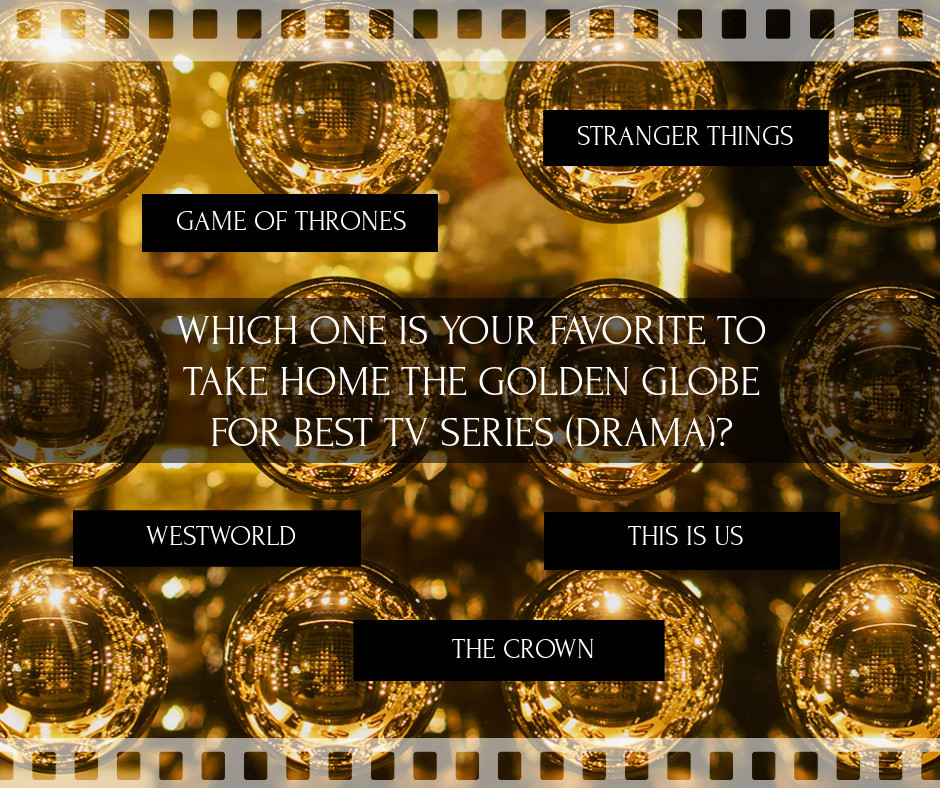 The New Year also brings award season. This can be a lucrative season for those in the fashion & beauty industries; with the Red Carpet looks as a Must-See! Restaurants can get in on the action too with themed menus or contests. #GoldenGlobes2017
WHAT'S NEW
HELLO JANUARY! HELLO 2017!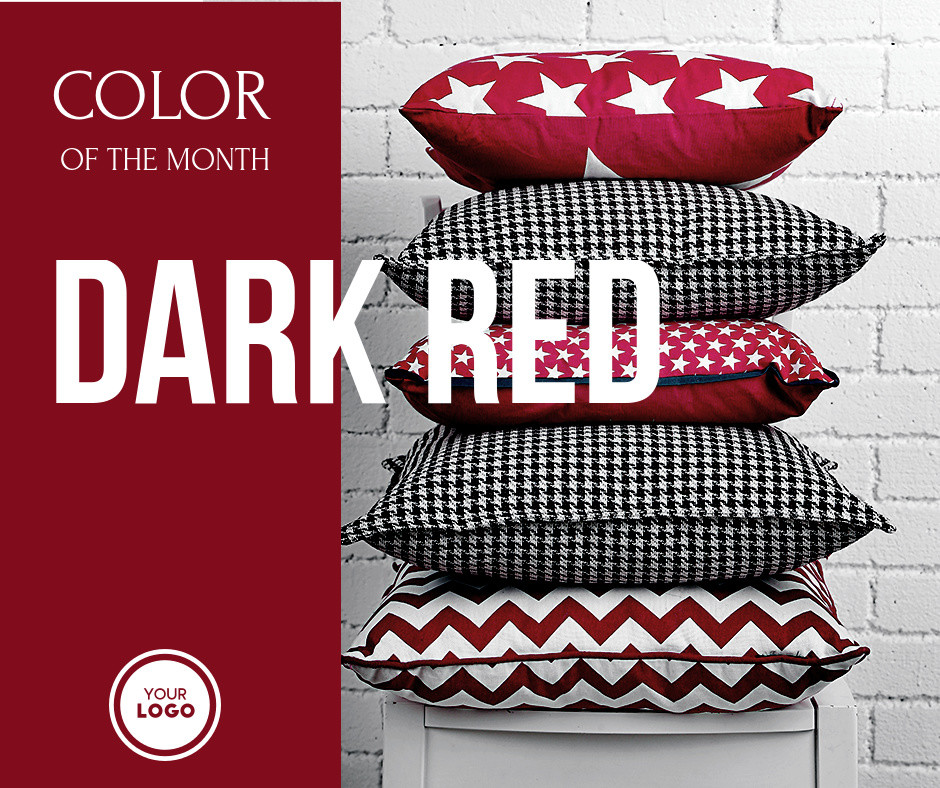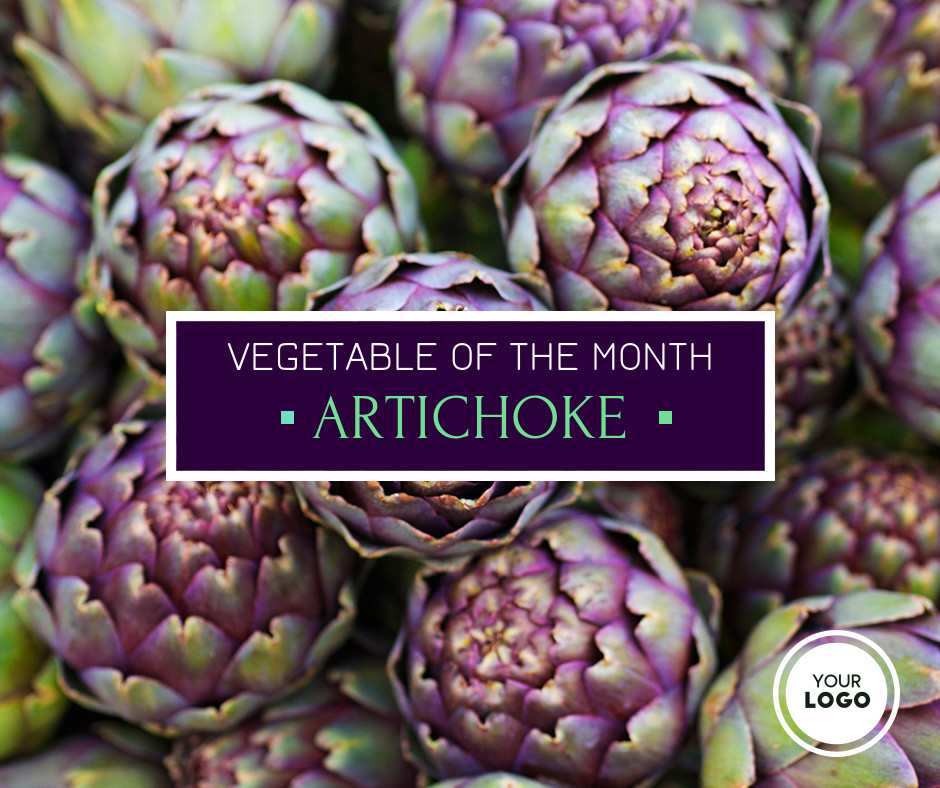 Every month; a new greeting, a new color, a new flower, a new zodiac. So many template ideas. Remember, no need to always bombard your followers with industry-related posts. General posts are always welcome! #Welcome2017 #January2017
MINIMALISM MARRIES POP ART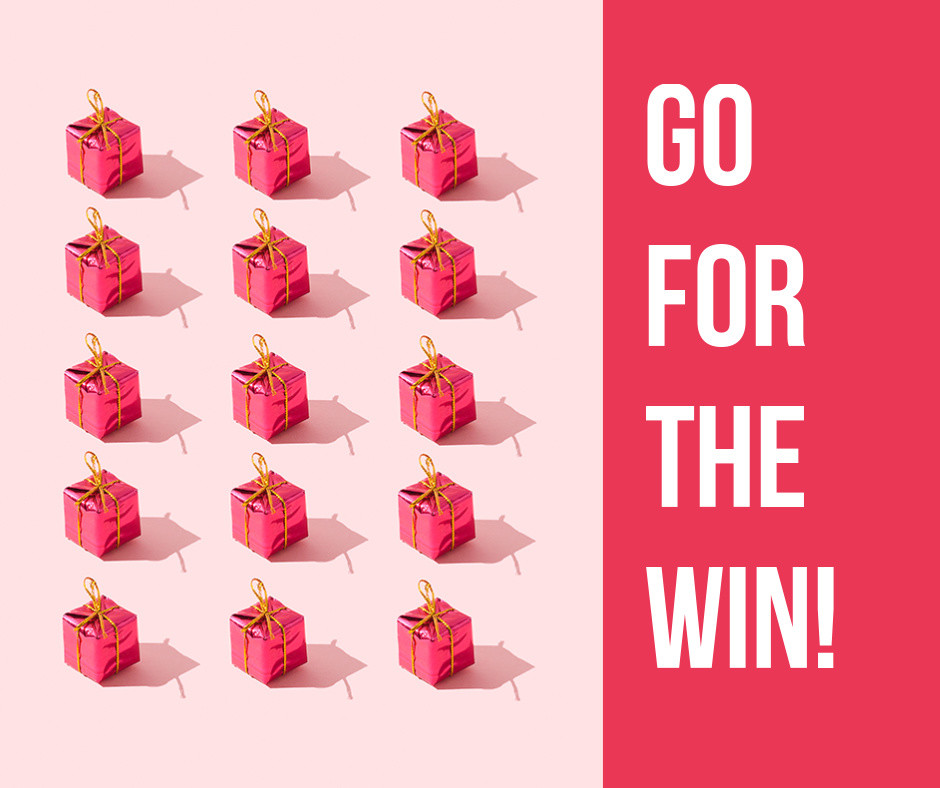 When you think minimal, you think black, white and grey. But, we're here to stir things up by adding color and design elements. Get them coming to your site or clicking on your offers with pizzazz! #Design #PopArt #Minimalism
RISE TO THE CHALLENGE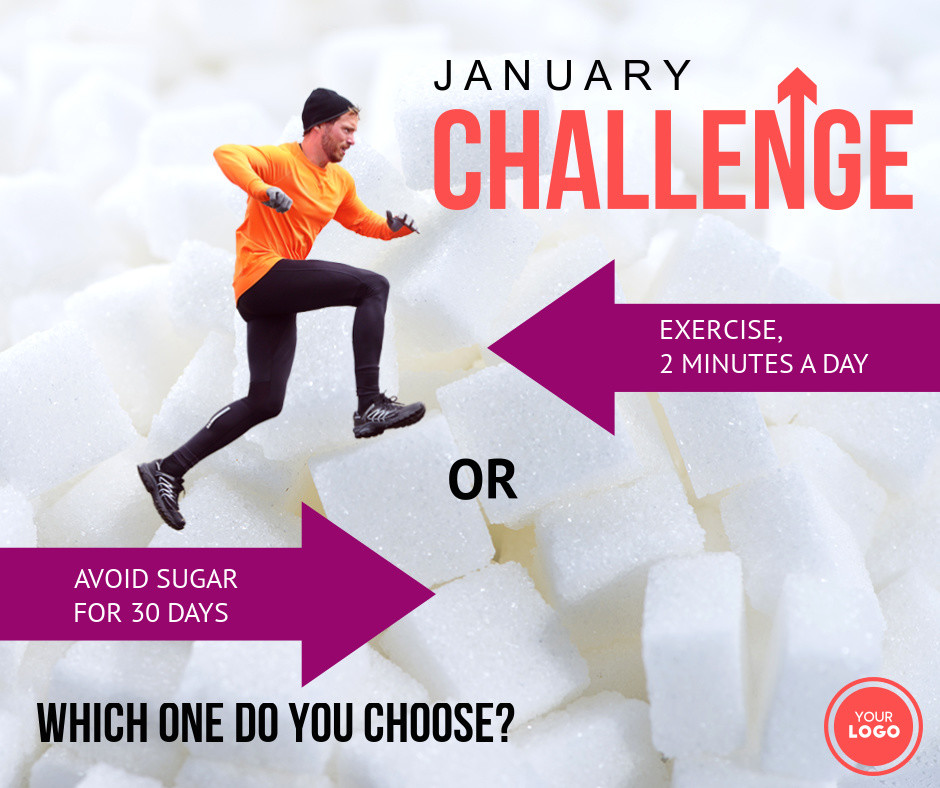 Starting the year with mini-challenges is a great way to incite enthusiasm. Small steps always lead to big rewards. If your followers feel accomplished because of your posts; imagine how loyal they will be to you and your brand. #JanuaryChallenge #DoIt
WHAT'S UP THIS WEEK
DAILY
JANUARY 2 – HAPPY MEW YEAR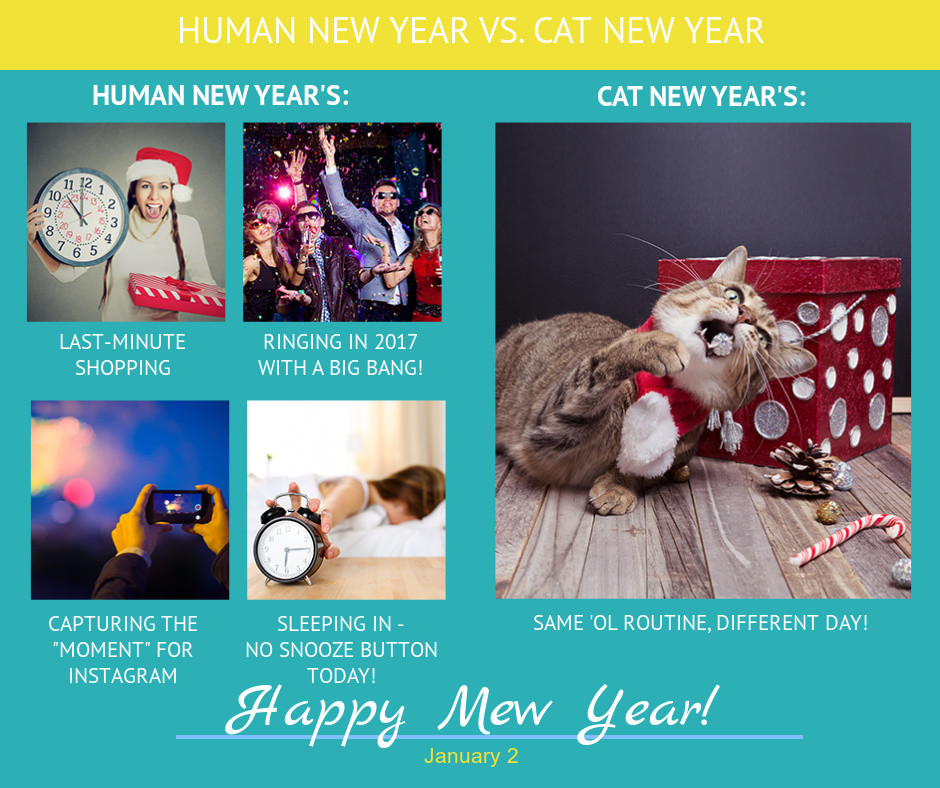 And this is why the cat has nine lives – no stress, no mess! With almost 95 million Americans owning cats, we'd say it's most probable that some of your followers are one of them. If you have a Pet store or are a Pet blogger – today is your day! #HappyMewYear2017
JANUARY 3 – FESTIVAL OF SLEEP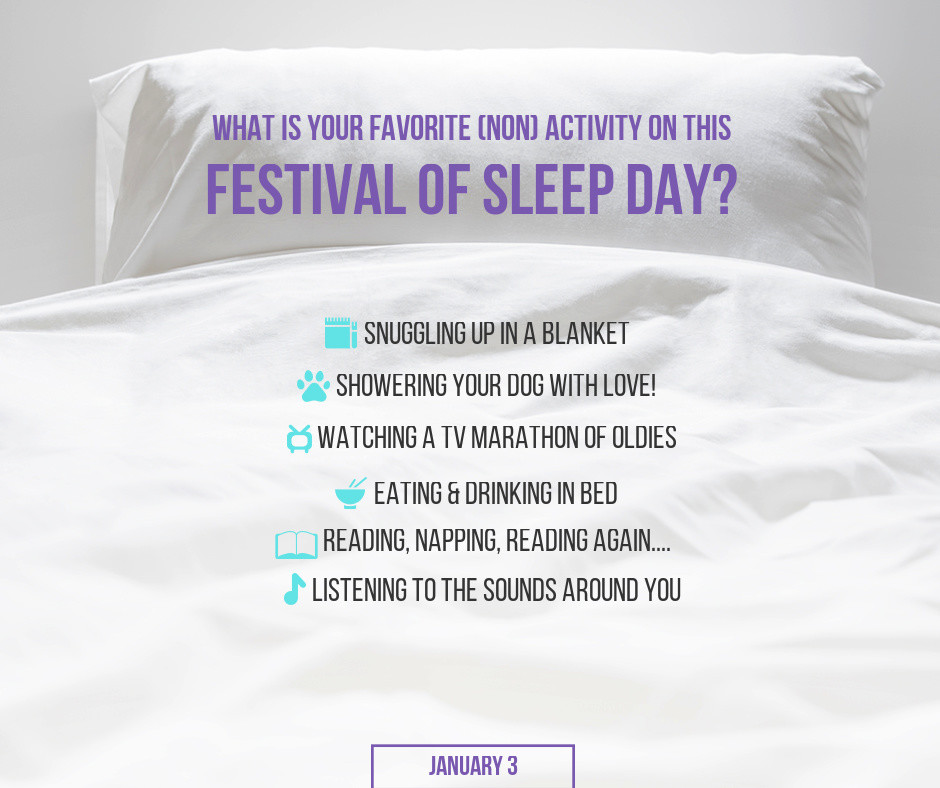 No one will argue or complain about this holiday, we promise! In this world of go-go-go, your followers will rejoice in a day dedicated to #Sleep. We know we will! If you have a Spa or Yoga studio, welcome clients with a #Relaxation promotion. #FestivalofSleep
JANUARY 4 – NATIONAL SPAGHETTI DAY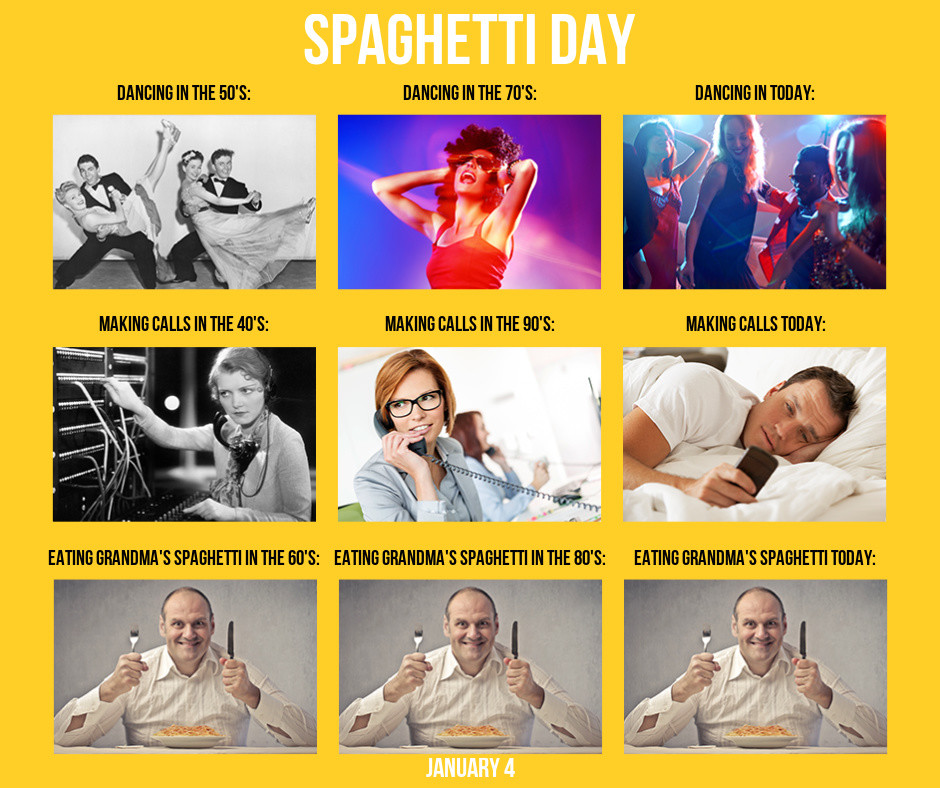 Encourage your followers to channel their inner Nonna's and cook up a storm. Ask them to upload on FB for a chance to win prizes. Or if you have a restaurant, how about have an #AllYouCanEat spaghetti day! #NationalSpaghettiDay
JANUARY 6 – EPIPHANY (THREE KINGS' DAY)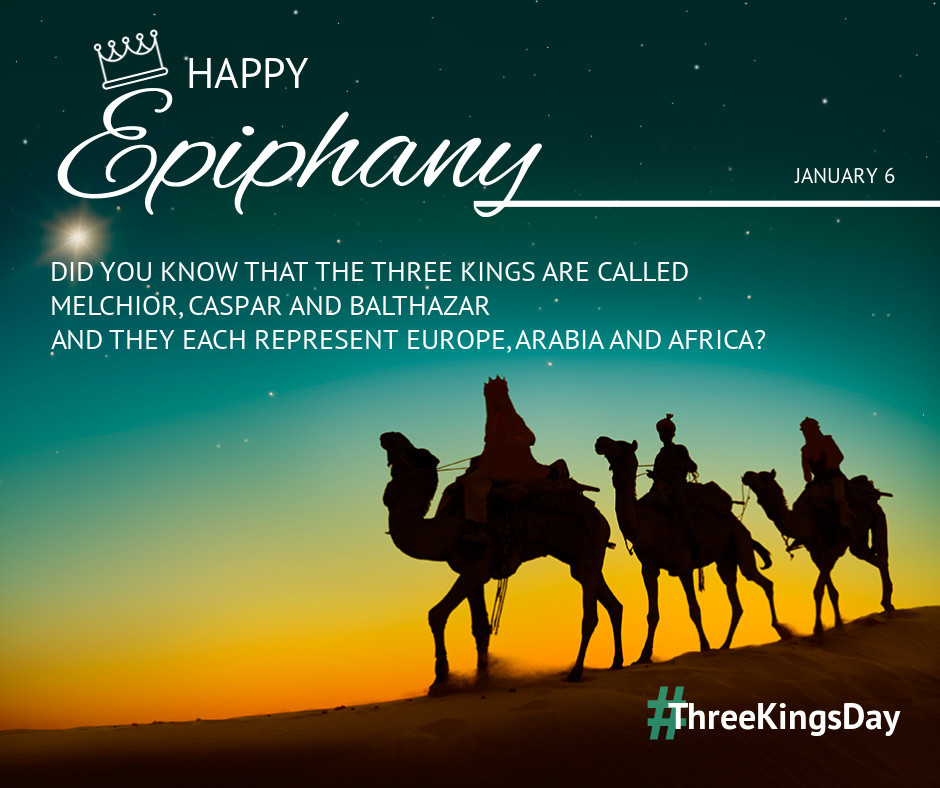 Today is a Christian holiday honoring the arrival of the three wise men to baby Jesus. Many European & South American countries celebrate this day as Christmas. Spread the words of love and peace – especially if your followers are of the same faith. #MerryChristmas #HappyEpiphany
MONTHLY
BLOOD DONOR MONTH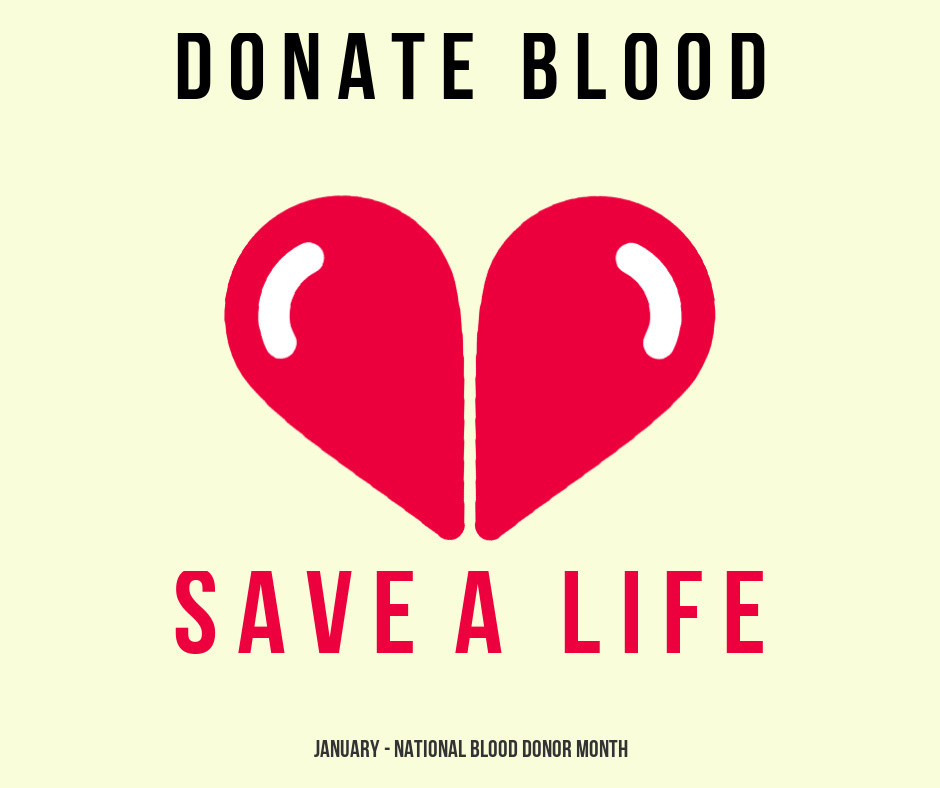 Giving blood can save lives, plain and simple. This month spread the word to your followers. In the winter months, supplies seem to run short in the hospitals. Do your part and encourage your clients to donate (maybe add an incentive with discounts or sales). #BloodDonorMonth #HaveAHeart #GiveBloodSaveALife
ALREADY 2017 – CAN YOU BELIEVE IT? THIS IS AN OPPORTUNE TIME TO GET YOUR FOLLOWERS RARING TO GO AND PRIMED FOR THE NEW YEAR AHEAD. IT'S OUR JOB TO SET THEIR COURSE IN A MORE POSITIVE AND INSPIRING WAY. WE ARE LOOKING FORWARD TO ACCOMPLISHING ALL OF THIS AND MORE!
NEXT WEEK IS UNIVERSAL LETTER WRITING WEEK – WHO WRITES LETTERS ANYMORE, YOU SAY? YOU CAN RELY ON OUR CREATIVE TEAM TO COME UP WITH COMPELLING TEMPLATES JUST FOR YOU.
If you don't see anything that suits you, be sure to let us know! We have professional designers on hand to create social templates for your needs. And of course, any questions, comments, or concerns are welcome. It's always important to take every opportunity to attract new customers, whether it be by using your own creativity to design content, or by saving time and using PromoRepublic library to find customizable content that works for you.