PromoRepublic, the leading social selling app that ensures compliance on social media, and DirectScale, the direct sales e-commerce technology platform that monetizes and grows distributors' influence to generate revenue, are proud to announce their partnership. Together, they aim to equip direct sales brands with a cutting-edge tech stack to boost their distributors' social selling.
Social media usage is at an all-time high, with 57% of all internet users active on at least one social platform. As social media's influence continues to increase, American social commerce is projected to reach $79.6 billion in 2025.
Social commerce has transformed social media into a full-scale marketplace where people come for brand research, reviews, shopping, and more. Using intelligent technology in e-commerce can improve targeting, boost average order value, enhance customer experience, and build deeper trust.
Progressive direct sales companies invest in marketing and e-commerce technologies to train and enable their distributors. This amplifies distributors' social selling and boosts their sales results.
When a direct selling company implements PromoRepublic on top of the DirectScale platform, it amplifies its intended brand voice on social media and enables it to sell more on its custom product pages. The brand's reputation is safeguarded because each message is checked for compliance before it's posted, which makes it one of the best MLM software.
How they work together: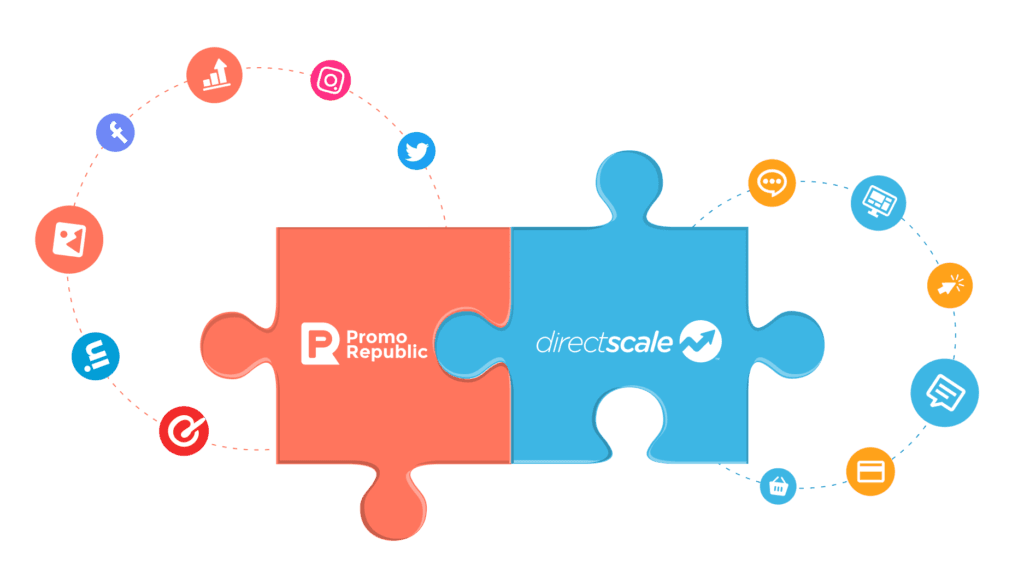 PromoRepublic's social selling app helps HQs distribute branded content and stay confident that every post is auto-monitored for compliance. At the same time, our app simplifies distributors' social media marketing efforts, like generating buzz and joining promotional campaigns, by providing corporate-approved messages that are ready for distributors to post on any social platform.
Max Pecherskiy, CEO at PromoRepublic:
"To prosper, direct selling companies need distributors who are aware of industry ethics and equipped with the latest tools for personal online marketing. DirectScale, with its configurable management tools, allows distributors to accomplish full-cycle in marketing and sales."
Watch how PromoRepublic's social selling platform works:
DirectScale helps you run, know, and grow your direct selling business by providing actionable data-led insights in several areas that help you make the right decisions to increase revenue month to month. It simplifies corporate management with editable commission modeling and unmatched flexibility that allows you to customize almost every part of the platform on your own without even informing DirectScale how you're customizing it. This includes your e-commerce stores, the distributors' back office, promotions, product availability, even your compensation plan, and so much more. You can do all this and more without involving DirectScale. Its web portal features include training, tracking stats, data analysis, unmatched communications, prospecting tools, remarketing, shopping cart recovery, and robust reporting with more than 50 built-in reports.
Rodger Smith, CEO at DirectScale:
"We're very excited about gaining PromoRepublic as a valued DirectScale partner because that solution gives our clients a powerful way to control what information is being shared with their customers. It brings powerful simplicity to our platform, which enables every seller to share corporate-approved collateral through social media with all their potential buyers. By implementing PromoRepublic, our clients are assured that their customers are getting the correct information."
Implemented collectively, this marketing stack helps both direct selling brands and their distributors leverage unmatched e-commerce functionality for growing online sales and amplifying the influence delivered through corporate-approved social media interactions with customers.
Book a demo and learn more about PromoRepublic.
To learn more about DirectScale or to schedule a demo, visit directscale.com.
PromoRepublic has previously announced an updated product set for confident partner marketing on social.