How To Plan Your Strategy With Content Calendar
Why planning is so important
That might sound like Captain Obvious, but being organized is one of the most important factors, which is essential for success in every field of life. If you look around, you will see that the majority of successful people is highly organized. Moreover, they have been like that for all their life. Since their childhoods, they have always been making beds, cleaning workplaces, and, what's really important, planning their everyday life.
Let me say it again: successful people plan their everyday life. The reason for this is very simple: planning allows them using their time more effectively.
If you are a freelancer, you know what I am talking about. All these funny videos, social networks, skype, cats, and candies often distract you from working and make you forget about tasks and deadlines. And you know, that you need something, that will pull you out of this distraction hole – plan.
The fact that you are reading this article proves that you are willing to start planning your content marketing. Thus, read carefully because the following will significantly boost your career.
Same old Content Calendars
We have just made it clear why planning is essential for content writing. Now, it is about time to get acquainted with what is called editorial calendar (or content calendar) – a tool for content production and publication planning. Well, it became a 'tool' in the 21st century, but back in the 17th, it was just a sheet of paper with title, theme and dates for completion and publication.
If you are still planning your content on paper, you should immediately stop wasting trees. Content planning with modern editorial calendars is like a whole new ball game. They let you fully control the process and may even partly create the content instead of you.
Sooner or later you will start using modern editorial calendars for blogging, managing social media or other marketing purposes, so now it might be the perfect time for this, right?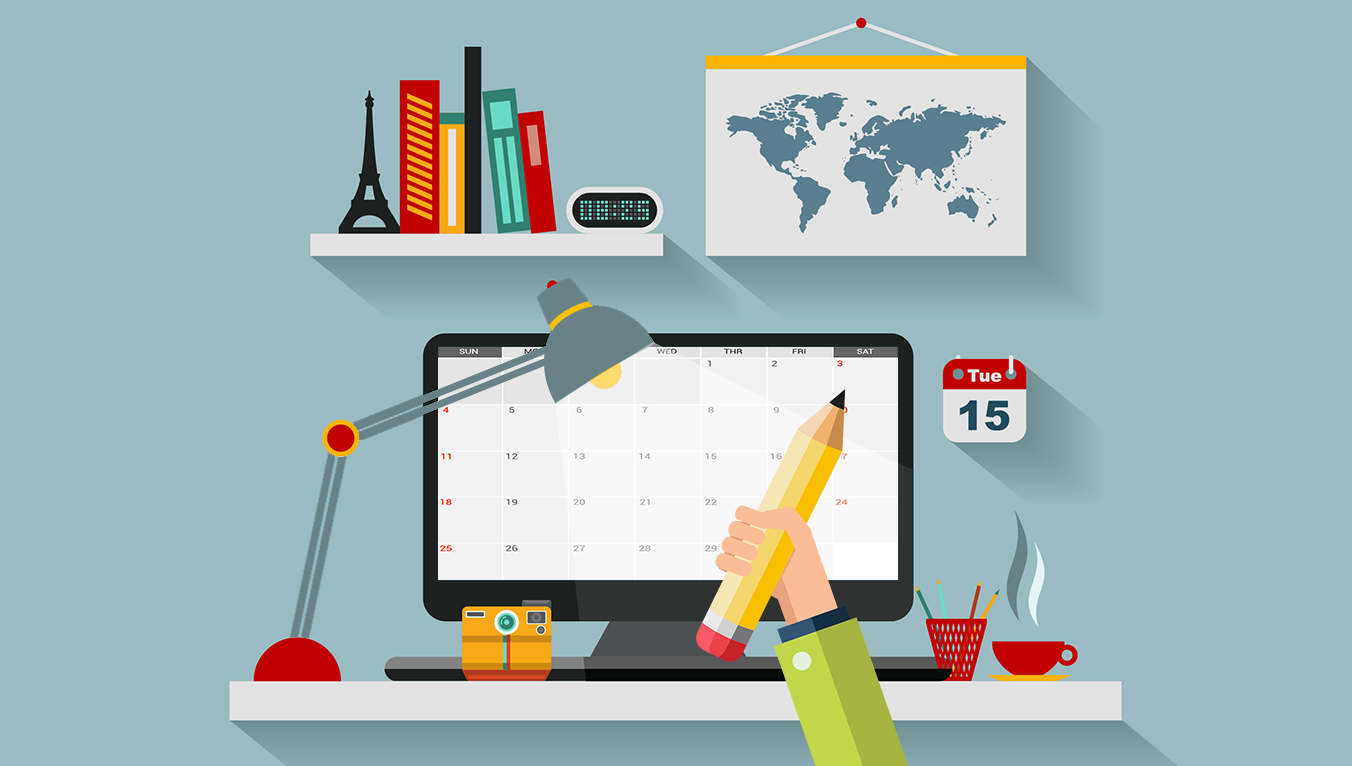 Content marketing editorial calendar: what for?
The first thing you have to do before starting using editorial calendar is to define whether you need content marketing or not.
You may be surprised, but there are very few situations when it is useless. Even small car repairing services and local toy stores will benefit from social media. Well thought-out campaign may result in mind-bending business boost. And of course, good campaigns requires good plans. Thus, content marketing editorial calendar is the right tool.
Fifteen years ago, content planning was done exclusively by big guys like Coca-Cola, Reebok, BMW and other famous brands. Luckily, things have changed drastically, and now every 'garage' business has access to various media channels, including online social networking services (don't panic, this is just an official name for Facebook and others). To run these services successfully, news feed needs to be planned accurately, which is impossible without content calendar.
Every marketing expert will tell you that without content plan and editorial calendar you won't go far. For example, Kristen Hicks, a successful freelance content writer, distinguishes several benefits of using content calendar on freelance:
It simplify the process and keep you up with deadlines;
It makes you disciplined in your own marketing;
It makes invoicing easier;
It makes you a reliable freelancer, who stays on top of one's work.
Now when you are sure about content marketing and its profit for you, let's start planning.
Step-by-step content planning template
I am sorry for the pun, but the checklist below is a plan to start planning. Stick to it and you can bet your bottom dollar that you will step up your game.
Ask yourself 'why?' Why do you need a content marketing plan? This is the basic question and you cannot go on without answering it. That is why, it is number 0. Do not confuse this issue with the one discussed previously. Of course, you need a content plan, but you should know exactly what goals you are willing to achieve with your content.
Unless you are a sociopath, your content is intended for a target audience. Thus, your first step before writing genius things is to define whom exactly you are writing for.
Warning! Never ever try to appeal to everyone. This is the biggest mistake you can make at this stage. Writing for everyone means writing for no one.
This step is tightly connected with the previous one.
Find out what your audience wants. If your social media page, website or blog looks great, it does not necessarily mean that people will run like the wind to read it. You should offer them something valuable, useful and unique. And this is the only way to go.
Next, define your content strategy. Under the content strategy, I mean your content marketing ship's course – your regular social media content types. Certainly, you can swerve to the right or to the left for publishing new irregular content, but don't get carried away. Stay the course.
Now, when you know what, choose where. You know, what I mean, right? Facebook, Blogs, Instagram, Pinterest, Twitter, YouTube, LinkedIn and so on.
Attention! Be careful with this step. Don't put way too much on yourself. Remember that you need to adapt your content to every service. Neither Facebook page or Instagram are suitable for your tweet.
Congratulations! You are ready to start. At this stage, you need to plan the topics and publication frequency.
Important! Do not overload your reader. Yes, I know that you have tons of awesome ideas and are ready to share them daily, but is it necessary?
And one more thing to remember. Always leave some spare time for emergency cases (maybe you have to take your sick cat to the vet, but does the audience really care?).
Finally, do not forget to regularly measure your content effectiveness. This will help you to improve it and make it 100% suitable for your social media fans.
When all these steps are completed, you can breathe out and enjoy the result of your analysis, which guarantees that the content will do its job. If you didn't screw up any of the above, your consumer will be totally satisfied.
 Striking content planning tools you shouldn't miss out
The last thing you have left to do is to choose an editorial calendar that suits you best.
In general, there are two options available for you:
Editorial calendar templates
Editorial calendar services with additional features
Let's discuss the first option. There are plenty of free templates available on the internet. However, you should understand that Santa with his miracles does not exist and you won't get much from these templates. They all are spreadsheets with various tables, where you can run your content plan.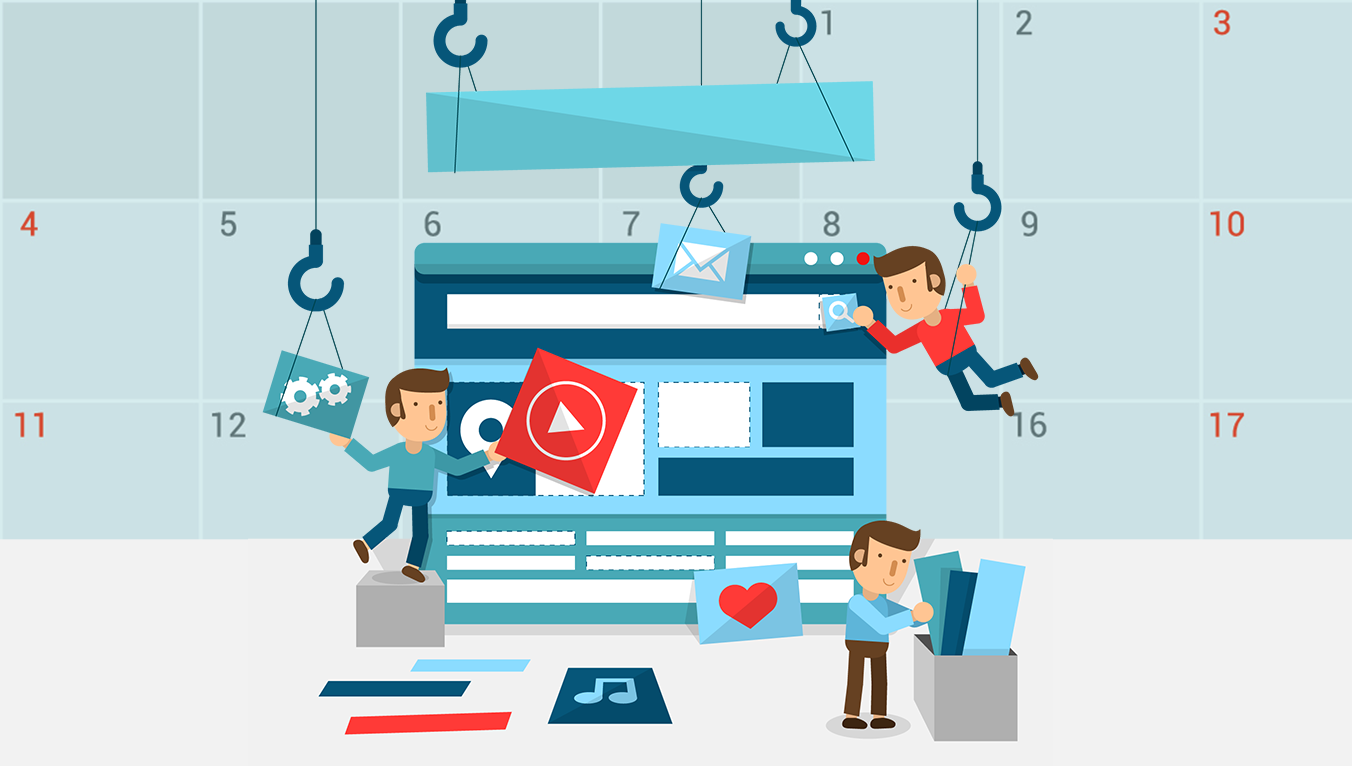 Check out the list of the best free content calendar templates available:
There is not much difference between all these calendars. All of them let you fill in the topics, titles, keywords and other basic things. If you are cheesed off with all this templates, you can create your own in Google Sheets. Just turn on your imagination!
Now, dear reader, comes the final and most important round – the list of the best content calendars with super-convenient features.
There are several editorial calendars, which indeed can bring your content marketing to a new level. These tools include Trello, CoSchedule, PromoRepublic, Kapost Content Planner, HubSpot Editorial Calendar, Gather Content, DivvyHQ, and Editorial Calendar for WordPress.
1. Trello
This tool helps you to visualize all your plans using cards and lists. To create an editorial calendar you need to activate it in power-ups. Trello does not support any social media features, so it is not the best choice if you are going to run a Facebook page. The tool is integrated with Google Drive, Dropbox, and Email to card. The last feature allows sending an email to your Trello, which will appear as a card in your calendar.
Basic free version is enough to run a content calendar. However, there are a few paid packages with additional features that you most likely do not need.
Overall, it will suit more the team of content creators, but not a single blogger.
2. CoSchedule
With this editorial calendar, you can write social media posts, articles and events from inside WordPress. You can use CoSchedule in WordPress or in WebApp. To track the effectives, you can integrate an account with Bitly and Google Analytics. If you think that your posts are in the wrong order, you can simply drag and drop to reorder them.
You can also assign a task for your bro, but he needs a CoSchedule account to receive it.
The service offers 14-days free trial. After that, you will have to fork over $10 per month. Ridiculous price for such a wonderful service, agree?
The service offers five basic tools:
Editorial calendar with holidays and other special occasions
Templates Library with a bunch of custom designed templates and post ideas + Drag and drop graphics editor
Social media post scheduling and multiposting
This is the only service that has already done about 80% of the work for you. The remaining 20% you will spend on editing the template. Forget about blank screen panic and run effect, when you don't know what to do with your empty content calendar. With PromoRepublic you will always find something special for posting.
The templates library is being constantly increased, so do not worry about the lack of fresh ideas.
Content planner with several shared calendars, ideas capture (allows to place an interesting idea and approve or reject it), content stages and milestones, multi-content creation, analytics, and in-app messaging.
The service is selling its products at a premium – content planer starts at $800 per month. IBM, Lenovo, Seagate, Amway are among their customers, so it's rather a tool for big players than for freelancers.
5. HubSpot
Apart from free templates, this service has a nice content planner with a bunch of features, including, calendar, precise analytics, social media publishing, SEO, call-to-action, lead management, email marketing, marketing automation, and useful extras (last two are not available in basic package).
The price starts from $200 per month (billed annually). 30-days free trial available.
The service has a minimalistic design. Works with WordPress, Drupal and ExpressionEngine, but does not work with Facebook, Twitter, LinkedIn, Google+ or Pinterest.
Studio package allows up to 500 items (blog posts, articles etc) and 10 active projects.
The price starts from $69 per month (if paid yearly). 30-day free trial available.
7. DivvyHQ
Designed specifically for big teams. Has many features, including unlimited shared calendars, easy workflow management, content publishing and multiposting, and parking lot (to keep your ideas until the next meeting). Supports all major social networks and blogging platforms.
The Lite plan costs $25 per month and has a limited functionality. 14-day free trial is available.
8. Editorial Calendar for WordPress
A free plugin for WordPress that gives an overview of your blog. You can schedule your posts, drag and drop and edit them, create drafts, and manage posts from multiple authors. Good basic tool for WordPress blogging.
Result is all you need
Please, accept my warmest congratulations! You have just finished reading and now you can answer all the seven key questions: Who, What, Why, When, Where, How, and How Much regarding content planning.
However, you still have one extremely important thing to do – choose an appropriate tool. In case you don't choose it… well, believe me, you better choose something. Otherwise, you have just wasted your time reading this brief guide to the world of content planning.