How to Run a Sponsored Instagram Contest
I bet you already know that an Instagram contest can boost your brand and increase engagement by at least 50%. But what if you have less than 1k followers? If your audience is pretty small, you need to find your potential clients somewhere else. Have you thought about partnering with a sponsor? In this article, I will tell you how to find and work with a sponsor for your Instagram contest. If you want to learn more about creating content for Instagram, you can read this previous blog post.
In today's post we will talk about Sponsored Posts, Sponsored Contests, and Sponsored Instagram Stories.
Sponsored Posts
It doesn't necessarily need to be a contest. You can collaborate with influencers (people with small or big audiences but have a huge impact on a specific niche) to promote your brand/company/name. Influencers have strong relationships with their followers. Their fans trust them to showcase a product, service or business that is in line with their standards. I found some examples for you to better understand how to enter a relationship with an influencer and integrate it into your Instagram strategy.
I Love to Wear…
Very often these posts are inexpensive or even free for you. Offer them a gift – when you ship your product: clothes, jewelry, food etc just ask your influencer to mention your company on their next post.
I've been following @seonia for a long time, and can say that @aloyoga is truly her favorite yoga outfit. After the third sponsored post, influencers automatically turn into your brand ambassadors.
Editorial-Style Content
The good thing with influencers  is that you don't need to worry about "cool" content – they take pictures of your products and create posts with them. The posts will always reflect the influencer's profile style. You will have no control over their filter use or tone of voice. Nota Bene! If an influencer ask for a ready-to-go post (visual+copy) he/she is not an influencer.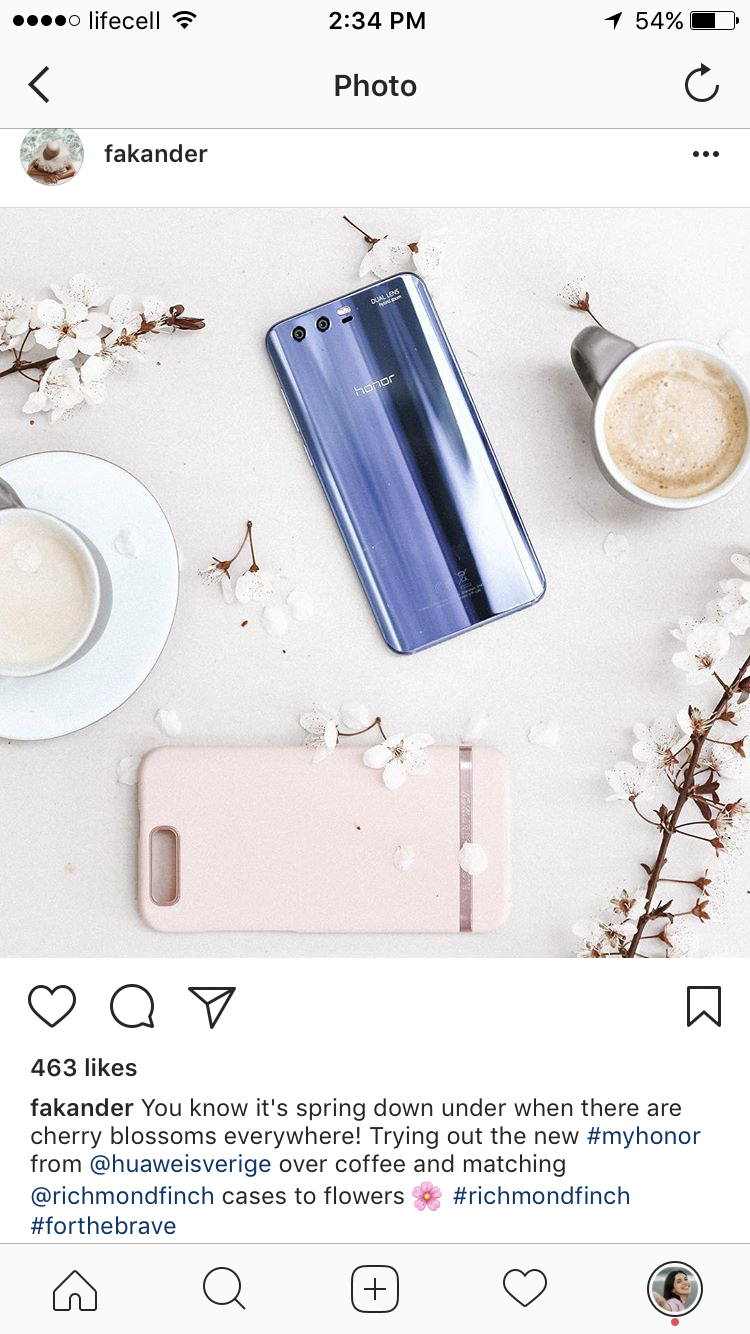 @facander Instagram profile is all about romantic-style pics and blooming copies. Her audience is girls under 25. It wouldn't make sense for @huaweisverige's Marketing department to create customized posts for every influencer that uses their product. We look to influencers because of their credibility and because we love their personal STYLE.
Make It Real
It's important to feature real-life photos by the influencer. When followers actually SEE her/him using the brand, it confirms the love for the product! 😉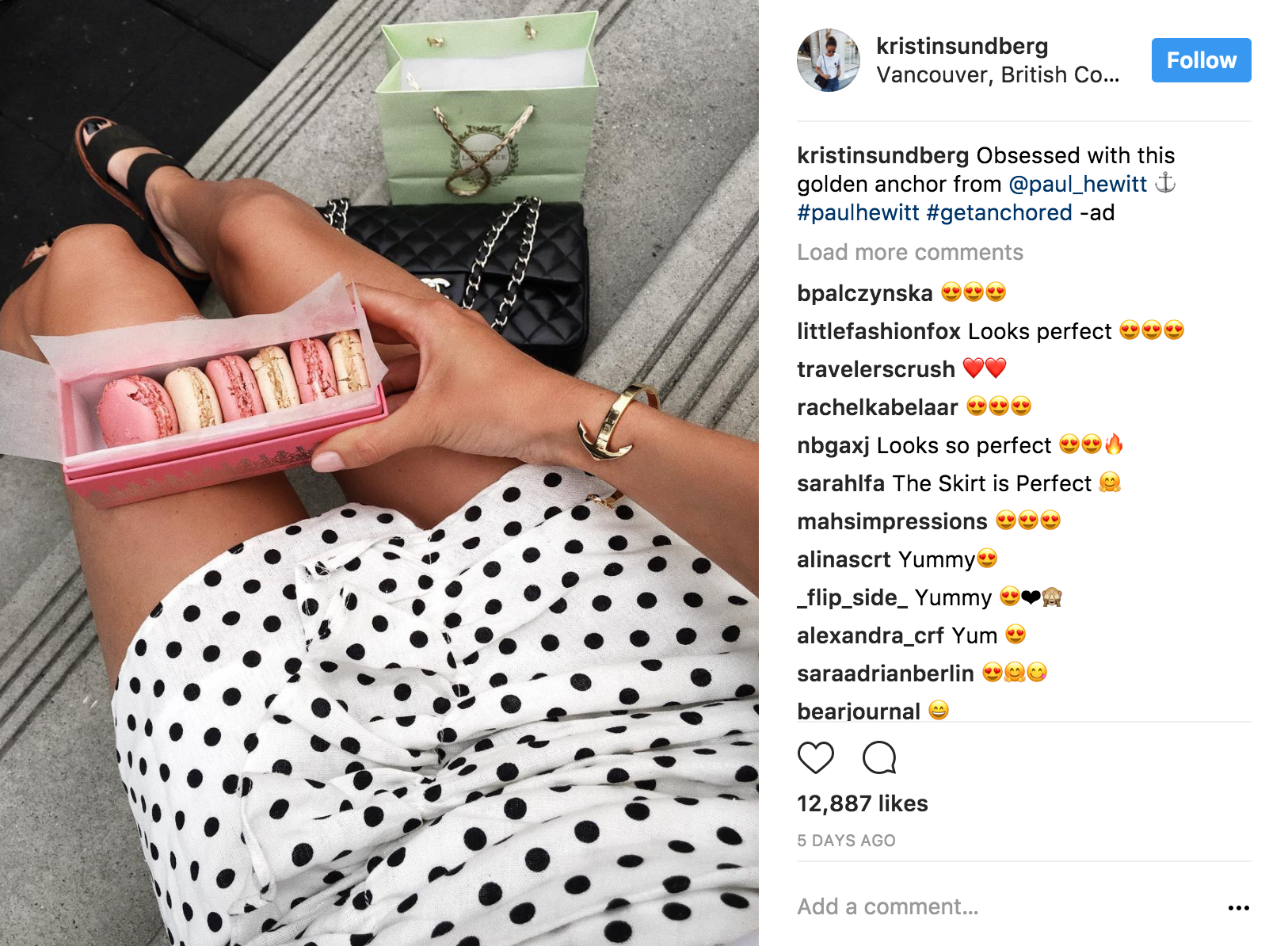 With this photo @kristinsundberg says that @paul_hewitt jewelry works perfectly with her Chanel bag and delectable macarons.
Link in BIO
The next level of collaboration is to ask them to place a special link in their BIO. Ask not only for a post but also for a temporary link in their BIO to get more traffic-leads-sales. It may cost you more but you will definitely see POSITIVE RESULTS.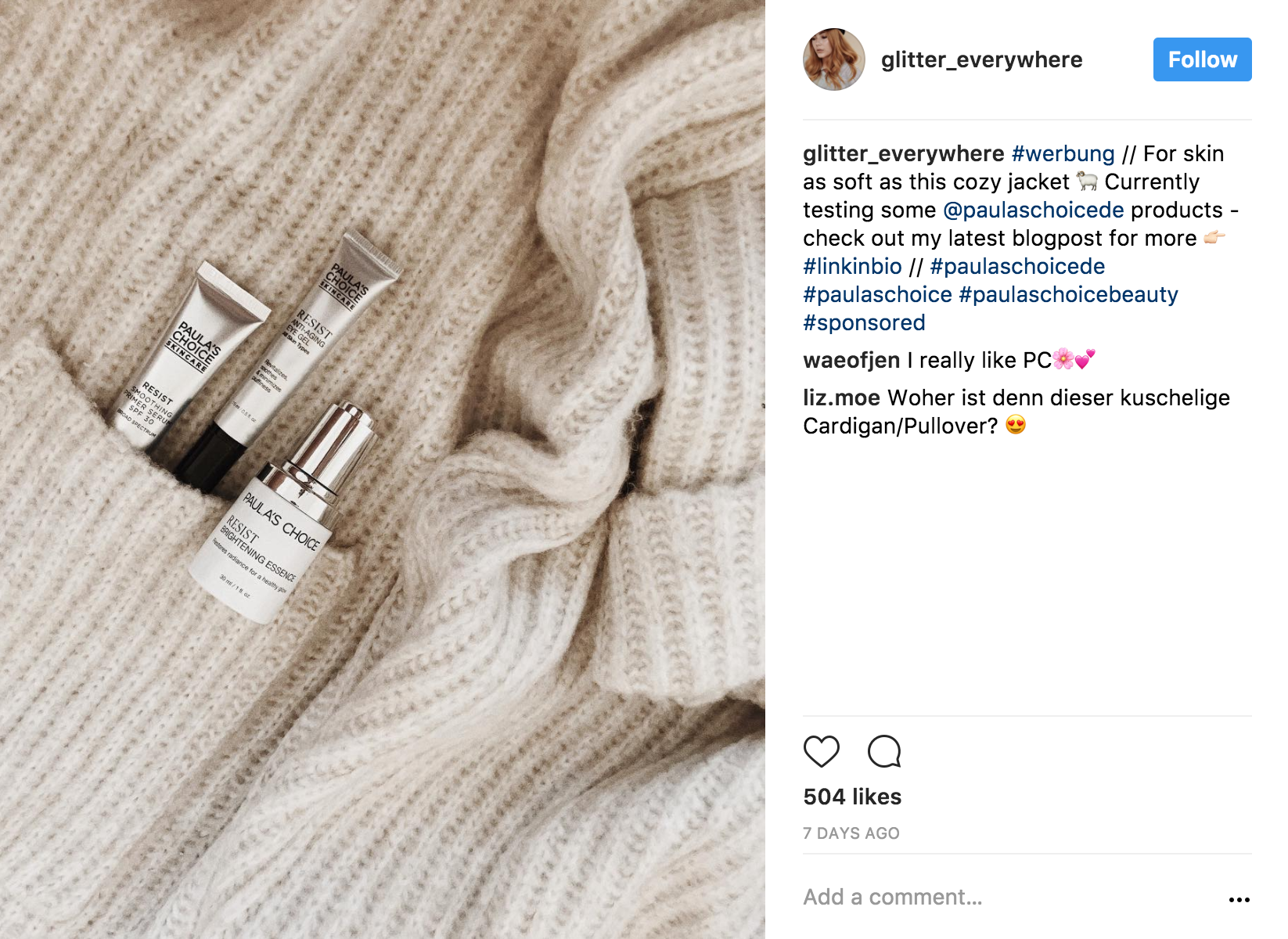 @glitter_everywhere not only took a nice shot of @paulaschoicede cosmetics, but also shared this brand's #hashtags and wrote a blog post with a review of the face treatments. The link in BIO is the first thing that people see when on profiles – make sure yours is there for awhile!  
I Love to Eat…
Fitness coaches and Yoga gurus are becoming more and more popular. We don't necessarily want to follow their grueling routines but we can certainly eat our way to their great shape! Analyze your brand to determine which influencer fits the lifestyle of your followers.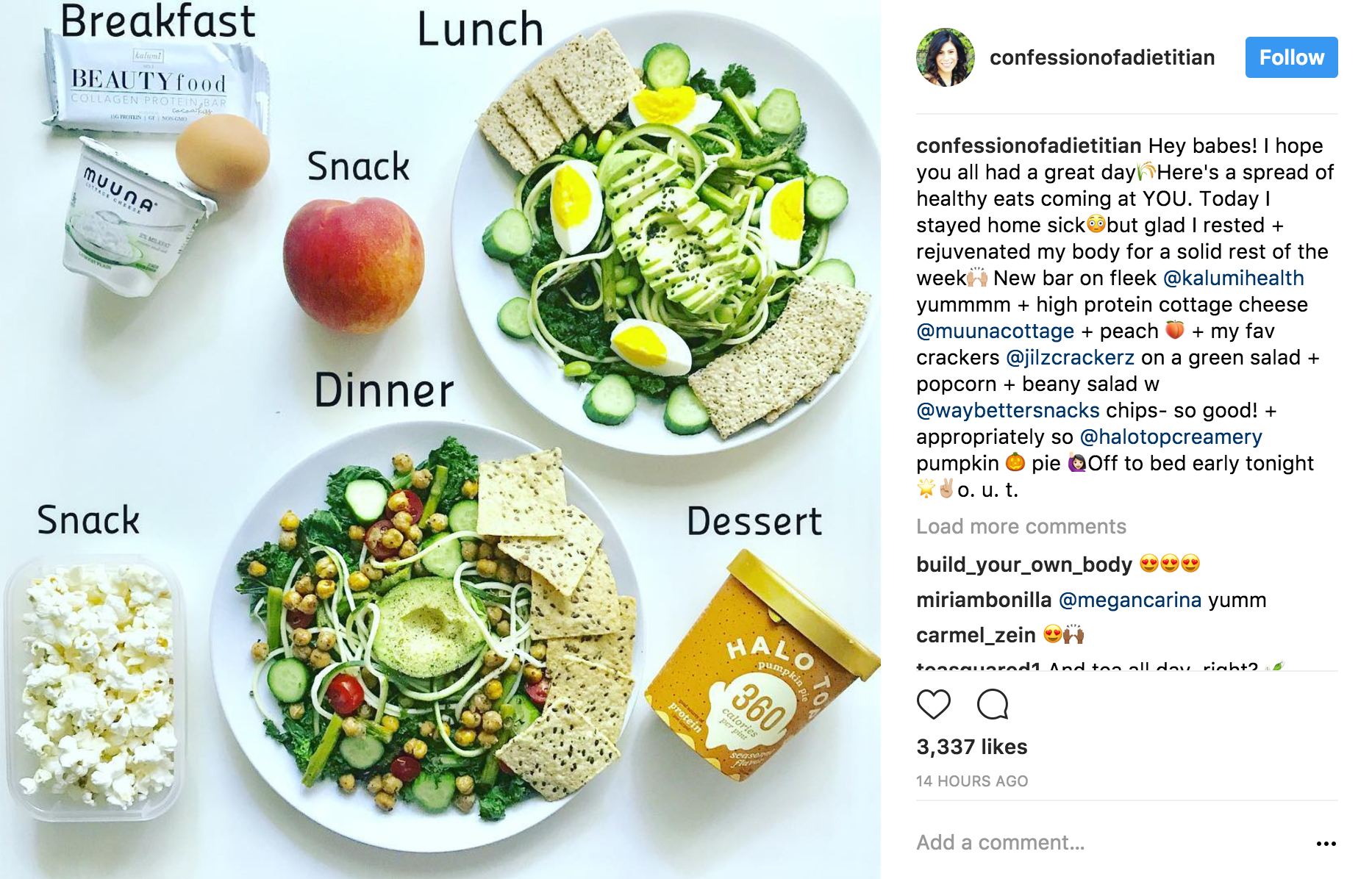 @confessionofadietitian shares her daily meals provided by different companies – sponsors of this post.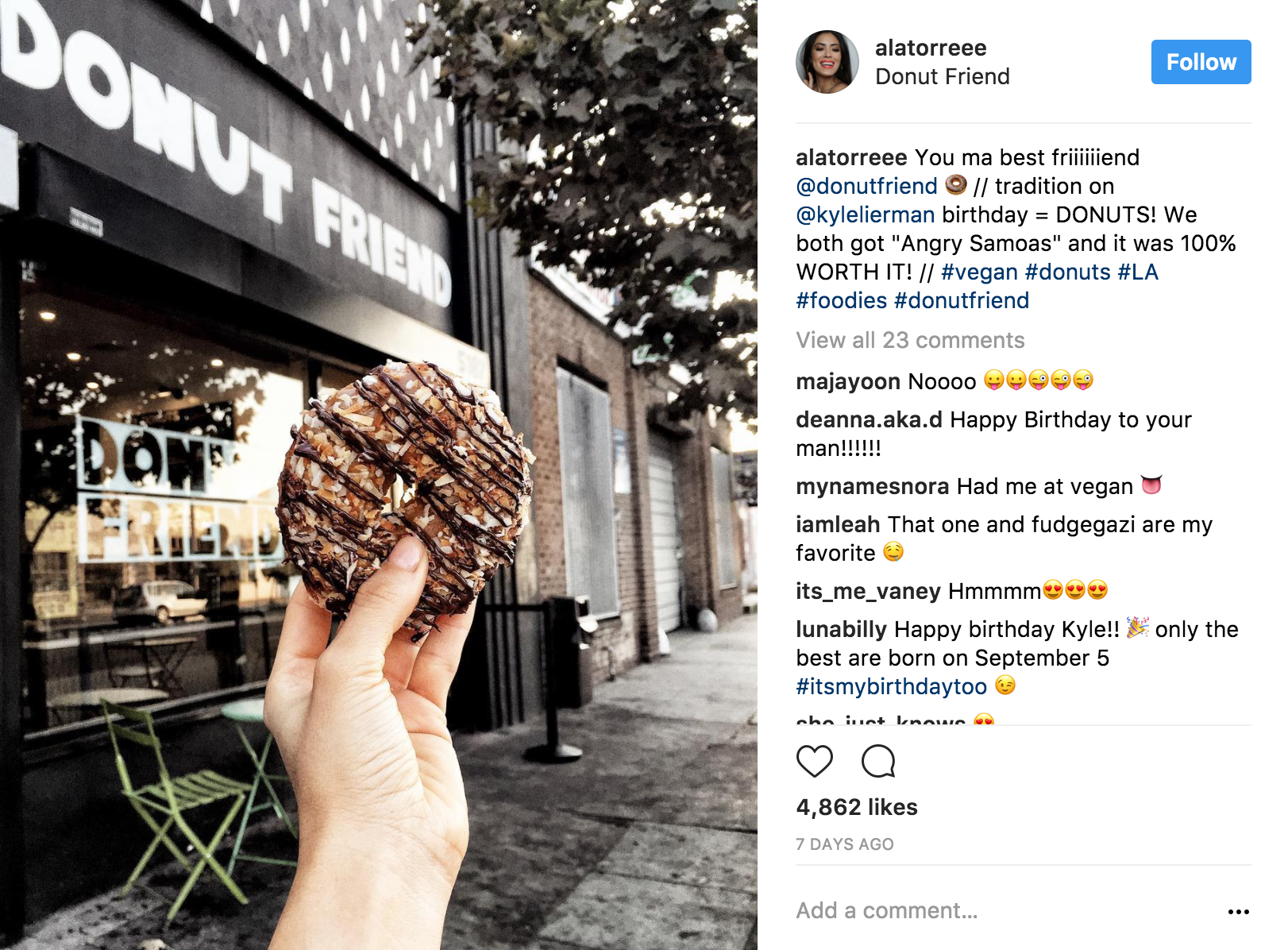 Another great example by @alatorreee who shows her fave donuts and tags a location of the restaurant. When they see a tag – it's twice as easy for them to find your physical address and see other photos taken at your location.
Special Coupon
Create a special discount (coupon) with the name of your influencer. When their followers see this, they will be more motivated to buy knowing that this offer is unique and limited.
@danielwellington created "STINEMOI" 15% discount for the same name influencer. And again, ask to duplicate the link to buy in their BIOS.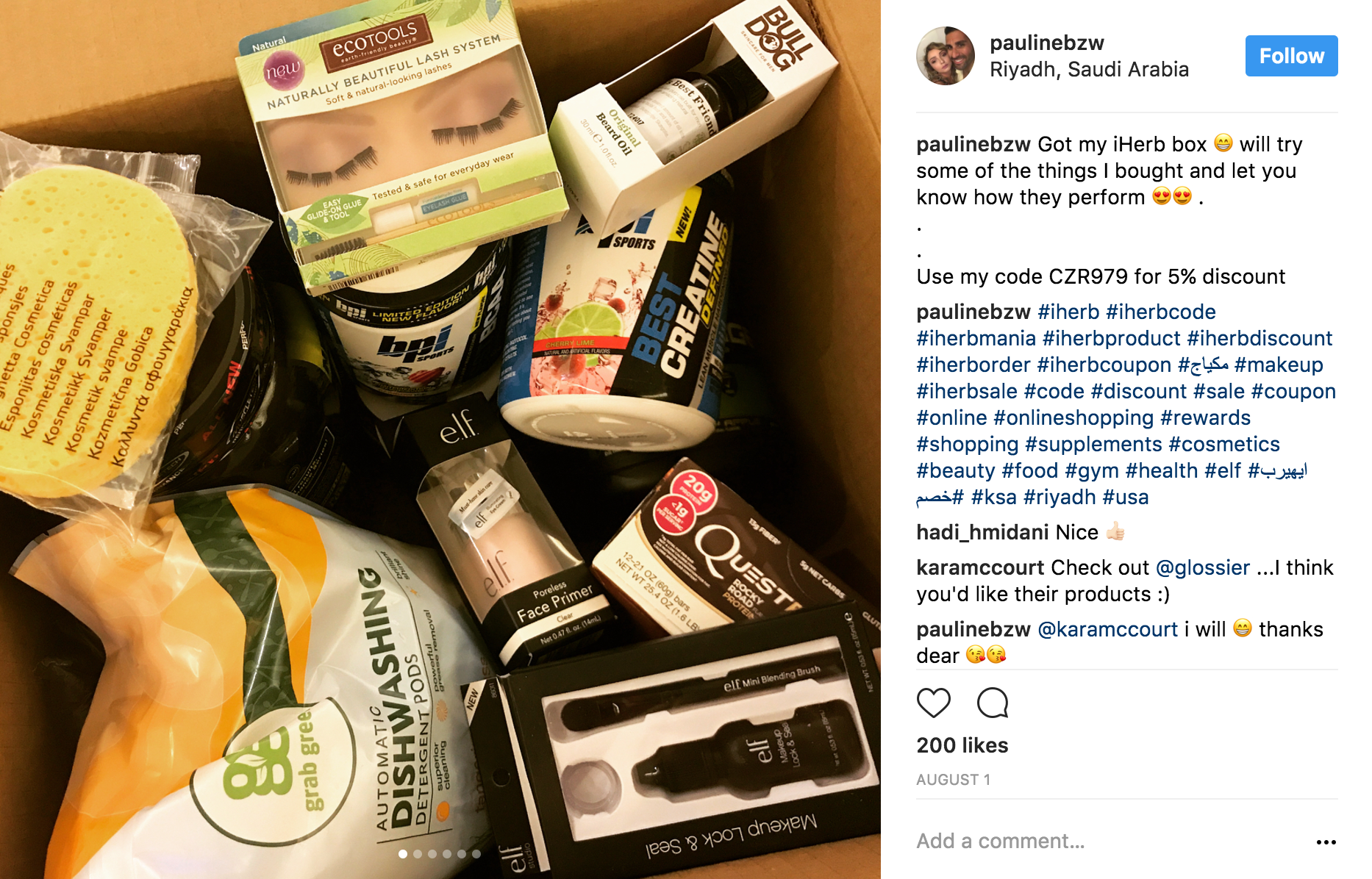 And here's another great example of a special coupon from @iherb.
Sponsored Contests
A strong sponsorship for your Instagram contest will benefit you, your sponsor, and your audience. Because your sponsor will likely promote your contest too, you'll get increased visibility to a potential new segment of your audience. Offering your prizes with contributions from different businesses can boost exposure for your Instagram contest and increase the value of your prize.
Giveaway
@Dove found an influencer with its target audience and asked them to share the contest with a common entry:
Like a page

Regram (share) a contest

Use a contest #hashtag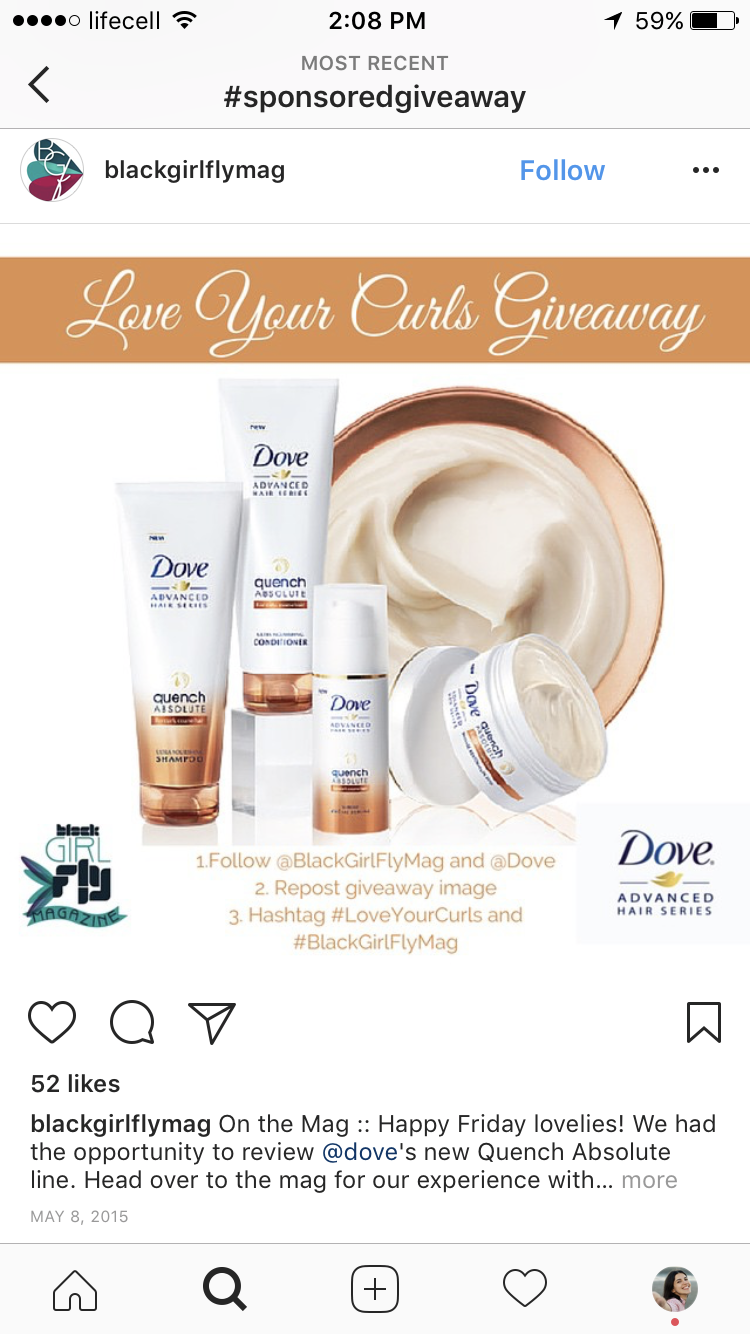 Grow Your Followers List
Three different brands decided to grow their audience and set a contest with one entry condition – follow for a chance to win. So easy!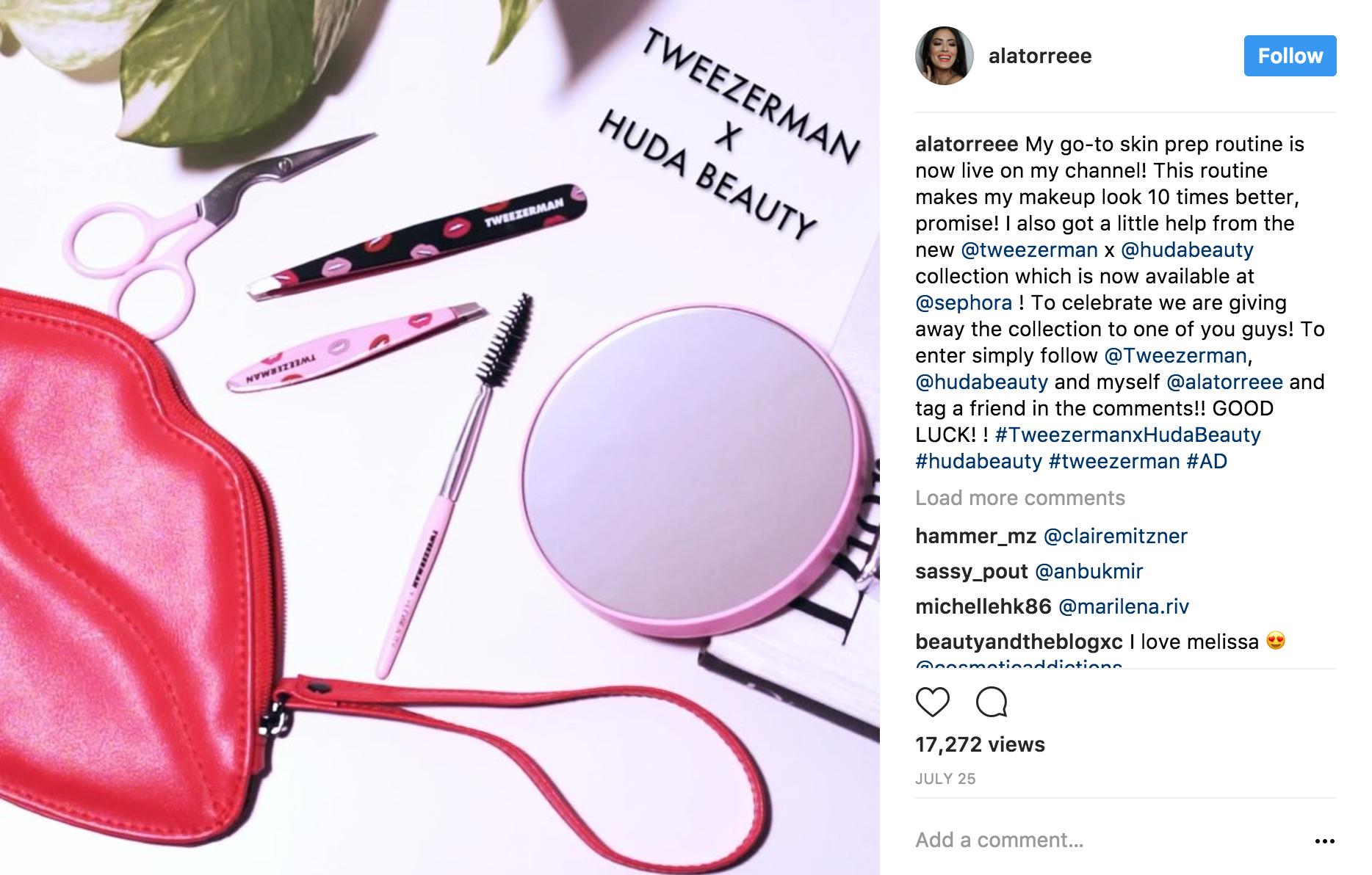 Sponsored Instagram Stories
Thanks to Instagram Stories, you can drive viewers directly to your profile or online shop. Instagrammers love Stories because they are live for only 24 hours. They are more likely to tap on the Stories links (because they will disappear soon!) rather than on the post links.
Swipe Up to Shop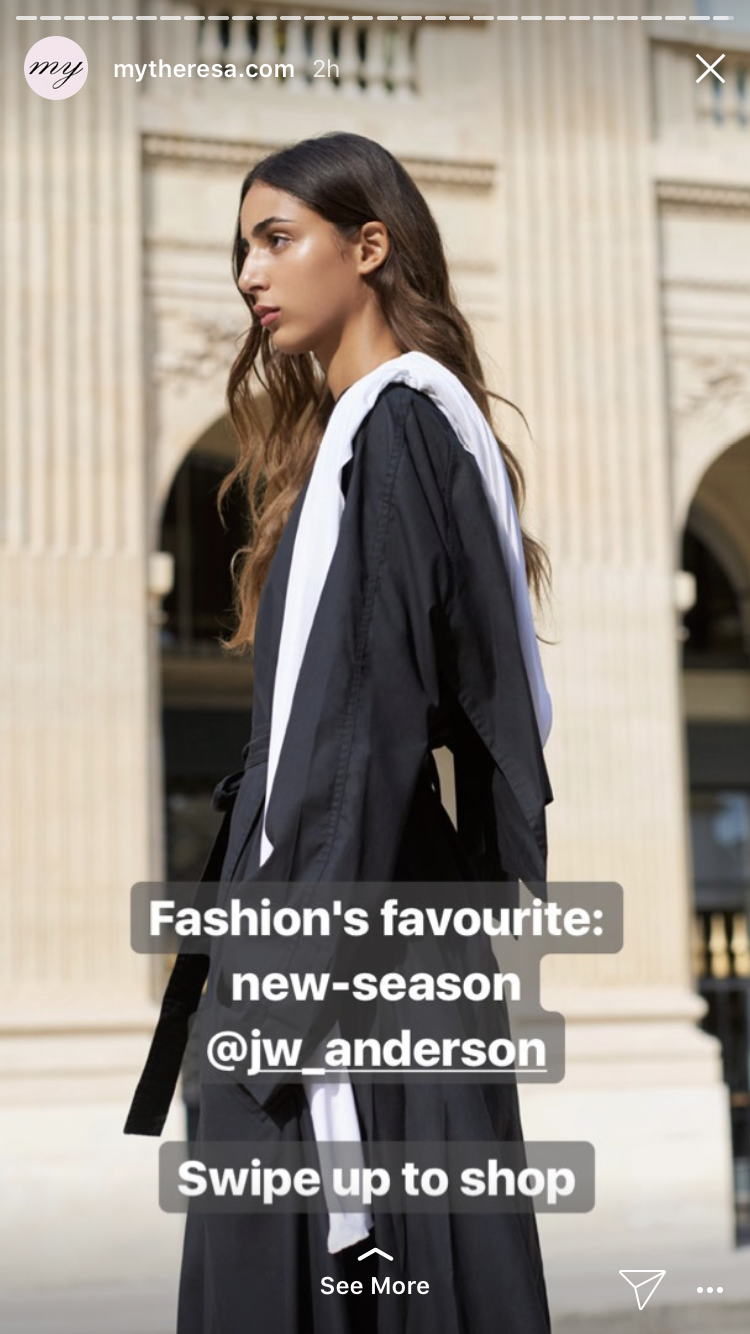 @jw_anderson invited followers to their online shop via Stories through another brand. They have one common target audience, and this mutual exchange benefits them both. To make Stories work for your brand – place your best selling product or most high quality image.
And here's another great example of "Swipe up" Stories.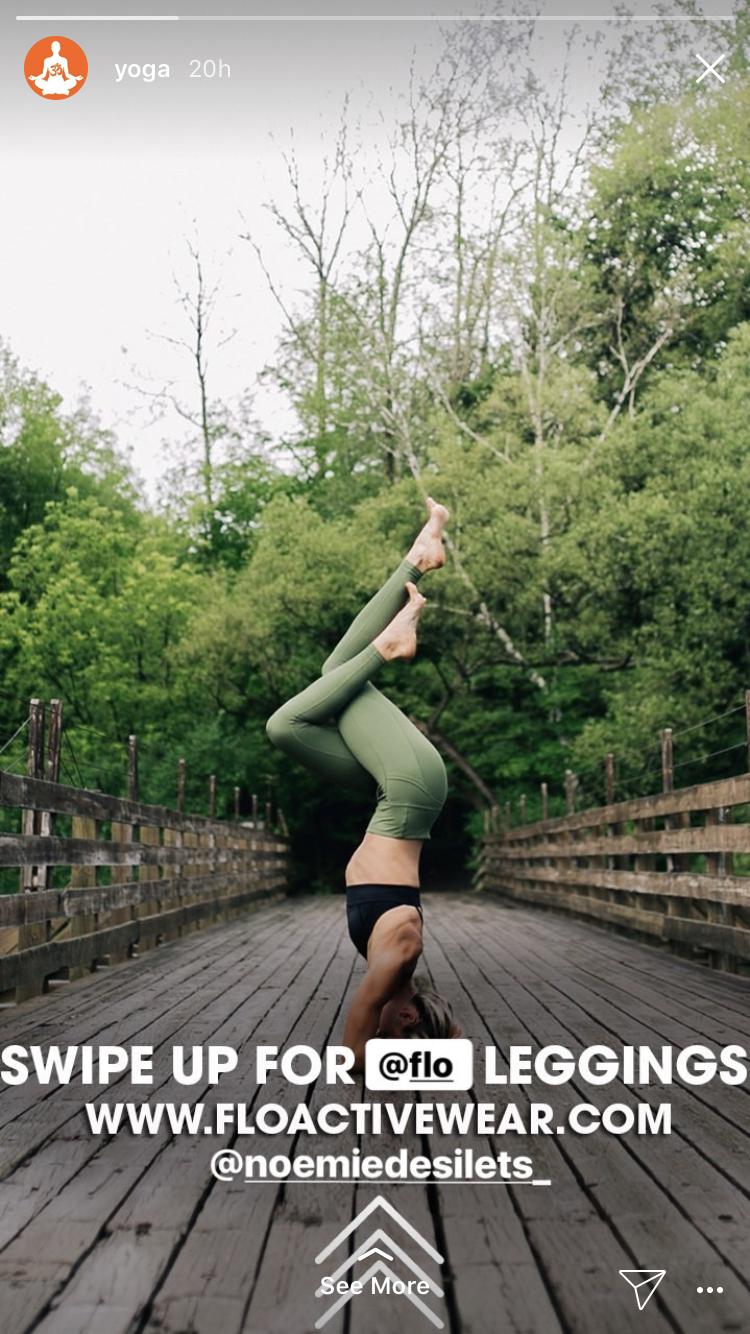 Show Your Physical Shop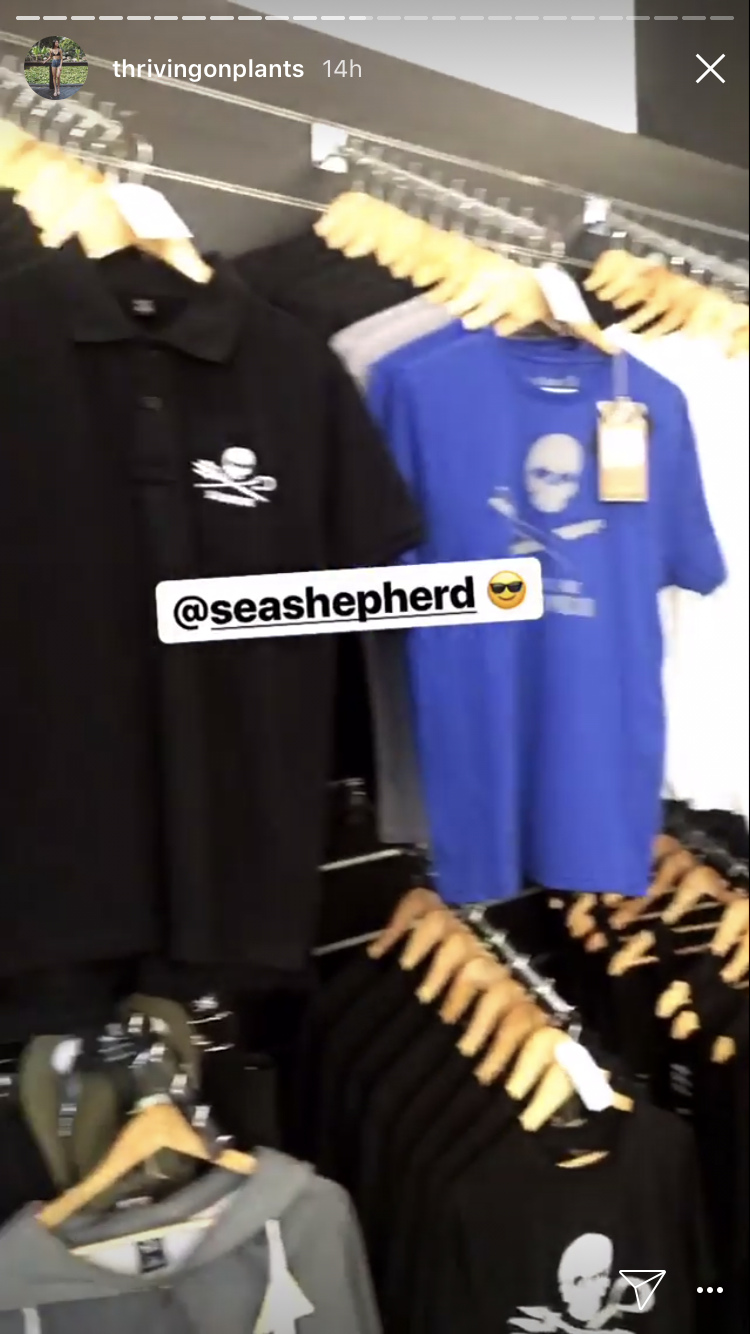 Invite Influencers to your shop and ask them to show off your shop with LIVE Stories or at least a video. This type of content always wins!
Promote Your Page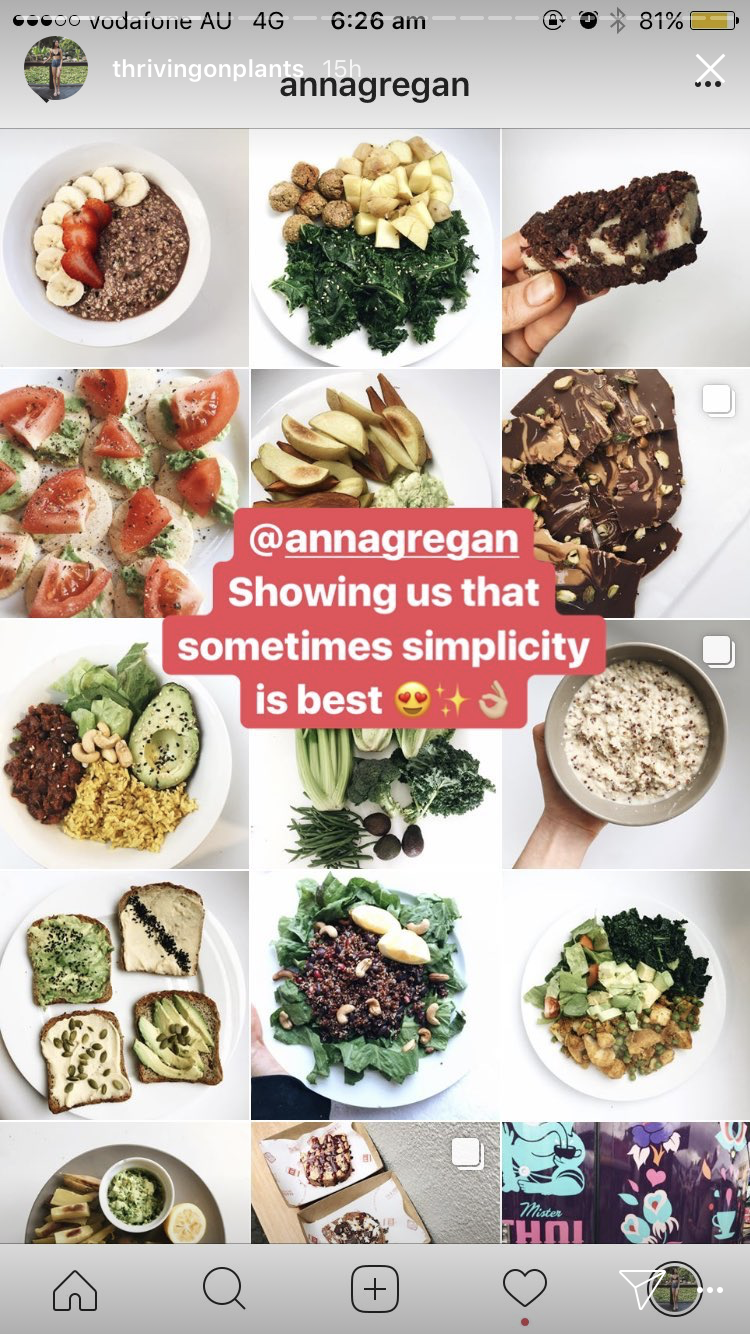 As I've already mentioned, you can also link to your profile via Stories. Choose your best post and then ask them to share it.
Final Thoughts
I hope these ideas have stirred up some Instagram creativity! You may be asking yourself, "Ok, I know what to do to make my brand stand out but now HOW do I find these influencers?" You know, I always have your backs – right? Check out this post – 7 Ways to Find Influencers in Your Industry – it will help you find the RIGHT people and get you on your way to starting an Instagram Sponsorship.
See you next Thursday:)