Seven ways to "circumvent" the new Facebook news feed algorithm
Facebook has changed the algorithms for showing posts in the news feed again, and this change doesn't favour commercial pages. We have a hypothesis that it will primarily affect brands and product pages rather than local businesses. According to the Authenticity Marketing statistics report, pages of local companies have five times the reach of commercial pages and eight times the number of comments, while the overall impact on users is estimated to be 40 times more effective.
The global social network aims to show content that is relevant and interesting to the user, while maintaining income from the advertisement posts of business pages. Unfortunately, now subscribers will see fewer posts from commercial pages because of the competition that grows exponentially.
We will briefly describe the three important algorithm updates and offer the seven "new approaches" to promoting posts.
Friends' posts are a news feed priority.
Pages will now face even more difficulty as friends and family will compete with other pages.
Friend activity will be seen less often.
If before you saw lots of posts like "your friend liked this post …" or "your friend commented on this post", they will now become less common. This is undoubtedly good for company pages, as earlier such news updates would attract the attention of subscribers' friends.
More content for new and inactive users.
Facebook has a strict rule – not to show multiple posts that come from the same source. But, for the new and inactive users, the social network revised this rule. In order to make such users spend more time on the social network, Facebook is ready to show more posts to new users, even if they come from the same source.
What should business pages do now?
First of all, don't panic. All you have to do is revise your promotion methods. We are offering you seven ways to "circumvent" the new algorithm, which will help your page to appear more often on client news feeds.
Get friends and acquaintances to "like" and share your posts
Send friends and acquaintances a link to your published post trough a personal message, e-mail or Skype and ask them to "like" and share. This guarantees you that within the first couple of minutes that it is posted on Facebook, it will immediately receive "likes" and shares, which in turn will increase your exposure.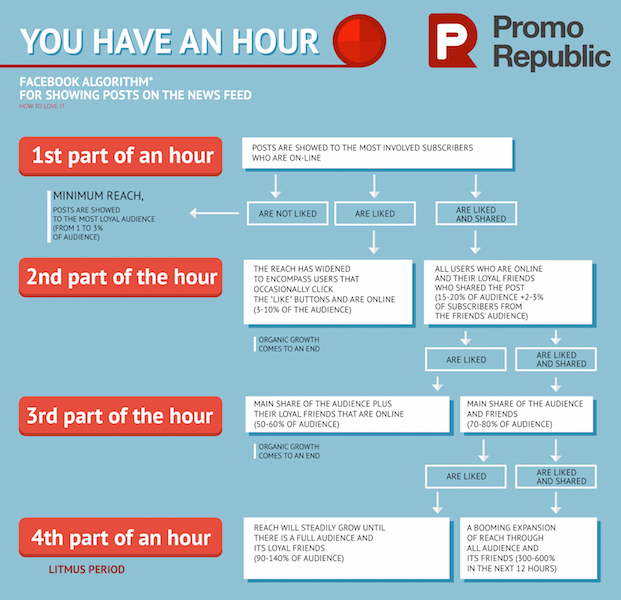 Boost or advertise on Facebook
You can strengthen your posts with boosting on Facebook. If you don't do that, you risk your post being seen by just a handful of subscribers, which will not do you any good whatsoever. If you have never paid for advertising on Facebook, boosting may leave you with a few questions.
The Facebook advertisement functions allows you to select a specific bracket of your audience, taking into account age, sex, financial wellbeing, job status and many other factors. This allows you to share advertisements exclusively with your desired audience.
Anticipating your question regarding the amount of money that should be used for boosting your posts, we advise starting at $5. This will help you to see the difference in the reach of boosted and non-boosted posts.
Duplicate content to groups
You can create your own group or find an established one in which to to publish your posts. You do that, be sure to duplicate content in the groups that have direct relevance to your field. Keep in mind, however, people join groups in order to discuss, receive answers to their questions and get valuable insights, not to see direct advertisements of your services. This is why we suggest rotating selling posts with posts carrying valuable information for the group's participants.
Duplicating content in groups guarantees that respective participants will see it. However, before every publication, ask yourself a question: "what useful information am I communicating to people? Do they need it in this group?"
Be ready for people to ask questions, and you will be expected to provide them with answers.
Start personal interactions with customers.
You, as the representative of your business, can perfectly fill the role of "the face of the company" and promote your product or service on the net through personal communication. So why don't you start socialising more with your clients? Get to know their problems and help solve them!
People are not interested in the products or services themselves, but in getting a ready-made solution. The guru of classic marketing Phillip Kotler said, "while selling a drill, remember: you are not selling a drill, but the holes in the wall that can be made with it".
We suggest you go one step further and start selling your clients a feeling of necessity towards your goods or services through personal communication. In the case of selling a drill, it can be a feeling of "a drill is a necessary item in your household if you are to be a good owner".
Remember, if your product or service is really good and you are ready to act as a personal guarantor, you can safely start communicating with customers through social networks.
When your product or services start being associated with your name in the minds of your customers, you go to the next level: initiating offline meetings.
Contests with valuable prizes
Image you have bought a lottery ticket and won a certain sum of money. We are sure you'll remember it for your entire life. The same goes to your subscribers if you offer them a chance to participate in a contest with a prize that motivates them take part.
However, if you start holding contests on a regular basis, people will soon grow accustomed to such activity and hold out until the next contest.
To have a really good contest you will need a suitable occasion (a holiday or a trend), a tempting picture, a simple mechanic and, most necessarily, a valuable prize. The prize should be picked according to the occasion or needs of your target audience.
Effective visuals with a call-to-action
Another way of becoming more noticeable is through the pictures you use in your posts. We suggest you make them more effective.
Let's say you publish posts and boost them, but they still don't deliver the expected results? Don't assume users will figure out what they are expected to do all by themselves. They need a prompt!
Such a tip is called "a call-to-action" and is usually placed on the picture itself.
To add a button with a call to action, use our graphic editor.
Write about trends.
Information on the Internet can be compared to a wave. If you are to ride the wave, you will have to look out for current information trends that are hotly debated among all users. This type of content is called situational or trending. For example, take the 2015 solar eclipse. Here are some cases of how famous brands took advantage of this event.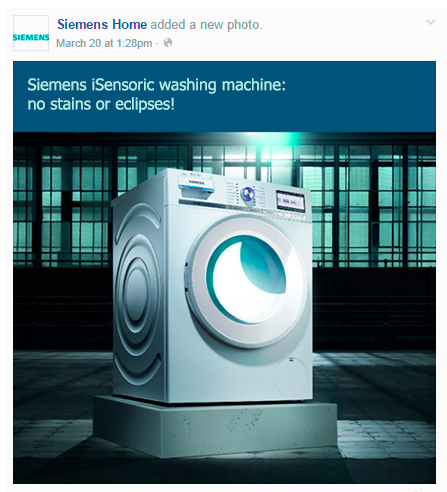 The main rule of situational content is: he who is first to have an original take on the occasion is the one that collects the most "likes".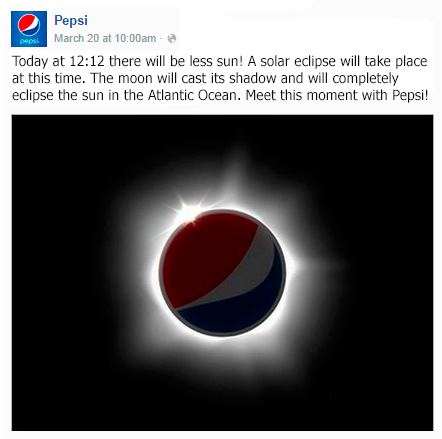 Summary: if your reach drops, remember: "don't panic". Keep looking for new methods of promoting your page. We've just given you seven ways we consider the most effective. Get to it!