Top 5 Social Media Accounts of 2016 (So Far)
I may be jumping the gun, but there have been so many wonderful social media posts and accounts in 2016 that we feel comfortable picking our top 10 here at the start of November. As a provider of social media services, I pay special attention to brands that really pack a wallop with their social media marketing. While we know that many freelancers and agencies represent small to mid-size business, we can all take a lesson from larger brands who set a gold standard in the industry. I picked one brand for Instagram, one for Twitter, one for Facebook and one for LinkedIn, and we picked a brand that does a great job of multi-channel social media marketing. Without further ado, here are our picks for the top 5 social media accounts of 2016…so far.
Want to know how to create posts like the biggest brands out there? Try PromoRepublic's calendar of content ideas and take your social media marketing to the next level.
Airbnb – Instagram
Airbnb's Instagram account is the very personification of the phrase "a picture's worth a thousand words." And it should be, considering the company's mission is to make the properties it offers attractive enough for people to want to stay in them. The brand's 2015 stats are pretty impressive, too. They had 13.3 million total interactions, and 10.4 million of them were organic – meaning they came via hashtags, geo-location tags and more. They saw a 341% increase in followers between 2014 and 2015, and they've increased their followers by another 63.3% so far in 2016. They frequently run campaigns that garner a lot of attention, like the current #nightat campaign. Followers can enter to win the "sleepover of their dreams" at a spectacular location that the company has transformed into a home just for that night. While this isn't the cornerstone of the Airbnb model (people put their homes or part of their homes up for rent on airbnb.com and people can book them via the app or website), it is a great way to draw interest to the brand. The most recent win? A night in Dracula's Castle.
As you can see, this post, only 21 hours old, received 23,7000 liked, 280 comments, and features a stunning photograph. Airbnb knows how to Instagram with the best of them.
Nike – Twitter
Nike just won't give up on Twitter, and it works out really well for the iconic footwear brand. Truth is, Nike is a great example of social media greatness across channels, including Google +, but for the time being we're just going to focus on Twitter. Nike has broken their Twitter efforts into subsidiary feeds – one for the main brand, one for golf, basketball, football and FuelBand. And, so that I don't go on forever about Nike's Twitter presence, I'm just going to focus on the main (Nike.com) feed. With 6.64 million followers, this feed is simply hopping with visual and video content, smart retweets, and, most importantly, customer service out the wazoo. The corporate Twitter feed has someone monitoring it constantly – and they respond to practically everyone who tweets at them.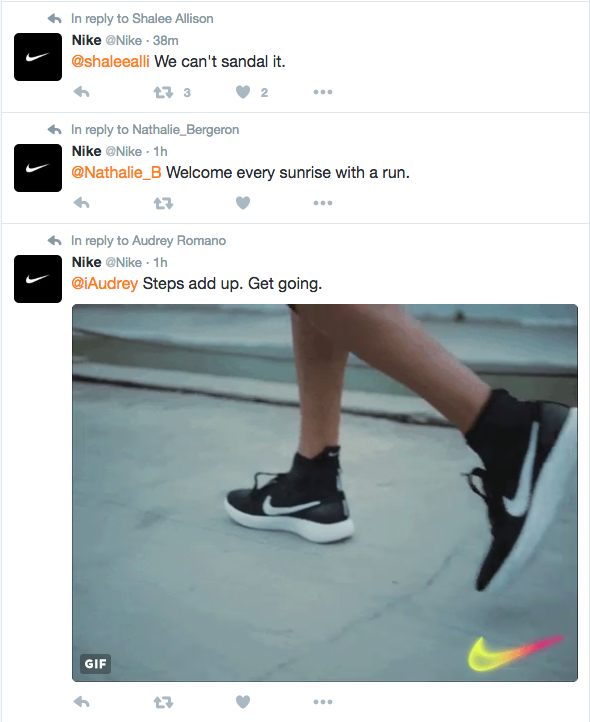 As you can see, in mere minutes, Nike responded to tweets and mentions with not only personalized messages, but with gifs and videos as well. In terms of elevated customer engagement, Nike wins Twitter by a long shot.
Starbucks – Facebook
Who knew, in 1971 when the first Starbucks opened in Seattle, Washington, that they would become a multinational chain with almost 24,000 locations around the world? While individual Starbucks locations operate individual Facebook business pages, the "mothership" Starbucks Facebook page has some pretty impressive statistics, and some fantastic engagement. Some of that engagement could be the result of a staggering 36,452,730 (as of press time) fans, but a lot of it comes from specific campaigns that Starbucks promotes.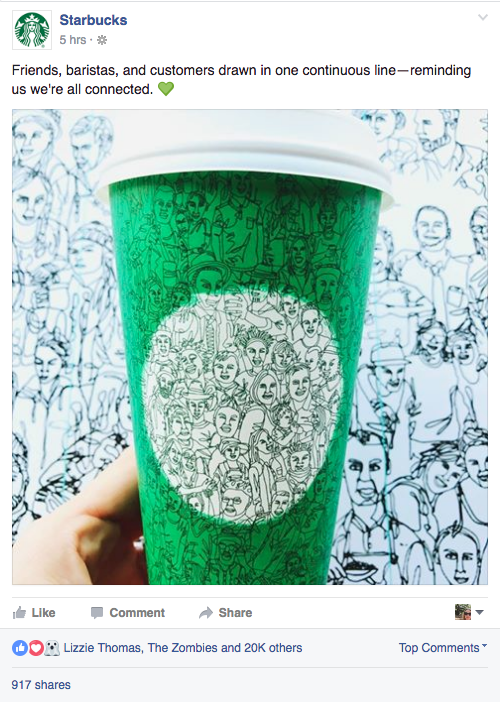 This post, only five hours old, garnered more than 20,000 likes, 917 shares, and 571 comments. The Green Cup hit Starbucks locations November 1, 2016, and is meant to celebrate the idea of community – and to promote understanding and patience in a troubled time. This cup won't be around forever, but the spirit behind Starbucks' corporate values will live on. And, in light of the coffee giant's former troubles over their holiday cups, the green cup shows an evolution in brand strategy that should make other companies stand up and take note.
Four Seasons Hotels and Resorts – LinkedIn
Many brands use LinkedIn for recruiting only. The Four Seasons seems to think that would be a missed opportunity. Sure, the LinkedIn page makes people want to work there, but it also aims to make people stay there, and succeeds. To walk this fine line between recruiting employees and enticing guests, the brand posts all sorts of content on their account. They will post about a new location, a new restaurant at an existing location, or a job posting. They also take care to recognize their demographic in terms of potential employees, and participate in industry-specific events that give them a stellar reputation as an employer.
For example, the post above outlines the Four Seasons George V Paris and their eighth consecutive year of organizing a Housekeeping Appreciation week to recognize and educate all hotel employees on the activities of the housekeeping staff, tips and tricks, and more. This post attracted lots of a attention, with 768 likes and 30 comments. That's pretty remarkable for a LinkedIn post.
National Geographic – Instagram, Twitter, Facebook and LinkedIn
We don't know if it's fair to select National Geographic as the master of all social media right now. They do have the advantage of stunning photographs they can share at will, and that attracts a lot of attention. However, if their social strategy wasn't on point, they'd hardly get the amount of engagement they do on their social channels. First, a rundown of the numbers:
Instagram – 62.5 million followers

Twitter – 14 million followers

Facebook – 42,298,173 page fans

LinkedIn – 998,436 followers
In all fairness, we're not the only social media marketers who think National Geographic is the top dog. Contently told us last year that the brand (which started in 1888, mind you) beats out Huffington Post AND BuzzFeed in terms of engagement. By a long shot. By posting less content per week than BuzzFeed, Bleacher Report, Hollywood Life, The Huffington Post, People.com, Billboard and Playboy, they still manage to get 8 times the amount of social engagement than any of them.
The Instagram account is actually run by freelancers and National Geographic photographers. 110 people have passwords to it, and they share images from photo shoots and other intriguing locations, like their own homes.
In just three hours, this post got 235 likes on Instagram. Note that they included a whole story, but the photograph itself is very intriguing.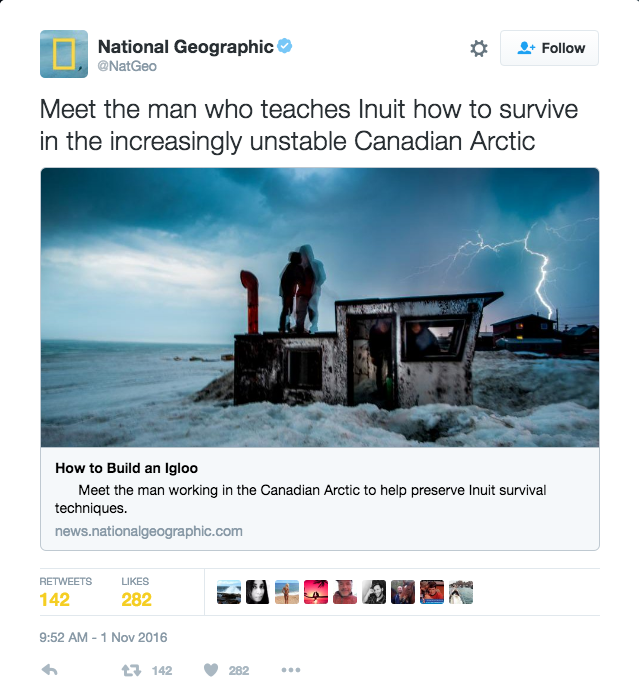 Again, in three hours, this tweet got 142 retweets and 282 likes.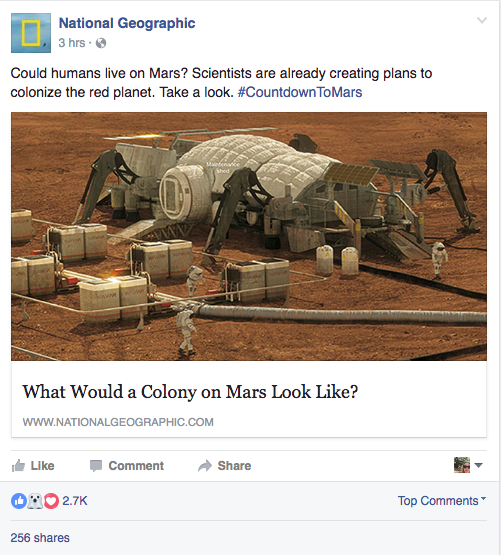 Again, in three hours, this Facebook post got 2.7 thousand likes (not a huge number, but wait for it), 256 shares and 134 comments.

National Geographic doesn't post to LinkedIn as frequently, but this post, an hour old, got 104 likes. Not too shabby.
Stay tuned for our next post, which will tell you what social media marketing mistakes to avoid. In the meantime, learn how to create professional social media posts that rival the big brands with PromoRepublic. Our layered content calendar packed with trends, events, holidays and more is peppered through with professionally designed templates that are sure to wow your social audience.