8 Predictions for Social Trends in 2017
Social media is an ever-changing marketing medium, and the best social media marketers (SMMs) know to stay on top of emerging trends. We've taken a look at what some of the top influencers have to say about what to expect in 2017, and we're pretty sure they're right. Take a look at our 8 predictions for social trends in 2017. They include increased automation, niche messaging and more.
Want to get a jump start on contextual marketing in 2017? Sign up for PromoRepublic today.
Video is Going to Be an Even Bigger Deal
Mark Fidelman from Fanatics Media says that brands will start to produce their own shows and work with influencers to share them. While bigger brands might be doing that, large-scale video production, even via social, can be expensive. So while not every brand will go that direction, video will still be a big component of social media marketing in 2017. Syndacast, an Asian social media powerhouse, says that by next year, online video will account for 74% of all the traffic on the web. That's pretty huge. While Facebook Live and Instagram videos have become more and more popular this past year, expect to see a rise in video marketing. Other studies show that hundreds of millions of social users watch video every day, and that even including the word "video" into an email subject line can boost open rates. Additionally, videos can increase click-through rates, and reduce unsubscribes. It seems like marketers might want to incorporate video into not only their social marketing, but a number of their marketing channels. The numbers don't lie
Including video in a marketing email can increase the click-through rate up to 300%

Using video in a landing page increases conversion by 80%

Videos encourage 64% of consumers to buy products online

After viewing a video, 65% of high-level executives will visit a website, and 39% will call to find out more
Want to see how video works for the team at PromoRepublic? Check out this video hack.
User-Generated Content Will Continue to Be Important
Social Media Week tells us that 80% of online content is user-generated. Considering how much content we, as social media managers, create daily to promote our brands, connect with our customers and engage our audiences, that is pretty astounding. And, it's estimated that 70% of those internet users will value user-generated content over generic text-driven content. With the rise of Instagram, users became some of our best brand ambassadors. They'd take photos, tell people where they were when they took it, and even create viral hashtags that could boost a brand well beyond its own capabilities. One of the amazing benefits of user-generated content is that people trust it. They can relate to it. In fact, they have more than 10 times more trust in user-generated content than brand-generated content. And, talk about engagement! When users see their content making it around different social media channels, they will share it and comment on it. Their friends and families will pay attention. It's the best, most organic, easiest way to win trust without lifting a finger. That doesn't mean, of course, that you halt your own social media efforts and leave it up to your fans and followers to carry out your marketing strategy. That would be social suicide. But, you can encourage user-generated content by posting reviews, questions, polls and other things to spur on enthusiasm. The results are, in a word, super.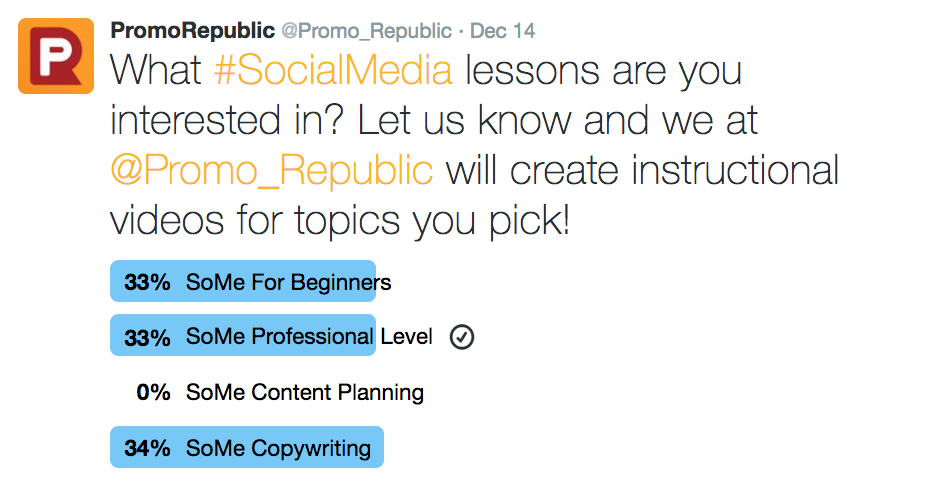 Users who create content for social channels have increased by 176 million in the past year

A quarter of all search results for the world's top 20 brands are links to content that was generated by users

Brands that launch user-generated content in their Instagram and Facebook campaigns see an increase in click-through rates, resulting in fantastic ROI on ad spending

People spend over five hours per day interacting with user-generated content
Connect with your users to find out how user-generated content can increase your marketing ROI.
Automation Will Continue to Increase
We warn against automating too much of your social media marketing. SMM requires a personal touch that no amount of automation can achieve. However, there are some things on the horizon that will increase the amount of automation SMMs CAN use. One development that's success or failure will only be determined by time is the social chatbot. Facebook has one. They exist on the Messenger platform so that the bot can answer the most common questions placed by questions without an actual human monitoring the account. Since we know that it's vitally important to social success to interact with customers, we aren't sure this is a great idea. However, as more brands create more Facebook pages for niches, products and sub-brands, it's possible that the chatbot might actually become a thing, especially since staffing all these accounts can get pricey. Other types of automation, however, leave SMMs with more time to connect personally to fans and followers:
Visual social media templates for holidays, special events and more

Social media posting platforms that allow you to create, distribute and track social posts

Agile processes that allow social media marketers to focus on quality, not quantity social distribution

Intelligent automation tools like chatbots only in tested and vetted circumstances
Incidentally, millennials say that they'd prefer to use electronic media for customer support.
B2B Social Marketing Will Get More Personal
Even though we just talked about automation, that doesn't mean that social shouldn't be personal. In fact, in 2017 it's predicted that personalization will be a priority, especially to B2B social marketers. It will come in the form of visual storytelling and virtual reality. This is a tactic B2B folks are taking from the B2C world – when you put a potential customer into a story with your brand, using an engaging storyline, there is nothing more impactful. B2B marketers are learning, finally, that B2B customers are humans too. Sales always increase when there are emotions involved, and putting a potential customer into your brand's story without having to fly teams of people to your company's location will save money while delivering the same experience, only virtually. And, since B2B companies are selling even more of their services and products online (to the tune of about $1.13 trillion by 2020), delivering a virtual and personal experience will become even more important. Not only is it a personal experience, but it saves large companies money as well.
Forrester says that 56% of B2B execs say that they can only be profitable if they serve customers online

80% of people (including B2B buyers) enjoy learning about a brand via custom content

B2B brands will start using more user-generated content

As more millennials enter the B2B workforce, authenticity of branded ads will be called into question
All this data just confirms what we, the veteran social media marketers, have always known. That content is king, and the customer is smarter than we thought.
Marketers Will Use Outside Data to Target Social Audiences
We've all heard the term Big Data. Smart marketers use Big Data to inform their marketing strategies, especially content marketing. They'll use different dashboards and funnels to analyze search queries, web analytics, social listening and other data to create a series of customer personae that will tell them what type of content to distribute, and where. What if we flip that around a bit and use all that rich data to inform, specifically, what we publish on social media? The different social platforms make it easy, in the sense that they bring in search histories and use them in ad targeting. But how can you do the heavy research to segment your own social audience? And, if you did, how successful would it be? Unfortunately, the answer isn't good.
Facebook and Instagram are getting rid of chronological timeline updates

Facebook's algorithm ranks the recency of a post last

Interest is first, then the post's performance, then the creator of the post, then type of post.

In order to target social audiences, you have to work on your site's SEO, build email lists and learn to create social posts that are interesting to your target audience SO they perform well
You'll probably always have to spend money on social to get the reach you want, but if you get back to the basics, you have some chance for organic social search.
Niche Messaging Will Be a Priority to Marketers
Once you establish a foothold on a social channel, it's hard to keep it. The social space is really crowded, and brands have a challenge when it comes to creating content that their social audience wants to consume. That's why they'll need to target niche audiences to get their messaging out, and that doesn't always mean individual users and the demographics you can choose on social ad platforms will get you where you want to be seen. Nice messaging is really only possible in conjunction with influencer marketing. Otherwise you can't get to the people in t the niches. The highly focused social communities that they "live" in are only attainable if someone from the inside can share your message.
Facebook Insights can help if you take the data one step further to find shared similarities between groups of people who comprise your potential audience

Communicating directly with an influencer can help you construct spot-on social messages

The ability to post to a closed group means that you have an awesome and tenuous opportunity – don't abuse it

You only have 8 seconds to get people to read your messaging. Make it count
A lot of research goes into successful niche marketing, but it's worth it.
Visual Marketing Will Be Even More Vital
It's no secret that visual marketing is effective. While a lot of experts will tell you that video is the only visual medium you should worry about, that simply isn't true. First of all, few brands have the resources to create multiple videos per day. Second, if you only post videos on social, you create a different kind of noise that isn't good. The types of the content you distribute still needs to be diverse. Images and infographics are still popular, and perform well.
Visuals with color increase a social user's willingness to read a post by 80%

Almost 50% of social marketers say that great photograph is crucial to their social storytelling

Some marketers still place visual assets above video in terms of their priority content

Few marketers have a reliable resource for visual content
Want to publish stunning visual posts in seconds? Check out PromoRepublic's content calendar.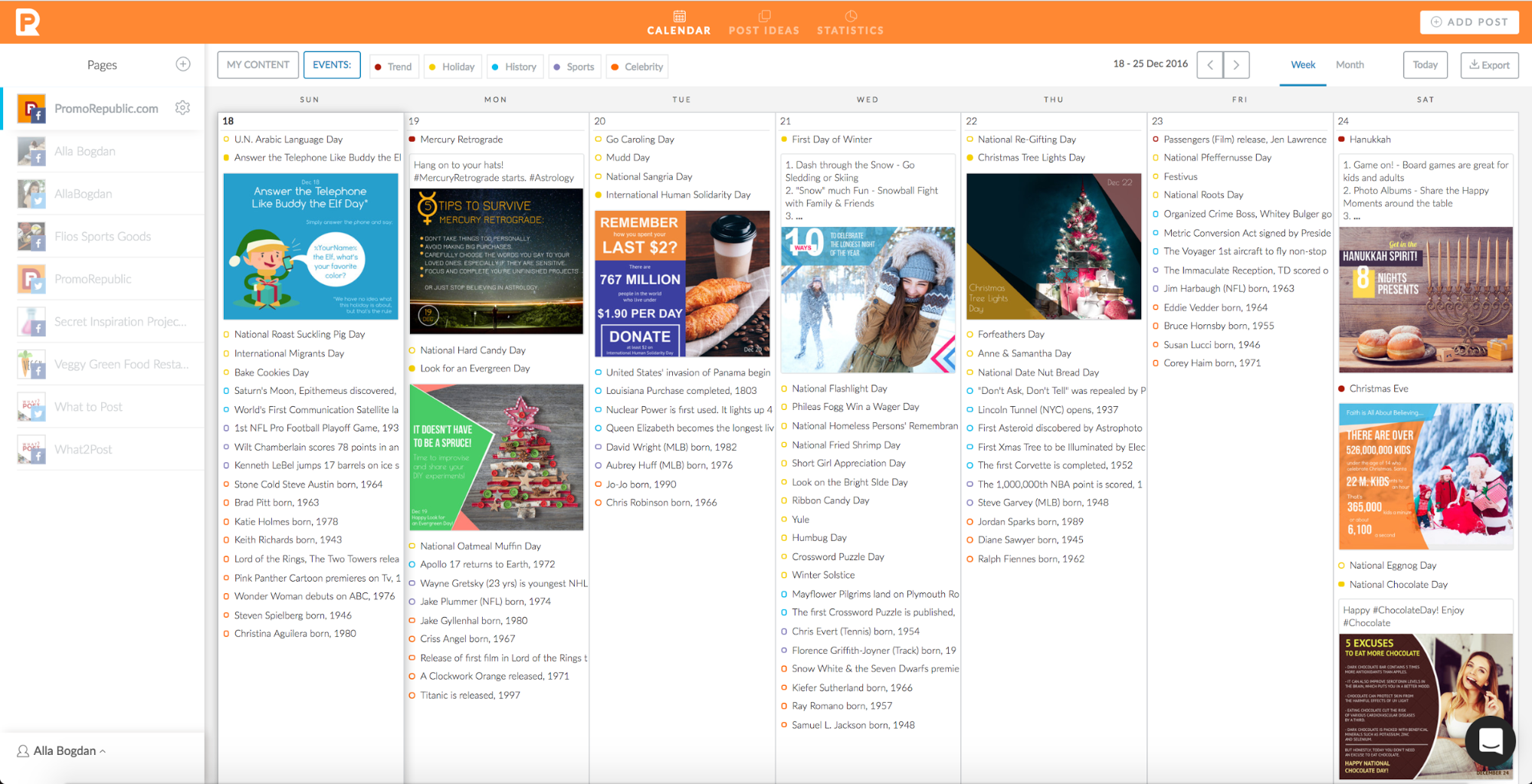 Mobile is Key
Between 2012 and 2015, people played videos on mobile at a rate of 844% more. Just between 2014 and 2015, the number went up by 74%. But it's not only videos. People simply consume everything via their mobile devices. Even Google is gearing up for mobile-first indexing, a feature that will use the mobile version of a site's content, rather than the desktop version. This will make a big change.
Tablets account for 82% of sales that take place online
Smartphones account for 18%
That leaves 0% on desktop, which probably isn't totally accurate, but gives you an idea that you need to be completely optimized for mobile
Your social content needs to be 100% mobile friendly
While these aren't all the going predictions for 2017's social landscape, they are big ones. Learning how to adapt and change is the name of the social media game.