Online reputation management has a huge influence on your sales. Why? Your company's website often isn't the first place where customers interact with your brand. The real front door is the first page of search results. This is where customers get unfiltered snapshots and uncensored opinions about your brand from others. That's why online reputation management has become a priority for local businesses of all sizes.
Keep on reading to find out why you need to start working on your online reputation, how to measure it, and 6 tips you should implement into your online reputation strategy as soon as you finish reading this blog post.
Contents:
How Does The Post-Pandemic Customer Journey Start?
Covid-19 has transformed business forever. McKinsey states that the crisis has brought about a huge amount of digital adoption with 65% of customer interactions are now being digital in the US. Therefore, to stand out and scale, brands should build their strategies around this new digital environment.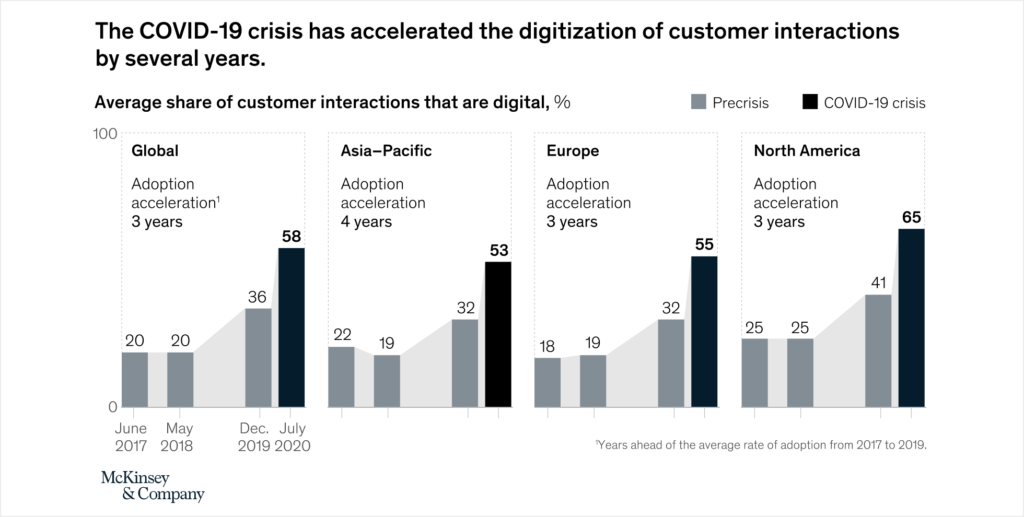 Image: 65% of customer interactions with brands are digital in the US.
At the same time, Google has become the new online business card. Before anybody starts doing business with you, they will have googled your name. The first information that appears on Google is what potential partners think you are. That's why curating a positive online reputation is no longer optional. It's key.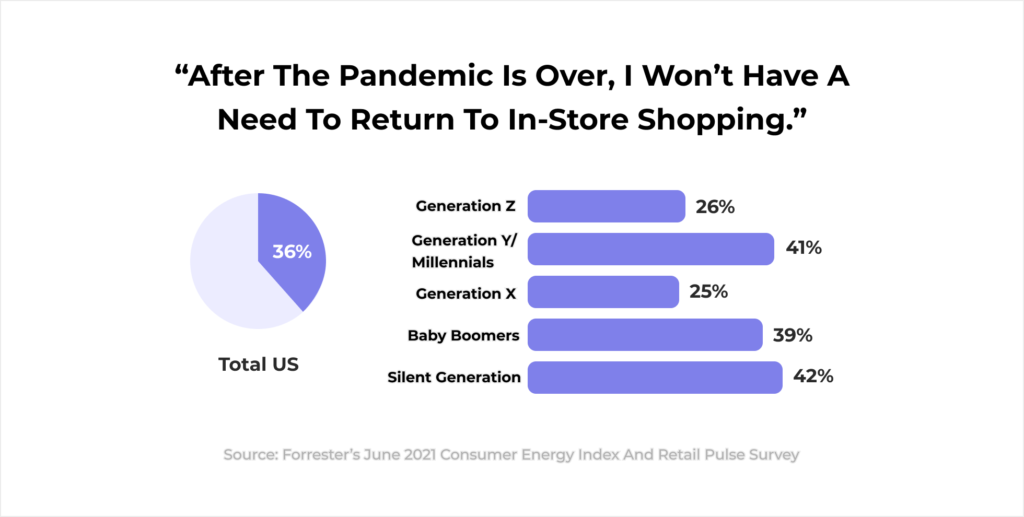 Image: The pandemic has driven consumers to reevaluate the purpose of the brick and mortar store.
On top of that, when evaluating businesses, consumers aren't influenced only by the reviews others leave but also by how companies manage them. That means that the first online impression can make or break your brand in the customer's eyes. An inaccurate address or unresponded negative reviews is all it takes to damage your company's reputation. 
To illustrate, the power of online review management, when you respond to consumers on social media, they're 21% more likely to purchase from you. Additionally, a business's responses to negative reviews make 45% of consumers more likely to support it.
All things together impact the intangible but precious asset any company can possess – reputation.
How Online Reputation Management Works
An online reputation is made up of public opinions and subjective customer thoughts. In turn, online reputation management is a set of activities shaped to fix damaged reputations. Its main goals include minimizing customers' negative feedback, monitoring search results for unknown dangers, and protecting against future incidents.
In previous decades, dissatisfied customers would have to publish their thoughts in a local newspaper. Today, every single customer has a digital megaphone at their disposal with the potential to influence crowds.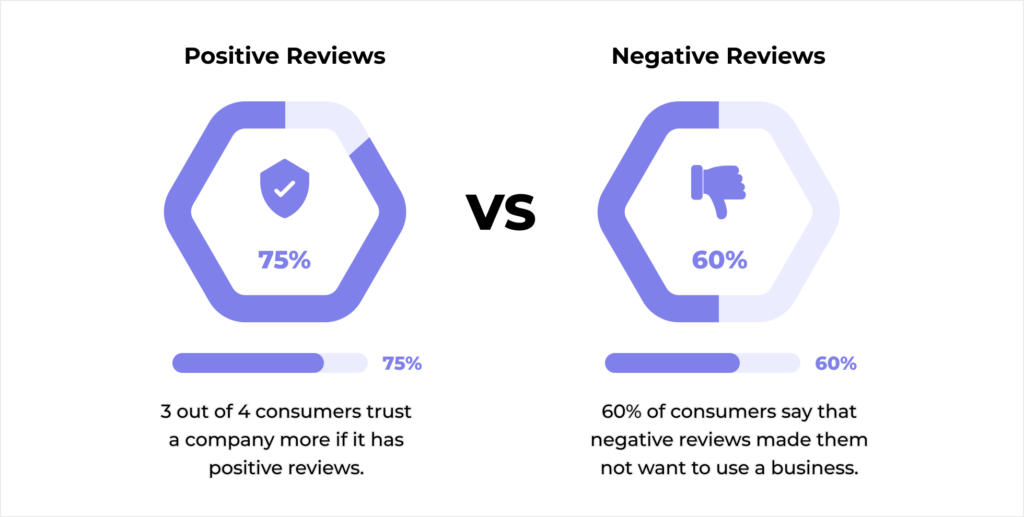 Although sometimes ratings and reviews aren't genuine, they still affect organizations. Either way, you must learn to deal with sensitive and impatient customers who can get frustrated. Why? Global reputations can be boosted or blasted with just a few keystrokes. Getting a competitive edge and scaling your company these days requires focusing more precisely on your online reputation. 
Why Should Online Reputation Management Become A Priority For Multi-Location Brands?
As highlighted in the previous paragraphs, corporate websites no longer dominate the conversation. A company's marketing team and sales reps aren't the only ones doing the talking. Evidently, the balance of power has shifted.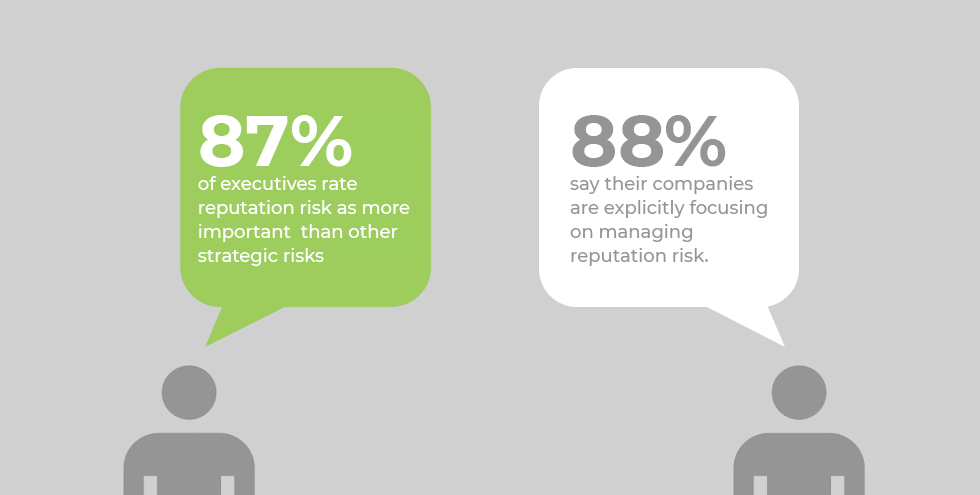 Image: Deloitte Global Survey on Reputation Risk.
According to a Deloitte survey, customers are the most important stakeholders when it comes to managing reputation risk. Indeed, they are co-creating brands online via star ratings and reviews on search engines, social media, and review sites.
Other important stakeholders include regulators, senior executives, employees, and investors. But in a world of ubiquitous social media, managing customer expectations and perceptions is key.
So what are the other reasons for online reputation management to be so crucial for modern brands? 
#1 – Your online reputation affects your offline business
50% of consumers who conduct a local search visit a store within a day. People research your brand and read reviews before walking into your physical venue to experience the real thing. So if they notice inconsistencies or a prevalence of negative reviews online, they'll most likely select another brand.
#2 – It improves online visibility
If the content found in search results is high quality and positive, it will generate more click-throughs. One way to achieve this is by "owning" or controlling the search results. These may include your website, social media profiles, review platforms, and PR content. By managing this flow of information, you'll make the first step toward a solid first impression.
#3 – A strong online reputation builds higher trust
It's great to mix and match regular engagement with your audience, user-generated content, and testimonials. This can be done in many ways since social media is easy to use and cost-effective. Post often—not just to promote your brand, but to engage with your audience. Respond to their questions and thank them for their support. Most importantly, create a dialogue to build a level of trust between you and your target audience.
#4 – Online reputation influences your revenue
With more consumers carrying out online research before making purchase decisions, online reputation affects sales directly. The biggest achievement companies experience from investing in monitoring their reputation online is a 25% growth in sales, Clutch reports.

#5 – Companies with good reputations attract better employees
Businesses may view their online reputation from a customer-acquisition standpoint. However, digital presence affects almost everything, including the perception of potential employees.
How To Measure Your Online Reputation?
A reputation score helps you understand how your business and locations stand relative to competitors and best-in-class benchmarks. This is the true measure of how your business is found, chosen, and experienced online.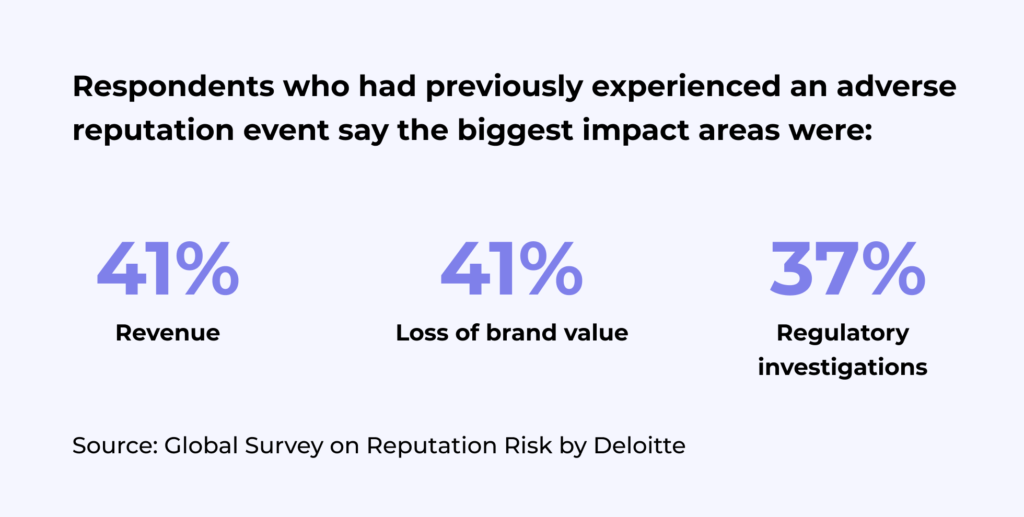 Here are the components of your reputation score:
Factor 1: Reviews 
Who is looking at your online reviews? Nearly everyone. The truth is everyone from prospective customers to future employees and business partners look at online reviews before engaging with your business. 
A BrightLocal study shows that 87% of people read reviews, and 79% trust them as much as a personal recommendation. In fact, a recent Northwestern University study suggests that having at least five quality product reviews can increase the likelihood of purchase by 270%. As a result, brands are quickly realizing the impact of validated, independent reviews on their bottom line.

Factor 2: Star ratings 
Star ratings can help businesses earn trust from potential customers, improve local search rankings, and boost conversions. 48% of consumers won't even look twice at a company with fewer than 4-stars.
Consumer reviews from different sites and services power star ratings on Google, and Google uses an algorithm and an average to determine how many stars are displayed. John Mueller recently confirmed that Google does not factor star ratings or customer reviews into web search rankings. However, Google is clear that star ratings influence local search results and rankings.

Local business owners have a handful of options for their businesses to appear on Google – via Google Maps, a Google My Business page, and more – all of which can show star ratings.
Factor 3: Search impressions
Customer reviews also influence local search rankings, resulting in increased clicks, visits, numbers of prospects, and sales. Every time potential customers use words such as best, top, great, and highest-rated, Google first shows them businesses with review ratings of 4.0 or higher in the results.

By giving users the power to select the highest-rated businesses in a given area, reviews have become a major ranking factor in local search. The higher the review score of your business location, the more likely it is to reach nearby consumers.
4 Online Reputation Management Strategies You Should Leverage
1. Focus on local SEO
Search engine optimization (SEO) is a trick that will give your brand more online visibility. They say that the second page of Google search results is the best place to hide a dead body. Why?
75% to 90% of search traffic and clicks happen on the search engine's first results page. Fewer than 1% of people read content from the second page of Google search results.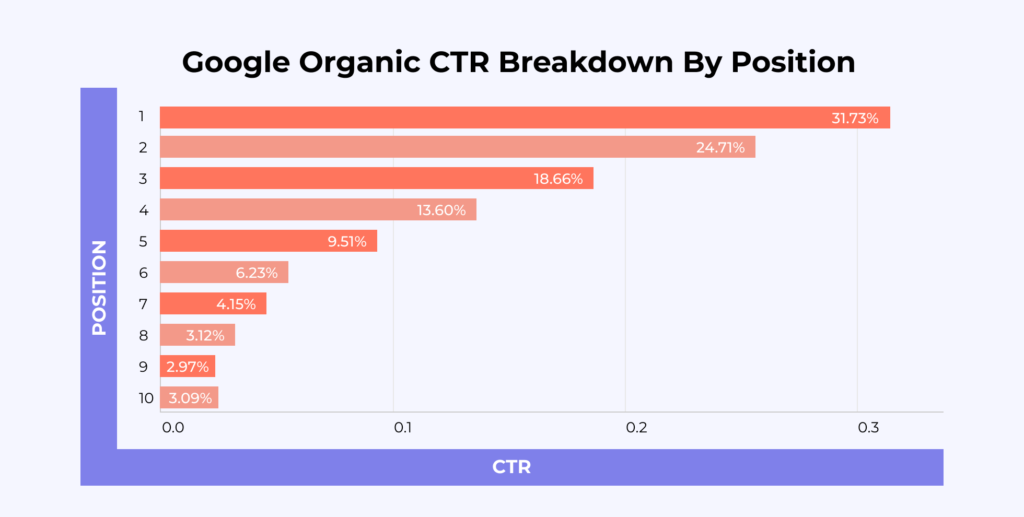 Those who look for a gym or a doctor in their area might visit Google and enter "gym near me" in the search bar. Google will respond with a list of gyms near the person who performed the search. By the way, if you take a look at data from the Google Trends chart, you'll see that "near me" searches have taken off in recent years.

2. Stay consistent across your marketing channels
When your marketing efforts present a similar message with a matching voice, color palette, and visual style across all your marketing channels—online and offline—it enables people to recognize your brand and understand what you offer. 
Therefore, it's vital for franchise companies to set brand guidelines, organize marketing assets, plan ahead, train franchisees, and have tools to measure results in one place.
3. Create valuable content 
Although regular blog posting or managing social media is essential, copy quality is much more essential. While developing your content marketing strategy in terms of reputation, evaluate how your brand values correspond to your target audience. Try to deliver expert niche content so that your customers convert to brand supporters rather than remaining followers.
4. Identify and use the power of influencers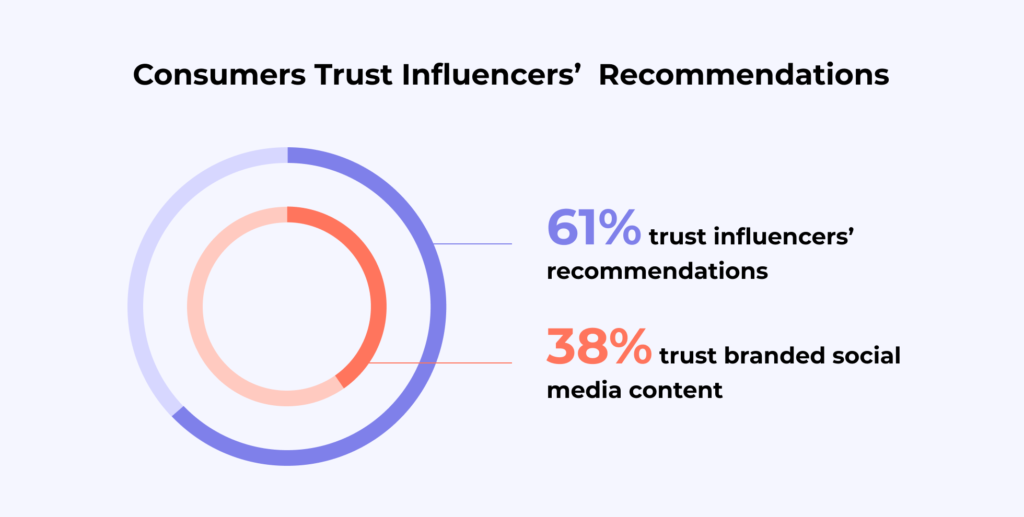 Image: Influencers are driving the conversation—and sales.
The value of influencer marketing lies in the fact that 61% of consumers trust influencers' recommendations – more than the 38% who trust branded social media content. If you can identify, select, and collaborate with the influencers your target customers follow, you'll raise brand awareness, generate traffic, and see positive impacts on your bottom line. 
Roadmap to Better Online Reputation Management in 6 Steps
Reputation risk will likely be increasingly critical in the years to come. This means companies must continue to improve their capabilities in this area. Leading organizations already treat reputation risk as a strategic issue – a trend that we expect will accelerate.
Protecting your company's reputation and brand is a significant challenge – but it's also a manageable one. Although no company can ever be 100% safe, you can clear a path for continued growth by incorporating online reputation risk into your marketing strategy and investing in the right tools.  
Step #1. Provide on-brand content
You should set up a shared digital environment for branded marketing assets like templates, logos, images, videos. By lightening your franchisees' load with ready-to-use templates, you save them time for their own online local marketing initiatives.
Step #2. Select social media platforms
Different social media networks attract different demographics, follow different algorithms, and reach different areas. Selecting the most relevant channel will ensure your message targets the appropriate person and elicits the desired action.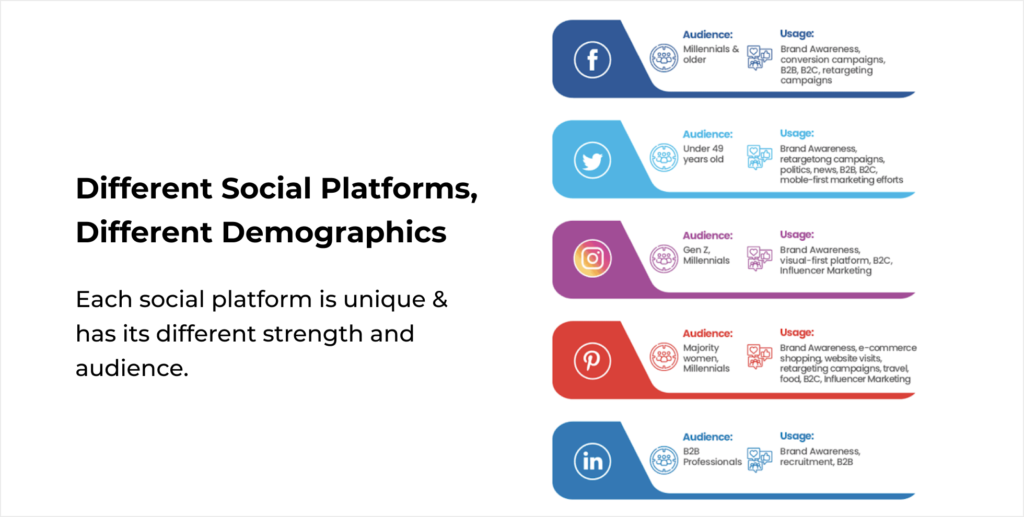 Once you understand each platform's different strong points, be sure not to duplicate messages across all the platforms. Even when sending the same message, make it fit the medium you are using. 
Step#3. Create a content plan
While it's impossible to control your online brand reputation, you can manage it with content marketing. With a content plan, you own the story. Your blogs, videos, social media posts, and every other aspect of content marketing are within your power to dictate.
Make sure you have a content plan with set-up time and posting frequency. With a documented content plan, you will feel less pressure.
Step#4. Establish the style and tone of your messaging
How do you want to approach your audience? Seriously? Warmly? Professionally? Depending on the type of business, you can choose which tone will help engage your audience more. Choosing the wrong style could turn away potential audiences who may feel you are too serious for the type of business you run or too jokey to be taken seriously.
It helps if you also plan out how to handle negativity, criticism, and praise. The major challenge comes when businesses need to respond to hate and negativity. Make a conscious choice either to ignore or to respond with a lot of empathy and restraint.
Step #5. Plan online reviews management
Whether they're positive or negative, respond to reviews immediately, showing consumers that you appreciate their feedback. Nearly half of all customers (46%) expect companies to respond to direct messages within 4 hours.  At the same time, 12% expect a response within 15 minutes or less. Negative reviews are more time-sensitive, so a reaction to them should appear quickly to prevent other potential customers from reading the review or to keep the problem from escalating before you tackle it.
Harsh feedback stings. It touches our self-esteem, and we have a hard time getting over it. Before reacting, take your time, absorb the feedback, and respond with politeness and professionalism. Never allow emotions to take a toll on you by making it personal or coming up with blame games or excuses.
Request removal of the negative or misleading review
If the negative situation is resolved, you can discuss removing the negative review with the author. This can be done only after the reviewer has been satisfied. Do not coax or manipulate the person. They may end up escalating and complicating the issue.
62% of users say they would stop using platforms where brands can censor their reviews. So, we don't recommend either filtering or deleting reviews in an attempt to build trust with your customers.
The best way to get more reviews is simply by asking for them. Asking for customer feedback instead of a review can be much less intimidating for the customer. It shows you care about their experience. If they are unhappy about their customer experience, you have the chance to resolve any issues first before they post a poor review. 
Step# 6. Invest in online reputation management software
Choose the right tech stack to reinforce your marketing efforts. The lack of automation can result in higher management costs, unnoticed problems, and inconsistencies. If you're looking for the best reputation management tool out there – check PromoRepublic.
PromoRepublic is the leading insight-driven local marketing platform that helps national businesses win local customers. It can help you confidently manage marketing across locations to achieve consistent customer experience, visibility of results for corporate, and seamless adoption onsite.
When it comes to reputation management, PromoRepublic enables you and your marketing team to:
Manage a consistent "near me" experience across a network of 130+ global-local search platforms like Google, Yelp, Facebook, Tripadvisor, Trustpilot, etc.;

Oversee reviews, ratings, and Q&As from one dashboard;

Instantly update data for any location in real-time to reach more consumers with correct information;

Respond to direct messages;

Reply to comments posted on major social media channels;

Track your performance in Google My Business & Facebook Reviews for any given timeframe;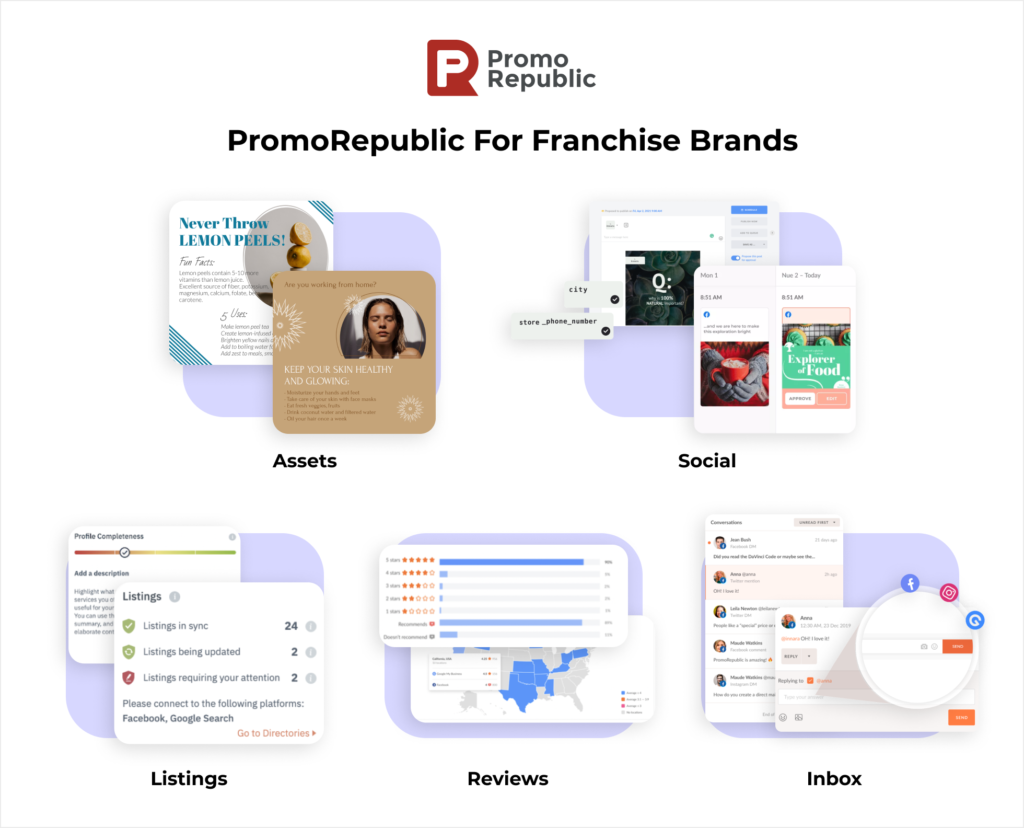 Image: PromoRepublic helps national brands easily manage consumer marketing across their locations.
The Bottom Line
The Covid pandemic turned the world digital almost overnight. This means customers and brands turned online, causing brands to invest in reputation management to compete in ratings, reviews, and search rankings. Creating strong brands with good reputations is an essential part of business growth in 2022. But you don't have to do it alone!
Taking advantage of the available online reputation management tools can help a business track its level of visibility, reputation, and customers' perceptions and respond timely.
If you are looking for a tool to establish an online presence, improve customer experience, and increase local sales, learn more about PromoRepublic's local marketing platform for businesses with multiple locations. We'll help you grow foot traffic, increase appointments, and up local sales.