Think your business can't benefit from the engagement a Facebook community offers? Think again! I'll show you all the engagement options Facebook has to offer, then teach you how to run a Facebook community that will build trust, convert to sales and more.
What is The Difference Between a Facebook Profile, Page, Group and Community?
Facebook offers you 4 opportunities to represent you, your business, or interests to large audiences. You've probably already heard something about Community on Facebook and why it is important but you aren't sure whether you need it or not. So, what are the four engagement options offered by Facebook? As of today, we have: personal profile, business page, Facebook group, and community. Now let's discover what each offer, to see which one will best fit your needs.
Personal Page for Those Who do Business Individually Or as a Person
Facebook profiles represent a real person. If you set up a profile in order to promote yourself and your product, the only means of advertising is real time communication with your followers. You can not manage ads and boost your posts on personal profile. For that, you should launch a business page. Personal profiles are not meant as a product or service promotion tool and your followers will lose trust in you as an influencer seeing sponsored posts from you. Save the personal profile for your own personal information, and use it to set up the other engagement tools.
Business Page (aka a Fan Page) for Organizations, Companies and Brands
Create this type of page to broadcast great information to fans in an appropriate, official, public manner. With business page you can write a comprehensive information about your company, create useful tabs, and set ads to capture bigger audience. We have lots of information on how to get more followers on your Facebook fan page, how to get more likes and shares, and we've coached you on the many types of social content you should be sharing with your audience. Even if you plan to start a Facebook community, you should have an official Facebook page for your brand.
Facebook Group to Foster Discussion Around a Particular Topic
Facebook groups are not promotional and any promotional post is usually banned by administrators. If you are a beauty salon for example, you can run a group (to invite followers from your business page) and discuss different topics that may be of interest to your customers. Again, groups are chats for discussions, no promotion is relevant in them. You will be quickly unfollowed as they want to see true posts by real people.
Community Group to Boost Engagement and Grow Relationships
Facebook's community group option was created to differentiate between Facebook business pages (fan pages) and what they now call community pages. Facebook says that the community page is a page dedicated to a topic or experience that is owned collectively by the community connected to it.
Why Do You Need It?
Running a community group will boost your brand engagement as they know that it is you (a brand), who communicates with them.  And, being an administrator of the group you can wisely promote your business. So, why do you need to launch this type of page:
You unite your leads and clients in one place. The leads see real feedback about your brand from your clients.

You allow them to post their questions that makes you an open business.

You gather User Generated Content (UGC) which is important for your content strategy.

You announce your special deals and offers, to make your community feel special

You can reach your target audience more consistently
How to Create Your Community Group
To begin creating your Facebook community group, look for the Groups section in the left-hand sidebar and click Create Group.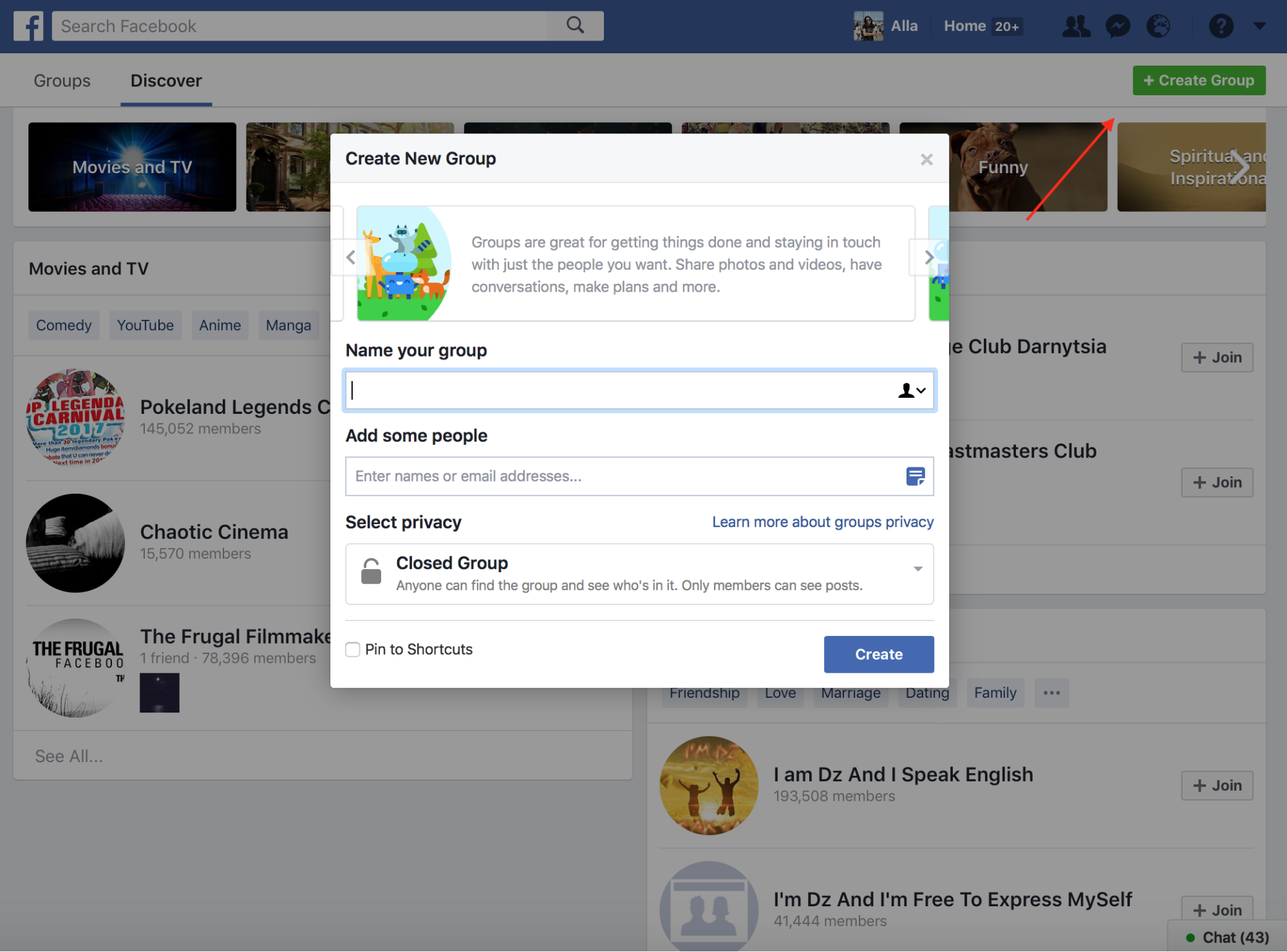 Then you can name your group. You can use your business name if you're going to discuss topics related to it. It is ok to promote your company in a community group.
Be very careful when adding people to your community. You can start by typing in the names of your friends and add them to your group. Everyone you choose will be added as a member of the community automatically. Sometimes, people don't like that type of "Facebook Democracy", so it's better to add only those people who are really interested in it.
You can also type in their email if your have an email list.
Leave your community closed. When it is closed, it seems more exclusive, and people want to see content that other people can't see. It is far more valuable when someone wants to be added to a community, rather than making it open to just anyone. The exclusivity is an important currency you shouldn't miss out on.
Choose An Icon
You can choose an icon that will be a representative visual element of your community. Sometimes it's hard to find something relevant out of the choices, but since this point is not optional try to find something that matches a close to something that reflects your brand as possible.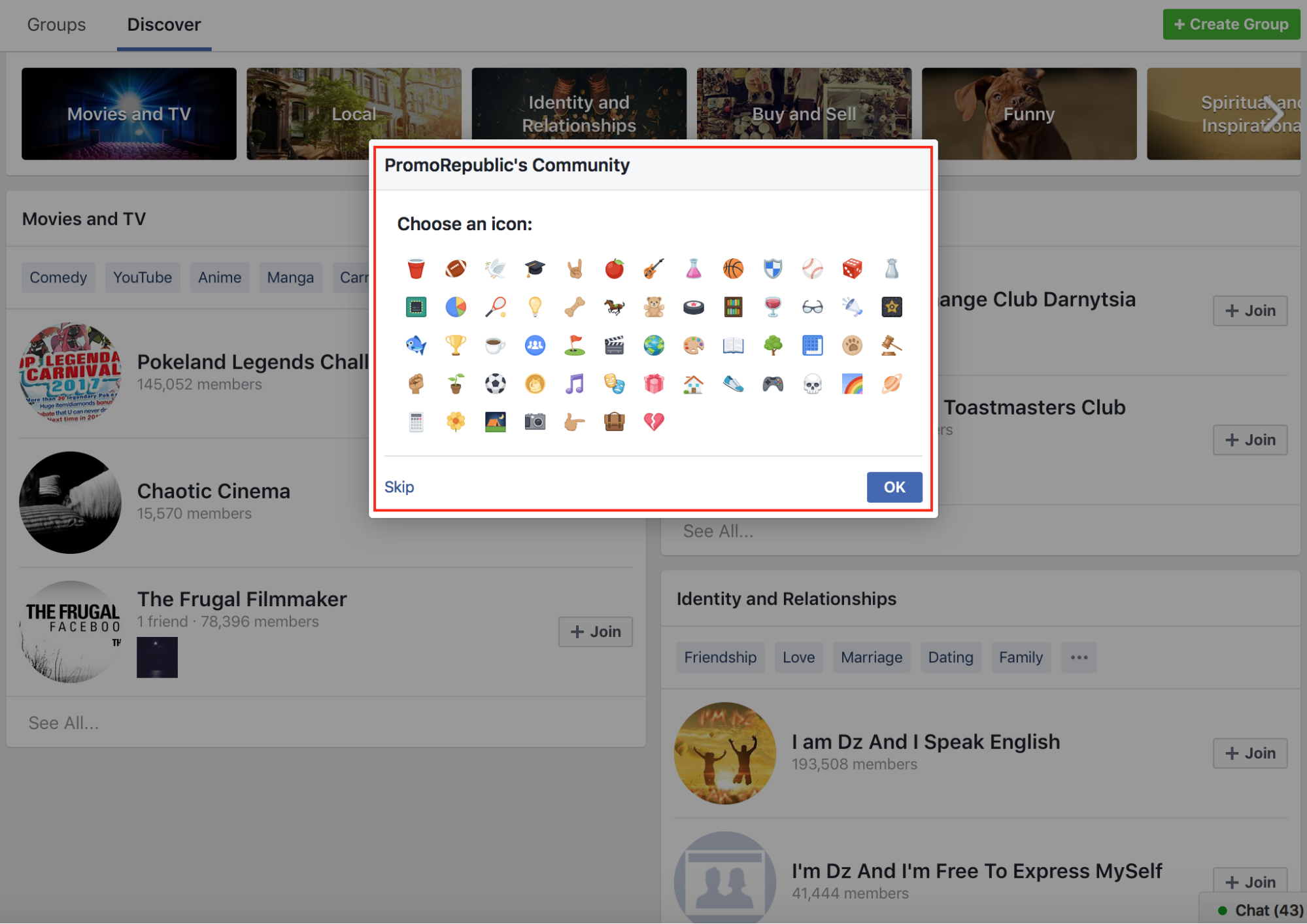 Add A Cover Image
To give your group a cohesive feel and welcome new members, add a cover image and a description. The cover image should reflect the name of your group and tell people who the group is for and what they'll get out of it. You can either add a customized image like I did or upload one that will be relevant to your industry.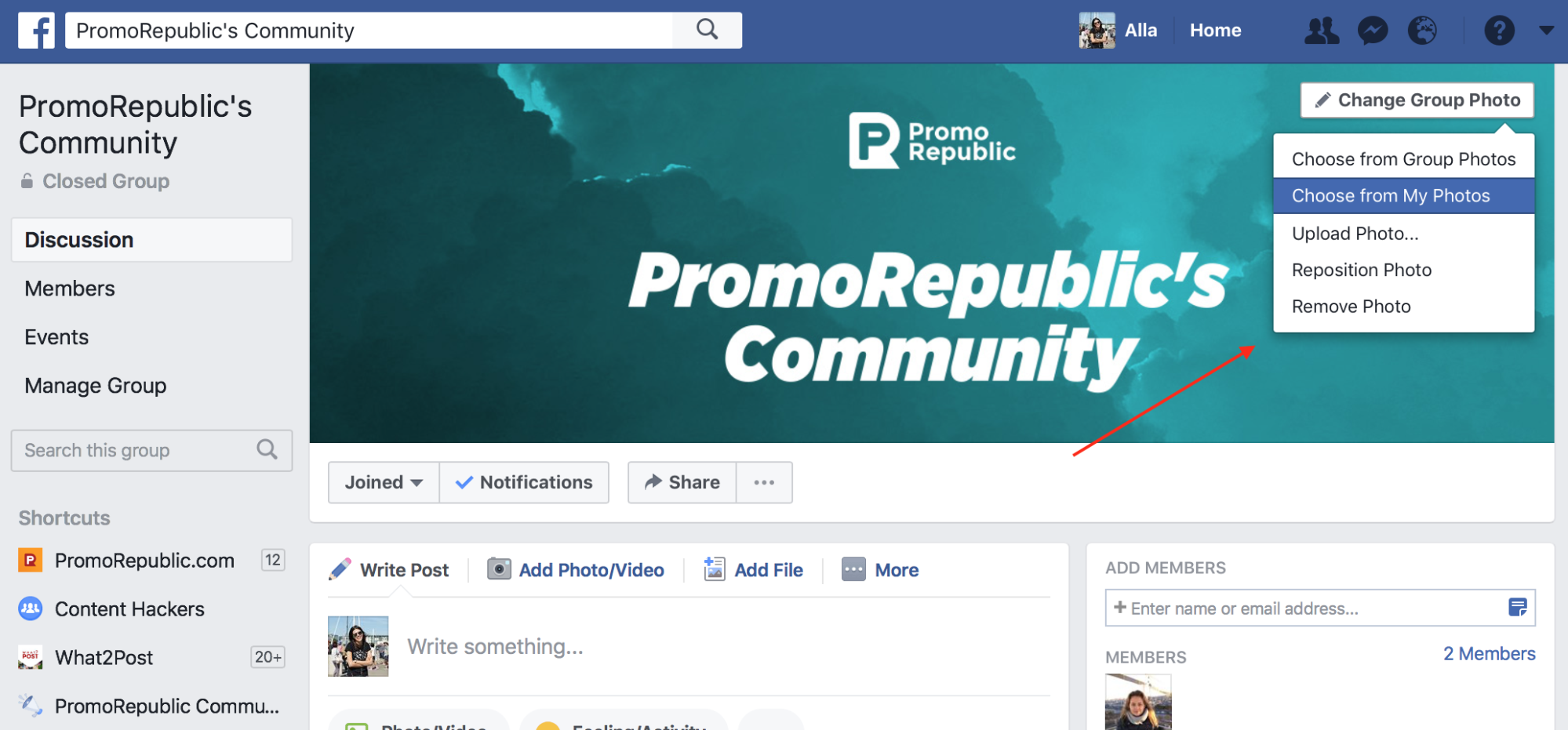 Description, Tags, Location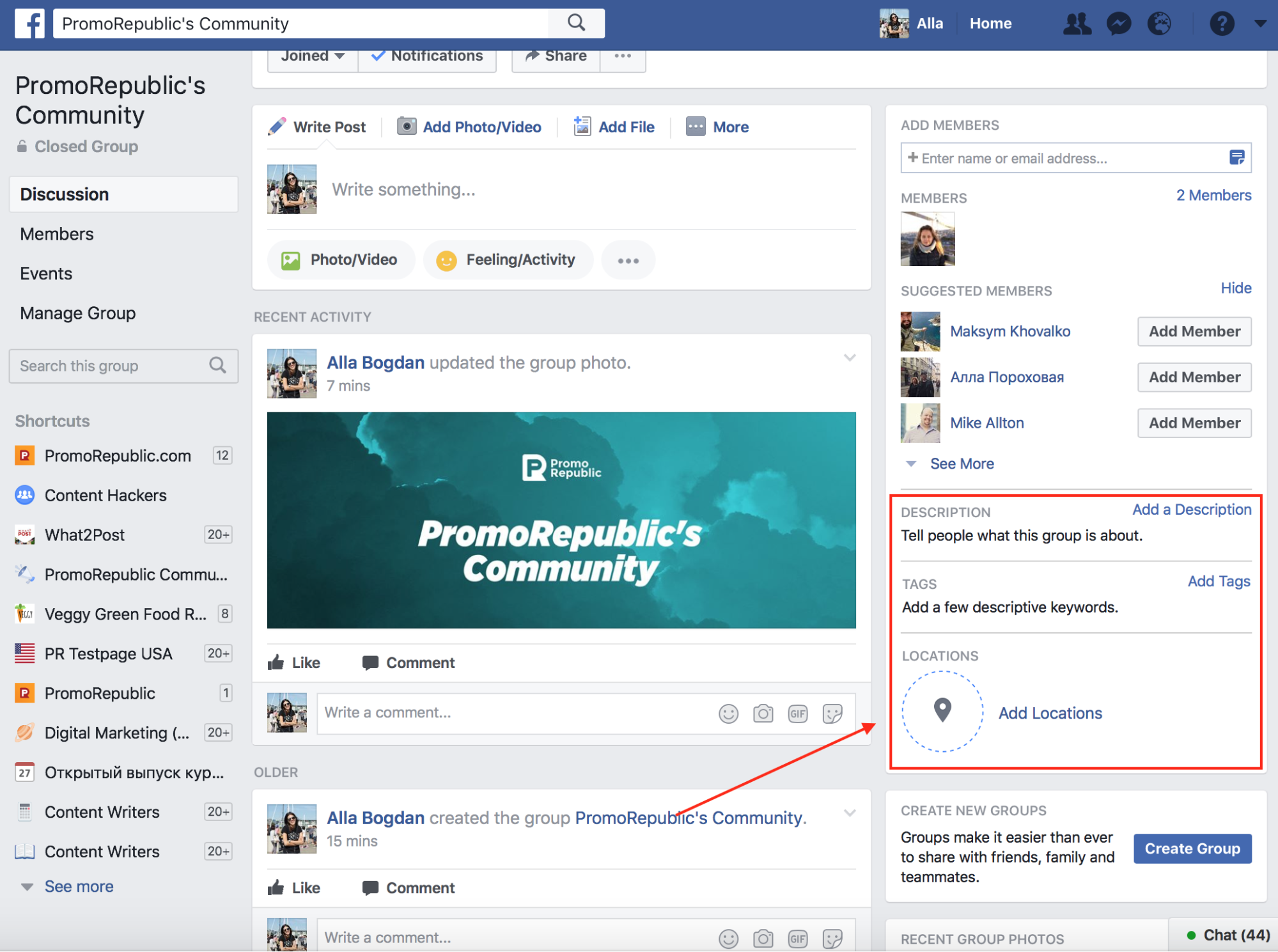 Write a clear description of your community. When people first on your group, it will be the first place they will go to find information about you.
Add relevant tags to make your Community visible for potential members. When they search for #socialmedia #contentcalendar #smallbusiness they will see PromoRepublic's Community in the list of suggested groups, for example.
You can set your physical address, if you want them to find your brick and mortar location.
What Should Be The Content Plan for Your Community?
You understand the difference between your Facebook business page for driving leads and sales with promotional posts and Facebook's community page. The community page is  when they know you, and the person who manages the community and actually is the face of it. It is important for this kind of page to have a leader, to whom followers will address their questions and feedback.
Being in a community feels a little like dining together with friends in small cafe: you are open and do your best to provide maximum value to them. So, there's no room for aggressive self promotion. According to my experience in running PromoRepublic's Community, there's pretty much the same content plan as for your regular business page but the posts are completely different.
The following ideas are taken from PromoRepublic's Community and will help you start with posting:
Show Them Your Face
You  remember that your community should have a face. Specifically, the person who manages it. Members need to understand who is behind the scenes and who answers their questions.
Show them your face, record a video and ask relevant questions. Video posts get twice more engagement than any other type of post.  First, you need to see how responsive your members are. You can start with general questions like I did with coffee. Or just share some remarkable moments with them.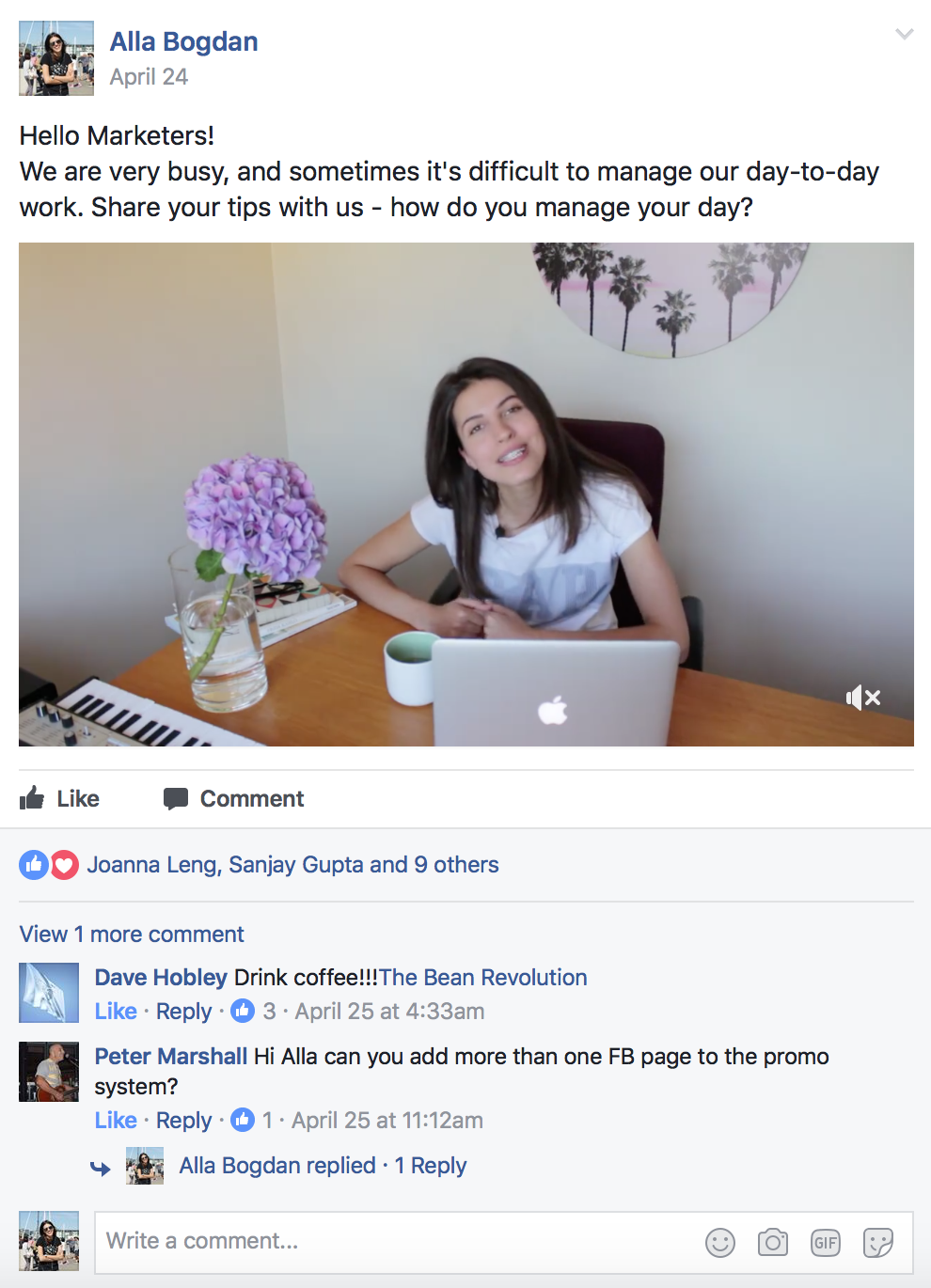 Put Them Behind The Scenes
You may think that photos of what goes on day to day in your business may not fit your content plan of your business page. That might be true, but you can post them to your community! You remember that you are friends in a cafe – introduce people, who work for your company to followers.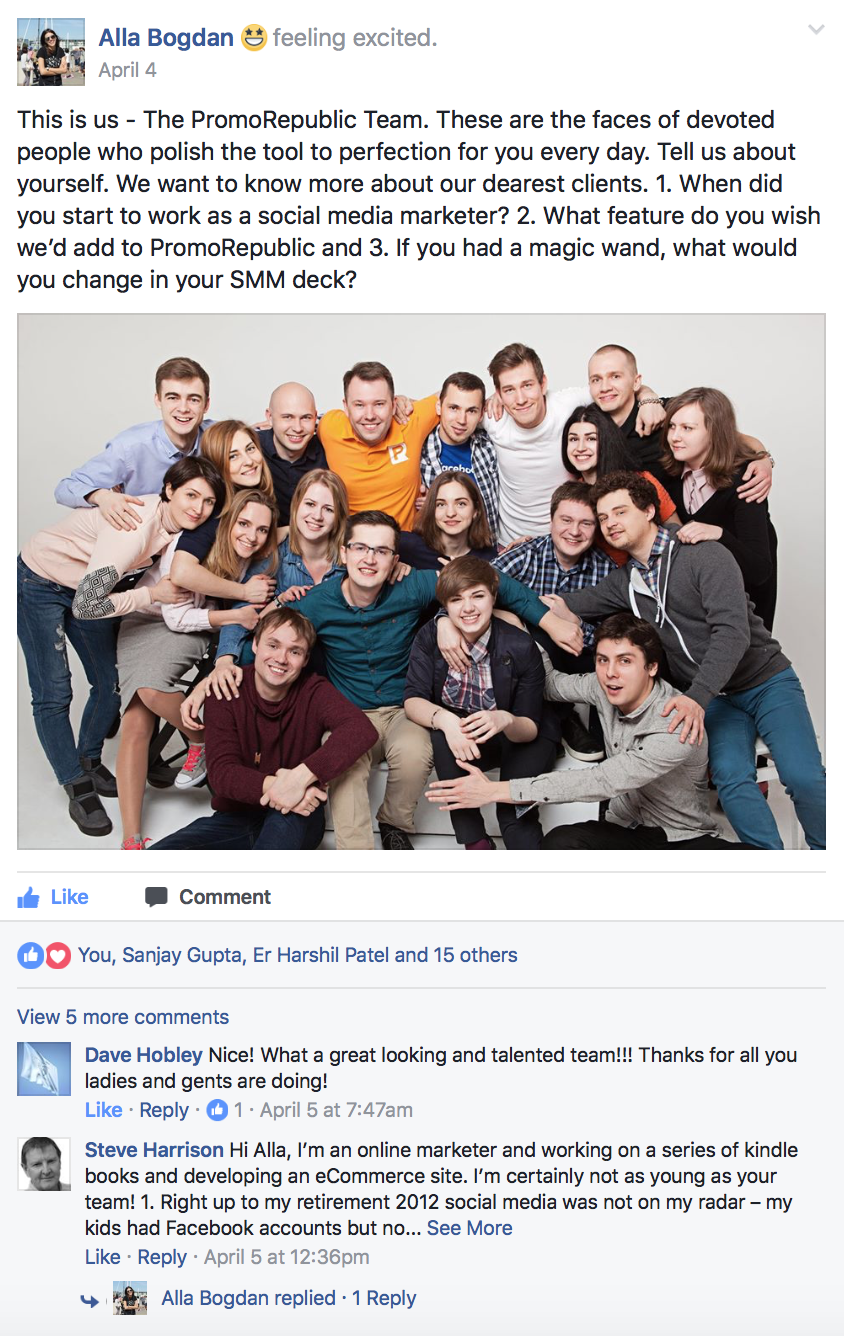 Ask Questions
If someone follows your community – there is a reason for it. Usually they have pain points and issues they would like to solve with your help. So, I asked what is the biggest pain point of my target audience – social media marketers – and received a lot of answers! You can do the same – how can you/your product/service help them?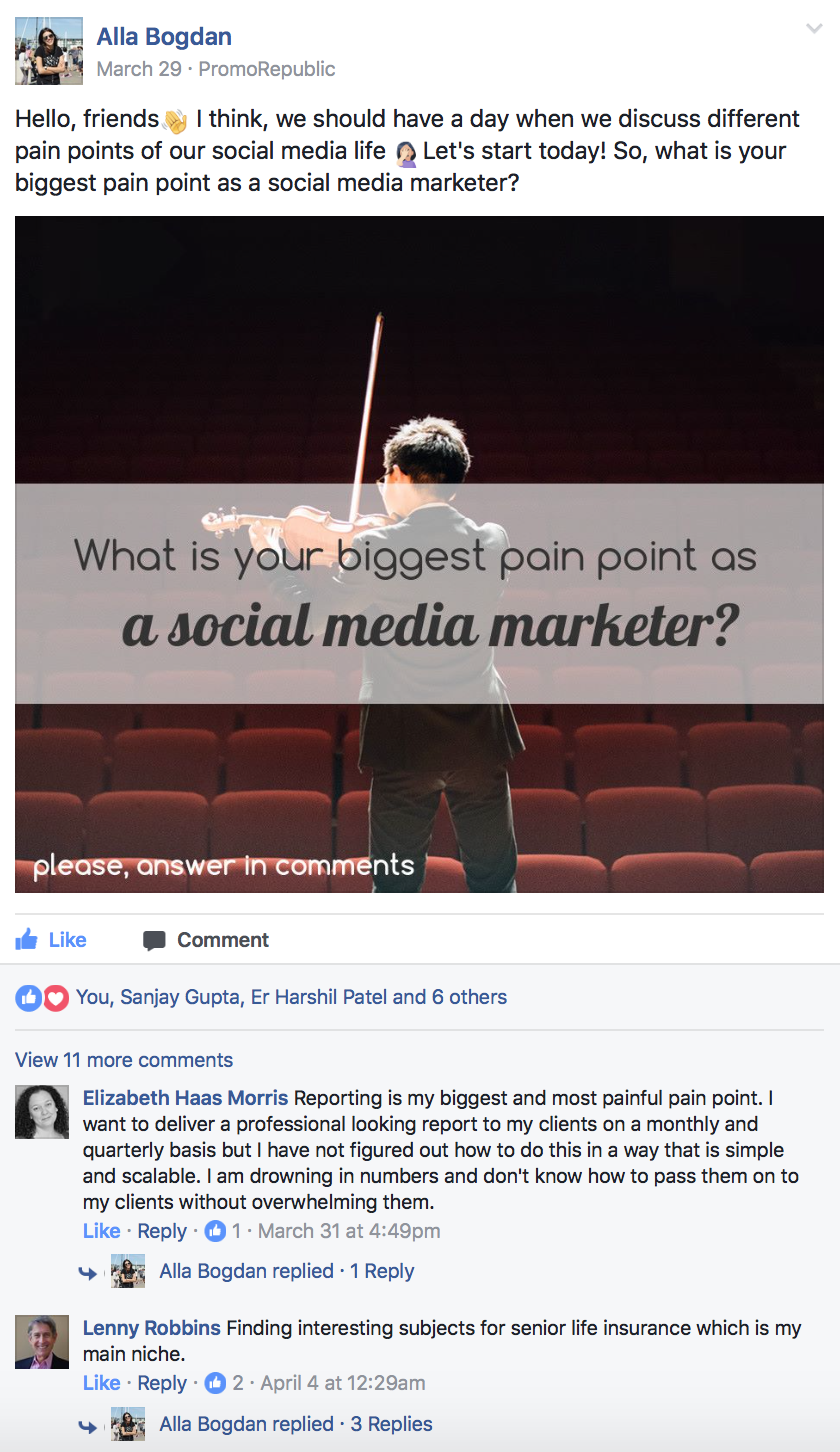 It's very easy to create such visual posts with PromoRepublic's Graphics Editor.
Be Helpful – Encourage followers posts


Not only can you learn how to improve your product or service from user-generated content, you can come up with ideas for content AND you can allow your community members to have a voice. This gives them networking opportunities that YOU made possible.
Create Unique Regular Content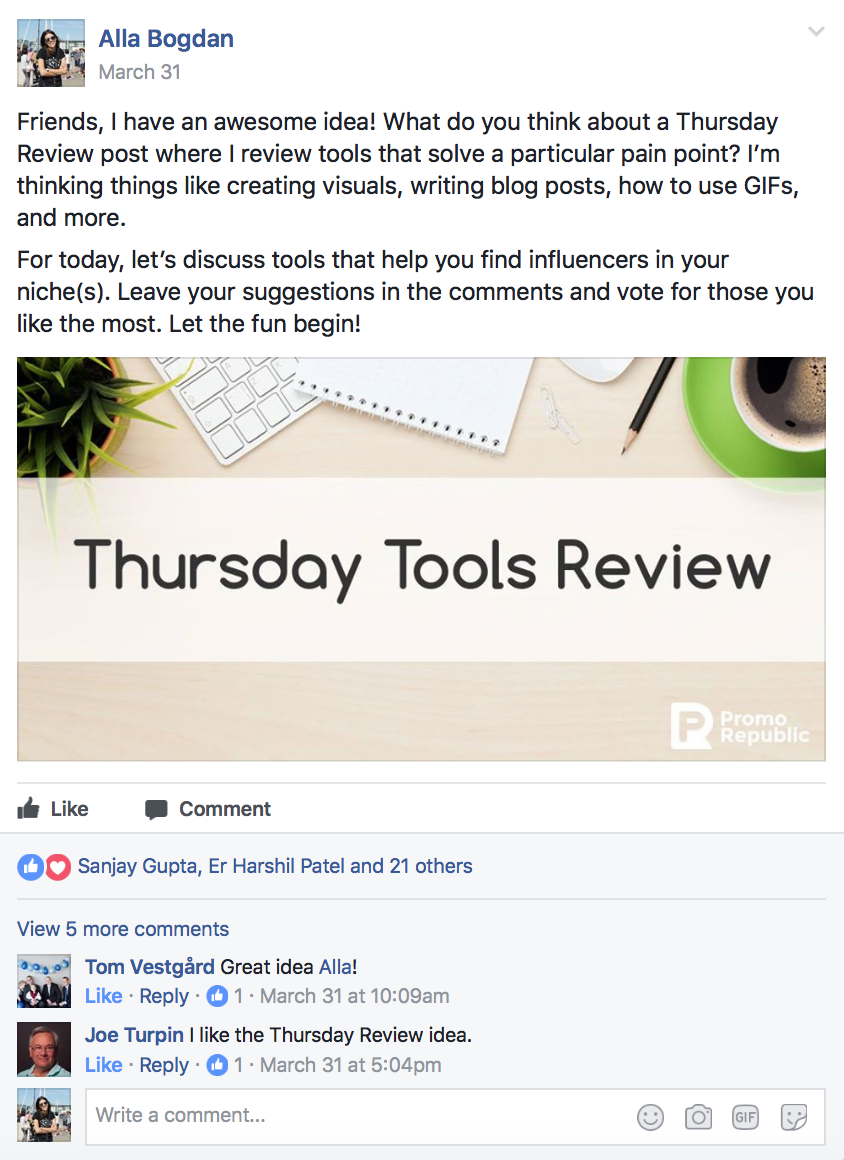 Between running new ideas by your community to posting engaging content in the form of quizzes, inspirational quotes or memes or curated content that is relevant to your industry (and the industries of your community members), you  can plan your content easily. Just think about the rules you use when you plan your business page content, and soften it up a little for your community. Remember that you are talking directly to members of a closed group, so don't be afraid to show your personality and talk to your group like you are collaborators together.
Educational Posts
Share valuable content they will not find somewhere else.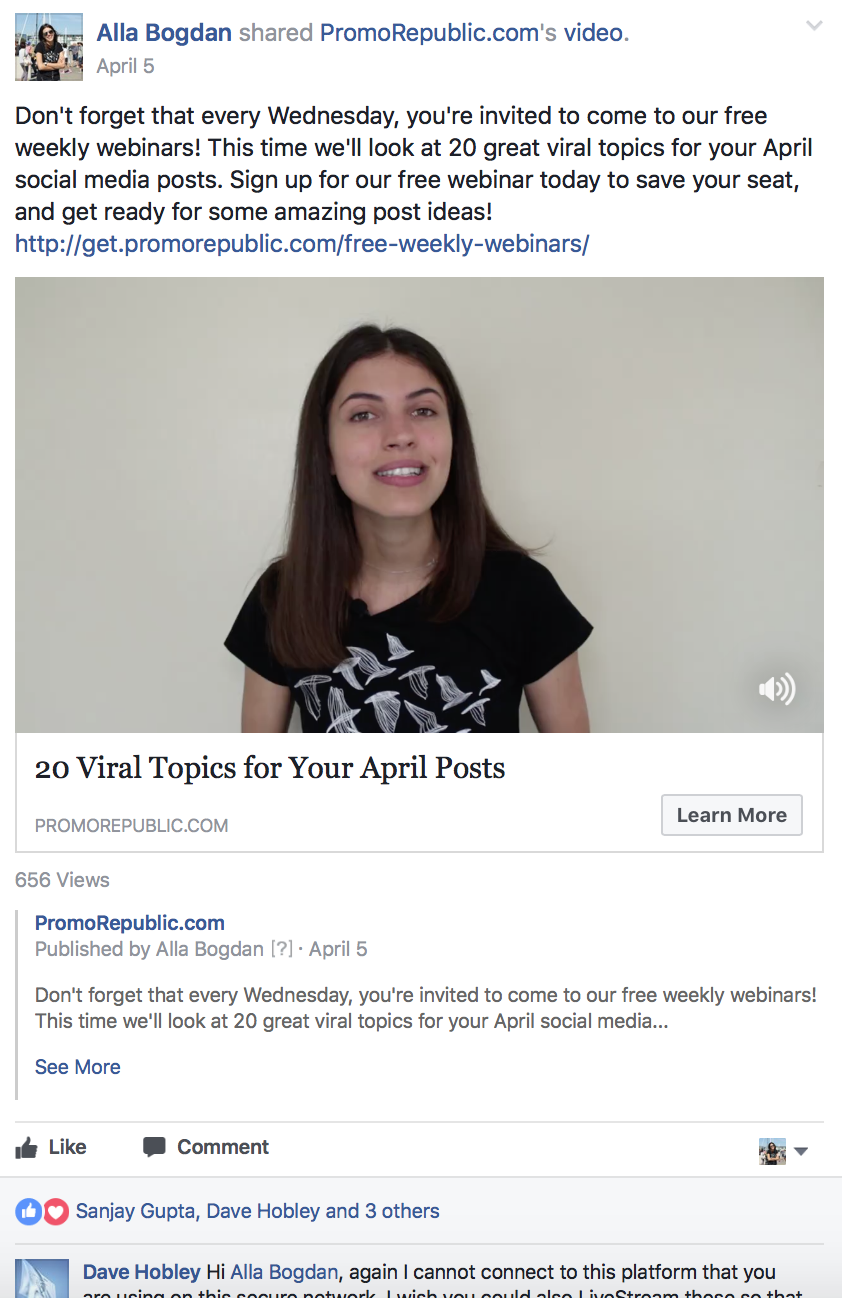 Make Your Educational Posts Visual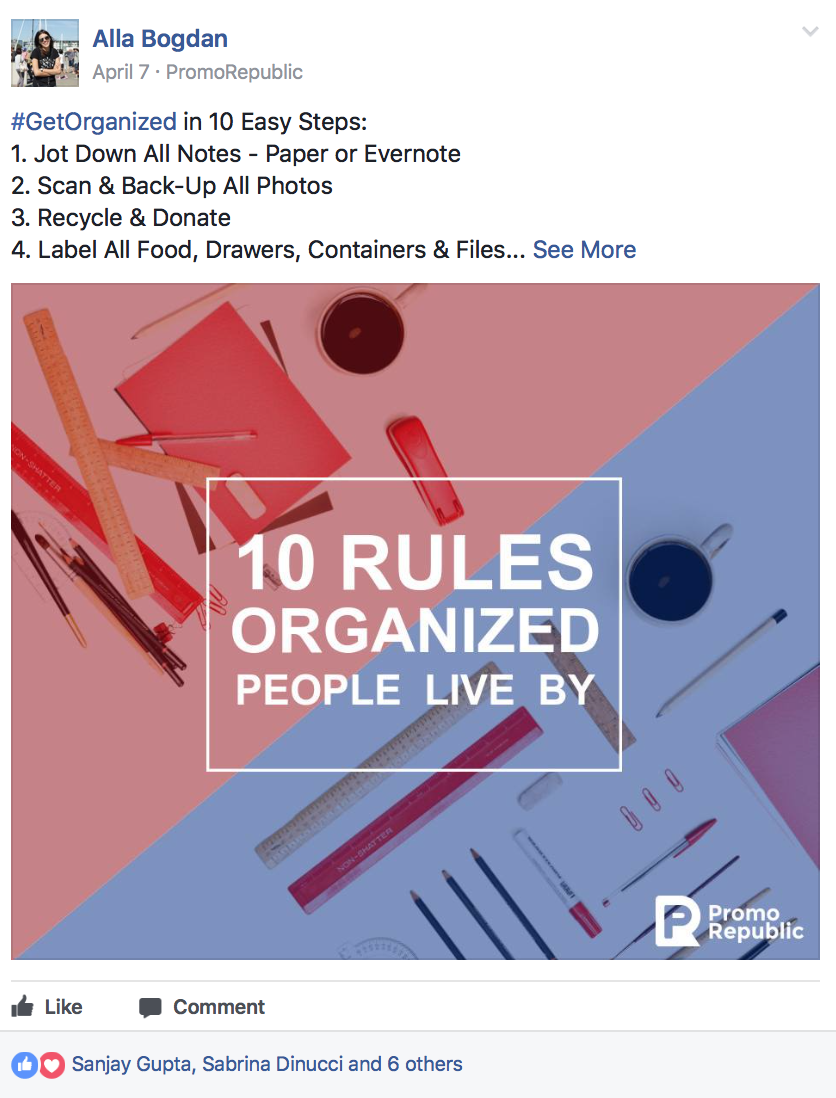 Everyone likes to learn. And, if you can provide information that your community members may not get anywhere else, you are a long way toward adding tons of value. When you do it visually, you are connecting on a deeper level with your community.
User Generated Content, UGC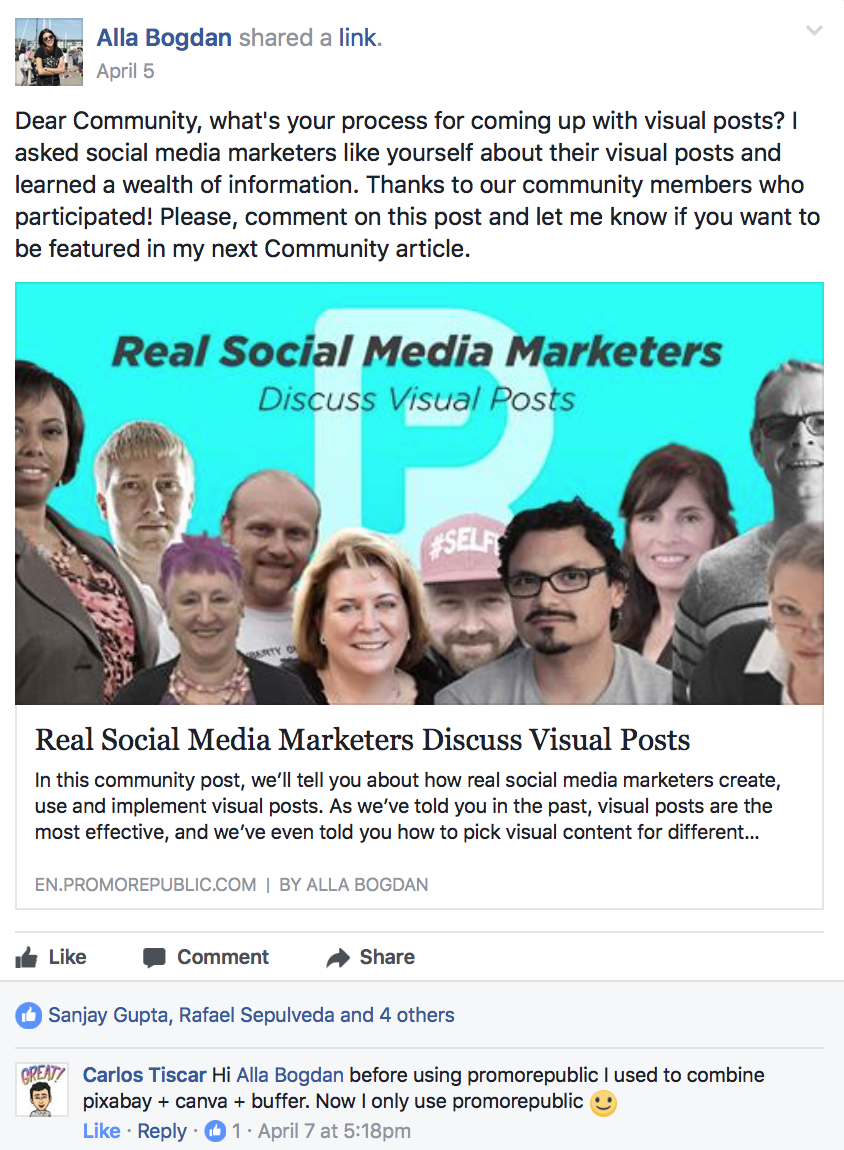 Treat your community members like though leaders and they will really deliver. I have reached out to the PromoRepublic community on a variety of topics and learned a lot about what they think, what their pain points are, and how they win at social media. It is valuable information I couldn't have gotten elsewhere.
Valuable Curated Content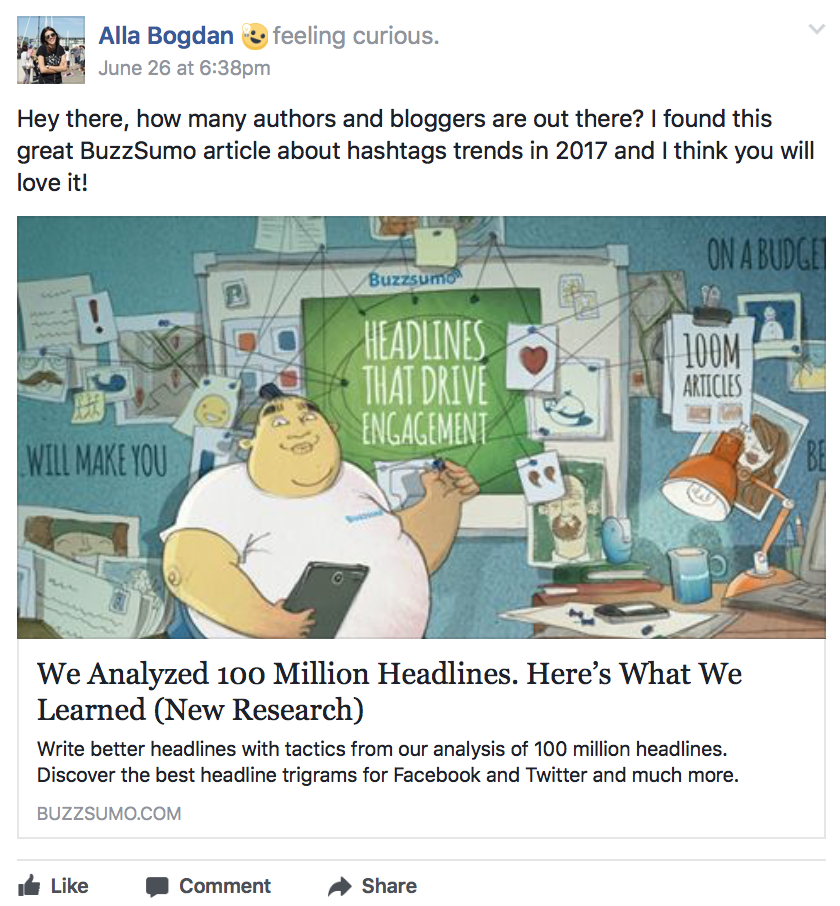 While curated content shouldn't be the bulk of your social posts ever, it is of value to occasionally share a blog post or image from an outside source if, and only if, you know your community will want to read it or see it. Choose wisely, but do show them interesting or valuable information.
Ready to start your own Facebook community? Want to join mine?