Social media marketing is the usage of social media networks for gaining website traffic, building connections with the target audience and growing brand's reputation.  Originally this term mostly referred to online advertising, but nowadays SMM meaning went far beyond these borders uniting many other fields including strategic planning and building engagement.
Unique Social Media Marketing Strategies to Learn From
One of the greatest challenges modern marketing manager faces is to build effective online campaigns in line with the company's business strategy. It means that it is difficult to choose from various tactics, strategies, and tools available at the market. Thus to be successful, you both have to get acquainted with them and to learn from other brand's experience. Look through these several great examples of marketing on social media.
Casper Case – creating a multi-channel marketing strategy.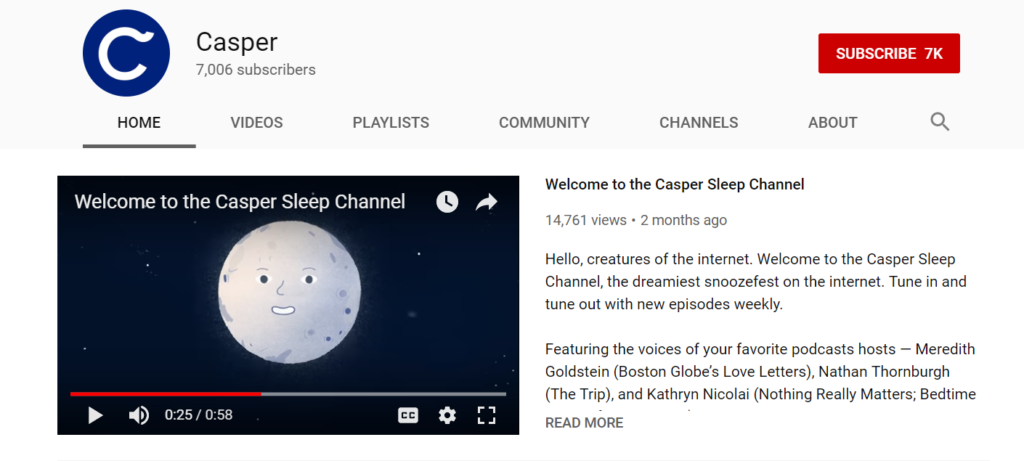 Casper makes a great job in multi-channel marketing using different social platforms to reach their customers. The interesting thing about this case is mindful sharing of the content at several networks and proper adaptation of it to the specificity of each platform. The new Casper Sleep Channel has some soothing sounds helping their users to go to sleep. The company shares each new episode of Channel on YouTube, IGTV, and Spotify and makes cross-promotion across other channels. Such an approach may be time-consuming, but professional social media posting tools can make it easier.
Oreo Case – building a unique engagement strategy.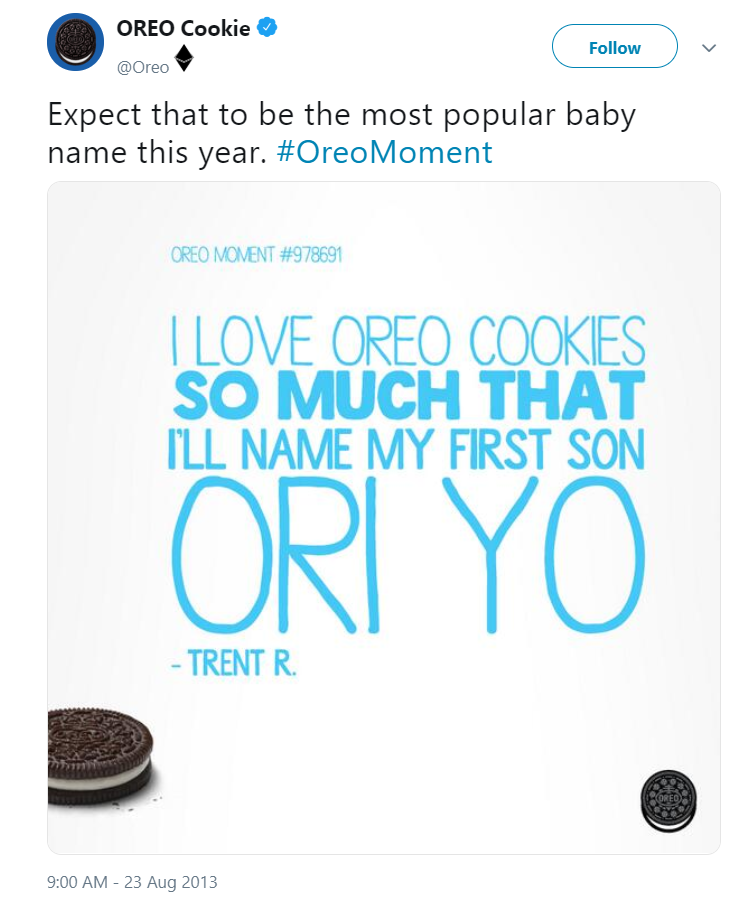 Oreo built an impressive Twitter account where the company presents interactive content in playful forms. The posts and videos are always funny and include pictures for special use on Twitter and short videos. This approach helped them to maintain strong followers including celebrities and other companies. Great creativity and collaboration being accompanied by humor helped Oreo build real audience engagement with just 140 characters and a picture.
Desigual case – working with influencers strategy.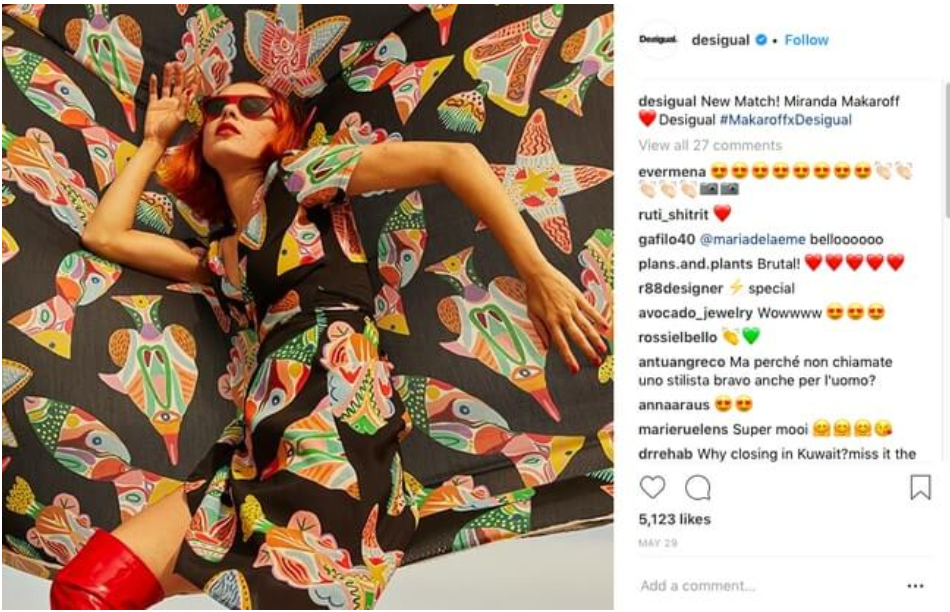 Instagram is one of the greatest social platforms for selling products and to popularize your brand. Studies show that you can gain $6.5 for each dollar invested in marketing through this platform. Here, a good way to start is to find influencers – people who can impact individual purchases due to their relationship with customers. One of the good examples is Desigual partnership with Miranda Makaroff. Posts and videos with a celebrity being accompanied by "#MakaroffxDesigual" led both to brand popularity and boosted sales. Remember that you should not always choose a celebrity if you want to succeed on the Instagram network. Sometimes niche experts with 500 followers can bring 1000+ sales being experts in your industry.
Define social media marketing strategy learning from these great examples. They can serve as inspiration for your next campaign or can just show that you are developing in the right direction and have many tactics and strategies at your disposal.
Investigate the Main Social Media and Marketing Components
These days the role of social media marketing goes far beyond the promotion of your products online. To be successful in digital your SMM tactics are to be in line with your company's business strategy. It is also a place to listen and communicate with customers, understanding their problems and providing the information they need. Finally, any promotional campaign requires an analysis of its effectiveness to understand how to proceed with digital marketing.
Investigate these five pillars of SMM to understand its role in your business: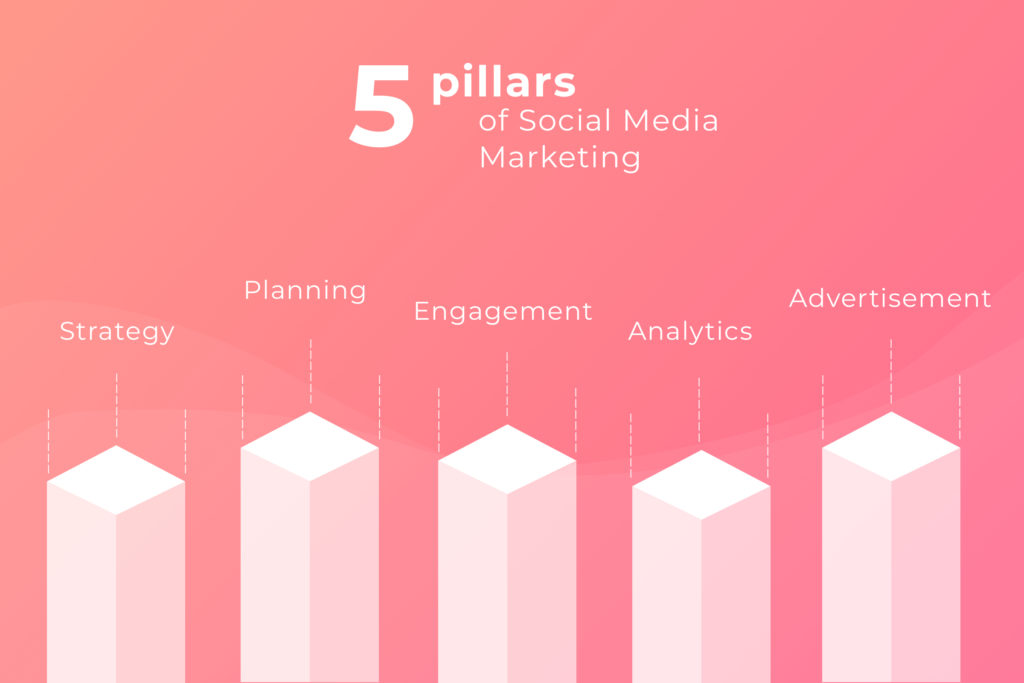 Strategy
When developing your unique social media strategy you have to answer three main questions at the start:
What are the goals of your SMM? – We discussed previously that these goals are to be in line with the general business strategy. Think about your priorities – sales, brand popularity, audience engagement. These goals require different strategies for realization.
What are your target platforms? – The most popular platforms at the moment are Facebook, Twitter, Instagram, YouTube, Pinterest, and LinkedIn. It is a big mistake to start with all the platforms simultaneously. Define the ones most popular among your customers and start with one or two networks. Following the development of these platforms, you can switch to the multichannel strategy.
What is your target audience? – Ask your current customers about their age, income, and interests. A simple questionnaire can help to gather this important information. Then determine the most popular social media networks for your audience. Finally, develop the type of content fitting the requirements of your customers. You might also use these useful tips to answer the question – how to find your target audience.
Planning
Once you've developed a social media marketing strategy, set your goals, identified target platforms, and customers, it is the right time for planning and publishing. A good strategy at this moment is to prepare the plan of SMM activities and present it within a certain schedule. This framework has to include: a number of posts per each platform, their frequency and posting time. The regularity is a key to success. You have to follow the schedule, gradually developing your online presence. This process is rather time-consuming and it is hard to control the process manually. Use a specialized scheduling tool to perform automatic posting in your networks.

Engagement
With the development of your social media networks more and more followers with interacting with your brand and will make comments to your posts. To build genuine engagement with your audience try to answer each of the questions appearing online. It is hard to do all this work manually, hence the application of some social monitoring tools might be of great help.
Analytics
Many businesses fail to analyze the results of their online strategies. Such an approach leads to their inability to optimize their digital activities and choose the best-performing instruments.Look through several important steps to track the effectiveness of your social media marketing:
Create metrics to measure your goals – look through this quick guide to the most important metrics, including cost-per-click, engagement, and others
Monitor them regularly to understand the effectiveness – use some social media analytical tools to simplify your work
Adjust your marketing efforts, repeat the most effective campaigns with the highest ROI (return on investment) and update your strategy
Advertisement
Paid social media advertising is a good way to gain high-quality traffic to your website and target the right audience in social networks. Your ad formats have to differ across channels so pick the best one to connect with your target customers. Try different forms of ads and use several ad types for one piece of content to find out what works best for you. Do not forget about analytics. Checking routinely your campaigns helps to measure your results against your goals, so that you can make adjustments in future periods.