Why direct selling companies are in a unique position
We can only imagine how the world will look after the coronavirus outbreak. But some changes have already been made. Social distancing and the shift to online communication are changing the way we interact. We meet with friends and colleagues via Zoom and Hangouts. Apptopia just reported that Zoom was downloaded 2.13m times around the world on 23 March.
It also influences consumer behavior. Online sales have increased 52% compared with the same time frame a year ago, and the number of online shoppers has increased 8.8% since the coronavirus began, according to SaaS platform provider Quantum Metric. Retailers, restaurants, and real estate companies are desperately trying to shift their products and communications to online.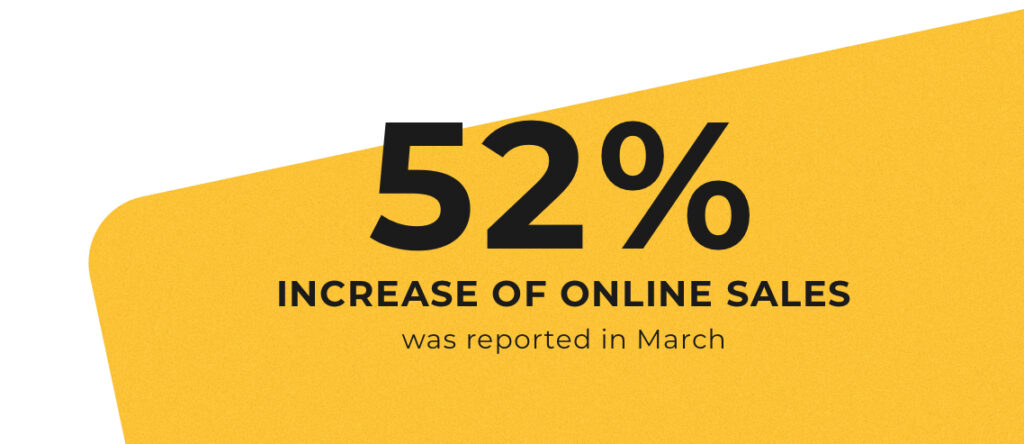 MLM companies are in a better position here than are many other companies. Direct selling representatives are used to online communication with customers. Therefore, they can provide people with the products they need in a way comfortable for them, without violating the need for social distancing. You as a marketing leader need to ensure that they are doing it right in such an uncertain environment. Consider these steps to avoid pitfalls and leverage the opportunities. Join our Navigating Representatives Through the Crisis webinar on April 16th to learn even more.
Keeping representatives aligned with your official statement
When you at HQ have come up with a clear COVID-19 statement, it's crucial to communicate it to your direct selling representatives, share a plan of action, and make sure it's not violated. You can start by posting a Statement Page on your company's official website. It has to be updated on a daily basis with relevant articles and videos. This will help build transparency and form a strong consistent background for your representatives who communicate with customers.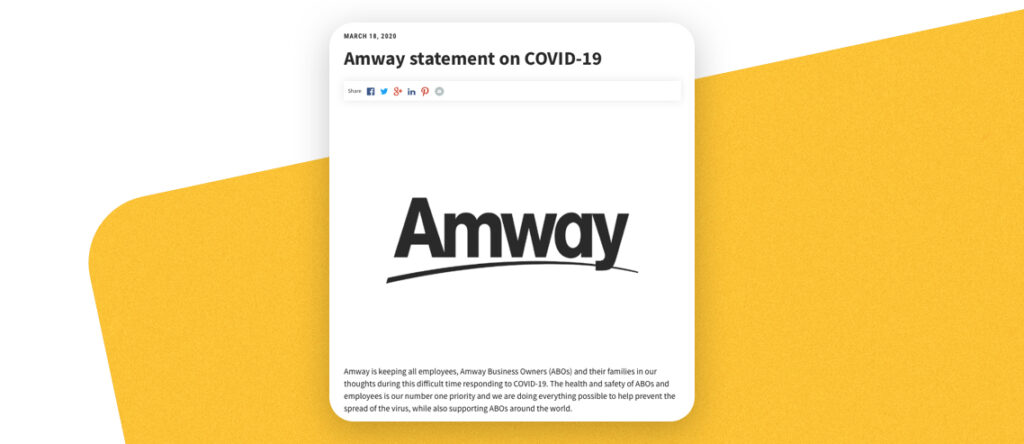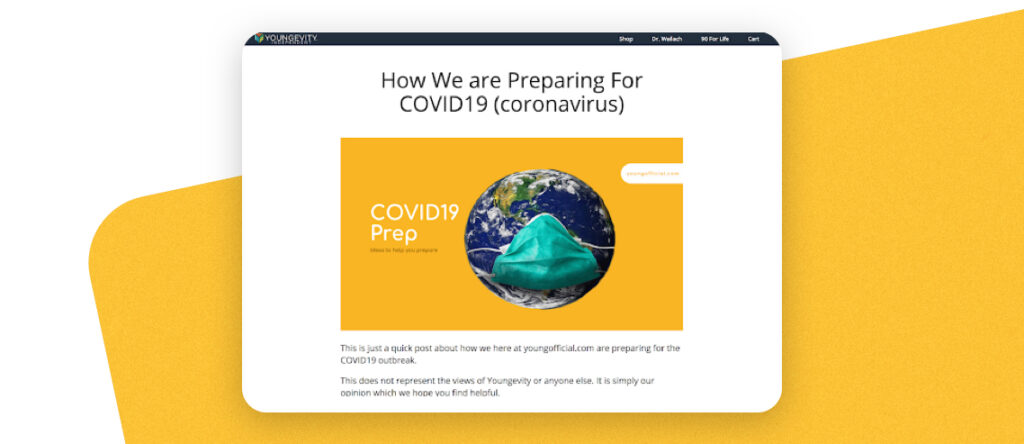 The point you need to emphasize in your statement is how your products can truly be of service in the current situation. Overpromising may lead to legal issues, so the correct position in times of the pandemic should become a part of compliance. Organize your messaging examples in one place to make them available to all representatives like Amway did: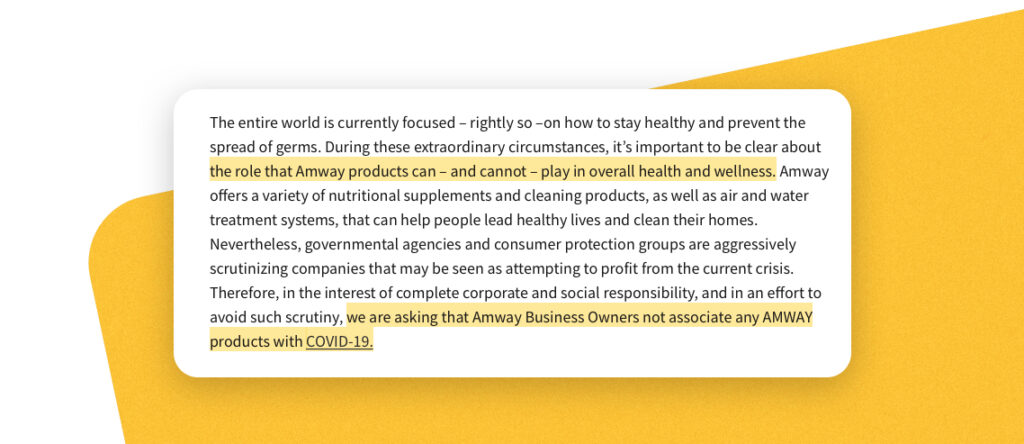 It should be your top priority to ensure such a message reaches all of your representatives, so utilize all marketing channels to communicate it. Send to your representatives emails that include all the essential announcements. Post on official social media pages. Live streams and videos are preferable as they provide more transparency and add a personal touch. Since offline conferences are not an option, it's a good alternative to launch online leadership events and trainings.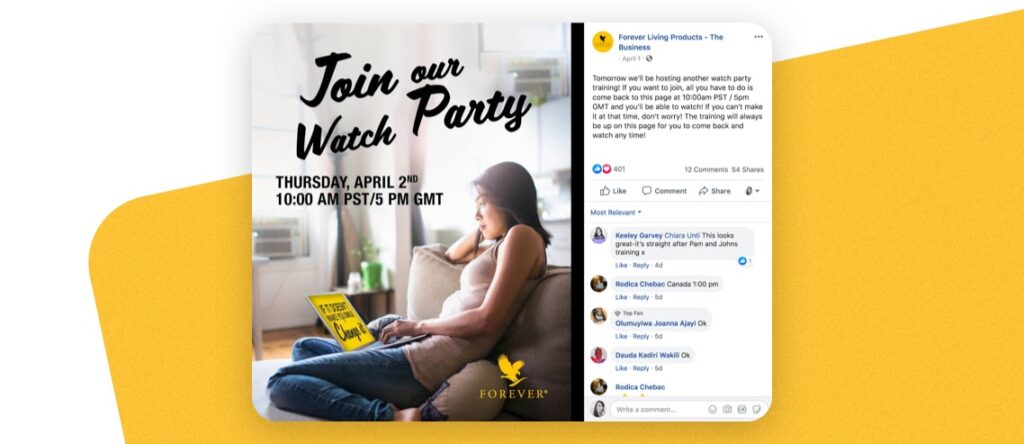 Empowering representatives to redefine social selling
Nielsen's U.S. media team reports social media has become the top COVID-19 conversation channel. Along with providing the ability to communicate personally and build relationships, it makes social networks a gold mine for your representatives. When people feel lost, direct sales representatives can prove themselves to be leaders and take care of their clients by being supportive.
If your business is related to the Health & Wellness industry, you're especially resonating with the situation. In the middle of March online sales of vitamins increased 78% compared to the beginning of the month and sales of fitness equipment increased by 170% compared to March 2019, Stackline reported. People are trying to invest in their health and wellbeing, they need guidance, and your representatives are just the right people to be an example and inspire.
First of all, explain this to your representatives to inspire them and prove the importance of social media communication during the quarantine. Then provide the necessary training. Organize online social media marketing workshops, share best practices. Such basic courses have to be available to all representatives to help them grow their business via social selling in these times of uncertainty. Also, you can create advanced courses for those who want deeper knowledge of social media marketing and are ready to pay for additional education.
Here are the main social media marketing guidelines you need to share with your representatives.
Show how to build relationships
Your representatives need to understand the difference between selling and building relationships on social media. It's a long-term game which requires special skills. Like offering value to subscribers—representatives should take care to be useful and share relevant information. For example, if you're a wellness brand that sells supplements, your reps can post about healthy diets, give tips, or describe the value of ingredients in your products, but they shouldn't post about the products themselves.
Also, building relationships is about appealing to people's emotions. Motivating, supporting, entertaining—all of these will lead to higher engagement and will help build a personal connection. This needs to be a two-way street—representatives should listen to their subscribers, reply in comments, pay attention to their problems and be supportive.
Point them to different content formats
In such circumstances, when everyone is locked in at home, people want to see other people and communicate. It's good for your representatives to leverage the situation by trying new social media content formats. For example, they can launch a topical marathon and invite subscribers to participate, ask them to use a special hashtag and get fresh user-generated content on a daily basis.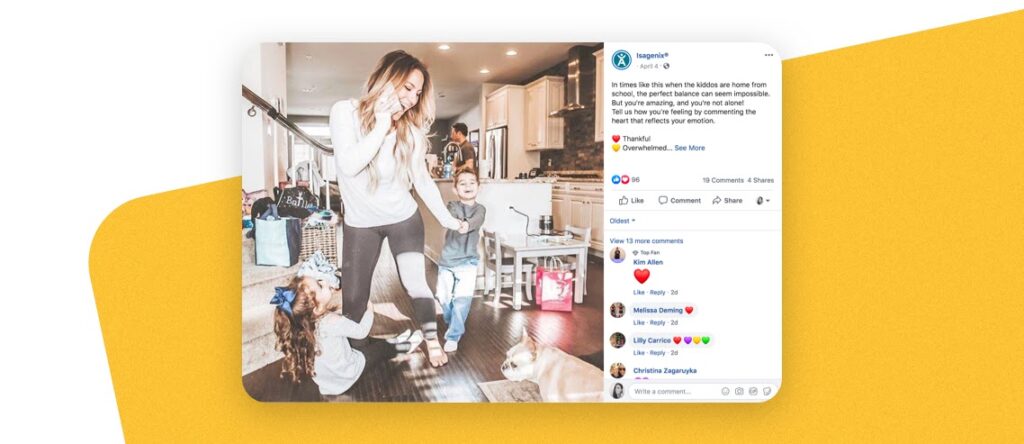 Now video content is growing dramatically in popularity. Creating videos and live streaming is a good move for your representatives. Even if they don't have the equipment it doesn't matter that much. Create an educational series for them showing how to record at-home workouts, share their beauty routine tips, or run cooking classes. Or just invite them to record funny videos. Forever asked their representatives to record themselves dancing and got a great video post.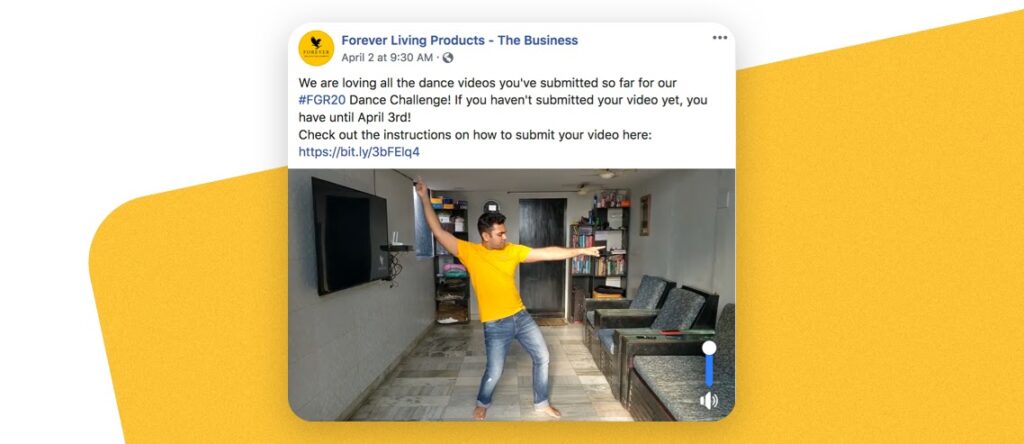 You can provide representatives with quality video content yourself. It's a particularly good idea to organize online consultations, telemedicine, and live streams with tips from experts and then let representatives share them with their subscribers. Like Youngevity does—they run online Q&A sessions with the founder Dr. Wallach, nutrition expert. Everyone is invited. Dietary supplement and personal care company Isagenix also runs streams and invites health and wellness experts. Your representatives can leverage such content to bring additional value for their subscribers and it will help them gain trust. They can even get inspired and start doing online consulting by themselves.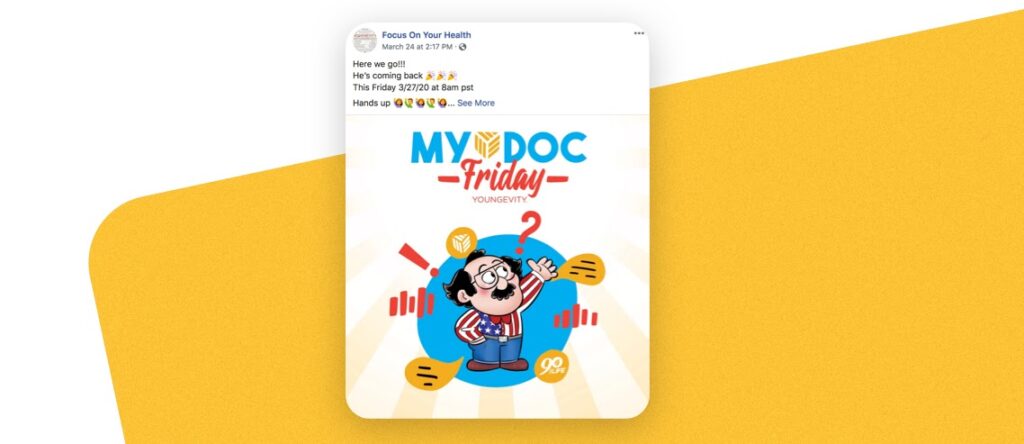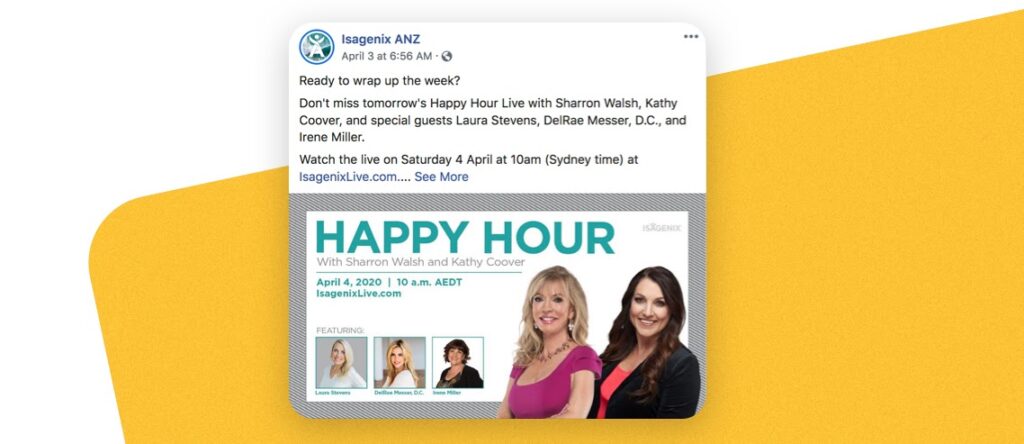 Prevent overselling
There's a fine line, though. It's a good idea to advocate for lifestyle, but your representatives must not say your products prevent the spread of Coronavirus or help with recovery. People are extremely sensitive to overselling these days; such statements can only harm relationships. To secure customer loyalty, your representatives need to be first and foremost supportive and inspiring, not sounding salesy or pushy. All they need to do is show they are experts in their topic and open to communication. That will help build long-term relationships and will make future purchases more likely to happen.
Encourage them to run ads
Running ads is now the best way to get traffic—cost per click is cheaper since competition for visibility is lower as many businesses have stopped running ads to save money during the crisis. However, just 8% of consumers find ads irrelevant due to the coronavirus outbreak. Targeting ads at people in their local communities is a reliable way to get new followers who are likely to convert to customers in the long term.
You can create product ads at the HQ level and cater them to your representatives to adapt them to their audiences. Both sides will benefit from this—you'll stay in control of compliance, while your representatives will get a chance to promote their business with quality content.
Keep in mind that due to Coronavirus ad reviews may take longer than usual:

Properly targeted ads will help representatives become visible inside local communities and attract more people to their pages for further interactions.
Providing resources for effective marketing on social media
While working from home, your representatives can't create that much lifestyle content, like pictures from jogging in a park or having a healthy lunch at a beautiful cafe. Taking pictures at home is a good idea, but your reps' social media pages definitely need more variety. Encourage their social media efforts by providing them with relevant visuals.
Also, in order to make social selling smooth for your representatives, arm them with a trusted tool for social media marketing automation and content distribution. PromoRepublic is a good choice, since world-famous direct selling companies who are our clients report the efficiency of our solution. It allows the HQ to create a hub with branded templates, post ideas, and let representatives customize them. We offer a smooth content distribution workflow tailored to the direct sales business model. This will help your representatives leverage social media marketing according to your brand standards and secure their business in this unique time. Book a call with us to figure out how we can be of service to your business.
Summary
Transformation of customer behavior and the growing role of social media in online sales is a silver lining of what's happening with the world of business today. It's time for marketing leaders of direct selling companies to step into and make social media a powerful tool in the hands of representatives. It's important, though, to avoid overpromising and to stay transparent with customers not to ruin brand reputation. Providing representatives with proper training and solution for social media marketing is the best way to mitigate the risks while leveraging the situation.