The anticipation of Spring is probably one of the most riveting times of the year. With the days getting longer and the sun shining brighter, your followers are revved up to shop new collections, attend empowering webinars/events, renew their bodies and souls and join in any outdoor activities – it can be simple as having a coffee or laying in the grass listening to a podcast. The winds of change brings a higher rate of engagement and more openness to New and Fresh ideas. So together, let's get their spring on!
WHAT'S ON TREND
RE-ENERGIZE YOURSELVES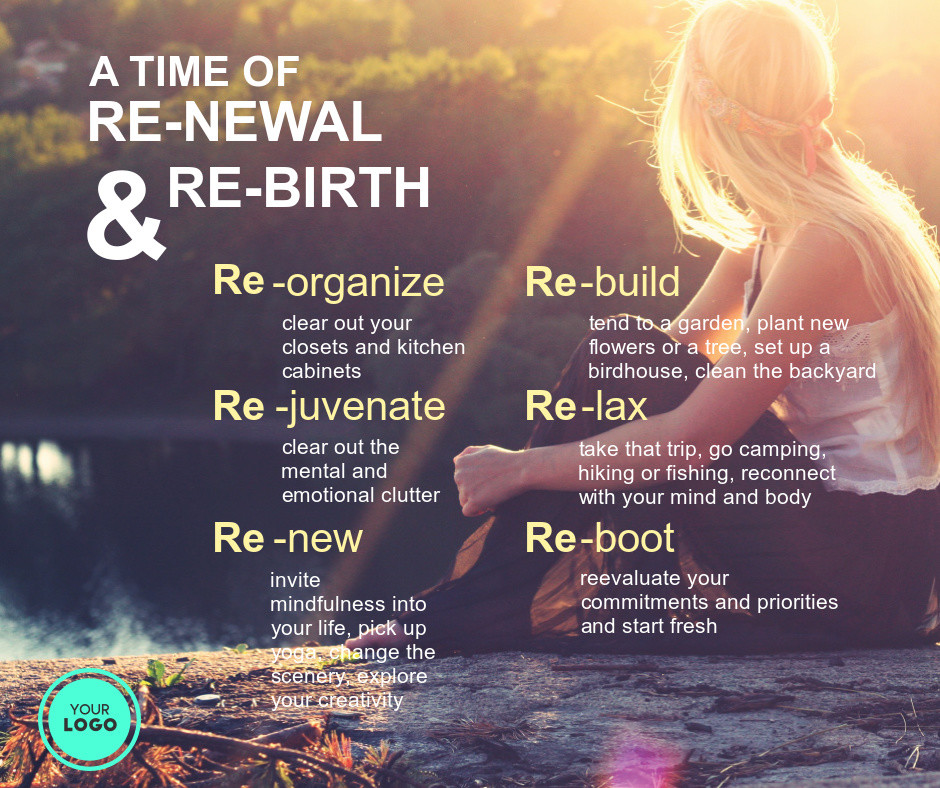 It's that time of year again when we all need to rid ourselves of old man winter and refresh our exteriors and interiors! Get your followers on board with this re-newal process and if you can incorporate it with a business promotion, well step on it! #SpringRenewal #Reboot
SPRING INTO ACTION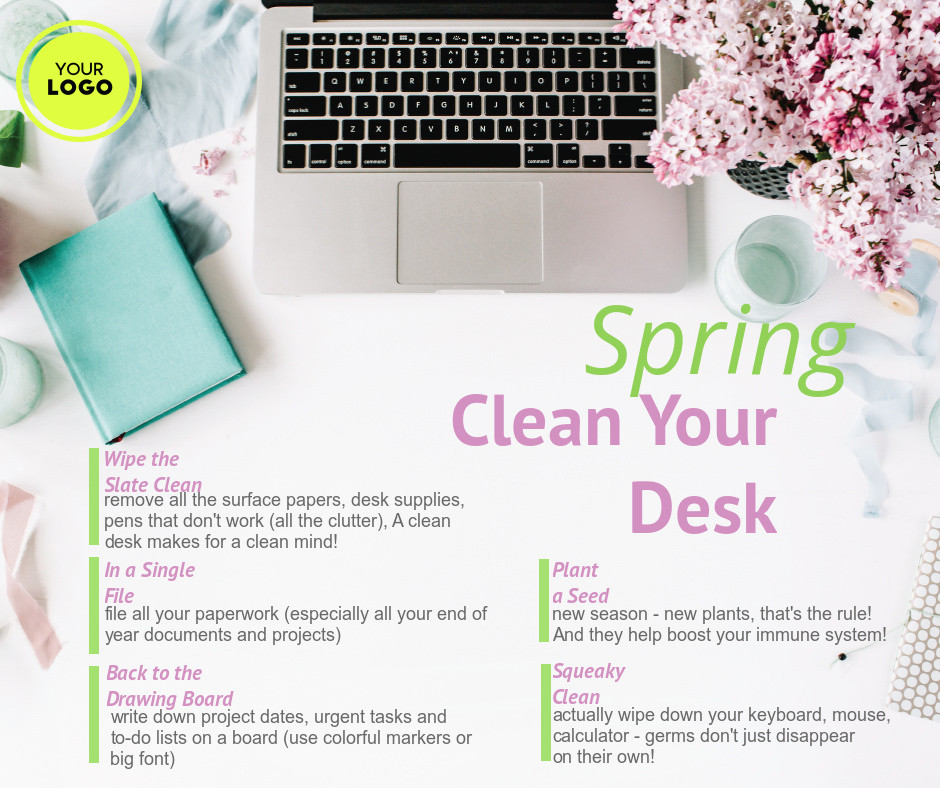 With a new season comes a time to clean out the old to start anew! To gain clarity, we must do away with the clutter in our minds and in our finances, careers and homes. The majority of your followers work so a good desk or debt clean-up is always welcome! As marketers, any spring-cleaning mission is content rich in value. #SpringCleaning
WASH AWAY WINTER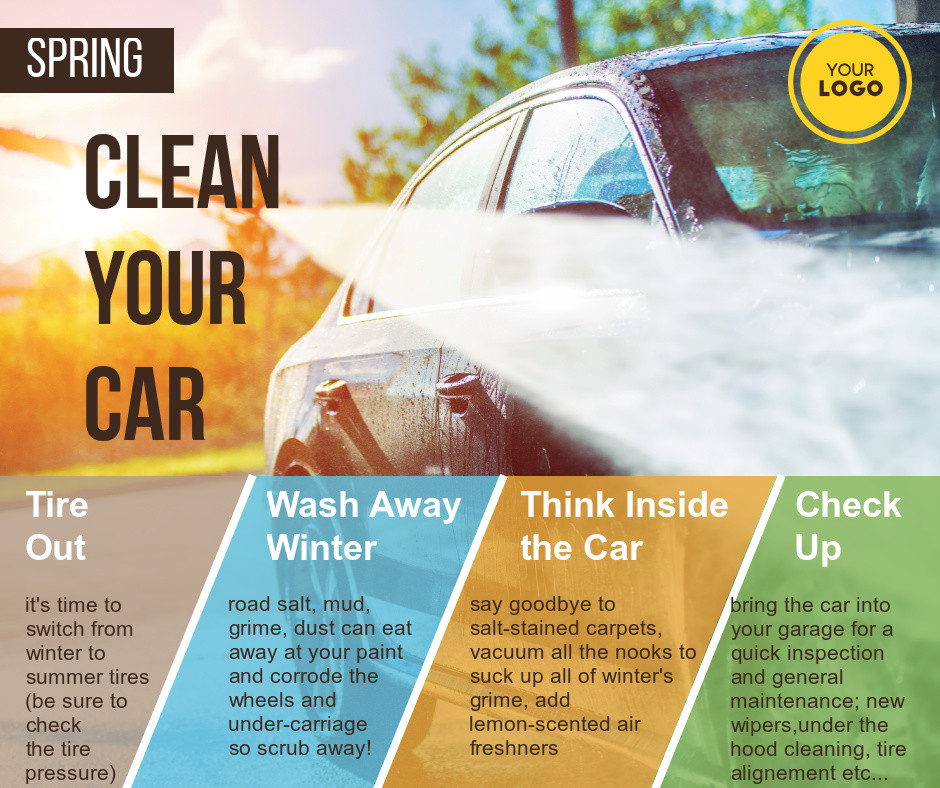 Calling all businesses be it service or product, these templates are for you! Whether it be your follower's car, home, landscape, closet or even health, the need for renewal is REAL! If you're a mechanic, by all means share this template – get them coming in for a seasonal check up. These posts are meant to pump them up for the change in season and get them excited to buy your product or use your services! #SpringIsHere
SPRING INTO SALES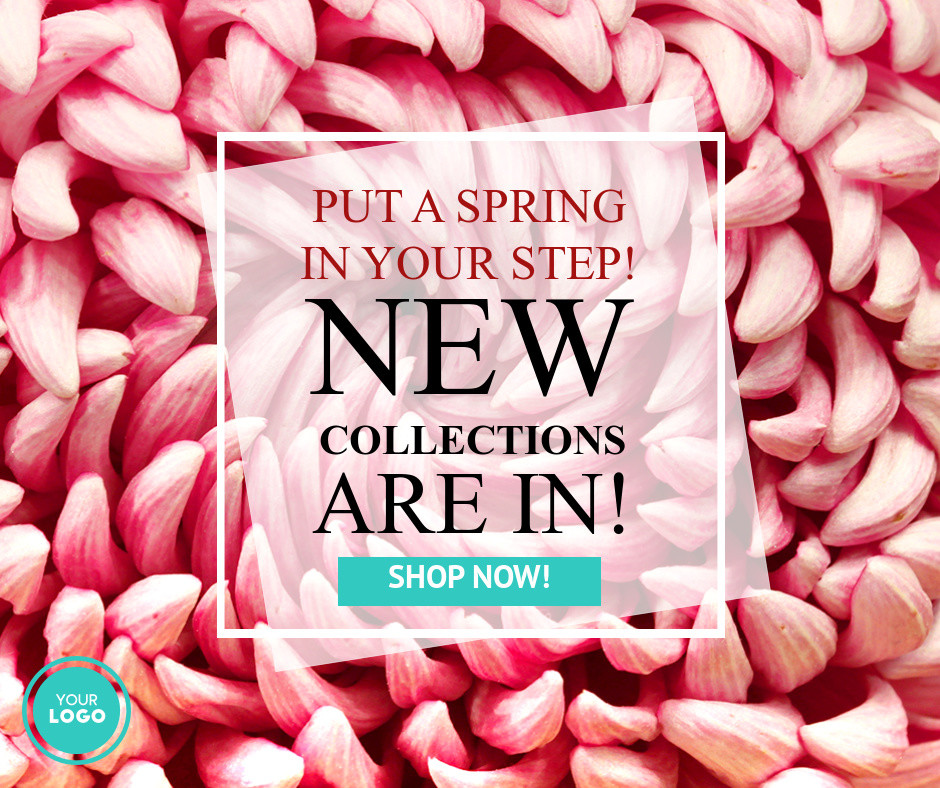 Spring and Fall are the top two seasons that require a change in clothing, accessories, car parts, furniture, sporting goods, etc… And let's face it, our fans are all about saving money! Discounts, launches and/or sales events is where it's at! Most customers expect a little reward here and there – so "spring" it on them! #SpringSales #SpringItOn
OFF TO A GOOD SPRING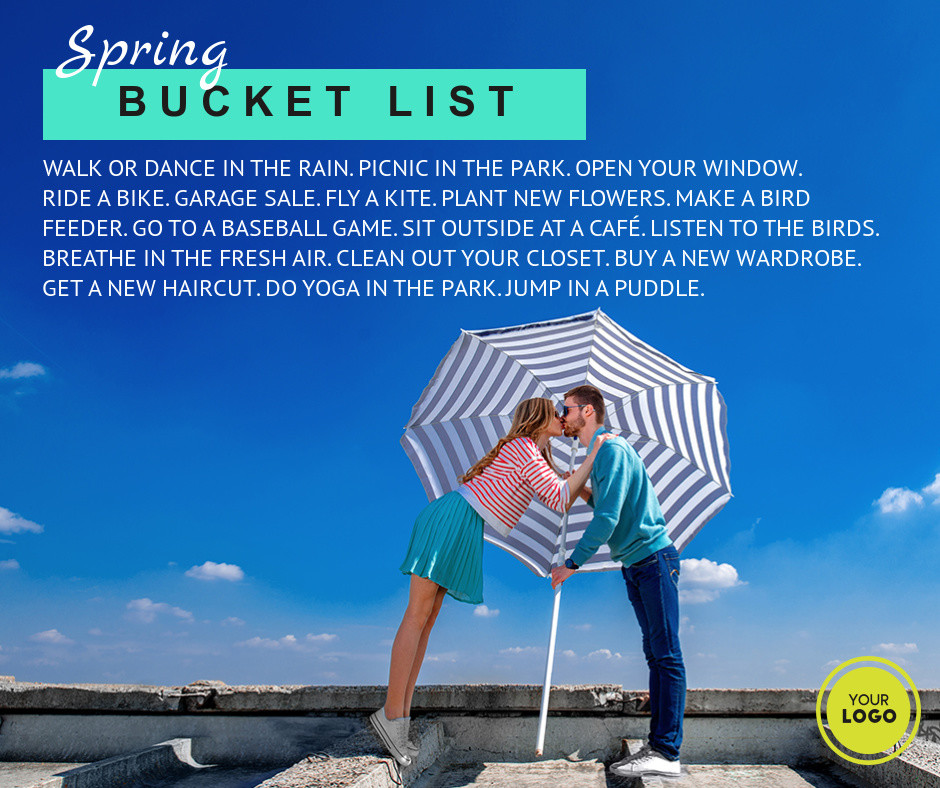 Get your fans up and ready for this new season. The more enthusiastic you are about the new season, the more engaged they will be in your company/brand. Why not create a promotion around it – if they can check everything off on the bucket list, you will reward them with a discount or free sample. The takeaway is they need to take a photo of every activity showcasing your product or service! #SpringBucketList
THE FACT IS…IT'S SPRING!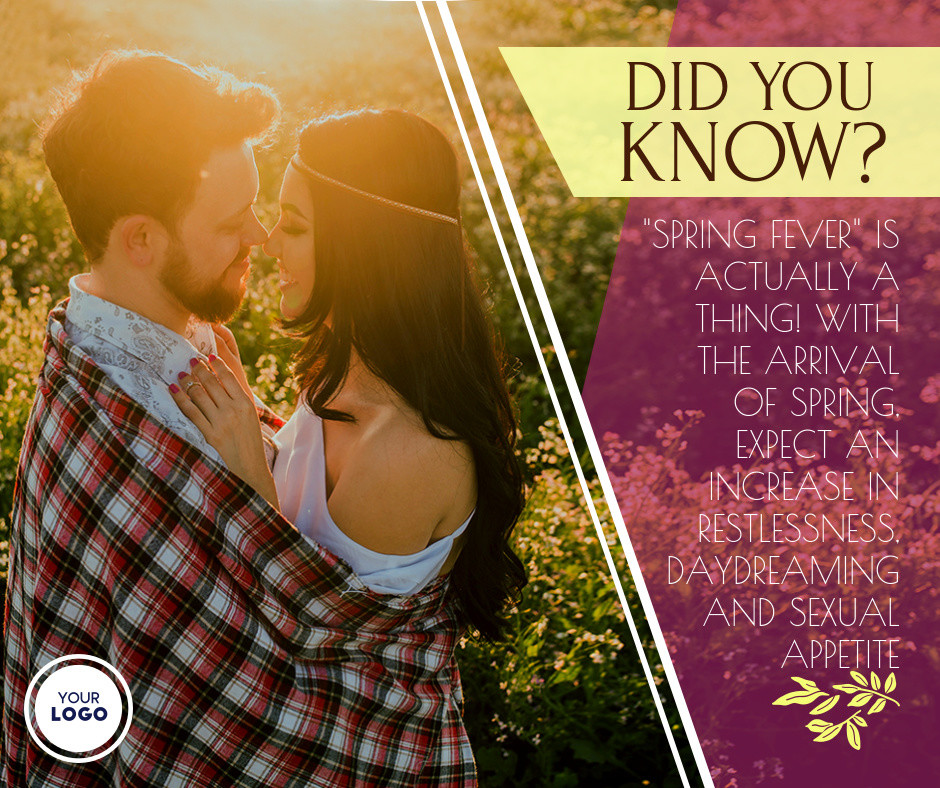 We know for a fact that these informative post types are winners. Why? If you're follower is learning something new from YOU, they'll keep coming back for more. If you are a clothing/accessories retailer, sharing the fact that children grow fast means your fans will NEED to buy new clothes for their tots! It's all psychology, dear users! #FunFacts
WHAT'S NEW
THINK INSIDE THE HOME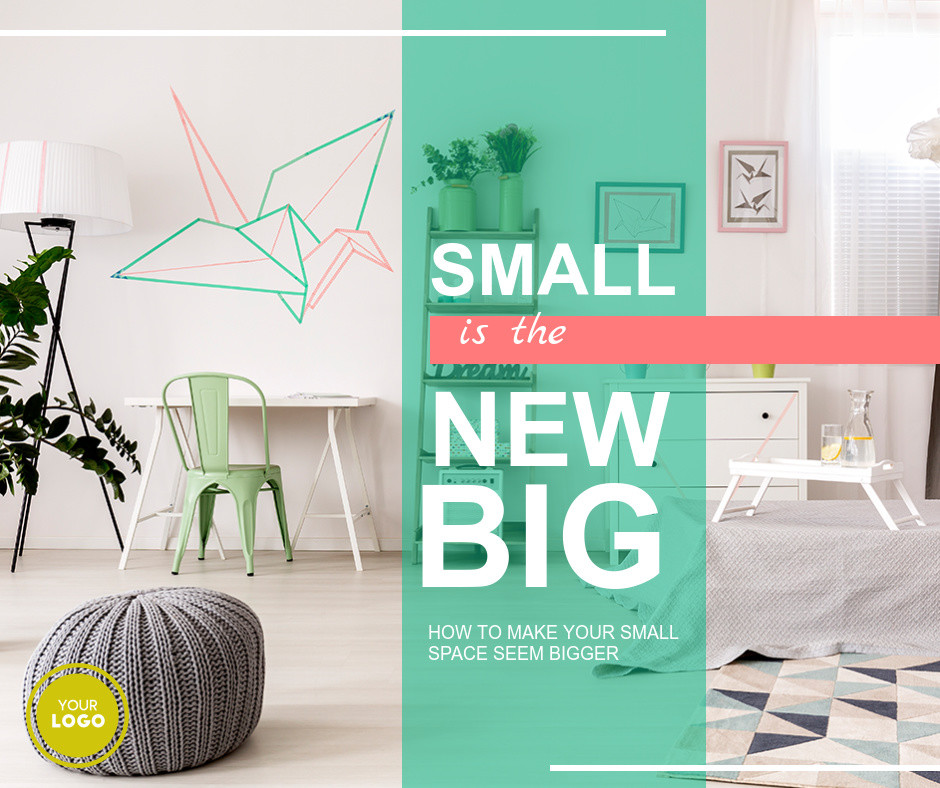 In line with Spring Renewal comes Renovations and Remodeling. The best alternative to putting all your eggs in a new home is sprucing it up with trendy wallpaper or adding cool fixtures or just painting the walls in a bright green! No matter your followers profession, we'd say that most (if not all) live in a dwelling of sorts. Inspire them with the latest trends! #InteriorDesign2017
WE'VE GOT YOUR BACK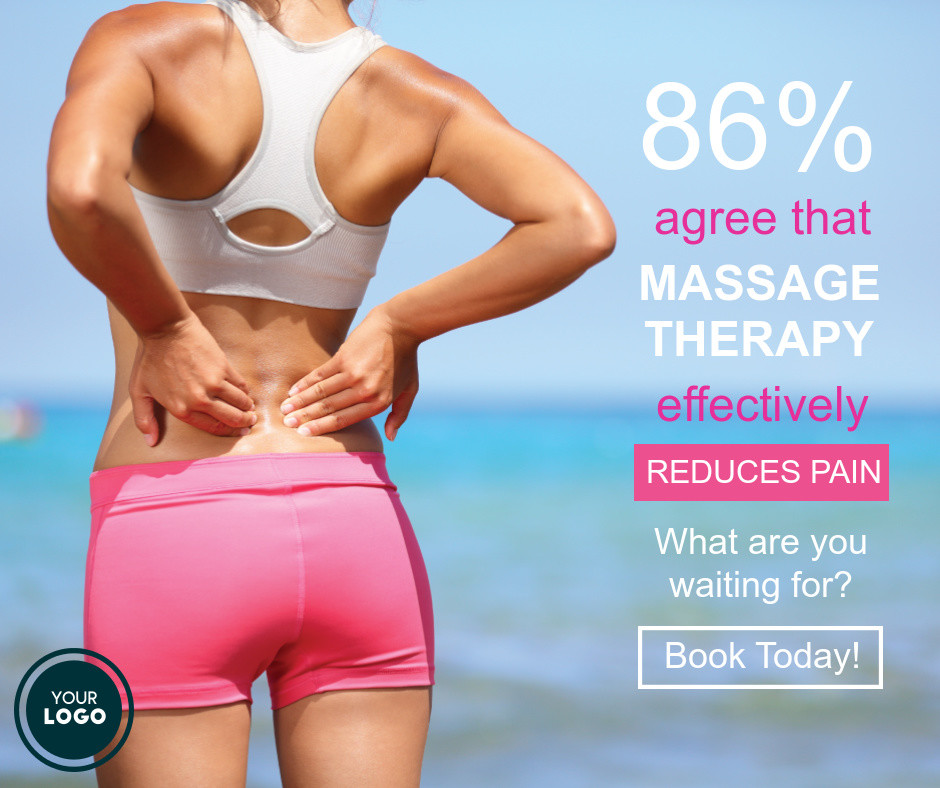 Everyone knows how vital massages are for your health and for your peace of mind. The reality is most of us forget about taking care of ourselves. We get swallowed up in our busy lives. You know, like we do, that a relaxed and focused employee, colleague or follower is more engaged and more productive. Share the love. #MassagesAreGoodForYou
VIDEO KILLED THE RADIO STAR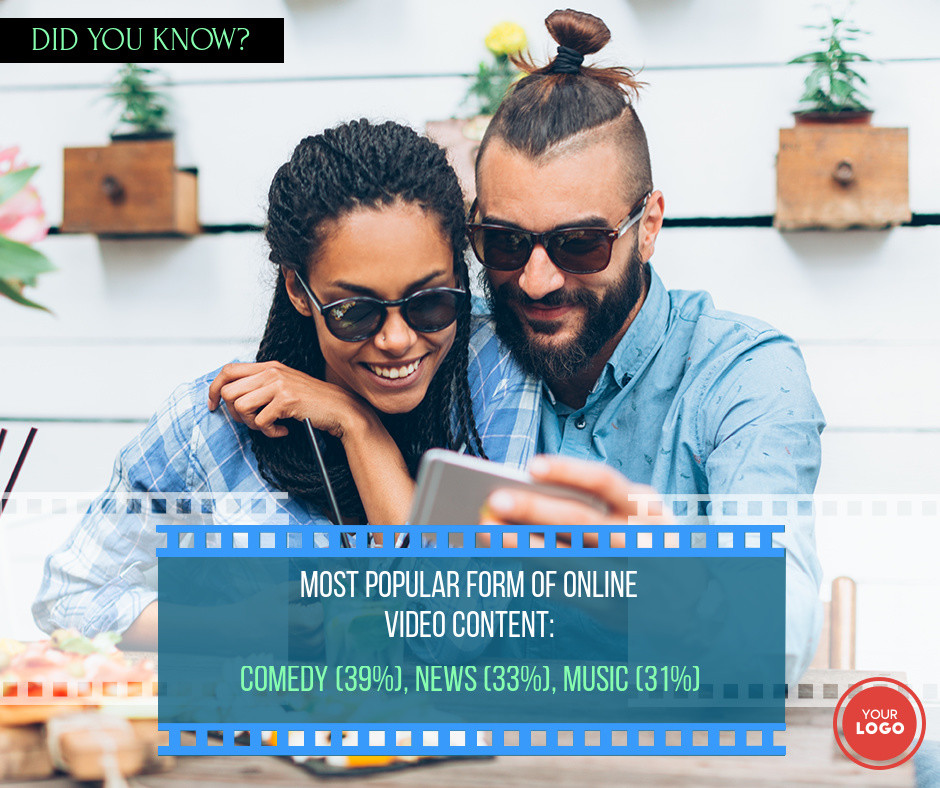 Every technology gets its time in the spotlight, this year (and for many years to come), it's all about the #video. As a marketer, sharing these stats will get you more likes and follows because it's the wave of the future. Shout to all our users, get on top of this trend! #VideoMarketing is huge!
WHAT'S UP THIS WEEK
MARCH 13 – NATIONAL JEWEL DAY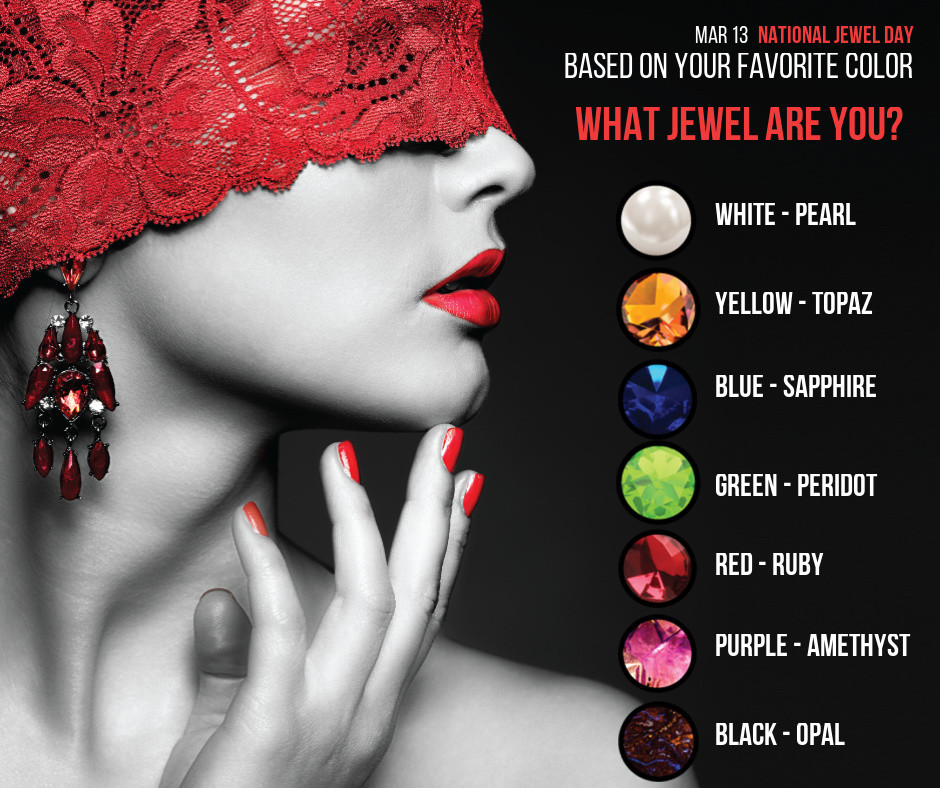 The gloves are off, it's time to show off your rings and jewels. Even if your followers are not jewelry enthusiasts, this is more to do with color and gemstones. Get them in the shopping spirit. #NationalJewelDay
MARCH 14 – HAPPY BIRTHDAY ALBERT EINSTEIN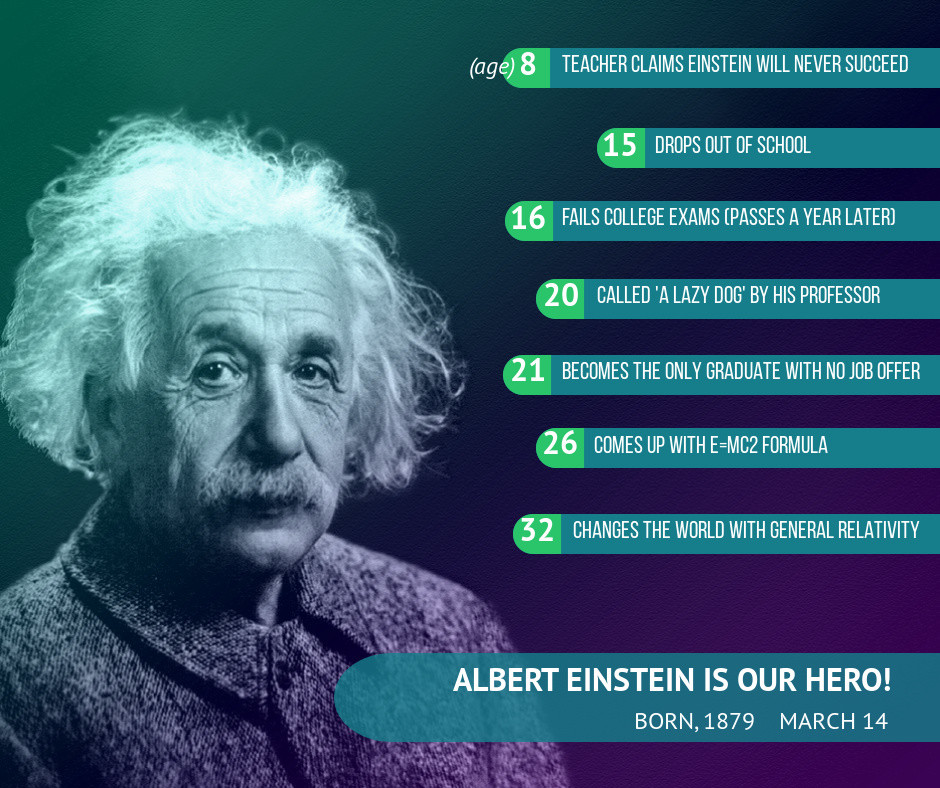 Everyone has a soft spot for Einstein. He was like today's millennial – rocky school and work life but eventually becoming the most important physicist of the 20th century. Pretty impressive! Honor the master today! #AlbertEinstein
MARCH 15 – TRUE CONFESSIONS DAY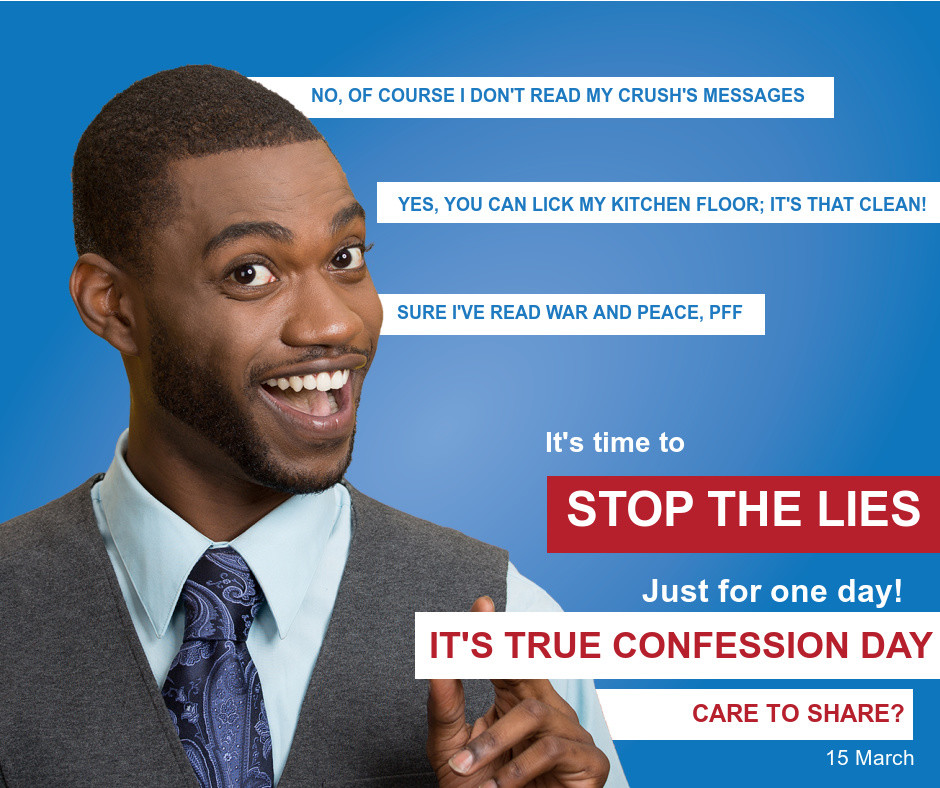 We are all lying to ourselves if we don't admit to a white lie time and time again. Today, you have the task at being a "priest" for a day. Draw out those confessions from your followers. Let's have some fun today! Reward those who have the craziest ones! #TrueConfessionsDay
MARCH 16 – NO SELFIES DAY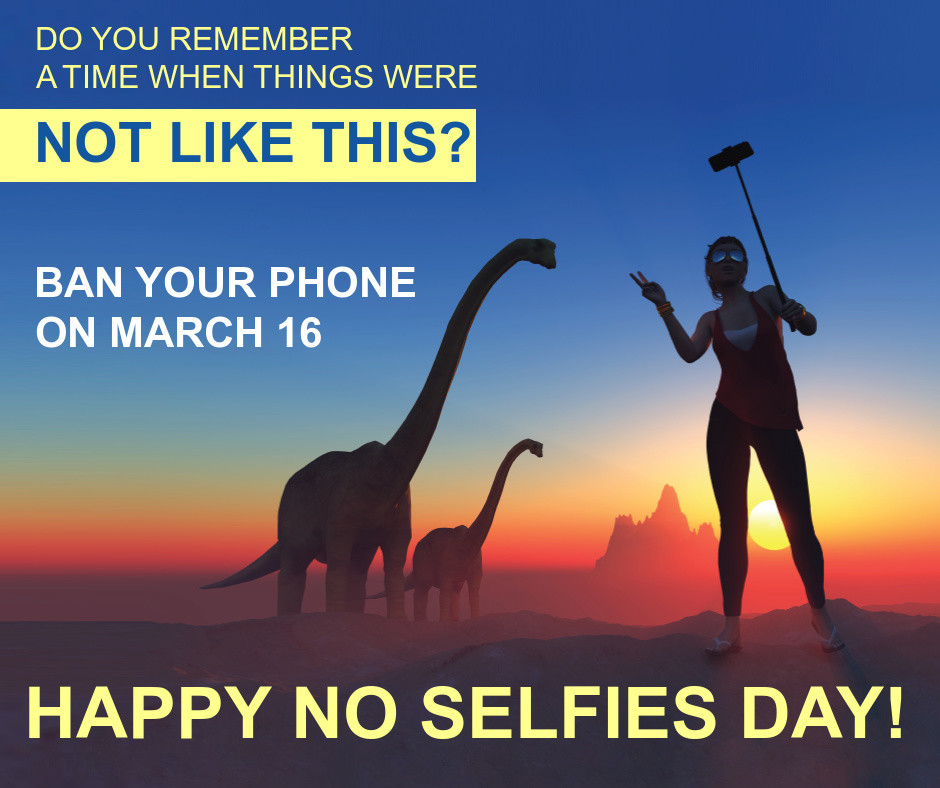 This is a hard one! Create a challenge around this, ask your followers to upload a photo of you (taken by someone else)! Oh My! Or just share and those who are not millennials or GenXers will find it an easy breezy task! #NoSelfiesDay
MARCH 17 – SAINT PATRICK'S DAY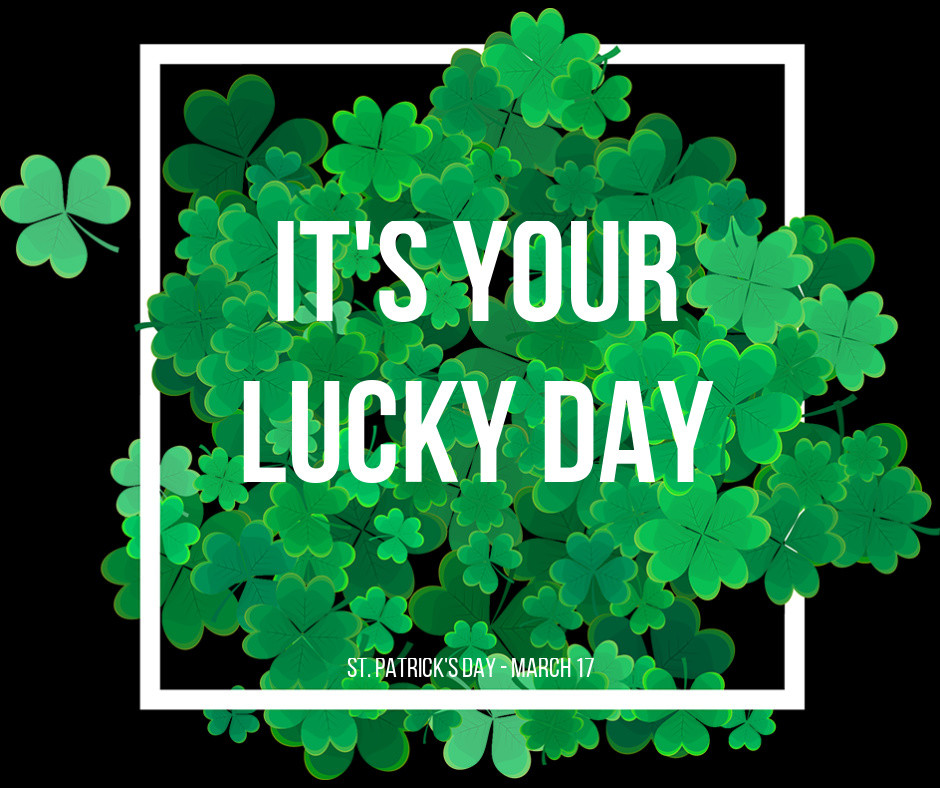 Go ahead and paint your newsfeed green today. Today is St. Paddy's Day! And don't worry if you're not Irish because everyone is IRISH today. #HappySaintPatricksDay
MARCH 18 – NATIONAL AWKWARD MOMENTS DAY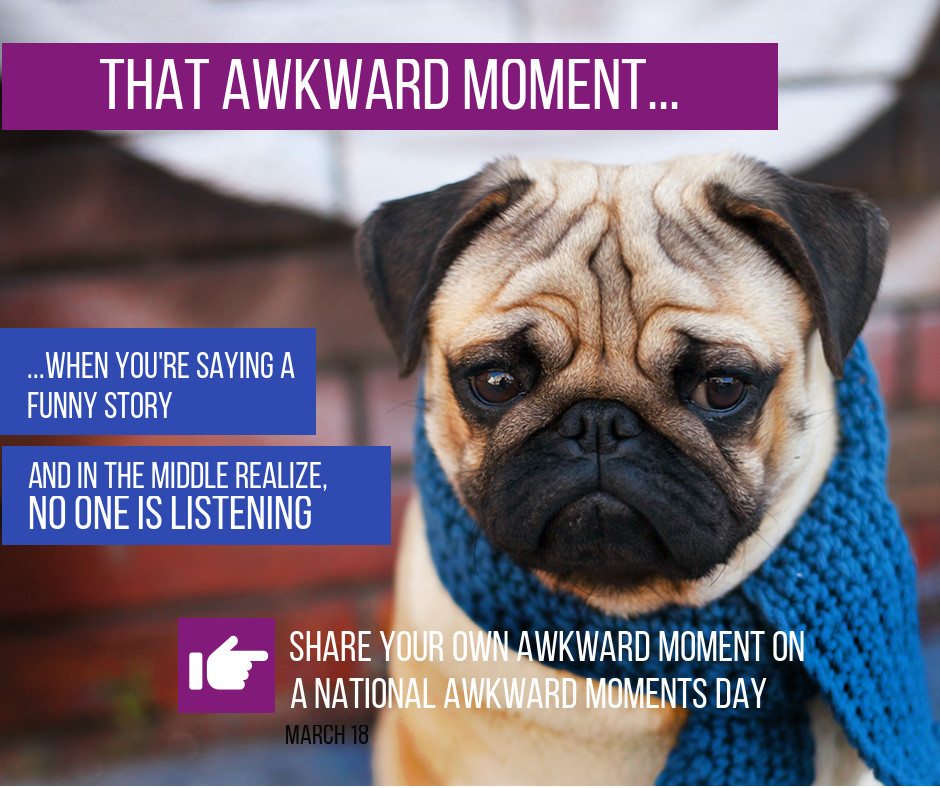 We're pretty sure everyone has had to deal with one of these in their lifetime. Making them remember that time can spark laughter and joy in the day. Our goal is to make them happy! #NationalAwkwardMomentsDay
MARCH 19 – HAPPY BIRTHDAY BRUCE WILLIS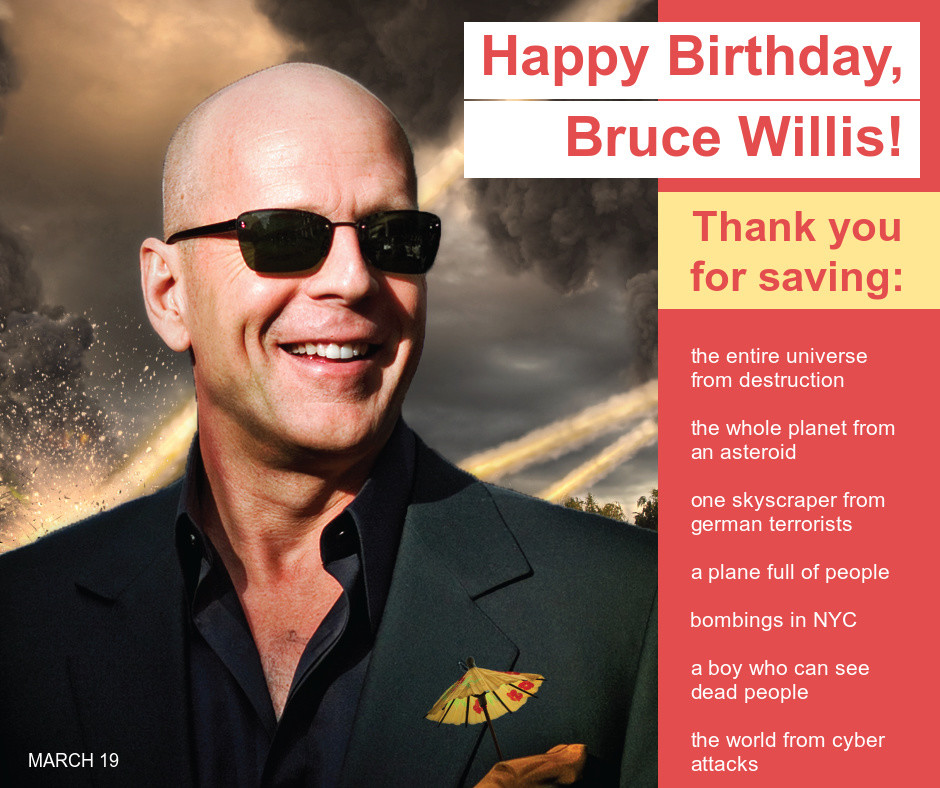 Our favorite hero! He doesn't need to get dressed up in a costume to save the world. Share this for those who are true fans of ending world destruction – lol! #HappyBirthdayBruce
SPRING IS NOT EVEN OFFICIALLY HERE BUT SPRING FEVER IS! OUR TEAM IS BUZZING WITH ENERGY AND WITH A SPRING IN OUR STEP, WE CAN'T WAIT FOR YOU TO SEE WHAT ELSE WE HAVE IN STORE FOR YOU IN THE COMING WEEKS. GET READY FOR MORE INVIGORATING TEMPLATES AND OH! APRIL SHOWERS ARE NOT TOO FAR AWAY EITHER. #HERECOMESSPRING
If you don't see anything that suits you, be sure to let us know! We have professional designers on hand to create social templates for your needs. And of course, any questions, comments, or concerns are welcome. It's always important to take every opportunity to attract new customers, whether it be by using your own creativity to design content, or by saving time and using PromoRepublic library to find customizable content that works for you.