Customer reviews are one of the best ways to boost online presence and stand out from the competition. On Facebook, where likes and shares are harder to come by, Facebook recommendations can go a long way in helping your page reach new audiences and convert them into buying customers.
If you're wondering what Facebook recommendations are, they're the rebranded forms of Facebook reviews. Before 2018, Facebook let users review businesses by giving 1-5 stars on their company page or upon checking in at a location. Now, recommendations only allow customers to provide text-based feedback. Still, whichever way you call them today, they have a massive impact on your online reputation.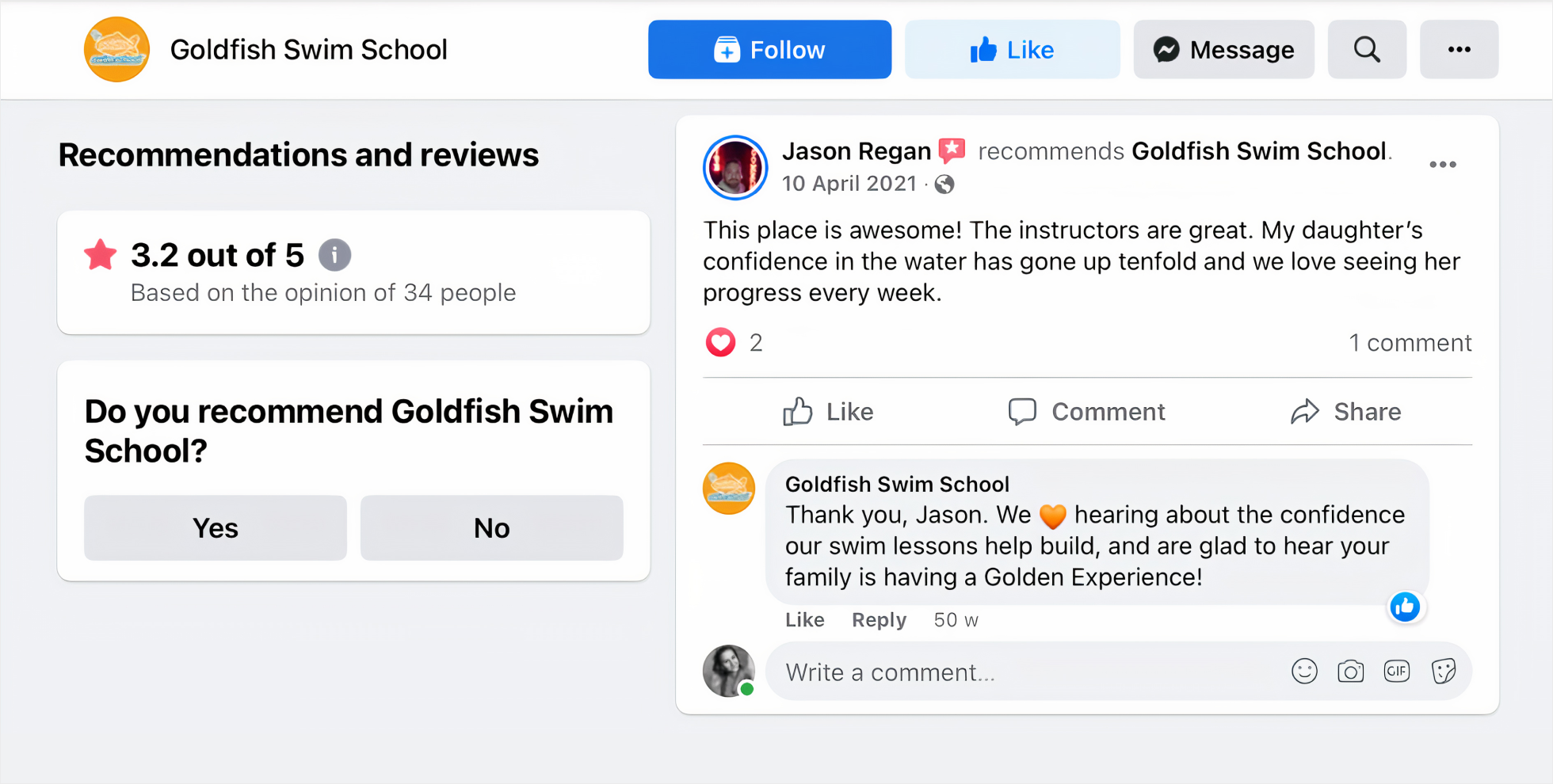 But how exactly do you ask for recommendations on Facebook? And how do you keep them coming? This article will answer these questions, along with some valuable tips on how to get more recommendations on Facebook.
Why Facebook Recommendations Are Key for Local Business
With over 2.9 billion users today, Facebook can make or break your business depending on what customers think of you. Each member gets the privilege to leave feedback on the business; their likes, their dislikes, and so on.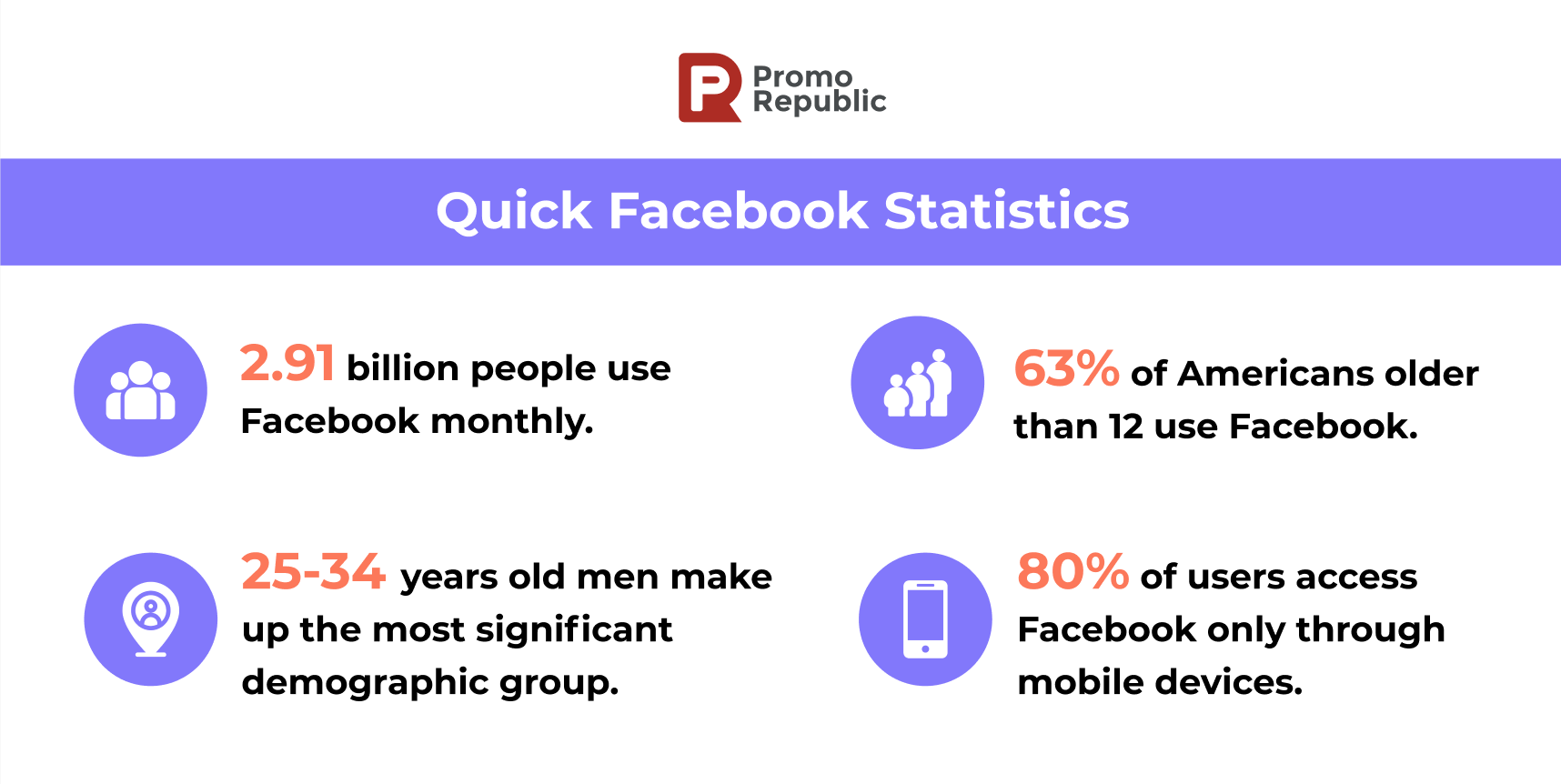 All customer input is kept and displayed on the Facebook business page so other people can see what the community thinks about your business.
Rather than the regular 5-star review, your customers now have two options – Recommend or Not Recommend. Then, they get more tabs to include pictures, tags, and a space for additional feedback.
Despite the fact that customers may recommend or may not recommend a business, Facebook still gives businesses star ratings based on the reviews as shown in the screenshot below.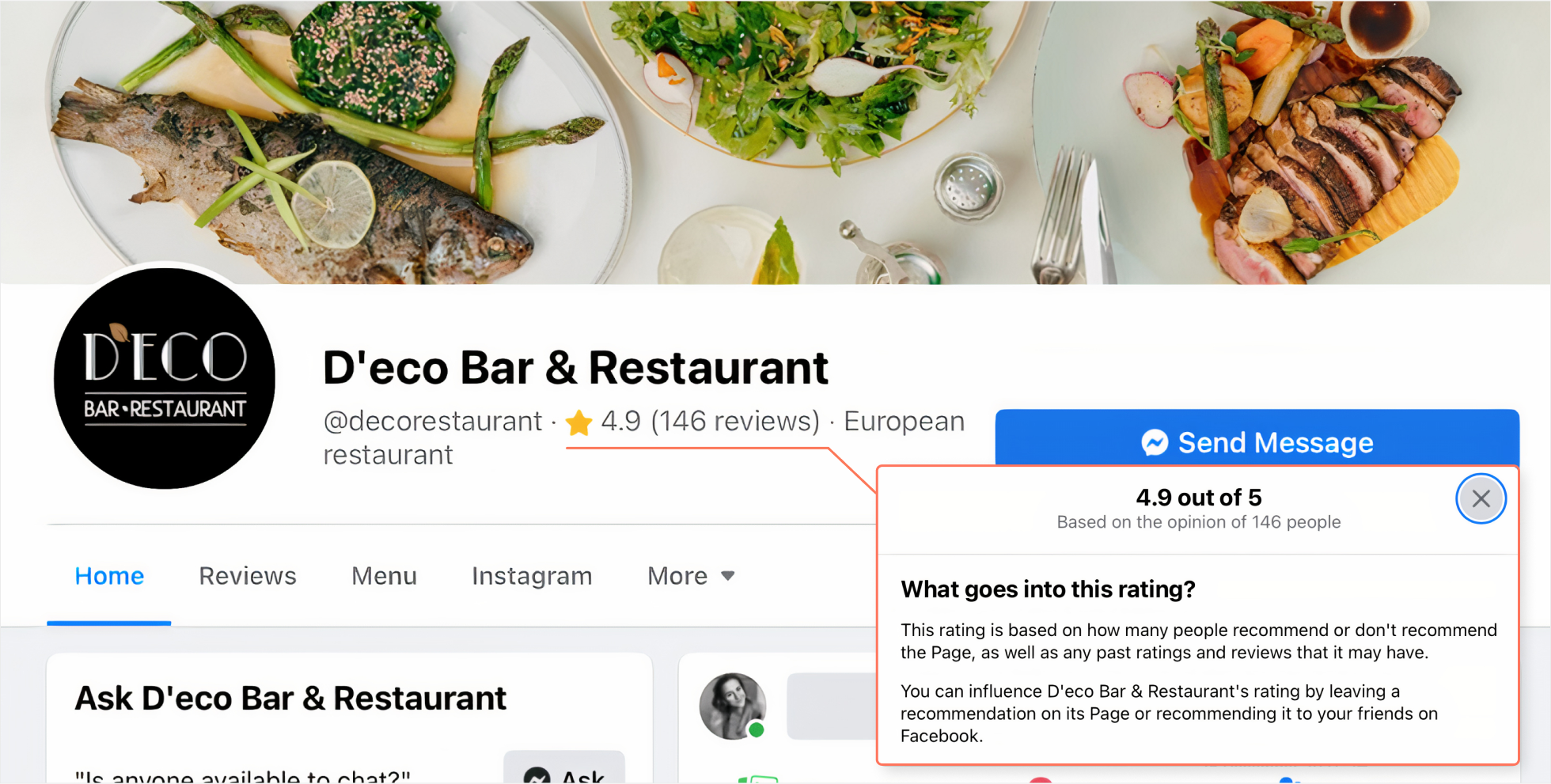 And since 77% of consumers read online reviews when browsing for local businesses, you can establish trust while impressing your potential customers with Facebook recommendations.
Moreover, review signals are the second most important ranking factor when it comes to local search. Hence, by gaining Facebook recommendations, you can increase overall online visibility, not only on Facebook.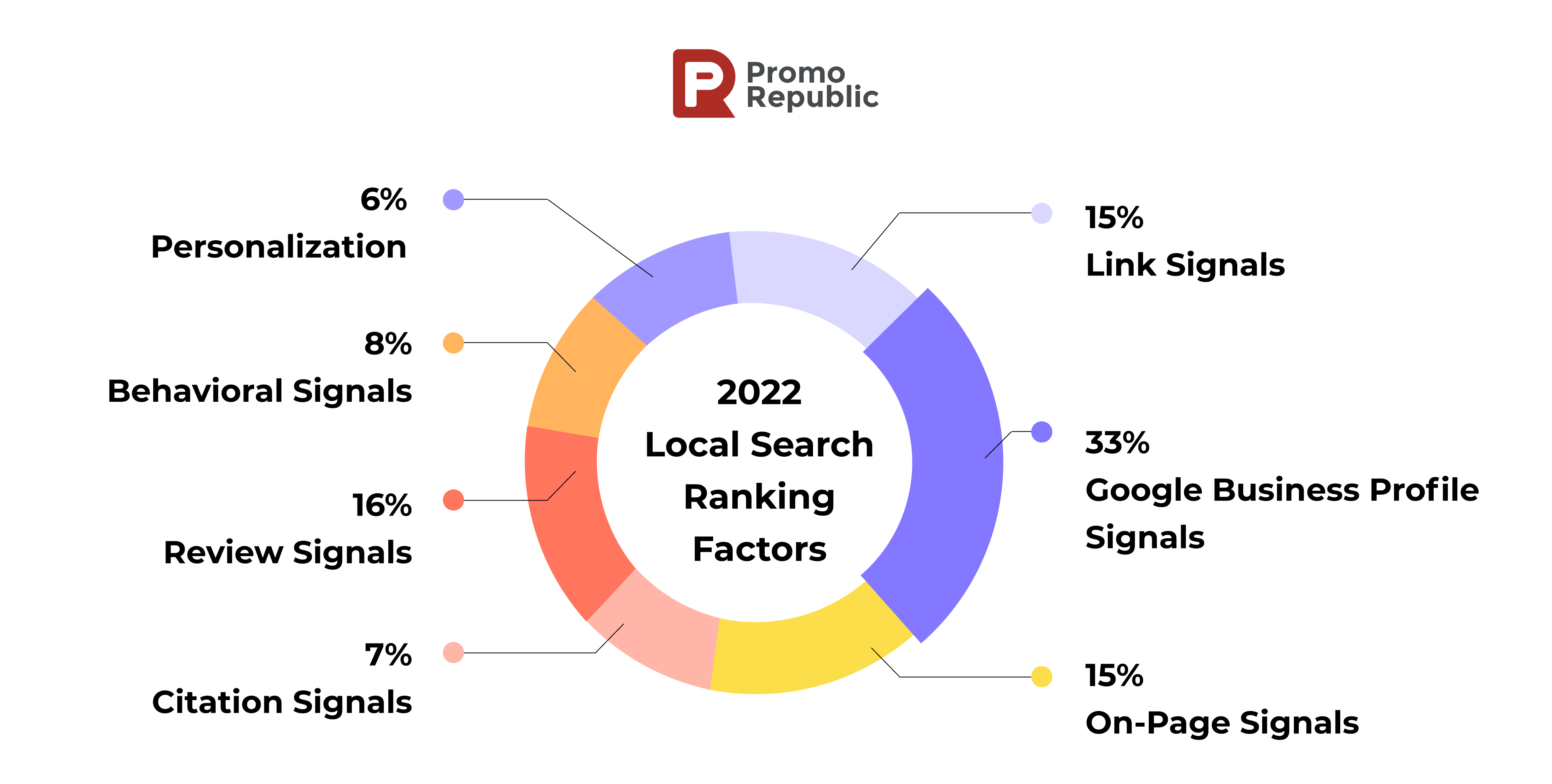 Where Are The Recommendations On Facebook?
The Facebook algorithm can change at any time. It is one of the most complicated algorithms on the Internet. There are so many moving parts and so many factors that go into it. But, if you had already allowed reviews for your business page, your recommendation system is automatically set up after the evolution of the previous system.
However, if you haven't, you could be missing out on the benefits of receiving recommendations. Remember, 79% of potential customers trust online reviews as much as personal recommendations.
To locate and set up recommendations, follow these 5 simple steps:
Hit the "Settings" button on Facebook;
Select "Edit Page";
Find the "Tabs" section, and turn on the "Use default tabs" option;
Scroll down to the "Add a tab" and turn it on;
Add the reviews tab.
Now, your customers can leave their recommendations on your business page. Some business owners may disallow recommendations for fear of negative feedback. However, the benefits of having a recommendations section far outweigh the disadvantages. A few negative reviews make your business appear more 'natural,' especially when you leave good responses promising to improve customer experience.
How to Ask for Facebook Recommendations?
Looking for recommendations on Facebook is pretty straightforward – all you have to do is ask. People often need a little reminder to leave a review. However, it is important that you are subtle with your request. You want to avoid being perceived as pushy or intrusive.
But if there are too many review requests to send and you are pressed for time, consider an automated review request campaign. Whichever medium of requesting for a review you choose – SMS or email – your queries should remain as natural as possible.
As you're aware, solid feedback is the key to successful marketing strategies. With that in mind, here's how to ask for recommendations on Facebook:
#1 – Add Direct Review Requests In a Text or Email
Leaving a recommendation on your Facebook business costs the customer a little extra time and effort. It would help if you made the process easier for them.
After a completed service, you can send a text message or an email with a Facebook button that lands them on your Facebook business page. This will make it easier for them to leave you a recommendation.
However, if there are hundreds or thousands of Facebook pages to manage across several locations, it can be time-consuming to send the review requests manually. In this case, remember that there are automation tools that can help you send those review requests, grow your review volume, and avail you the time to focus on other important tasks.
#2 – Send Review Requests on the Same Day as the Sale
A request for feedback is best served immediately after providing the service. At that time, their feelings, thoughts, observations, and memories about your business are still fresh, and they can provide detailed recommendations.
So, don't wait too long. Instead, ask for recommendations as soon as possible.
You want to sound polite and sweet in your messages via mail or text. Also, keep it short, simple, and straight to the point, or else you'll lose their attention.
You can thank your customers for their loyalty and support. Then, ask for a recommendation on Facebook, and, of course, refer them to the Facebook profile page embedded in your message.
#3 – Ask Your Clients to Check In on Facebook
Checking in allows people to "announce" on Facebook what they are doing and where they are.
When customers check in to your business page, Facebook sends them a reminder to drop a review when they leave.
So, you can encourage your customers to check-in via Facebook by offering irresistible discounts and special bonuses/gifts.
#4 – Embed A Facebook Link On Your Website
You can also leverage your webpage when looking for recommendations on Facebook. Add a call to action, encouraging your web audience to visit your page. Insert a Facebook icon linking straight to your business page. This way, it will be easy to attract more attention to your "recommendation" activities.
#5 – Reply to Your Facebook Recommendations
Replying to your recommendations is always a good gesture – it shows that the business cares about the customer and their interests. About 22% of customers say they are not likely to use a business that doesn't respond to reviews.
Your customers need to see that you, too, are willing to put in the work to grow your business. Show that you read the recommendations by replying to them, whether they're good or bad.
Appreciate the good feedback. Apologize, take responsibility, and promise to do better if the customer leaves a bad review.
How do you reply to recommendations on Facebook? Under the Customer Activity, select the Facebook Recommendation you want to reply to. Then, click Manage and select Reply.
#6 – Ask For Recommendation in a Group
When it comes to getting recommendations on Facebook, individual clients are just the beginning. You can make a lot more from groups and communities in your industry. With a little exposure to Facebook groups known to your customers, you're likely to have more people streaming into the business page.
Here's how to make a recommendation post on Facebook groups:
Step 1 – Search For Groups With Related Keywords: Go to your business page or home screen and click on the search bar beside the Facebook logo. Search for groups related to the service you offer, and click enter.
Also, you can run a Google search for articles on Facebook groups related to your business. There are enough results for that query. If you can't still find relevant groups, ask your customers, they can tell you where they hang out on Facebook.
Step 2 – Join The Group Most Relevant to Your Business: Select " join group " when you find a credible group that's relevant to the services you offer. Answer the questions carefully and remember that some groups are thorough and private. The admin may take some time to approve your request depending on the group.
Step 3 – Post Your Request for Recommendation on the Facebook Group: When you have joined the group, you can ask people to post recommendations on Facebook. This should come gradually, not on the first day of being in the group. Before asking for a recommendation, always give something back in return. For instance, you could start by providing fresh, relevant, and valuable content.
At the top of the group page, you will find a box where you can make a post. It will look similar to the box you have on your profile or your newsfeed. You can write a request looking for recommendations on Facebook.
Can I Buy Facebook Recommendations?
So far, you have seen the importance of Facebook recommendations and tips to get them. But it may be a lot to take in, especially if you are trying this out for the first time. The "easy way out" could be buying Facebook recommendations. However, buying may not be the best move.
Here is why. Your customers trust your reviews because they believe that what they see is what they get. When you buy reviews, you break that trust, and customers will often smell fake reviews a mile away. In fact, 62% of consumers believe they have seen fake reviews on local businesses.
So, what to do about getting recommendations on Facebook? Try asking customers for a recommendation. 70% of customers will possibly drop a recommendation when they are asked. Many are happy to do so if your service is top-notch.
The Bottom Line
We hope that this article has taught you how to ask for recommendations on Facebook and the importance of looking for recommendations to build consumer trust. However, we also are not ignorant of the challenges this could pose to business owners. Having to ask for recommendations on Facebook from every customer may be a lot to handle. And that is where Promorepublic comes in.
PromoRepublic takes the responsibility of sending review requests to all your customers off your shoulders. The platform also allows you to monitor and manage customer communication on 130+ business listings via one dashboard.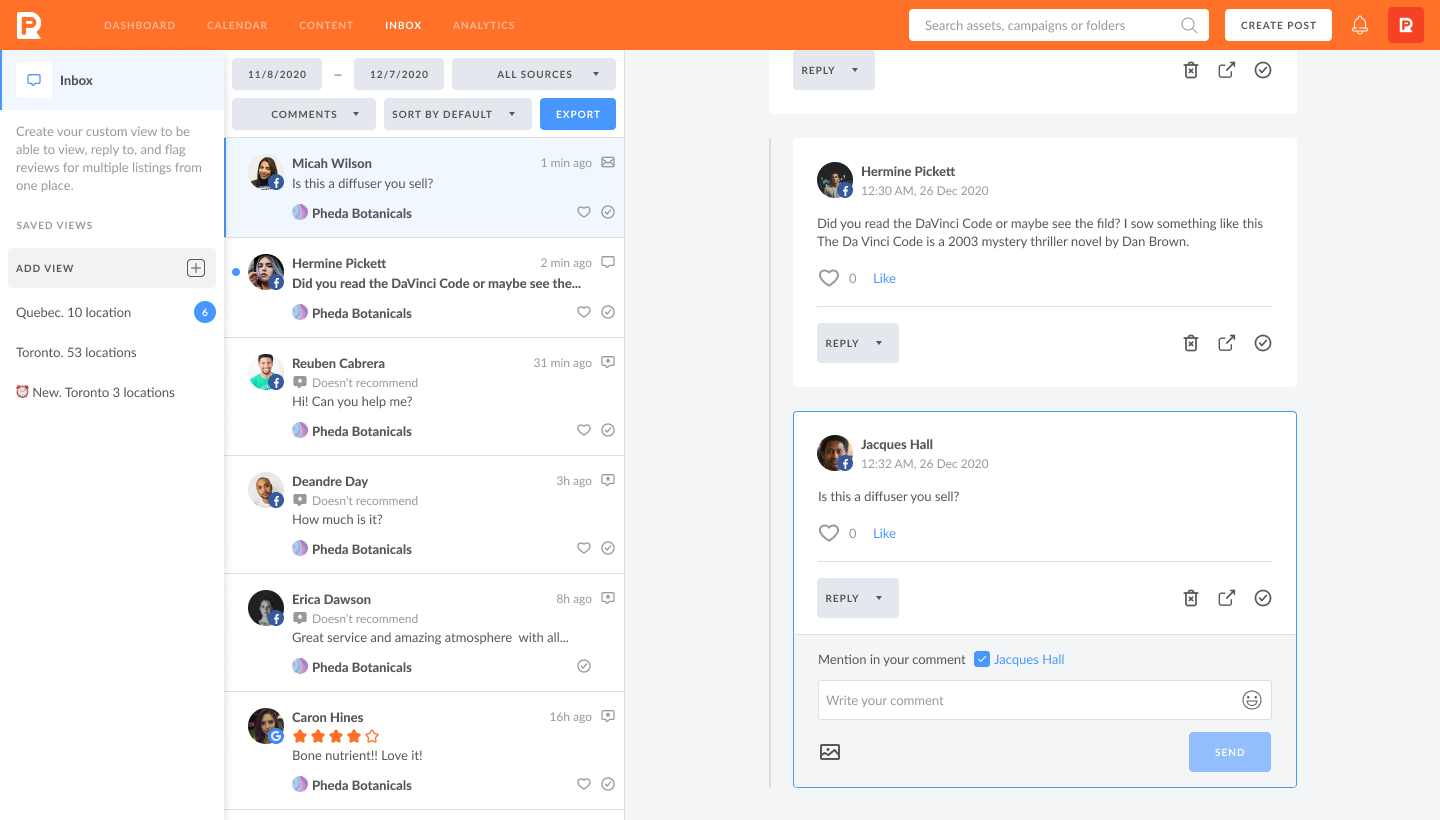 Last but not the least, with a comprehensive reputation management tool like PromoRepublic, you also get in-depth analytics (Insights) to help you uncover growth opportunities for your locations and win more local customers.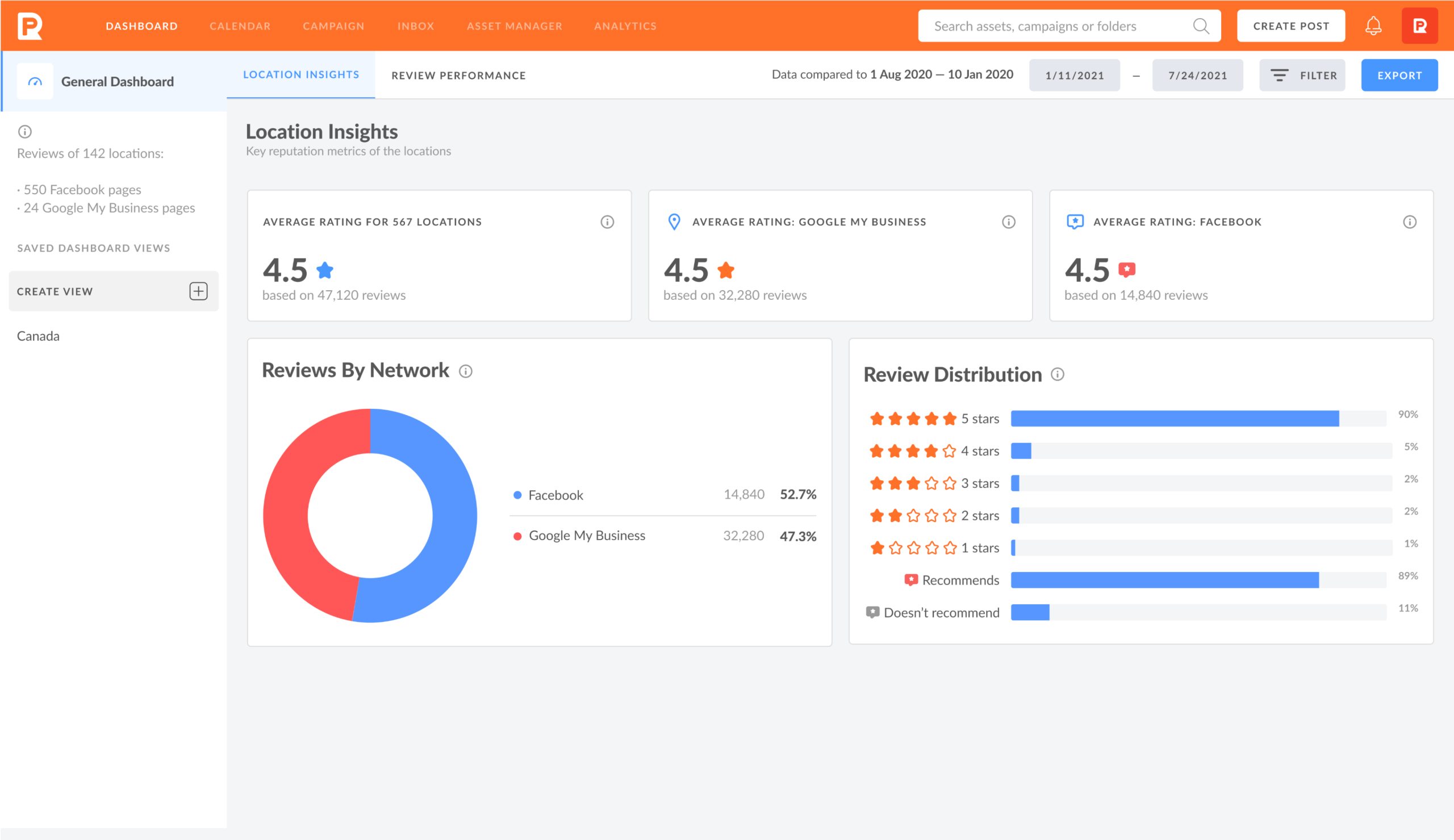 Stay on top of your Facebook reviews game with PromoRepublic. Send review requests, monitor and communicate with your consumers, and build your customer base with PromoRepublic's insight-driven marketing. Book a demo now to see our all-in-one local marketing platform in action.