Are you on the lookout for social media tips that will make you stand out? Every day the number of social media users grows by an average of more than one million. Internet Live Stats show that there are more than 8,500 tweets and 900 Instagram photos sent and uploaded in one second respectively. 
With this blizzard of activity, social media has become a tough nut to crack. It's getting more difficult for small businesses and freelancers to survive in this flow of posts. But don't be desperate. There are proven ways to hack your way through social feeds and snowball your clicks, likes, and shares. 
Social Media Tips for Small Businesses and Entrepreneurs
Small businesses and developing entrepreneurs will immediately see that social media feeds are pretty much like battlefields. To prepare for the looming battle, you need a strategy. To be honest, it all starts with the strategy. The first universal social media for businesses tip is to set goals and think what exactly they'd like to achieve with every social media platform. Without proper social media marketing tactics and strategy, your posts will get lost somewhere in the middle and your CTR won't exceed 1%. Only when you've figured out what you want to accomplish with social media, the next tips will come in handy. 
Start your own group on social
Aside from creating a business page if you need one, think about starting a private mastermind group or a small private community. This is an option to streamline your Facebook and LinkedIn activities that turns up really beneficial in the long run. This way you gather your target audience, listen to what they're saying and have a go-to channel to share your best content with like-minded professionals. Сreating a community, you surround people around the topic, not brand, which guarantees a steady flow of individuals interested in specific subjects and discussions. 
Use social media networks as search engines
No wonder, but social media networks already function as search engines. In the search boxes of Twitter, LinkedIn, and Instagram, you can type any search phrase and find everything you need – from companies to influencers. 
Create guest posts for 3rd party platforms
Guest posting is one of the few social media marketing techniques that lights two candles with a single match. It's good for both – search engine optimization and social media marketing. Submitting content to where your target audience resides, you create an additional reason for 3rd party platforms to tag you on social when they share your guest post. Using this tip, you bring interest to your business that results in greater activity on your page and brings you more followers, likes, and shares. 
Good morning, Twitter! I try to share some of my #supplychain and #projectmanagement articles with you all, but I'd like to get your insights, too! Anyone up for a guest post?

Let me know! pic.twitter.com/9iEsFwyeQH

— Olivia Montgomery (@OM_tech_analyst) July 22, 2019
Social Media Tricks for Instant Engagement
To increase the level of engagement under your posts, you need to understand how social media algorithms work. According to Growth Tribe, the first half an hour of a post going live is going to make or break it. Instagram, for example, will show your photo to a small, sample number of people once it goes live. The algorithm will measure how much engagement the post gets instantly and continue to show it to a larger audience only if people like and engage with what they see. The story repeats on every social platform. Engaging your audience early on is crucial and here are some hacks to make headway towards better reach and engagement. 
Post at the right time
Are you sure you post at the right time when your audience is at its peak of online activity? I can't repeat it enough – timely posts get more likes! But times for every social media channel differ. Check the infographic below to compare what time slots work best for Facebook, Twitter, and LinkedIn. If Instagram is your priority, learn when it's best to post on Instagram.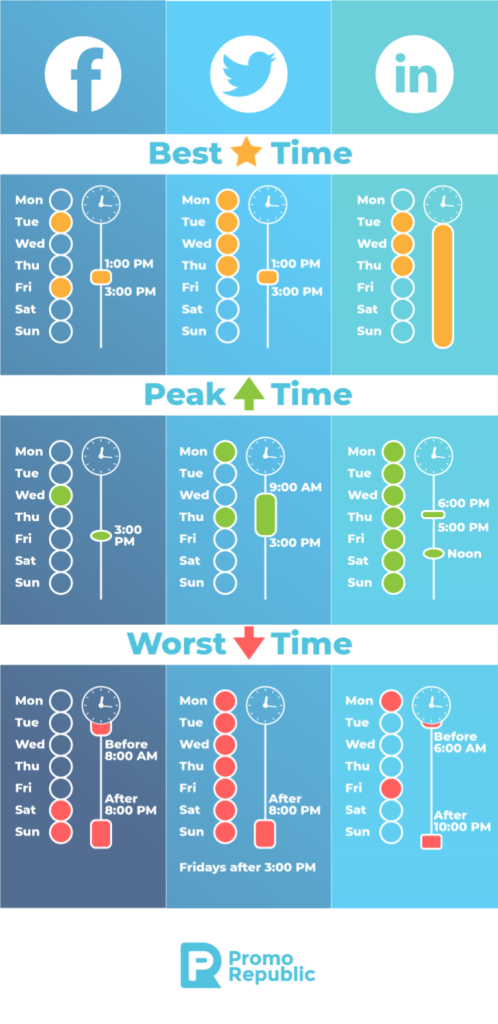 Avoid outbound links on social
It's no secret that every social media platform wants you to stay on that platform. So putting links to your website or blog post eventually results in less reach than expected. To work this around, you can avoid outbound links and mention them in the comments. This is one of the social media management survival tips everyone should try. Even Facebook, managing its business page on LinkedIn resorts to this method to make sure that more people see the post:
All you need to do is to post a picture and mention the link in the post description, as it's done above, or mention the link in the comment section. Companies using this tactic report that they get a 100%-200% increase in post reach.
Tag your location
On social media, you have to put considerable efforts to make yourself discoverable. Conferences and events, which you probably already visit to find meaningful connections, can be leveraged in many ways. But the fastest tip would be to tag yourself whenever you visit a place. This way it will be easier for people to find you on social.
Upload video content to social platforms first
Video content is a must today as it outperforms all other post types, but how you upload it eventually matters. There's one trick you might be using already, but for those who don't, we heartily recommend it. Every time you want to post a video, upload it to social platforms first, to avoid backlinking to external websites that store videos. Thus your posts will be shown to more people and get traction. 
Leverage real-time videos
Live streaming is a trend of 2019 people love. According to Livestream, 80% prefer watching live video from a brand than reading a blog. Facebook, Instagram, and even LinkedIn allow you to go on air immediately and share your insights. Whenever you start live broadcasting, social media channels inform your connections and thus bring more people to watch your content. Moreover, they can explode your reach in seconds. The investigation from Social Insider below shows that live videos have a higher engagement rate than pre-recorded videos.
Use Chatbots within Facebook Messenger to engage users
This is one of the tips for social media marketing that's gaining momentum since the beginning of the 21st century. Apparently, in the near future communication and interaction with robots will become a common practice. 
Many companies already use chatbots to communicate with the target audience. They are dialogue systems, programmed in such a way that they can answer questions and give recommendations in real-time, as a human being could do.
For example, Social Media Examiner leverages chatbots to send fresh news and insights to subscribers via Facebook Messenger. If you sign up to their newsletter, every day, around 8 o'clock, you'll get a message from a chatbot. 
Social Media Posting Tips
When it comes to social media posting, there are a number of social media tips and tricks to remember. Every social network has its own rules, and you should follow them properly. Number one rule that applies to every social channel is consistent posting. It helps create and get your audience into a rhythm. If your objective is to increase followers, there are other proven tactics, like targeted Facebook ad campaigns. From all the tricks I've tested, the following hacks deliver the best results. 
Post consistently
Posting consistently is as much about optimal frequency, as it is about peak posting times. But remember, you should post only in case you have quality content to share and if it's a good fit for your brand. If you have a lot of quality content, then you can consider the following small guide on how often to post on social media based on popular networking channels. 
Facebook

:

Social media experts

agree that it's best to post

once per day on

. Additionally, Hubspot

discovered

that pages under 10,000 fans tend to experience a 50% drop in engagement if they post more than once during the day. Don't make this mistake.
Twitter:

If you post on Twitter, it's best to tweet

15 times a day

. Yes, that seems like a lot, but your post will only live for 18 minutes on Twitter after it gets published. 

Pinterest:

The recommended number is 11 pins, to post yourself or curate. 

LinkedIn:

Post once every other day, just like on Facebook. 

Instagram:

One or two posts per day is considered enough.
If you don't have that much content to post every day, make it a tradition to post on Mondays and Wednesdays, for example. Seeing a schedule, your audience will return to check-in to peep if there's something new. 
No doubt, businesses using social media, should have a social media posting calendar. PromoRepublic has a calendar that suggests optimal times to post different types of content. In fact, it has a library of pre-made unique posts for different industries to fill your calendar if you're at a loss for ideas.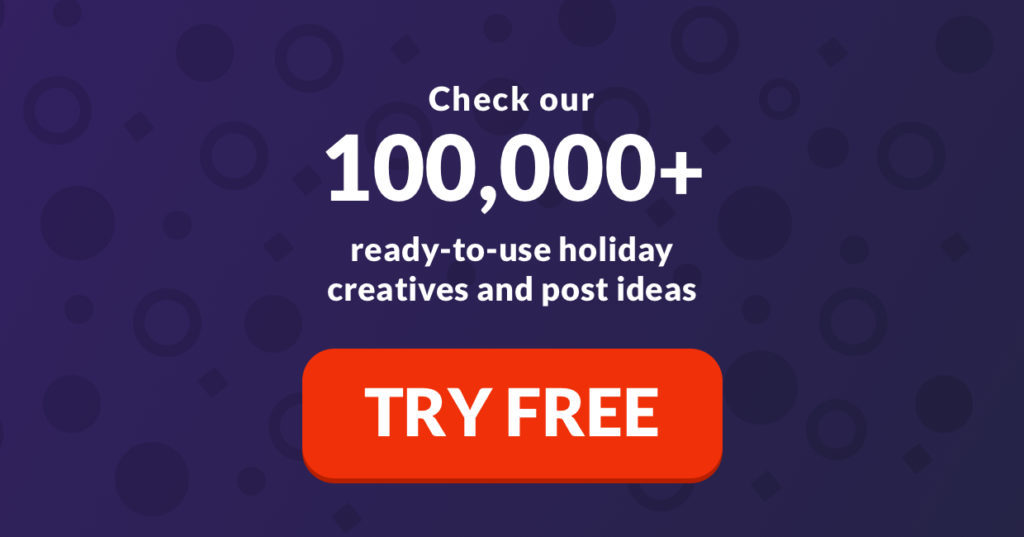 Targeted Facebook Ad campaigns
Sooner or later, you'll need to use Facebook Ads as they open up a possibility to reach more followers. But the marketing advice here would be to synchronize Facebook Ads with your contact list at hand (e. g. MailChimp). Uploading contacts to Facebook, you can show the advertisement to your target audience and get more engagement. 
All you need to do for a perfect set up, is to use Facebook audience selection tools. Custom Audiences will help you reconnect and target people you already know. It's possible to either use data from your CRM system or website visitors.
Post to groups from your business page
To get an instant increase in followers to your Facebook or LinkedIn business page, you can share content with different groups either interacting as a page or making sure that you personally share a post from a page. This trick works for small businesses in particular as it spreads the word not only about your content but about you as a business, building social media presence. 
To do so on LinkedIn, go to your business page, click on View as Member on the top right corner of your screen and then click the Share > Share in a post. Then select a group while choosing who can see your post. If you want to share the post with another group, repeat the procedure. Mind that before posting to any group either on Facebook or on LinkedIn, you should become a member.
From my observations, you can get +10 followers from every single post in a group. The good thing is that the group admins can recommend your post and it will appear in the notifications of its members. To learn how group posting works on Facebook, check out our recent article.
Use hashtags on LinkedIn business pages
Recently, LinkedIn rolled out many new features that make it more attractive to marketers. Using hashtags on LinkedIn, you can get your post trending and people, following the hashtag, will get a special notification like this one: 

To create a post with the best chances to get to notifications, be sure to mention a hashtag (the more followers it has, the better). In terms of content, you can create a discussion, so that the post could get immediate comments and likes. For your convenience, the most popular hashtags on LinkedIn are: #business, #work, #office, #success, #quotes, #inspiration, #entrepreneur, #life, #leadership, #tips, #marketing. To see how many followers a hashtag has, just print it in the search box. 
Use the most popular hashtags if you're sure that the post will get engagement immediately. Otherwise, for a more steady result, try down-to-earth hashtags that wrap up your topic. 

I hope these universal social media marketing tips for small businesses and freelancers were helpful. Let me know in the comments below what works best for you.