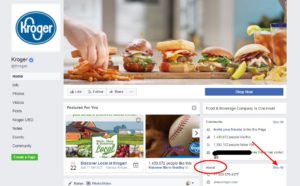 Today we can see a huge trend of promoting a business through social media. In our case, it`s Facebook, and today we have more than 50 million business accounts there. People advertise their services, sell goods, create personal blogs, and advertise other products. 
However, if you have a business and want to advertise it through Facebook, you must create your own Facebook business page. Sometimes people don't understand why they need it and what advantages they can get from it. In this article, we will guide you in creating your personal business page.
What is a Facebook business page?
A Facebook business page is an account you create specifically for your brand to: 
Promote your goods and services; 

Communicate with customers; 

Get meaningful business insights and analytics; 

Target new audience. 
Such pages serve to build your social media presence and reach more people potentially interested in your offers. One of the main marketing benefits a Facebook business account can bring is its word-of-mouth capacities and great social proof. For instance, when people see their friends or relatives liking a brand, they tend to trust them. Therefore, they would rather choose your brand promoted and liked on Facebook, than your competitor who cannot boast of the same. So you should definitely take your time and create a Facebook business page to stay afloat. Need more reasons? Continue reading this. 
Why do you need a Facebook business page?
According to Facebook policies, you cannot use your personal profile for any commercial and promotional purposes. Not only ads in a feed will annoy your friends, but also you will end up losing your account – Facebook has the right to delete it for violation of the rules. 
Small, midsize, and large businesses that use social media smartly can reach the best results in these marketing campaigns and make their brands more popular. Facebook is a huge platform that allows you to find the best way to reach your existing customers and find new ones. Here are the most crucial reasons for you get a business account:
Facebook is really huge
According to Statista, Facebook is the most popular social network: it can boast of 2.7 billion monthly active users. Choosing Facebook as a platform for brand promotion is a great idea – the more people use this network, the more eyes will see your content. So your chances for world popularity grow.
This network is great for all industries
Unlike Instagram or Pinterest that are focused on visual content, Facebook is omni purpose. For example, long-reads with images don't feel good on Instagram and Twitter. Still, they are relevant for Facebook. In fact, any format of content is relevant on this network. Whether you are a photographer, musician, or owner of a marketing agency, you can promote yourself in the most natural way. 
You will learn more about your customers
People visit business pages to learn more about the company they like or find out something about a new brand they have noticed. They are expecting that you will share something valuable with them, but you can also get useful details from your visitors and improve your targeting. 
Facebook has Insights features that allow you to gather information about your visitors and their interactions with your account. Also, you can identify their likes and demographics as well as wants and wishes – just ask them to post comments and initiate conversations. 
It's critical to know who your customers are. Facebook makes it easier – its interest and demographics information is a great source of insights for marketers. 
You can communicate with your customers
How to make a Facebook business page even more efficient? Use it as a platform for communication with your audience! There are so many ways to do that, from regular posts on your wall to questionnaires, public conversations in comments, video streams, and private messaging. You can accept orders through direct messages, consult your customers, guide them through the ordering process, and even send personalized offers/discounts right to their inbox. Respond to their comments, track brand mentions, and take an active part in discussions. Not only you will solve their problems and improve customer service, but also you can ask questions to get valuable information about them, their expectations, and desires.  
Advertise your goods efficiently
Facebook Ads allows you to promote your goods by means of lead generation ads, videos, dynamic product ads, and more. Paid ads are not expensive, so even a startup can afford them and increase reach in a couple of clicks. With your growth, this may become one of your best business assets.
Get organic traffic
Considering the huge amount of active Facebook users, generating mountains of organic traffic to your website becomes easier. Once you manage to build a wide audience, you will start getting a constant flow of traffic and therefore – improve your overall brand performance and SEO.
And now let's move the most interesting part of our post: how to set up an account and enjoy all the incredible benefits of Facebook for business.
How to Create a Facebook Business Page: 9 Simple Steps
Step #1: Create a page
Facebook's rules require business pages to be linked to your personal profile, so if you don't have one – make sure to create it. Remember that all of your comments and other updates will be separated from the new account you create. Your personal data won't appear on the business profile – you can only add it manually. If you don't add your personal page to a business account, users won't see it. 
Step #2: Select a business category
There are six main business categories that could be chosen for your business profile:
Local business or place
Company, organization or institution
Brand or product
Artist, brand or public figure (if you are a blogger, you should choose this category).
Entertainment
Cause or community
It`s important to choose the right category for your business, because each of them has a list of specific features, which may help you during your work.
For example, if you choose "Local business or place", you will be able to collect Facebook reviews from customers. At this time, if your priority is to get check-ins, it`s better to choose "Company, Institution or Organization".
Step #3: Fill in the information about your business
Here we must give our customers detailed information about things that they could get from us. We should add some facts about the business (it is stabilized, successful and have already reached some core milestones). You should also have your own customized URL. With it, user don`t have problems with finding and entering your account. There also should be a link to your business page (website or blog). Don`t forget about your location. With this information, customers will know that your business is not fake.
Make sure to add the following:
Description – describe your company in 155 symbols;

Categories – choose three categories relevant to your brand to help people find your page;

Contact information – add contacts to help your customers reach you via different channels. Email, Skype, phone number, and other information is crucial;

Location – provide the address of your brick-and-mortar store if you have one;

Hours – select hours when you are open;

Price range – set it if you want to;

More – add any details you believe are necessary. 
The information you include will appear on the About section of your page. Enter this tab if you want to see the expanded functions and add more information, like menu, story, awards, and more.
Step #4: Add a profile photo
Your profile photo should be 180×180 pixels. This is a small icon or an avatar for your account. Users will see it on your page as well as next to the comments and posts you make. A perfect business profile photo is your company's logo. 
Step #5: Add a cover photo
A cover photo is a picture that appears on the top of your account. Use it to support your branding, make your page memorable, and grab users' attention. The perfect for a desktop cover photo is 820×312, which is different for a mobile version – 640×360. Mind this difference when choosing/cropping the image. 
You can use one of your photos, find a template online, or even hire a designer to create something stunning for you. Facebook even allows you to add cover videos or slideshows, so don't be shy to get creative here. Just make sure that your profile photo and cover work as a single composition and support your company's style. It is important to make the visual part not just aesthetically pleasing but also chiming with your brand as a whole.  
Step #5: Customize it
How to start a win-win Facebook business page? Don't neglect a single opportunity to make it look fabulous! Enter Page Settings and find Templates and Tabs there. In this section, you can adjust and personalize the outlook of your profile. Decide which tabs to add and take a look at the pre-made templates – some of them are pretty awesome. They include CTA buttons and page sections, like Services, Shop, Offers, Photos, Reviews, Posts, Videos, Notes, Groups, etc. By the way, if you have a Group on Facebook, link it to your business profile to increase audience reach. 
Step #6: Add your team members
If you manage a Facebook account as a team, make sure to add all collaborators to the page and highlight their roles. Each role gives particular rights to a participant. These might be:
Administrator – practically, the page owner with complete access to all settings (the page creator is an admin by default);

Moderator – responds to comments, deletes comments, sends messages, views analytics, creates ads;

Editor – everyone allowed to change the page, make posts, write messages, create ads, and view analytics;

Advertiser – knows who created/edited content, creates ads, and sees analytics; 

Analyst – knows who created comment/post, sees analytics.
To add your team members, you should type their Facebook names in the Roles section. 
Step #7: Create your first post
Well, congratulations – you have successfully created a Facebook business account. It is better to start posting content before you make your first invitations – encouraging people to like an empty page is a bit strange. 
Don't wrack your brain over the first entry too much – this might be anything. You can post a photo, video, event, or a status update. Just make sure that you post something engaging and relevant to your brand. This might be direct promotional content or a post with useful information, like a how-to guide or an article relevant to your niche. Fresh and interesting content on your page will gladden visitors once they come to see it.
Step #8: Invite your Facebook friends and colleagues
There is an in-built Facebook feature that allows you to tell your Facebook friends about your page. You can find a list of suggested people to invite on the right side of your page. Send the invitations to all of your buddies or choose particular people to share your new page with. Once you send a notification, they will receive an offer to check it out. Of course, you shouldn't assume that all of your contacts will eagerly subscribe to the new page, but this is the step to make. 
Don't limit yourself to your friends – recommend your page to colleagues, as well. They might be interested in what you are doing! You can also encourage all invited people to recommend your page to their friends – this is an efficient way to get your first subscribers. 
Step #9: Promote your page outside Facebook
You should promote your page on your website and email signature. For the first option, Facebook offers plenty of widgets and buttons to locate on your site and encourage visitors to check your page out. There is an official Page Plugin to promote your business account outside Facebook. 
As for the second option, make sure to edit your email signature and include a call-to-action with a link to your Facebook profile.
Conclusion
As you can see, creating a Facebook business account is a matter of several clicks. This social network is a great place to promote your goods and they took care of your future commercial account! You can customize your page, decorate it with catchy images, promote it, and start your campaign right away. There are in-built targeting and analytical tools, so you can track your performance easily. Also, Facebook offers paid ads to increase your conversion rate. 
In general, using social media for your business is a great idea – it brings a human touch to your brand, improves communication with users, and expands your reach. There are no reasons to neglect such a rich marketing instrument like Facebook! So make your first step, create an account, and start posting wonderful content today! 
FAQ:
Can I use a personal Facebook profile for my business?
Using your Facebook profile directly for business purposes is prohibited by the rules, so you cannot do that. However, it doesn't mean that you cannot use your page to help your brand grow. You can always use it to tell people about your company, showcase your ideas, and share posts. It is not prohibited to locate client stories, blog posts, business tips, and other similar materials on your personal page. Just make sure that you keep a balance. Tip: if you are using your personal account for business, avoid posting too salesy posts as well as too personal content.  
How can I convert my profile to a Facebook business page?
Here are the steps to follow:
Visit Create a Facebook Page Based on Your Profile page on your Facebook account

Click Get Started and follow the instructions on the screen

Once the conversion is done, your page will become visible
By converting your personal account into a page, you will end up having a profile and a new page. Your avatar, cover image, and name will appear in the business account (they are editable). Please mind that statistics and views are not transferred to your new page. The same happens to all of your likes and followers – they won't appear on your business page. As for the followers, you can select your friends and followers and add them to your page – they will subscribe automatically. There is one nuance – friends will stay on both accounts (personal and business) and followers will move to your page and disappear from your personal profile. 
How much does a Facebook business page cost?
Facebook's business page is created for free.