Something big has just happened, we can't keep it in a secret anymore.
Following the mission of helping you with business development issues, the PromoRepublic team joined forces with a social media growth expert Dylan Hey. In this way, we're doubling our years of experience to create The Agency and Freelancer Academy.
Dylan spent last 5 years working with a number of successful companies including such big names as Hootsuite and Leadfeeder (yes, yes), and more. His social media marketing podcast ranked #11 in the iTunes charts, and his works were featured on many of the industries websites. And now, Dylan owns his agency which helps businesses build, optimise, and manage a paid acquisition funnel.
To date, PromoRepublic counts more than 5,000 agencies and freelancers among the clients and the number keeps on growing.
Consider this: Each business environment is different. Be it due to a type of agency or freelance job, variety of services, number of people enrolled, or a whola-lotta list of additional criteria, it all has the aim to optimize business building production machine.
Success doesn't come easy. And, if to be perfectly precise, it's all about love to the hard work and lifelong learning. That's a big reason for us to cooperate and become the leading provider of free education in social media marketing.
This initiative is aimed at assisting you in growing your freelance or agency business and give you a step-by-step guide on how to serve your clients effectively, from onboarding to content creation.
What to expect:
The future we suggest includes a number of led

webinars

covering a number of different agency and freelancer growth strategies.
You'll get video interviews with PromoRepublic customers and industry experts.
Every time you have a question, you'll find the answers in How-to guides and handbooks on the PromoRepublic blog.
And one more thing…
It won't be a joke to say that networking is an utterly important part of business growth. Be sure, you'll find the right people with big minds. Thanks to a dedicated community, you can learn and get insights from other successful agency owners and freelancers. Isn't it a reasonable cause to upgrade your knowledge and improve skills? Join our Facebook Group community here.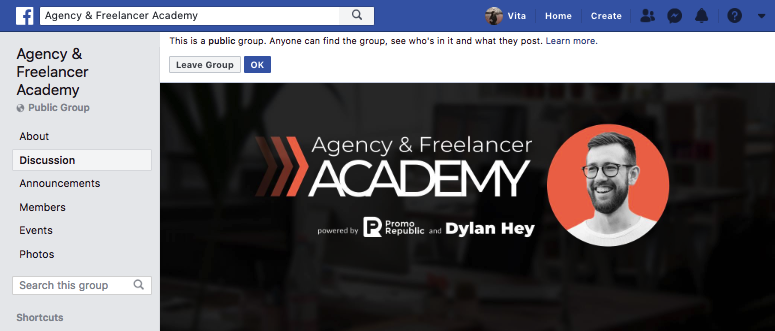 It's always good to be among the first who gets the goodies, right? Starting from September 20, we'll be running webinars and interviews.  The agenda, topics, and more details you can find on our page following this link.