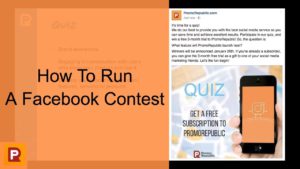 People love Facebook because this platform often could give us an opportunity to take part in any contest. You can win something huge for yourself or for your friends. It could be anything – from t-shirt with your favorite movie hero to a ticket to the football match of your dream. However, have you ever wondered how people could run successful Facebook contest and earn from this? We`ve seen lots of questions on this topic, so now it`s time to tell you how to run a Facebook contest.
Set goals and targets for the participants
If you think that running a contest is just to pick the prize and choosing a random winner, you are not right. Every giveaway, contest or other kind of such activity has a huge piece of work inside. You need to choose the main target of your contest. Here we have some huge targets that you could follow while running a Facebook contest:
Increasing your audience on Facebook
User generated content
More commercial deals from other developers
Fast sales right from the page
Higher brand awareness
The perspective is very good, so you should start working if you want to get a result from such activity.
Fix your target market. Orientate on it during your work
You can`t just sit down and create a contest for all Facebook users in the world. You need to know your target market before you start doing something. How to do this? First of all, choose your sphere of work (business, sport, different services etc.). You will work in this sphere for the whole time. If there won`t be any result, you can change the vector.
Second, you must analyze your audience. Who will be interested in your marketing contest? How old these people could be? What they are interested in? you need to find answers to all these questions and then start doing the job.
Select type of your contest. Choose the best one
There are many kinds of contests in every social media. However, if we are talking about Facebook, there are some good variants for you.
Photo contest
The source of traffic for you and your business in the social media. People will generate content to get the prize and you will get:
Subscribers
Clients
Sales and income
However, don`t choose one winner. If you see that users are very active, you can set a vote for a second winner (many developers are doing such things very often)
Sweepstakes
Great variant for you and your subscribers. People could easy take part in such competition. If your audience enjoy such entertainment, you can make such contests regular – once per month or per week.
Choose the optimal prize and budget of your project
If you know something about how to run a marketing contest, you should remember about this key point. The main orienteer for you will be your audience, because everything depends on the number of subscribers. There is no sense to run a contest for a very expensive laptop if you have less than 1000 subscribers.
If you are a beginner, start with something cheap. You will gain new subscribers and authority on the market. With the time you will be able to play serious.
Pay attention to the time limit. Your contest shouldn`t be too long.
In most cases, developers run Facebook contests for a week or ten days, not longer. Why? Because people will lose their interest and ambitions to win the competition. Yes, maybe you will get more subscribers because of the longer period, but it won`t be profitable for you in the perspective. Subscribers want to see regular activity from popular users, so it will be better to make short regular contests than one big.
If you are a beginner in this sphere, you should create a schedule.
Conclusion
So, that is it. We`ve tried our best to give you best advices of running a successful contest on Facebook. Hope you will use it during your working process.