Every business starts from content. If we know exactly what to post and what to work with, the result won`t wait long. However, many developers don`t know where to start and what to do.
Here we give a short guide about creating qualitative 2B2 content that will launch your business. Our advices were already checked by our developers, so you may be sure that we are not cheating and our 2B2 social media management guide works. So, let`s start.
Focus on the content your audience cares about
If you want to create valuable content for your subscribers, you need to understand your target market. For this option, you can use the help of ICP (ideal company profile). It means that you define your company`s size, yearly revenue, location, industry and other important targets that your business should follow.
Always check the content you`ve created
2B2 content marketing doesn`t differ from usual social media content marketing too much. It means that everything that you give to your audience must be looking sharp. Our main advices here are:
Avoid saying ROFL or TL;DR in post targeting non-millennials.
Minimize tech jargon in your posts for sales leadership or non-techies. People may not understand what you are talking about.
Create value by teaching your audience something new
In our days people are always search in the Internet trying to find something what they didn`t know before. And it`s your chance to improve your 2B2 content marketing. If you know something that will interest subscribers, create a post about it. Even if it doesn`t dedicate to your business for a 100%, it`s one of the ways how you can draw people`s attention. It`s impossible to read posts about one thing for the whole time, so you can add something special.
Use keywords while creating your content
People who have clear understanding of what they need use keywords to sear for some topics, articles or videos. You can use this advantage to get more traffic and improve your business. however, you should know what keywords you should use. To check it, you can search your own topic in Google. Use different words combinations and phrases to see what appears.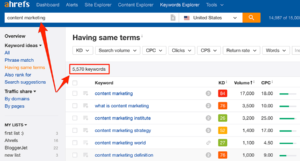 After that, you can use the most popular keywords in your posts. It will be much easier for subscribers to find something they really need.
Final thoughts
In the end we want you to pay more attention to the details while working with 2B2 content marketing strategy. You should do everything right from the first try, because it will be so hard to correct something.