Did you know that 46% of all Google searches are looking for local information? For brick-and-mortar businesses, appearing at the top of these search results comes down pretty much to seven ranking factors, with Google My Business, now Google Business Profile (GBP), being at the top of this list.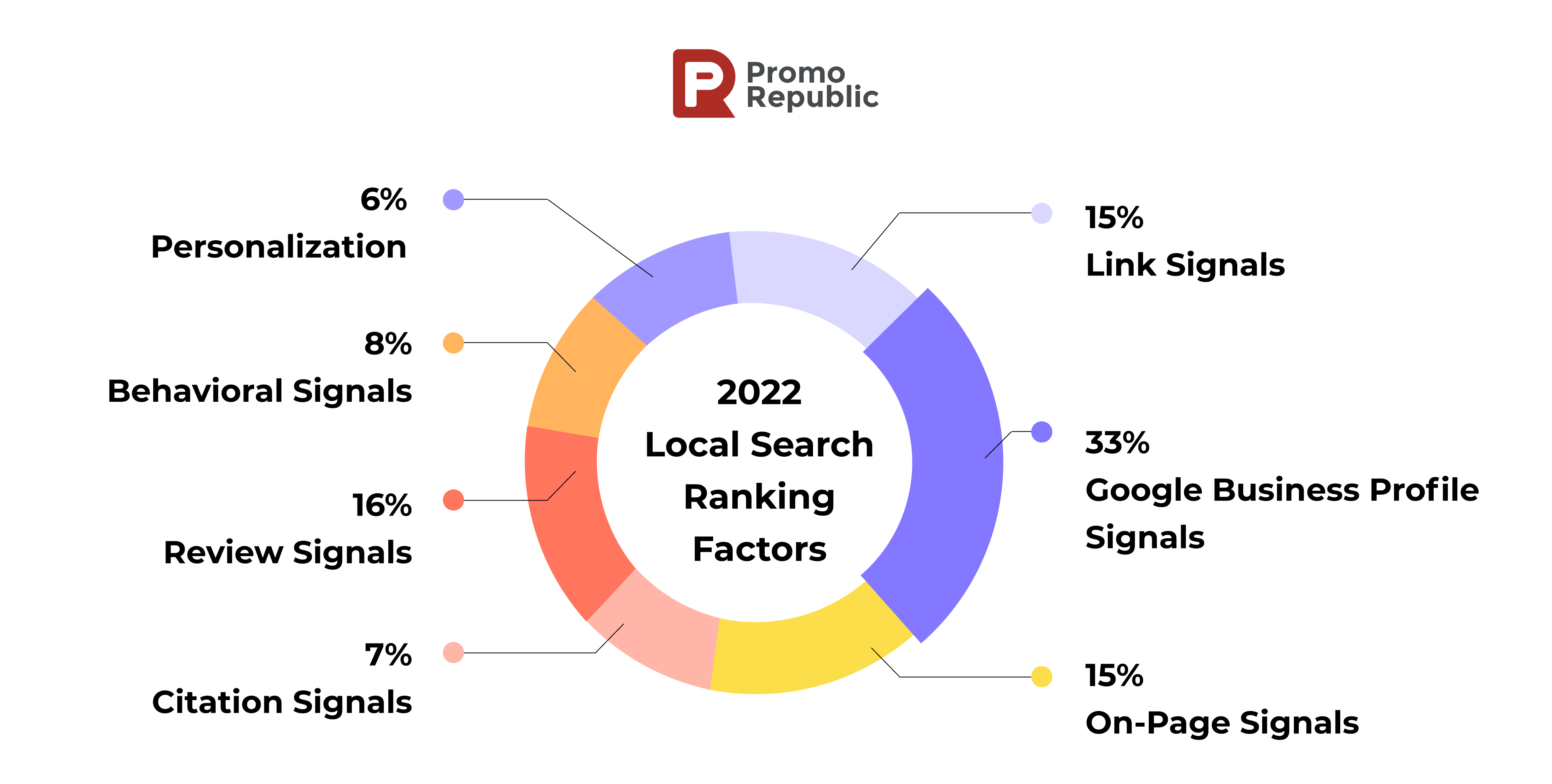 Indeed, investing in a Google Business profile is one of the best and most cost-efficient ways for multi-location companies to improve the visibility of their locations online and in the community. Along with GBP, your business will also appear on Google Maps, and the higher up the list of local results your business is, the better.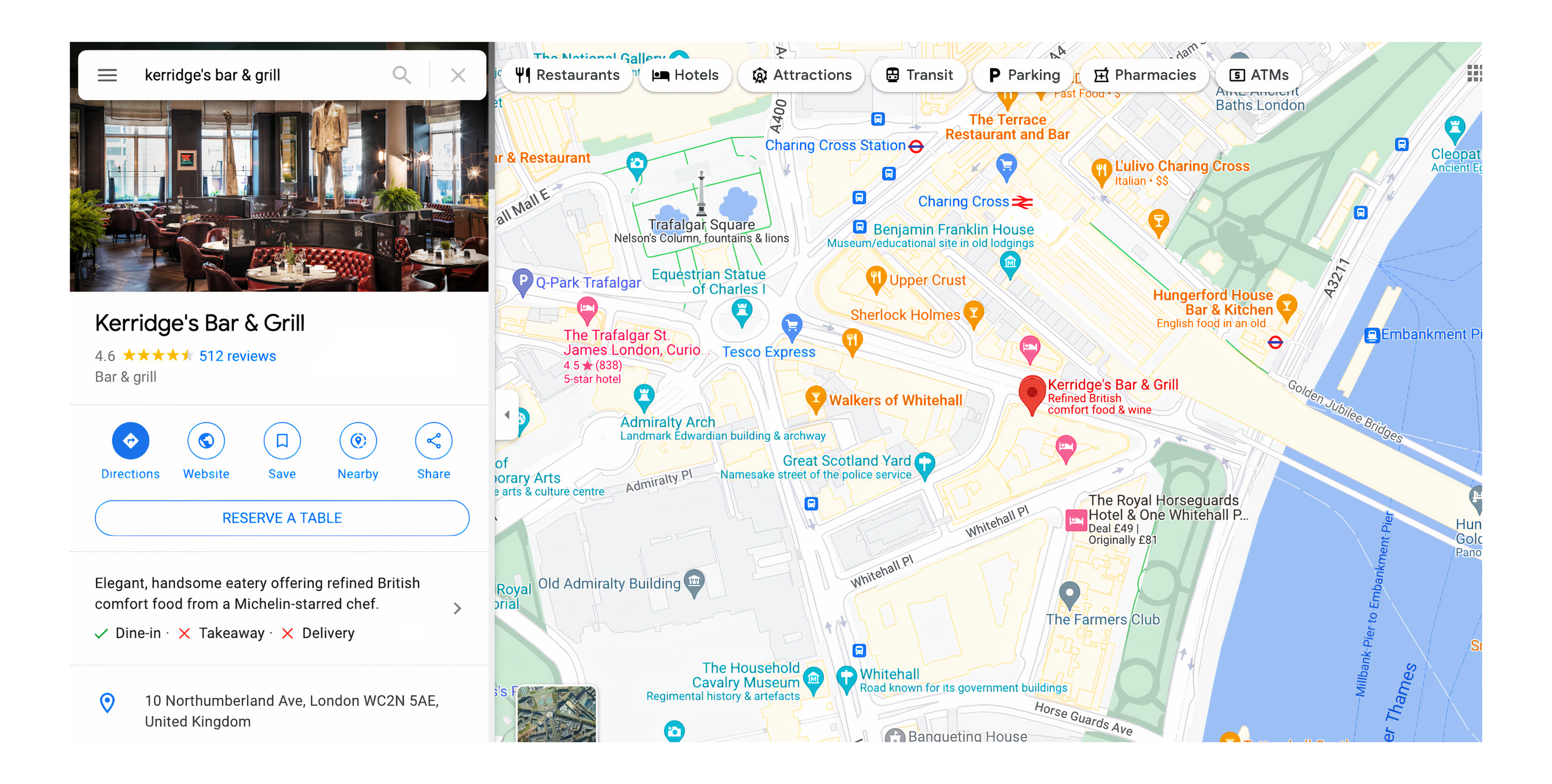 Once you're listed, generating a flow of positive reviews for every unique location is the way to build credibility and boost your local search performance. With more visibility comes increased clicks, engagements, and sales. A critical factor for getting these results is managing your overall online reputation efficiently. But for multi-location businesses, it can be challenging.
Keep on reading to learn how to use and optimize Google Business Profile for multiple locations, generate free Google Reviews, use them in your marketing, and track your performance.
Contents:
How to Set Up Google My Business for Multiple Locations
Step #1 – Create a Business Group
The first step to managing multiple locations under one Business Profile account is to create a business group. Business groups allow you to sort locations within your organization under a group, make updates, or share access to several profiles simultaneously.
To set up a business group and start adding locations:
Sign in to your Google Business Profile Manager;
Click Businesses at the top left side;
If you have several companies under your profile, use the search bar to find the target organization. If you haven't claimed any company, click the Add Business tab at the middle right of the screen and follow the prompts to do so;
Select the Create group option and enter;
Enter the name of your group and click Create;
Next, select the business group you just created. Click Add location and follow the prompts to complete the process.
Step #2 – Update Information About Your Locations
Entering detailed, accurate information about your business improves your chances of appearing in relevant searches.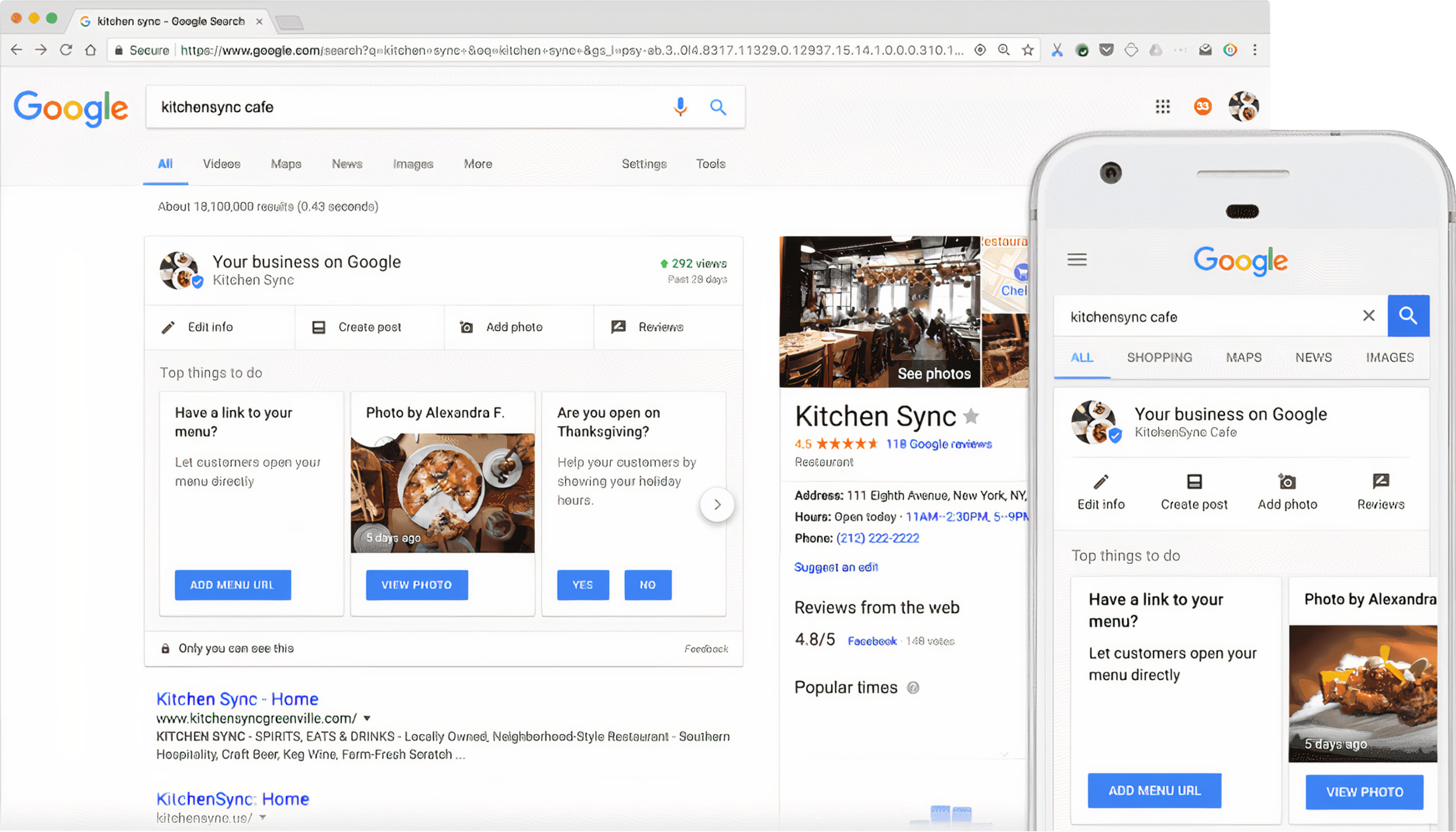 But for businesses with multiple locations, filling in information one at a time can be time-consuming. That's where bulk uploading comes in.
The bulk uploading system allows you to update all business information for several locations at scale. To own a bulk verified account, you must have 10 or more locations. Once that's in place, follow these simple steps to start bulk uploading.
Step #3 – Add High-Quality Photos for Each Location
Appealing visuals help shoppers to determine whether your business offers what they are searching for. Ideally, ‌add location-specific photos that showcase the offerings of each of your stores. If you have a bulk-verified Google Business Profile, you can upload several images at once through a spreadsheet.
Once you've uploaded the pictures, consider updating them at least once a month.
Step #4 – Start Leveraging Google Business Profile Posts
GBP posts allow you to communicate with potential buyers through your Google business listing and drive traffic with keyword-optimized posts. You can share the latest news, promote offers, publicize special events, and highlight products or services.
However, this feature doesn't support bulk posting. You'd still need to make posts from each location, spending more time than you should. To scale the process, consider using social media scheduling tools to post to several locations all at once.
Step #5 – Set Up a Review Management Process
Online review management involves tracking, responding to, and encouraging customer reviews. For individual businesses, it is a straightforward process. But for multi-location organizations that rely on several platforms such as GBP reviews and Facebook, tracking all reviews manually is extremely difficult. The result? Missed reviews, costly marketing efforts, and poor customer service. That's why you should invest in an online reputation management tool to streamline the process.
The ideal review management software—not only allows you to gather reviews efficiently—but also helps you ‌boost your SEO rankings through timely responses. For instance, PromoRepublic's Inbox for Google My Business helps multi-location companies manage incoming communication from different channels in one place. You can respond to GBP reviews, Facebook comments, direct messages, and reviews from one platform, saving you more time and operational costs.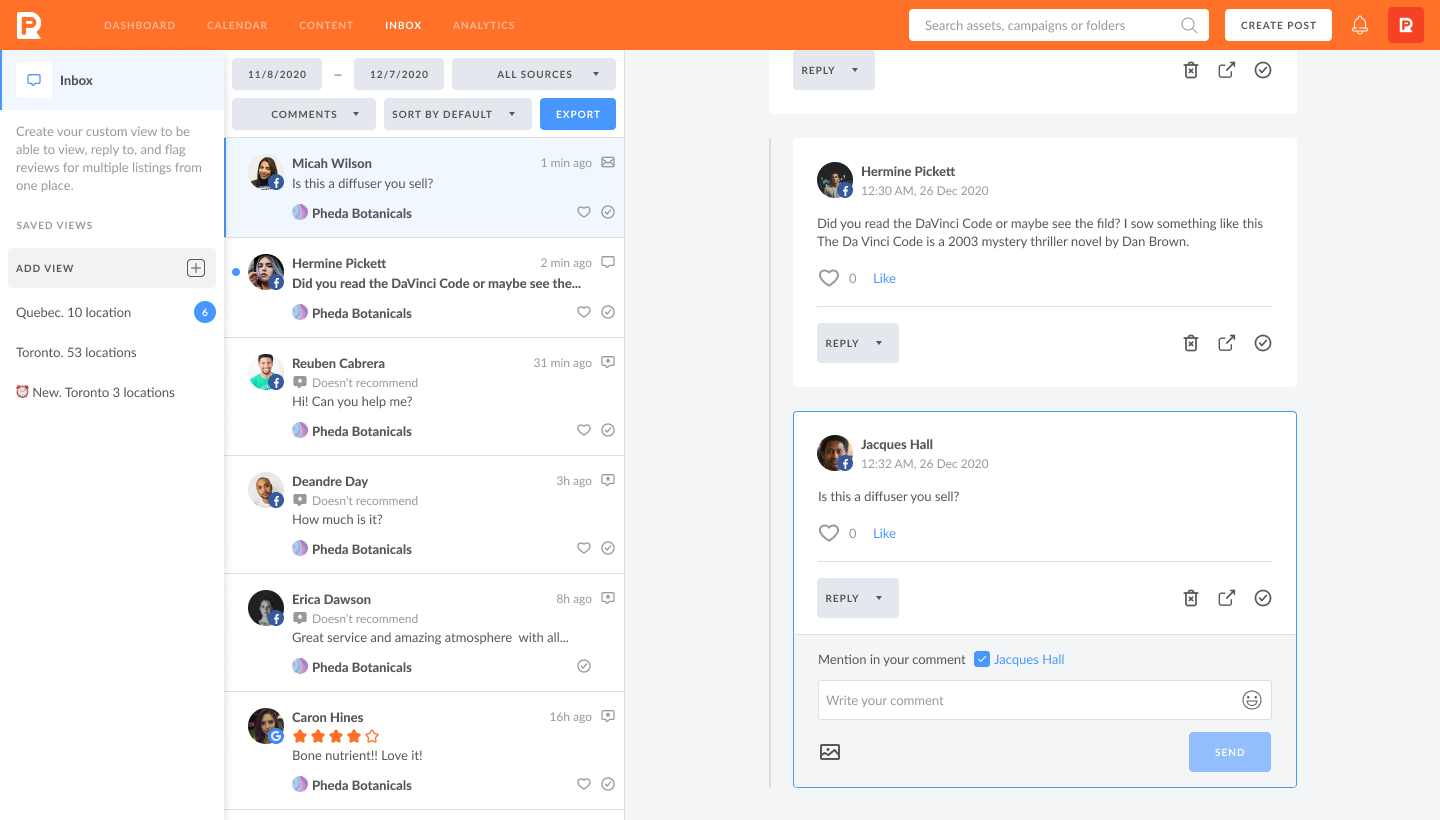 5 Proven Strategies to Get Free Google Reviews
1. Ask for Reviews
Do you think that asking for Google My Business reviews directly is futile? Think again. You might be surprised at the number of customers that'll be willing to leave one. So, why not try? You can start by asking via emails after delivering a product or service. Or after helping a customer resolve an issue. Other places to ask for reviews include social media posts and private messages, in-app prompts, in-store, or SMS.
Here are some general-purpose templates for requesting free reviews:
Template #1
Subject line: How was your experience?

Dear [Customer name],

Thank you for choosing us to [handle a specific service]! We enjoyed serving you.

Could you take a moment to share your experience with us via the link below? Your feedback will help us improve our services for you and other customers like you.

[Insert Link]
Template #2
Hi [Customer name],

Happy with our services? Please help other customers find us by leaving us a Google review here [Insert link].

Thanks!
Template #3
Dear [Customer name],

Thanks for shopping with us! Now that you've received your [items], we hope they give you great pleasure as your patronage brought to us!

Did our services meet your expectations? Help us ‌continue providing you with the best service by leaving us a quick Google review.

[Insert Link]
2. Add Your GBP Links to Your Marketing Channels
Customers interact with your businesses through various mediums. Adding your Google profile link could help you get in front of your existing users and receive more free reviews.
Most times, your GBP listing link may include an endless string of odd characters. To create a cleaner look, use link shorteners to customize yours. And then, use them at strategic points of your marketing channels. This includes your website, email signature, and print materials.
3. Optimize Your GBP Listing
Google My Business optimization services help you improve your chances of appearing in relevant searches. When done right, Local SEO for multiple locations will help you rank at the top 3 listings of the search engine results page. These top listings are known as the Google 3-pack. They appear as maps results, featuring Google map reviews drawn from your GBP listing.
Here are some tactics you can use to improve your local rankings:
Start by evaluating where your business stands among competition;
Claim your listings in all locations;
Enter accurate information such as business name, categories, services, business description, addresses, operational hours, etc.;
Make quality posts;
Encourage high-quality reviews and ratings;
Garner locally relevant links and backlinks to boost visibility;
Focus on building a social media presence.
4. Don't Forget to Respond to Reviews
In brand reputation management, your response matters. It shows that you're listening and also value their feedback.


Your response time matters as well—not just in positive reviews—but most importantly, in negative reviews where the customer is unsatisfied.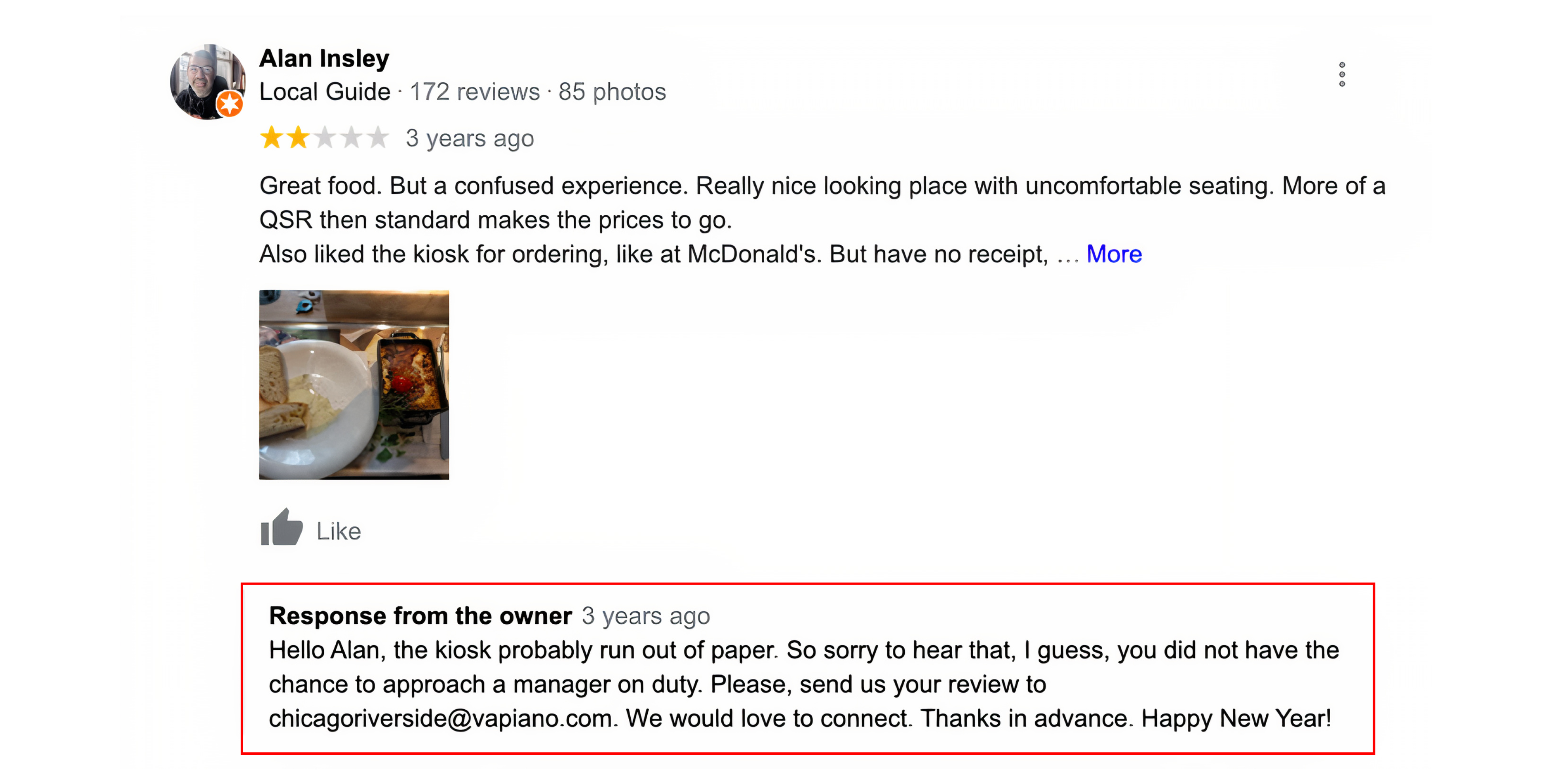 For speedy response, choose a review management software like PromoRepublic that allows you to manage all your business listings from one place. Also, create templates that'll serve as a guide for responding to reviews.
Here are some templates that highlight how to respond to Google reviews.
Example of a positive review response:
Dear [Customer Name],

Thank you for taking the time to leave us an outstanding review!

We're ecstatic to hear that our services helped you [the result the customer mentioned]. We appreciate your business and hope to see you again!

Thanks!
[Staff Name]
Example of a negative review response:
Dear [Customer Name]

Thank you for your feedback.

We are sorry to hear that your experience with us didn't your expectations. Reviews like yours give us a chance to do better and we'd love to make this right if you give us another chance.

Please reach out to us at [contact details] with your concerns, challenges, or suggestions.

All the best,
[Staff name]
5. Meet Customers' Expectations
Okay, this one might be obvious, but satisfied customers are your greatest ambassadors. When you go beyond and above for your buyers, they'll be happy with your business. They will be more likely to leave you a free 5-star google review or higher ratings that'll help you attract more buyers.
Leveraging Prominent Reviews in Your Marketing Materials
Once you have a stream of positive reviews, it's time to amplify them. Promoting customer reviews serves two main purposes. For one, it establishes credibility for prospects. Today, 77% of consumers always read reviews when considering local businesses. Incorporating these assets in your local online marketing could help you stand out as a top choice.
But keep in mind that customers can spot false information from a mile away. Luckily, GBP does not allow anonymous google reviews which are prone to manipulation. So, you'd only need to set up ways to weed out fake google reviews.
Another benefit of using reviews in your marketing is that it may encourage reluctant customers to share theirs. This could help improve your rankings and brand reputation.
Here are some ways to leverage reviews in your marketing materials:
Embed Google review widgets on your homepage;
Share on social media;
Include them in your landing pages and pricing packages;
Highlight them in your case studies;
Showcase them in your promotional videos;
Include them in your email signature.
How to Evaluate Your Google Business Profile Performance
One way to analyze your performance is through Google's service known as Insights. This tool provides you with data on how customers interact with your GBP listing. However, it has some critical limitations.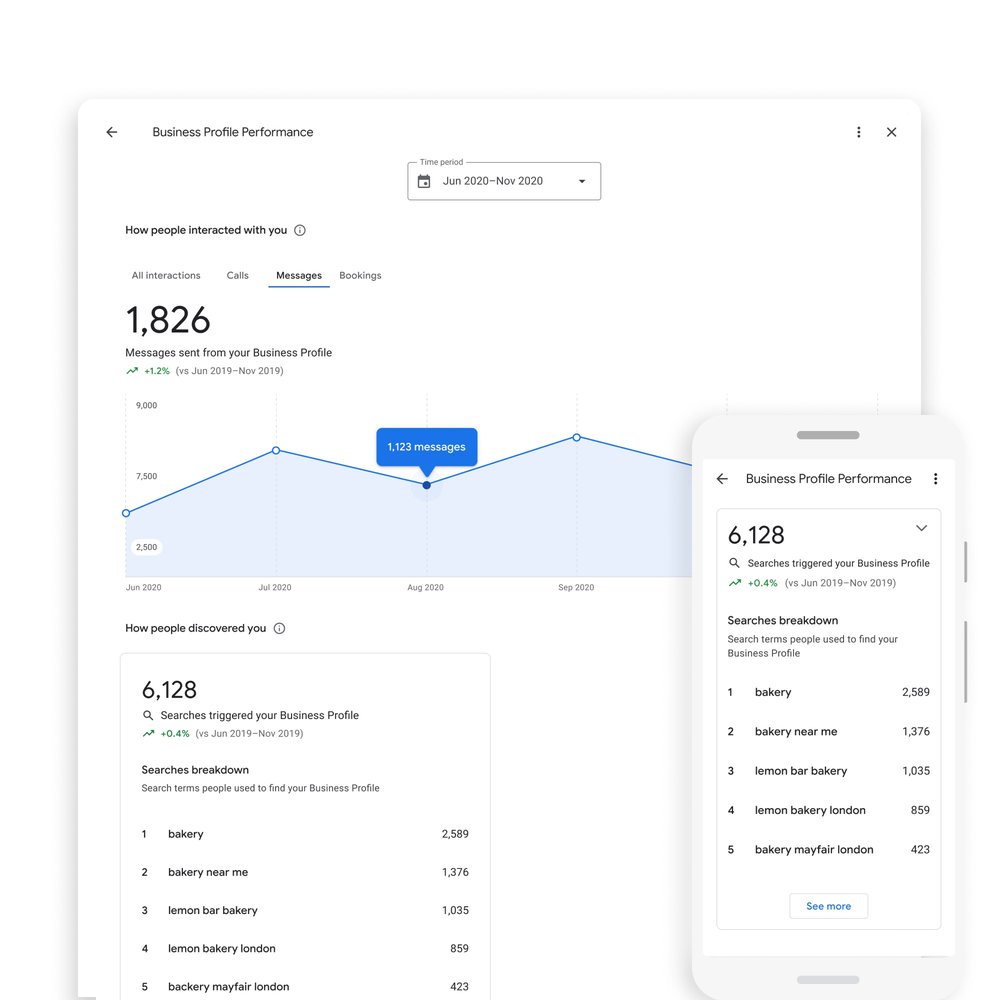 For one, it is prone to data glitches. For instance, some users commonly report missing Google profile activity and photo data. When this happens, you may lose key insights that could you optimize performance.
Also, It doesn't pull in reviews from other platforms. If you are active on other review platforms like Yelp or Facebook, it becomes a challenge to have a bird's-eye view on your overall online reputation. Thus, tracking reviews from these sources may take time and more resources.
So what's a better option?
An online reputation management software. An efficient and reliable tool such as PromoRepublic, allows you to access advanced insights into your GBP performance. Not only can you manage Google business accounts, but you can also get Facebook reviews insights. A remarkable feature called Review Performance Analytics within our software takes it even a step further.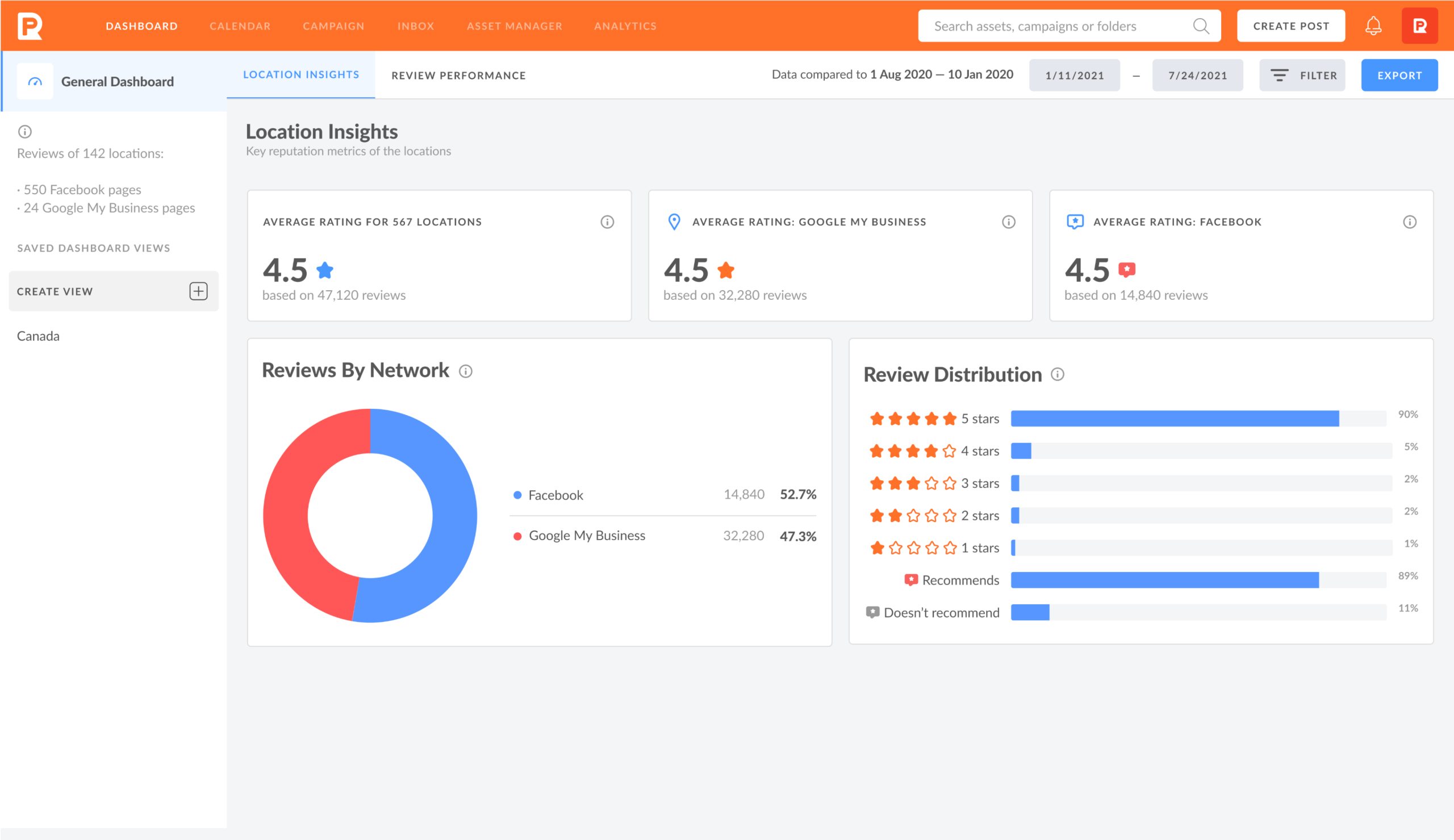 It helps you monitor customer satisfaction, the speed at which local teams or customer care approach online reviews, and how the volume of reviews changes over time.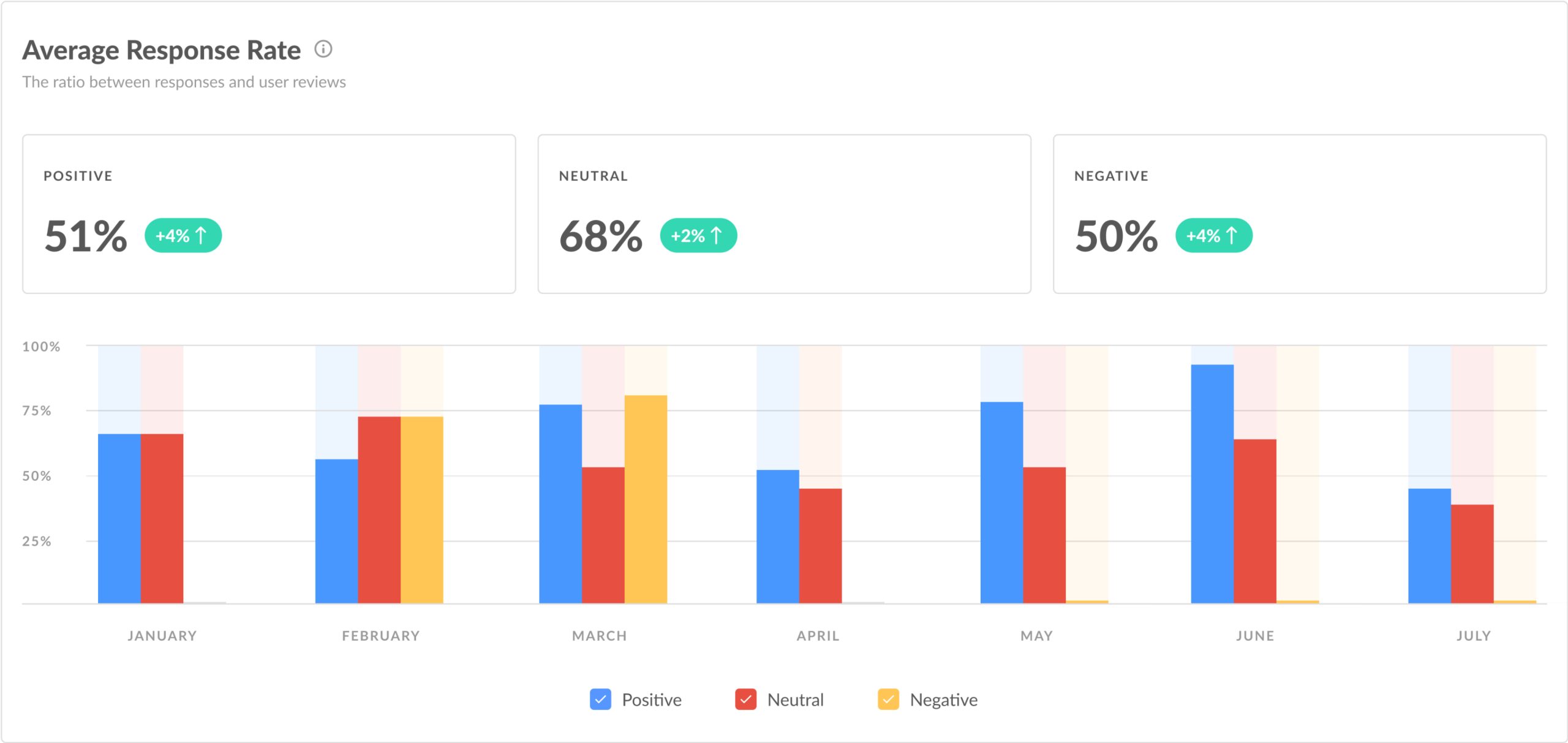 Final Thoughts
When it comes to multi-location marketing, one of the best free tools to help save time and money is the Google Business Profile. Once you set it up, dig into the tactics mentioned to generate a steady stream of quality reviews. But that's not where it ends. Don't forget to leverage the top-quality reviews in your marketing channels. And most importantly, track your performance using a reputation management tool, such as PromoRepublic, that gives you an accurate insight into your GBP listing, Facebook, and others all in one place.
To check the value of our Review Performance Analytics first-hand, book a demo now with one of our marketing experts.