In recent years, not only the number of Instagram fans has been growing, but also the number of social network features. Almost every week, there are updates that make the site even more attractive to users and brands. For example, since the beginning of 2019, Instagram began testing a new account format – the creator profile. It added a modest list of two options: personal and business. Today, the ability to switch to the new Instagram account types is available to most users. 
Let's sort out why Instagram needs professional profiles, how to switch, and what benefits can be derived. 
How many types of Instagram accounts?
There are currently 3 Instagram account types:
"Personal account" on Instagram.

"Professional/Business account" on Instagram.

The "Creator's" account
What is a Professional Account on Instagram?
These are accounts that are geared toward the sale of specific goods and services. As a rule, it makes sense to open such profiles if you have organized your own production or provided services, such as owning a beauty salon. It is vital because the main issue of promotion is the content. If you have your own production or beauty salon, you can get as much content as you need! If you are just selling goods, then it can be difficult to organize the process of obtaining content. That's why it's very advantageous to have your own small production of unique goods, because by creating an Instagram account, you get powerful advertising support, almost without spending any money on the production of promotional materials. In this case, the promotion plan constantly shows the audience the product, tells them about it, demonstrates it from different angles, and causes a desire to buy. 
You can read more about a Business Profile here.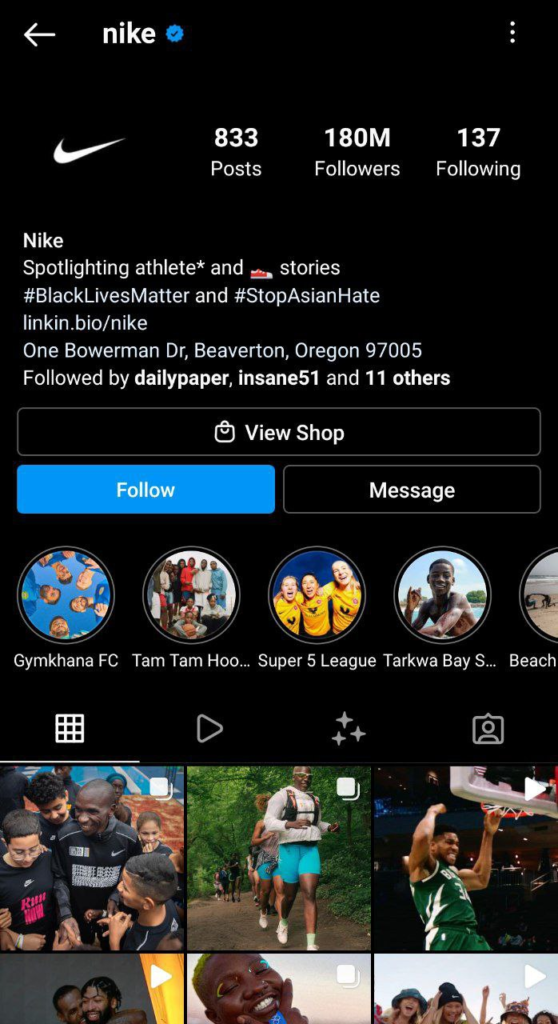 Source: https://www.instagram.com/nike 
What is a Personal Account on Instagram?
The first thing every Instagram user does is create a personal account.
This is done in order to post their own photos, their own views on certain things. All this is because everyone has an opinion, and it may be the leading one for someone. If you have followers on a personal account, you are a leader of some kind of opinion for your followers.
Posting photos of dishes can cause interest in finding out its recipe, publishing a post from some restaurant, you'll be asked about the atmosphere and service in the institution and so on.
And not only your friends who are subscribed to you but also complete strangers can ask you questions.
When you reach the moment when your account has over 500 or more than 1000 followers (depending on the topic), you'll start to get advertisers' interest. And there will be more interest when the number of subscribers continues to grow.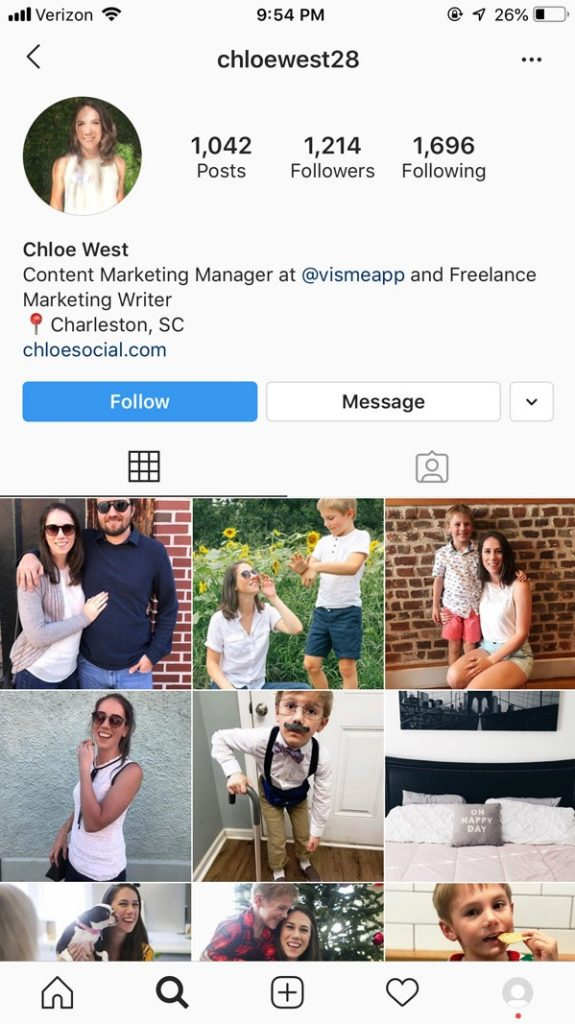 Source: https://www.instagram.com/chloewest28 
What is a Creator Account on Instagram?
There are also purely content-based projects on the social network, which resemble communities of people interested in a certain topic. Unlike other social networks, there are no separate functions for creators' accounts, but you can decide for yourself how you want to promote your profile. The difference between accounts is that you'll have to create a content plan in advance, for example, schedule all posts for at least 30 days, and then start auto-posting with a third-party service. Content accounts, however, actively respond to changes in the media space. They publish relevant news and tips. Such accounts make money, as a rule, by advertising other publishers or selling goods and services (for example, they can participate in affiliate programs of online stores or training programs, banks, insurance companies, and so on).
Cooperation can be different. Here are the main types:
A gift for a review (product stays forever);

Product for testing for feedback (sent once, then returned);

Invitations to various events (movie premieres, media events, etc.);

Providing a service for free or at a large discount;

Buying relevant advertising;

There are also cases when bloggers themselves take the initiative and send offers of cooperation to various stores and brands. This is done either through advertising exchanges or manually. The choice is up to you.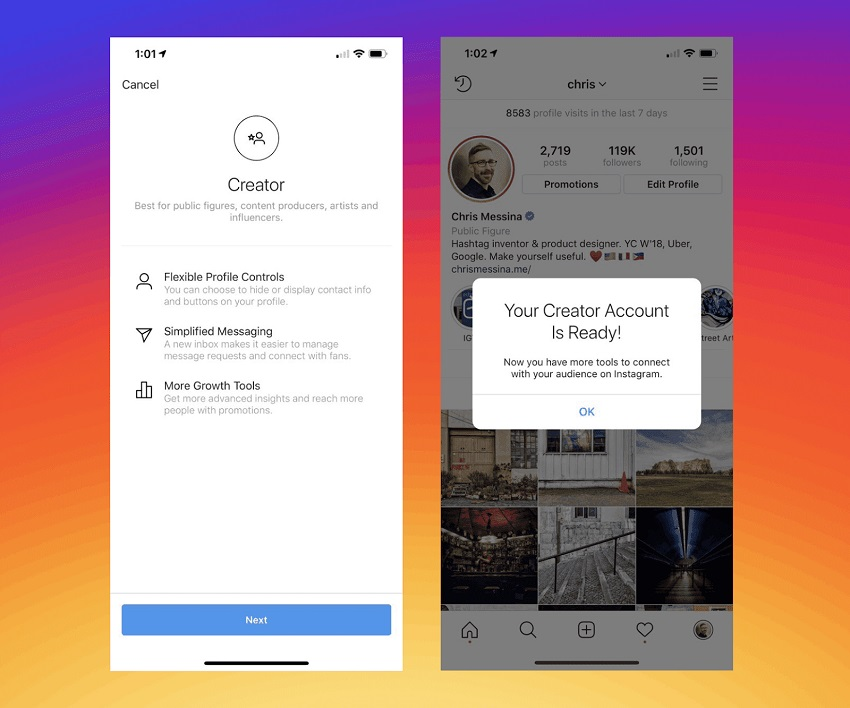 Source: https://trendhero.io/blog/instagram-accounts/ 
How to switch your profile type
You can switch to a creator account on Instagram in just a couple of clicks. Go to your Instagram profile settings, select "Account," then "Switch to professional profile" (if you have a personal profile) or "Switch to creator profile" (if you have a business profile).
You will be offered to choose a content category. There are more than 40 items in the recommended ones. If nothing from this list suits you, type manually in the search bar.
You will also have the option to show this category on your profile or not. If you forgot to check it, you can return to this option from the general settings menu.
You can return to the personal or business profile in the same way from the general settings menu.
Business Profile vs. Creator Profile Instagram Account Types
Creators on Instagram have all the same features as business accounts. However, new features have been added to them:
Advanced audience statistics
Everyone who earns money on Instagram needs an audience and reach. For a business, these are potential clients, leads, and conversions, and for a blogger, this is the cost of advertising, which depends on each subscriber. Therefore, the creator has extended statistics: in addition to the standard indicators (likes, comments, saves, reposts) for any given period, you will observe the schedule of subscriptions and unsubscriptions. All data is stored for up to 3 months.
The data is tied to the content, so it will be much easier to understand which posts attracted the most newcomers (or caused a wave of unsubscribes).  
New sorting parameters in Direct
Influencers get written to frequently: some for business, others just for fun. Instagram has divided Direct into two folders for authors: the main folder and a general folder to ensure that important conversations are not lost in the wave of messages. Offers from advertisers and personal correspondence can be kept in the first tab, ordinary messages, and spam – in the second.
Immediately following the transition, it is advisable to categorize all dialogs into folders. To do this, go to the Details section (the icon at the top right) and click Move. In this case, your conversation partner will not know about the changes. 
You can also sort correspondence requests as soon as they are approved. 
Creator tab in the settings
Promotions are launched through the Facebook ad cabinet, but you can track the statistics on payments and analyze the branded content without leaving Instagram. There is a new item for creators in the settings:     
The ability to hide contacts
Popular bloggers are inundated with messages and calls every day. Instagram understands that sometimes it is impossible to handle all incoming requests, so it allows creators to hide contact information from the profile. 
Advertising and branded content
Today, any professional account allows you to set up targeted ads and pay to promote posts. The content creator can also officially place sponsor tags on posts. Such advertising increases the status of the creator and the trust of the audience. Partners will send you their ads, which will be published on your page automatically or after moderation.
Privacy settings
Unlike the standard profile, the professional account (creator or business) cannot be closed. It is already different with categories: the creator can hide it if he wants, which cannot be done by the administrator of the business page. There is also another important setting for creators and companies for the content they publish – the age limit (general and for each country).
Pros and cons of a business account
An Instagram business account has both pros and cons. The main disadvantage is a possible drop in reach. The management of Facebook itself, which owns Instagram, admits that the priority in the display will always be given to personal profiles rather than to companies. Mark Zuckerberg stated this in one of his publications on the social network. Therefore, businesses will have to get their reach through paid advertising.
The bottom line
Each Instagram account type has its pros and cons and has a lot to offer each user. The most important thing is to weigh everything carefully and choose the type that will positively impact your business and help your agency get more clients.