If you are a professional developer, you know that images are holding a strong position in your working process. You should have a good image for your company logo and you should have a lot of good images for your social media posts. It`s important because your main task is to show the customer what exactly you can give to him (if we are talking about selling goods).
However, sometimes developers face problems with collecting and downloading the right images to their profiles and posts. If you pick someone`s photo without asking, it may end bad for you. But you don`t need to worry because people have created special websites where you can get free images without asking. In this article we have collected the top of the best sites for downloading images on every topic you need. Keep in mind that this is not a top from the worst to the best – all sites are equal to each other, so you can choose every of them. So, let`s begin.
Unsplash
Unsplash is a well curated collection of free images made by professional and semi-professional photographers around the world. Someone can say that other sites have a bigger library than this one, but believe us – the quality of images here is the way better than anywhere else. With an easy searching function, you won`t face problems while looking for the right photo for your post. Also, there is another way to get the right image – just check out the Collections. These are special groups of photos sorted out by other users into themes (for example, Lights and Shadows, Street Life, Into the Wild etc.).
If you want to be a part of Unsplash, you can sign up an account (it`s a free option) and create your own collections. They`re ideal for inspiration or gathering resources for a project.
If we are talking about free stock images websites, there is no need to credit a photographer who have made this image. However, Unsplash notes all users to create a short credit to match the author.
Pixabay
Pixabay is a stock website where you can find over one million of free social media marketing images, social media images and other photos that could be used in your projects. If you need, you can find illustrations, vector graphics and even a handful of videos.
The process of work with Pixabay is pretty simple. When you`ve picked up a right image, you need to choose the optimal resolution (the printed images may differ from pictures made for online projects). Then you must complete a Captcha to download your image. However, you can cut out the Captcha by signing up an account (it`s a free option).
Gratisography
Tired of simple photos and repeated images? Want something unusual for your projects or social media posts? Well, we`ve got one resource for you. It`s called Gratisography and here you can find really non-standard free images, which have been collected by talented photographer and graphic designer Ryan McGuire. His photos often have a surreal edge, and will be looking brilliant on your unusual projects or posts.
We must say that Gratisography doesn`t have as much photos as other websites mentioned here. However, the author of this resource is working hard and he adds fresh photos every week. To be sure that you won`t miss a new update, you can subscribe his newsletter and visit his Twitter account.
Pexels
Yes, you are right – the name of the resource is Pexels, not Pixels.
You can easily visit this website to download free social media images, and curators will pick out the best shots to populate its searchable collection of public domain images. You can search for something specific dedicated to one topic or browse by themes including pastimes, emotions and locations.
Pexels is a pretty good choice for web and application designers because there you can find a perfect collection of images made just for displaying interface mockups. A couple of images stray close to stock photo cheesiness (ideas that are tricky to illustrate spelled out with scrabble tiles, for example), but the bigger part of images here is creative and original.
Pexels also has a special category dedicated to space photography. Images there are really amazing, but you should keep in mind that some of the material is from NASA – one of the organizations whose images could be used only in a specific context.
Adobe Stock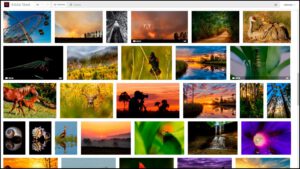 Simple in use, this photo library with more than 90 million of free images could give you a great opportunity to choose the best examples for your future projects. You can download images, use them in your social media posts or just share with friends in chats. Simple? Of course!
So, here we have the list of five stock image sites that are heading the highest positions between users. You can use them all, or pick up one that will be better for you in some aspects! We hope you enjoyed our article and will choose the best images for your social media posts or online projects. Good luck!