For the whole time we were working with Facebook, we`ve seen a lot of business profiles. And, unfortunately, they all have a very low overall activity. Why? The main reason was people weren`t interested in visiting these pages because it weren`t attractive or interesting for them. But where is the problem of such negative results for the page users? They didn`t pay enough attention to their Facebook page cover photo, and in this article, we will try to solve this problem and explain why it`s important to get good image for the page.
Why it`s important to have good Facebook page cover photo?
This question worries every developer who is working with clients on Facebook. The main reason lies in people`s first look. If you see the new page for the first time, what will you be looking at? On the description or on the photo near it? Photos and videos are the best instruments of sending the information to the user and, of course, you want to see the photo first.
If you will fail here, all your social media campaign and plans will go down because people are not interested in your page and don`t want to visit it. The main reason is the bad cover photo, so you should take it seriously.
Now, lets have a look on basic recommendations that should be followed while choosing Facebook page cover photo.
Follow the rules provided by Facebook
This advice may look too simple for you, but in most cases, people just ignored the Facebook rules after reading them and do what they think is right. When you will be checking the standards of choosing Facebook cover photo, read every point very attentive. So, here are the rules:
Covers must be automatic. It means that they can`t be deceptive, misleading or malicious.
Covers are public. You should choose something that will draw attention of huge group of people and interest potential followers.
Covers are your alone. Other developers can`t ask advocates to load these covers to their timeline. Only you can work with these images.
If you will violate or ignore Facebook rules, your business will fail. We don`t think that you want to lose an opportunity to grow your business only because of bad cover photo.
Keep it clear and simple
Now, when you have learned the rules of choosing the right photo for Facebook page cover, you can start searching for an image that will cover your profile. If you think that this part will be easy, think again. In our world no one knows what exactly other people want. Their preferences and wishes are changing every second, so it`s hard to predict what will be better for them.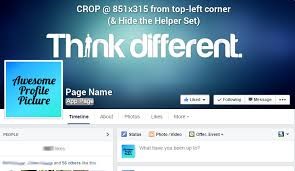 At this point we will give you a simple advice – make your image clear and simple. Why so? The main task of such pictures is to interest user, draw his attention, make him interested in your topic or business. The photo should clearly show what`s your page about and what people could find there. For example, if your page is dedicated to the food delivery, the cover photo must show all sorts of food available for customers here. Show how delicious it is, and visitors will immediately click on the button "follow" and start thinking about their first order.
Make it relevant to your brand
Images are more powerful than average business thinks. Did you know that human process images up to 60 000 times faster than text? Choosing the right Facebook cover photo may help you to draw people`s attention before they start scrolling down your page and looking on the fresh posts.

We don`t want to repeat our thoughts, but again – the cover photo must show exactly what your brand is doing. When consumes sees, your cover photo, he can be sure that he is on the right page and you can give him the needed services or goods.
Show the life behind your brand
We know that it`s important to follow all business standards. However, eve hard working developers must distract from their everyday tasks. If person is visiting your page for a long time, he/she could get tired of your boring business profile that could be only associated with work.
Facebook photo is a face of your brand, so give it a normal look. Here we have some details that you could add while processing your cover photo:
Show of your business team. Make people sure they you are working with happy people who love their work and enjoy helping others.
Show your product in context. Show people what exactly they are buying or ordering from you. They must know that it`s a good thing.
Provide an insight into the office. If you have an interesting office with non-standard design, you can show people how you work and how it feels to be in a part of a team.
If you people some of these points, it`s a high possibility that you will have more followers who are interested in what you are doing.
Choose an image to attract the right people
Now, when you know what exactly you should do while working with the Facebook cover photo, you should adapt your cover image to your audience. It`s important to know what exactly people want right now, and if you have an empty image without changes, it may not interest anyone.
We think that every image should include:
Small part of a text. Even a short phrase from your brand slogan could interest people much more than just an image.
Your customers must be happy while purchasing your product, so show it to them. Add a small image where a happy customer gets his product. It makes new customers more confident.
The image you choose should fit with both the nature of your company and your audience`s interests.
Final thoughts
As you see, it`s not so easy to choose a perfect Facebook cover photo for your business profile and get more Facebook likes. However, if you complete all the points here, the result will be much better than anyone else has.