TRICK OR TREAT, GIVE ME SOME GOOD CONTENT TO TWEET
Even though Halloween is at the end of the month, when October rolls around all we are thinking about is this Holiday. If it's on our minds, we guarantee it's on your customers minds as well. Let's get their SCARE on early this year! BOO!
WHAT'S ON TREND
TOMB IT MAY CONCERN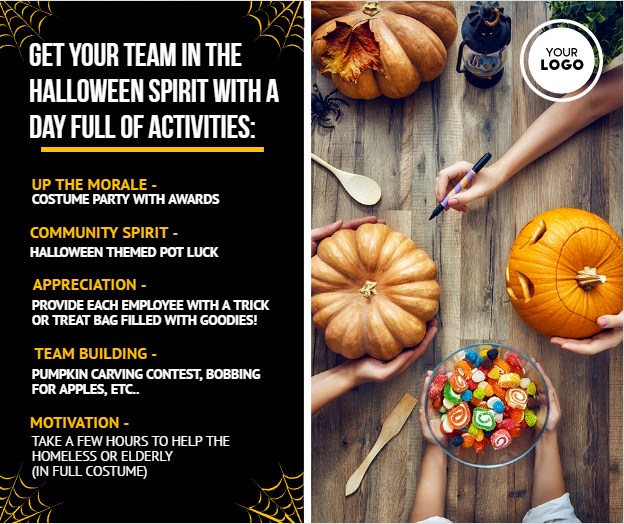 Here are some SFW Halloween ideas to rev up your followers. A Halloween spirit throughout the week will up the morale! #OfficeParty
THE TOP 10 OF HORRORS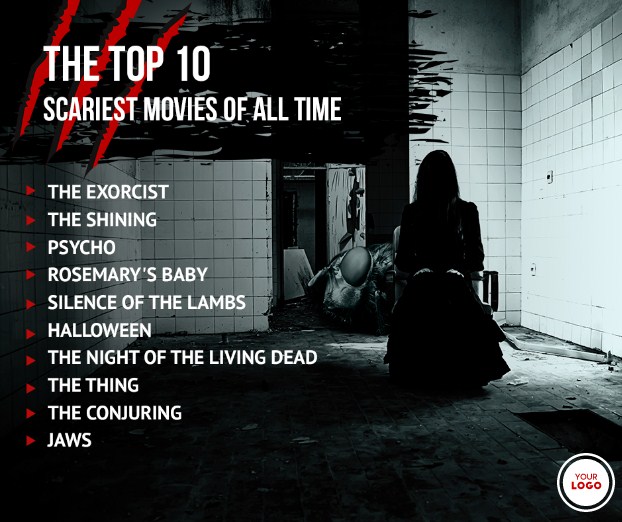 We can't get enough of the Top 10 lists – share these favorites and creative ideas to get your Halloween-fans in the spirit! #HalloweenTop10  #HalloweenMovies
EAT AT YOUR OWN RISK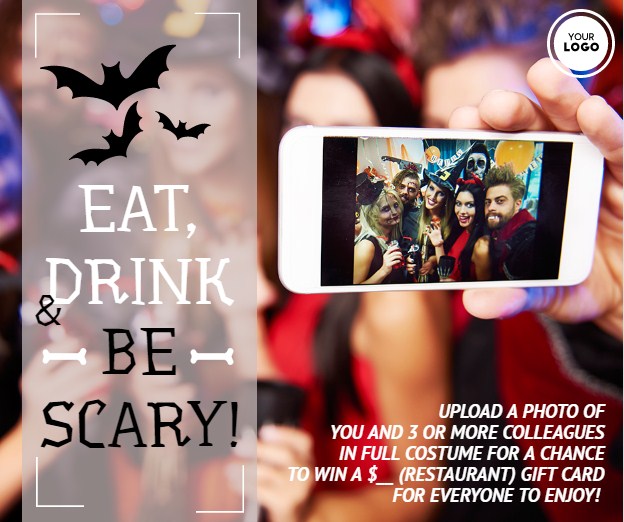 Tap into this ghoulish holiday with frightful menu ideas for both restaurants and/or house parties #EatDrinkAndBeScary
DID SOMEONE SAY COSTUME PARTY?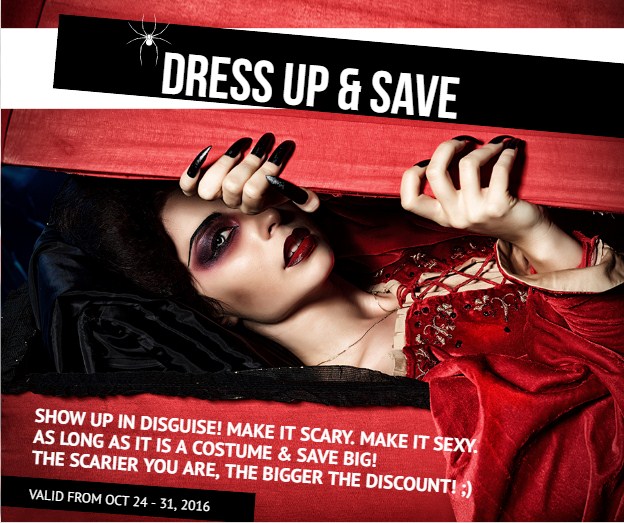 Who doesn't love to get dressed up and become another person for a day?! #CostumeParty #HalloweenCostumes
"FRANKEN-TASTIC" MARKETING TIPS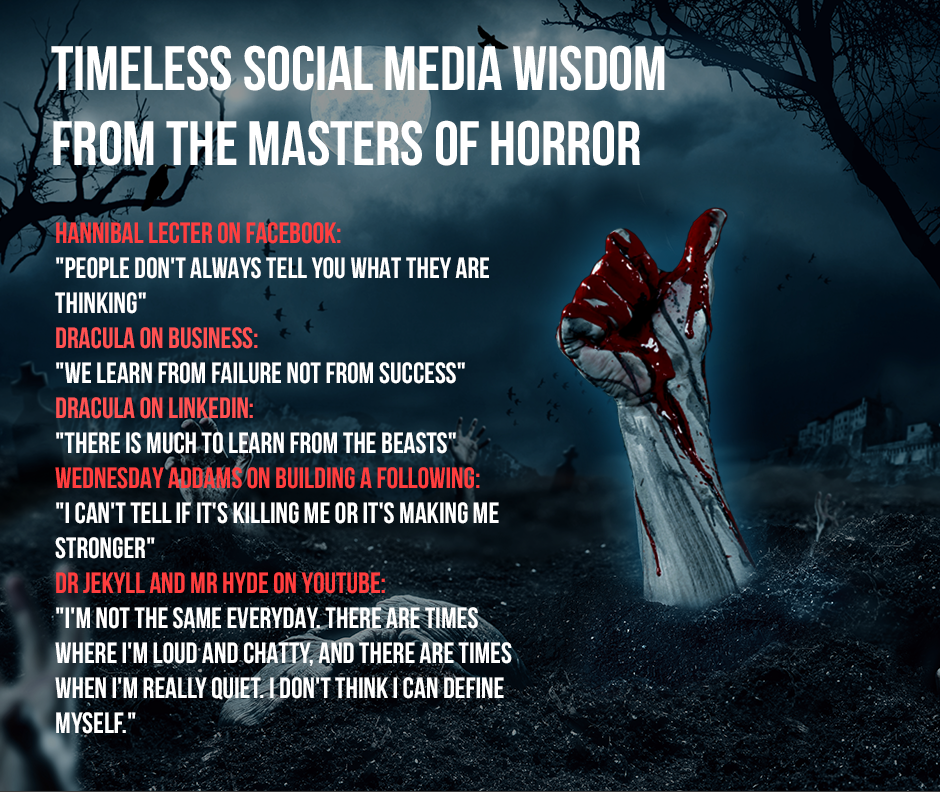 We can all appreciate Social Media wisdom from influencers and CEO's but wouldn't it be more entertaining coming from our favorite Halloween villains?! #HalloweenWisdom
CARVE OUT THE SAVINGS
Any sales or discounts will put a smile on your customer's faces – so why not make one for the scariest day of the year as well! #PricesSlashed #HalloweenSales
WHAT'S NEW
BOO-TIFUL HALLOWEEN GREETINGS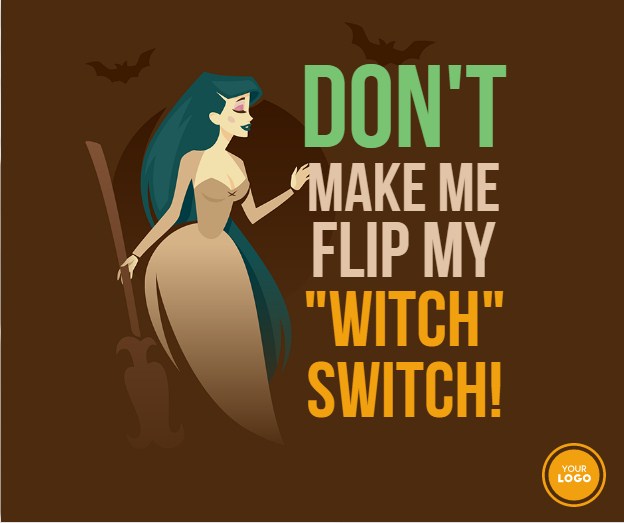 Share the Halloween love with your followers! Do you want to be creepy or do you want to be more fun – you choose! #HappyHalloween #HappyHaunting #Boo
CAUTION! BEWARE OF HALLOWEEN OBJECTS!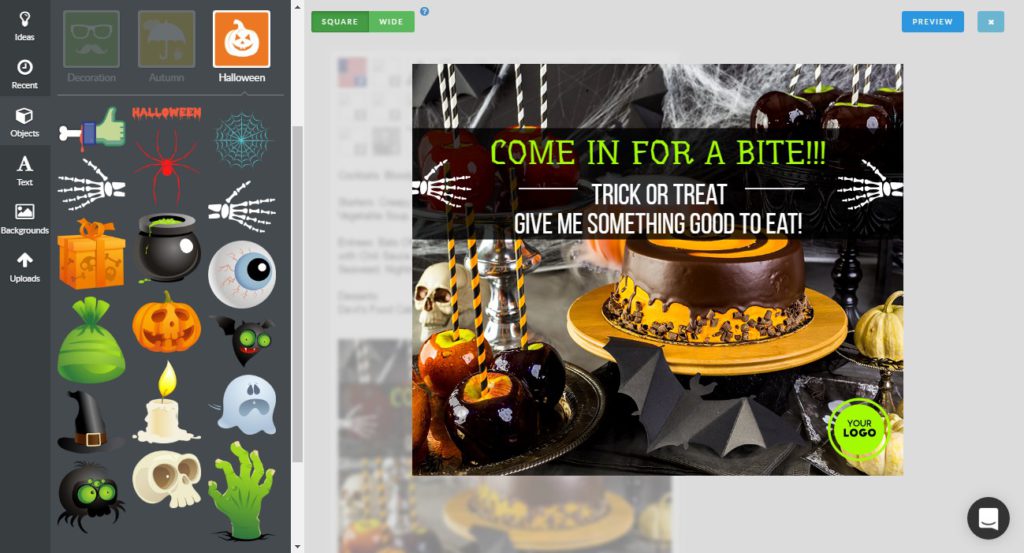 In the mood to get creative?! Try your hand at designing your own templates – just upload a photo of your products/storefront and add these hair-raising objects! #WeWitchYouAHappyHalloween
WHAT'S UP THIS WEEK
DAILY
OCTOBER 12 – NATIONAL STOP BULLYING DAY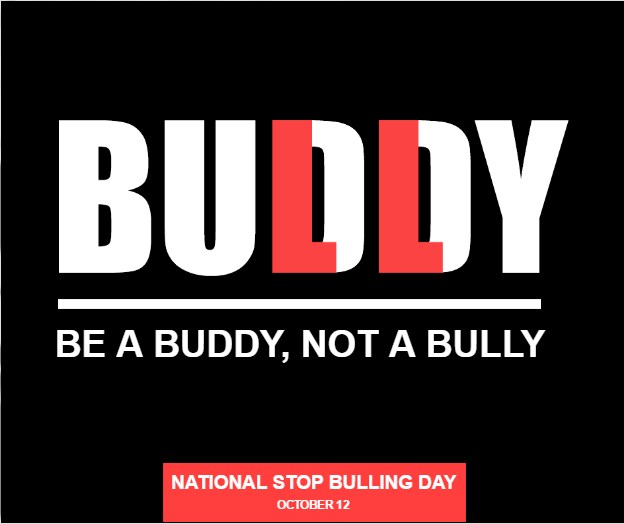 October is Bullying Prevention Month – so take advantage of all our templates for this very important message. #StopBullying
OCTOBER 13 – NATIONAL TRAIN YOUR BRAIN DAY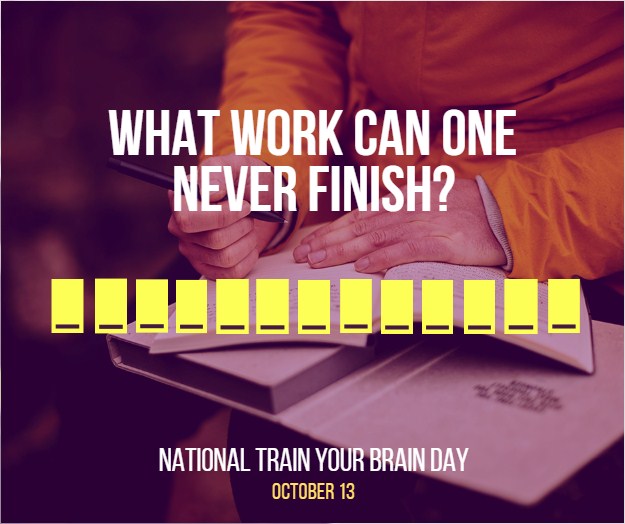 Why not share this early in the morning to help your followers activate their brains at the break of day! #TrainYourBrainDay
OCTOBER 14 – NATIONAL DESSERT DAY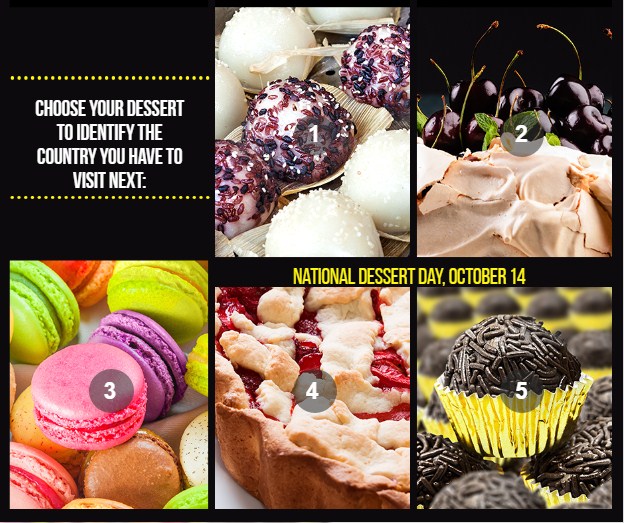 Isn't this a holiday every day? Hahaha! Engage with your fans by asking them what their fave desserts are or maybe they can upload some recipes for all! #DessertDay #DessertLovers
OCTOBER 15 – RED WINE DAY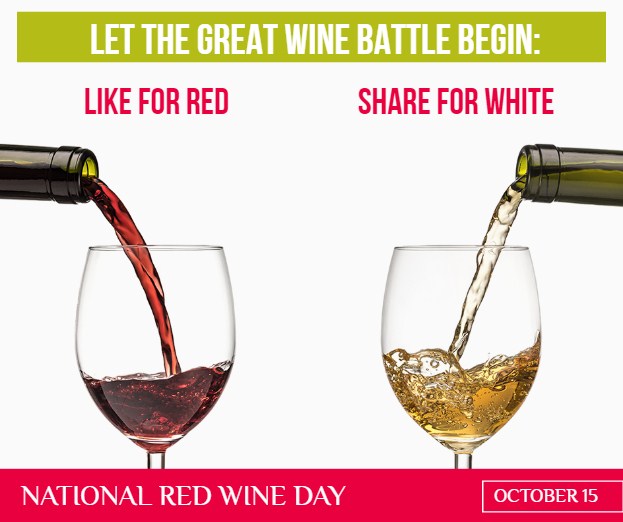 A red wine day is like having a water day! We can agree that most of your followers are #WineLovers like us! Keep them amused with fun posts like this! Check out more wine templates in the Creative Content section. #RedWineDay
OCTOBER 16 – NATIONAL DICTIONARY DAY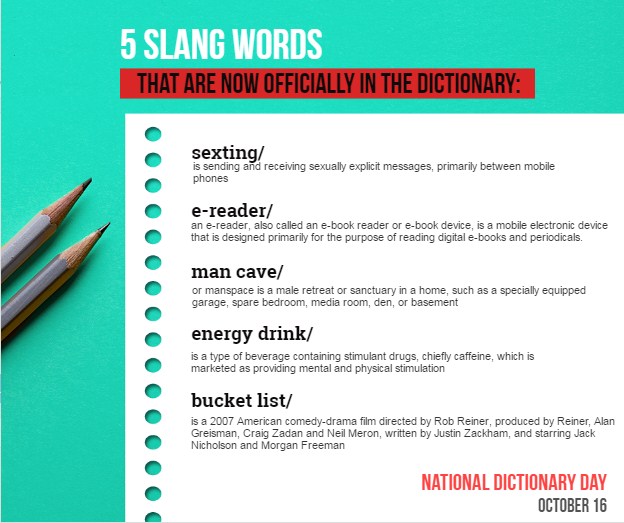 Interesting facts make for easy and shareable content – engage with followers to share more words! We are pretty sure there are more than this! #DictionaryDay #Words
WEEKLY
OCTOBER 9-15 – FIRE PREVENTION WEEK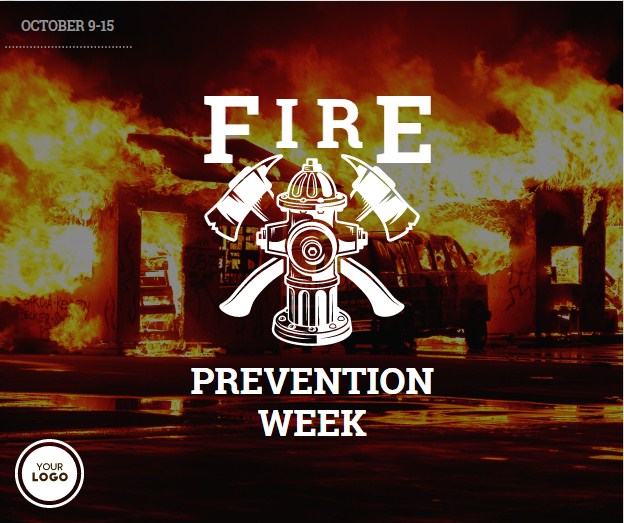 The temperatures are dropping and we are turning on the heat in our homes! Share with your followers some important tips on how to prevent any unforeseen incidents – Check the Dates! Change Smoke Alarms etc.. #FirePreventionWeek
MONTHLY
OCTOBER – NATIONAL COOKIE MONTH
With the Holiday season fast approaching, why not engage with your audience and ask them to upload cookie recipes. Bringing your community together through #Cookies or other food would not be the first time! #CookieLovers #CookieTime
HALLOWEEN IS A TIME FOR COMMUNITY SPIRIT BOTH AT HOME & AT WORK. IT'S ALSO A TIME OF LETTING LOOSE. ENCOURAGE YOUR FOLLOWERS TO CHANNEL THEIR INNER DRACULA OR ZOMBIE. REMEMBER A HAPPY FOLLOWER IS A LOYAL ONE TOO!
NEXT WEEK, WE'LL HAVE MORE FRESH, NEW CONTENT FOR YOU! OH AND DON'T YOU LOVE OUR UPDATED CALENDAR! FEEL FREE TO GIVE US FEEDBACK OR SHARE THE LOVE WITH YOUR FANS!
If you don't see anything that suits you, be sure to let us know! We have professional designers on hand to create social templates for your needs. And of course, any questions, comments, or concerns are welcome. It's always important to take every opportunity to attract new customers, whether it be by using your own creativity to design content, or by saving time and using PromoRepublic library to find customizable content that works for you.