It is always important to get feedback from your audience, whether as a startup or a large company. Fortunately, the internet makes it easier than ever to get client feedback from a variety of sources.
And responding to these reviews – positive or negative – tells your customers that you value their opinions. Unfortunately, most businesses still would rather focus on fixing and replying to negative reviews than giving positive review responses.
So, while you want to see users posting positive reviews on your business listing, you may also want to know the best responses. According to research, over 97% of people who read reviews will read responses as well. Thus, before you give cold responses or anything that scares customers, kindly read on.
This blog post will uncover how to give the best replies, and provide responding to positive reviews examples. But first things first, you should understand the following:
Why Must You Respond to Positive Reviews?
Positive appraisals are a great way to drum up interest and reassure your clients that they're in good hands. But what should you do when faced with a good review?
Well, first, you should never forget to reply to a positive review. Positive reviews don't just come from random people; they come from people who have your best interests at heart.
These people took their time to say something nice about your business and wouldn't mind a good reply in return. Here are other reasons why you should reply with good reviews.
Reason #1: Replying with Positive Feedback Increases Customer Retention
Responding to a review is a great way to show your customers that they've made an impact on your business too. And creating positive review response templates for them is necessary because they keep coming back. Since you know that it costs five times less to maintain existing clients than to find new clients, you may want to keep these loyal clients happy.
Interestingly, you can do that by replying to their reviews. While consumers are aware of automated systems of response (digital assistants, chatbots, etc.), they will feel more connected to your brand if they get a natural response with a personal touch. So, you can improve the overall customer experience and increase customer retention by personally engaging and appreciating your reviewers.
Reason #2: New Customers Are More Likely to Trust You
As you look to retain your customers, you may employ strategies to get new customers to expand your business and increase revenue.
Fortunately, you can achieve this by responding to positive reviews. When you do this effectively, you let potential customers know that you are welcoming and attentive and your business is legit and trustworthy.
So when potential customers see personalized review samples from you, they are assured that there is a human being at another end of the business. Your business will be even more relatable, and they will be encouraged to check your website or social media handles and do business with you.
Reason #3: Reviews Dominate Local SEO
Most people are familiar with Google's search engine and the many things it does. For instance, it ranks websites based on how often they're visited, what types of content dwells on the site, and how relevant the website is to a specific topic.
But did you know that responding to reviews is an essential local ranking factor in Google? Reviews dominate local SEO, and you should take full advantage of that by religiously sending replies to improve credibility.
A 2020 report from Moz confirms that reviews were the second most essential ranking factor coming before proximity to the client. This means that if a client were to search for a spa closest to them, Google would suggest the businesses with higher/better reviews and responses first, even if there were closer spas with bad, unattended reviews.
How to Reply to Positive Reviews
When a client or a potential client leaves a good review of your business on Yelp, Google Business Profile, Facebook, or any other online platform, it's a great sign that your business has something of value. So how do you handle positive online reviews for your business?
Here's how you can respond to a positive review with some positive feedback response examples:
1. Thank the Reviewer
You can appreciate your clients for their kind words and for taking the time to write a review. You can also thank them for remaining loyal to your business. Thanking your clients for their good reviews shows gratitude.
Start with the simplest gratitude:
"Thank you so much! We're grateful to have you as our client."
2. Use the Client's Name
It's always nice to include the client's name in your response. This will show them that you understand how much their review means to you personally and that you value the time they took to provide feedback. If you can't include the client's name in your response, you can at least mention them by name.
Here's an example:
"Thank you, John. We value the positive review and are happy to hear that you enjoyed our meal."
3. Respond Promptly
Respond as soon as possible, but don't leave them hanging for too long. You want to make sure that you're a good communicator and respond in time so your reviewers know that you are a responsive company that cares about their opinion.
4. Be Brief
When responding to a positive review, you don't have to go into great detail. It's important to remember that the reviewer is not expecting a detailed response. Just be sure to respond with what you feel is appropriate and in the spirit of the review.
Here's an example:
"Thank you, Mary, for the amazing review! We put in the work to keep you and all of our clients happy. We hope to see you again. Have a nice day ahead!"
Remember, most positive review templates should be taken seriously. If the reviewer has provided any suggestions for improvement, feel free to respond with your own thoughts on how you plan to act on those suggestions.
5. State Your Business Values
One way to show gratitude and respect for the positive review is to include a few of your business values in your review reply. This can be done by highlighting the things that make your business unique. Perhaps your business prides itself in offering the best products at affordable prices, or your services are top-notch with guaranteed satisfaction.
Here's an example of a business value:
"We strive to provide superior client service."
Note that this should be done in a positive way as it can go a long way in helping other clients make their decision on where they want to spend their money.
6. Be Honest in Your Reply Review
If you are going to respond, be honest about the problems or concerns the reviewer has brought up. However, try to be positive and encourage the reviewer to keep coming back. You can also mention how you plan on addressing those concerns in the future.
Be clear about how you will improve, and lastly, be patient. Positive reviews will not just appear overnight. Many reviewers may take some time to write a review – some take days, months, or years before writing a review.
7. Encourage Action
If a client just posted a good review of your business, it means that they're pleased with your services. Here, you have the perfect opportunity to call them to a specific action.
For example, if the client's review is about the quality of your coffee, you could ask them if they'd like to download your mobile app so they can get crazy coffee recipes. Or, if they've mentioned they want to tell other people about their experience, you could ask them to leave a review on Yelp, Google, or any other local review site.
Here are a few good review examples
"Thank you, Ella. We are glad you enjoyed your time with us. You can also experience our two-for-one special with a loved one on Thursday. More details on our Instagram handle. Hope to see you soon! Cheers!"
But not so fast! Always refrain from sounding too pushy. Keep it as natural as possible.
8. Share the Positive Reviews
Your clients have done their part. You should too. After all, that's what social media and the Internet are for.
Sharing positive reviews on social media is an excellent way to get the word out about your business. For instance, if you have a good Google review, you can take a screenshot and post it on a Facebook story or as a testimonial on your blog for potential clients to see.
Here's what you stand to gain with this:
Sharing creates a ripple effect; your clients can repost it, creating engagement with other potential clients. The circle goes on and on.
Potential clients will be encouraged to locate your business and try out your products and services.
8 Positive Review Response Examples
It's easy to take client service for granted. But, when you're constantly working to earn your clients' trust, learning how to respond to a positive review becomes more important than ever before. You never know how much time you have to make a first impression, so when you see a company doing things right, you've got to double down on that trust with as many positive reviews as possible.
Let's see some of the perfect positive review response examples on Google, Yelp, and social media at large.



This meets the following objectives:
Appreciation
Personalization, and
Brevity
By stating the reviewer's name (in this case, Jennifer), the response feels a little more authentic and personalized.



In this is a thank you for your review template, we can see an obvious show of appreciation accompanied by personalization.
Note that the review reply gave a nice touch of SEO with the mention of the CranioSacral therapy service.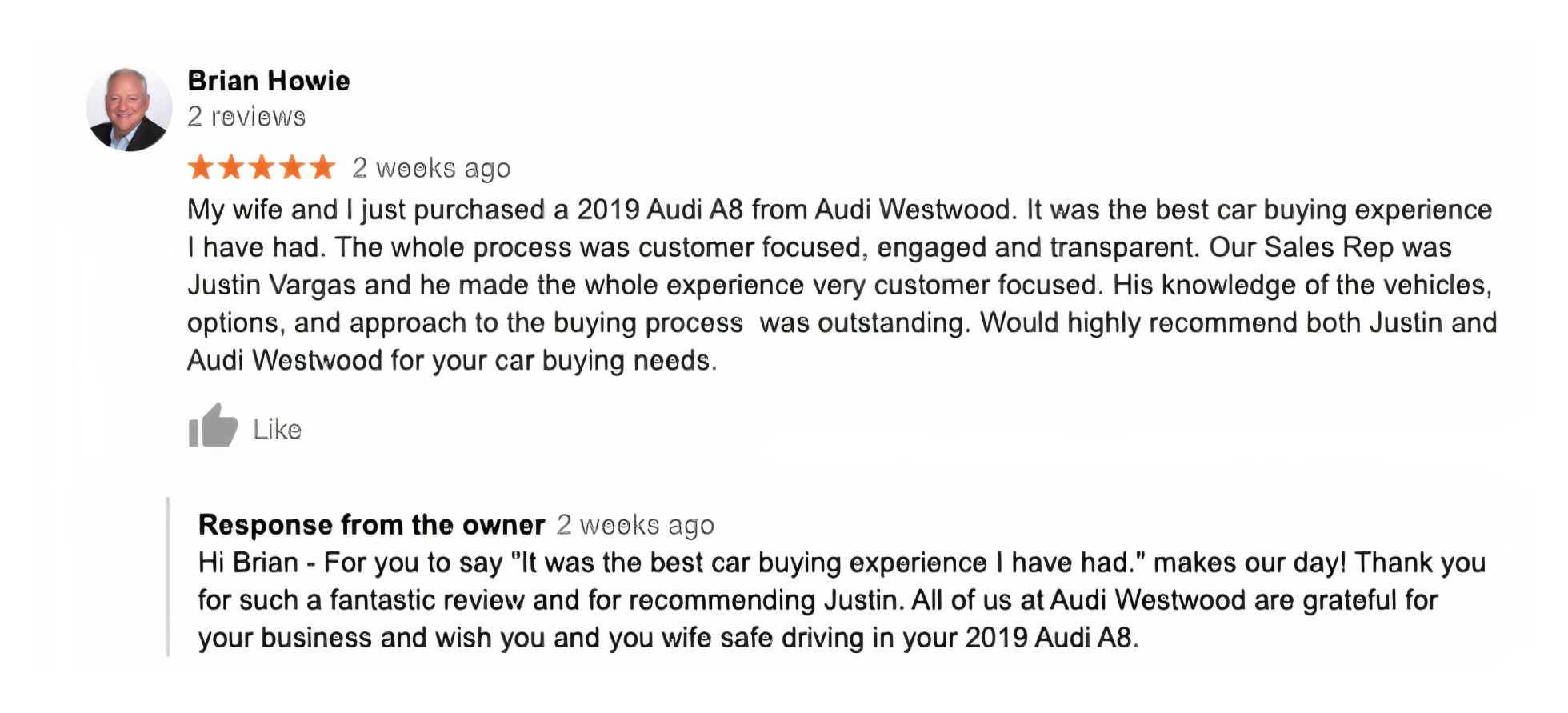 Your templates for reviews don't always have to start with a "thank you." You can jumpstart things with a little personalization, followed by a show of gratitude.
Now, Brian knows that his positive review was read and valued.
And, don't forget to hype things up a little bit. If your clients just got a new car, congratulate them on the achievement!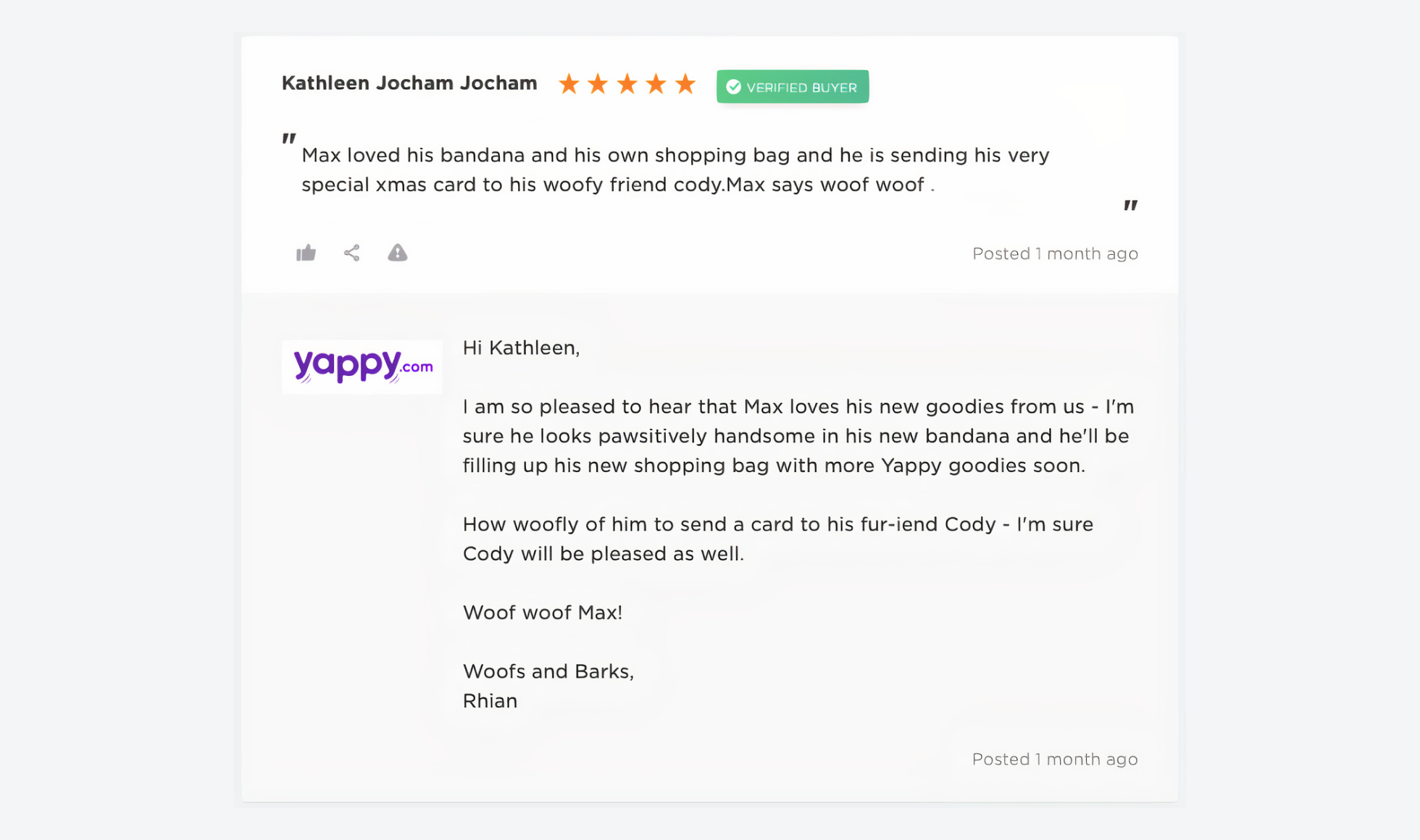 Who said you couldn't get creative with your best review template? Notice the ingenious wordplay?
Yet, the charming positive review reply nailed almost every item on our list.
First, notice the client's name – Kathleen.
Personalization – "I am so pleased."
The call to action – "He'll be filling up his new shopping bag with more Yappy goodies soon."
The mention of the brand – Yappy
Not only is this reply to client positive feedback sample sweet, but also well optimized, with every line bearing a message.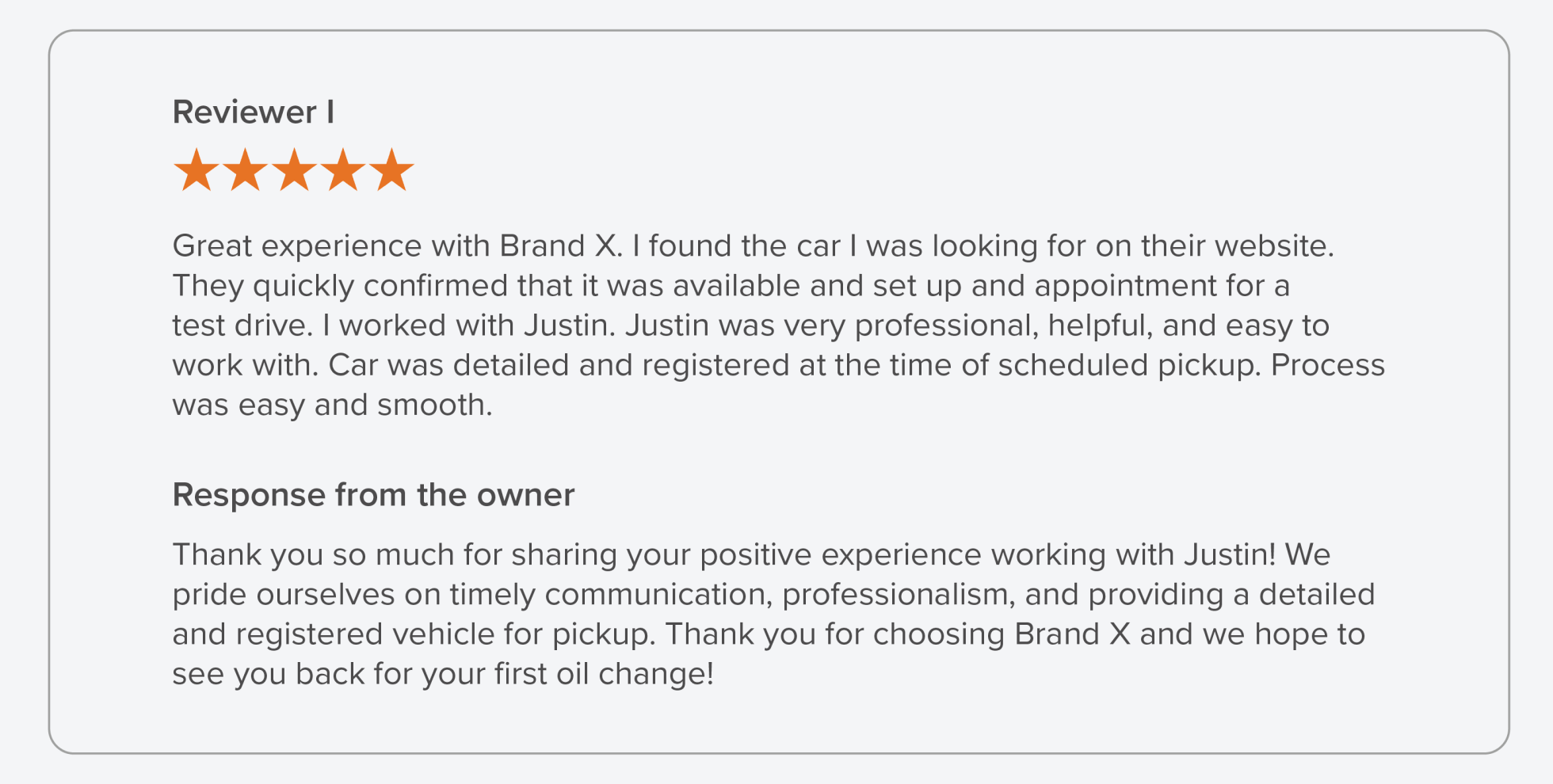 Our next great positive review response example shares the business's core values without ignoring other basic review reply personalization rules.
The response to the positive review mentions the reviewer's name, Justin. The display of appreciation is also evident. The reply also notes down a few core values – timely communication, professionalism, and providing top-notch services.
Lastly, we can see a clear call to action that encourages Justin to come back. Just after re-establishing the appreciation in the last line, there is an advert for another available service, "oil change," and an encouragement to do it with them at "Enterprise X."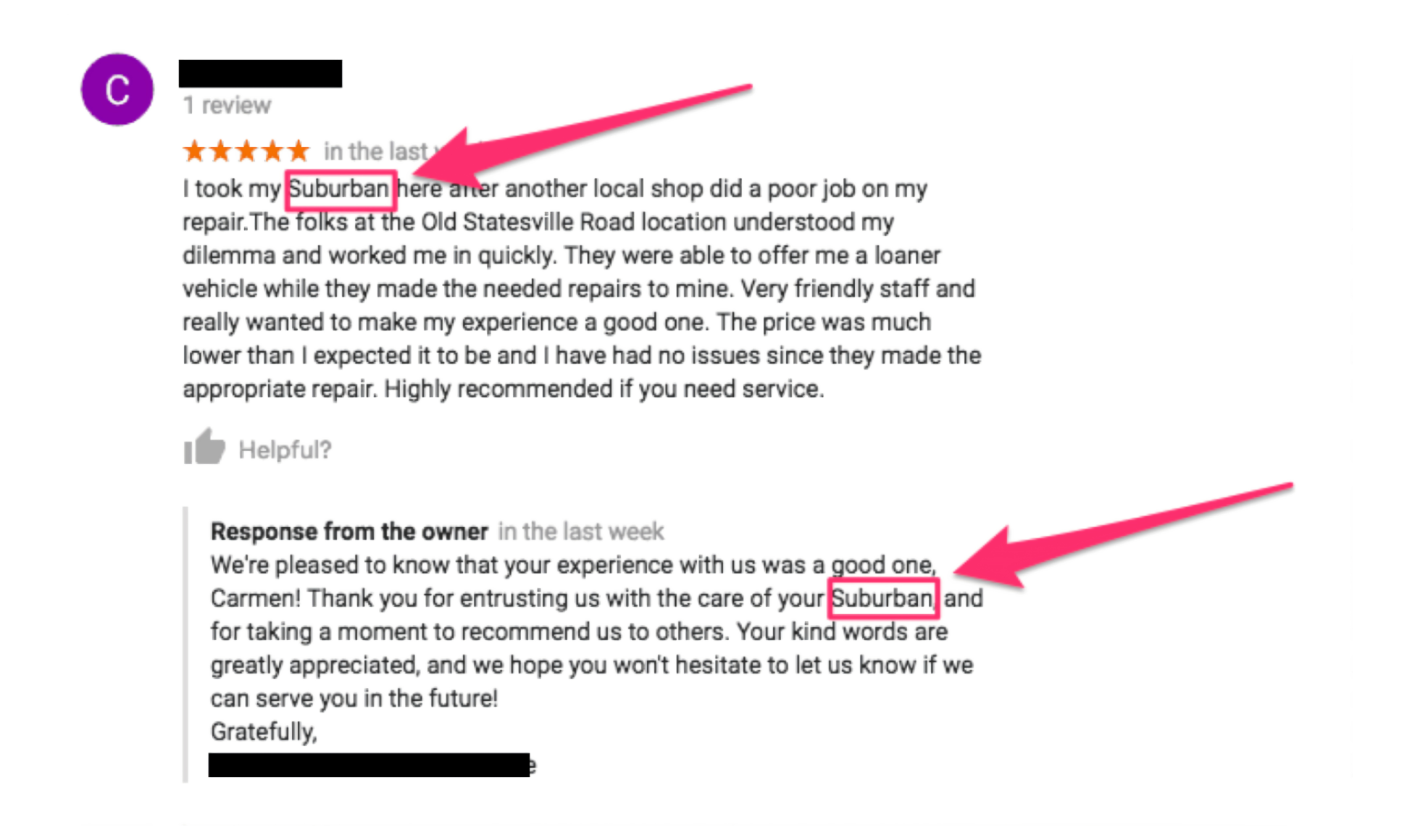 In this Google review response example, there's a show of appreciation, personalization, brevity, and mention of the client's name and company's business.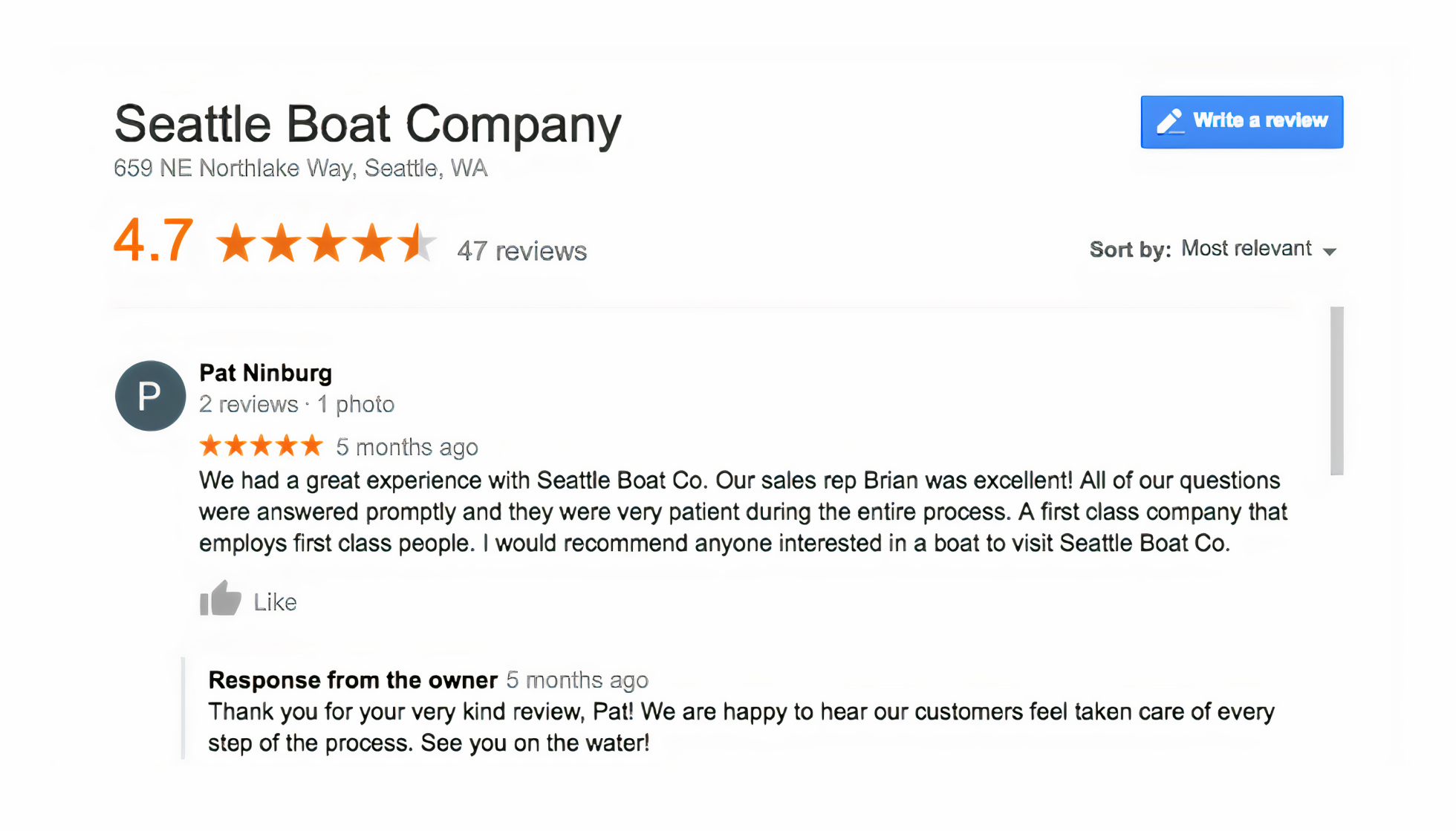 In this positive review response example, we'll be looking at a few essentials to reply to a good review:
Brevity – Check!
Business values – Check!
Personalization – Check!
Appreciation – Check!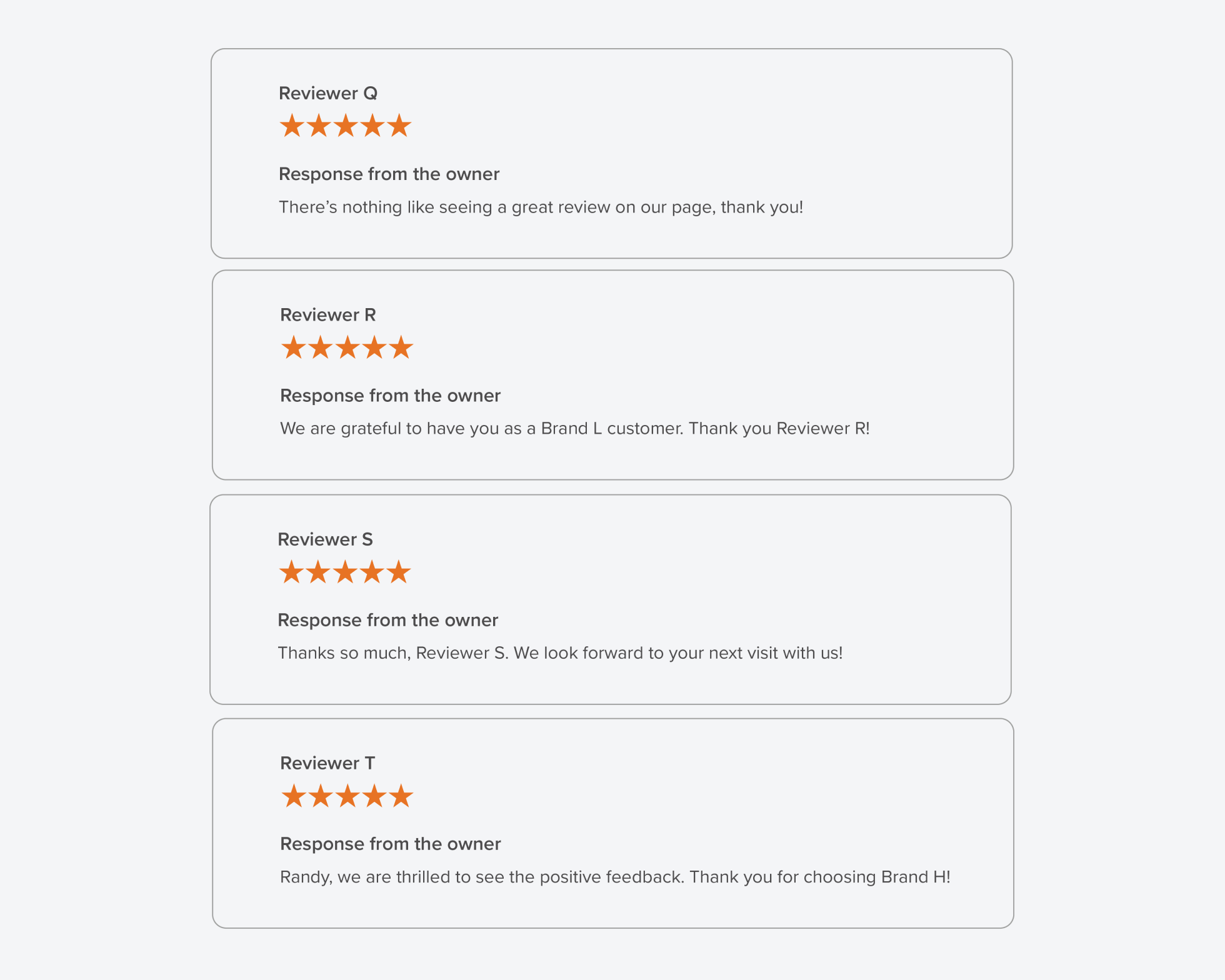 Your business may also get a 4-star review with no comment. That shouldn't throw you off track.
You can do what this business did – curate a 5-star review template for such reviews. Then edit the good review template to bear each reviewer's name and your business name before you publish.
With all the business positive review response examples above, there's a constant feeling of being under pressure – a feeling that you're never going to be good enough. And that's where PromoRepublic comes in.
Let PromoRepublic Help With Responding to Positive Reviews
When your brand receives positive feedback from a potential client, it's not just a positive indicator for your brand; it's a golden opportunity to drive sales and find new clients.
PromoRepublic is the all-in-one local marketing platform that gives multi-location businesses and marketing agencies the insights and tools to manage social media, maintain brand integrity, and improve online findability and reputation – everything you need to win local customers.
We help our clients track customer feedback across the network of 130+ review sites in one dashboard. This way, you never have to worry about late replies to reviews, which would mess up your reputation in the long run. Keep your response rates high by quickly reacting to reviews conveniently collected in one place.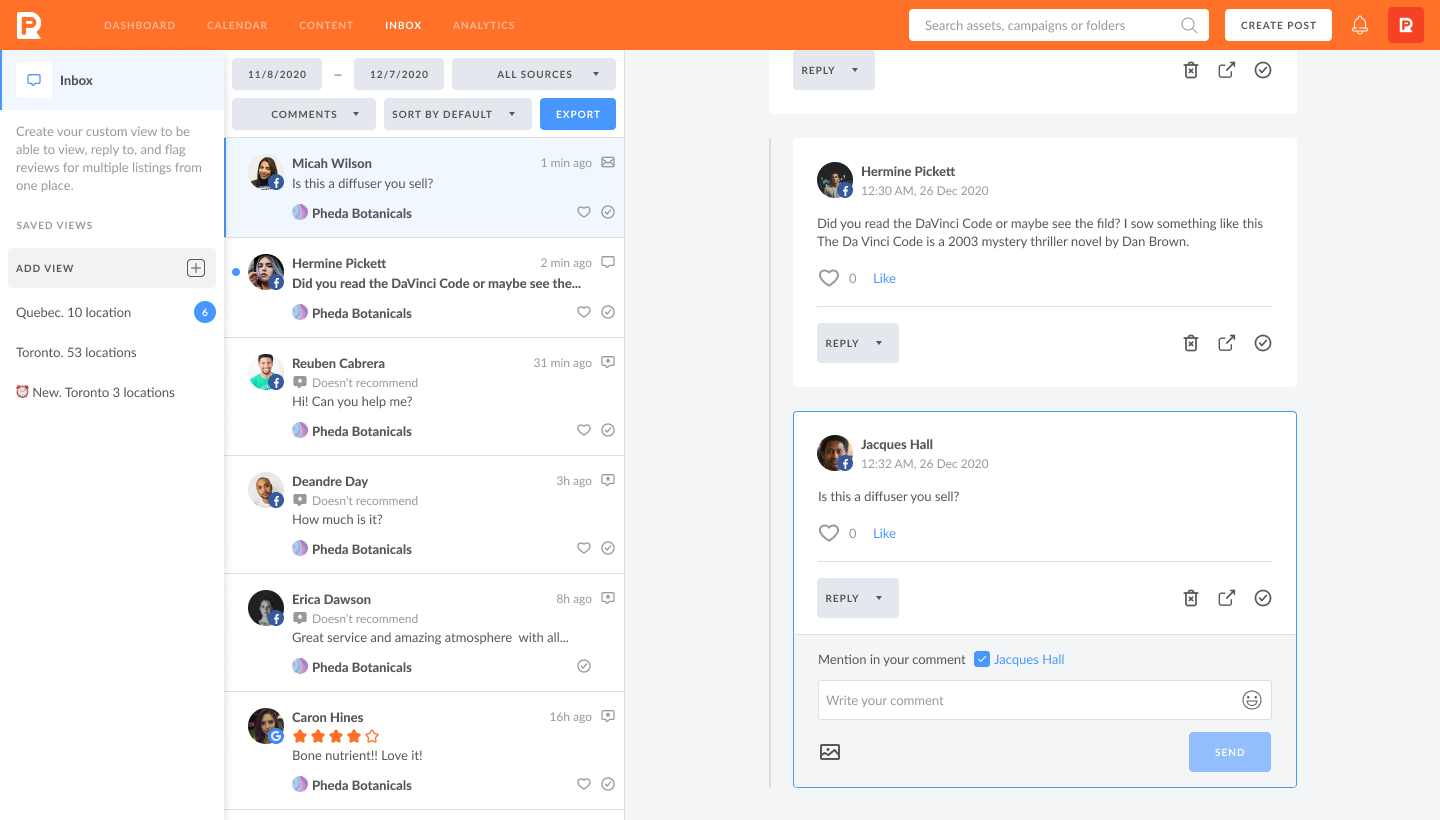 Book a demo with PromoRepublic today and learn how we can help you supercharge your online reputation management and get the best out of every positive appraisal.