Customer engagement doesn't end as soon as the customer walks out of your store or buys something from you online. Feedback is the next step in the buying cycle, and what the customer has to say about your business can make or break your future marketing efforts. It's no secret that online reviews make a significant impact on customer decisions. 9 out of 10 customers read reviews before making a decision.
Additionally, 31% of customers read between 4 and 6 reviews before making a purchase. But just what is customer review management and how can your business benefit from it?
Review management is the process of monitoring customer feedback to improve the quality of your products and services. Feedback is a crucial part of the buying process, but it's also an essential tool that helps you to understand your customers' needs and expectations better. By actively monitoring and reviewing feedback, you can improve your future products and services to meet your customers' needs.
If you manage an online business with services or products that generate user-generated content such as restaurants, hotels, travel services, or other local businesses, it's essential to have an effective customer review management strategy in place.
However, with so many customers dwelling on various platforms, it's easy to get lost in the middle of the storm. Hundreds of customers have a lot to say about your business on dozens of platforms spread out across the internet. As such, it can get a little harder to solicit, monitor, and respond to customer reviews on leading sites like Google, Yelp, Facebook, Amazon, and TripAdvisor – just to mention a few. That's where customer review management tools come in.
Review Manager vs. Reputation Management: What's The Difference?
Review management is the process of monitoring and engaging with customer feedback. Reputation management is a series of activities that you can do to improve the image of your business and products.
What Features Do You Need in a Reputation Management Software?
A review manager is a tool that will actively monitor and respond to your customer reviews. As such, it is important to have these features in your review management software:
Review monitoring
Analytics
Multi-location monitoring
Automated sentiment analysis feature
24/7 tracking of customer reviews
Depending on your situation, you will likely benefit most from a combination of the features listed above.
Online review management software helps businesses to be more proactive in soliciting reviews from customers, monitor existing reviews for potential issues, and respond to negative reviews with an aim of improving your company's reputation online. Here is our top 10 list of the best online review management software in 2022.
In this article, we compiled a list of the best review management tools for your business and settle any doubts you might have about your preferred review management software.
10 Best Review Management Tools
1. PromoRepublic – the #1 review management software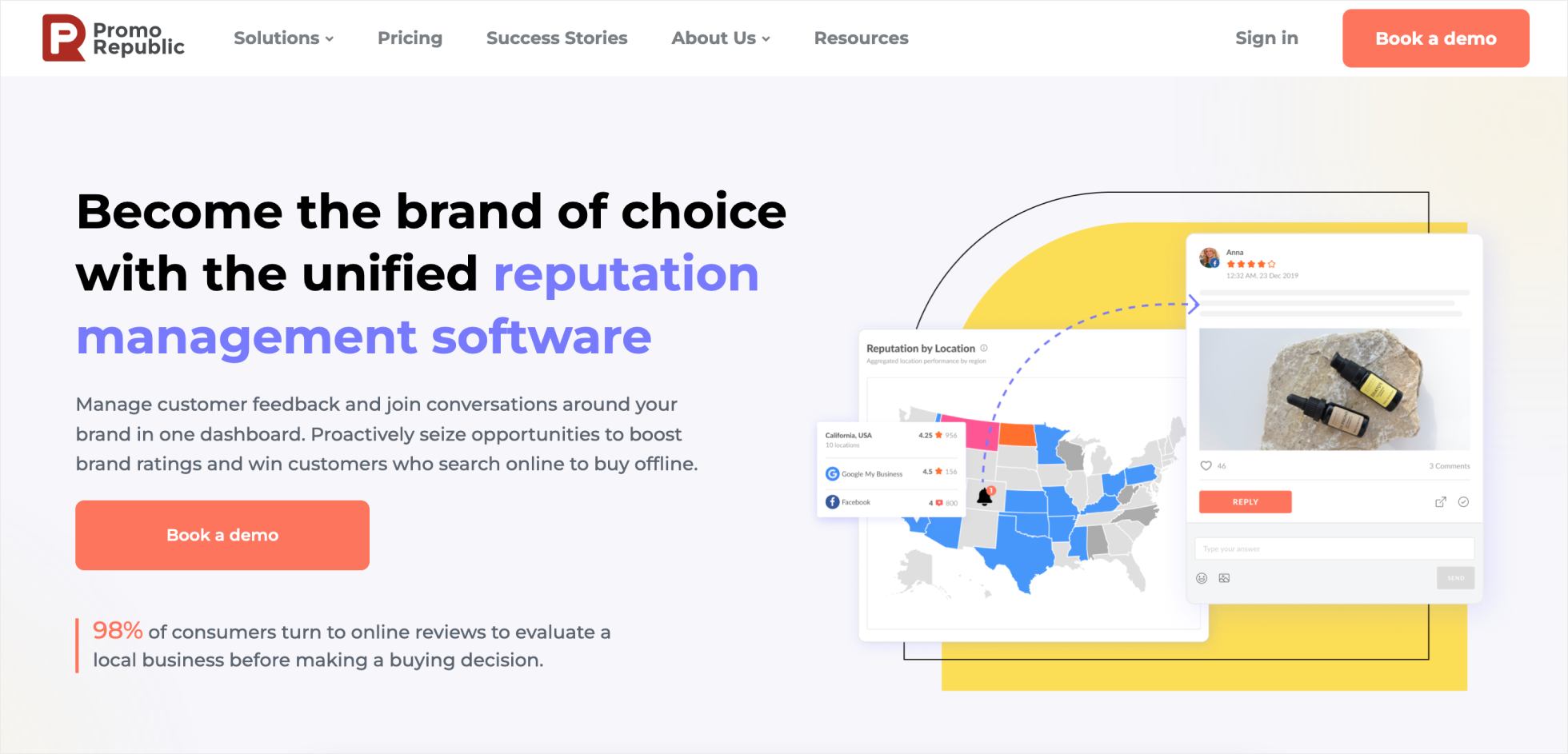 Managing business activities comes with its own set of challenges. At one end of the spectrum, you have day-to-day tasks that must be completed to keep the company operating smoothly. On the other end, your customer service team gets buried deep in customer engagement and communication activities that must be addressed to keep your customers happy and satisfied.
PromoRepublic is the ultimate social media scheduling software for brands, businesses, and agencies. It's a simple, easy-to-use solution that helps you plan and schedule your content across all of your social networks. The intuitive interface makes it easy to create and schedule posts in advance, so you never have to worry about missing deadlines or forgetting to post again.
PromoRepublic also offers detailed analytics on the performance of your content, so you can see which posts are most popular and make adjustments as needed. It's perfect for maintaining brand consistency across all platforms with its built-in graphics editor, color scheme generator, and other solutions that don't break the bank.
Pros
PromoRepublic collects customer feedback across the network of 130+ reviews sites in one dashboard
Automated review request campaigns
Custom views for your locations, local partners, and distributed team so they can efficiently monitor reviews relevant to their locations
Brand mentions tracking
Reputation management dashboards
Excellent customer support
Cons
Limited amount of integrations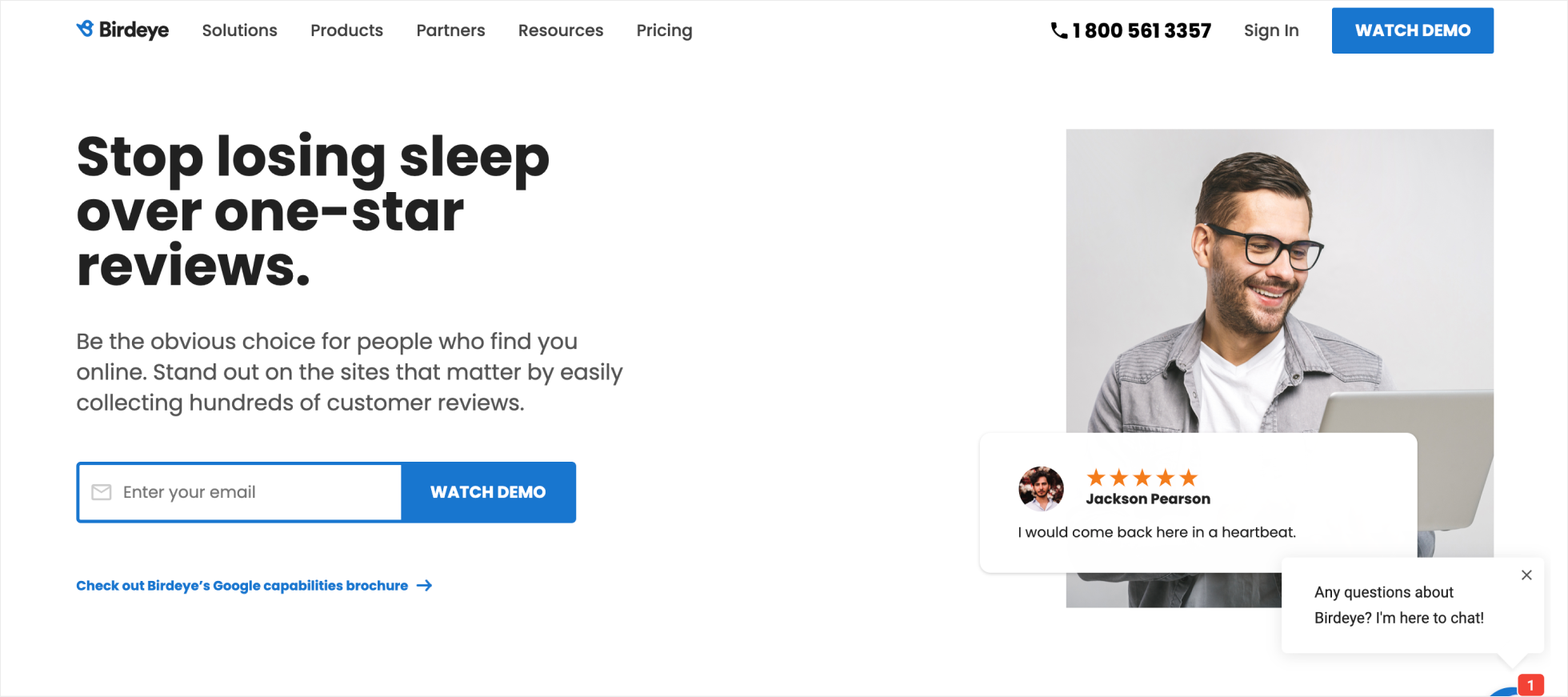 Following up with every customer after purchase and asking for a review manually won't cut it if your end goal is to get more reviews from willing customers. That's where a white label review management software like Birdeye comes to the rescue.
Birdeye is a one-stop-shop customer experience and online review management platform that connects you with Facebook reviews, Google reviews, Google My Business, Business Listings Management, and more.
It automates the process of managing your online listings, enables you to live chat with customers and clients at any time for free, and integrates with other software. The best part? Birdeye covers multiple locations simultaneously so you can manage each location from the same account.
Pros
Easy-to-use platform with no learning curve
Fast and easy response to customers
Covers multiple locations simultaneously
Highly responsive customer service
Cons
Occasional bug issues with integrations, billing, and other technical issues
Needs more social media integrations
A bit pricier than other options on this list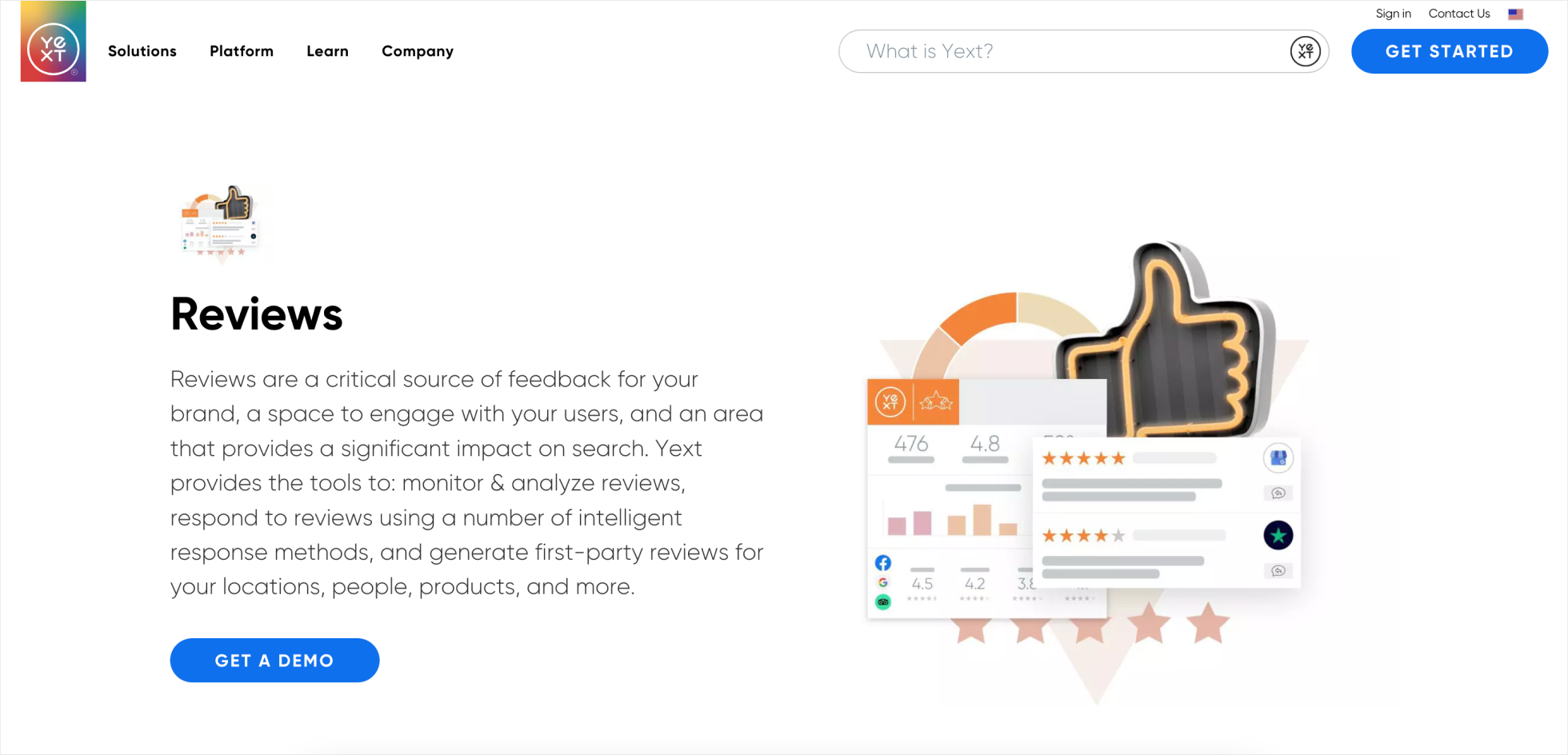 The future of search is finally here, with Yext's AI-powered solution. Yext offers a wide range of AI-powered solutions that can help you uncover new insights about your customers, deliver direct answers to them, and more.
With natural language processing (NLP) your customer service team can better understand what customers are looking for in their search queries. Yext also helps you manage your business' online listings and keep your information consistent across all platforms. What's more, its complete overview in one dashboard enables you to keep a close eye on reputation management and update locations on one platform.
Pros
Excellent customer support
User-friendly interface
Easy location updates at the push of the button
Cons
A bit of a learning curve for beginners
Duplicate records may become a problem
Updates may take longer than expected on Apple devices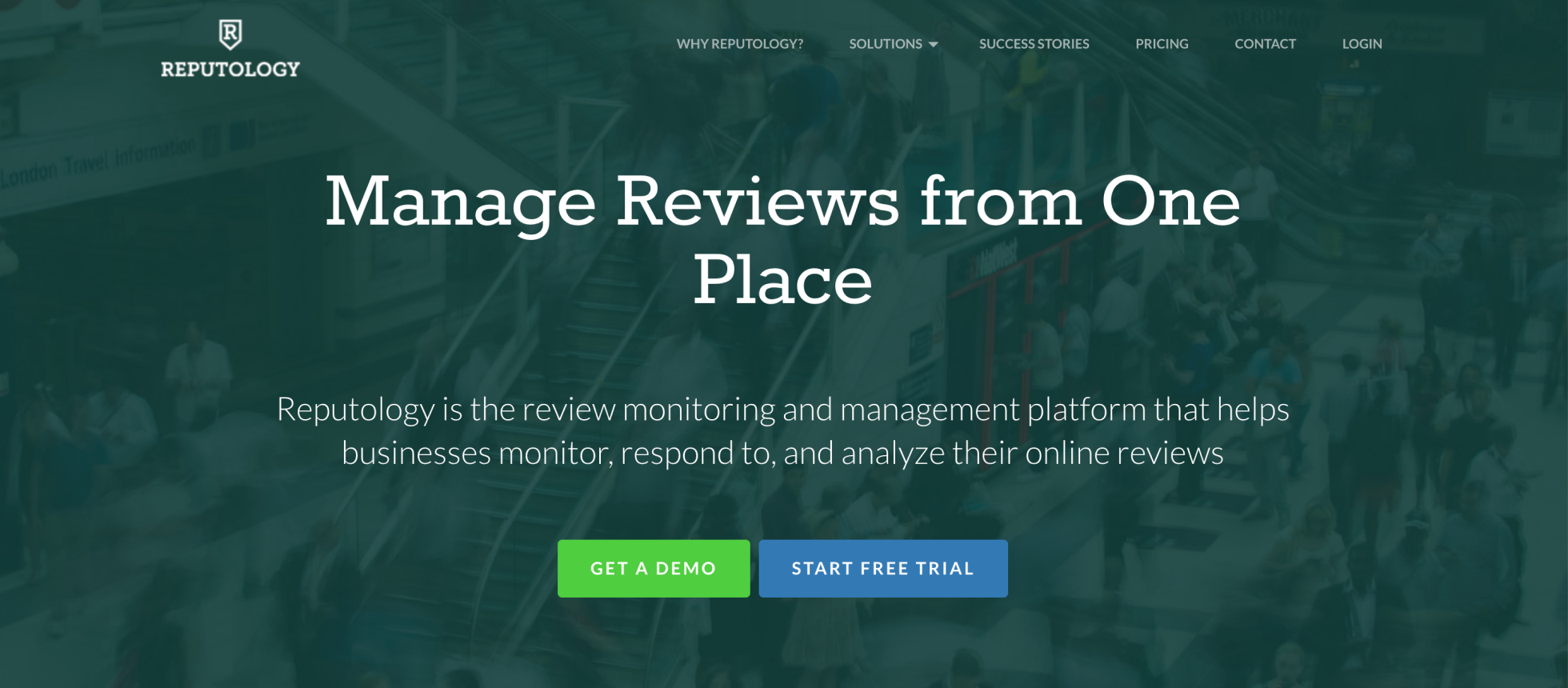 In the digital age, it's too easy for business owners to get overwhelmed by the sheer amount of information floating around. In order to maintain control over your online reputation, you need to take advantage of a centralized location that gives you access to all customer feedback and allows you to manage reviews in one central location.
That's where Reputology comes in. Reputology is a one-stop-shop online review monitoring tool. With Reputology, you can monitor all of your reviews in one place, respond to reviews in one click, and get in-depth analytics for your social campaigns.
Pros
Easy-to-use platform
Easy, regular updates
Unveils deeper insights into what your customers are saying
Works across multiple devices
Cons
Limited company analytics
Language barriers

Of all the product review software products out in the market, only a handful where exactly your customers mentioned your company.
Mention is a social listening and media monitoring software that tells you who's talking about your brand. It offers insight-driven, real-time social media strategies so you can find out what customers are saying about you on social media channels like Twitter, Facebook, Instagram, YouTube, and more.
Mention also monitors the important conversations happening in your market. What's more, it offers a multi-channel calendar for your campaigns, competitor monitoring, and pulls your brand name mentions from multiple social media channels.
Pros
Provides a detailed report of where your brand was mentioned across several social media platforms
Excellent customer support
Cons
The results of where your customer mentioned you are not always accurate
May fail to capture abbreviations of your business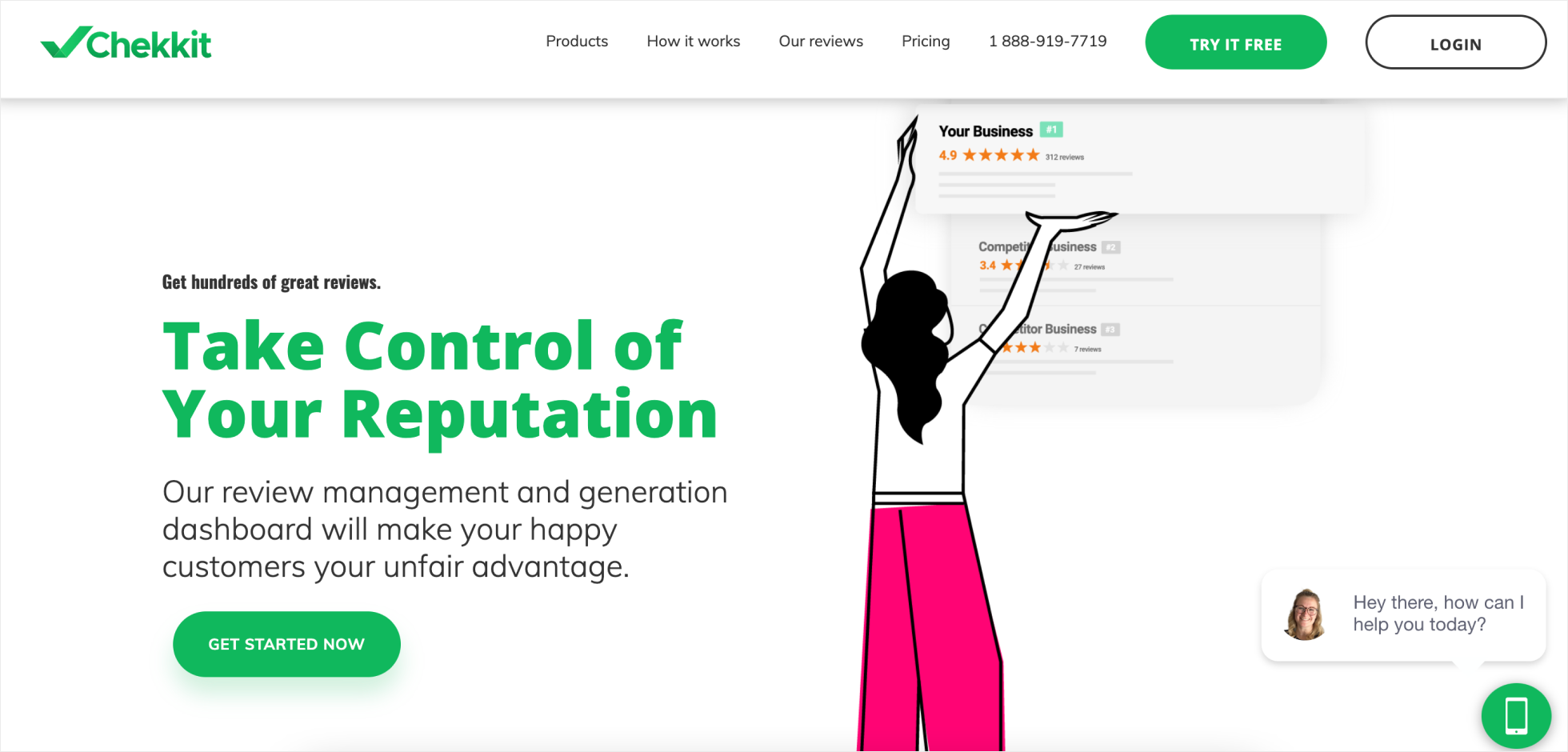 Chekkit is an all-in-one review, messaging, and lead inbox software for businesses. With Checkkit's review management and generation dashboard, you can easily communicate with potential clients, gather reviews, and generate reviews with a few clicks.
Its easy review generation process takes the pain out of writing your own reviews, allowing you to focus on other essential tasks. Chekkit also offers a video chat feature that allows you to connect with your customers one-on-one.
Pros
Cost-effective review management solution
Works across websites and mobile platforms
Excellent customer support
Cons
Occasional software bugs and glitches
May incorporate spam on some occasions
Needs more integrations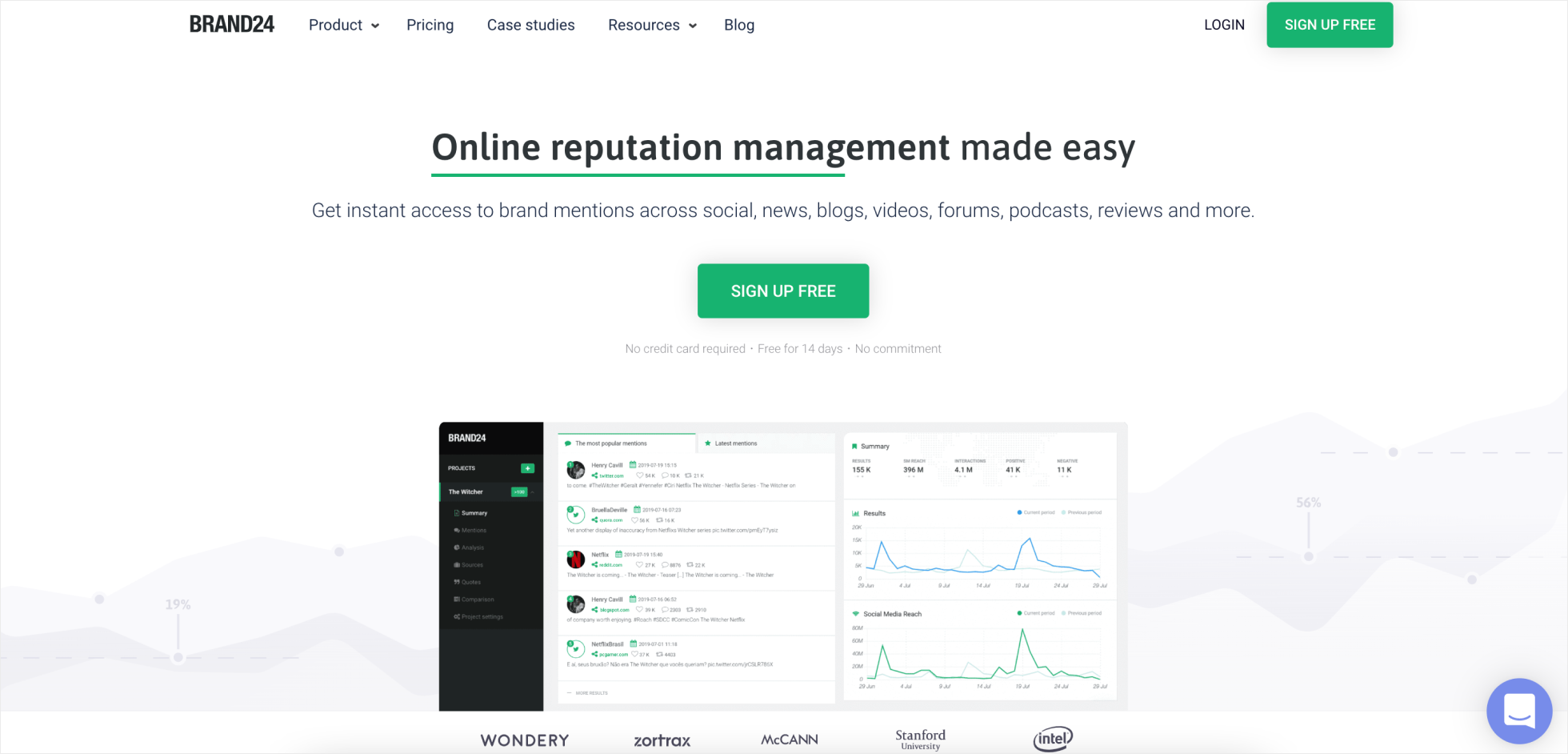 An active social media presence can positively impact your brand and cause consumers to seek out your products or services. However, one negative comment or review can also cause serious damage to your brand.
You can control your online reputation by monitoring your business's social media accounts, and addressing negative comments and reviews with Brand24. It allows you to monitor the conversations happening about your brand, react to positive and negative feedback, and engage with customers who mention you online.
With automated sentiment analysis, you can immediately understand what your customers are saying about your company. This social media monitoring tool also helps you track your marketing campaigns so that you know what's working and what's not.
Pros
Intuitive, easy-to-use interface – no prior experience required
Generates comprehensive analysis reports for your business
Provides real-time monitoring for your social media campaigns
Cons
A limited number of mentions per plan
Requires more languages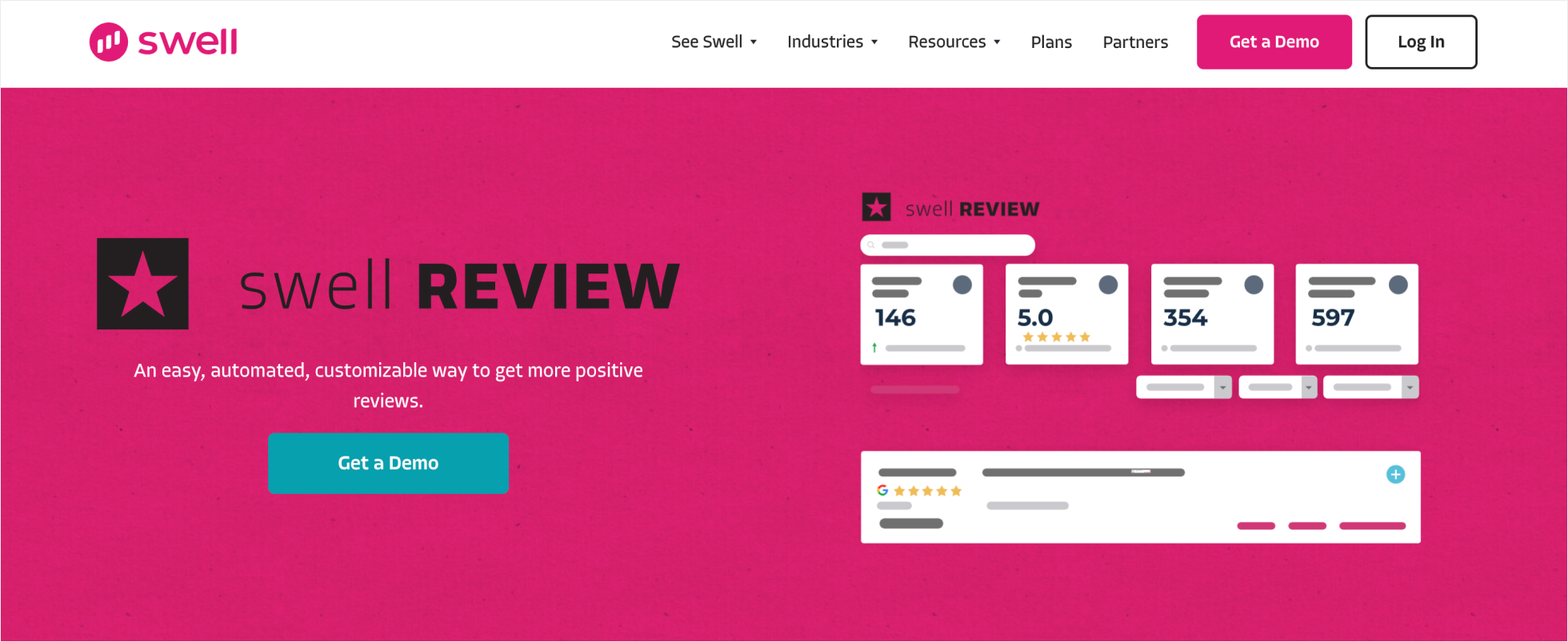 Swell is a business review software that helps your customers find you through online reviews and grants you the ability to ask for reviews, build your online reviews, and reach out to your customers with the text engagement feature.
Swell also gives you complete control of how you interact with your customers and how you keep track of customer engagement through a detailed analytics dashboard. And just like that, you're on your way to building customer loyalty!
Pros
Easy-to-use dashboard
Seamless integration with third-party software e.g. Zapier
Unlimited text marketing campaigns
Cons
Occasional bugs during the integration with other social media platforms
Customer support could use some improvement for first-timers
Payment processing issues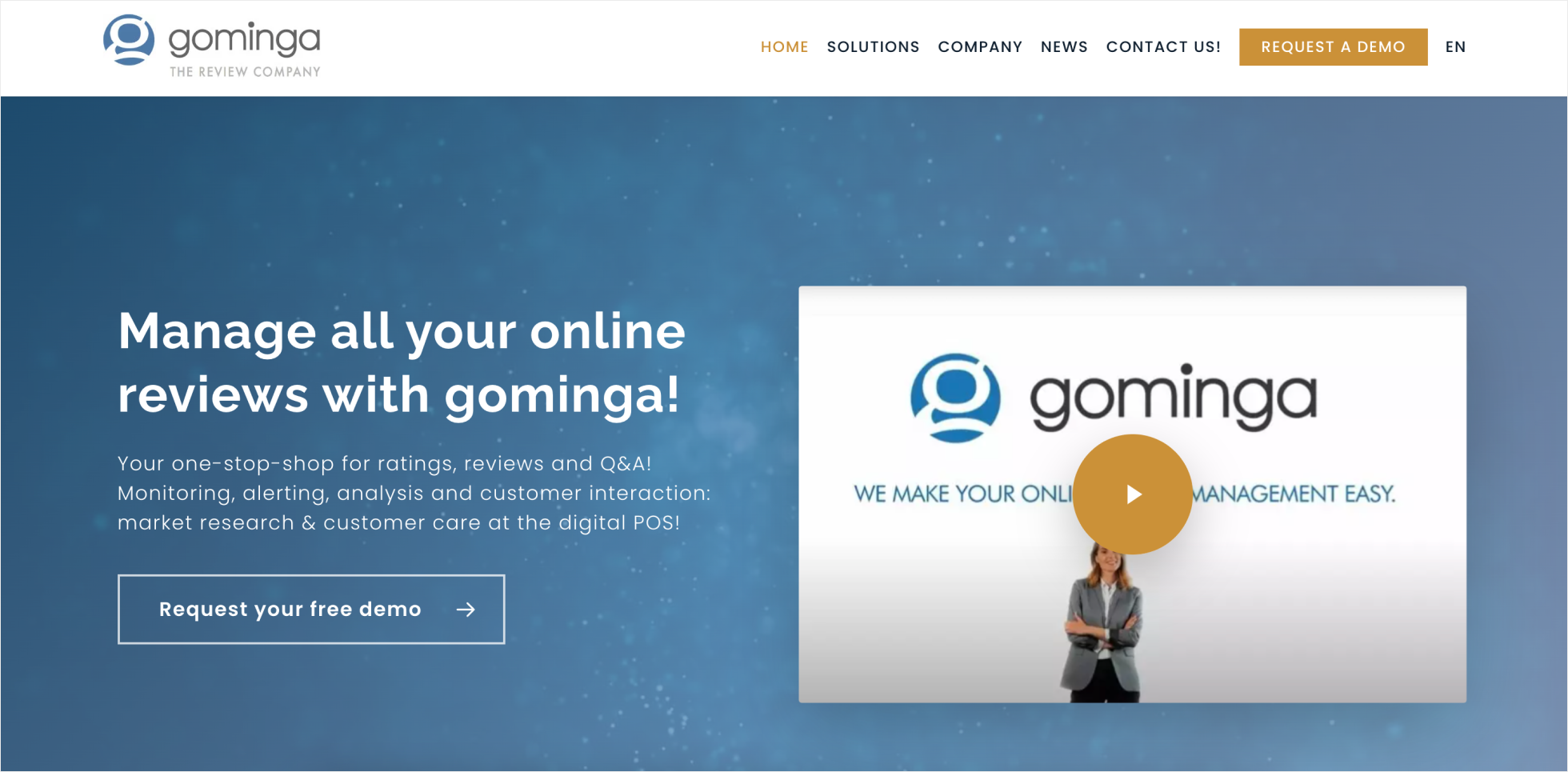 Customers spend their time writing you a review. Whether it's a compliment or an achievement highlighted in the review, it's always courteous to say something back. And that's exactly what Gominga helps you accomplish.
Gominga is one of the best social customer service platforms that manage all your online reviews. Gominga monitors and analyzes customer interactions, collects product reviews from multiple e-commerce business platforms, and provides negative feedback management for you. With Gominga, you can control your reviews on Google My Business.
Gominga also helps you take customer complaints more seriously than other online review management software by analyzing every complaint and capturing opportunities that would have been missed otherwise.
Pros
Better management of negative feedback
Great review management tool for startups, SMEs, and enterprises
Supports a long list of platforms such as Yelp, Amazon, Bestbuy, Apple App Store, etc.
Cons
Lacks review requesting features
Social campaign management isn't advanced like in many other tools in this list
Lacks live support in case things go south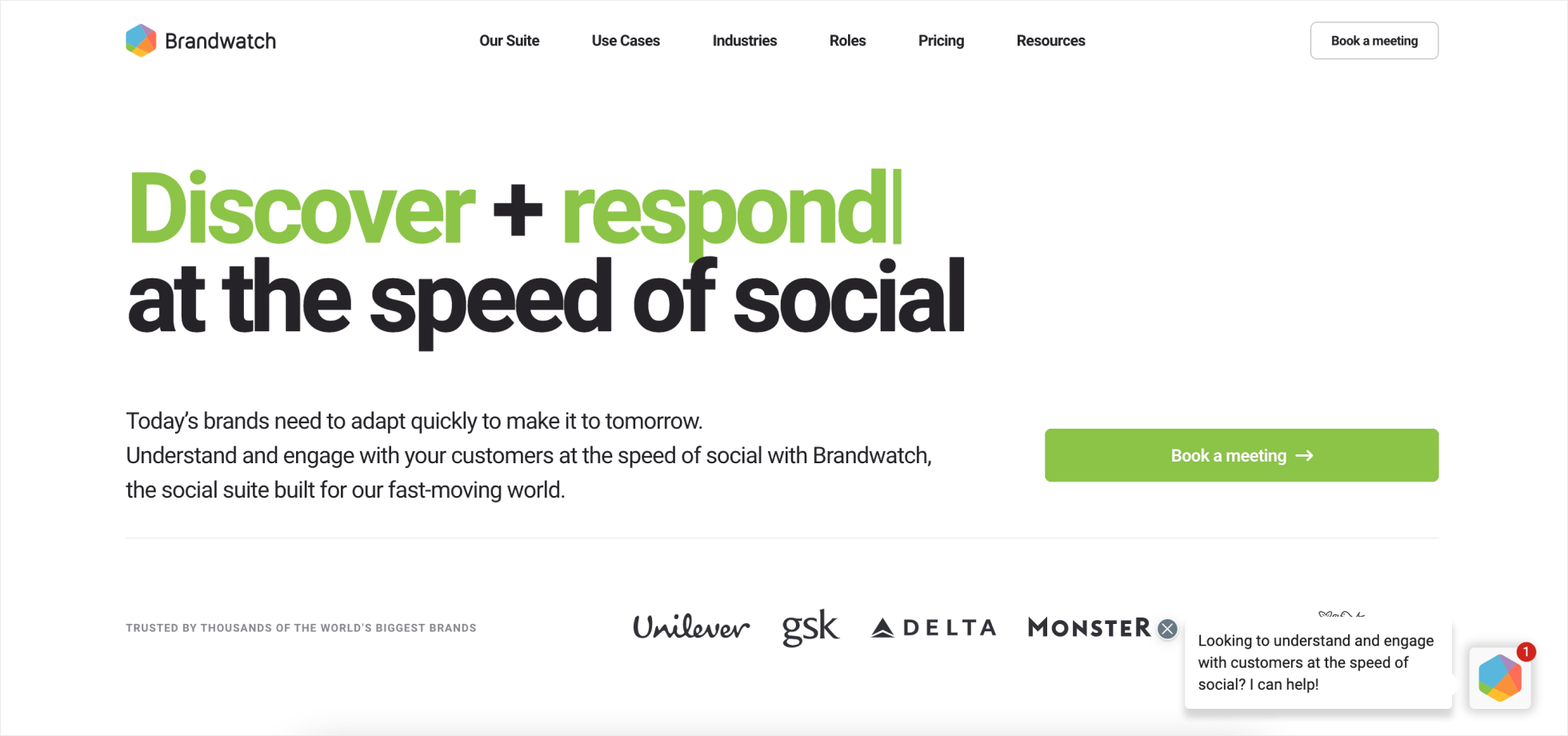 Listening in on customer conversations on social media provides valuable insights into their needs and their experience with your brand. With Brandwatch, you can do much more than just listen to your customers.
Brandwatch is the social suite for companies that want to adapt to the fast-evolving marketplace fast. With access to the largest archive of consumer opinion and a wide selection of social media management tools, Brandwatch offers companies digital consumer intelligence through AI-enriched insights.
Track-specific keywords and phrases to unveil hidden social insights, then use data-driven campaigns to create targeted content for your target audience. Brandwatch campaign segmentation enables you to analyze which channels are working best for your business and what content is resonating with your audience.
Pros
Provides custom reports for your social media marketing strategy
Easy-to-use platform
Tracks data for a long period
Cons
Can be confusing for an absolute beginner
Limited by language barriers
Conclusion
Online reviews and ratings are essential metrics that highlight how your customers feel about your products, services, and brand. Today, businesses that do not actively manage their online reputation run the risk of losing potential customers due to negative reviews. The good news is, that your business can turn around its social presence and improve its online reputation by actively monitoring what others say about them.
So, what is the best review management software? We highly recommend PromoRepublic, which not only do you get a cleaner focus on your local customers but also because our team will support you throughout the process. Our pricing policy is competitive compared to most tools out there yet we still offer advanced technologies for your campaigns.