Take your content to the next level with Instagram Stories Templates. If building brand awareness, boosting engagement and growing your followers are top priorities then we highly recommend Instagram Stories. According to Instagram, 1 in 3 of the most-viewed Stories are from businesses. It's not even a suggestion anymore, it's a MUST. With over 500 million active Instagram Stories viewers, it's a no-brainer.
The more educated the users become, the higher the expectations of your marketing efforts. Curated content is in high demand right now. Not only does it add value to your marketing strategy but it establishes brand authenticity and future-proofs your content.
If you want to stand out in the Instagram crowd, we'll show you how to get there:
What Are Instagram Story Templates?
Do you own a business? Do you have a personal brand? Do you want to be seen by thousands, even millions of potential customers? Instagram Stories Templates are pre-designed layouts featuring graphics and texts. You can customize the templates with colors, fonts, and design elements to keep your voice and personality cohesive with your branding. To make Instagram Story templates is easy in Promorepublic's graphic editor. You still can't schedule templates but you can save them until you are ready to post.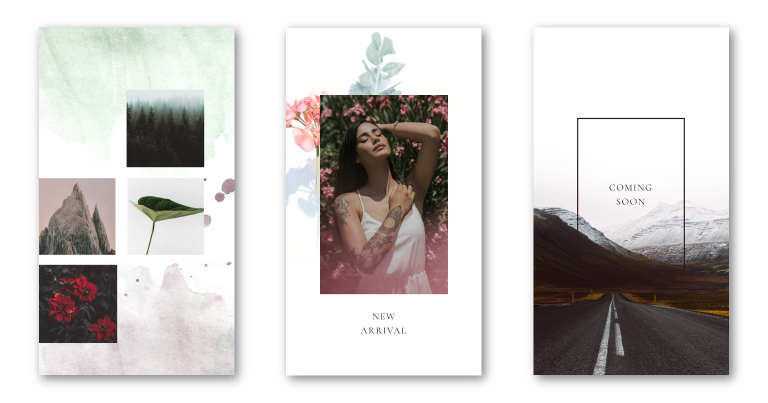 Generally, Instagram Stories Templates last 24 hours making this a big part of the appeal. Because it's short-term, it gives your post a sense of urgency. You do have the option to save your Story as a Highlight. If you feel like one of the Instagram Stories Templates positively reflects your brand, then right at the top of your profile is not a bad place to be.
More followers are viewing only the Instagram Story and foregoing the feed. It makes business sense to create templates for your product/service. Post behind-the-scenes, special events, or even just day-to-day routines. It all depends on your follower's habits and viewing patterns. Every industry has its own quirks and best times to post. We recommend using your Analytics tools to better understand when, where and why your customers are online.
Free Instagram Story Templates are taking social media by storm. If you want your product/service to be seen, it's almost a prerequisite. The time it takes to procrastinate, is the same time it takes for your competitors to get new followers! Learning how to make an Instagram Story is simple, with our step by step formula. Filling it in with your exciting content is the fun part.
Why Use Instagram Stories Templates?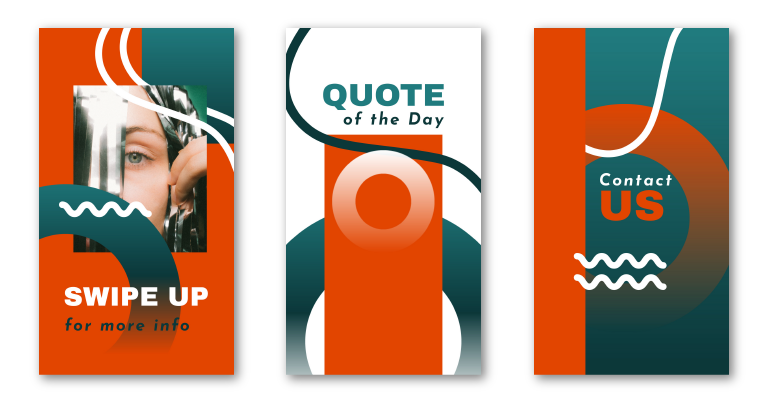 Build Brand Awareness
You've heard it time and time again, brand recognition is an integral part of your sales and marketing strategy. Every design element counts too – fonts, color palettes, icons, graphics. Staying consistent throughout all your platforms unifies your brand's message. With the free Instagram Stories Template, you can incorporate all your branding elements. And when the user swipes up and is directed to your web page, the flow continues.
The fact that your Instagram Story lasts a day allows brands to play with different templates or even post fun and wacky ones. The users are almost expecting bold and out of the ordinary content from you. The more memorable your content, the more top of mind your product/service will be.
Brand consistency delivers results to your sales and the bottom dollar. When your customer jumps from email to website to Instagram and your branding is on point, you are doing something right. A fluid stream of branding is your business footprint. The key is not to waver but to stay the course. It can take one month or one year for some businesses to reach the epitome of branding. If you believe in your business, your customers will too.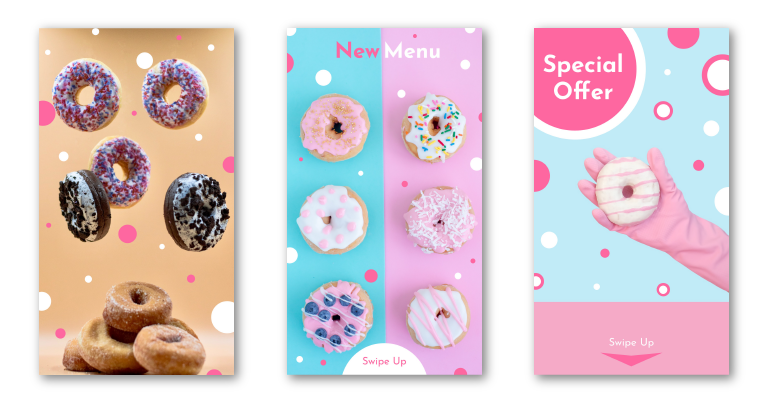 Boost Customer Experience
Get your customers to act upon your templates. Ask them questions or put eye-catching Call-To-Actions that compel them to click or buy or read. Go ahead and include polls on your Instagram Stories Templates. People love to be part of the bigger picture. If you let them know that their actions resulted in adding more shoes to the collection or more workouts to the schedule – then your job as a business owner and marketer is done!
Staying relevant to your industry is key in capturing their attention. For example, as a Travel company, you could create templates with pinned places where you have visited and encourage your audience to pin their own. Or perhaps you are a Fitness Trainer, then you can post "Today's Workout". And ask them to share their workout plans for the week!
If your templates strike a nerve, they will want more. If you create an Instagram Stories template "series" posted on a weekly basis, they will want more. If they love the custom stickers or GIFs that you post related to your brand, they'll want more. As marketers, we want to give them what they want!
The beauty of Instagram Stories is that the viewership is present and they are also very engaged. We say, take advantage of this and reach out to your customers – show them love with sales or just a smile; either way, they will come back for more!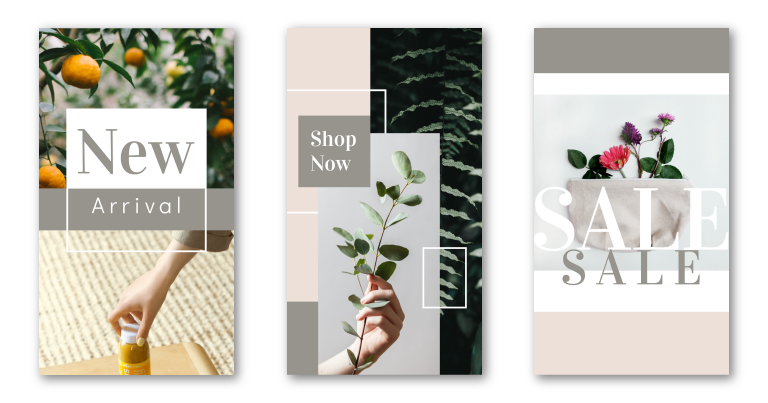 Grow Followers
Anything that we do online is for the sole purpose of growing our followers to then convert them into paying customers. Technology is growing at an exponential rate each and every day, so it's not news that our favorite social media platforms are advancing as well. The more sophisticated they become, the more avenues we are given to get our brands on top of our consumer's minds.
Everyone knows that a compelling bio on the Instagram profile page will keep your customer on the page. If you are one of many businesses with less than 1000 followers, this is an opportune time for you to make it stand out. Have you seen the Highlights section in your bio? They are snippets of your Instagram Stories kept at the top of your profile giving your customer or follower special details and insights into your brand/business. Use this wisely and watch your followers grow in number!
Another admirable way to increase followers is by shouting out your competitors to your followers. We've been seeing many companies leading this practice which is a move back to the beginnings of Instagram; its intention was to bring businesses together. That's why in Summer 2019, they reverted back to their idea of #community by taking away the "likes" feature on posts. This caused quite a stir from the influencers. We're still on the fence, whether they will keep the likes or not. Regardless, your objective as a business is to engage with your customers and develop a loyal relationship with them. And it can be done.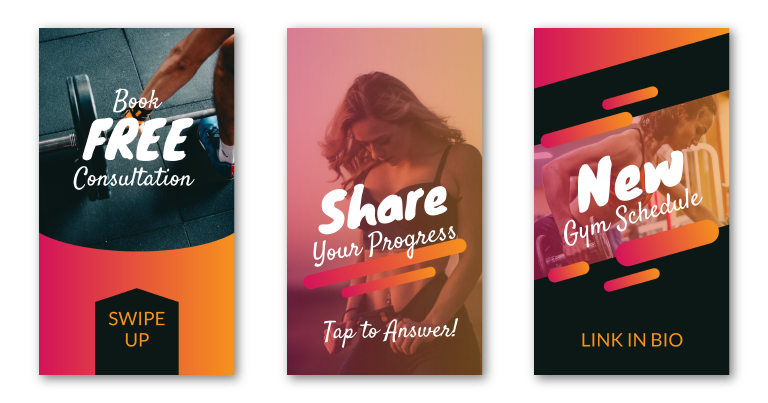 Promote Curated Content
What makes you stand out from the other brands? There are tons of fitness coaches and retail shops and financial advisors out there, so what separates you from the crowd? Curated Content is the art of sharing the most relevant content that embraces your brand in a nutshell. With free Instagram Stories Template, businesses can craft and design their own templates with images personalized to create more editorial feels.
You can play with monochromatic backgrounds and different sized texts to keep the audience focused on the words. If you are a magazine and your articles matter, then reel them in with excerpts from your blogs. If you are a travel company, we know they only want to see where you are or which mountain your climbing or sea you are wading in!
With Instagram Stories Templates, you get to explore which prints, textures, and backgrounds your followers are attracted to. This is a powerful marketing tool for all businesses. No matter your industry, there is always a story to tell. In fact, there are many stories to tell as long as you stay true to your brand.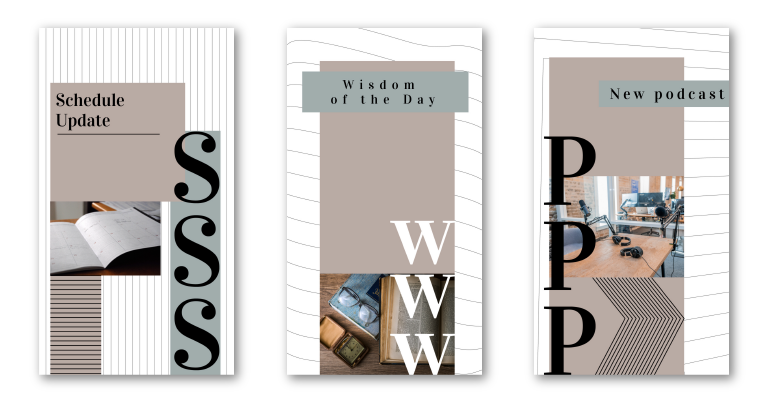 How to Make Instagram Story Templates
If you are an Instagram user, we bet you're already a big fan of Instagram Stories. If you own a business, we are recommending you to get on the Instagram Story Template bandwagon as soon as possible. Users are apt to respond quickly to questions, to polls, to your images because they know that it's up for a limited time. This is an opportune time for brands to spread their wings and try new strategies and tactics. 24 hours is enough time to grasp onto your audience's likes and dislikes.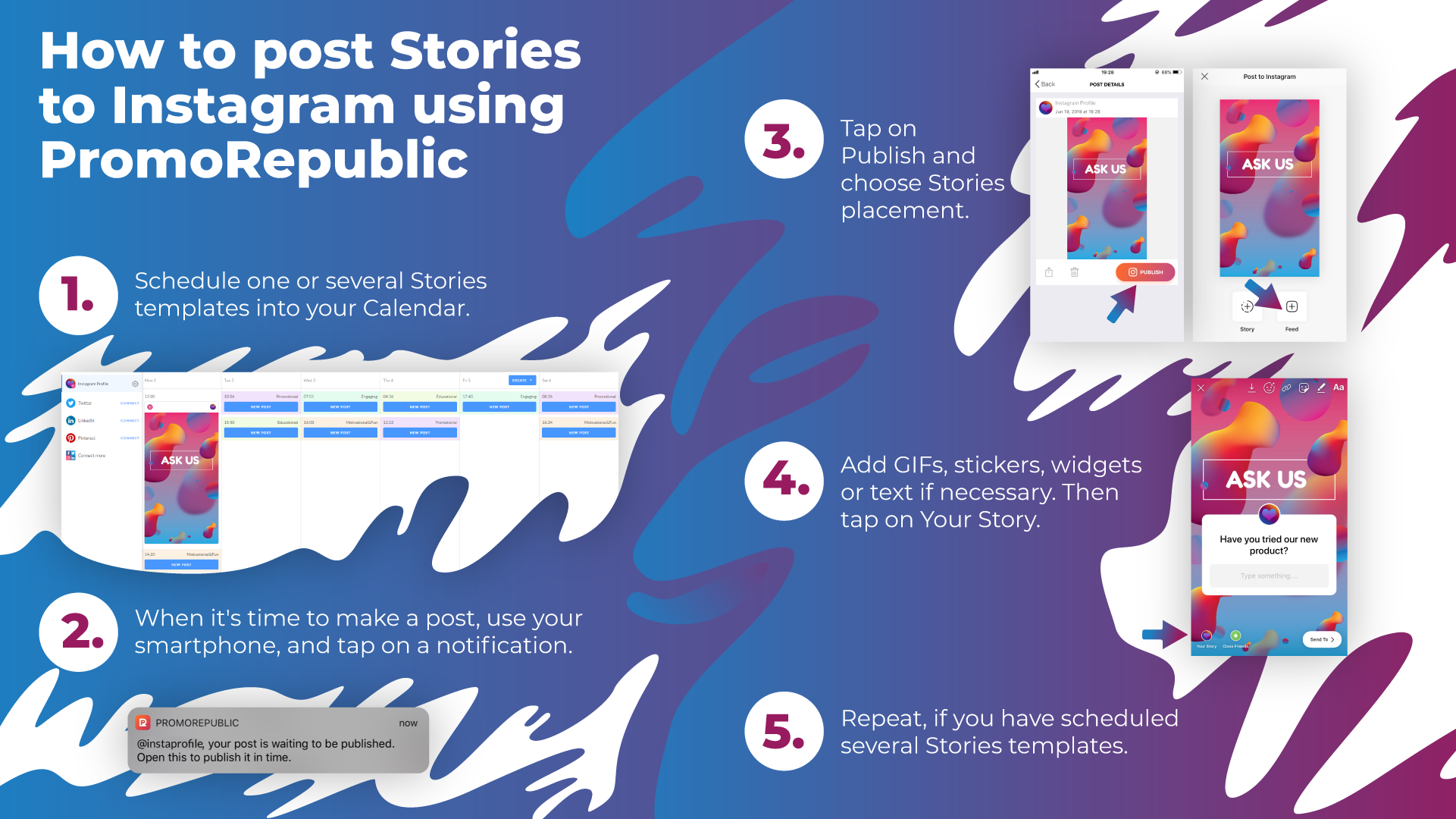 If you are a PromoRepublic user, AWESOME! Go into the Library and click on Recommended For You, then click on either Health/Beauty or Marketing. Once you are there, go on and click on More. Tap on Stories and choose the series of templates that best represent your brand. If you are feeling creative, choose one of them and put your own artistic flair to the template. If you want to save your work for a later date, it's possible. Learn how to schedule Instagram posts with our Instagram Post Scheduler and get a notification when your template is ready to be posted.
The advantage of creating branded Instagram Stories saves time and gives your brand a cohesive online presence. It saves you money as well. Who needs a graphic designer when you have PromoRepublic's graphic editor at your fingertips?
When Is The Best Time to Schedule Instagram Stories?
Like every Social Media platform, timing is science when posting Instagram Stories. Every brand/business is different but there are some rules of thumb to follow:
Mid-week is proving to be the best time to post whether your business is B2B or B2C. Most engagement is shared during the week. If your business is in the tech industry, then Wednesday to Friday from 10 am to 5 pm are the recommended times. But if you're a retail shop, then weekdays and Saturdays at lunchtime are highly recommended.
Sundays are a NO-GO for all businesses. The only type of content that you could share is fun and motivational Instagram Story Templates. Are you in a specific industry? Do you want to know the peak Instagram times for your industry?
Posting Instagram Stories on a regular basis is important if your goal is to build an audience and increase your views. And the good news is that you can create your stories just like any other posts in your content calendar.
Get started on your Instagram Story Templates with PromoRepublic. And to make your Instagram Story template is easy. All you need to do is choose the designs or channel your inner graphic artist. All the kids (and adults) are on Instagram and your business NEEDS to be there too. Don't delay. Just jump right in! Remember, you will perfect each template as you go. Your customers will most likely dictate your next move. Trust them. And trust yourselves as a business. You Got This! Next time, we are scrolling through Instagram Stories – we hope to see you there.