Want to get a 360º Facebook campaign performance overview in PromoRepublic?
Ad Insights are here to help franchisors get all important paid ad metrics in one place. Marketers can spot top-performing campaigns and advise franchisees on how to achieve better results. Available as a part of our Multi-location plan upgrade.
How Does Ad Insights Work?
Ad Insights provides a summary of your brand advertising activity on Facebook, stores all your Facebook ad accounts in one place, and creates reports in minutes.
You can conveniently group accounts to measure your ad performance and identify trends. With this data, you can make more informed decisions when building and suggesting your next campaigns and significantly improve their results.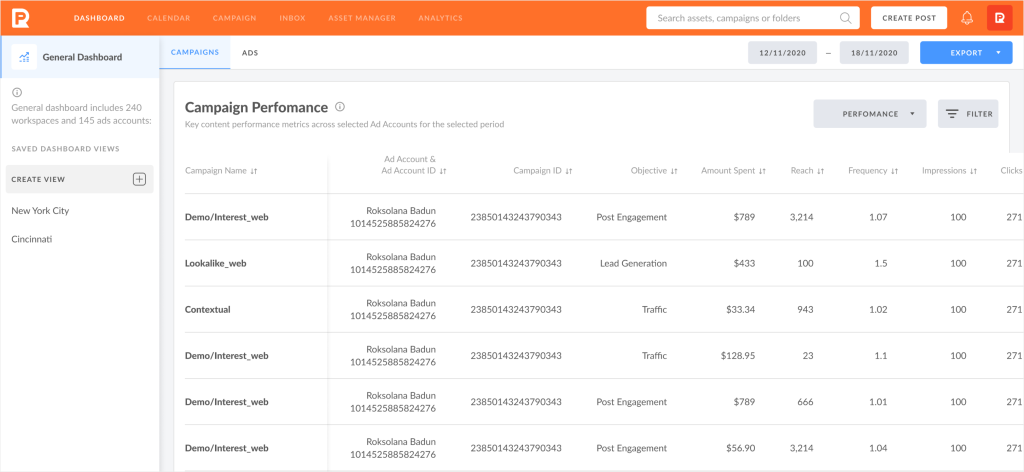 To use Ad Insights, connect your Facebook ad accounts to PromoRepublic and get access to more than 50 real-time paid metrics right away. The data is shown from the campaign and ad creatives perspective.
Campaigns
For the best experience, arrange your ad accounts with Custom views, then sort and filter data to find your top campaign based on metrics like conversions and engagement.
There are five metrics you can apply for Campaigns:
Performance
Engagement
Video Engagement
Performance and Clicks
Conversions
Each metric further breaks down into more detailed filters like objective, amount spent, reach, frequency, impressions, clicks, and more.
Ads
The Ads page allows you to analyze and understand how a specific creative is performing. Imagine you are using several videos in your campaign and would like to know which of them resonate more with a local audience. You would filter engagement results and use the information to reuse and suggest ads to your franchisees.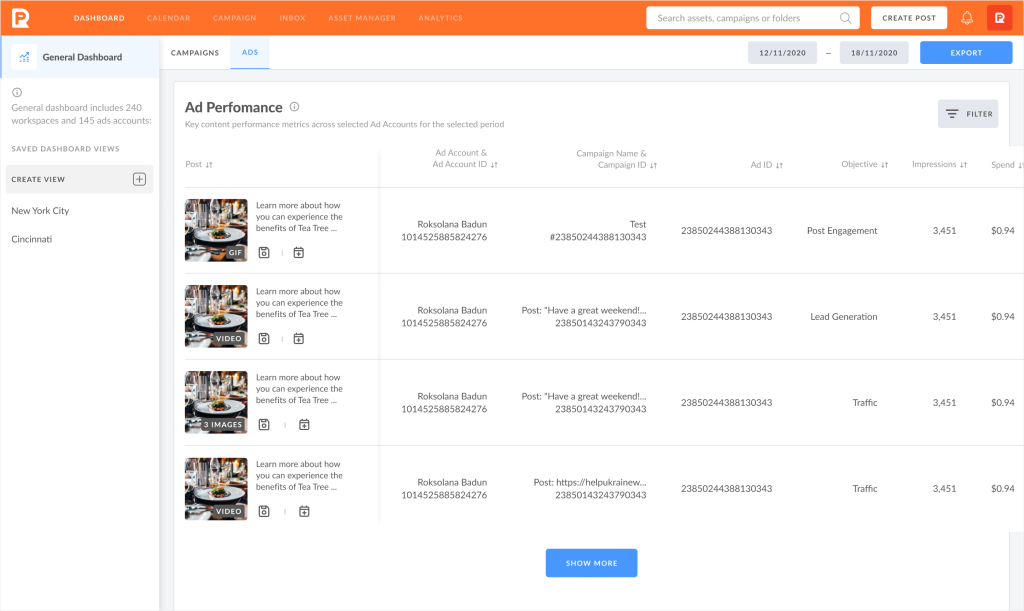 Other metrics you can find in this tab are CTR, CPM, CPC, Clicks, Leads, and more – all with additional contextual annotations.
To get a full picture of how social media advertising and reporting can boost sales for multi-location brands, watch our CMO Peer Talks episode on 'Challenges and Opportunities of Social Media Ads for Multi-Location Brands.'
Book a demo to drill down on the PromoRepublic platform and see how we can help you win more local customers.